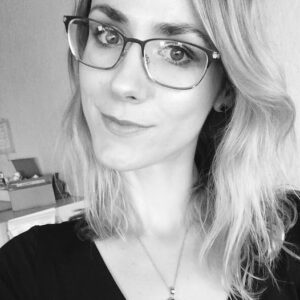 Latest posts by Karyl Trejo
(see all)
While women have been riding motorcycles for a long time, unfortunately, riding clothes and accessories specifically made for women have fallen far behind. However, despite there being a serious lack of safety gear for women, there is a glimmer of good news, though. 
In today's modern world, women are now finding themselves with access to a wide range of variety and styles to choose from when it comes to motorcycle clothing and accessories. Clothing companies are finally focusing on fit, function, and safety as it pertains to a woman rider.
Women first began sporting leather jackets in the '50s. The smooth lines and shiny studs appealed to many, but oftentimes, they were only worn by the women that people labeled as "bad girls." A perfect example is Sandy from the 1970's movie "Grease." Her styled hair, cigarette, and flippant attitude give homage to the types of women you might have seen wearing leather jackets in the '50s.
In the '60s, motorcycle (or "moto") jackets started to get more attention from the women's fashion movement. The mod movement in Britain was bringing styles to the forefront that included sleek black leather jackets. This trend continued into the '70s, with many female members of rock and roll bands adopting the black leather jacket look and rocking it better than the men could.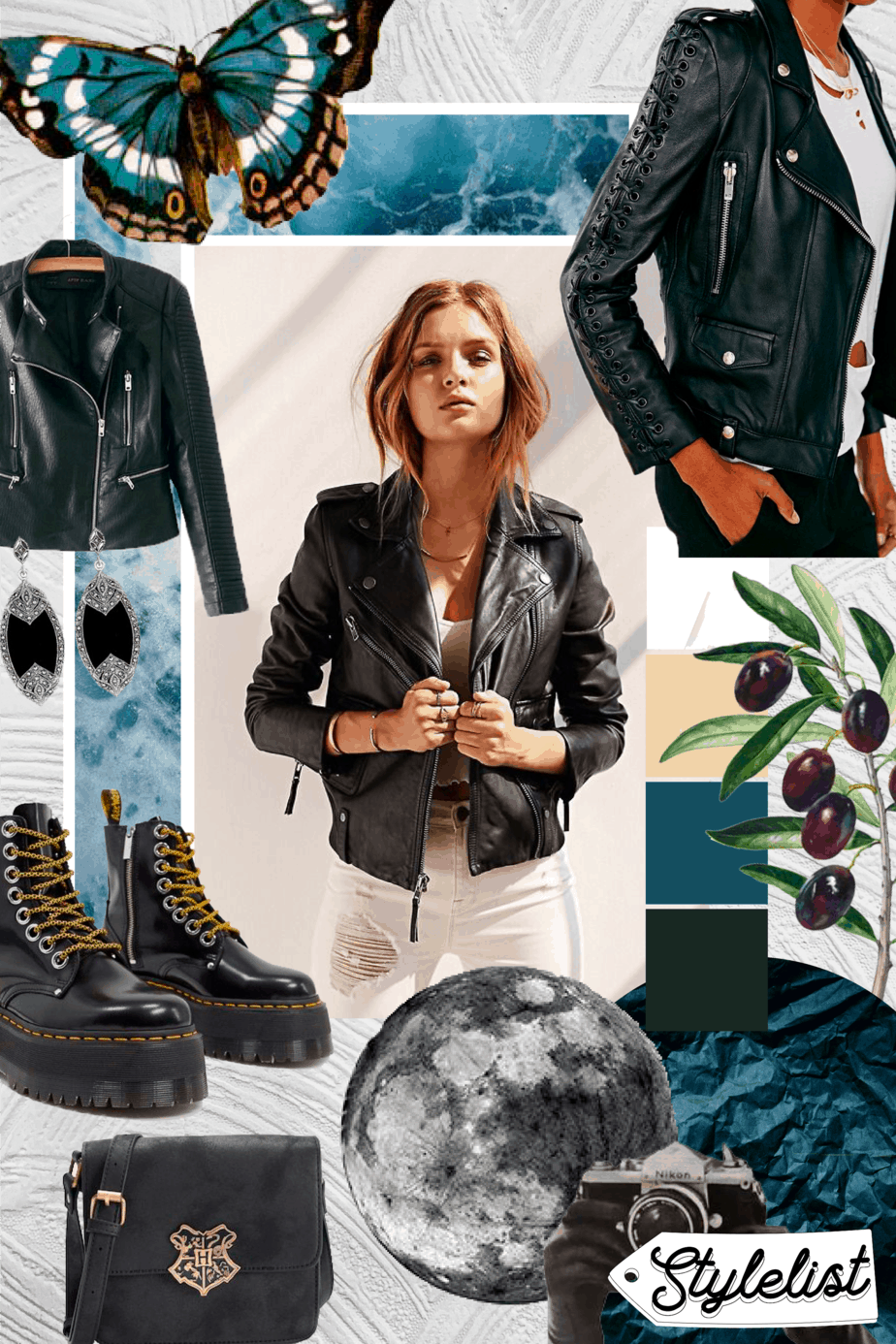 Seamlessly moving into the punk movement of the '80s and then the grunge scene of the '90s, the motorcycle jacket became a staple in many wardrobes, with women creating their own style around the jacket itself. Moto jackets could be found in the closets of everyone from rock stars to kids and everyone in between. 
By the time motorcycle jackets hit the '90s and 2000s, the style was so common that the edge was taken off the former bad girl look and segued into a common fashion item. Moto jackets were seen as a type of armor — a layer women could wear to top off their outfit and tell the world that they are sure of themselves and know what they want.
However, most motorcycle jackets made during this time were more for the style than function and didn't offer many of the necessary protective elements that men's motorcycle jackets did for people who actually rode. That trend continues into today, and now it's becoming increasingly easier and easier to find great motorcycle jackets for women that also offer great protection for riding.
Which is exactly what we did! While a few of the jackets below are strictly picked for style, the majority of the jackets we picked include aspects of both style and functionality. These jackets are the ones that can be worn just as easily on the runway as they can on the motorcycle while traveling down that country road on a beautiful summer day.
In today's world, motorcycle jackets have mostly become very customized to their function. Jackets made for style are lighter and have more embellishments, while jackets made for riding focus on ventilation, insulation, protection, and durability. The rider's motorcycle jacket has also moved away from leather quite a bit, to make way for more durable materials like reinforced poly-fabric or carbonite mesh.
The Main Differences Between Moto Jackets vs Bomber Jackets
The Main Differences Between Moto Jackets and Bomber Jackets are:
Many people get motorcycle jackets and bomber jackets mixed up, but there are easy ways to tell the difference. Bomber jackets first appeared in the 1950s, and by the mid-'60s, this stylish yet highly functional cut was popularized by the European Air Force. 
Originating from military clothing, bomber jackets were designed to be a lightweight way to keep pilots warm while in flight. While bomber jackets will always be remembered from iconic movies such as Top Gun and The Right Stuff, they are certainly not motorcycle jackets in style or function.
To keep from getting a motorcycle jacket mixed up with a bomber jacket, look for these comparisons:
The Collar:

Most bomber jackets have a full, fold-down collar, whereas motorcycle jackets normally have a short, stiff collar that stands up to protect the neck.

The Cut:

Motorcycle jackets tend to be sleek and form-fitting, whereas bomber jackets tend to be more puffy and look like a winter coat.

The Cuffs:

Bomber jackets have ribbed trim at the wrists and waistband to help trap heat next to the body, whereas motorcycle jackets have open cuffs.

The Lining:

Bomber jackets normally have a thick, luxurious but lightweight lining with the intent of providing warmth, whereas motorcycle jackets are usually lined with silk or satin that does not provide any insulation. 
Style Ideas: How to Wear Your Moto Jacket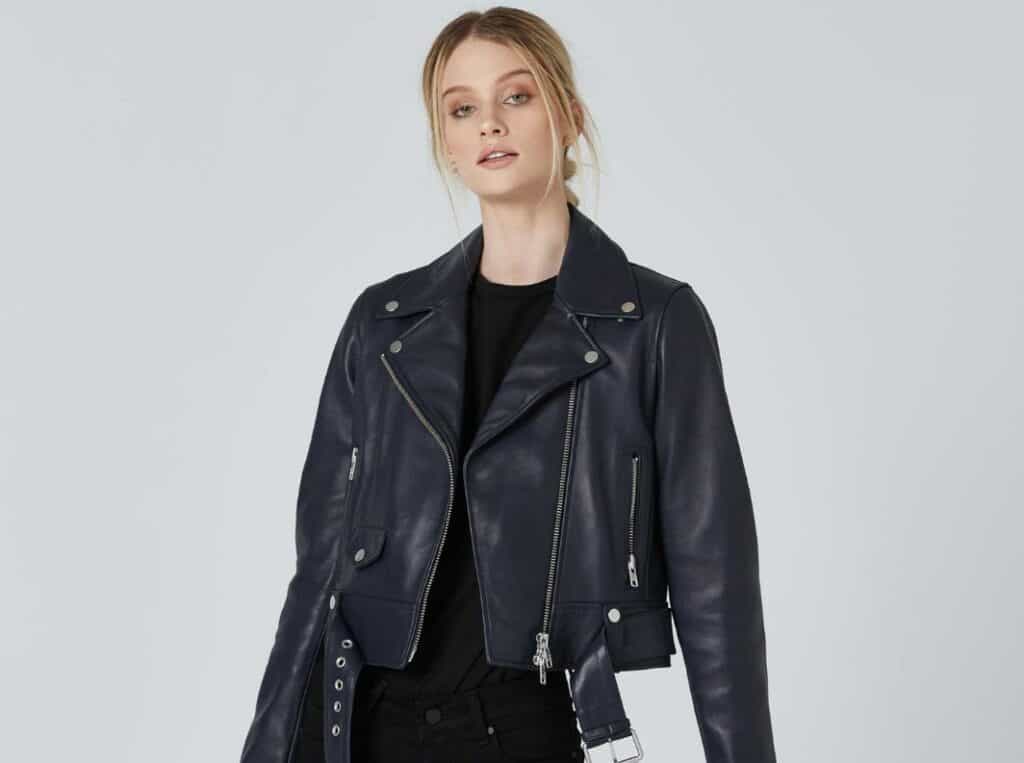 One of the biggest benefits of investing in a moto jacket to add to your wardrobe is the versatility of use this piece brings. The variety of outfits and styles that can be made around a moto jacket is huge, and they can be dressed up or dressed down to almost either extreme. 
Below, we've added a number of outfit ideas for sporting your moto jacket.
Are you going for a sporty look?

Pair a moto jacket with a crop top or sports bra and a pair of baggy workout pants. Sneakers, sunglasses, and a hip, the smaller bag will complete this look in a jiffy. Bonus points for making all of the clothing some shade of black or gray to compliment a black moto jacket.

Do you want an every day, but still polished jeans look? Wear a moto jacket over a fitted t-shirt that is tucked into a pair of high-waisted skinny jeans. This look is best completed with a pair of heels or heeled boots and a chunky hobo bag.
Want to dress it up, but not too much?

For a classy but casual look, wear a knee-length shell dress in a solid, dark color with a pair of knee-high heeled boots. The outfit says all business, while the moto jacket thrown over your shoulders adds an edge of fun and excitement. A long silver or gold necklace can complement this outfit greatly.

Are you aching for a '90s revival? Pair a black moto jacket with a white babydoll dress, tousled hair, and a pair of

Doc Martens

. You'll be channeling your inner grunge girl in no time. This is a perfect look for a concert or a night on the town.

Do you want an urban fantasy vibe?

Wear a moto jacket over a tank top with a long, puffy skirt of tulle (think

Carrie Bradshaw

!) or something similar that is floaty and ethereal. Strappy sandals can give more of a beach bum look, while a pair of motorcycle boots under all that fluff will keep people guessing.
Now that you have some ideas on how to wear your jacket, let's talk about how to take care of that leather.
Taking Good Care of Leather Jackets
It is not difficult to take care of a leather jacket, as they're sort of designed to take a beating when you wear them, and a little wear adds to its edginess. Nevertheless, it is necessary to keep your leather in good shape for many years to come. 
The first and most important thing to remember is that leather is like your skin, it needs regular moisture (without staying wet) to keep up its good looks and elasticity.
Use a leather conditioner!

Do yourself a favor and buy a bottle of good leather conditioner at the same time you buy your jacket. Conditioning the leather will keep it moist and supple, helping to prevent tears and cracks from drying.

 

Always hang your jacket when you're done wearing it.

Your leather jacket should never be folded or left to lay in a heap, especially for any length of time. This can cause creases and cracks in the leather that will not be repairable.

Be sure to keep your leather away from heat.

Heat will dry out leather very quickly. Store your leather in a cool, dry place like a closet, and never ever put your leather down on a radiator or heating vent.

Don't let your leather stay wet.

It is best not to wear leather in the rain, but if you do, make sure your leather is thoroughly dry from excess water. Too much water on the surface of your leather can cause mold and irreparable damage.
A good leather coat can last you years if you take good care of it. By following these guidelines, you can help ensure you get a lot of mileage out of your favorite moto jacket. 
What Was Our Selection Criteria?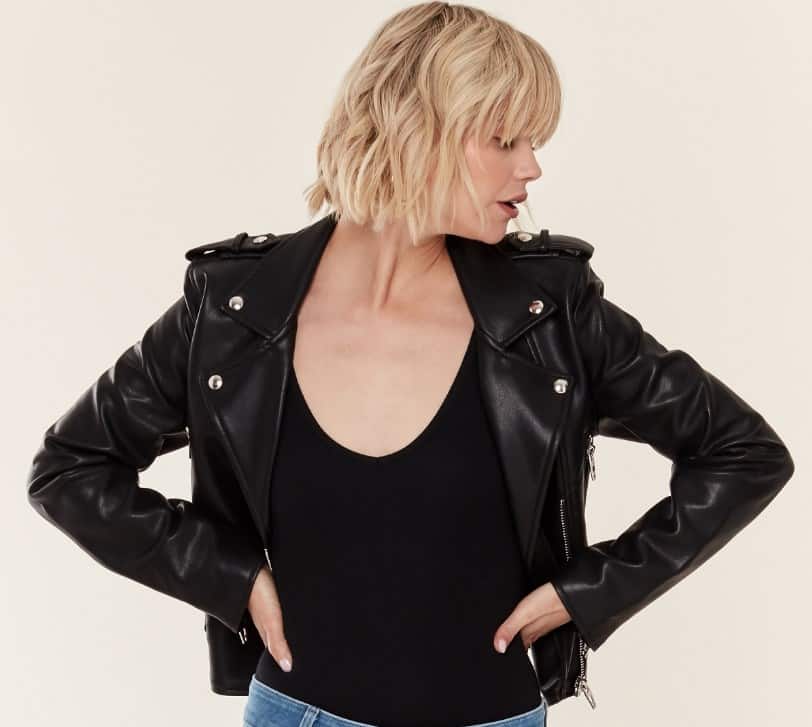 Before we dive into the moto jackets we've chosen, we wanted to give you a head's up as to how these coats actually made it onto our list. The selection criteria put into this set of motorcycle jackets was important to flesh out this article and finding you the best choices out there for available motorcycle jackets for women. 
This type of jacket has become so popular that it can be difficult to weed out the higher quality jackets from the lower quality knockoffs. This is the criteria we used for selecting these particular jackets:
Style

Customer Reviews

Price

Functionality

Availability
The Style of the Moto Jacket
First and foremost, we didn't want any ugly, frumpy, unfashionable moto jackets to sneak into our list. Before including any particular jacket on our list of faves, we first asked ourselves the following:
Does the jacket have a stylish look, that would pair great with a variety of different outfits?

Does the jacket follow classic motorcycle jacket style lines?

Is the jacket fitted and tailored to a woman's body shape?
If we were able to answer "yes" to all of these questions, then the moto jacket made the cut.
Customer Reviews and Price
Let's go ahead and preface this by saying that yes, there are a couple of jackets on our list that are a little bit higher in price. With that said, we still wanted to make sure they were still relatively affordable — and that the reviewers loved it. 
You're not going to find many jackets that are in the quadruple digits here, and none of them got lackluster, "meh" reviews from buyers. Questions we wanted to answer included the following:
Does the jacket have good customer reviews? 

Are there any major complaints?

Does the jacket appear to be a good value for the cost?

Is the customer using this jacket simply for style, or for riding as well?
What's the Functionality of the Jacket?
It's fair to say that most of us want to look cute when we don our moto jacket, but that's not all the coat's good for. We also wanted to ensure the moto jacket was also functional. Before adding it to the list, we first wanted to know:
Does this jacket provide protection if it is worn while riding a motorcycle?

Are there pockets for storage space?

Is this jacket good for cold or hot weather?

Will this jacket last through many seasons?
If they did, then we didn't hesitate to add it to our selection.
Is the Jacket Available to Our Shopper's Demographic?
Finally, before adding any jacket to our list, we wanted to make sure that you could actually get your hands on it, too. With that in mind, we wanted to make sure we had the answers to the following:
Is this jacket available in the United States?

Have customers complained about shipping or receiving the wrong product?

Is this jacket available in a variety of different sizes?

Are there vegan options available for people who do not use leather?
The Best Women's Moto Jackets
Whether you are looking to add style to your wardrobe or are an avid motorcyclist and want to find your next sleek layer of protection, we have rounded up the 10 best motorcycle jackets on the market today. Below you will find a jacket for any purpose you may have.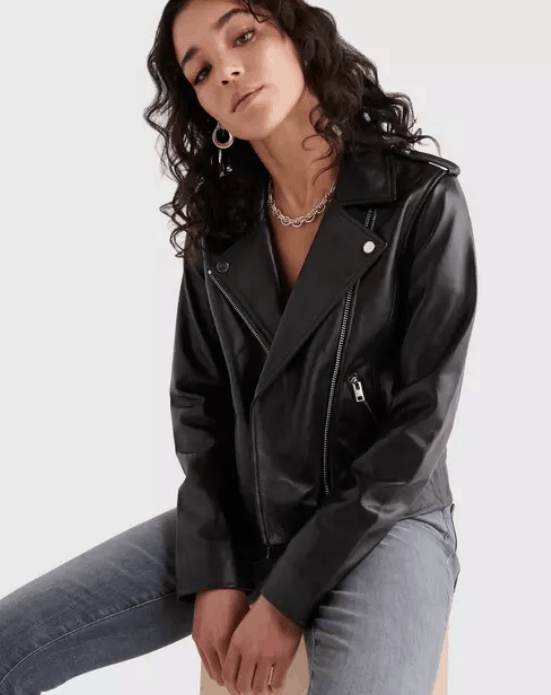 While not great for riding, this sumptuous leather jacket is slightly oversized, giving a roomy and comfortable feel while showing an androgynous look that goes with a number of different styles. The off-center zipper, slanted pockets, and long jacket belt add sharp tones to this shiny piece. 
Pair it with jeans and heels, skirts of any length, or even leggings. The best thing about the motorcycle jacket is its versatility.
Pros: 
Pair it with nearly anything! (This jacket goes well with long, flowy skirts, jeans, miniskirts, shorts, almost anything you can think of.)

High-quality leather material is "buttery soft"

Black is very versatile
Cons: 
Not form-fitting

Can look a bit boxy on the wrong frame

Slightly on the more expensive side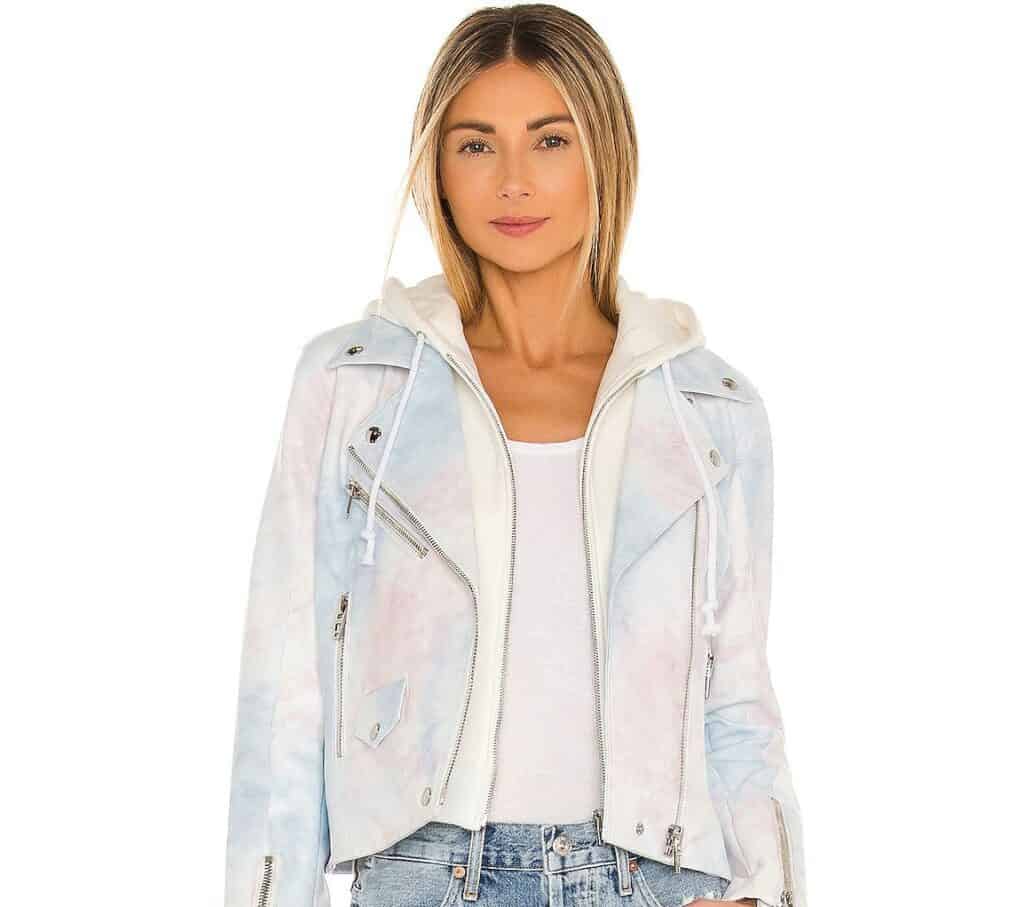 This motorcycle jacket is an amazing find for anyone who prefers faux leather over the real deal. Available in a variety of different colors, this stylish jacket sports an oversized flap collar, offset zipper and plenty of buttons and zippers for a pop of silver throughout. 
And at below $100, this jacket can boast both style and affordability. Do you want a faux leather biker jacket in whimsical tie-dye? Then this is the perfect jacket for you.
Pros: 
Made from vegan materials

Fun multicolored jacket

A fairly affordable choice
Cons: 
Faux leather doesn't look like the real thing

Doesn't match everything in your closet

It May be harder to take care of it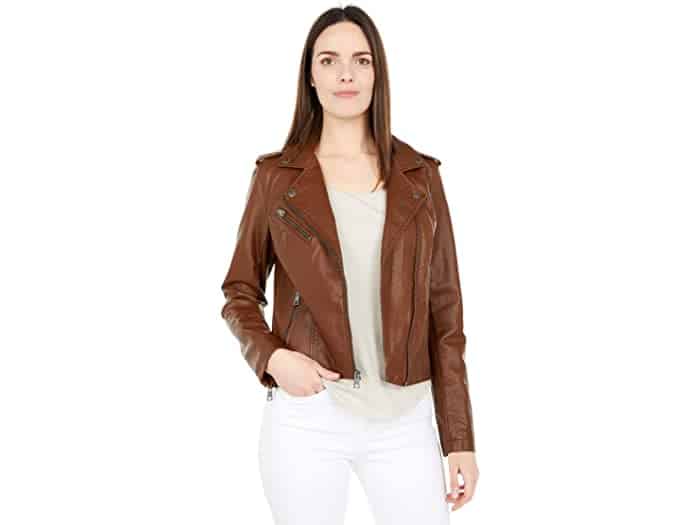 If you're in the market for a more classic style, try this faux leather jacket from Levi's. One reviewer called it the most realistic faux leather she had ever seen. 
This jacket sports all the features of the classic leather jacket, including a snap-down notched collar, paneled shoulder, and zip cuff sleeves. And this jacket is one of the most affordable on the list, while still maintaining high marks in durability.
Pros: 
Made from ethical vegan material

Classic motorcycle jacket style

A reliable and durable brand

Very affordable price-point
Cons: 
Faux leather doesn't resemble the real thing

The fit in the shoulders can be a bit tight
Another faux leather jacket that looks just like the real thing, the Tanming short jacket is a great pick for both style and function. This jacket has adjustable cuffs and is double stitched at the shoulder seams for durability. 
Available in a wide variety of patterns and colors, you're likely to find whatever you're looking for with this jacket.
Pros: 
Durability stitching

Adjustable cuffs make it more versatile

A cute, shorter hemline

Available in a large variety of colors/patterns
Cons: 
Faux leather isn't as durable as the real deal

Cropped, short hemline can be unflattering on some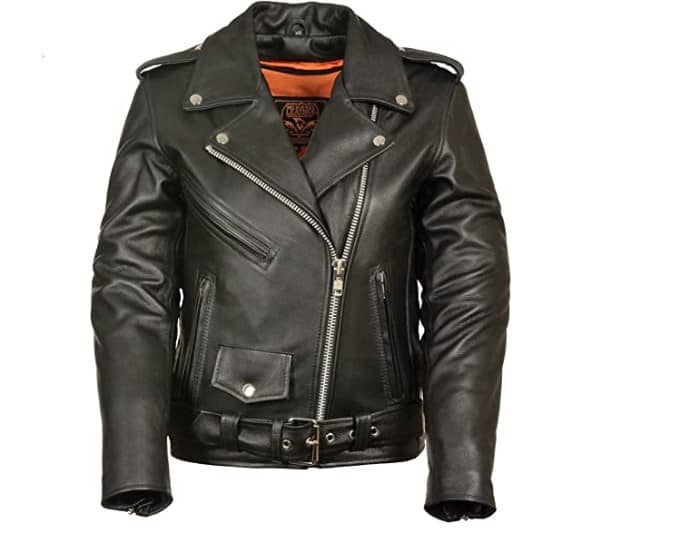 This hefty leather jacket is a great one for colder months, and can easily be worn for style or function. The classic motorcycle jacket look lends itself to a number of styles while the thick leather keeps you safe on the road. 
Plus, with plenty of storage space, you will not need to lug around a purse — just use your pockets! As far as a classic biker jacket look, this jacket is the one we feel fits that bill the closest.
Pros: 
Great for style and riding

Has lots of pockets

Durable, thick leather

Surprisingly affordable for real leather
Cons: 
Can be a bit bulky and heavy

Not good in warmer months

Real leather has to be cared for

Runs a little small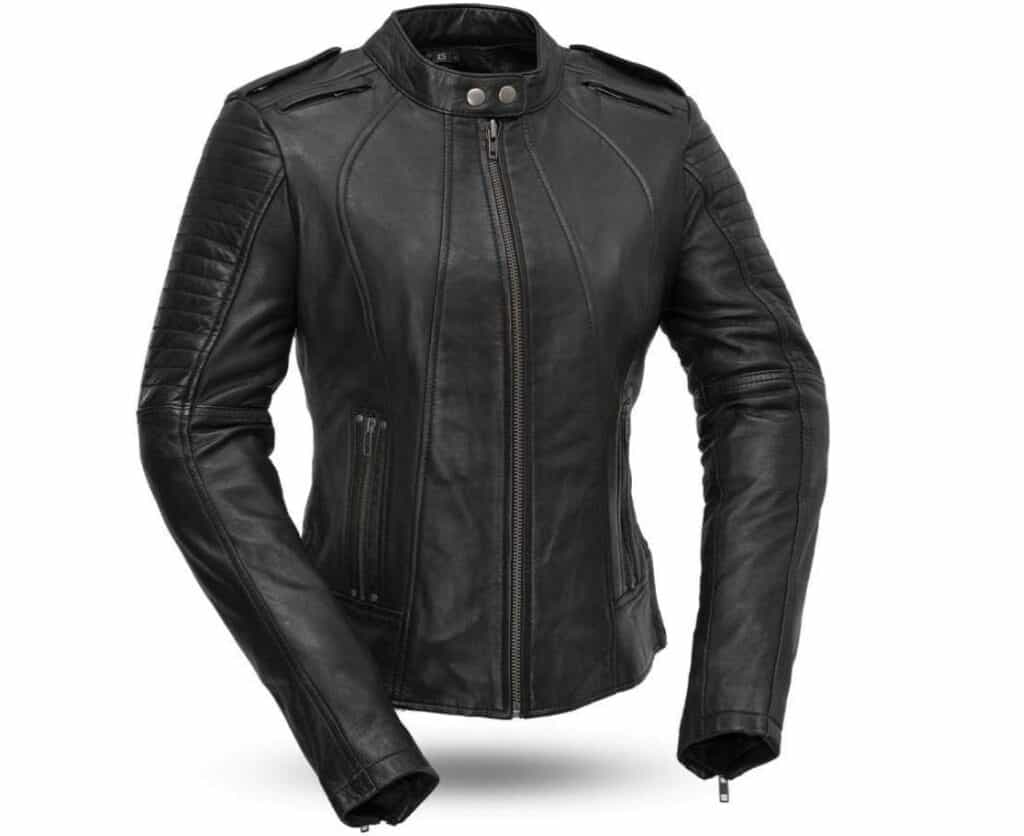 This jacket has the epitome of style and function all wrapped up in a beautiful package. Made from super-soft sheepskin leather, it is also lightweight enough to be worn in the summer months while running your wheels down the road. This jacket also has the advantage of two inner pockets, allowing you to stash whatever you need to with no worry of it falling out.
Pros: 
Made from quality sheepskin leather

Remarkably lightweight for a leather jacket

Has inner pockets
Cons: 
Has more of a utilitarian look

Not many embellishments

May not go with all outfits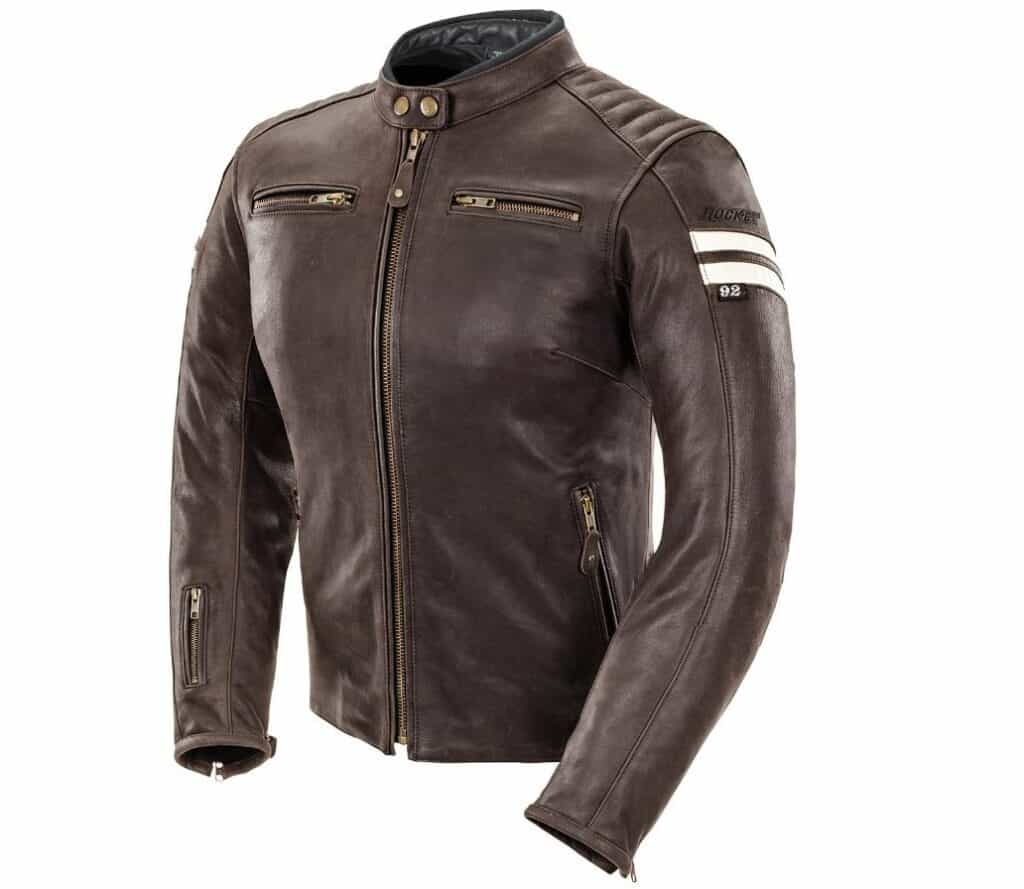 Are you into a retro style or dig racing stripes on your clothes? Then this jacket is a must-have for your wardrobe. The rich chocolate color contrasts beautifully with the cream-colored racing stripes on the arms. 
This jacket also has all the pockets — 5 on the inside and 4 on the outside, so you will have room to carry everything (even on a motorcycle!).
Pros: 
Chic, classic look

Attractive racing stripes

Has all the pockets you want
Cons: 
Not great for warmer months

Leather must be cared for regularly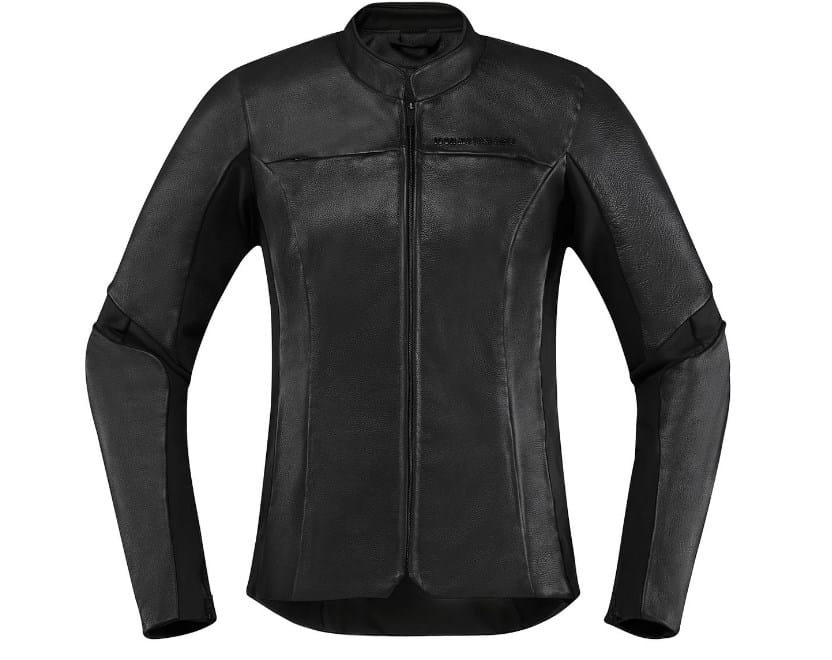 If you want to tool around looking like you are wearing a suit of armor, this jacket is for you. This jacket has custom zipper pulls, vented cuffs, and removable armor pouches for when you want some extra protection from the road. 
Customer reviews on this jacket are superb for both fit and function, and come on — we totally think it just looks like you could be one of Sauron's minions while wearing this jacket.
Pros: 
Unique, streamlined look is very flattering

Armor pouches for riding

Breathable vents make it comfortable year-round
Cons: 
Somewhat more expensive price

May seem more utilitarian than stylish

Might not go with all outfits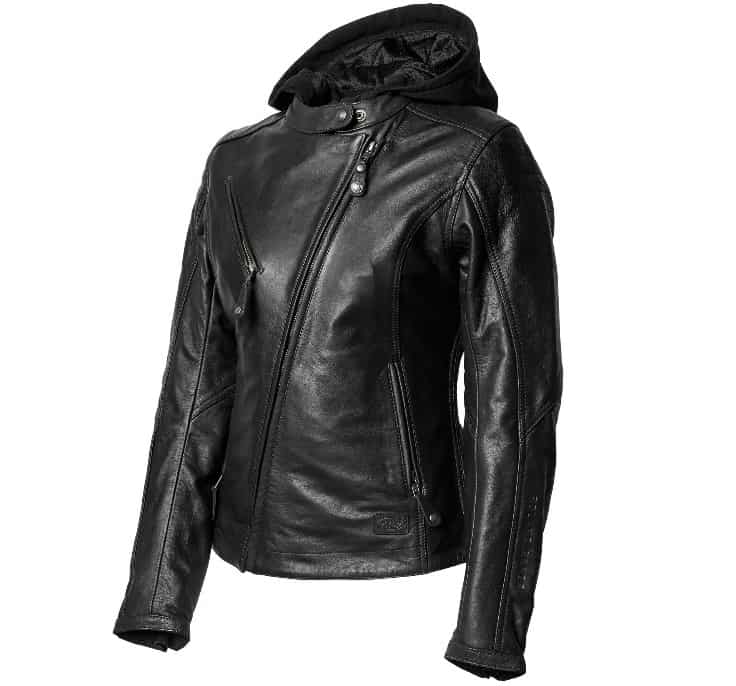 This sleek-looking jacket with an angled zipper is a great choice for either style or for the road. The hoodie portion of the jacket is removable, making it a great choice for when more blustery weather is afoot. 
There is also an interior pocket that is waterproof, keeping your phone or other important items safe and dry within the jacket.
Pros: 
Removable hoodie

Waterproof interior pocket

Handsome, sleek appearance
Cons: 
Comes at a higher price

The hoodie can be difficult to detach/reattach
Frequently Asked Questions
Question: What does "moto" mean in fashion?
Answer: "Moto" is short for "motorcycle." The trend first appeared around 2013 that began incorporating aspects of motorcycle rider's protective clothing into fashionable items fit for the runway. "Moto" fashion tends to be sleek and edgy, with leather and black throughout.
Question: How do I wear a moto jacket?
Answer: The best ideas for styling moto jackets include feminine touches to balance out the sharp edginess of the jacket itself. These can be in the form of flowy skirts, brightly colored skinny jeans, heels, or a myriad of other things. See our "Style Ideas" above for more specific outfits.
Question: Should a leather jacket be tight or loose?
Answer: A leather jacket should be fairly form-fitting. When you are trying it on, fully zip or button the jacket closed. It should be snug under your armpits with less than three inches of extra fabric anywhere on the jacket. Real leather will stretch the longer it is worn, so a jacket that fits well is important.
Question: What color jacket is the best to get?
Answer: For the most versatility in a wardrobe, choosing a neutral-colored moto jacket should work best. Brown or black as a base color will always serve a wardrobe well, too. Different and brighter colors can look amazing, but keep in mind that it will likely go with fewer things.
Question: Should I choose brown or black leather for my moto jacket?
Answer: This all depends on the styles you are looking for. Black is considered a more formal color, so if you would like the option to wear your leather jacket to work or more formal events, black is your better bet.
What is Our Top Pick?
Of all of these motorcycle jackets, we like the Roland Sands Design Mia Women's Jacket for both style and functionality. We love that it has a hood to keep the head warm in colder months, especially while riding. The jacket looks extremely well made and durable, and it has great customer reviews as far as longevity. 
We also like the overall look of the jacket — less boxy and more streamlined, with interesting asymmetry and slanted zippers that draw the eye along. It's also a timeless cut, which means it'll never go out of style. This jacket is a little more on the pricey side, but with care, a good quality leather jacket can last for decades. 
Final Thoughts: Finding Your Perfect Moto Jacket
A great motorcycle jacket can be the make or break for a great wardrobe. Whether you are an avid motorcyclist or just want to add that finishing touch of amazing style to your wardrobe portfolio, this list of jackets will cover your needs. And many of the jackets above are just as functional as they are beautiful, lending protection and comfort to the wearer in most situations.
All of these jackets were first chosen for how much they caught the eye, then were further researched to the bullet points above, with a particular focus on style and functionality. We also paid very close attention to how those jackets might look in a variety of different style combinations, making sure that they would look just as great with a skirt as with jeans or riding pants.
And of course, special attention was paid to how many pockets these jackets provide, because let's be honest here, who doesn't want more pockets?
Not only should a great moto jacket be the height of style in your closet, but it should also give you a sense of protection and power when worn. Find a jacket above that looks like a great choice for you, and rock out that leather (or faux leather) like a true rebel.
With your leather jacket as the basis for a style, transform yourself into the badass biker girl of the '70s, rocker chick of the '80s, or trendy skirt-wearing out-of-the-box stylist of today. A great jacket should have endless choices for style pairings, and with one of these jackets, you will too!