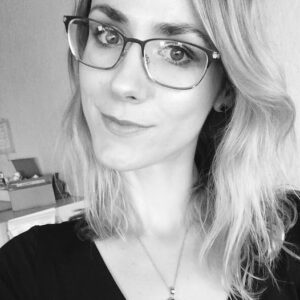 Latest posts by Karyl Trejo
(see all)
If we had to discuss anyone, single essential type of clothing in any person's wardrobe, it would definitely have to be jeans. You go out to the street, and everyone wears jeans. In fact, it's hard to imagine a moment in history when people didn't use them, and that just proves how much jeans are embedded into our fashion. 
Besides, jeans transcend any culture, and that is also an exceptional achievement. Women and men of all ages wear jeans. But, what exactly is a pair of jeans?
What Are Considered Jeans?
Unlike other types of clothing, the definition of jeans has remained fairly steady throughout history. Jeans are trousers or pants, and we wear them to cover the bottom half of our body. However, the main characteristic of jeans and what makes them, literally, a pair of jeans, is the fabric. 
Brands commonly make jeans with dungaree cloth or denim. This last feature is what makes the jeans so resistant. Is there another thing you should know about jeans? Well, sure. Sometimes, when people use the definition, they mean specifically "blue" jeans. Jacob Davis and Levi Strauss invented them in 1873, and since then, they have been pretty famous. 
Does that name sound familiar? It should — Levi is one of the world's most renowned jeans brands. 
Jeans usually have a zipper, a button clasp, and belt loops. They also have pockets at the front and the back. However, jeans have come a really long way since they were patented by Levi Strauss. 
The mass popularity of jeans started almost one hundred years later, in the 1950s when some of the main characters in famous movies (portrayed by James Dean and Marlon Brando) wore jeans. They then became especially popular among teenagers. After that, jeans continued to become more used in other subcultures, until quickly becoming a staple choice in people's closets.  
For a complete history of jeans, check out our guide here!
Maybe not everyone likes dresses or scarves, or crop tops, but no one can argue that jeans are a timeless classic. Almost everyone you know has worn jeans at some point, and almost everyone has a pair of jeans in their wardrobe.
They come in all kinds of colors: classic blue, dark blue, grey, black, and even colors like orange or pink. Colorful jeans are not as fashionable as they were ten years ago, for example, but it goes to show that you can find any color of jeans you want.
Jeans also come in lots of fits. Some of these include:
Slim fit

Low cut

Skinny jeans

Straight cut

Low waist (or "hiphuggers")

Boot cut
And right now, high-waisted jeans are trending. If we are talking about jeans, you can find any style you desire. But today, we're going to focus on stone-washed jeans.
What Are Stone Washed Jeans?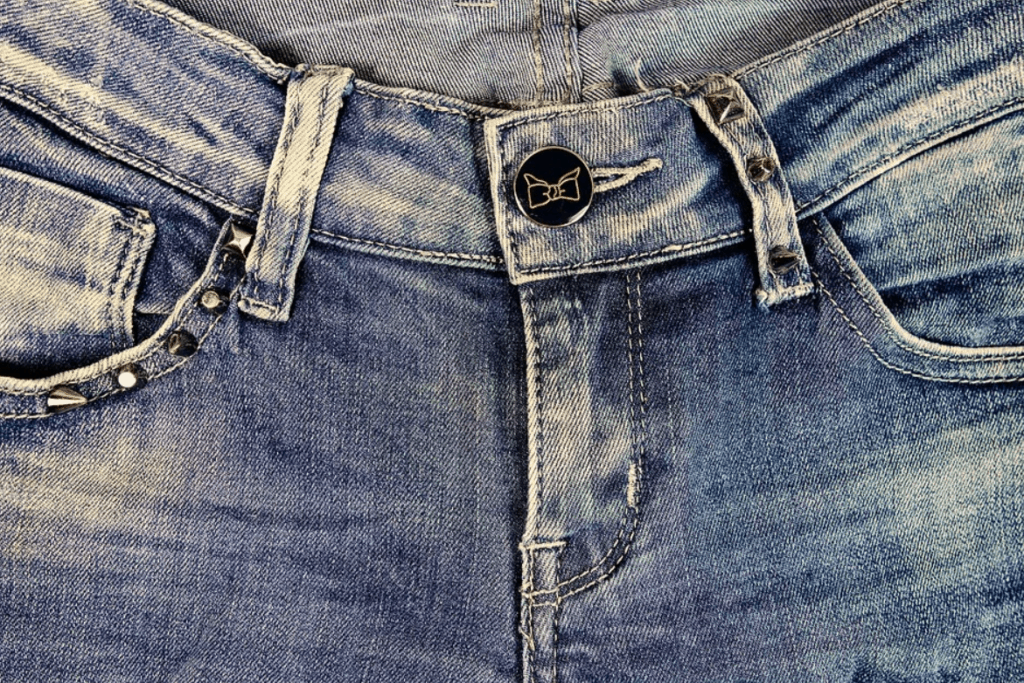 The classic stone washing definition says this is a textile manufacturing process in which (in this case, jeans) are "washed" with specific types of abrasive stones to make the fabric soft. This process makes the denim softer to the touch and thereby more comfortable. 
But, it also gives the fabric a worn-out and faded appearance. These jeans have come and go out of mainstream fashion for some time, but they are remarkably accepted in punk rock culture.
You might ask, who created this technique? Levi Strauss & Co. says it was the Great Western Garment Company in 1950. However, Levi's acquired this company later on. Other people credited for this process are the inventor Claude Blankiet in 1970 and the Japanese jeans company EDWIN in 1980.
If we read the definition, and as the name suggests, we will see that people did stone washing with actual stones. Some of these stones include pumice, a volcanic rock. The process consists of placing the jeans in an industrial washing machine with a rotating drum and stones. However, ecologist groups have criticized this technique because it endangers the ecosystem.
Manufacturer brands have developed some other techniques to achieve the same visual effect using bleach or chlorine. This technique isn't exactly new, since the punk rock movement used this, especially from 1970 to 1980. It was, however, a homemade and affordable way to get this look.
Some other ways include using enzymes like cellulase and others that help metabolize cellulose fibres. They are like the enzymes some manufacturers use in the paper industry. 
Now you know the basics. What is a jean, and what is a stone-washed jean. Now you're ready to learn the difference between jeans and pants — and check out our top eight favorite jeans on the market right now!
The Main Differences Between Jeans and Pants
A lot of people use the two terms interchangeably, but they're not the same. So, how are they different?
Fabric.

Denim

is a type of durable fabric that is made primarily of cotton, and this fabric is the thing that makes jeans what they are. The reason behind it is that classic jeans were made of denim, and that characteristic has prevailed over the years, even giving them the traditional blue color that we all love.

On the other hand, pants are not made of denim. As soon as pants are made of denim, they are jeans. Does it sound confusing? In short, jeans are made of denim, pants are mainly made out of any other material. Both of them are still trousers, though.

Colour.

This factor is related to the fabric. When we think about jeans, we picture

blue jeans

. Today, you can find jeans of vibrant colors like orange, red, or purple, and they still are jeans because of the material. However, the most classic color is blue. Contrastingly, pants are usually black, khaki, green, or white.

Durability.

Denim is made of interwoven cotton fibres, and this process is what makes it so durable. This process is known as

twill weave

, and it gives the denim a strength that helps it endure lots of friction before it tears down. Still, since pants are not made of denim fabric, they are not as durable as jeans.

Wear. 

Since the '50s, people started seeing jeans as a synonym of rebellion. Because of that, now most people see jeans as a form of casual wear. If we talk about pants, it is not that easy. Remember, in America, pants is another word for "trousers."

They have so much variety that you can't confine them to only one style. You can find informal pants, formal ones, and maybe some articles of clothing that you can wear as both. So, the principal difference: jeans are often casual, and pants can be almost anything you want. And if we're talking about variety…

Variety.

At the end of the day, jeans are jeans. They can have different fits or cuffs, but they will have some main attributes like a zip, a

watch pocket

, belt loops, and copper rivets. On the other hand, pants are way more flexible, and you can find them in lots of designs like khakis,

corduroys

, or chinos.
Check out our guide on the best plus sized jeans ideas for more inspo!
In summary, here are some of the most significant differences between jeans and pants:
People use the word "jeans" to describe pants made out of denim material, whereas "pants" is used to describe any kind of trousers made out of any other material worn by women and men.

Most jeans have a classic blue color given by the denim, whereas you can find most colors in pants without any predominance.

Because of the denim fabric, jeans are usually more durable through the years, whereas pants are not.

People mostly wear jeans for casual occasions, whereas pants are worn for informal but also formal occasions.
What Are the Best Stone Washed Jeans?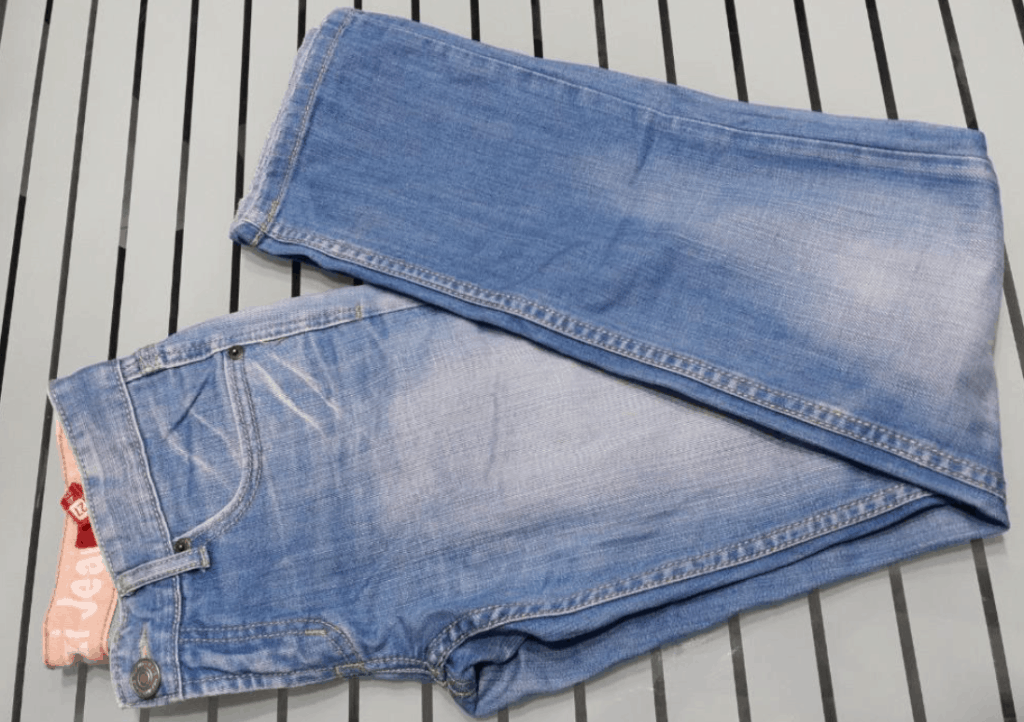 We think you can call yourself an expert by now! We won't make you wait any longer, and we will show you the best stone-washed jeans. But, first, we will tell you briefly why we did choose them.
Our Selection Criteria
We took into account some different factors when choosing our final picks. Some of these include color, user reviews, sizes, design, and fabric. Let's get started!
Color.

If we are choosing the best stone-washed jeans, of course, they have to be stone-washed. Some brands classify them into a

light wash

or dark wash depending on the shade of the jean. Not every brand has the same jean design in different colors, but if we found a brand that did, it had better chances of getting onto the list.

User reviews.

We care about what customers have to say, even if it is a bad review. However, if a pair of jeans had good reviews, it had higher chances to make it to the list.

Sizes.

We like to choose jeans with a broad range of sizes from where to pick since not every woman's body is the same.

Design.

Sure, we choose stone-washed jeans, but there is no reason for the jeans to be boring or out of style. Some of the jeans on the list are mom jeans or trumpet flare ones, all trending

types of jeans

.

Fabric.

Some jean's fabrics can be irritating to the skin. Most jeans on the list have cotton and a stretch material because it's more comfortable to wear them that way, and

cotton

is a natural fiber.
Now, let's see the best stone-washed jeans!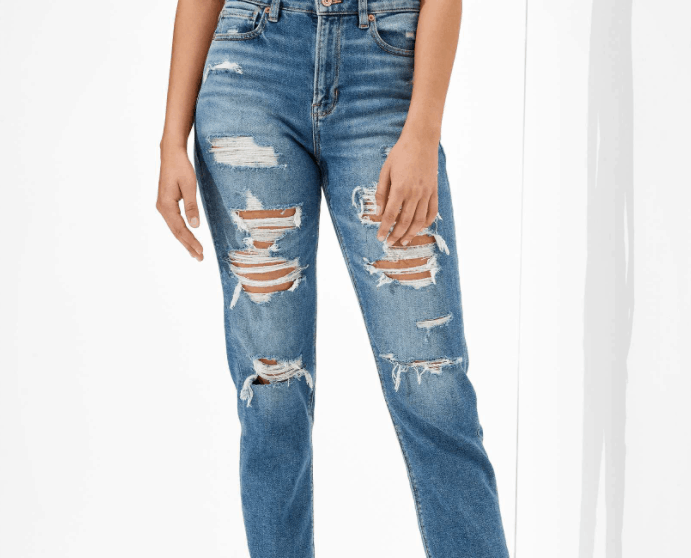 We liked these jeans because it's a mix of everything we have talked about in this article, and you can definitely look good while wearing them. First, it has a subtle light wash, especially suitable for women who don't like their stone-wash to be that dark or noticeable. Second, it has some other characteristics we have discussed.
It's mom jeans, but it's also high-wasted. Besides, it has a slight stretch which makes it comfortable enough. On-trend while being stone-washed, this pair of jeans is a safe choice.
Pros
The mom jean style it's trending. That, with the high-waisted feature, makes the jean a fashionable choice.

The fabric has 79% Cotton, 1% Elastane, 11% Modal, and 9% Polyester.

It comes in sizes that include a number and a tag that says if it's short, regular, or long. If you get confused, there's also a size chart on their website.

According to the American Eagle official website, they make the jeans in fabrics that use recycling techniques.

The jeans hold their shape and don't shrink or bag out after washing them.

Most user reviews say the fit, length, and rise are true to size and as they expected.
Cons
It comes in only one color: Light Aglow.

According to the website, the garment can lose color when it's new, and it recommends washing it once with cold water the first time. It doesn't sound that complicated, but a pair of jeans shouldn't lose their color that easily.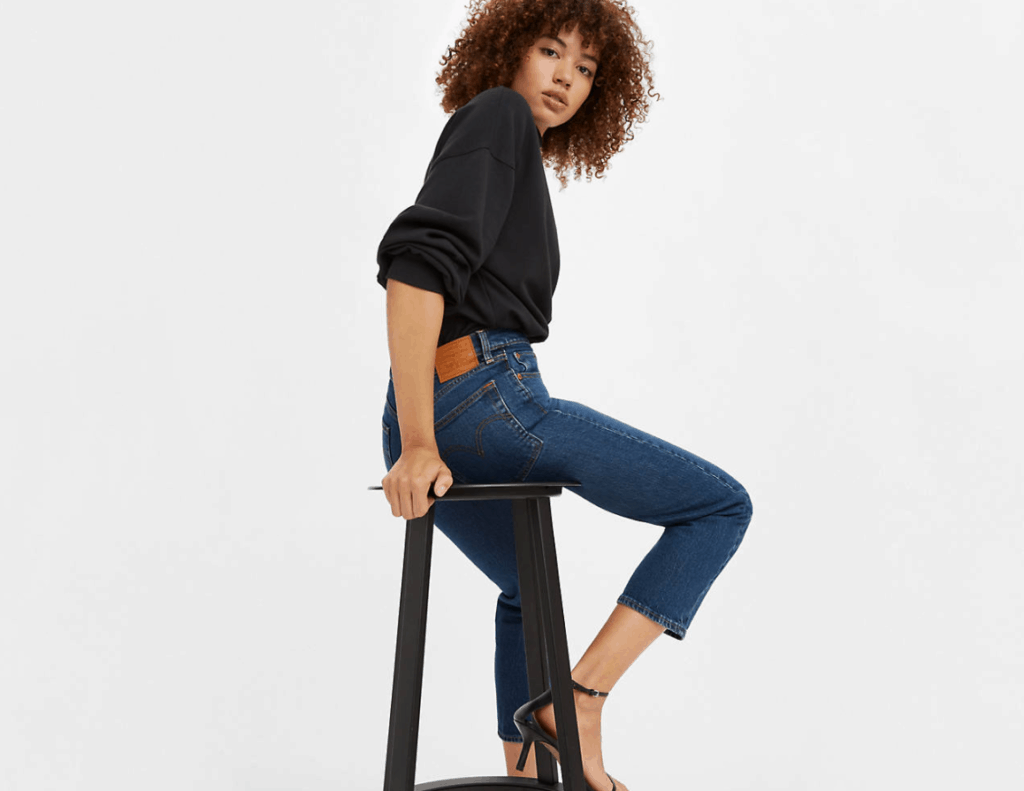 If we were going to make a list of the best stone-washed jeans, we had to include at least one of the classic brands. You saw it in the history of the jean. Levi's was a brand that revolutionized everything, at least if we talk about jeans.
This beautiful design is a darker color than the last one on this list. But, it's still as fashionable and on-trend. Besides, it also comes in some other colors, so you have some to choose from.
Pros
It comes in five colors, from a dark wash to some color in the middle and finally a light wash.

You can choose your size according to your waist and the length. They also have them for plus-size women.

Most users say the fit is true to size.

The fabric is 99% cotton and 1% elastane.

The brand based the design on their Levi's vintage jeans.

Even if is a stone-washed jean, the pattern is modern and not old-fashioned at all.
Cons
Some reviews say they run slightly small.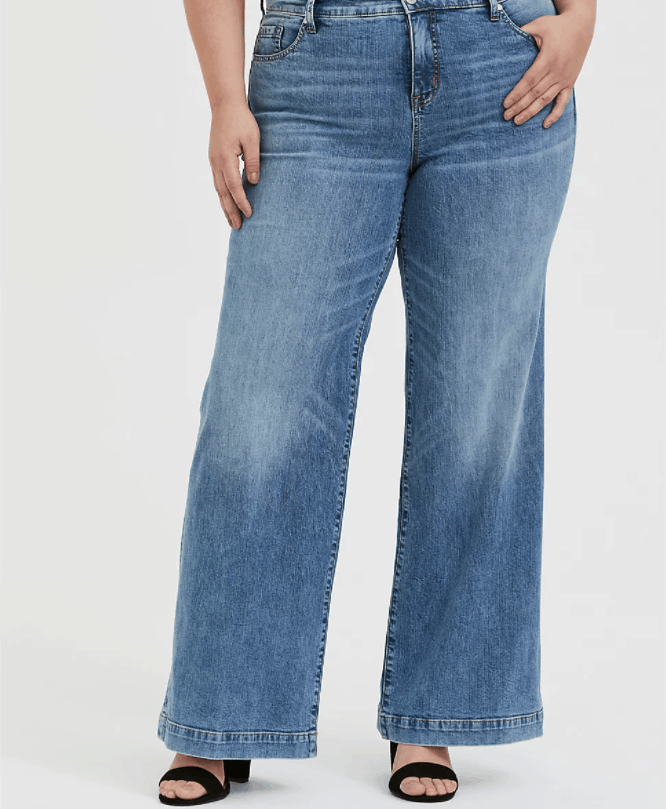 The main thing that we liked about this brand is its dedication to selling larger sizes. Their slogan is fashion for plus-size women.
This particular pair of jeans has a wide-leg design that makes it comfortable for all-day wear. 
Pros
The fabric is of cotton and spandex.

It has some likable whiskers in the front.

It's stretch, but not that much to maintain the vintage design.

User reviews say the fabric feels really comfortable.
Cons
The design is not for everyone.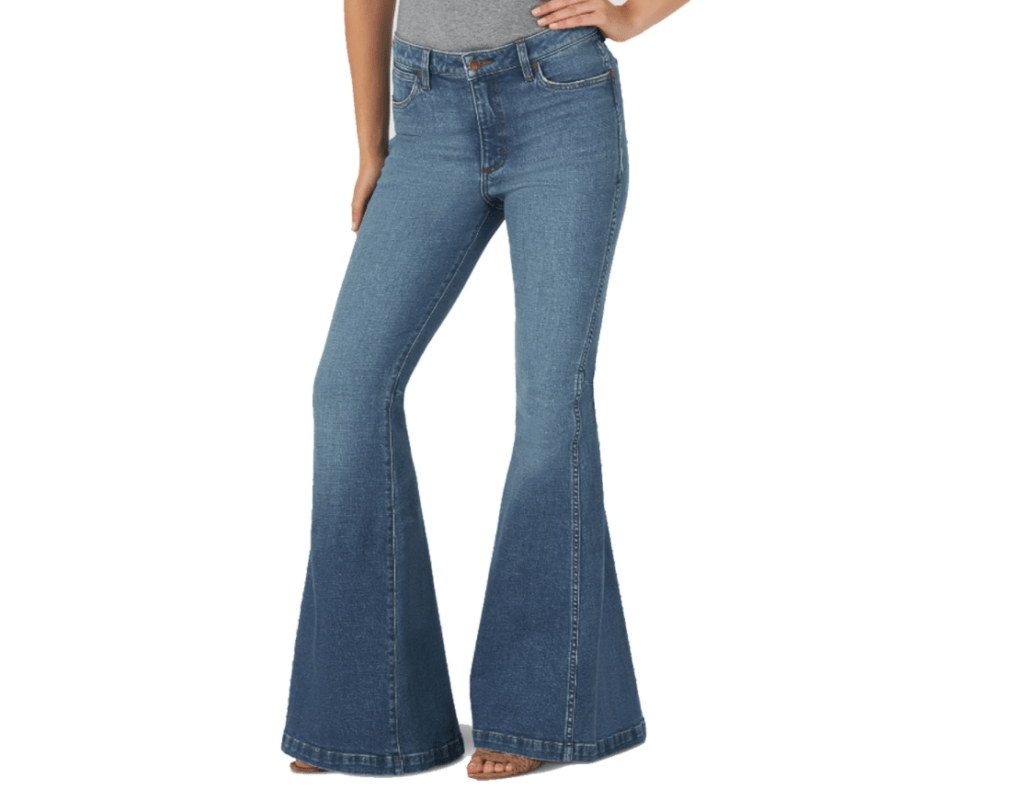 It couldn't be a good jeans list without adding Wrangler to it. Carrying on with the variety, we bring you this pair of jeans. What's more relevant about them is their style — they are trumpet flare jeans. 
This type of jeans usually hugs your waist but gets wider as the cut descends, creating a bell bottom. Do you dare to try it?
Pros
The fabric is 85% Pre-consumer Recycled Cotton/14% Hemp/1% Spandex.

It comes in sizes from 25 to 32.

The jean is part of a Wrangler Green Campain in which they use eco-friendly materials. They make jeans with recycled hemp and cotton. Besides, the trumpet flare is custom-made with natural fibres.

Boot cut and trumpet flare jeans are a way to stand out with a modern outfit.
Cons
It comes in only one color.

Some user reviews say the fit is too tight, so it's best if you check out their size chart.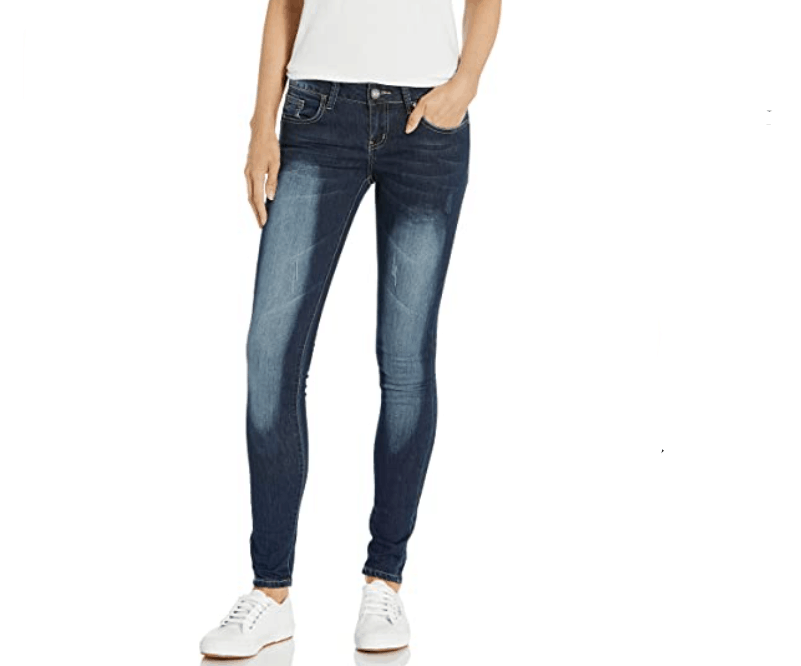 Skinny jeans had to make it to the list, right? We liked this model because it's like a mixture of the stone-washed jeans with the slim-fit jeans trend. We know what you're about to say: skinny jeans are not in fashion anymore (unless they're high-waisted), right?
Nuh-uh. Sorry, but we're not giving up our skinnies just yet, and this jean's vintage denim washing has been in our hearts ever since we first saw it.
Pros
The fabric has 76% Cotton, 22% Terylene Polyester, and 2% Spandex.

Because of the Spandex, the jeans are really stretchy and comfortable to wear.

You can wash these jeans in the machine!

They have sizes for almost everyone. However, they suggest you check their sizes chart just to be sure you're buying the appropriate one.

If you don't like the jeans as you thought you would after buying them, you can always ask about a return. According to the website, the brand will provide you one and for free.
Cons
They're low-rise jeans, and not everyone likes this style.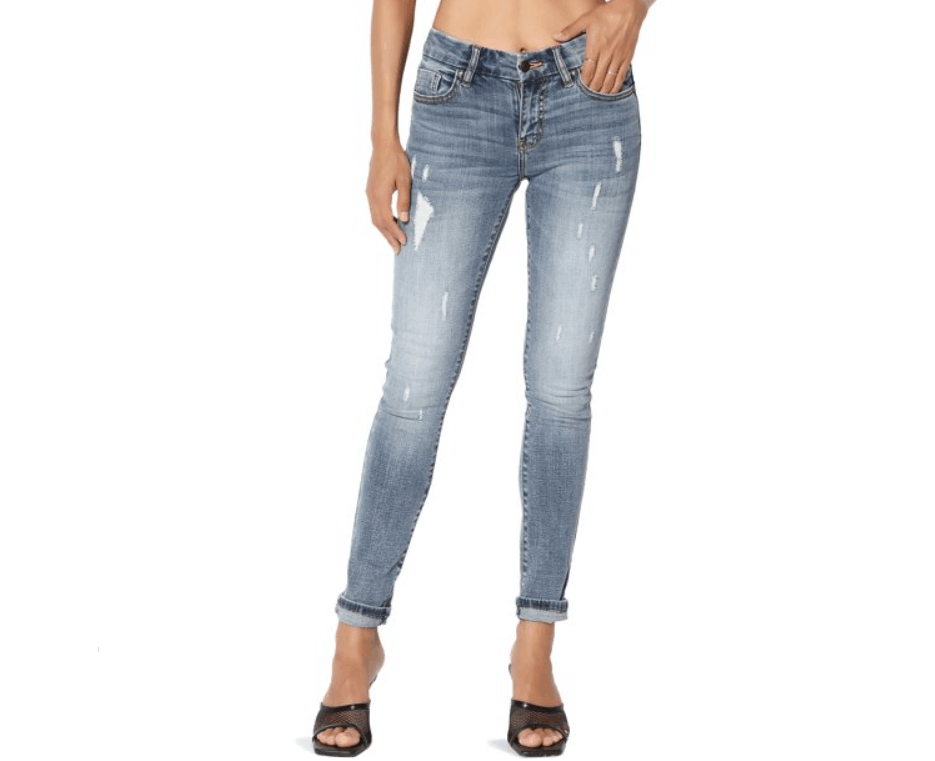 One of the things we loved the most about these jeans was the whiskers. Those are the wrinkled and faded lines that some jeans have, especially at the front of the thighs. They have come and gone out of fashion through the years, but most people still love them because they are flattering to women with narrow hips.
Pros
The fabric is 57.4% cotton, 35.2% Tencel, 6.4% T400, and 1% lycra.

The whiskers give the illusion of wider hips. So if you have straight hips, this can be a good choice.

You can wash these jeans on the machine, and they won't lose their shape.

They are available in all kinds of sizes, including sizes for plus-size women.

The website says the jeans fit well, and they are true to size. However, it's always good to check their size chart.
Cons
They're mid-rise jeans, and not everyone likes this style.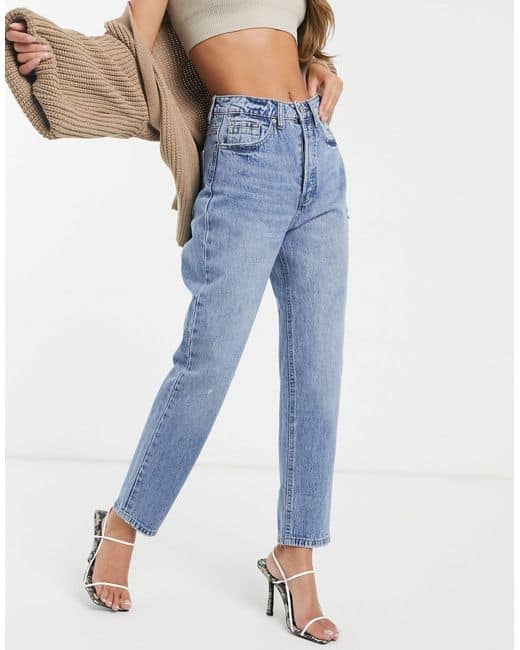 Mom's jeans definitely came here to stay. They're flattering, on-trend, and relaxed. This one has a high-rise waist, nice back and side pockets, and a beautiful light color that puts it in one of the most bought ASOS jeans.
Pros
This jeans' fabric is 100% Cotton.

Since the fabric is cotton, you can wash these jeans on the machine.

It's available in all kinds of sizes.

Its color is a lovely light blue that camouflages well with the acid wash.

It has a raw hem that gives the jeans a more informal look.
Cons
The denim is non-stretchable.

The mom's jeans style might be trending, but it doesn't suit everybody.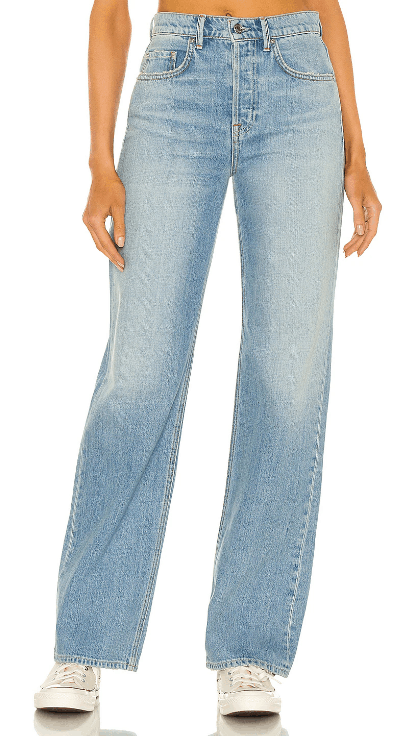 We needed a more "vintage look," and for that, we looked for jeans inspired in the '80s and '90s clothing. This one specifically reminds us of the '90s, where every woman wore high-waisted jeans with a straight-leg style. 
What amazed us about them is how splendidly worn they look, even if they're really not. All of this adds to the vintage look that we loved about them.
Pros
This jeans' fabric is 100% cotton.

It has soft whiskers at the front that go amazing with the light wash.

These jeans are available in sizes from 23 to 32.

The color and the acid wash blend very well without looking too harsh.

They're high-waisted.
Cons
These jeans are higher in price than others on this list.

Because of their style, they're usually a little bit baggier than other jeans. You might have to choose a size down if you want a tight fit.
Frequently Asked Questions 
Question: What do you wear with stone-washed jeans?
Answer: It all depends on your style and what you're trying to achieve. Even if you, your mom, or your grandmother wore stone-washed jeans back in the 70s or the 80s (or if you saw pictures of how women wore them back in the day), always remember it's not the same as wearing them today. 
Fashion in the 80s was colorful, and jeans were probably the last thing people noticed when seeing a fit. Or saying it in simpler words, the jean was not the garment that the whole outfit revolved around.

Now, fashion tends to be sober. Besides, outfits are often focused on a specific garment, and since this type of jeans is pretty impressive on its own, you can't go overboard with this kind of outfit.

A t-shirt is a safe way to pair this type of jeans. However, it is kind of basic. Another option includes adding an oversized sweater with some sneakers. This last one is not as basic, but it is really casual.

Some tips related to the jean cut that can be helpful:
– High-waisted jeans are trending, and this style with the stone-washed jeans looks good.
– Boyfriend cut is also amazing. Sure, the jeans are baggier. But if you already like oversized clothes, this can be a solid choice.

And some other combination tips:
– If you're still unsure, you can try denim on denim! Pair the jeans with a jean jacket.
– Wear modern accessories. Remember, the only clothing you are taking out of the 80s is the jean, not everything else. The key when wearing a vintage garment is to pair it with more modern clothing and jewelry.
– High heels are an option, but only if you're used to wearing them daily. You'll have to watch out if you don't want to look vulgar.
Question: Are acid-washed jeans in style?
Answer: Believe it or not, yes, they kind of are! In the last few years, renamed brands like Chanel and Isabel Marant had been influenced by '80s jeans, going as far as having them in their collections. 

And of course, not any type of jeans, but stone-washed ones. Other brands that have had them in their runways include IRO and Balmain.

Now, if you're asking how they paired them up with another type of clothing, each brand made its own thing. This year, Chanel had a model wearing stone-washed jeans with a tweed jacket. On the other hand, the IRO model wore a denim jacket of the same fabric. 

The possibilities are endless! Not because a brand had them in their runway means that's exactly how you should wear them. You can improvise and experiment until you find how you want to wear those jeans. Some women using this stone-washed trend include Hailey Bieber, Shailene Woodley, and Dua Lipa.
Question: When were stone-washed and acid-washed jeans popular?
Answer: Before the stone-washing process became industrial and brands started selling jeans with a worn-out appearance, people did all kinds of things to fade their jeans. They did all of this manually.

 Especially in the '60s, it was common to see people letting their jeans get a little sun so they could fade out naturally. For surfers, it wasn't even that complicated. Just soaking the jeans in beach sand and diluted bleach could do the work.

Stone washing was at its peak during the 70s, as stated in the history of the jean. However, acid-washed jeans appeared in the 80s, and people didn't wear them that often as before.

In the 2000s, stone washing had a small comeback, but the jeans were much more distressed than before. Since then, the style has come in and out of fashion. Some brands have incorporated this style not only in jeans, but jackets, shorts, and skirts.

So, short answer: stone-washed jeans were popular in the 70s, and acid-washed jeans kind of took their place in the 80s. Either way, they have never been out of style.
Question: What color looks good with stone-washed jeans?
Answer: If you're going to wear stone-washed jeans, you have to remember that the garment that will stand out is the jeans. So you have to play with balance for the rest of the pieces in your outfit.

It's best to avoid very bright prints or anything that could take the spotlight away from the jean. It sounds dramatic, but if you want to keep it chic, that's the best advice. Now, if you're super extroverted and like to stand out, well. Do the exact contrary.

Most fashionistas recommend using light and neutral colors like white, camel, or khaki. Besides, always keep in mind your skin tone. Some colors will look way better on your skin than others.
Question: What's the difference between stone-washed jeans and acid-washed ones?
Answer: If we talk about the way the jeans look, they're almost the same. Both of these styles in jeans make the jean look worn out and with some faded-out patches. The main difference is how this appearance is created industrially.

The main reason people created acid-washed jeans was in part because of the backlash stone washing techniques received. The first stone-washed jeans designed for commercial purposes were with the rotating drum and all that. This technique had a consequential impact on the environment, so people began their search into any other methods that could be less damaging in the long term. 

Then, acid-washed jeans appeared. Fading jeans went from natural ways to bleach to cellulase enzymes. Most of the jeans industrially made in the last few years are acid-washed jeans instead of stone-washed, but it's hard to tell the difference.
Bottom line: Best Stone Washed Jeans and Ideas
Stone-washed jeans have come and go out of fashion, but you can always wear them if you know how to. Remember, the best way to pair a piece like this is with modern accessories and a cute top. There is no need to go overboard since the jeans by themselves will be the highlight.
If we were to choose one, we would pick the Levi's® Premium Wedgie Straight Women's Jeans. They come in lots of sizes and colours from where to choose, and Levi's is a pretty renowned brand already, so you don't have to worry about the quality. You know it'll be good.
That is everything for today! Now you probably know more about stone-washed jeans and how they have changed over the years. Besides, you now also understand how to wear them, and you have seen some of the best ones. Either way, we hope this has been helpful!