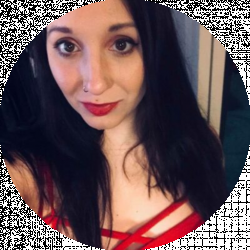 Latest posts by Stephanie Jensen
(see all)
Even with certain trends such as leggings, jeans are still very popular. In 2020, the market value of denim was over $21 billion. Jeans are one of the most versatile pants around.
If you're bored with blue jeans, choose black jeans. They have the same versatility, and black looks amazing on everyone. Black jeans are perfect for wearing on a casual day running errands and when going out with friends.
But if you're used to wearing blue jeans, you may not know how to style black jeans. Here are a few tips we have as well as some outfit ideas we love.
What Clothes Look Best With Black Jeans?
Shoes
Since black is a neutral color, it looks great with a variety of shoes. The shoes you wear depend on the occasion and the overall style you're going for.
Boots are one of the most classic shoes to wear with black jeans. The right type of boots can be suitable for all occasions, and they're very comfy. If your jeans are skinny, tuck the pants under the boots. If your jeans are baggy, wear the jeans over your boots.
If you don't want to wear boots, wear heels if you're going out with friends. Sneakers are perfect if you're running errands. Flats and sandals are also great casual footwear choices, especially during the summer.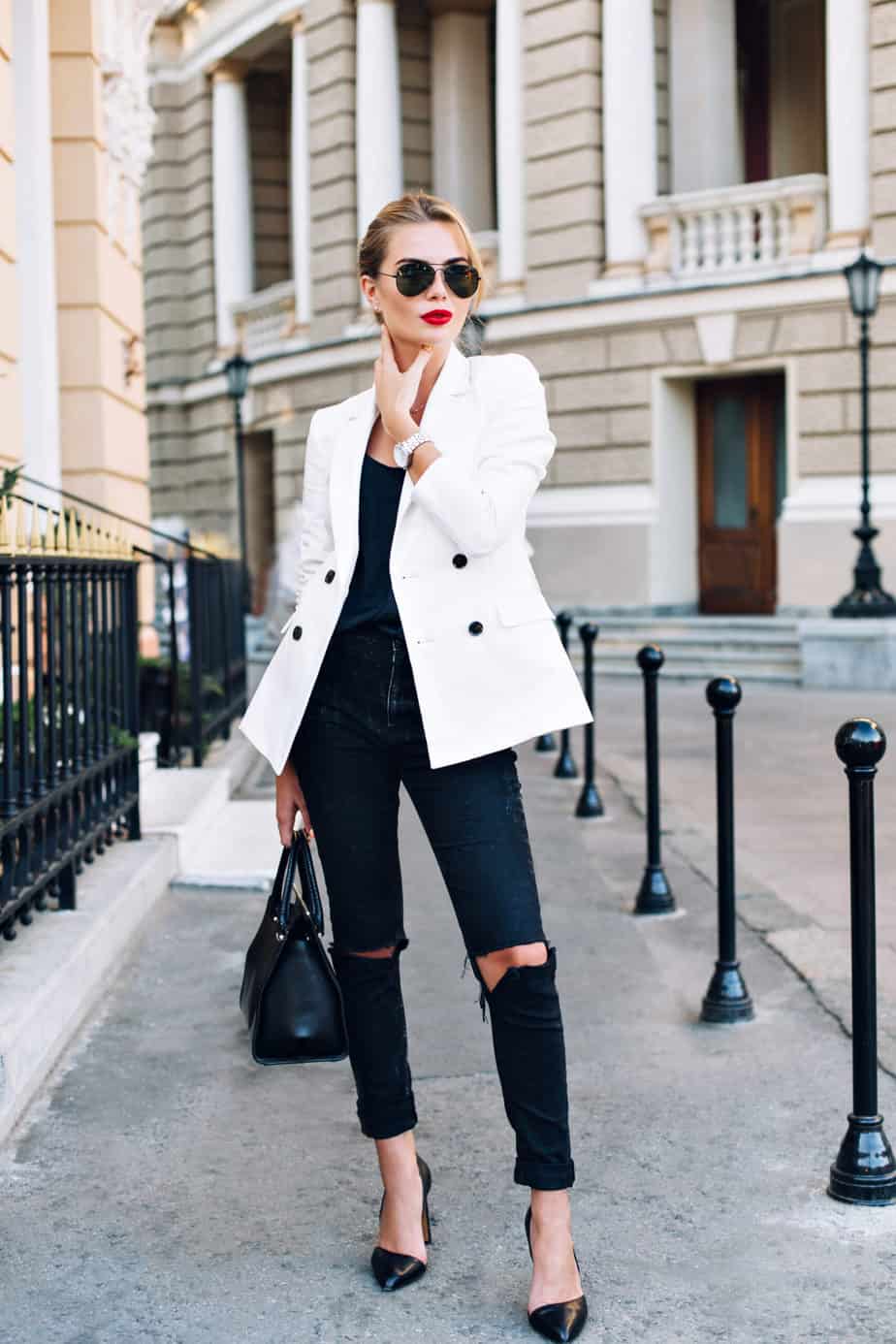 Tops
Like shoes, black jeans can work with a variety of different tops. T-shirts, jackets, crop tops, blazers, coats, sweaters, tank tops, hoodies, and blouses are all great options.
What Colors Look Best With Black Jeans?
Again, black jeans look great with just about any color. However, black jeans look best with white. White and black is the ultimate monochromatic color combination. Cream is also a great color for this purpose if you want something other than white.
If you prefer darker colors but don't want to wear all-black, gray and brown are colors that always pair well with black. But if you love the goth look, black-on-black is still a classic color combination.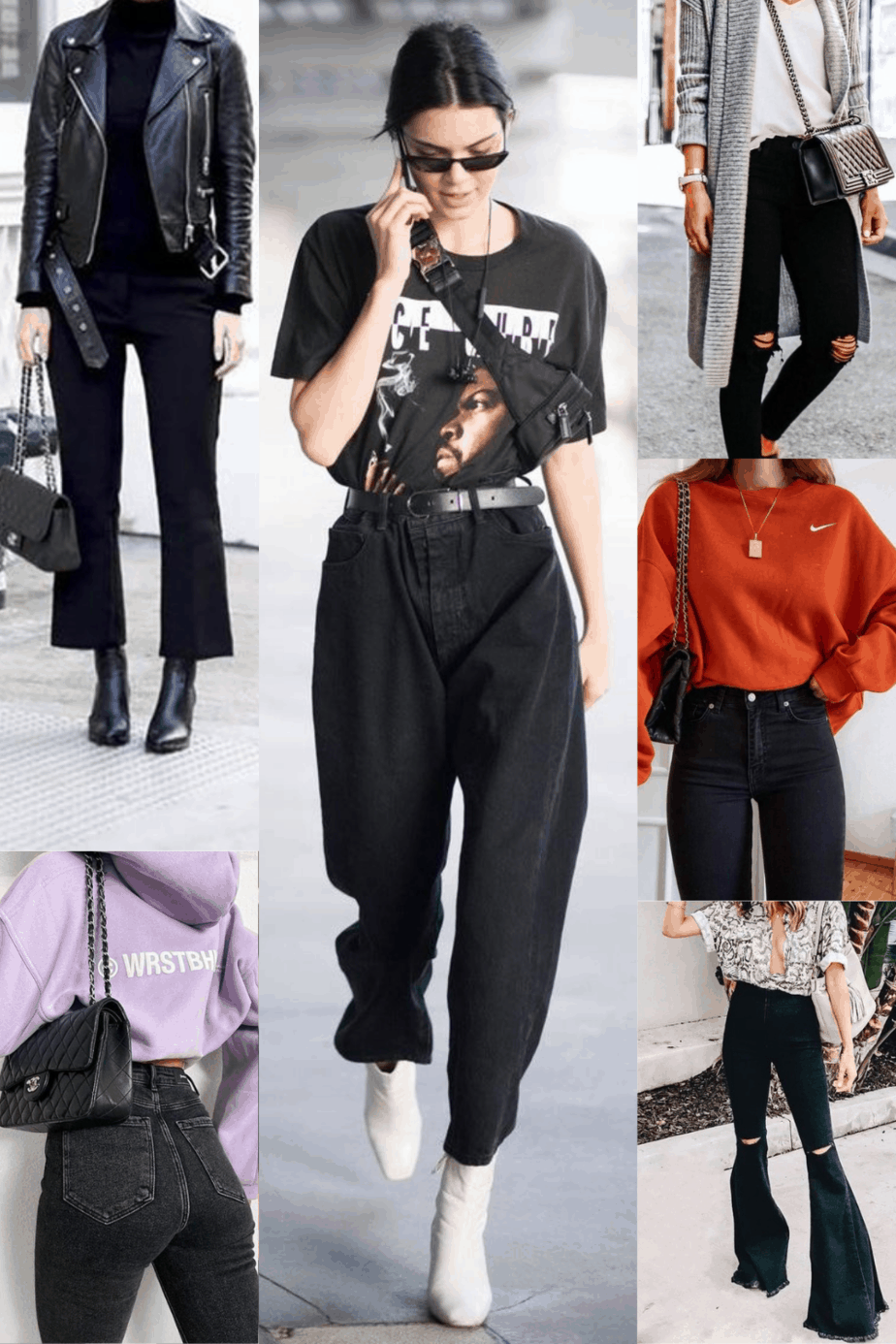 Warm colors especially look great with black and are perfect for the fall. You can go neutral with khaki or add a little bit of color with burgundy.
If you want to pop some color into your wardrobe, choose blue. Olive green is another color that looks great with black and one I usually gravitate toward. Bright green may look too loud, so be sure you choose a toned-down olive green. A chambray shirt especially looks great with black jeans.
What Colors Don't Look Good With Black Jeans?
Just about any color can work with black jeans if you match them well. Some people don't like wearing black-on-black or dark gray and black jeans, and that's okay. I also heard some people saying to not wear dark navy with black. Dark navy is the only shade of blue that looks good on me, so I always wear it with black. I don't see the problem.
I, for one, wouldn't wear yellow with black — it looks too much like a bee. Orange and black are also a loud combination. Then again, I hate the color orange.
Hot pink and black are also a little too much, though I used to wear those colors all the time when I was younger. Finally, everyone has different opinions on purple and black. I personally think purple and black look better than pink and black, but that's just me.
Wearing Black Jeans for Each Season
Winter
Black jeans are great for winter because they look amazing with boots. Whether you wear skinny or baggy black jeans, you can find a winter ensemble that looks great.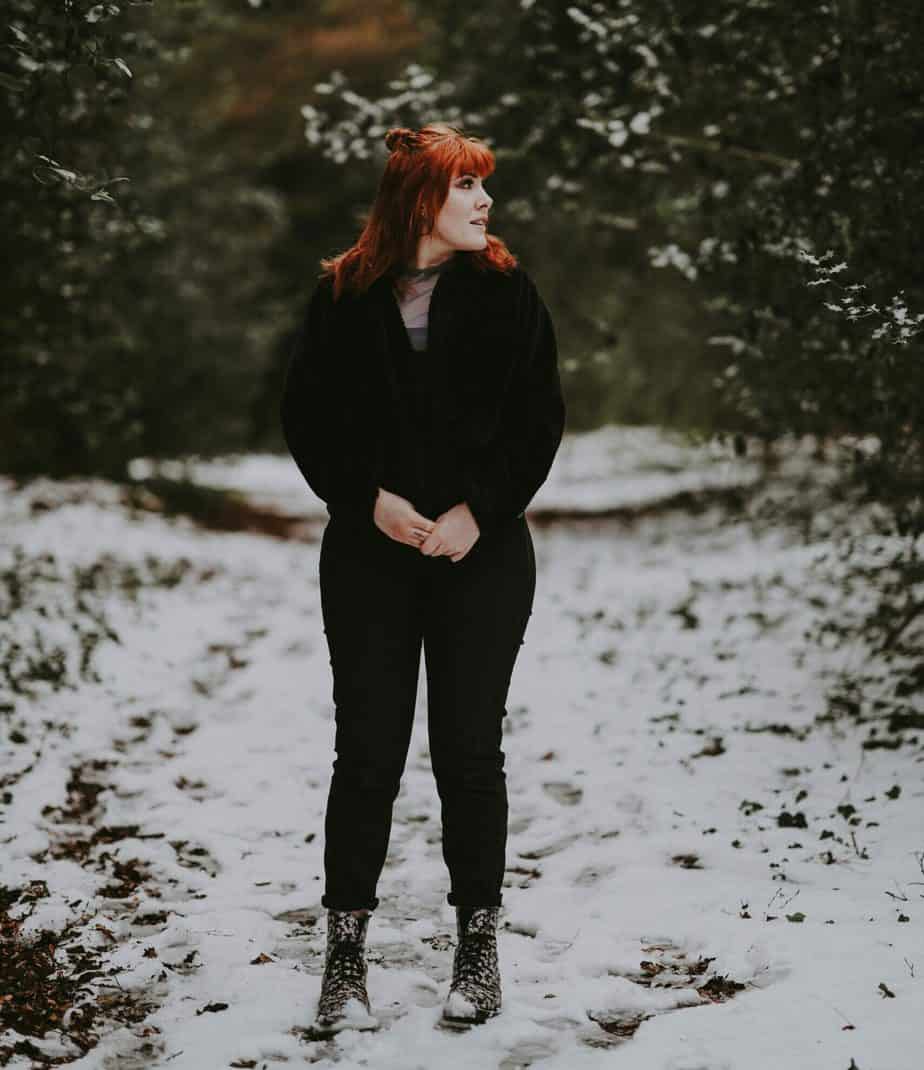 An oversized coat of any color or style will match flawlessly with black jeans. When it's time to take off the coat, wear a comfy sweater with your black jeans. Since black is a neutral color, you can pair as many layers in various colors and patterns to match your black jeans.
Summer
Even during the hot months, you can still wear black jeans. Jeans, in general, have a very casual aesthetic that's perfect for the summertime. Match your black jeans with a breezy top and flip-flops. Sneakers and flats are also good choices.
Skinny black jeans are usually the go-to pick, though any type of black jeans will work well in the summer. If you don't think black looks too summery, pair it with pastels such as baby blue. White will also tone down the dark colors.
Fall
Black jeans should be the staple of the fall wardrobe. Since they match perfectly with just about any color and pattern, they're perfect for layering. And if you don't like multiple colors, black-on-black is perfect for the fall. If you want something simple, wear a neutral-colored sweater, jacket, or coat with black jeans.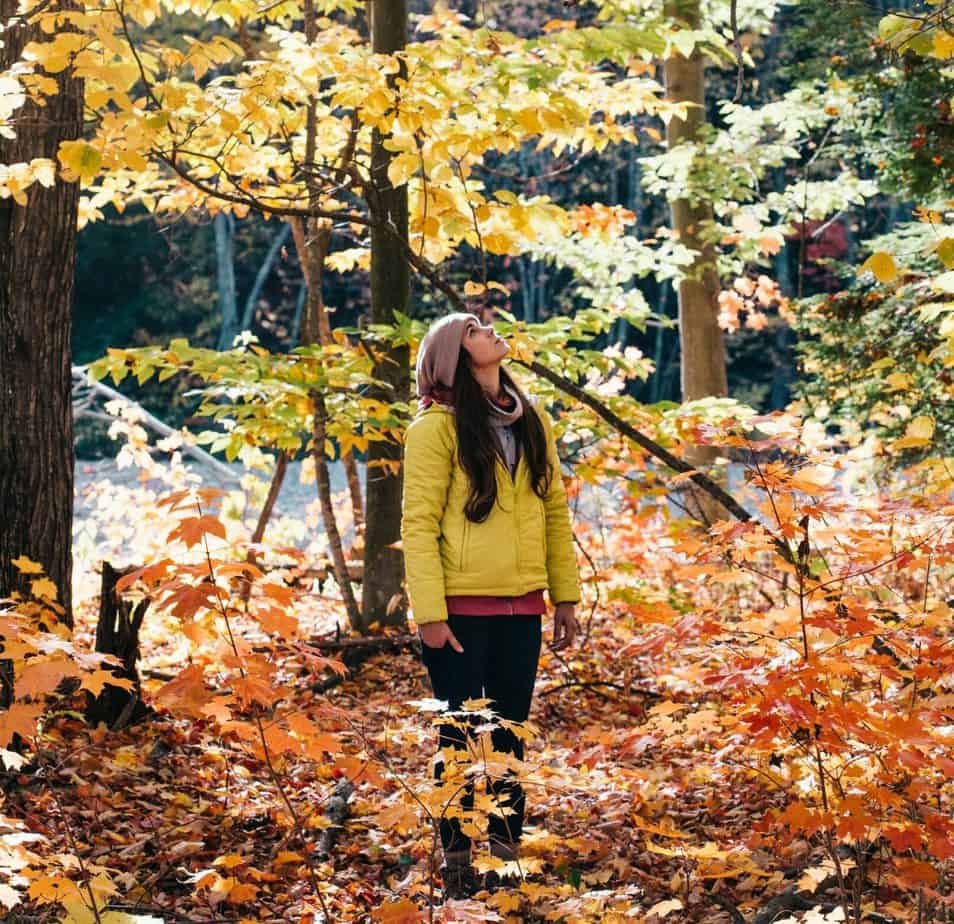 As far as boots go, combat boots are all the rage for the fall. Combat boots look especially amazing over black skinny jeans.
What if it doesn't get cold in your area? Some of the summer fashions can extend to the fall. Wear a neutral-colored blouse with your black jeans. If it's only slightly chilly, a light blazer or cardigan is a good alternative to a sweater.
For shoes, ditch your summer slip-flops for ultra-chic gladiator sandals. If you're going out, heels can amp up any black jeans outfit. Opt for flats or sneakers instead of boots.
Since it's fall, it's time to take out fall colors! Warm red and burgundy are usually the go-tos that look stunning with black. Some prints, such as leopard print, are perfect for the fall. If you're not ready to let go of summer colors, opt for blush pink instead of pastel pink.
Spring
Sure, black may not be the most "springtime" color. I'm the type of person who wears black all year round, so that's just me. But if you want to transition your black jeans to spring, there are simple ways to do that.
Pair them with a bright-colored top, such as yellow. You can also opt for a shirt with a fun print or stick to white if you're not a fan of colors.
If the weather is still chilly, switch from a dark sweater to a light denim jean jacket or a light-colored sweater. Sneakers are great shoes for the spring, especially since you'll be outside more.
Types of Black Jeans
Skinny
Black skinny jeans are one of my favorites of all time. They're extremely versatile and look amazing on just about anyone. Not only that, but they create the illusion of long legs. You can easily dress black jeans up or down. Skinny black jeans also look great with a variety of shoes, from boots to heels.
Ripped Jeans
Ripped jeans are very edgy and can make any outfit look more extreme. These jeans should be worn with equally edgy clothing, such as band shirts and leather jackets.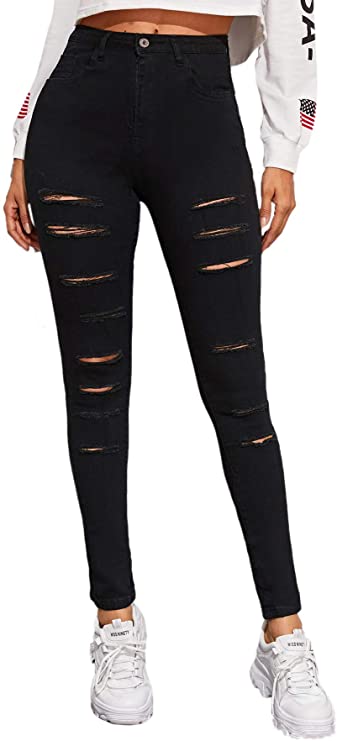 High-Waisted Jeans
High-waisted jeans have been a serious trend for many reasons. They look amazing on curvy women because they accentuate the hourglass figure. High-waisted jeans are also ideal for short women because they lengthen the legs.
The key to wearing high-waisted jeans, regardless of if they're black or not, is to accentuate the waist. Tuck your shirt into your pants or opt for a crop top. If you don't want to reveal too much of your waist, wear a jacket with your crop top. Finish off your outfit with a pair of heels or boots.
Bootleg Jeans
Bootleg jeans have been a staple for years, and they're not going anywhere. That's because bootleg jeans are extremely versatile. You can wear a variety of tops and shoes with them to dress them up or down. I'm also obsessed with bootleg jeans and have a separate shopping tab open as I write this.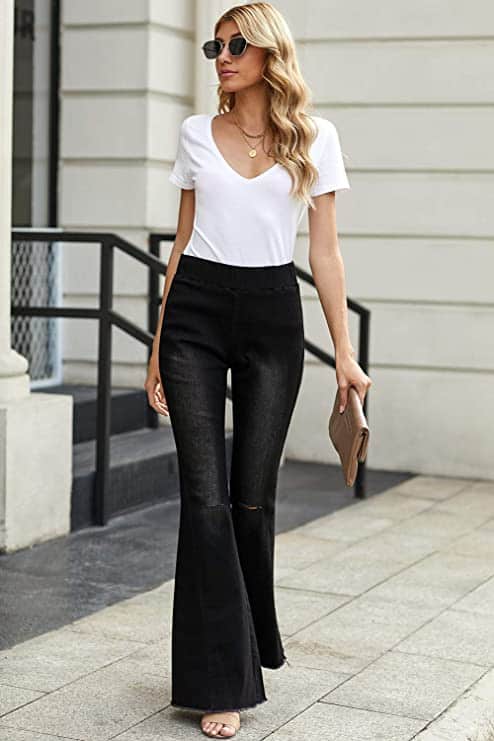 Wide-Leg Jeans
I've been obsessed with wide-leg pants lately. So much so to where I have a separate tab of wide-leg jeans open, and I may treat myself to a pair. Wide-leg jeans make a serious impact. They have a vintage vibe, so they are great for those who love the styles of the 60s and 70s. And if you style your wide-leg black jeans well, they can work for just about any occasion.
I personally love wearing high-waisted wide-leg jeans with crop tops. This balances out the outfit and won't make your crop top look as revealing.
Additional Tips When Wearing Black Jeans
Wear heels if you want to look polished, and wear sneakers if you want to look casual. Boots look great with both styles.
While black looks great with certain colors such as burgundy, black jeans look best with other neutral colors.
Black jeans are suitable for the summer, but they may be too hot. You may want to opt for a pair of black denim shorts instead.
On the contrary, black jeans may not be warm enough when the weather is cold. Wear yoga pants or warm tights under your black jeans for extra warmth.
While black skinny jeans are universally flattering, they're going out of style.
Our Favorite Outfits With Black Jeans
All-Black

We love this triangular black crop top with high-waisted black jeans. The look is not only fashionable but very sexy. This is definitely something I can see myself wearing on a date with my boyfriend. Posted by @minnie_moll.
Neutrals All the Way
Different neutrals, such as black, tan, and khaki, look amazing with black jeans. @samathabelbel proves this. Even though her black jeans are ripped, they match well with the subtle tan tank top she's wearing. This is a great everyday outfit if you want to look chic but aren't sure what to wear.
Color and Black Denim
Since black can match any color, it's perfect to wear with bright colors and fun patterns. @madi_baldwinx wears a cute heart-patterned top in pink and purple with a pair of black ripped jeans. Her look is bright and colorful, and the black ripped jeans add a bit of edge to a feminine top.
Patterns and Black Denim

Again, black jeans can match any color but also any pattern. @ankrellouss sports an ultra-chic rose-patterned blouse with a pair of wide-legged black jeans and combat boots. Her look is edgy but also very feminine. Since the blouse is black, it balances out the black jeans and boots well.
Ready for Fall

@dipanquestor_oficial is making me excited for fall! She's sporting a loose-fitting white sweater over a pair of black skinny jeans. Her look is very simple but fashionable, giving me some inspiration for my upcoming fall wardrobe.
FAQs
Question: Are Black Jeans Trending in 2022?
Answer: Yes! But the ultimate trending style will shock you. Bootcut jeans are probably the biggest black jean trend you'll see this year.
Question: Are Ripped Jeans Trending in 2022?
Answer: Unfortunately, it seems like ripped jeans are going out of style this year. But I don't care; I'm still wearing my ripped jeans.
Question: What Color Boots Look Great With Black Skinny Jeans?
Answer: Black is my go-to boot color. However, navy, burgundy, and dark green boots all look great with black jeans. Brown can also match, but make sure you pick dark brown boots.
Question: Can I Wear Black Jeans to Work?
Answer: This depends on your job's dress code. If your workplace has a casual dress code, then go for it! Even if your office has a casual dress code, you'll still want to pair your black jeans with the right blouse and shoes for professionalism but also to show off your personal style.
Bottomline
Jeans are still one of the ultimate fashion staples, and black jeans will especially reign this year. Black jeans are great because they match a variety of colors. Black is a neutral color, so you can easily match and layer over your jeans. You can wear a myriad of different tops and shoes with your black jeans, as well.
As with all things, you need to match and wear your black jeans well. Hopefully, our outfit ideas helped give you some inspiration for your next black jean outfit!