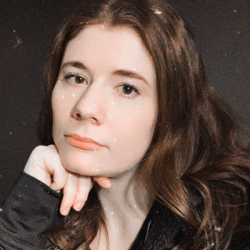 Latest posts by Kelsey Purcell
(see all)
There is something about the perfect pair of shoes that can completely influence your confidence. Once you have a go-to pair of power heels, you feel like you can change the world. But this season, you may want to consider returning your basic black heels for something a little more glamorous. Silver heels are eye-catching and playful while still being incredibly versatile.
When you want to sparkle and shine, having a silver heel is a pop of luxury that can alter your outfit completely. Whether you're attending a holiday party, going on date night, or just want to indulge in some glamour, wearing a silver heel can offer you the style you're looking for.
What to Look for in Silver Heels
When shopping for heels, it's about more than just the color of the shoe. You're going to want a pair that's comfortable, that has the right amount of heel height for you, and that you feel comfortable and stable in. That's why in our list, we have compiled all kinds of silver heel options. From super high to a kitten heel, with straps and without, this list has it all.
Choosing Good Quality Shoes
As tempting as it is to go for the lowest price pair, consider the quality you're going to get for your money. If this is a new wardrobe staple, you want this pair to last you as long as you can! The last thing that you want is to choose a pair of heels that is going to fall apart or be uncomfortable over long periods of wear. Comfort and longevity are investments to make. Remember, high quality isn't always tied to the price tag!
What is Silver?
Silver isn't a universal color in the fashion world. Just like any other color, there are various hues and shades, and the silver color may be in the different elements of the shoe – such as glitter or gems. Think about if you want a basic, solid silver shoe or if you're looking for a little extra boost of charm.
Since not all silver shoes are the same color, think about your new purchase in the greater context of your entire wardrobe. What do you already own? What do you wear most often, and how will it pair with your new silver heel? Having an idea of what your closet currently looks like can influence your choice of silver heels.
Buy the Right Size
Unfortunately, shoe sizes can be all over the place, both between brands and within them. Some styles of shoes will fit your feet in different ways, so as tempting as it will be to defer to your default size, you may want to look at measurements more closely. How your running shoes fit will be different than heels, so the sizes could differ.
If you're buying in-store, try on different pairs in multiple sizes to get a feel of what's most comfortable. And if you're shopping online, look at the measurements and size scale that the brand uses. And buy from stores with a good return policy!
When all else fails, there are tons of shoe inserts on the market that can make wearing heels more comfortable. Whether you need a little cushion on the balls of your feet, a liner on the entire sole of the foot, or heel support to prevent chafing and aching, there are options.
Style of Heel
Heels come in many different styles, and most of us have a preference for comfort and look. You may love super high heels, platform heels, or sandals or ankle straps. Silver heels come in all kinds. Once you decide the color and size, it's time to move on to the style of heel and the context you'll be wearing them.
Casual: If you're looking for a flirty, casual heel, then something a little shorter with less bling and detail is a good choice. Keep your silver heel minimal, but it will never be boring.
Professional: A classic pump will never go wrong in a professional setting. Whether you go for a 2-inch heel or higher, your look is polished and shiny with silver heels.
Fun: When you're at a party or a formal event, you can bring out your fun, unique silver heels. Ankle straps, slingbacks, or platforms can let your personality shine through. You can also play with the width of your heel, choosing between a chunky heel or a slim and sharp heel.
Best Silver Heels
Silver heels come in all styles and fit every taste, but there are some silver heels that have caught our eye and captured our hearts.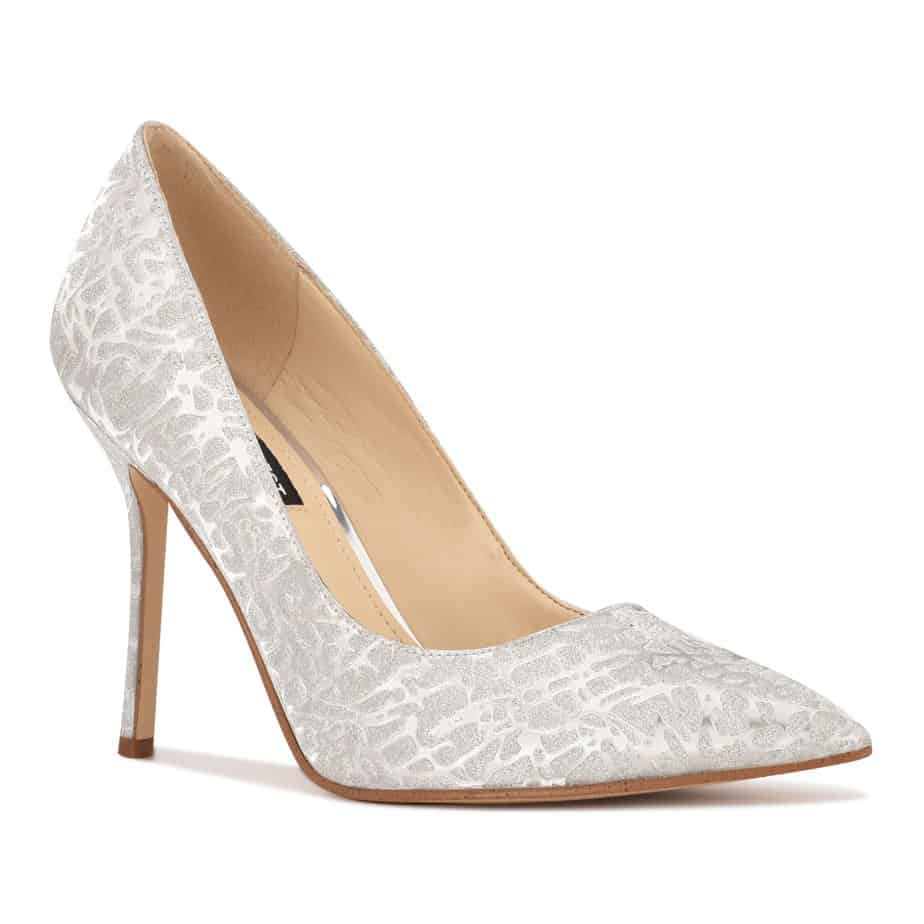 The beauty of this sky-high pump lies in its textured details and sparkly shine. It has a subtle leopard print made up of sparkles to add a little extra personality to this pair. It's your classic pump with a 4-inch heel. The beauty of this pair is that its pointed toe is suited to the workplace but also transitions to a more casual setting. And who doesn't love a shoe that can do it all?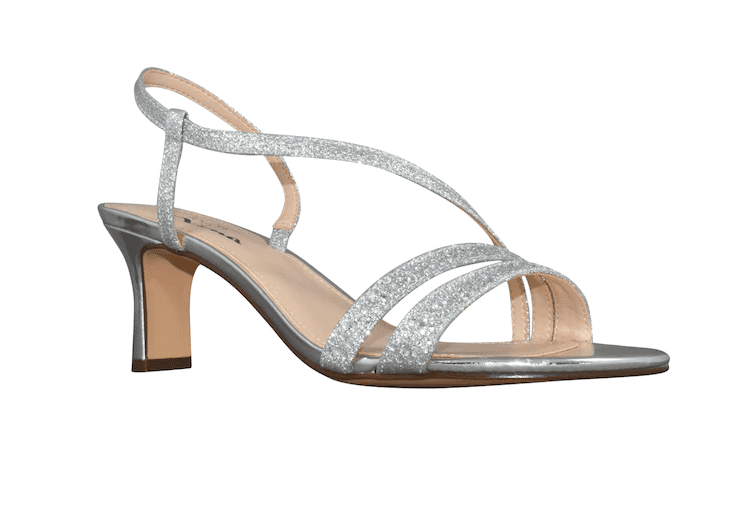 If you're seeking a silver heel in a sandal-style shoe, this Touch of Nina heel is a go-to. Whether you're going on a tropical vacation and want a nice pair of shoes or want your heels to be the star of the show, the 2.75-inch heel is comfortable and stylish. It has an asymmetrical slingback strap and rhinestone decoration to make it stand out. The slightly wider heel offers a little more stability if you're not as steady on your feet.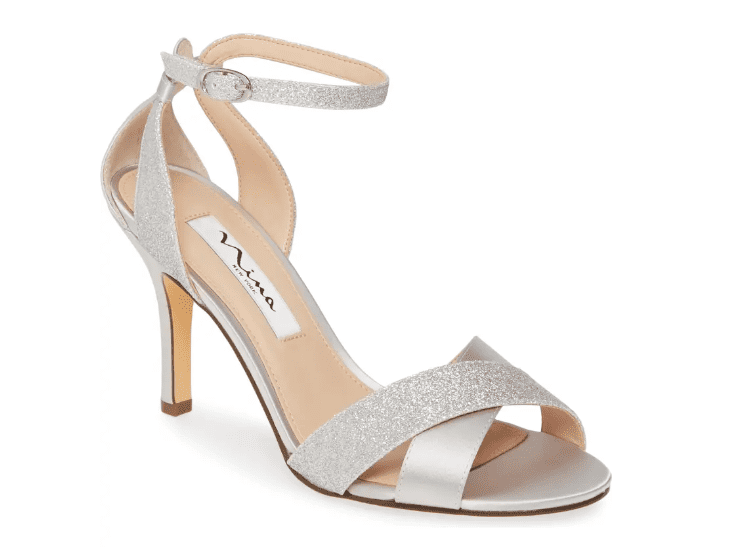 There's something about an ankle strap that makes a pair of heels feel dainty and sophisticated. This pair has a cushioned sole built-in for more comfort and a sparkling adjustable strap. With a heel height of 3.5 inches, it sits at a happy medium between very tall and a kitten heel. With holiday party season right around the corner, this pair is the perfect option. You can rock these shoes year-round when you want to add a little luxury to your outfit.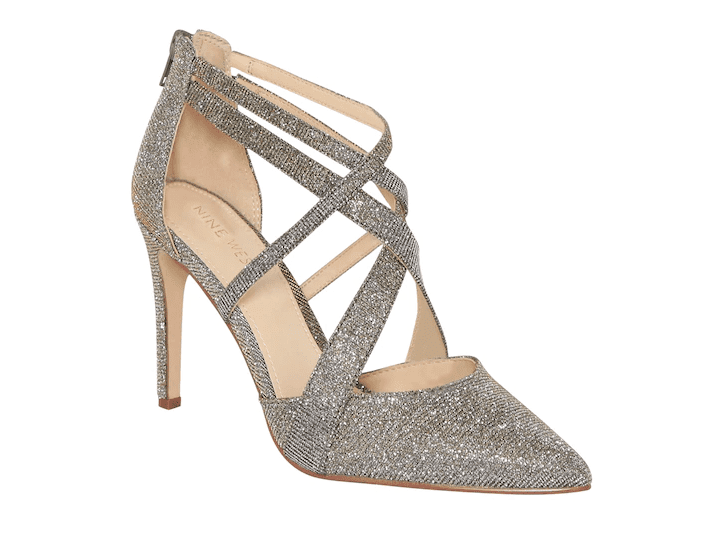 A silver heel doesn't have to be as light as white gold. A darker silver heel is perfect if your overall look is richer and more profound. This pair is a strappy pump that is similar to a bootie. It has a zipper at the back to secure the shoe to your foot and give you more stability. A sparkly addition to your shoe collection, this almost 3-inch pointy toe pump is a textured glitter dream for anyone who loves a little fun.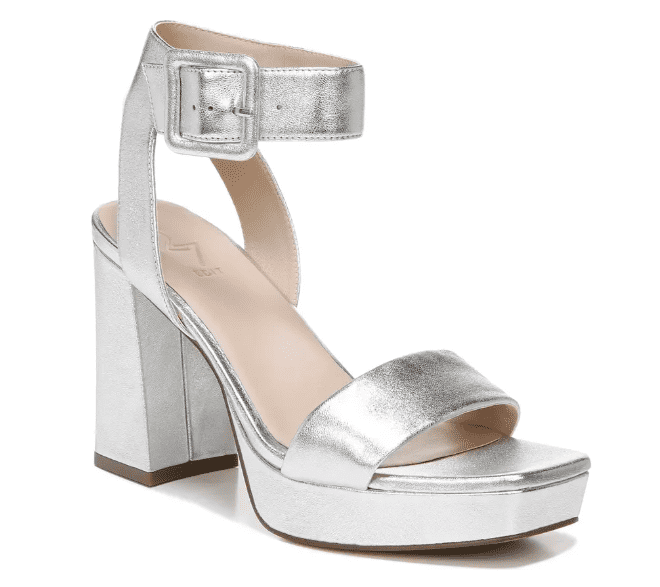 These silver heels are a blast from the past! The wide straps and chunky heels are reminiscent of the 1970s style and counterculture. This silver modernization is the casual statement piece you need. The platform and chunky nature of the shoe mean it's incredibly comfortable despite its 3.75-inch heel. This style of shoe is coming back into fashion, and this silver rendition is a pop of glamour to draw eyes to you.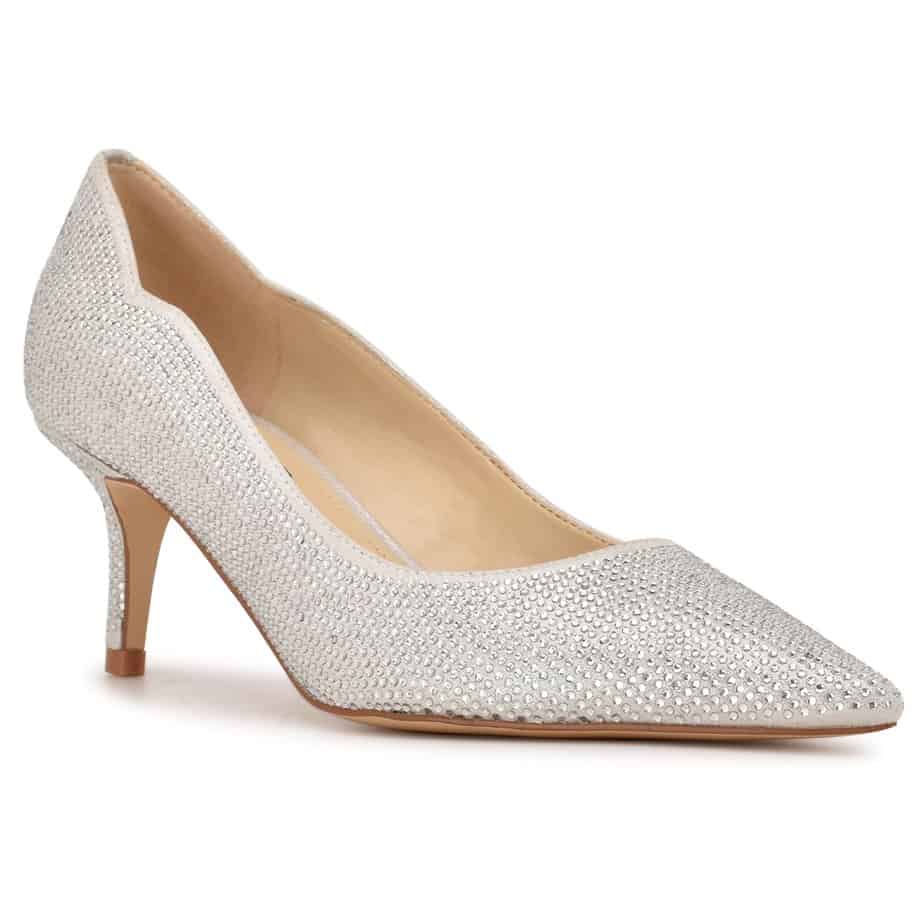 Your heels don't have to be high to make a statement! If you gravitate more towards kitten heels, then this 2.5-inch heel is for you. The silver color comes from the rhinestone details all along the shoe, so it's perfect for more formal occasions or for a night out. You still get the stunning silhouette of a classic pointed-toe pump without the threat of spraining your ankle.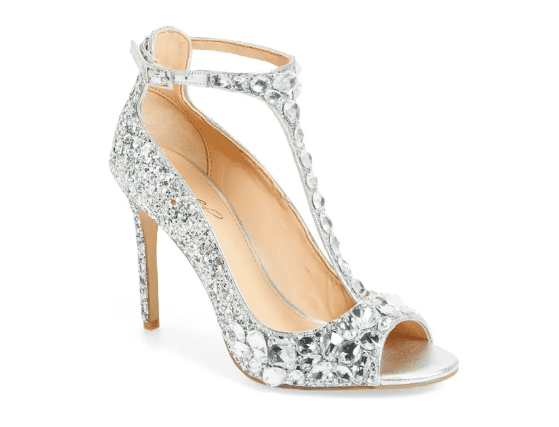 T-strap heels are a timeless feature that we don't see nearly enough on our heels. This pair of silver heels is covered in rhinestones to create a dazzling accessory. This 4-inch heel feels indulgent and is sure to make a statement of extravagance when you wear it. A cushion on the footbed brings optimal support and has an adjustable strap to secure it to your feet comfortably.
Where to Find Silver Heels
Silver heels are always in style, and they are especially popular around the holidays because they are particularly festive. So you're likely to find silver heels at all of your favorite stores, but if you want to see multiple brands in one shop, there are a few stores to stick to.
Designer Shoe Warehouse (DSW)
Nordstrom
Marshalls
TJ Maxx
H&M
Of course, other stores will have a selection, too but will be brand-specific. If you have brand loyalty, it's worth it to check the stock in your favorite stores.
Style Inspiration
Monochromatic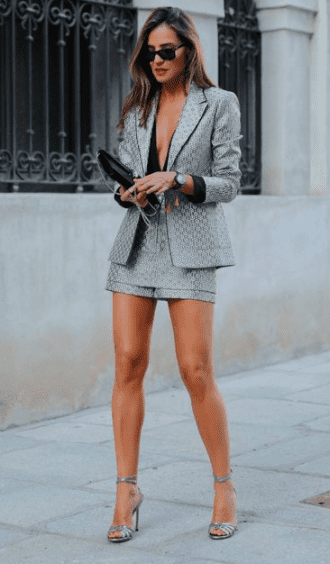 Wear silver head to toe to shine and be glamorous. Whether it's a pantsuit for work, a cocktail dress for an event, or anything in-between, keeping everything cohesive makes a statement and is incredibly eye-catching.
Casual Denim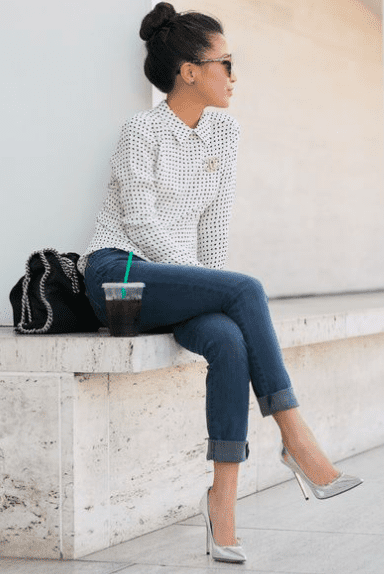 Silver heels don't always have to be formal. Use them as a neutral in your casual outfits to kick your look up a notch and give your well-loved black heels a rest.
Midi Skirt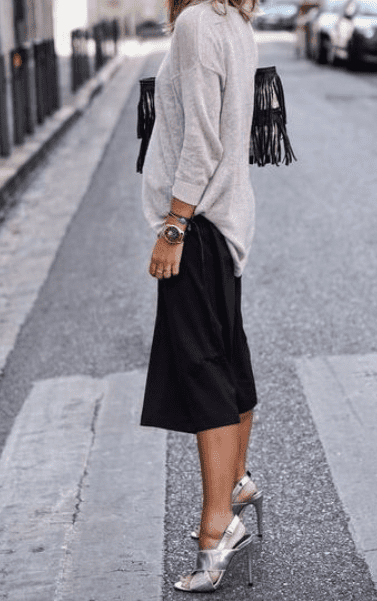 The best thing about midi skirts is that they draw the eye to the shoes. If you want your silver heels to be a focal point in your outfit, wearing them with a midi skirt is the way to go. It's also the perfect combo for spring and fall – just at the in-between temperatures to make this outfit super comfortable.
FAQs
Question: Are silver heels trendy?
Answer: The great thing about silver heels is that they are trendy but also classic. Silver is neutral and can be adaptable to almost any outfit color scheme. There is never a worry that silver heels won't look good on you because they are universal!

The deciding factor of what is classic and what is trendy comes in the style of the shoe, rather than its color. Stilletos and pumps are classic. They are incredibly versatile and can work with almost any look. If you're choosing a more unique style of shoe, like a super chunky style or one with a lot of straps and cut-outs, they're more trendy. Classics can withstand any season, but other types may come in and out of fashion.
Question: How do you wear silver heels?
Answer: Silver heels can be worn with whatever your heart desires! Color-wise, you can wear it with a monochromatic silver outfit, with a pop of color, and you can never go wrong with white. You can always wear silver heels with a blazer and trousers, a cocktail dress, or with a casual t-shirt and jeans. They're far more versatile than you may think. Metallics are neutrals, so you can play around with combinations you love and experiment! There is no wrong way to wear metallic or silver heels.
Question: Can brides wear silver heels instead of white?
Answer: There is no concrete rule that says you have to wear white or ivory shoes with your wedding dress. As a bride, it's up to you! But increasingly, silver shoes are becoming a popular choice among brides. The silver adds a sleek shine to the bridal look. The great thing is that it won't interfere with your color palette. It will complement your jewelry, accessories, and your dress beautifully.
Bottom Line
Silver heels are a must-have in any shoe collection. Of our list, the Nine West Bliss Pointy Toe Pump is probably the most adaptable and classic option. This pair will take you from day to night, professional to casual to formal, and be a staple in your collection. If you're looking for a pair that's exclusively formal, the Nina Ankle Strap Sandal is a refined and elegant option to turn to when attending events.
Whether you're looking for a fun, casual new pair of heels to rock on your time off or a professional pair of stilettos, silver is a color that can do you no wrong.
Further Read: