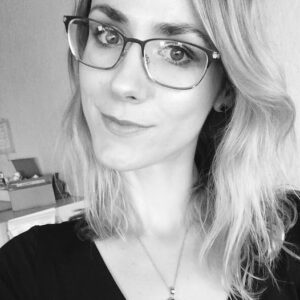 Latest posts by Karyl Trejo
(see all)
Shoes are arguably one of the most important fashion items in our wardrobe, and the different styles of this footwear are often associated with different traits of the wearer. For example, sports shoes are credited with practicality and comfort, and heels are now credited with femininity and elegance.
Because of this, wearing heels is now considered to be a distinctive mark of style and attractiveness in a modern woman. It's been said that every woman should always have at least one pair of heels in her closet (even if she doesn't wear them daily), as they're indispensable for many occasions. 
The choice to wear this type of shoe is usually determined by the wearer's different sense of style and aesthetics. However, it can't be denied that society also influences the pressure placed on women to wear them. That's why today, you'll be just as equally likely to find a woman who wouldn't dare slip into heels even to save her life, and yet you've got others who some simply couldn't live without her sexy mile-high stilettos. 
And if you're a member of the latter group who not only loves her heels but you also are excited to discover more trends and styles to wear gold heels, then guess what? You have come to the right place. Let's look at the top gold heels for this year.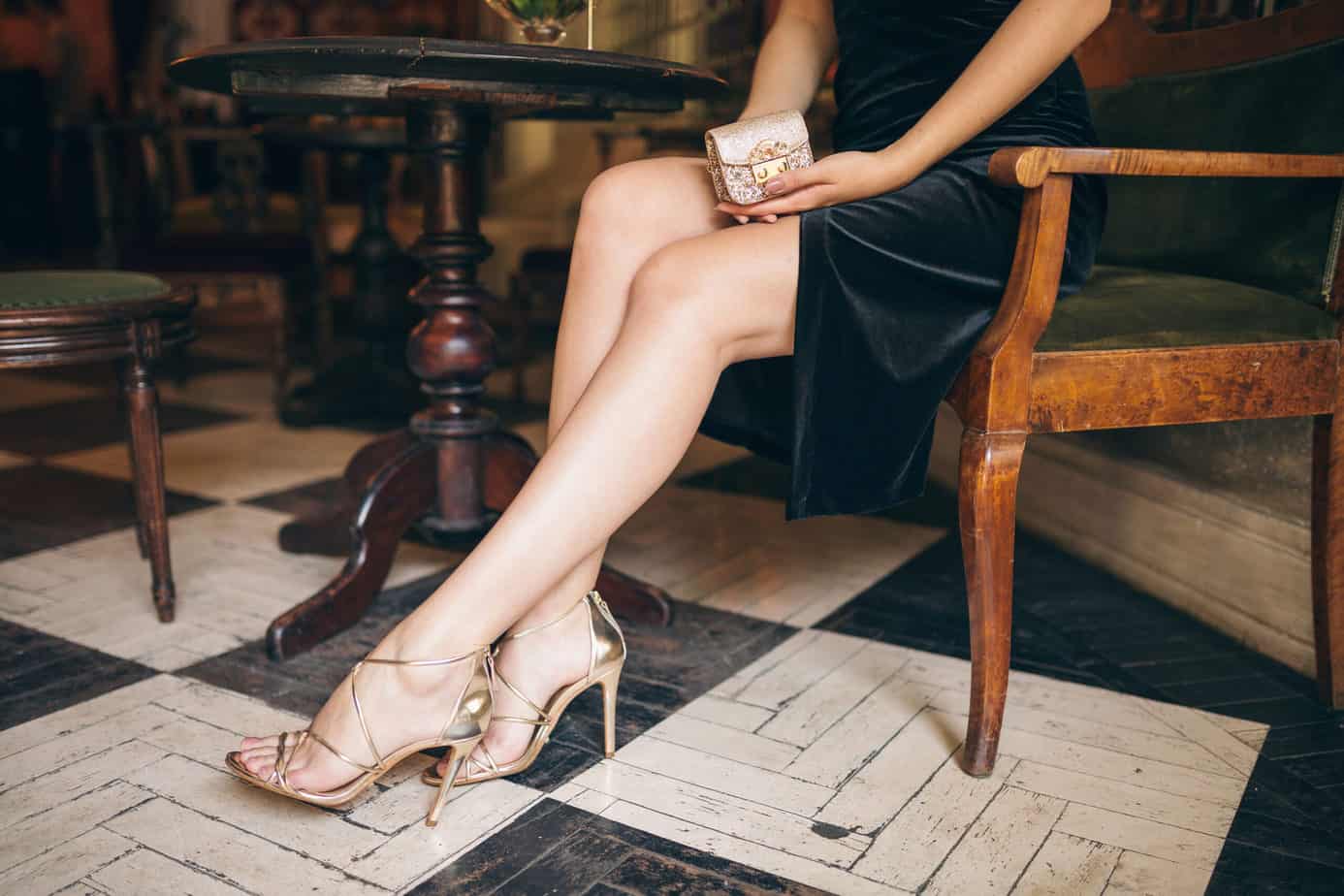 The Benefits of Wearing High Heels
It's no secret that wearing heels has multiple physical benefits, such as making your legs look great and adding a little boost to your height, too rather than just wearing flat gold shoes. But did you know that wearing them also offers numerous health benefits, as well? And while it's true that flat-soled shoes can be more comfortable but there are comfortable heels and flats just don't have the benefits that high-heeled shoes offer.
These benefits of wearing high heels aren't only physical, either. They're also psychological. That means they're not just a stylish choice, but they're also a healthy option for your mental health too. These benefits include:
Working your leg muscles

Preventing joint damage

Providing sneaky exercise

Adding to your stature

Better posture (and a slimmer silhouette!)

A nice little confidence boost
Let's go ahead and take a closer peek at these known benefits, shall we?
Works Your Leg Muscles
Wearing high heels can strengthen the muscles in the leg, leading to sleek muscle mass in your calves. The impact of this benefit is proportional to the heel's height, though. The higher the heel is, the more effort is exerted on your calves. If you wear them for even just a month, you'll quickly start to notice how your legs look and feel much more toned.
Ward Off Joint Damage
With age comes wisdom, but we also tend to develop aches and pains in different areas of our bodies. It's normal for joints, muscles, and even bones to lose their strength over time. But thanks to recent studies, the myth that heels affect the joints in women has been debunked. 
Yes, women are indeed more prone to developing leg problems with age. However, it's not because of the heels they wear. In fact, heels have been shown to actually help strengthen muscles, joints, and ankles, making it a win-win overall!
Lets You Skip the Gym
Well, not entirely. This point only applies to certain types of exercise. But by wearing heels, you'll start to exert more pressure on your body and have better posture. In turn, you can also start to develop greater pelvic strength. This can be beneficial in various physical activities, which is why heels make for a stylish and attractive exercise machine.
Adds Some Height
One of the more obvious benefits of wearing high heels is that they make you look taller, which you won't find with flats. The height, beyond the obvious aesthetic purposes that it can offer, can also help increase your confidence. Taller ladies stand out more, and if you can receive these benefits and look amazing at the same time, then why wouldn't you wear them?
A Slimmer Silhouette
Wearing heels, as it turns out, has an effect on your entire body. This includes your posture, too. Your entire body responds to the shoes, leading you to arch your back a bit. For those of you who may be trying to shed a few pounds, they may even help you lose weight — and might be even more effective than those new-age trending diets that occasionally make the rounds!
A Welcome Confidence Boost
Staying healthy is more than just getting your vitamins and a good night's sleep. It also depends on your overall level of confidence and self-esteem too. People who lack confidence also tend to have difficulties in their daily lives, whether at work or at home. 
Whether you're out on a date with that cute person you made eye contact with last week, or you're attending a professional meeting at work, having the appropriate pair of heels can give you the confidence you need in both situations. And of course, don't forget that little extra touch of beauty and elegance!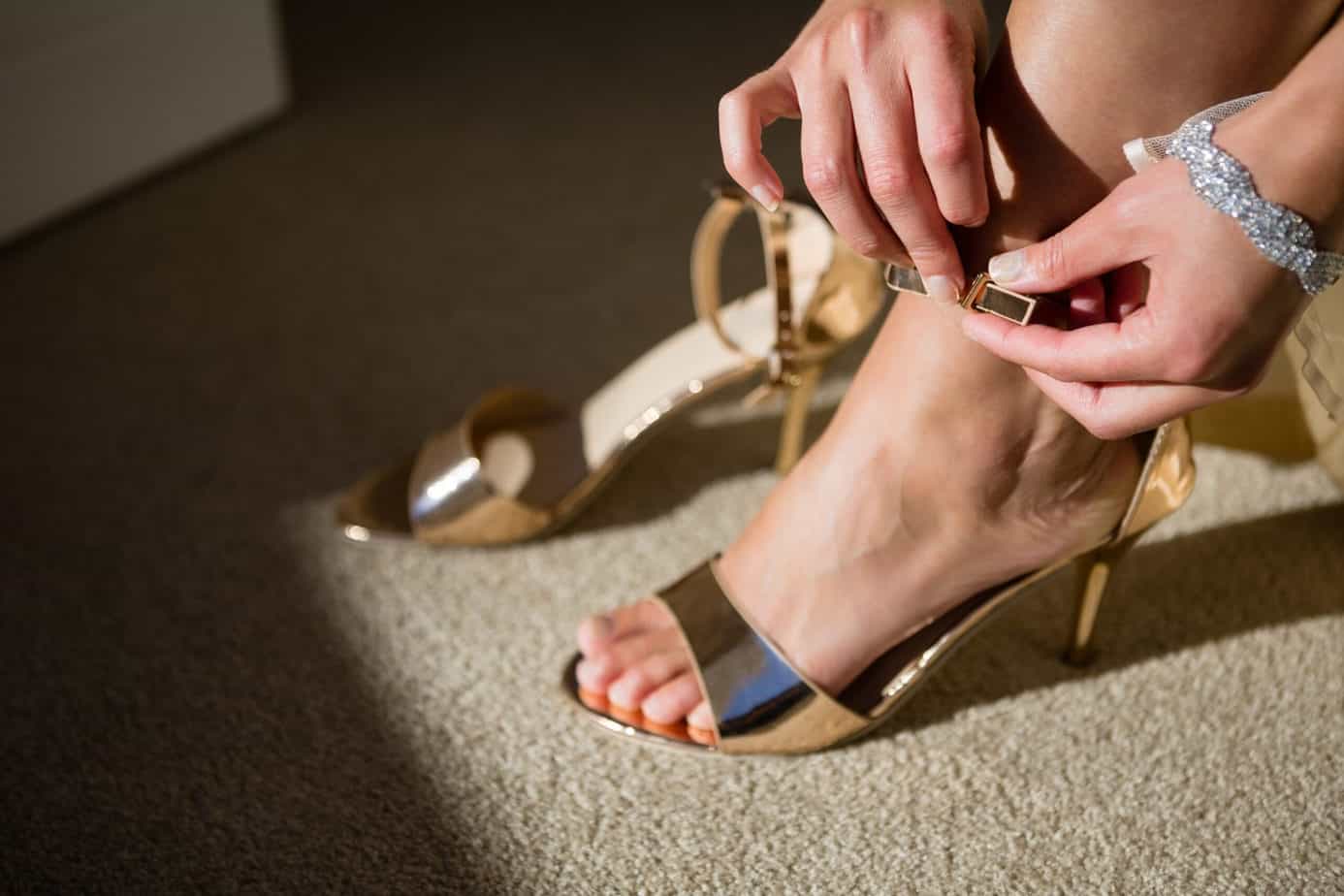 The Main Differences between Stilettos and Pumps
There are multiple differences between these two styles of shoes, whether it's their height, the material used, and even their appearance and comfort. Many people may think that they are the same, but the fact is, they aren't. Let's go ahead and weigh in on the main differences between both styles.
The Heel.

One of the main and most noticeable differences between these kinds of shoes is their heel. For starters, pumps have a heel that's generally not very tall or thin, whereas the stilettos have heels of different heights, but all being relatively high and quite thin at the tips.

Their Comfort.

This is another deciding factor when it comes to comparing these styles. Pumps are noticeably more comfortable, as they are much lower in height, whereas stilettos exchange a little of this general comfort to show off legs and offer a much more graceful figure in return.

The Styles.

Although both are quite stylish, they nonetheless have different uses. Pumps are very versatile and can be worn casually (with

jeans

or a 

skirt

) or dressed up (like with an evening gown or

sparkly jumpsuit

), whereas stilettos usually give a more sultry and seductive appearance, and are more appropriate for hot dates and a night out on the town.
The Best Style Tips for Wearing Gold Heels
One of the main questions every woman asks herself before buying any shoe is, "What can I wear them with?" Sometimes it can be a bit difficult to imagine ourselves wearing some of the things in our closets, though, or to try to style them in our minds. But real talk: aren't you tired of always wearing the same safe (and admittedly boring) colors day in and day out?
It's always good to spice things up a bit using colors that stand out and give you that extra oomph. To help inspire you to reach for your gold heels more often, here are some easy style tips for rocking those gold heels with confidence. But first, let's go ahead and establish some ground rules for wearing these striking shoes.
Think about neutrals.

When wearing gold heels, try to combine them with something in a similar style, but in white or black. This will help create a nice contrast between the shimmer of gold and the clothes themselves. An edgy

moto jacket

or a cute 

blazer

 can be perfect for this.

Choose shoes that match your existing style.

The golden heels are already pretty striking on their own. If they don't follow the same style of your outfit, though, they can look very out of place. Try to mix the style of shoes and clothes in an organic, natural way.

Hold the accessories!

It's not a bad idea to add a few touches of gold in the form of necklaces, bracelets, or earrings, but you must be careful not to overdo it. If you do, it might be overwhelming and even come across as a little tacky.
Now that these basic rules are established, we can move on to talking about the most entertaining part: styles, clothes, and colors. Don't forget that it's always good to get out of your comfort zone and take a few risks here or there. Here are some fun ideas to combine gold heels in a natural way (and according to your style, of course):
If you're a lover of dark colors, wearing gold heels with a totally black outfit is always a great idea. The black contrasts the shine of the gold and makes it look more harmonious. Also, gold and black are always a good combination, as it just screams classiness. Simply add some matching accessories, and you're good to go.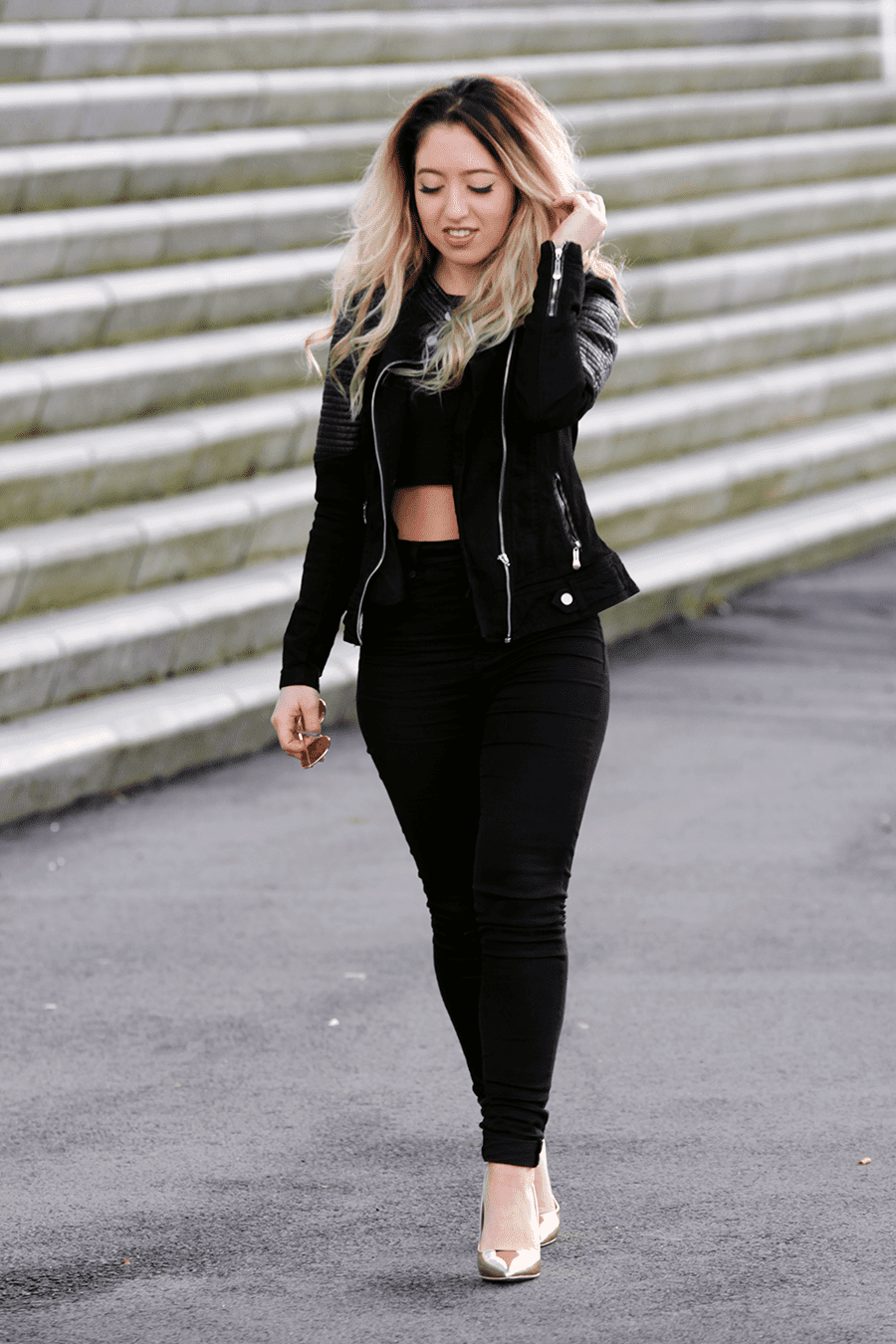 (Link: https://stylelisty.com/wp-content/uploads/2021/11/3XzdI7B.png)
If you want a casual style, you can combine neutral colors, like white or beige (or both, because why not?) with 

jeans

and matching accessories. You'll look cool and casual, but not sloppy. You can add touches of gold as accessories, too, or even a statement bag or a sequined blazer to help make the color stand out a little more.
(Link: https://stylelisty.com/wp-content/uploads/2021/11/jOQSPVY.jpg)
Another good idea when using basic colors is to mix a slightly more bohemian style into the equation. You can keep the same white and beige color palette with skinny jeans, but just choose a boho-chic top to complete the ensemble. Or you can use accessories that give a more relaxed vibe, such as a long gold necklace or dangling earrings.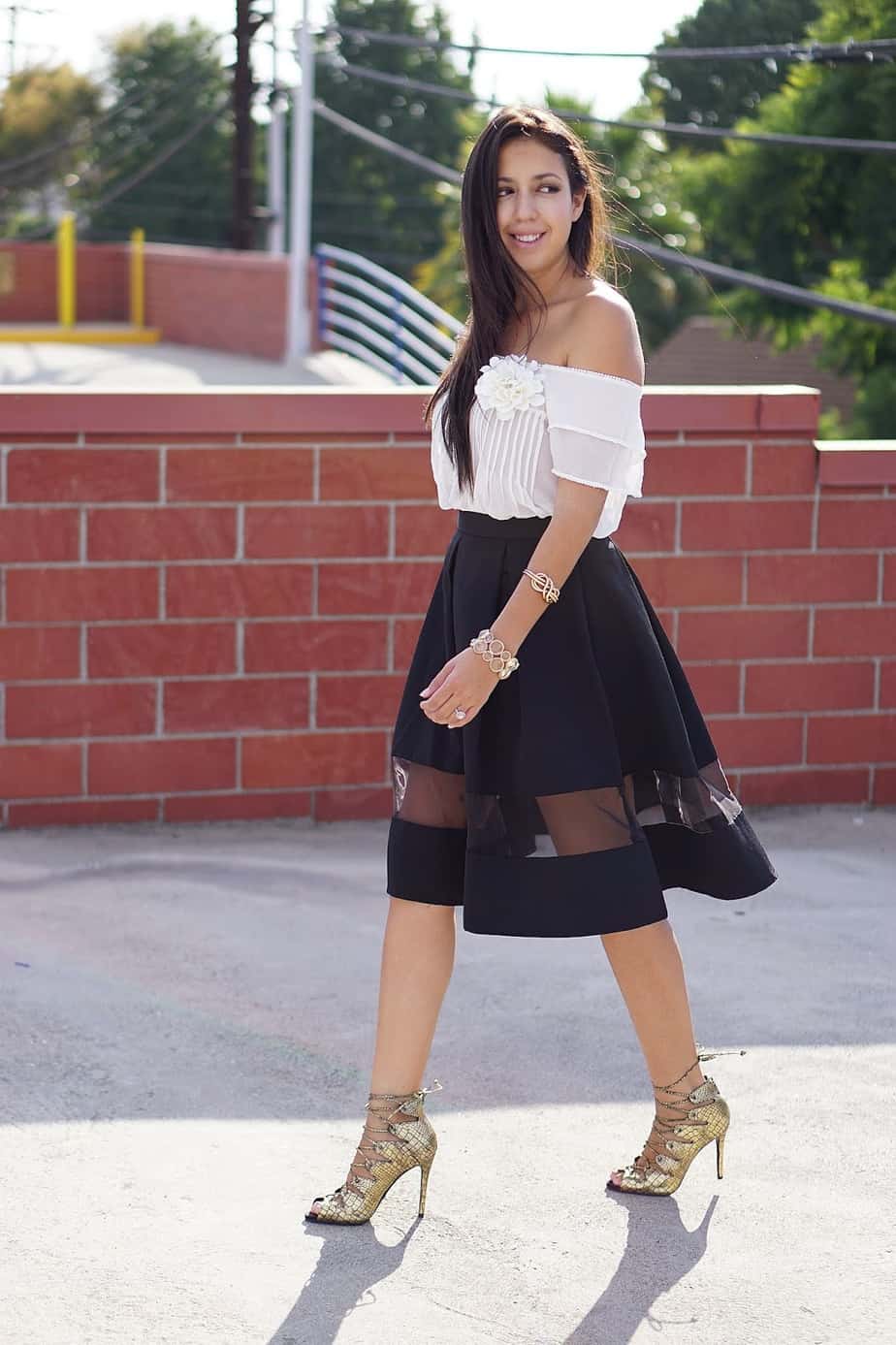 (Link: https://stylelisty.com/wp-content/uploads/2021/11/c5wERCu.jpg)
Nothing is better than pairing a 

dress

 with some heels. You can wear many different styles of dresses, too, such as one with ruffles, a halter neck, or even a combination of a 

t-shirt

 paired with a 

long skirt

.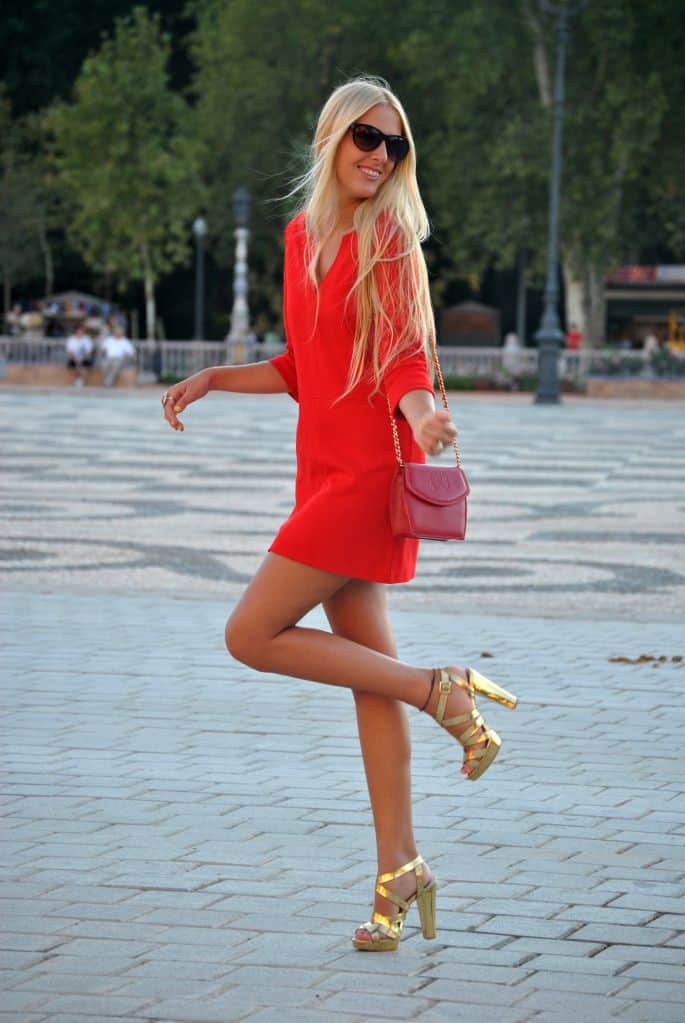 (Link: https://i.imgur.com/sbhoJyA.jpg)
If you decide to go bold, feel free to mix and match with your color palette. Reach for anything ranging from neutral colors (such as white) to more vivid colors such as (coral or

lime green

), as the important thing here is showing off the shoes. Tie it all together with a matching handbag, some matching accessories, or even a matching belt.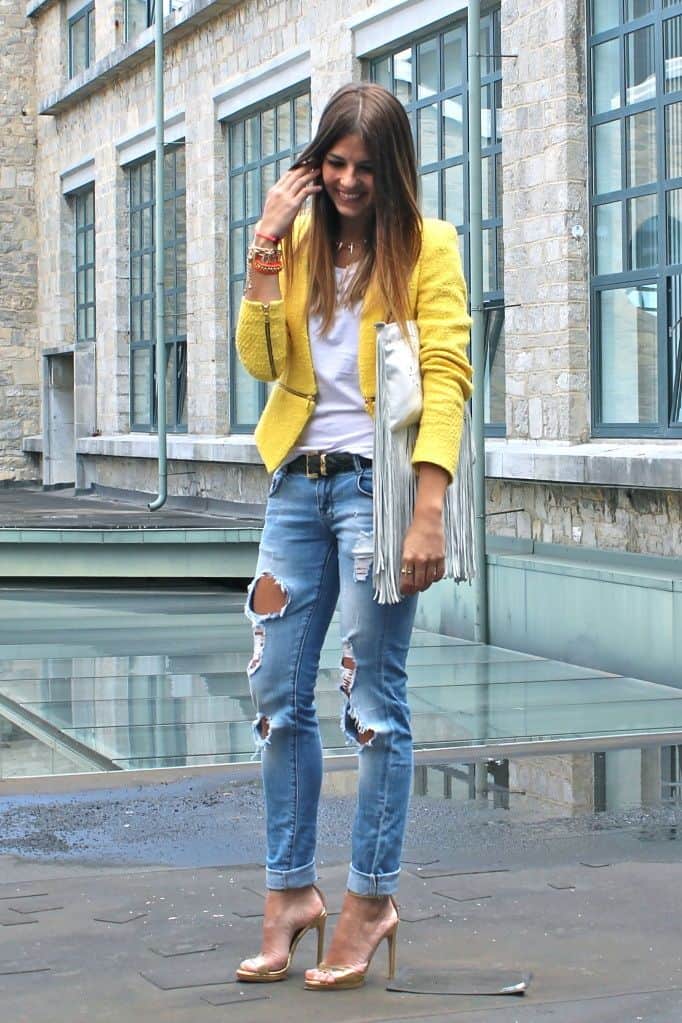 (Link: https://i.imgur.com/wQvqF8O.jpg)
If you want to show a little more leg with a more summery look, go for it! Combine some short shorts (in solid colors, prints, or even sequins) with your gold heels. Make one of the pieces white or black, as this will make the look more cohesive. Don't overdo it on the accessories, though, since you're trying to keep it more laid back.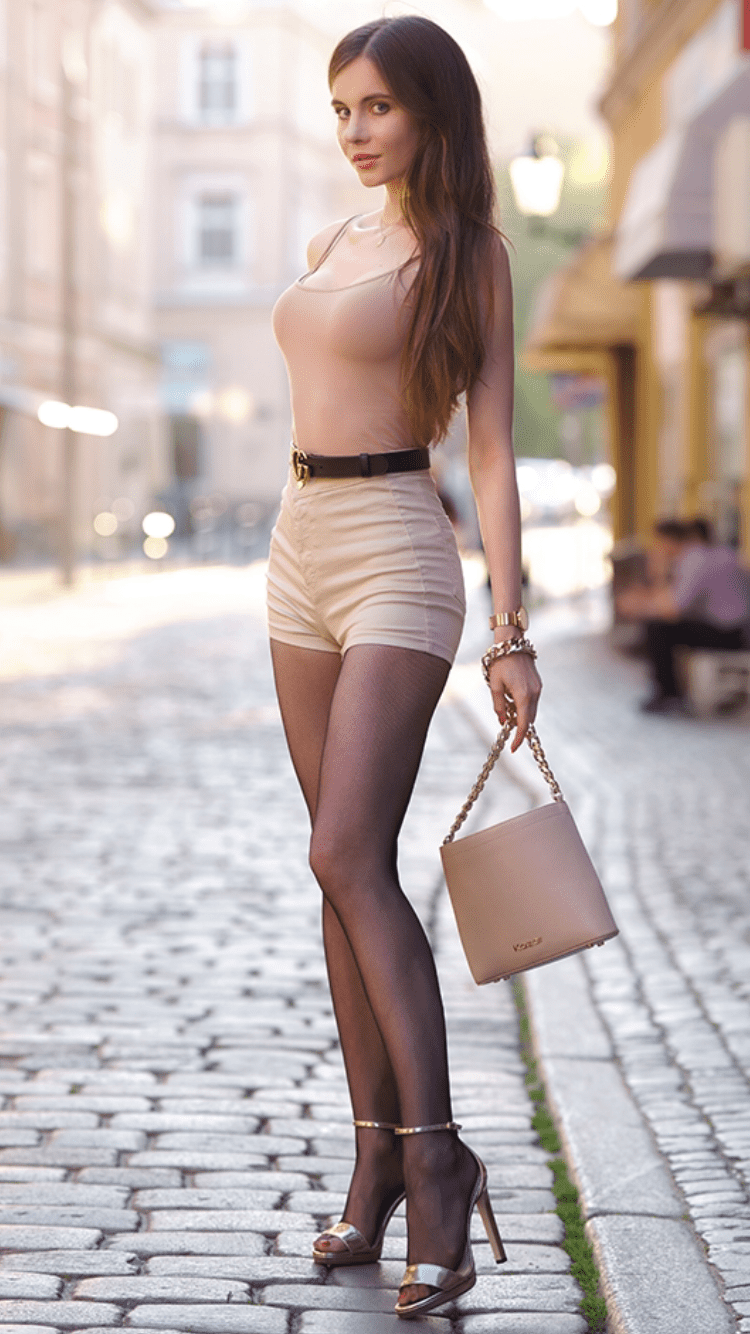 (Link: https://i.imgur.com/pHzOvJs.png)
Gold heels go nice with a lot of styles, so don't limit yourself to matching colors — and feel free to try to vary the style of the shoe, as well! Kitten heels, for instance, are perfect for comfortable and casual looks, while platform heels have a characteristic sensual aura to them. It's just a matter of experimenting and finding the right shoe to fit in with the style of your outfit.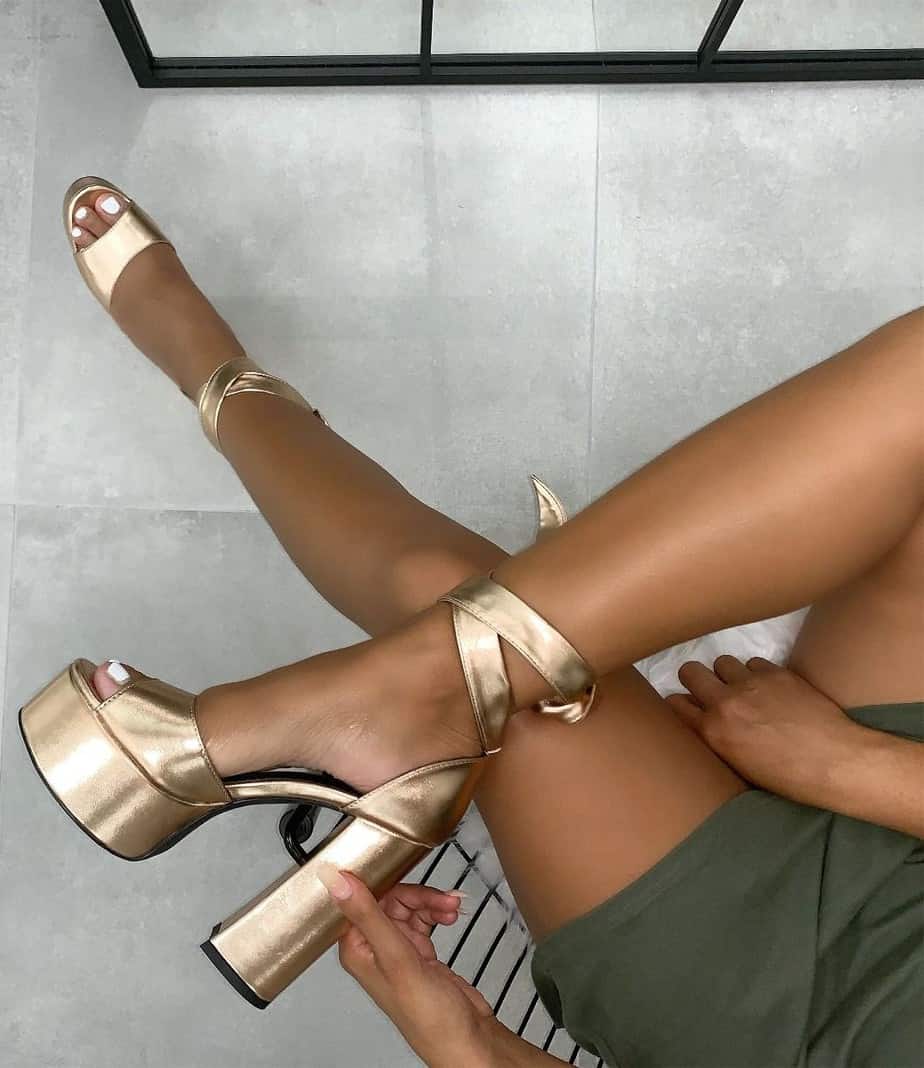 (Image link: https://stylelisty.com/wp-content/uploads/2021/11/jmEi2qS.jpg)
How to Pick Out a Good Pair of Heels
Now that you have decided to buy your heels, you then need to consider how to choose them properly. If not chosen correctly, heels can be very uncomfortable, and can even do considerable physical damage. So with that in mind, we'll go ahead and teach you some handy tips to pick out your next pair of gold heels:
Go shopping at the end of the day.

After spending the whole day on your feet, they can

become swollen

. If you choose shoes that fit you perfectly in the morning, they'll feel intolerable at the end of the day. If you try them on after a day of activity, though, then they'll be comfortable all day long.

Always choose the right size.

This may seem like common sense, but the thing is, not all brands are

sized uniformly

. If this is your first time with a particular brand, try the shoe on first before heading to the registers. For online shopping, measure your feet properly, as even the smallest measurement error can make the shoe not fit.

Give your toes enough space.

You should always choose shoes that give your tootsies ample wiggle room. You don't want these to be too tight, as this can result in pain and even serious complications (like

painful blisters

and broken toenails).

Take a little walk around the store.

When shopping for shoes, it's a good idea to take a stroll around the store with them on. If they are uncomfortable now, then they'll also be uncomfortable later. Pay attention to things like pressure points or any friction that can develop into blisters and if you can, try to climb stairs or walk on different surfaces (like carpet versus tile).

Consider the height of the heels.

You should always take the height of the shoe into account when shopping for heels. For example, if you plan to be in them all day, it's best to choose heels that aren't too high. If it's for a shorter party or activity, you can choose higher heels that can be more attractive and striking.

The location and size of the heel also matter.

Finally, it's important to make sure that the heel of the shoe is positioned below your heel. If not, it can lead to an imbalance when walking. It's also good to look for heels that

are thicker

, as these can provide us with greater comfort, support, and less pressure on your legs.
Remember that you should always bet on your comfort and well-being when buying high heels. And always remember — it doesn't matter if the heels are beautiful, because if they don't fit right, then they have no place being on your feet. 
The 5 Best Gold High Heels of 2022
But First, Our Selection Criteria
Before we dive into our favorite gold heels, we first wanted to share our selection criteria. To be added to our list, each pair had to meet these qualifications.
Price:

Heels (and most shoes, really) can be quite expensive. However, we've compiled some styles that also happen to fall within an affordable price range. Don't worry, you won't have to spend all your life savings to buy one of these pairs.

Versatility:

We've chosen many styles that you can use either at your office, on a shopping trip, at the supermarket, or at a club. When you buy shoes, what matters is that you actually wear them, so it's important to choose ones you can wear anywhere you want.

Comfort:

Another important thing to keep in mind is how comfortable they are. On our list, you'll find heels of all sorts of different heights, but all within a height considered comfy. That way, you can wear them all day long without issue.

Quality:

All the heels that we'll show you today exceed expectations in terms of the quality of their materials, as well as in their design and manufacture. The last thing we want is to be walking down the street and suffer a mishap with the heel.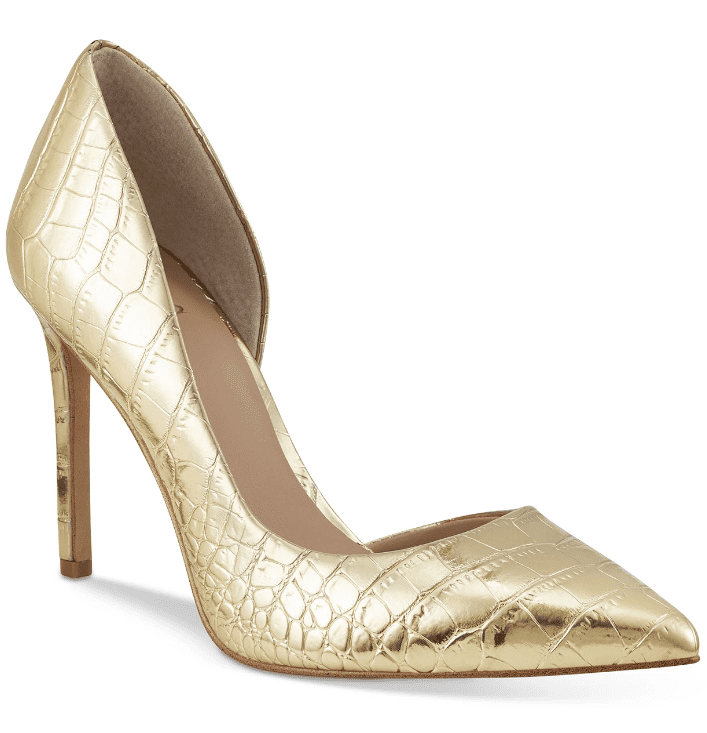 This first pair made it onto our list due to several factors. First, it's both a beautiful and surprisingly comfortable golden pump. Second, thanks to its medium heel, it's perfect for all-day use. In addition, the gorgeous design allows it to be used in many situations, from a day at the office to a casual outing with friends.
The material's texture gives it that extra je ne sais quoi. Its gold hue is handsome and striking, but without being very bright or even gauche. The tip is sharp but flexible, allowing your toes to breathe when wearing them. And finally, the position of its heel is quite convenient, resulting in great arch support.
Pros:
Attractive and comfortable design

Made of high-quality materials

Middle heel height, perfect for everyday wear
Cons:
Runs a little on the small side

Toe box may be too narrow for some people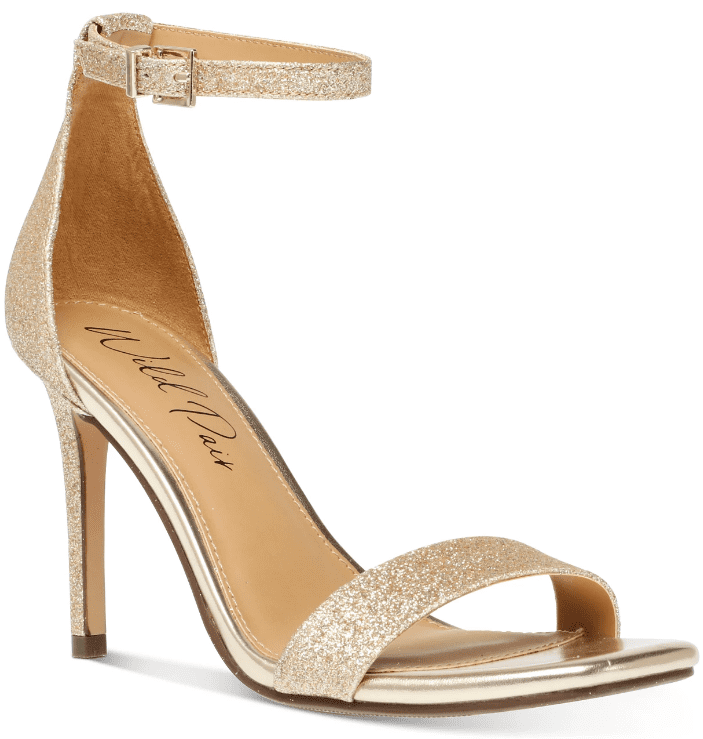 This next pair is also a well-deserved entry on the list. It has a versatile and fun bare-toe design. It's also nice and minimalist for a gold shoe, perfect for those who are just looking for a small touch of shine in their outfits. Its square cut toe is also very comfortable and breathable for the toes.
The materials of these heels are also of high quality, featuring both memory foam and non-slip soles. Speaking of the heel, it's of a medium height and is located in a way that can be comfortable, and offer good support to users.
 Pros:
Comfortable and high-quality materials

Sleek minimalist design

A fresh and versatile style
Cons:
Design can veer too classic, bordering on dated

Sole can be a bit thin
We're not going to lie, we gasped a little when we saw this pair. Featuring a fun and casual design, it's super flirty and playful, perfect for going out on a girls' night. Its pointed toe box shape is quite roomy and, with its the cushioned sole, it's still quite a comfortable model. Its strap is adjustable and the heel, which is neither too high nor too low, is in a good position
It's also full of awesome details, such as its many rhinestones dotting it. This gives it a glossy finish and a slight touch of luxury. Also, the details on its strap and a bow, along with rhinestones, make it look a beautiful style to ideal to wear with a dress or skirt.
Pros:
Striking and bright design

Adjustable strap

Comfortable, high-quality, and good materials
Cons:
Tip may not be the most comfortable

Material can be somewhat stiff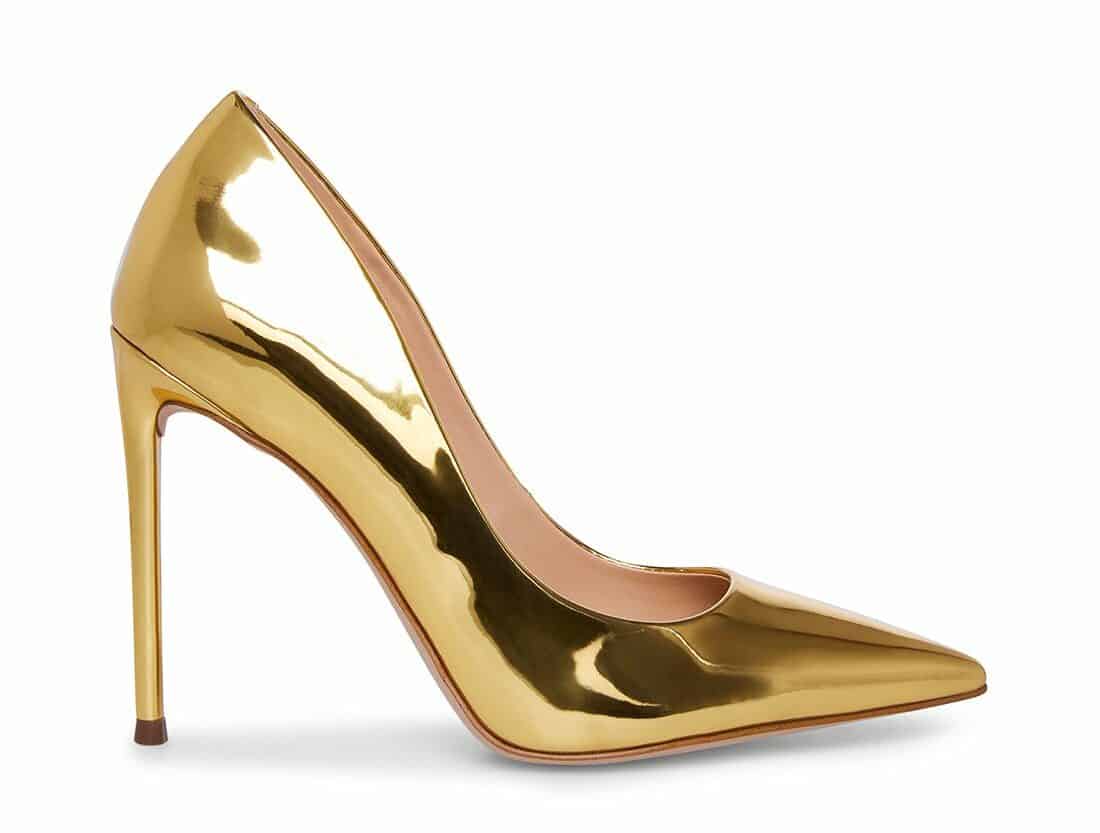 How adorable are these gold heels? These are truly the very epitome of a golden high heel. They are simply breathtaking, with their pointed toebox and chrome-like color. The material is dazzling with a reflective shine, which is perfect for when you stand out — but not too much — at a formal event.
With a medium stiletto heel, this shoe exudes style. Despite being a thin heel, its materials and position help it provide great support and comfort. Of course, this is a shoe for seasoned pros in wearing heels. But if you want to go to the office or the club, you can do it with these, without a second thought.
Pros:
High-quality design and materials

Versatile shape

Bold, reflective color that is still understated
Cons:
Pointed toe box design can feel cramped

Thin heel can make them slightly difficult to walk in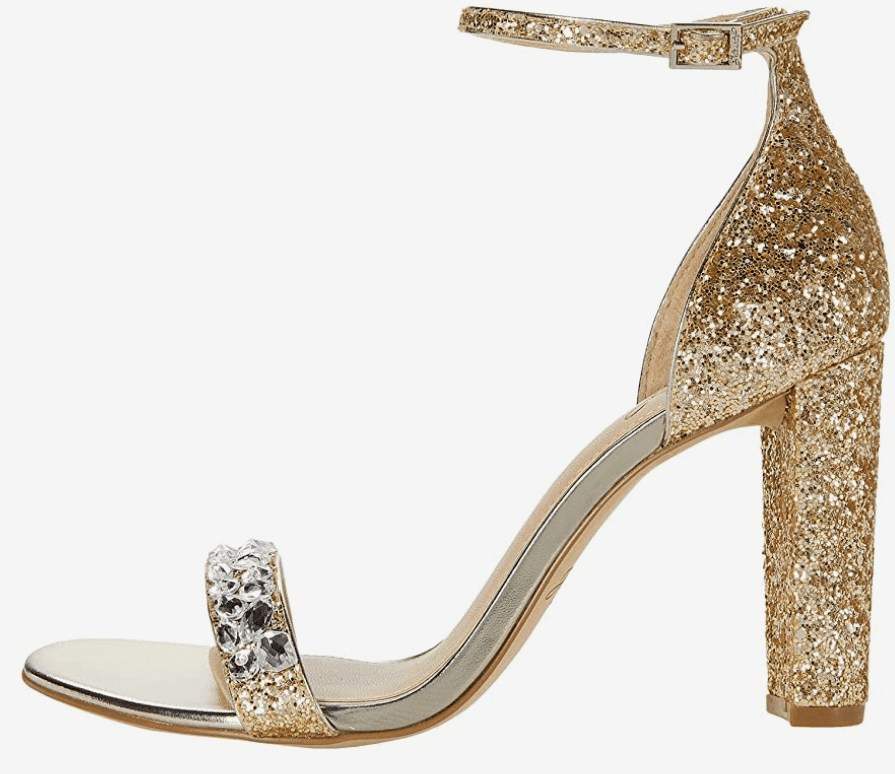 Did someone say glitter? Because these shoes come super loaded with sparkle! Without a doubt, we are closing our list with the disco ball of footwear. The design of these heels is seriously spectacular. They seem to be the perfect shoes for a casual, semi-formal, or even black-tie event.
Let's start by talking about its chunky style heel. Without a doubt, you'll have enough support with this pair, so walking will be a breeze. Its front band gives a peep-toe design, and the rhinestone details definitely make it stand out. The ankle strap is adjustable and, if that were not enough, its sole is breathable and padded. What else can we ask for?
Pros:
Wide heel with good support

Bright and eye-catching design

High-quality materials and comfort
Cons:
Sole on the front can be a bit thin

Sparkles

and

rhinestones can be a bit much
Frequently Asked Questions
Question: Does a gold shoe really go with everything?
Answer: It's no lie when we say golden shoes can go with virtually everything. However, you need to know how to style them the right way. But thanks to their incredible versatility, it's very possible that you already have more than one garment in your closet that can go incredible with these shoes. Plus, you can wear them not only with basic colors, but also bold ones, too.

A type of shoe that shows the versatility of gold heels like no other is the closed-toe high-heeled sandals. Their unique closed-front style keeps outfits professional, but their sandal design also makes them fun and easy to match with all pieces in your wardrobe! Best of all, they come in different heights (so you won't have to worry if don't feel confident wearing very high heels just yet!).

You can pair them with basic, bohemian, semi-formal, formal styles, and more! And if you think that because you don't have any gold clothes in your wardrobe that you can't wear them, think again. These shoes can only be combined with accessories and even some dark-colored outfits, and voilà! You'll be stealing the show.
Question: What is the best heel height to wear?
Answer: This answer can vary from person to person. Generally, the height of the heel should be chosen according to the shoe's use. For example, a good heel to spend all day at work and then go out for a while should be low, since these tend to be more comfortable and can support your feet all day without a problem.

However, some people are already comfortable with and are used to higher heels. These women can spend all day at work in their shoes, and still go out at night sporting the very same high heels. If that sounds like you, then you'll love wearing kitten heels.

Round toe kitten heels, in particular, are quite comfortable and offer a ton of versatility. Their low heel and chic style also make them easy to go from a day at the office, then a night out of dinner, shopping, and parties afterward — without feeling out of place!

But, if you want a more general answer, we'd recommend low heels for work, medium heels for a party or social event, and high heels for situations where you want to look amazing (and don't require too much walking!). Of course, this rule isn't set in stone or anything like that, so feel free to use the heel with the height you want.
Question: Is it okay to wear high heels every day?
Answer: This is one of the most frequent questions that women face when it comes to wearing heels. And we pretty much all love to wear them, from the way they flatter our figure to the style they bring to our outfit. However, wearing heels every day may not be as good for your health as you might think.

Of course, in this case, we are talking about those sky-high stiletto heels. If you're talking about low and casual heels, then that's fine, since the daily use of these doesn't represent a problem for your comfort or health. But high heels are another story. It's important to note that by high-high heels, we mean heels of 4 inches and up

If you continue to wear super high heels on a frequent basis, it's possible to develop problems ranging from simple muscle aches to a weakened Achilles tendon. And if we're talking about a shoe that has a very narrow or tight toe box, it's possible to develop bunions and lacerations on your feet.
Question: How can I wear high heels comfortably?
Answer: Wearing heels is one of the most empowering ways of expressing yourself out there. There's nothing like wearing a new pair of heels and feeling like a million bucks while doing so. But many times, we chose the wrong heels or we don't know how to wear them comfortably. With that in mind, here are some tips to make wearing heels more comfortable:

Wear shoes with the heel well positioned below your heel.
If the height is too high, reduce it, and only increase it once you have more practice.
Look for heels with a roomy and comfortable toe box.
Use gel patches or tape on your heels or toes if they pinch or rub.
If your heels aren't comfortable in the world, consider wearing them less, as your long-term health matters more than your outfit of the day.
Question: What are the disadvantages of wearing high heels?
Answer: As fun and attractive as it may be to wear heels, if you're not careful enough, they can lead to long-term problems. Some of these issues from wearing them improperly include:

Pain in the calves, feet, and toes
Lower back pain and mild spinal deviation
Weakened ligaments and knees
Compressed blood vessels
Of course, many of these problems can be avoided by wearing a different pair altogether, or by adopting good habits when wearing your favorite heels. Wear them properly today and you can avoid unwanted pain tomorrow.
Our Final Thoughts
There's no doubt about it. Heels can make us look and feel incredible when wearing them. While it's true that we must be careful with which we choose, if you do it well, it'll work wonders for your confidence and your appearance. 
And if you choose heels like the Steve Madden Vala Gold (our personal faves!) that we mentioned above, you can be more than ready for pretty much everything. With these shoes, you'll have the perfect pair of heels for all occasions, complete with a beautiful shine and a comfortable and high-quality design.
There are certainly hundreds of ways to combine gold heels. Regardless of your style — and no matter if you like shorts, pants, skirts, or dresses — there's no question that you can easily sneak a pair of gold heels into your closet without a problem. 
But always remember: your health is more important than your outfit. So be careful when choosing and wearing heels, as there are times when it's better to bet on comfort than appearance, even when you're wearing a pair of stunning gold heels!
Recommended reads: