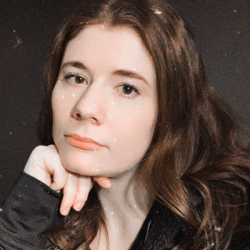 Latest posts by Kelsey Purcell
(see all)
The best part of coming into autumn is definitely adding all the cute sweaters to your wardrobe. From thick knits to merino wools, sweaters are the ultimate comfort garment. You can be warm and cozy while still looking incredibly stylish. When the cool weather comes, one of the most popular sweater options is the turtleneck sweater.
They are so versatile, can be worn with anything, and have various styles and silhouettes to suit your mood and style. Turtlenecks are also a classic staple in any wardrobe. If you invest in a few this season, they will stand the test of time and fit perfectly into your future wardrobe.
But just because turtleneck sweaters are classic doesn't make them boring. As you'll see in our top picks, there are tons to choose from based on color, fabric, fit, and budget.
Top Turtleneck Sweaters
This Gap merino wool turtleneck is a timeless style. It embodies refinement and simplicity. You can easily choose this option for a casual layer to keep you warm, but you can also dress it up.
This turtleneck option comes with the most colors and fits. You have six color options: kale green, heather grey, navy blue, charcoal grey, tan camel, and purple. You can get this sweater in a regular fit which has a size range of XS to XXL. You can get the tall fit in anything from a size S to XL. Or, if neither of these works for you, you can get a petite option with sizes ranging from XS to L.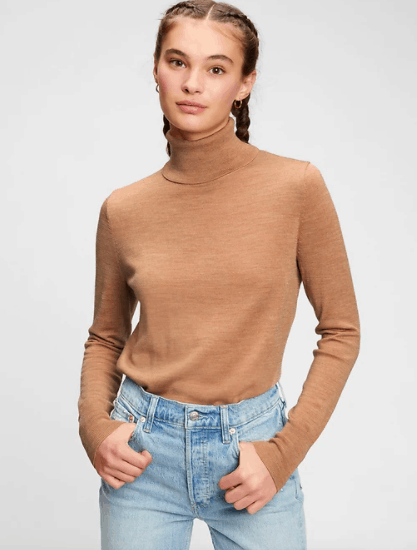 Pros
It contains 100% Responsible Wool Standard material, so it's responsibly sourced.
Soft knit with a relaxed fit that hits at the hip.
Cons
Not a thick sweater, so it won't keep you warm on its own.
This turtleneck sweater is a blend of wool, cotton, and recycled polyester that will help ward off the chills. It's a sustainable option from a brand that prides itself on being kinder to the environment. It's a more casual and relaxed option than others on this list, but it still can bring a pop of color and texture to your look.
Its sizes range from XS to XL and come in three colors: midnight blue heather, foxtrot brown heather, and dark grey heather. The neck is a fold-over style, and the neckline, bottom hem, and cuffs are ribbed.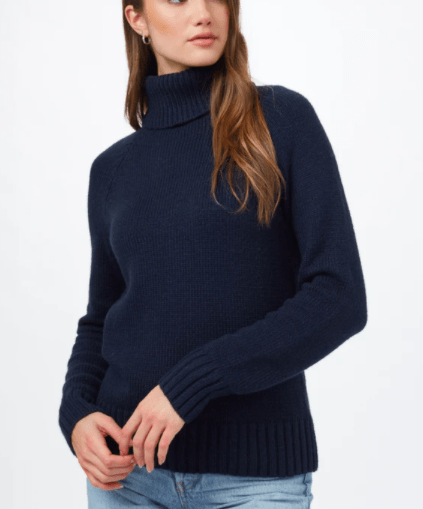 Pros
It has a relaxed fit that is true to size.
Easily machine washable.
Cons
It's not the most affordable option on this list.
Another perfect layering piece, this Banana Republic version of the classic silhouette, is textured with ribbed stitching. It has a straight hem that hits at the hip, and this long-sleeved style has a raglan shoulder seam.
This turtleneck can be dressed up or dressed down, regardless of the occasion. It comes in a wide range of sizes, XXS to XXL, and four neutral colors: black, white, heather grey, and camel. It's the perfect building block for warmer outfits.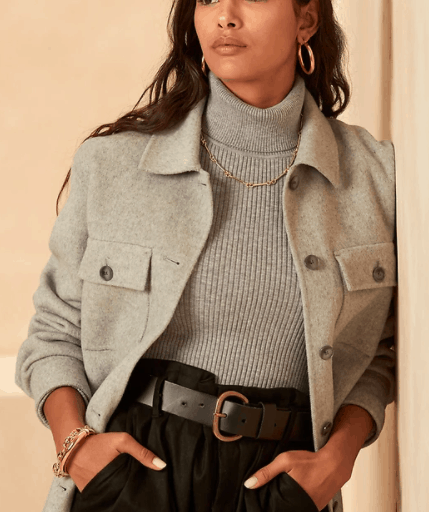 Pros
Machine washable.
It is made from a fiber derived from renewable wood, which reduces water impact and emissions.
Cons
Reviewers recommend trying it on before you buy.
If you're looking for an oversized turtleneck that feels more like a blanket than an article of clothing, look no further than this pick from Free People. It has elaborate proportions to be both comfortable and dramatic. The dropped shoulder gives the sleeves room to envelop your body, and the ribbed detail of the knit is a classic feature.
This sweater runs from sizes XS to XL – though reviewers say that it fits large, so consider what silhouette you want before you commit to your usual size. There is a range of colors to choose from, including gilded beige, powder puff (white), gilded beige (camel), anthracite (black), and this bright Mykonos blue.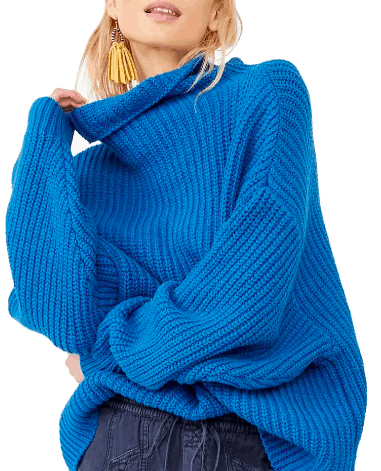 Pros
Adaptable from a lazy day at home to a statement piece.
It has one of the brightest color options.
Cons
It's one of the priciest options on this list.
Play with proportions in this cropped version of a turtleneck sweater. This boxy option has dropped shoulders and wider sleeves for a relaxed look. On a fall day, you're going to look trendy and warm in a cropped turtleneck.
It comes in sizes XS to XL and comes in black and white. It will be on your neutral must-have list for fall.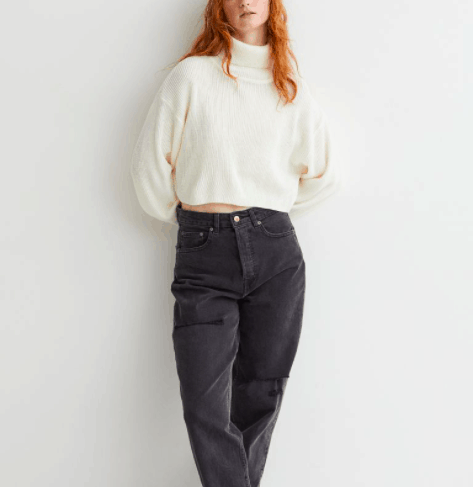 Pros
Affordable.
It's machine washable.
Cons
It only comes in black and white, so if you love to live your life in color, you'll have to look elsewhere.
Not all turtleneck sweaters need to follow the same pattern. If you want to spice up your turtleneck look while playing with a unique silhouette, this French Connection version may be for you. It's a balance of fitted and flouncy that offers a romantic look that's contemporary and interesting.
It comes in either the color deep moss or camel and can be worn from XS to XL. If you fall between sizes, you're safer to go a size up so that the ribbing at the hem, neck, and cuffs are comfortable.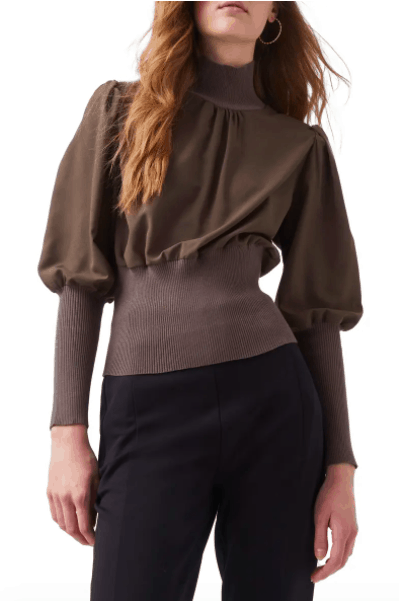 Pros
Modern and unique silhouette.
It creates a beautiful shape.
Cons
Another boxy option that isn't too tight around the neck is this Babaton turtleneck sweater. It comes in thirteen different colors, so there is something for everyone and ranges in sizes from 2XS to XL.
It hits between the hips and the waist and relaxed, casual fit. It's perfect for walking your dog, going out to dinner, or curling up by the fireplace at home.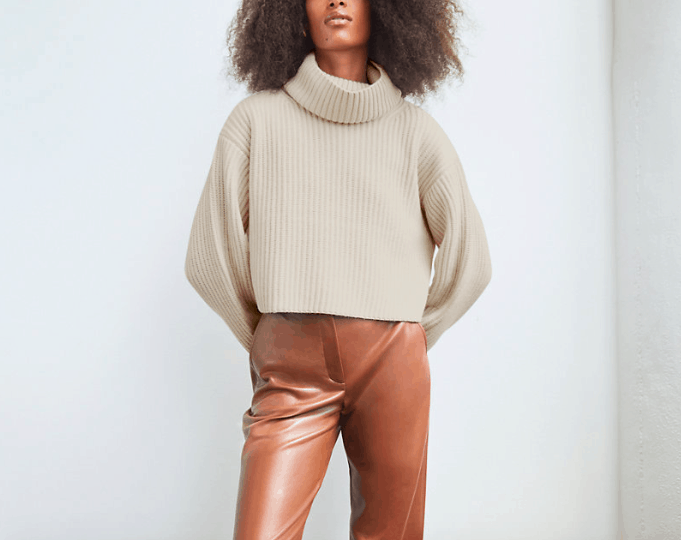 Pros
The borderline loose fit makes it incredibly flattering on any body type.
The variety of colors means that you can find the perfect shade for you.
Cons
One of the more expensive options on the list.
Turtleneck sweater dresses are a fantastic option in the cooler months! It comes in seven different colors and ranges from size 2XS to 2XL.
This mini dress is made of 100% merino wool and comes in a relaxed fit. You can cinch in the waist, wear a coat, or let it flow freely, but it's guaranteed to keep you warm.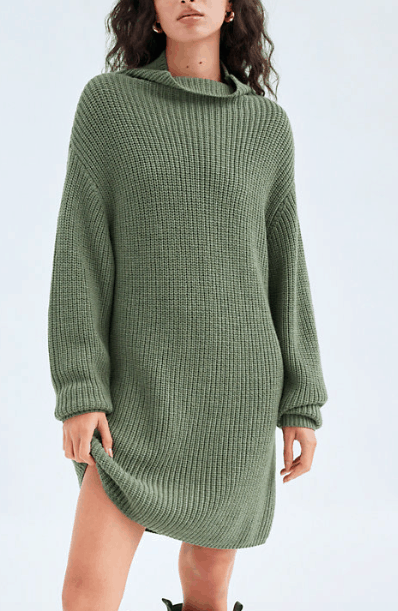 Pros
The vast size range makes it accessible for many body types.
Merino wool is sourced from an Italian mill.
Cons
Very specific care instructions.
We've added an expressly Plus Size option for those left out of the usual size ranges. This Threadbare option comes in sizes from US 14 to US 22. While it only comes in black, the side slit details and relaxed fit make it look sleek.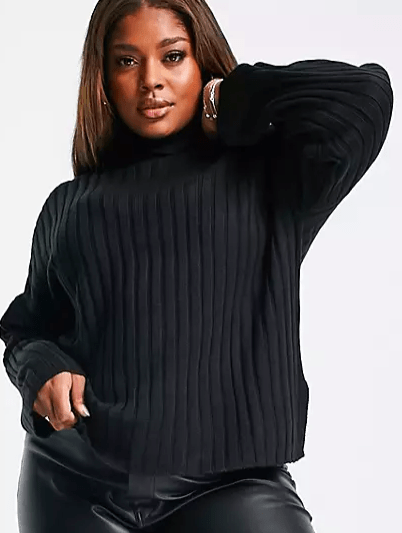 Pros
Machine washable and low maintenance.
Accessible size range.
Cons
Made from 100% organic cotton, this turtleneck brings extreme comfort to the classic thermal. It has a waffle-knit pattern with ribbing along the neckline and hem. It's a versatile piece with a feminine shape that can go from casual to sophisticate in no time.
It comes in sizes XXS to XL in either black or white. While this garment is an essential staple in any wardrobe, it isn't dull and can be a building block to a beautiful look.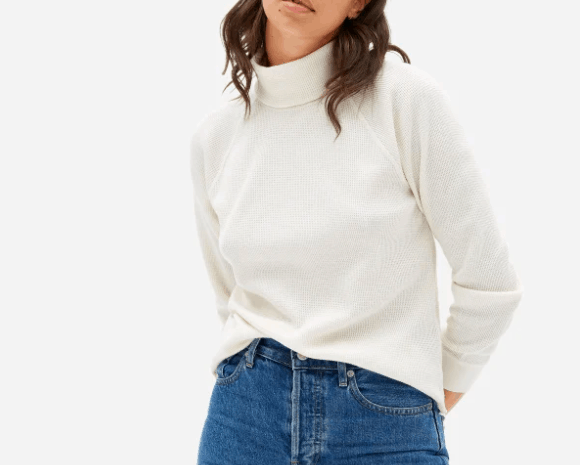 Pros
Everlane uses certified organic cotton, which is better for the environment.
Machine washable.
Cons
It only comes in black and white.
If you're looking for an affordable, basic turtleneck to introduce yourself to the style, this fine-knit option is a good choice. It's a little thinner than the other knits on this list, but it's a great layering piece that is soft and fits true to size.
Its sizes range from XS to XXL and come in neutral colors: black, white, and grey.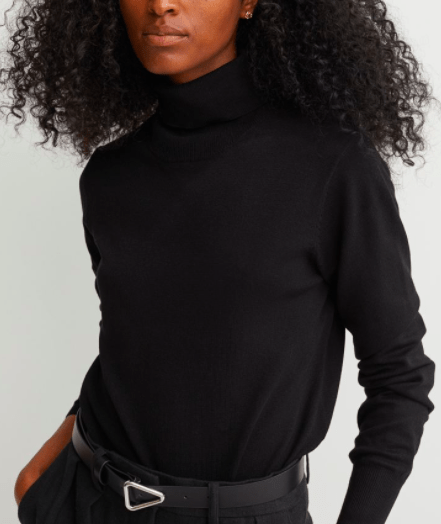 Pros
A perfect basic introduction into the world of turtlenecks.
Flattering and comfortable fit.
Cons
Reviewers say it doesn't have a long lifespan.
Things to Remember When Shopping for Turtleneck Sweaters
More expensive doesn't always mean better
If you only want a fundamental layering piece, you can pay prices that reflect that. If you're looking for a sweater to be the star of the show, that's when you should spend a little more to ensure the longevity of the garment.
Check the tags before you buy
When it comes to sweaters, pay attention to the care instructions. You don't want to be stuck with a purchase that is dry clean only because you didn't look at the tag. Typical care instructions include machine washing on gentle, with like colors, and laying flat to dry. You'll find the occasional sweater that asks for washing by hand, but it's up to you whether that's a deal-breaker.
Try on in-store if you can, or order from a store with a good return policy
Sometimes you try things on, and they look completely different on you than on the model. Things don't always fit the way they're supposed to. The unfortunate part of women's clothes shopping is that a lot of it is trial and error. But that can also be the most fun!
Style Ideas
Beyond the basics turtlenecks, there's so much you can do with them using accessories and other pieces of clothing. Creativity knows no bounds in fashion!
Go Sleeveless
https://www.pinterest.ca/pin/461548661817626622/
You don't have to keep turtlenecks strictly to winter. Sleeveless turtlenecks are dramatic and cozy. You can dress them up or keep them casual just by changing out what you're wearing on the bottom.
Layer
https://www.pinterest.ca/pin/220254238016139850/
Make your turtleneck the base layer and build on top of it to create rich and textured outfits. With even the most basic turtleneck sweater, you can craft a unique outfit every time. And it doesn't have to be limited to other sweaters, coats, or jewelry. Throw on a low-cut top or tank top over your turtleneck for a twist.
Go For Chunky Sweaters
You can never go wrong with a thick sweater. It not only feels like you're wearing a cloud, but it can be a different silhouette if you're used to form-fitting options. As the temperatures drop, you're going to be more and more grateful for the chunky knits.
Show Some Leg
https://www.pinterest.ca/pin/41447259062439862/
Play with the proportions of your body. If you're covering up a lot on top, consider wearing a skirt or shorts to elongate your legs. If it's too chilly, even throwing on some tights under a bold skirt will make a statement.
FAQs
Question: What goes well with a turtleneck sweater?
Answer: The best thing about turtlenecks is that anything can look good alongside them! If you're wearing a long turtleneck, that will look great with skinny pants. If you have a boxy or cropped turtleneck, pairing it with some trousers would be stylish. If you prefer form-fitting, thin turtlenecks, then you can try wearing a midi skirt with a coat. You can really try turtlenecks with anything!
Question: Are turtleneck sweaters in style?
Answer: Turtlenecks are a classic piece that never goes out of style. While the popularity of certain pieces ebbs and flows over time, you can always find turtlenecks in your favorite stores or online because they are a great go-to. Every season, people think up new ways to wear turtlenecks, creating stylish looks over time. There's always something new to try, and they never get boring.
Question: How do you accessorize with a turtleneck? 
Answer: Accessorizing with a turtleneck can be a little confusing. There is a lot of fabric close to your face and around your neck, where jewelry would typically go. One tip is to keep away from long, dangling earrings. If you can stand some hoops, I would suggest that, but anything that could get tangled into your sweater should be avoided. Long necklaces are a nice touch on turtlenecks. Instead of wearing them around your neck, tuck your necklace underneath the fold of the neckline to have it drape naturally.
Final Thoughts
If you're on the fence about diving into the world of turtlenecks, you are at the right time to try. With the leaves falling and the temperatures dropping, adding some extra layers to your wardrobe will be a welcome adventure. You can start with loose-fitting options so that you don't feel like your neck is too restricted and find your most comfortable turtleneck style.
Further Reading