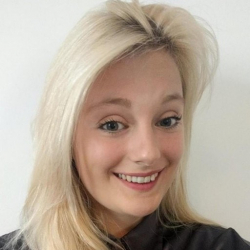 Latest posts by Rosie Greaves
(see all)
No fashionista's wardrobe is complete without at least one or two jumpsuits (or maybe even more!). They're versatile, easily dressed up or down, and can be worn all year round. So, it's no wonder there's no sign of them going out of fashion any time soon.
Now that Fall is upon us, what better look to complement the glorious autumnal colors than an orange jumpsuit? 
While orange may seem a challenging color to some, it's possible to achieve a stylish look suitable for all occasions.
Orange is often associated with happiness, warmth, creativity, fun, and enjoyment. In other words, orange has lots of positive connotations – which is why we're combining the classic jumpsuit with this sunny color to give you the low down on:
Our favorite orange jumpsuits

What to consider before buying an orange jumpsuit

How to style your orange jumpsuit

FAQs
So if your wardrobe needs a pre-Winter pick-me-up, let's get to it – there's lots to cover!
Our Favorite Orange Jumpsuits
Below we've prepared a list of our favorite orange jumpsuit looks to hopefully provide you with that much-needed wardrobe inspiration:
The Wide Leg Orange Jumpsuit
If you're not into the formal jumpsuit look, check out this adorable scoop neck orange jumpsuit. It has a lovely, relaxed feel to it, making it perfect for those late Summer and early Fall days while the sun's still with us. 
The wide-legged, slouchy cut is flattering for all figures, and the cute shoulder ties add a nice little twist for a unique look. It's available from ASOS for a snip at $26. It comes in various sizes and lines, including petite, tall, maternity, and ASOS curve.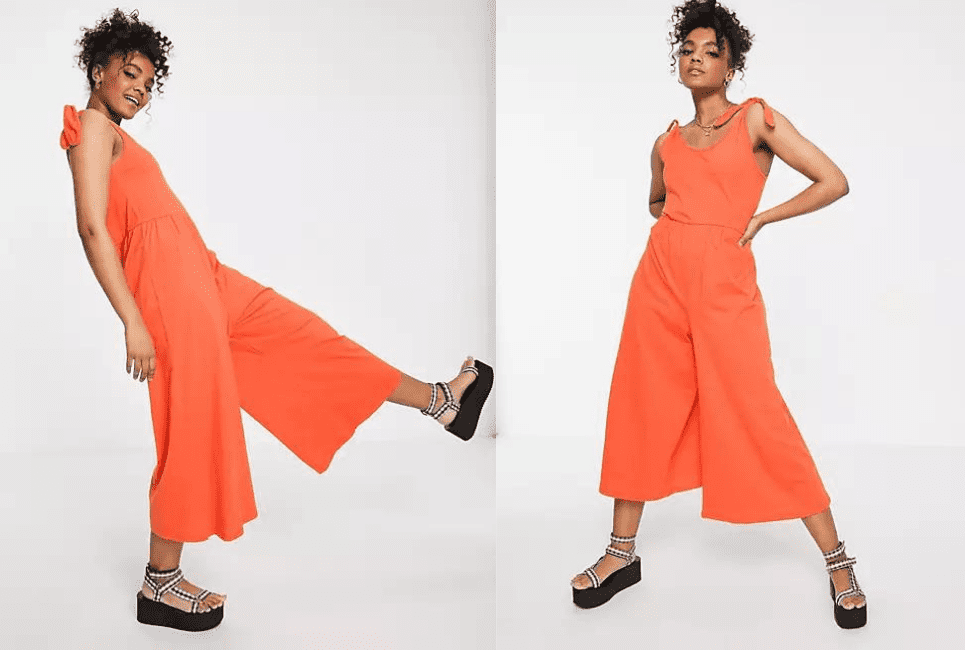 The Utilitarian Jumpsuit
Suppose you're looking for a super cool yet functional style that expresses your individuality; in that case, the utilitarian look could be for you.
We spotted this straight-fit, acid orange jumpsuit with a flat collar and tons of pockets. The E-Aero jumpsuit is made by G-Star Raw and retails at an eye-watering $296. While it's practical and functional in style, with its full-length zipper positioned front and center, it can easily be dressed up or down to suit any occasion.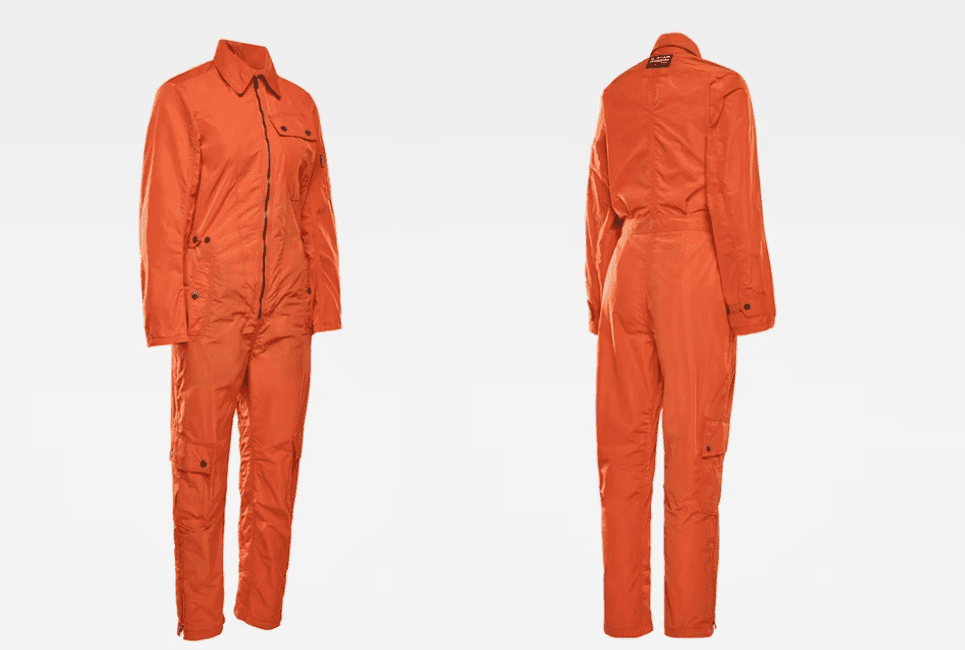 The Jennifer Lopez Jumpsuit
The A-lister was snapped, owning the neon orange jumpsuit look earlier this year, setting the scene for one of this year's most vibrant colors. She kept her tangerine orange look monochrome which we think works wonders for that added bit of sleek, streamlined style.
We especially like the elasticated wrist and leg cuffs and the standup collar. This Insta post was shared by Lopez's stylist Marie Haenn and, unsurprisingly, gained a lot of attention at the time. 
Staying Peachy
Suppose the idea of wearing an orange jumpsuit is too reminiscent of prison uniforms for your sartorial tastes. How about this peachy, long-sleeved jumpsuit from Oliver Bonas? 
Made out of washed linen, this chic jumpsuit boasts a fitted drawstring waist. As such, it can be worn both as a casual late Summer look or dressed up for those sundowner parties as the Fall season draws in. In addition, it's a bargain at $41 and can easily be worn next Spring or Summer again—a wardrobe classic.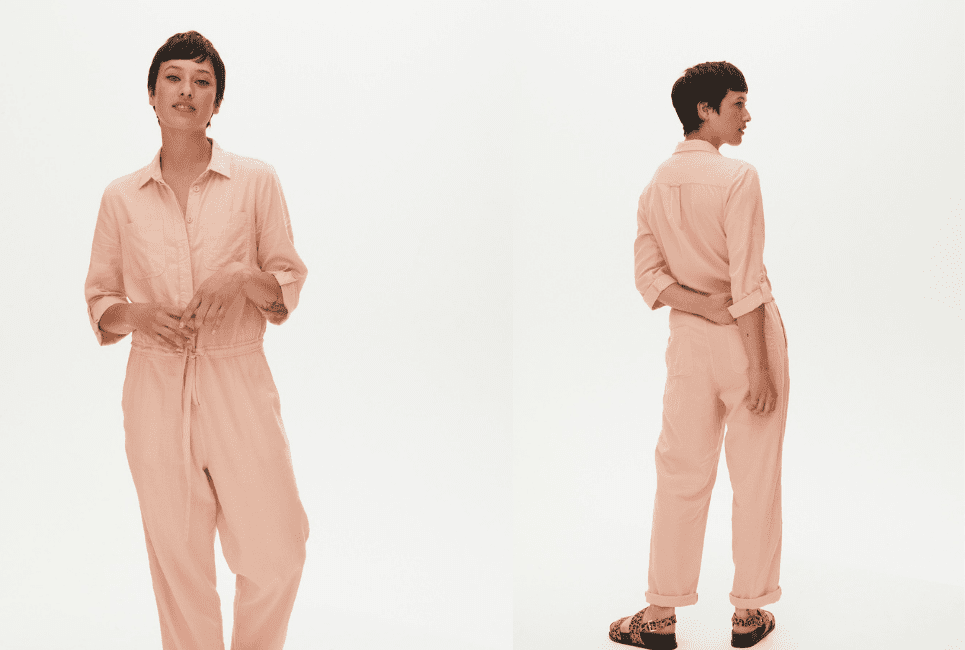 The Sporting Jumpsuit
Here's a great example of a super cool sporting jumpsuit in a tracksuit style. Available on Amazon, this jumpsuit comes in various colors. Still, the bright orange really stands out from the rest! Also, this piece conveniently comes with thumb holes to keep hands warm during the colder weather. It's perfect for traveling, playing sports, jogging, or for anyone looking for stylish casual wear. 
Depending on size, prices start at $19.99.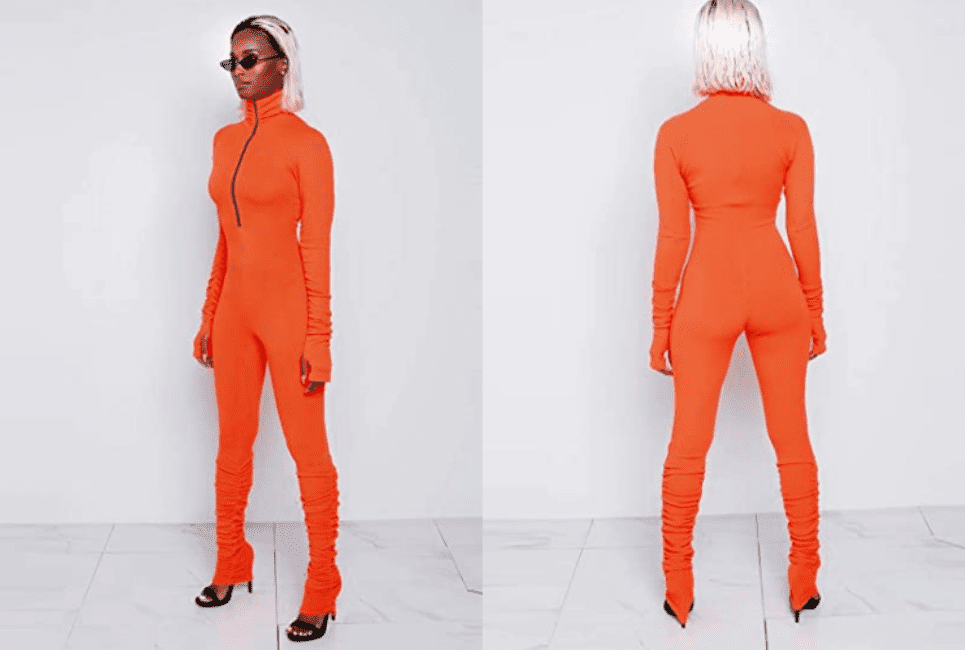 The Party Jumpsuit
We just adore this cutout orange halter neck orange jumpsuit. It's one of those jumpsuits that really makes a statement when you go out. Made from stretch jersey, its beautiful flares work to elongate your legs, and the top part is gorgeously ruched. Wear it on holiday, when you're out for cocktails, or for any other occasion where you want to dress up a little. You can find this beauty at Club L.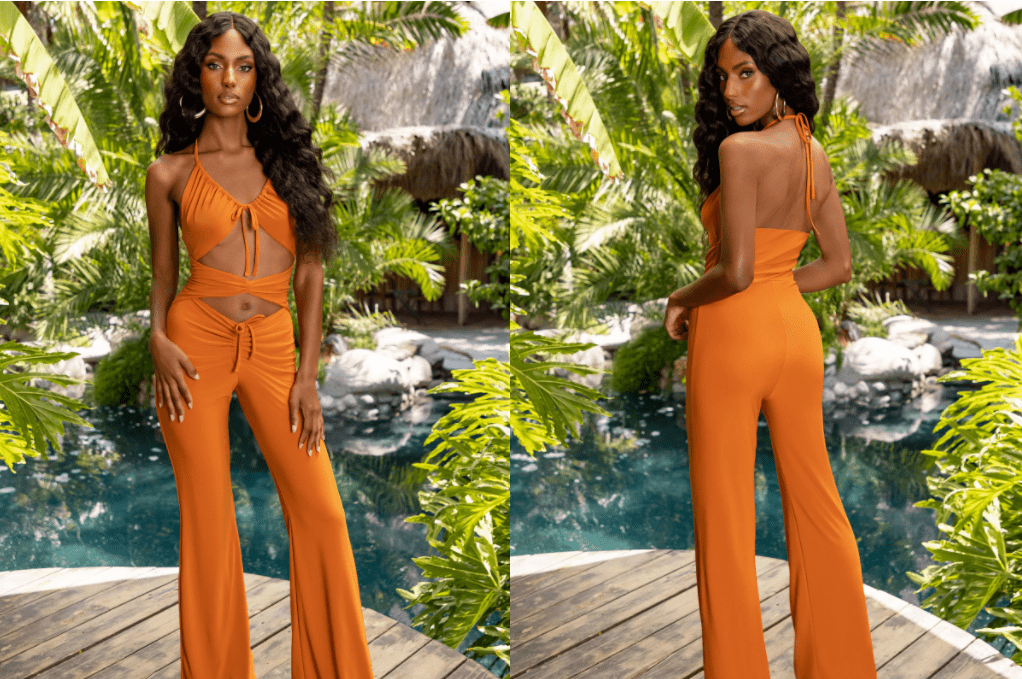 The Plus-Size Jumpsuit
Here's an orange jumpsuit that veers towards the rusty hues we associate with Fall. It's nipped in at the waist and styled with a square neck, wide legs, and delicate, discreet shoulder straps in black. It also uses a super-stretch, lightweight fabric from Vesper to give your figure a flattering look.
Available at Asos , it can be dressed up or down. Either way, it's a winner for anyone looking for a beautiful plus-size orange jumpsuit that can be worn time and again.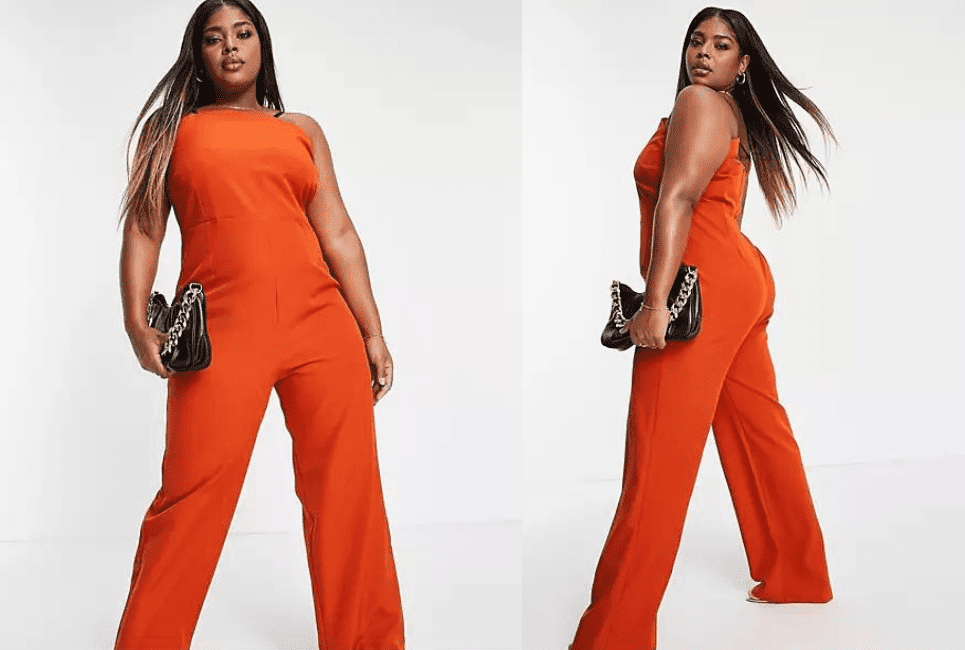 The Cocktail Party Budget Jumpsuit
Whether you're on the guestlist for an important party, hosting drinks for neighbors, or going to a company do, this super sexy yet affordable cocktail jumpsuit is a winner. 
The halterneck cut is sublime, while the wide legs are great for that long-legged look. It's a bargain from eBay, costing just $28.08, and despite its budget price, it's perfect for dressing to impress.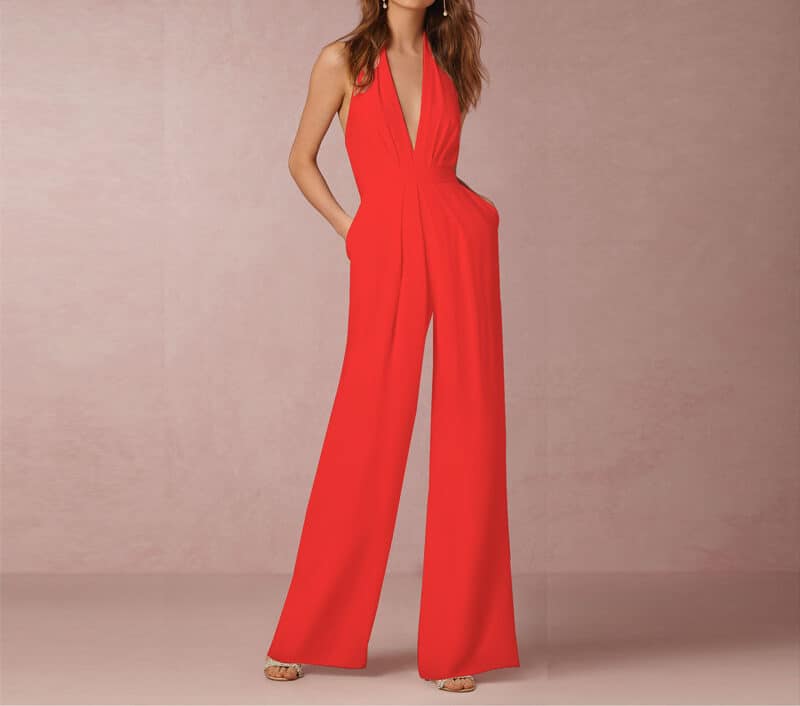 The Floral Jumpsuit
If you want to go all out, how about a floral jumpsuit? We love this regular-fit Asos design for $46. The all-over white and green statement flowers against the orange background give this Bardot look jumpsuit a gorgeous touch. Not to mention, the volume sleeves and wide-leg flared trousers pull no punches.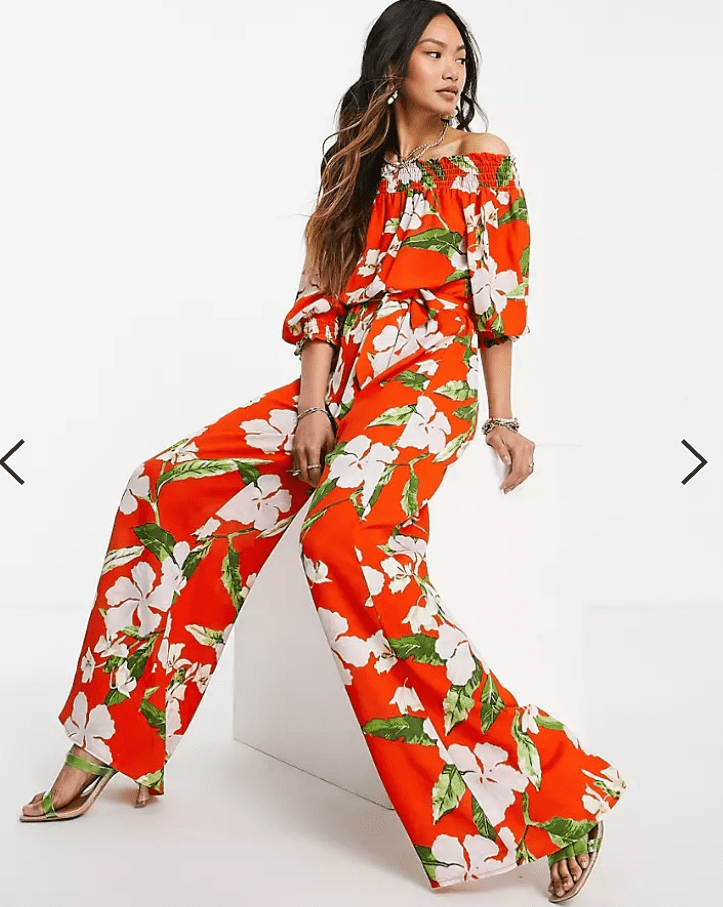 The Designer Jumpsuit
Suppose you're looking for a timeless piece that few people will have. In that case, you can't go wrong with investing in a glamorous designer jumpsuit. We found this USISI SISTER jumpsuit on Net-a-Porter for $605. 
Its timeless glamor means you can wear it year in year out and simply refresh your look with accessories. We especially love that the satin fabric has a textured feel thanks to the woven jacquard flowers. Plus, it's the perfect piece for showing off those abs with its gorgeous nipped-in waist. And the delicate shoulder straps and stylish kick flares all add to making this jumpsuit one heck of a statement ensemble!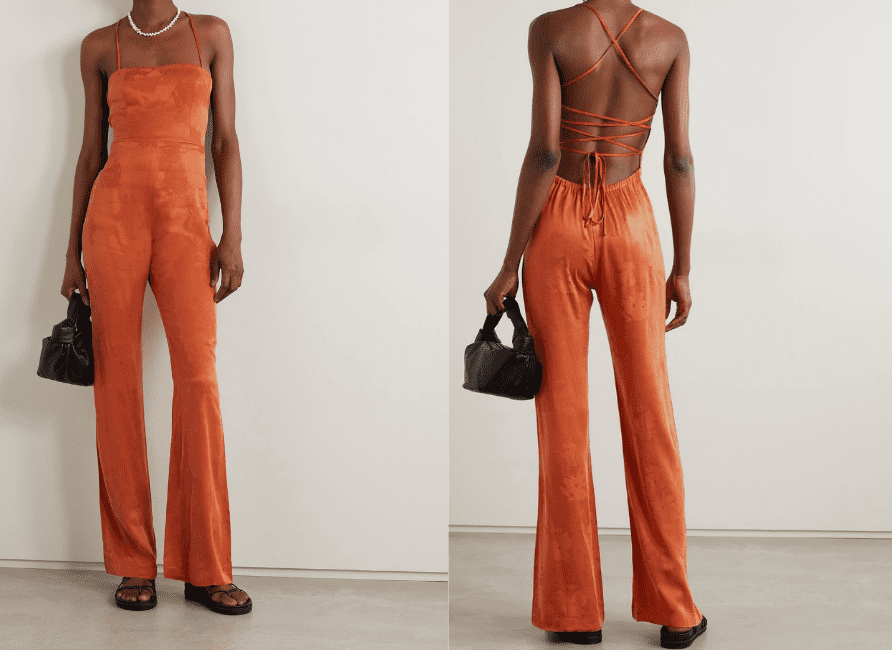 The Vintage Orange Jumpsuit
Let's not forget vintage lovers and anyone committed to buying recycled fashion. This stunning 1970s velvet jumpsuit in burnt orange is figure-hugging and stylish. Styled with gathered short sleeves, a v-neck, and faux buttons to the front, it's also waist-defining with a matching velvet sash. We also love that the bell-bottoms give the jumpsuit that all-over 1970s vibe.
It retails at $98 from Unique Vintage, is available in various sizes, and has a discreet zip that fastens at the back.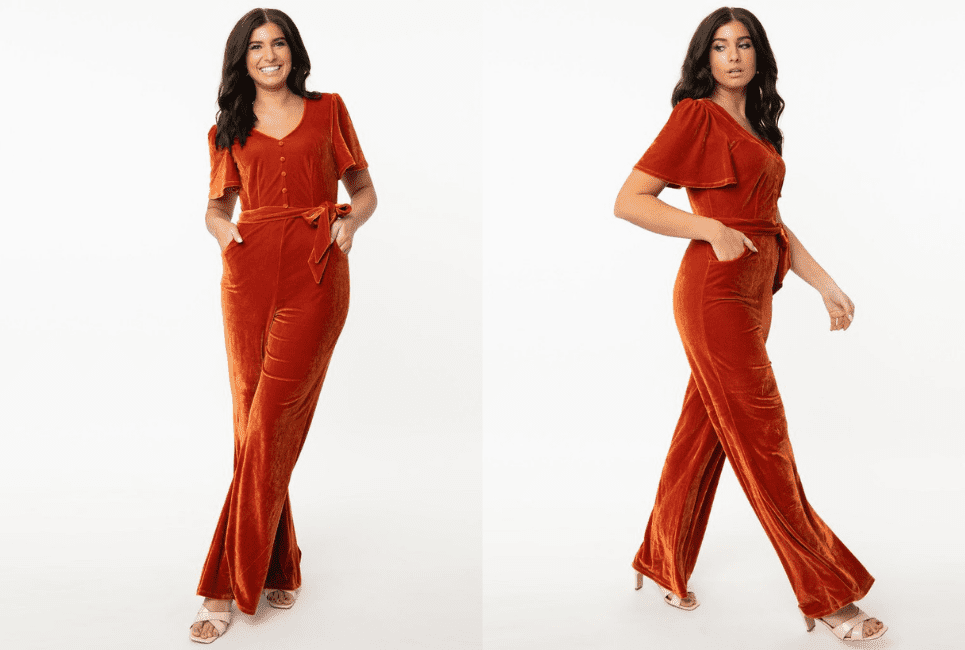 The Oversized Jumpsuit
Check out this loose-fitting short-sleeved oversized jumpsuit in orange terracotta. It's a look that can easily be worn any day of the week and the kind of design that suits all shapes and sizes. There's a full-length zip fastening to the front and large utility pockets stitched to the front chest, back, and side legs. You could style it perfectly with contrasting sneakers or wedged boots.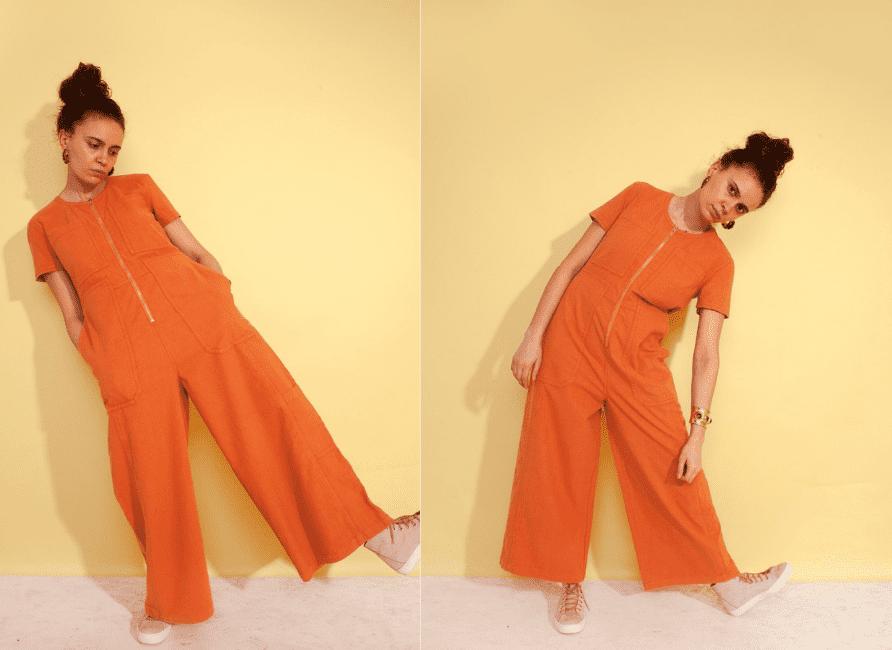 What to Consider Before Buying An Orange Jumpsuit
Hopefully, the selection above has provided some food for thought for when you head out to buy your orange jumpsuit. However, there are a few things to consider before spending your hard-earned cash.
Budget
First off, it's always wise to have a maximum budget for such a piece. Otherwise, you risk overspending and not having enough to shell out for your Christmas party dress! Luckily, these days, most fashion sites have price minimum and maximum filters to help you stick to your budget. 
Size
Next up is size. Some jumpsuits are super long in the leg. If you're on the shorter side, you don't want to shorten the leg because you may lose some of the style; this is especially true if it's a kick flare or Capri fit. That said, if you're looking for a wide-leg jumpsuit, this is less important, as these are easier to tailor up. 
That said, it's worth checking out the measurements of your shortlisted jumpsuits and comparing them to your own height; this will give you a good idea of whether the piece will fit you. Alternatively, you can always head out to your favorite retail outlets and try the jumpsuit on for yourself. Don't forget to take the shoes or sandals you plan on wearing with you. Or varying heels to give you a sense of how the jumpsuit will look on you. 
Lastly, different styles suit different body shapes. For example, a straight fit, like the utilitarian look, is ideal for taller figures or a body type commonly referred to as the rectangle shape. 
Alternatively, suppose you have an hourglass shape. In that case, pick a jumpsuit that isn't going to swamp your figure. Instead, opt for a jumpsuit that elongates the look of your legs and defines those beautiful curves. 
Or, if you don't have much of a waist and want to create more definition in this area, find a jumpsuit with a nipped-in or tie-in waist.
How to Style Your Orange Jumpsuit
The beauty of the jumpsuit is that you can (almost) wear anything with it. It can be dressed up or down, worn standalone or with a cool jacket or wrap. The same goes for flat shoes, wedges, or heels. You decide.
While commonly worn with clutch bags, you can equally get away with a shoulder bag and matching shoes if you're looking for more of a daytime look. 
That said, we'd advise pairing your accessories. Given that orange is a really bold color – you probably don't want to add tons of other shades to the look. For example, you could go for light gold or white accessories in the summer months, while in the cooler months, you may opt for some well-fitted ankle boots or stilettos. 
Hopefully, some of the above photos have also given you some ideas on how to style your jumpsuit. It's easy to see how versatile this outfit is, whatever the color. But here are a few more examples to whet your appetite:
Here's an excellent illustration of how to pair your jumpsuit with jewelry. Suppose your jumpsuit has thin shoulder straps or is strapless. In that case, you can definitely get away with a statement necklace and some neutral-colored sandals. The necklace draws attention to the top half of your figure, while the neutral sandals elongate the legs and can be worn with tons of other outfits.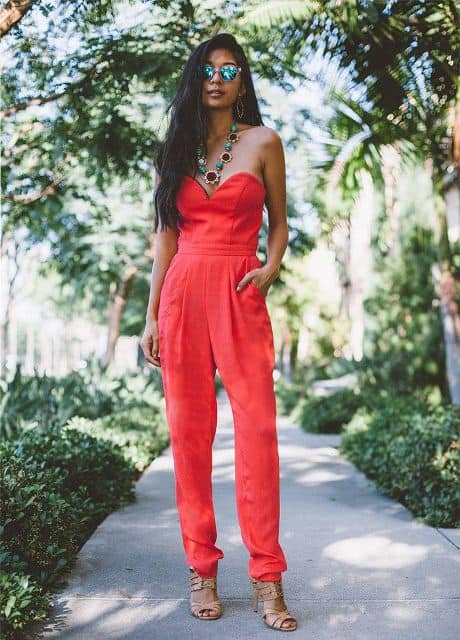 Here are a few more looks we liked:
Miley Cirus went all out with this loose-fitting utilitarian orange jumpsuit that she boldly paired with an equally orange puffer coat, military-style lace-up boots, and a backpack.
This is definitely a look that shows confidence and a sense of fun.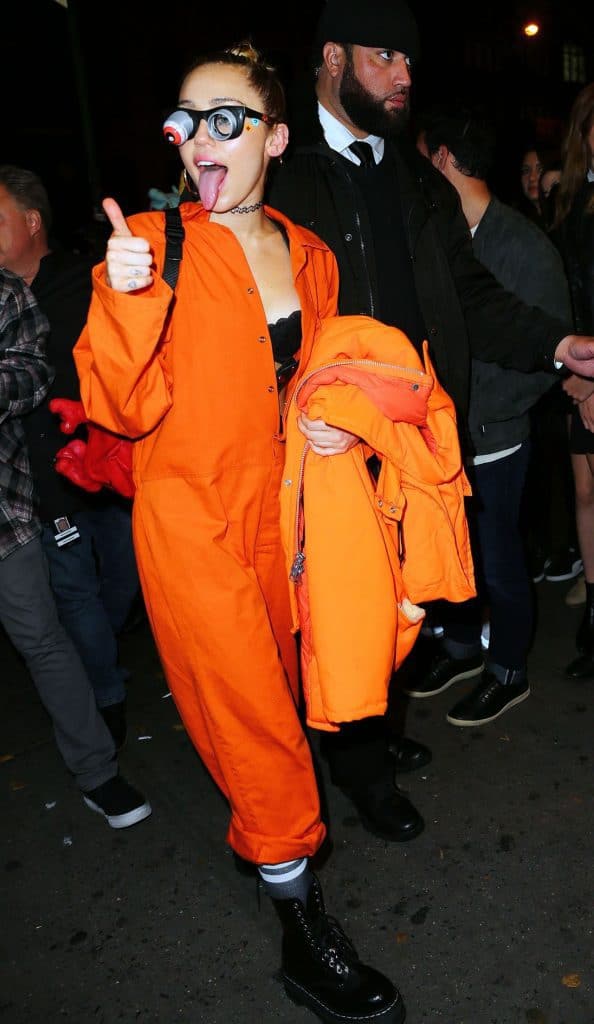 Moving on, here's an excellent example of how to dress up your jumpsuit from Kelly Osborne, who wore this timeless look during New York Fashion Week. Check out her gold belt, matching jacket, and super high neutral stilettos.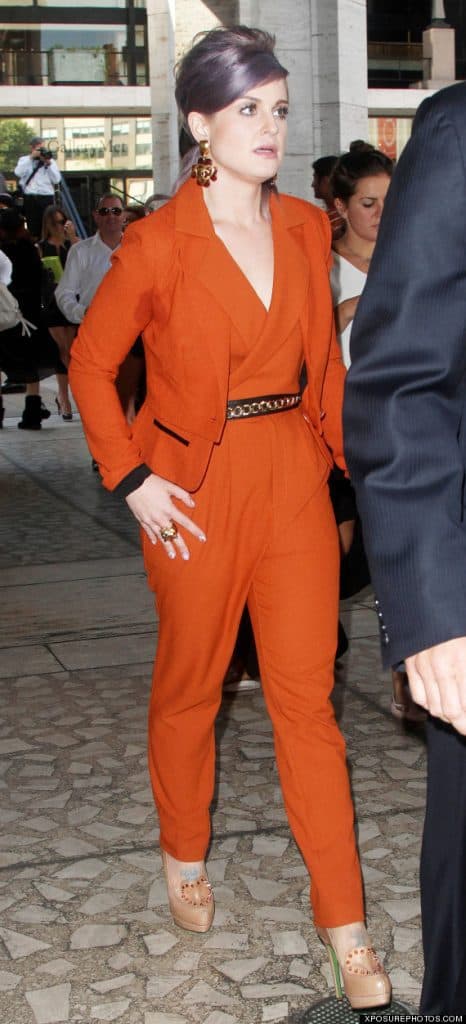 FAQs
Last but not least, let's round off this blog post by answering some of the questions we hear asked about orange jumpsuits:
Question: Why are Jumpsuits so Popular?
Answer: There are tons of reasons why people love jumpsuits. However, we'd hazard a guess and say the number one reason is that they're incredibly comfortable. This is especially true when they come in lightweight, breathable, and stretchy fabric. 

Not only that, but the jumpsuit never really goes out of fashion. Even when worn in orange, as long as it's styled in a way that compliments your overall look and worn with the right accessories – you can't go too far wrong! 

Lastly, jumpsuits are also really flattering. The right one can help make you appear longer, leaner and further enhance your shape, especially if they're nipped in at the waist. 
Question: Aren't Orange Jumpsuits Just for Prisoners?
Answer: There's no escaping the strong association we have of orange jumpsuits and prison uniforms. However, since Orange Is the New Black hit our screens back in 2013, that preconception has been challenged. Why? Because the Netflix show basically started a fashion trend for orange jumpsuits that are still going strong eight years later and counting. 
Not only that, but the show's popularity led to one Michigan jail changing the color of prison jumpsuits from orange to black and white. This was to ensure prison inmates working in the community weren't mistaken as members of the public!
Question: What Type of Body Shape Best Suits a Jumpsuit?
Answer: It's a beautiful thing that women come in all shapes and sizes, and finally, the fashion industry seems to have cottoned onto this! The good news is that there's a jumpsuit out there for everyone, whether you're an hourglass, plus size, pear-shape, apple-shape, petite or have an athletic body.
 
Here are our suggested styles for each figure type:
Apple Shape: If you have slim legs but a larger upper body, head for wrap style or v-neck jumpsuits with tailored legs. This look will flatter your legs while giving your middle section some definition too.  
Athletic Body Shape: This body shape suits most styles but looks especially great in a utilitarian or boiler suit-style jumpsuit. This style can be worn with a belt to create a curvier look with more waist definition without appearing too bulky.
Hourglass: If your waist is lovely and narrow while your hips are wider, find a jumpsuit that nips in at the waist to highlight those much-envied curves! 
Large Bust Shape: We'd advise loose sleeve v-neck jumpsuits with straight legs. This helps to create a balanced line without too much emphasis on any one part of the body. It doesn't mean you're hiding your large bust; instead, creating a more fluid look. 
Pear Shape: To balance narrower shoulders and broader hips, opt for a strapless or wide-necked jumpsuit combined with wider legs to create a sense of flow with your jumpsuit. 
Petite Size: The critical thing here isn't to swamp yourself with a jumpsuit that makes you disappear. A more tailored or fitted jumpsuit is your best bet with an elongated leg to create the illusion of height.
Plus Size: Wide-legged jumpsuits with longer hemlines are perfect for anyone who's plus size, especially if they're in a softer fabric that gives the illusion of a longer line.
Are You Ready to Don an Orange Jumpsuit? 
Whichever your body style, once you have your orange jumpsuit, you'll feel and look fantastic. Orange jumpsuits and jumpsuits, in general, are great fun to wear, practical, stylish, and give you that added fashion edge for any time of the year. So, are you ready to splash out on your orange jumpsuit? Let us know in the comments below.