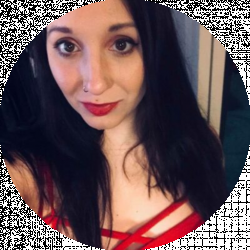 Latest posts by Stephanie Jensen
(see all)
Sweaters are a big trend right now. And because of it, sweater sales are expected to grow. Out of all of the sweater trends, distressed sweaters are extremely popular. Distressed sweaters are what they sound like — sweaters that have been ripped, frayed, and sustained other types of damage. Yet, they still look chic.
So, how do you style a distressed sweater?
Should You Buy a Distressed Sweater or Rip Your Own
Many companies sell their own distressed sweater. You can also distress an old sweater. I will walk you through the steps in the next section.
But how do you decide the best option?
The first thing you have to consider is buying a distressed sweater. These sweaters have been designed with distressing in mind, so all of the rips and frays look very cohesive.
Distressing your own sweater looks more DIY and intentional. They have more character than the sweaters you buy from the store. Plus, you save money by making that old sweater look really cool!
How to Distress a Sweater
Did you decide you want to distress your own sweater? The process is easier than you think. Follow these easy steps!
Step 1: Select the Right Sweater
First, pick the best sweater for the job. Ideally, you should grab the old sweater you never wear. The best sweaters will usually have a tear or two in them already.
But you should focus on more than the boring old sweater collecting dust in your closet. Ideally, your sweater should be a bit small. Distressing the sweater will cause it to loosen, so your too-small sweater will fit perfectly.
You'll also want to consider color. You'll have to wear a camisole or other shirt under a distressed sweater. If you distress a black sweater, be sure to have another colored camisole to wear under it. You can also choose to distress a colored sweater and wear a black camisole underneath.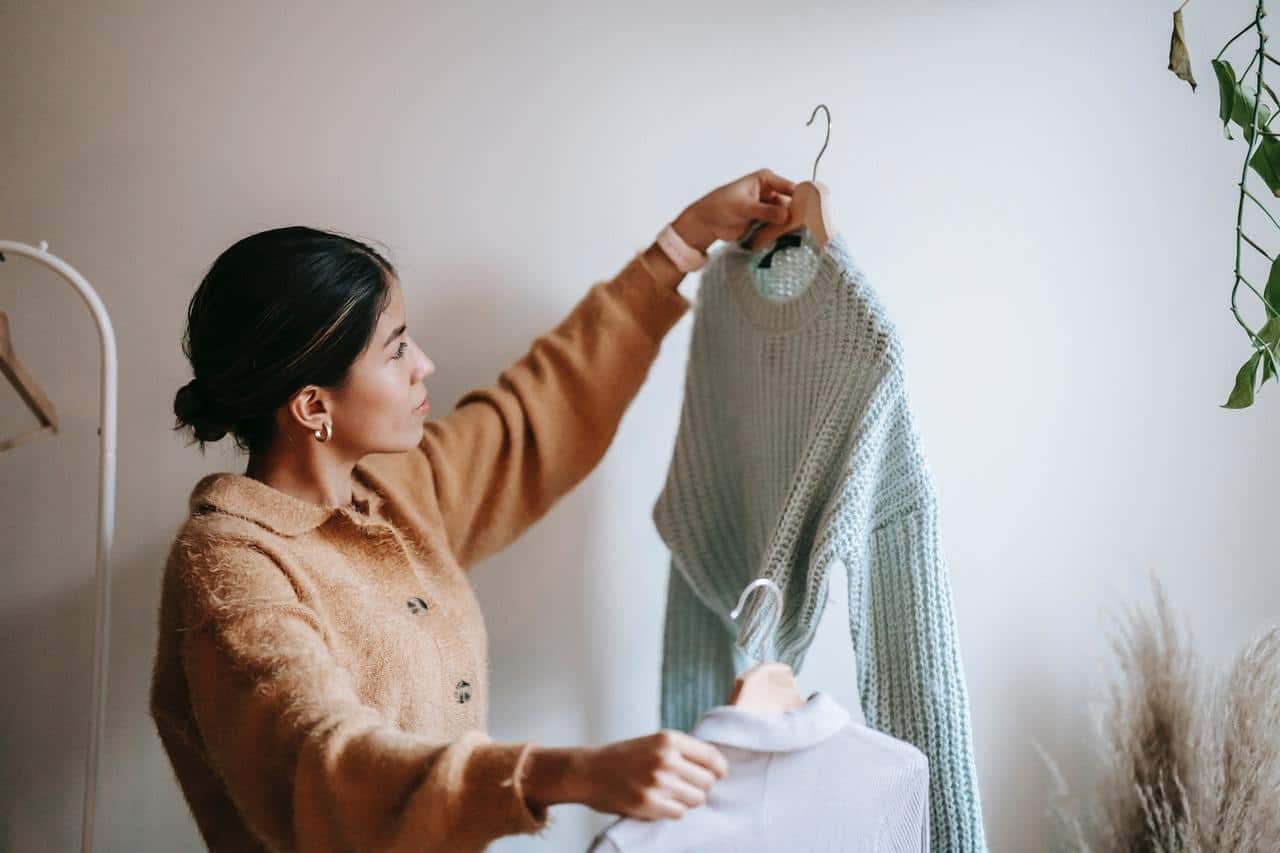 Step 2: Pick the Seams
For authenticity's sake, start picking the seams first before anything. This will cause the seams to look frayed, which is more realistic than simply cutting holes. You should pick the seams with a seam ripper, but most people don't have one on hand.
You can also choose to use scissors. But make sure they're either small or worn-down scissors. Again, this needs to look authentic. Powerful and new scissors won't do the job.
Step 3: Unravel the Seams
After you're done picking the seams, pull gently on them to unravel the fabric. This is what will create those little holes.
You can also use precision to create what's called unraveling stripes. These are sparse lines of fabric that run the entire length of your sweater. You'll have to start picking and unraveling the seams at the bottom and working up to the top in a straight line. Since this requires some skill, it's up to you if you want to achieve this look.
Step 4: Cut Holes
After you frayed and pulled the seams, you can cut little holes into the fabric. Focus on the areas you frayed already. You can also unravel the holes even more if you truly want a fierce look. Keep in mind, you don't want to cut the holes too close together. They may join together into one big hole.
Unless that's the look you want to achieve, it's best to cut multiple small holes throughout your sweater. If you prefer cohesiveness, you can still cut these holes into a pattern. You can also choose to make circular holes or oval holes.
How to Pick Out the Best Distressed Sweater
Did you decide you would rather buy a sweater that's already been distressed? There's nothing wrong with that! But you'll want to ensure you're picking out the best sweater.
The sweater you choose depends on the look you want to create and how you want your sweater to build your outfit. Otherwise, you can find distressed sweaters in all styles. For a subtle distressed look, choose a white sweater with frayed ends. For a rustic look, choose an earth-toned sweater, such as chestnut brown or pumpkin, with more intense fraying.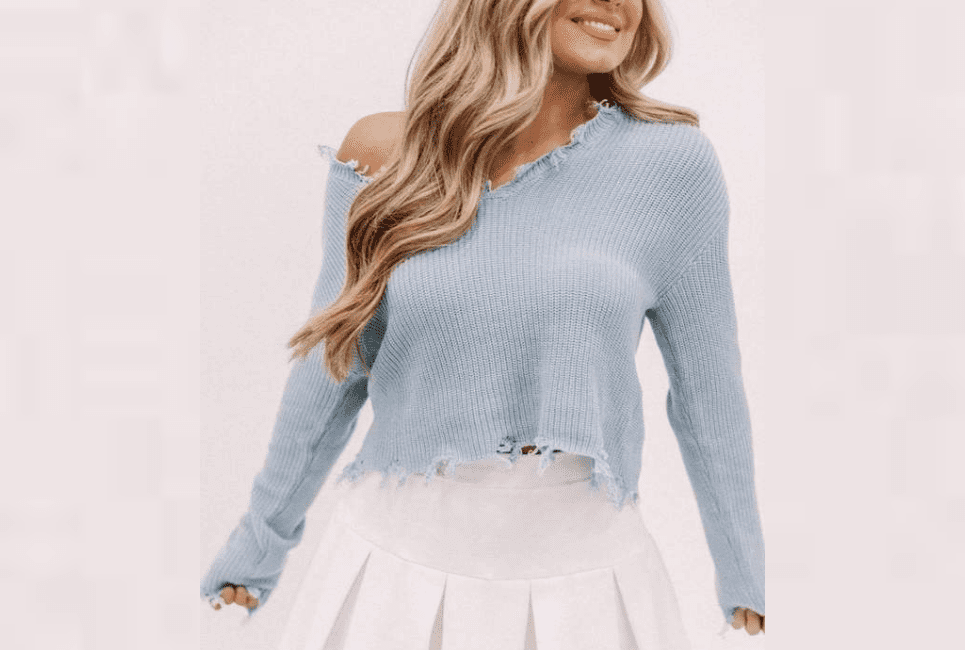 Different Types of Sweaters You Can Choose From
You can find a distressed sweater variation in just about every type of sweater. But what are these different types of sweaters?
Pullover
Pullover sweaters are what they sound like. You simply pull them over your head and they hang down over your body. They have no buttons or zippers.
Cardigans are sweaters that you secure via buttons, sometimes a zipper. These are ideal if you don't want the sweater ruining your hair. There are also open cardigans, meaning you simply insert your arms through the sleeves.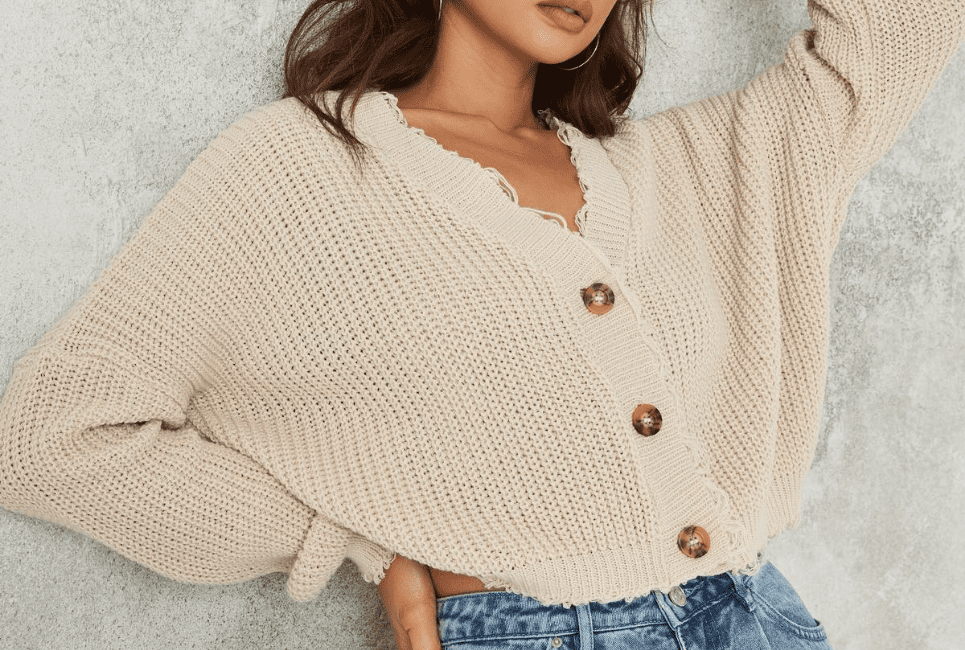 V-Neck
V-neck sweaters have a v-shaped neckline. These sweaters are great if you want to layer them with other clothes.
Crewneck
Crewneck sweaters have a round neckline and no collar. While most sweaters are casual, some crewneck sweaters are worn to events.
Turtleneck
Turtleneck sweaters completely cover your neck. These are best worn when the weather is very cold.
Tunic
Tunic sweaters are longer than your average sweater. They also hang loosely and don't have a defined hem. All tunic sweaters have different cuts and styles, so choose a tunic if you want that sweater-dress look.
Sweater Dress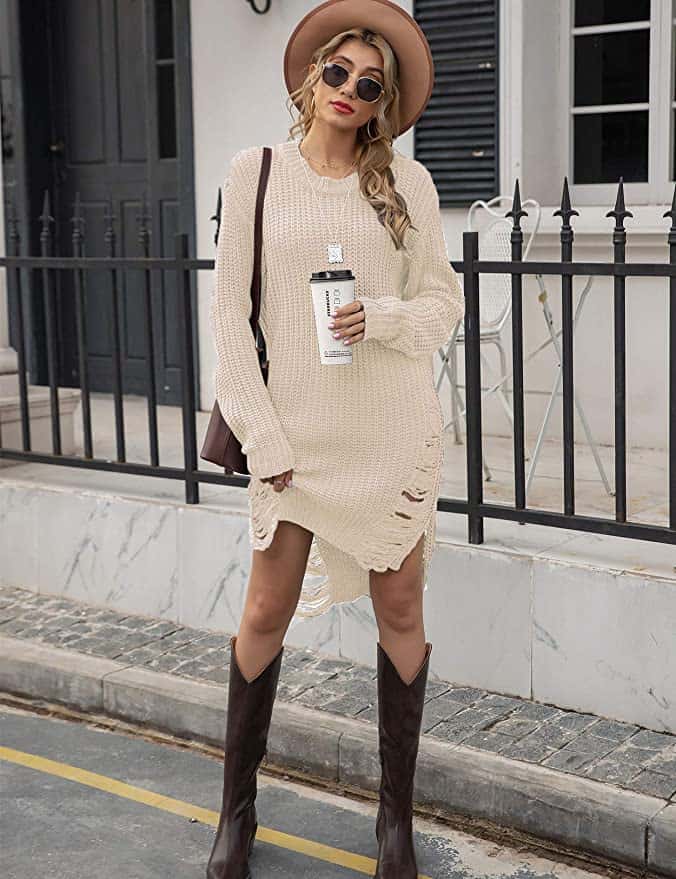 Don't get a tunic confused with a sweater dress. The sweater dress is even longer than a tunic. In short, it's long enough to wear as a dress. Most go down to the mid-thigh, though some may be longer. These dresses are perfect to wear with leggings and/or boots.
Sweater Vest
A sweater vest is a vest made out of similar materials as a sweater. In other words, these are sweaters with no sleeves. These are commonly worn in professional settings, where you want to stay warm but a traditional sweater is too casual for the office.
Off-the-Shoulder
This is exactly what it sounds like. Off-the-shoulder sweaters expose one or both shoulders. This style is very feminine but also relaxed and looks amazing on just about everyone.
Best Styles for a Distressed Sweater
Are you not sure if your style will work with a distressed sweater? Here are common fashion looks that typically rock a distressed sweater.
Vintage
Love all things old? If so, the distressed sweater is perfect for you! Sweaters commonly get distressed because they're old and worn. But the vintage look takes this to new levels.
You'll specifically want to rock the bohemian look with a vintage sweater. Bohemian style refers to the classic hippie style where hippies from the 60s and 70s rebelled against materialism and settled for minimalist pieces. Pair an old earth-toned and frayed sweater with a flowy skirt or your favorite pair of jeans.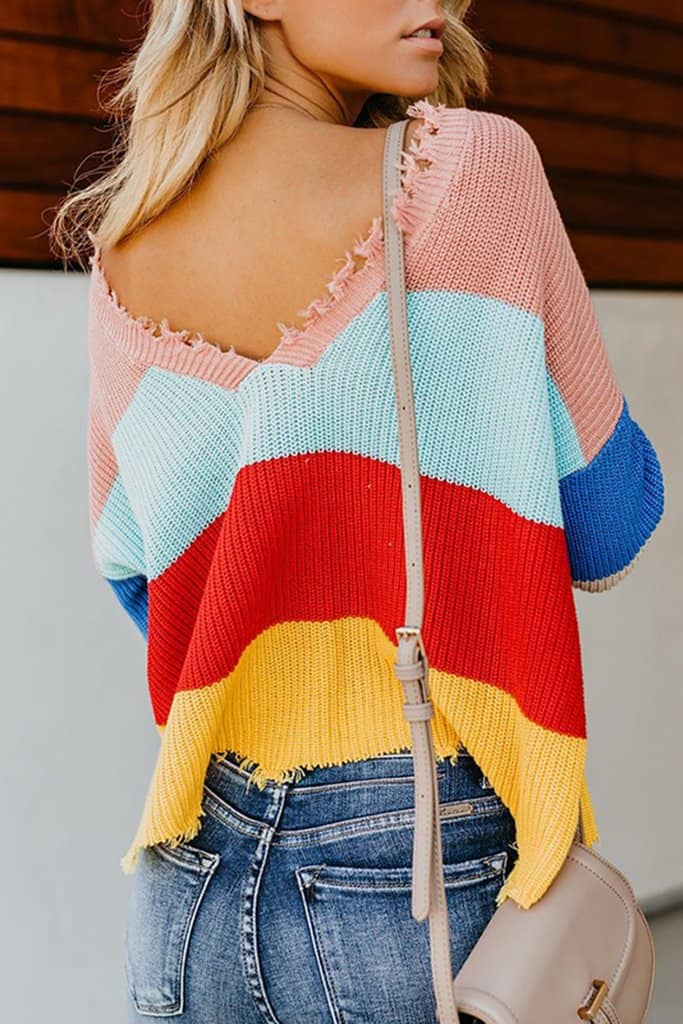 Casual
Anyone can pull off the casual style. Hey, you likely rock the casual style often and don't even realize it.
The casual style is all about getting cozy in your favorite sweater, no matter how worn and ripped it is. If you want that laid-back look, there's no better clothing item than a frayed sweater. If you're running errands or are seeing friends, rock your distressed sweater with a pair of jeans and sneakers.
Chic
You can add a distressed sweater to create a chic look. However, dolling up a distressed sweater isn't exactly easy and you won't be able to rock these outfits to every occasion. But you can still make it work. The key is to pair it with the right bottoms.
I suggest pairing a distressed sweater with some fashionable leggings. Vinyl or leather (or faux leather) leggings work the best with distressed sweaters. You'll look edgy rather than casual, and you're still glammed up. You can easily rock a look like this when you're at your favorite chill bar with your friends.
Street Style
Street style refers to styles you commonly see in urban areas. Yoga pants, jeans, sneakers, hoodies, and all-around comfy and casual clothes. However, street style is also flexible and anyone can still express themselves. The distressed sweater pairs perfectly with the laid-back yet versatile nature of this style.
Wear a black distressed sweater with leggings or ripped jeans for the edgiest street style look.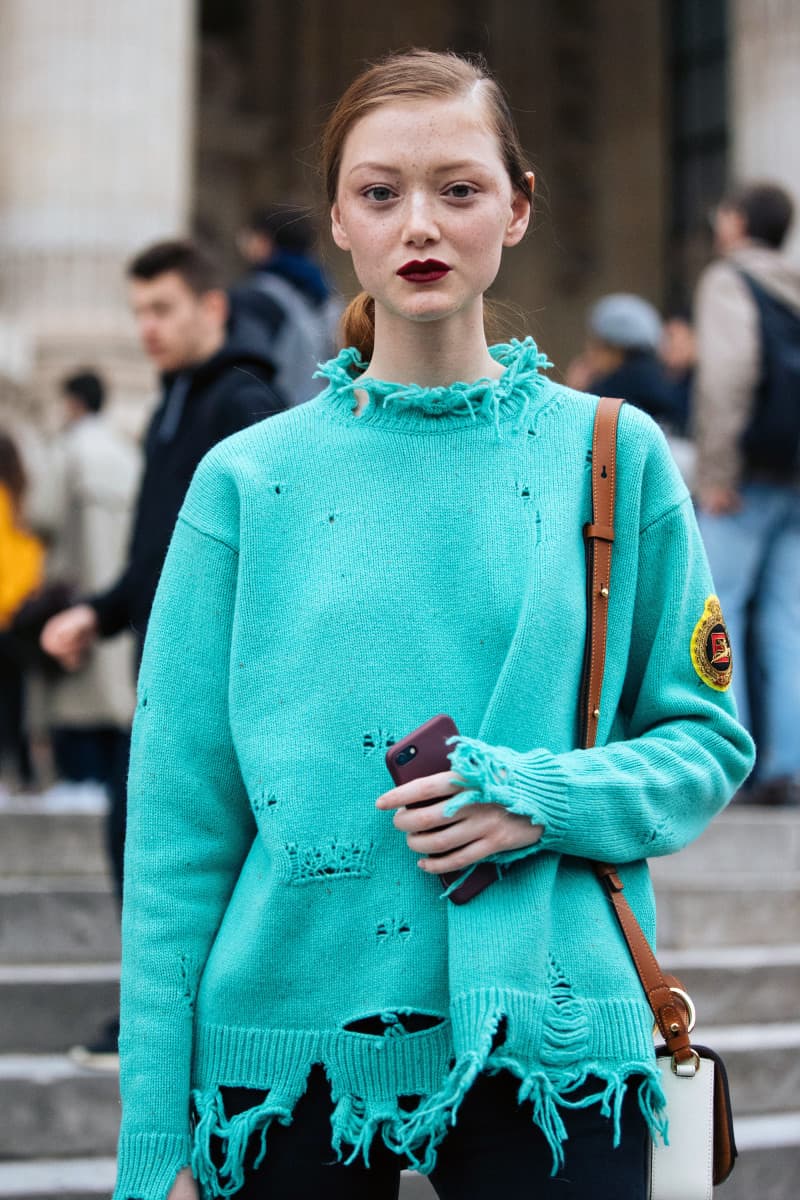 Rustic
Also called farmhouse fashion, rustic fashion goes back to America in the old days. It's nicknamed farmhouse fashion because this is the style that farmers would typically wear. Since farmers' clothing is typically worn and distressed, this is a great style to rock a distressed sweater.
Artsy
Artsy style is what it sounds like. Fashion that is more individualistic, unconventional, and expressive. Since most artsy people live in urban areas, a little bit of street fashion blends with this style. Overall, artsy fashion makes a statement, and that's why it's the perfect style for a distressed sweater.
For best results, choose something other than a neutral-colored distressed sweater. Choose a distressed sweater in a bright color or exaggerated pattern to really turn heads.
Rock
Just because you're edgy doesn't mean you can't be comfy. If you want your rocker look to extend to your lazy days, then a distressed sweater is the perfect item. For best results, choose a black distressed sweater. You can also choose a sweater with certain patterns and artwork, such as stars.
How to Style a Distressed Sweater
The best aspect about a distressed sweater is it's a versatile piece. You have a lot of freedom to style it the way you want. Later, we will list some of our favorite distressed sweaters. But for now, we will give you some advice on styling your new distressed sweater.
Jeans, Jeans, Jeans
Jeans are the best bottoms for everything, but especially for a distressed sweater. Jeans are casual yet chic and match the edgy aesthetic of a distressed sweater.
Which jeans should you pick? Honestly, any style of jeans will work. I personally think dark wash jeans match with literally everything.
Should you also wear distressed jeans? It depends on your preference. However, it's best advised to wear jeans without distressing or only minimal distressing so your distressed sweater can get the most attention.
Don't Forget to Accessorize
Even though you want the attention to be on your distressed sweater, you shouldn't forget about accessorizing. A floppy hat and basic jewelry such as bracelets and watches are all simple accessories that will balance out the edginess of your sweater.
Our Favorite Distressed Sweaters
Are you looking for a distressed sweater? Here are some of the favorites that we can find online.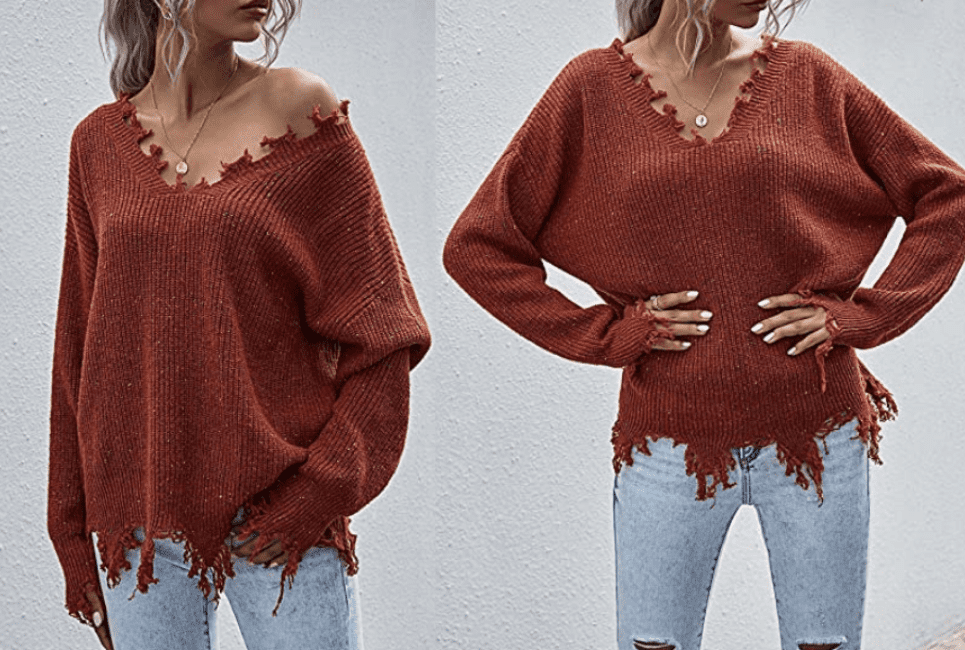 This sweater is not only affordable but absolutely adorable. It's available in a variety of colors, though I really like the coffee, gray, and patterned varieties. While some reviewers complained about the sizing, I would buy this if you're looking for a simple yet chic distressed sweater.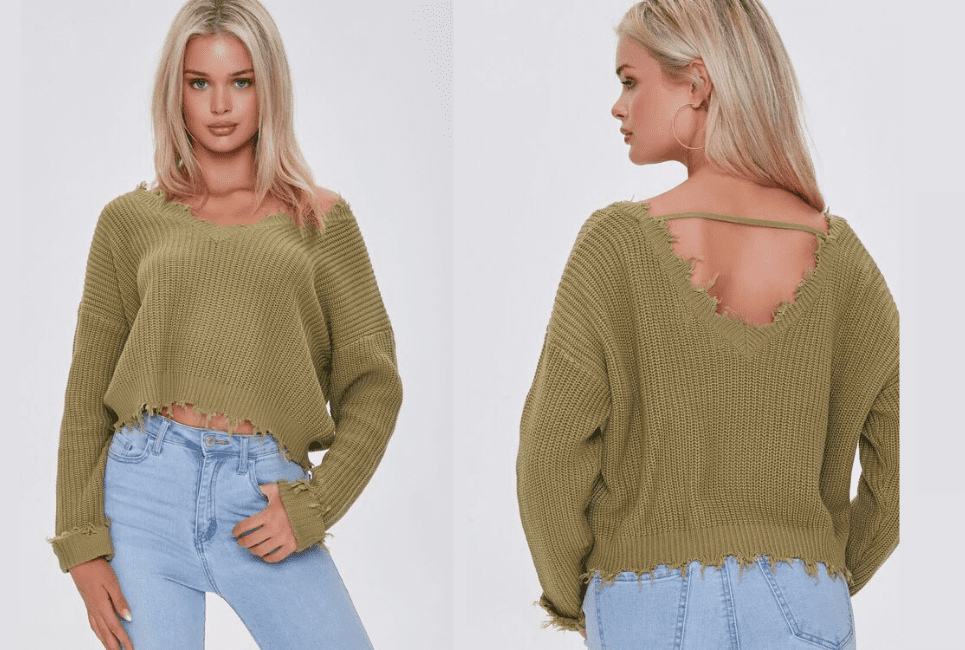 This chic distressed sweater offered by Forever 21 is a super adorable crop sweater available in two colors: olive and white. I absolutely love the olive one! This is a great sweater you can wear with high-waist jeans when out and about or wear with yoga pants when you're chilling at the house.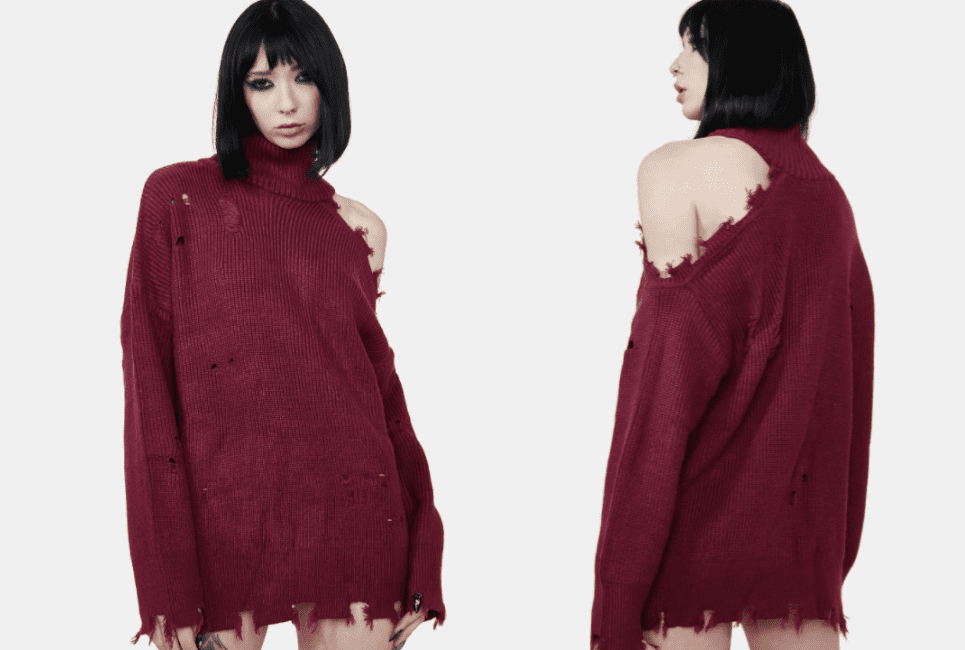 I absolutely love the color plum and this sweater is so awesome! I actually bookmarked it so I can order it later. This sweater tunic has small holes over the fabric and is open on one shoulder. The ribbed fabric and turtleneck make this sweater warm, but the one-shoulder style will also make this sweater the perfect choice for Halloweenie fall days.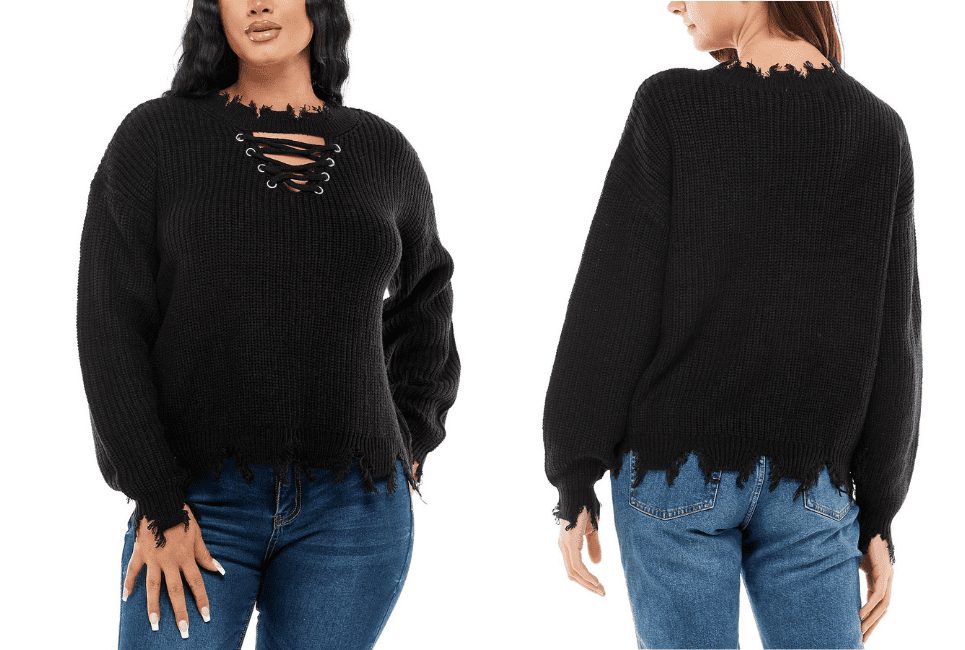 I saw this sweater on Google and it's taking everything in me to not order it! I absolutely love the corset neckline the most. The sweater is only slightly distressed, mainly frayed around the edges, so this is a great sweater to wear to a bar or party when it's cold outside. It's available in many colors but I personally love the black one the most.
Distressed Sweater Outfits You'll Love
Do you need some distressed sweater outfit inspiration? Here are our favorite looks with distressed sweaters!
Tie-Dye Distressed
Tie-dye is a huge trend right now and this sweater is the best way to live out this new trend. The baggy yet chic style is perfect to wear for the spring when the weather hasn't fully gotten warm yet. Otherwise, it's a casual sweater that's still adorable to wear when out and about. Credit: @shophautefoxboutique.
Fall Vibes
This is the best fall outfit, period. A distressed sweater in a lovely dark olive with a pair of skinny ripped jeans and open-toe boots. This is the perfect everyday fall outfit, like what you'll throw on when you need to run to the store. @michelejaliene said the sweater she's wearing was only $25, and you can't beat that.
Punky Distressed
While I love the fall and preppy sweaters, let's face it, I'm a goth at heart and was looking for some punky distressed looks. I definitely got what I was looking for, thanks to @west2westport. This sweater is black but looks like it has been bleached. Safety pins are holding the holes closed! How cool!
FAQs
Question: Why Would You Wear a Distressed Sweater?
Answer: Some people love the casual yet urban look. Others simply like the way a distressed sweater looks on them. I think they look edgy and awesome.
Question: How Do You Care for a Distressed Sweater?
Answer: Every sweater will have its own washing instructions. I would personally turn it inside out, use mild detergent, and set the washing machine to a cold temperature. If you don't want to risk shrinking the sweater, only put it in the dryer for 10 minutes and then air dry it.
Question: Are Distressed Sweaters Warm?
Answer: Again, this depends on the sweater you buy. If the sweater is only frayed at the bottom and it's made of a warm material, it will probably be warm enough for a winter day. But assume that most distressed sweaters aren't very warm, since most have holes and tears in the fabric.
Bottomline
You've likely seen distressed sweaters everywhere. Distressed sweaters have frays, rips, and holes in them, making them look old and worn. But when done right, distressed sweaters look cool and edgy.
You can easily buy a distressed sweater or you can even make your own using an old sweater. No matter which option you choose, you'll want to find a sweater that you'll love and one that matches your personal style. We hope our guide helped you pick out the best distressed sweater and taught you how to style them.
Recommended Reads: