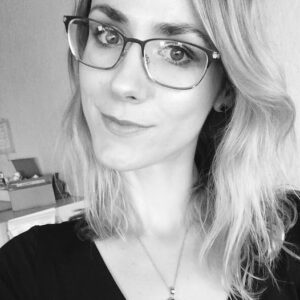 Latest posts by Karyl Trejo
(see all)
Blazers are one of the most versatile and essential pieces of clothing for both women and men alike. Not only are blazers are convenient pieces of outerwear in the spring and fall when it's too warm to wear a heavier coat, but they also instantly class up an outfit and tend to have a slimming effect, helping you to look sharp, smart, and ready for a day's work. 
However, blazers don't always have to be worn in a professional setting. Despite usually being on the more formal side, blazers can make a great addition to any ensemble when going out on a date, to a party, or even just to a casual brunch with the gals.
If you're worried about being a little overdressed while still wanting to retain the benefits of wearing a blazer, however, you've come to the right place. That's right. I'm talking about the quintessential sequin blazer, the perfect coat to complete an eye-catching outfit for a night on the town. 
Don't worry if you don't have a sequin blazer yet or if you don't really know how to wear one. I'm going to go over everything you need to know about sequin blazers, such as:
The benefits of donning a sequin blazer

My top style tips for wearing sequins

How to pick out a sequin blazer

And some of my favorite sequin blazers to choose from!
I know you're just as excited to learn these things as I am to share them with you, so let's just go ahead and dive right in, shall we? And by the way, don't forget to read to the end for my ultimate recommendation. (You don't want to miss it!)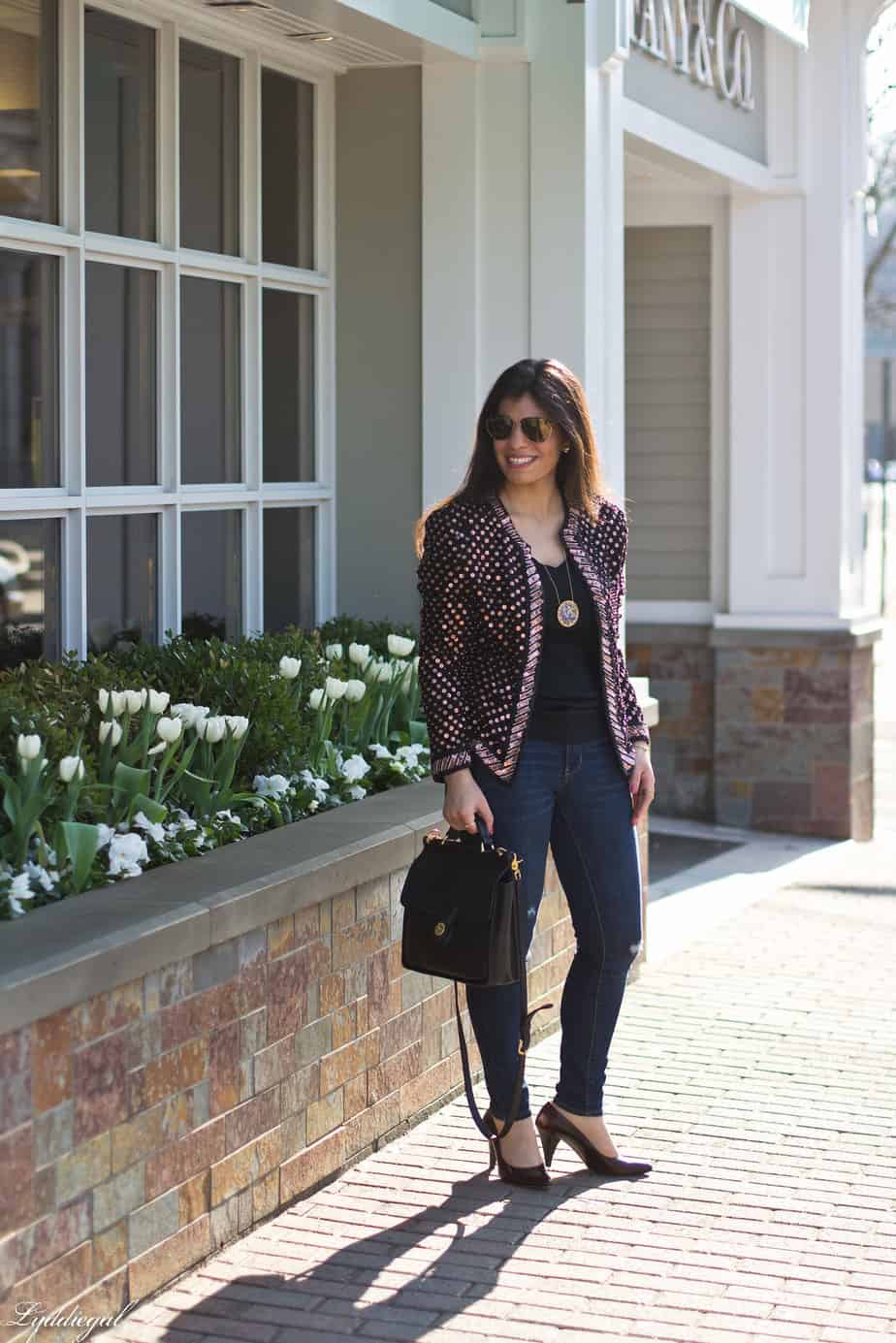 The Benefits of Wearing Sequin Blazers
Sequin blazers aren't just tons of fun — they're also one of the most useful pieces of clothing to own. The best thing about sequin blazers is that you can practically combine them with any outfit to suit a different situation.
A formal setting, like a cocktail party? Sequins are the way to go. Business socials with your coworkers? Sequins. A casual setting, like going on a lunch date with friends? Grab those sequins, girlfriend.
Here are five of the top benefits of wearing a sequin blazer:
They're classy (but without being too dressy!). 

They make a perfect coat for breezy nights.

They can help to accentuate your curves.

They're great for layering.

They're highly versatile garments.
Class and Style
While regular blazers can instantly class up an outfit, their association with formal or professional wear can make them less than versatile in situations where you want to let loose a little. Not so with sequin blazers!
While a sequin blazer might be a poor choice for some workplaces, in almost every other situation, they can help to class up your outfit — without the same overt office wear look that a regular blazer can bring. You get the best of both worlds!
A Touch of Warmth
Have you ever had those evenings in late spring or early autumn where it's a little too chilly to wear nothing over your top but still too warm to wear a proper coat? A sequin blazer makes a fantastically stylish choice for a light coat when you need one.
A cotton-lined sequin blazer is just thick enough to keep the chill of a breeze off while still allowing enough ventilation and airflow to keep you comfortable all night long. Plus, you'll be adorable while staying nice and toasty.
Figure-Flattering Style
While layering can be a great way to stay warm while keeping your outfit looking as fashionable as possible, one of the downsides is that by wearing several layers of clothing, you can tend to obscure the natural shape of your body. 
If you're looking for an outfit that's a little more form-fitting while still remaining warm, a sequin blazer will do just the trick by adding a tight layer to show off your curves. Really want to highlight that waist of yours? A belt is also a nice touch.
Buildable Style
On the topic of layering, one of the best things about sequin blazers is that they can pair with just about anything:
A striking sequined blazer practically always adds to the outfit in a flattering way, particularly if you wear a belted blazer over multiple thicker layers. Not only will layering help to keep you warm, but it also leads to a more creative and interesting outfit.
Incredibly Versatile
I've already talked about the versatility of sequin blazers earlier, but these fantastic jackets aren't just versatile in how you can wear them. They can also lend to a huge variety of outfit aesthetics. When worn with other clothes, a sequin blazer can seem classy and formal, fun and casual, or romantic and sexy.
You can even wear sequin blazers to add a fun bit of masculine flair to your outfit, too. (80s style shoulder pads, I'm looking at you!) Just try wearing them with a vest, collared shirt, tie, and trousers. 
On the other side of the spectrum, you can wear a yellow-gold or rose-colored sequin blazer with a crêpe-de-Chine blouse and a silk flower on the lapels for an outfit that epitomizes feminine class. With so much versatility, you can almost certainly adapt a sequin blazer to your style, whatever it may be.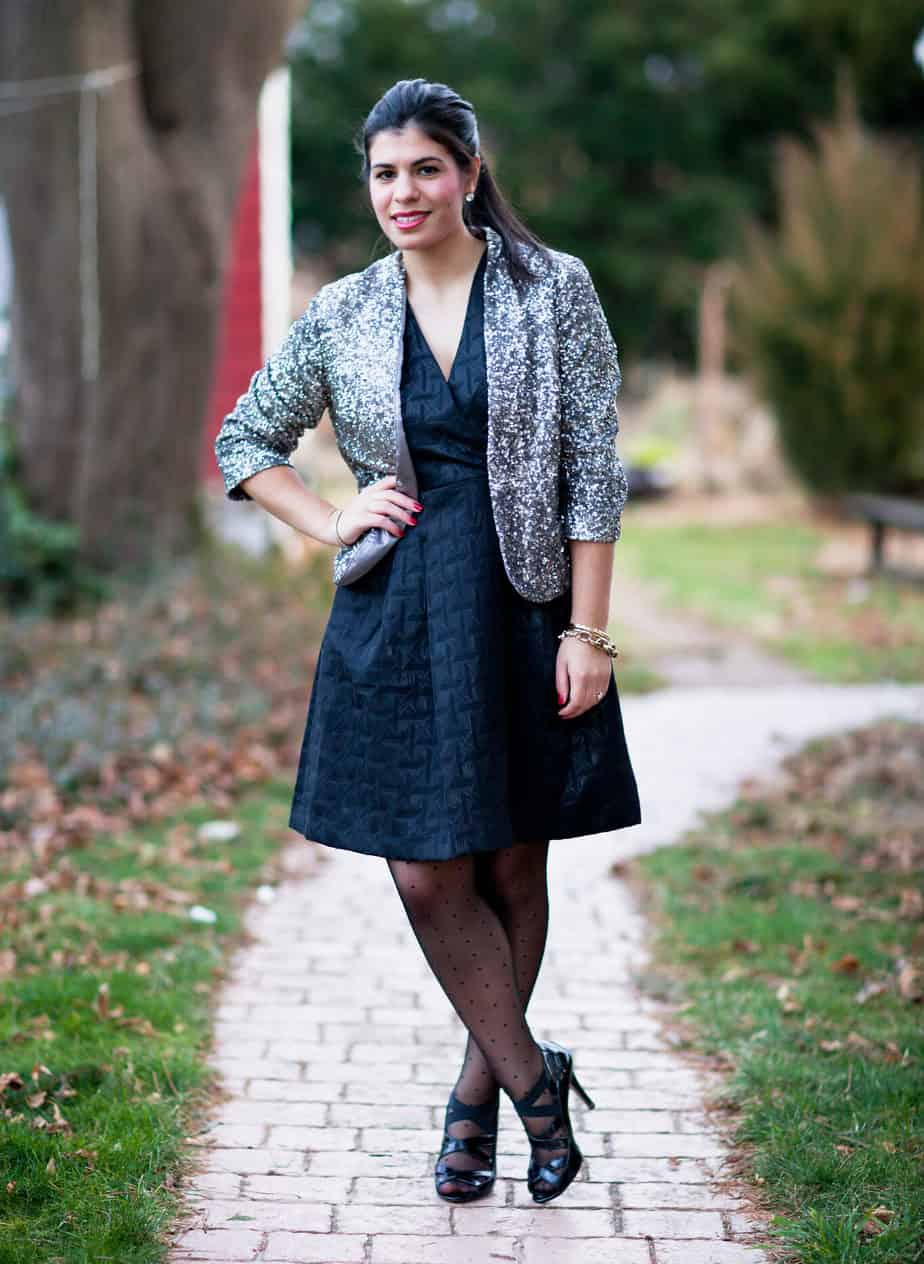 The Best Style Tips for Sequin Blazers
Although sequin blazers can be incredibly versatile, that doesn't make creating an outfit any less stressful. If you're not used to wearing a sequin blazer, or you're just looking to expand your repertoire of outfits for your sequin blazer, don't fret.
You'll be happy to know that I've compiled some of the trendiest ways you can wear a sequin blazer today. You can even use these ideas to inspire you to create your own new outfit ideas!
Sequin Blazer With Little Black Dress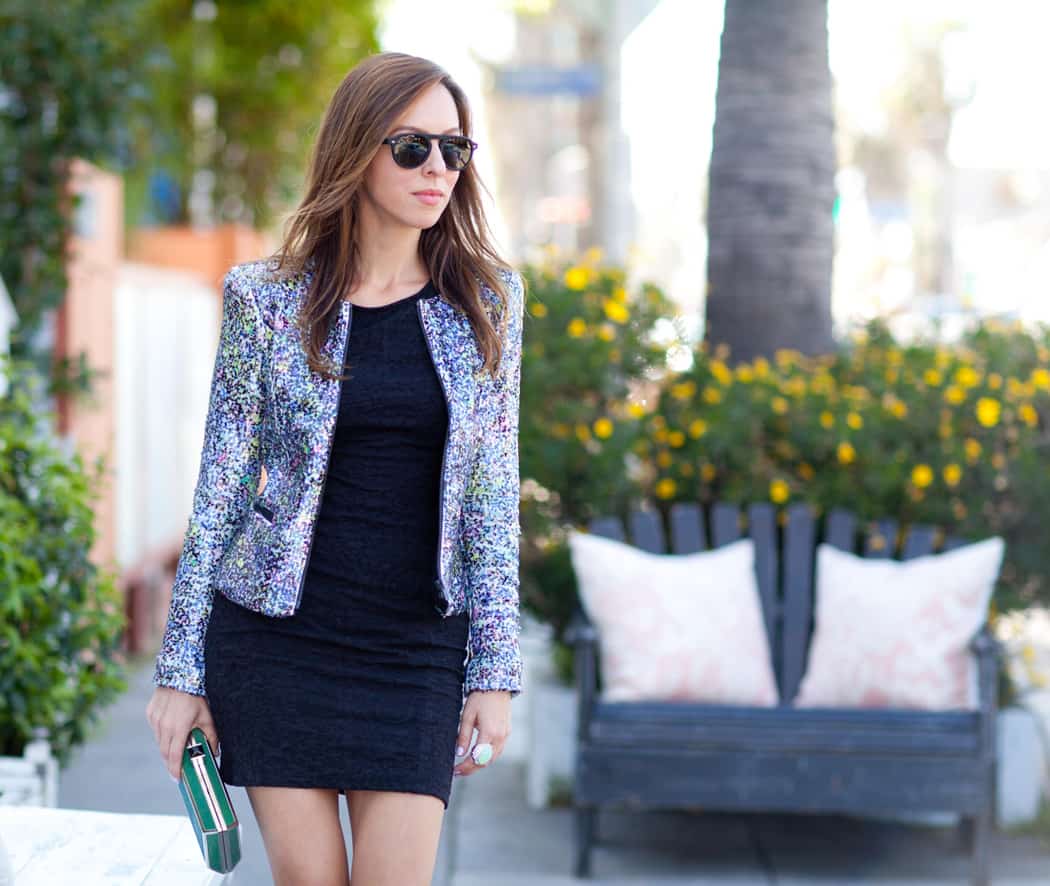 One of the most classy and sexy date night outfits around, pairing a classic black evening dress with a sequin blazer is all you need to get ready for a romantic evening with someone special you want to impress. This outfit simply screams class, while the sequin blazer ensures that you catch your date's eye and hold their attention through the night. 
A sequin blazer adds a bit of youthful fun and flair to an otherwise simple and fairly formal outfit, creating a perfect combined look. Don't be afraid to play around with colors and textures, either. A silky satin dress and silver or gold heels can really bump this look up a notch.
Sequin Blazer With Black Midi Dress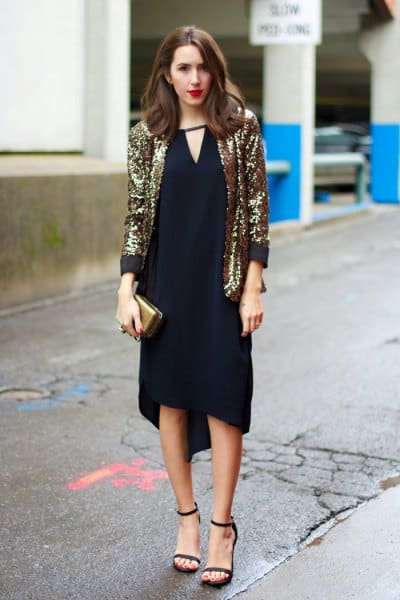 For another sexy, dressier look, throwing a sequin blazer over a midi dress is a great way to add a bit of color and life to a classic ensemble. Midi dresses (that is, any dress where the hem ends halfway between the knee and ankle) have become incredibly popular in recent years.
And if you simply throw a sequin blazer over your shoulders, it can help make your look stand out while also adding a bit of warmth for cooler fall evenings. Gold and black make a particularly stylish pairing for this outfit.
Sequin Blazer With a Chiffon Mini Dress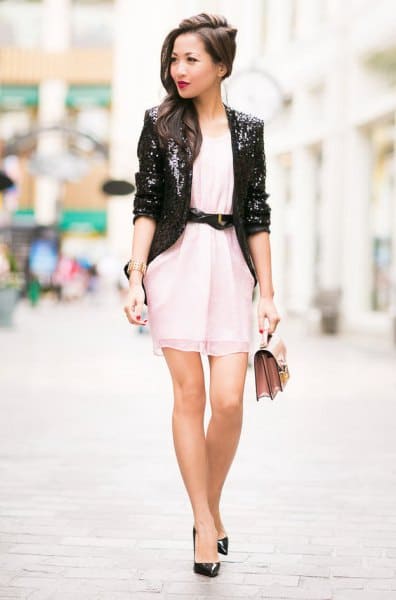 Another absolutely adorable outfit, a sequin blazer, can add a touch of adult sophistication to the otherwise innocent and girlish charm of a chiffon mini dress. The flowing and sheer qualities of chiffon mini dresses are part of what makes them so flattering, particularly in the spring or summertime.
However, they do tend to be on the chilly side as soon as the warm summer breeze starts to turn cool. Adding a sequin blazer is a perfect way to pull off a chiffon dress while staying comfortable. The blazer can also help hold some of the fabric back, so your dress isn't constantly billowing in the breeze.
Sequin Blazer With White Blouse and Skinny Jeans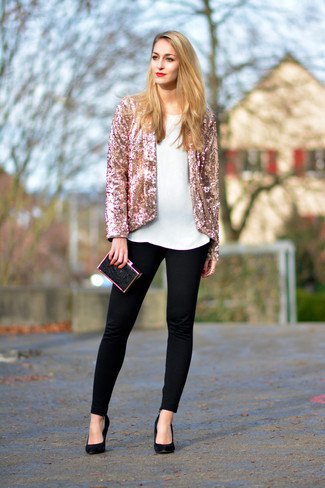 Of course, you don't have to wear a sequin blazer exclusively with a dress! In fact, a sequin blazer can help to elevate a simple outfit of a white top and jeans to an elegant and dressy ensemble, ideal for a night out with friends. 
Black jeans help to emphasize the contrast between your bottom and your top with a sparkly sequin blazer. For an added feminine touch, you can wear a rose-colored sequin blazer instead of a black or yellow-gold one and complete the outfit with a set of cute ballet flats.
Sequin Blazer With Collared Shirt and Jeans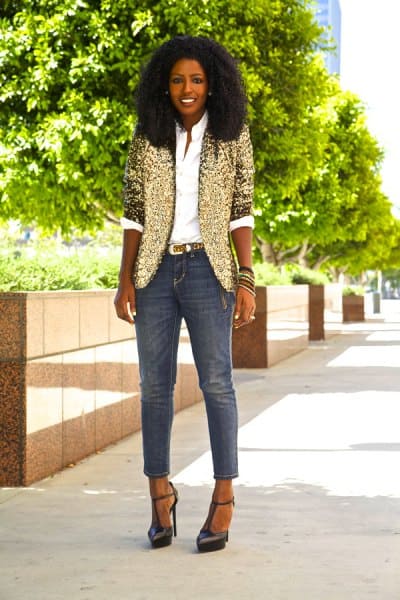 Finally, if you'd rather have a bit of a more masculine style to your outfit, a sequin blazer combined with a collared shirt and jeans creates a bold and captivating look (while remaining practical and formal enough for company events). A white shirt and dark jeans are your best bet for this outfit. 
You can even replace the jeans with dress pants if you like if you're going to a more formal event. That way, you can create a stunning and creative look with an added androgynous element. Be sure to keep your accessories simple, though, such as basic stud earrings (in the same tone as your blazer) and a neutral-colored clutch bag.
How to Pick Out Quality Sequin Blazer
Now that you know how to wear a sequin blazer, it's time to pick one out. Unfortunately, I know firsthand just how difficult it can be to choose a sequin blazer that fits properly and matches well with the outfits you want to wear it with. 
To avoid becoming a fashion faux pas, you'll want to ask these three questions first:
Does this sequin blazer fit me?

When and where do I want to wear it?

Are the style and the color right for me?
Fortunately, by following these easy tips, you can avert a fashion disaster and buy a sequin blazer that fits properly, is appropriate for whatever situation you want to wear it in — and looks great while doing it!
Make Sure You Get The Right Fit
One of the greatest challenges when choosing a sequin blazer to buy is actually getting one that will fit right. Remember, even though sequin blazers are a lot more fun than your run-of-the-mill non-sparkly blazer, they're still technically cut like a formal jacket. 
You still need to pay a lot of attention to how exactly your new sequin blazer fits to make sure it looks right and is comfortable to wear down the line. The first thing you should pay attention to when purchasing a new sequin blazer is how it fits around your shoulders. 
Each person has a different build and broadness of their shoulders, and if you don't pick a sequin blazer that fits your shoulder width correctly, you run the risk of constantly looking like you're hunched over or that your coat is scrunched up. No one wants that! 
Choose a blazer cut so that the seam of the shoulder of the blazer ends on your natural shoulder, lying flat against it without any weird bunching up or poofing. That way, you'll have a smooth and sleek silhouette in your sequin styles.
Next, you need to ensure that the arm length of the jacket is correct. Women's blazers (particularly sequin blazers) tend to be available in more variety in terms of sleeve length compared to men's coats. You should be able to find a sequin jacket with a full-length arm style cut or a three-quarter length style cut. 
Shorter-sleeved sequin blazers look brilliant when paired with dresses and drapey skirts, while full-length coats tend to look better with long-sleeved tops. In any case, make sure that the sleeve length of your new sequin blazer fits properly, without being too short or too long.
Finally, you'll need to make sure the bust area of the blazer is fitted properly. A sequin blazer with a bust that's too snug can be uncomfortable and look visibly tight, while a blazer with a bust too loose will look too big. 
Most sequin blazers will be designed so that each side of the blazer is able to reach across half of a breast. If the coat feels too tight or too loose when you button it up, opt for a different one.
Consider When You Want To Wear It
Aside from getting a sequin blazer that actually fits right, the next thing you need to think about is getting a sequin blazer that's appropriate for when you want to wear it. Sequin blazers can come in all sorts of different styles and cuts, ranging from:
A traditional blazer cut that's perfect for after hour work events and socials

A low-cut blazer ideal for a night out on the town

A slouchy boyfriend-cut sequin blazer that adds a bit of flair to a casual fall outfit
You don't want to pick a more casual style sequin blazer if you're planning to wear it to work or networking events, for instance. So you'll want to be sure to keep your intended social environment in mind when picking a sequin blazer.
Think About The Style And Color
Finally, the last thing you want to keep in mind when choosing a sequin blazer is how it'll match with the other clothes in your closet. You'll almost certainly be wearing your blazer layered on top of other clothes for your outfit, so it's important to think about the colors and style of clothes you usually wear.
That way, you can maximize how useful your new sequin blazer is. If you wear a lot of light or pastel colors, for example, you might want to get a darker sequin blazer for the sake of contrast. Alternatively, if you like to look a little more feminine, you can go in the opposite direction.
If you're not a fan of yellow-gold and you reach for softer hues, a rose-gold colored sequin blazer can add a delightful feminine emphasis to the light and pastel colors in your wardrobe. Whatever your style, just make sure that your new sequin blazer matches for optimal results.
The 5 Best Sequin Blazers of 2022
Even with my fantastic tips for choosing a sequin blazer in mind, actually making that decision on which sequin blazer to buy can be very tricky. It can be difficult to tell if a sequin blazer will actually look good, much less its quality and longevity, just from looking at a picture online or even seeing it hanging on a rack. 
Fortunately, I've scoured the web for the best sequin blazers to pick from. With their versatility, there is no wrong time to invest in a sequin blazer. These jackets can be worn with a festive holiday outfit (a gold one with a red sweater, for instance) or as business attire.
For my list, I looked at a variety of different factors for which sequin blazer to include on the list to create a well-rounded and versatile selection of options that will appeal to a wide range of individuals looking for a blazer for different scenarios. Here are my selection criteria laid out:
The Price.

As usual, I've tried to include a wide range of prices so everyone will be able to find that perfect blazer that interests them (regardless of their budget). However, no blazer made it on this list simply by being cheap. For both price points, I considered the value of what you'll be getting. The better the value, the more likely I picked it for a spot.

The Quality.

Quality is always one of my top concerns when recommending products. What's the point of buying a beautiful jacket if it'll rip after your first time wearing it out, right? Every sequin blazer on this list has been made by a reputable company and is sure to last you for years, as long as you take good care of it.

High-quality build and materials are particularly important when it comes to sequin blazers, too. Clothes with sequins can be easily damaged through improper washing

or simply daily wear, and who wants one that'll be unwearable after just a few uses?

The Style.

Just like how I wanted to include a variety of price points, I've also made sure to include a wide range of styles and cuts for my picks on this list. That way, you'll be able to find something to suit every situation. From formal coats to casual styles, you'll be able to find a sequin jacket that fits your look without a doubt.

The Look.

Finally, I have my most important factor: how it looks! To be included on this list, every single sequin jacket I've picked had to be absolutely stunning. Only the most fashionable sequin blazers were even considered.

You can be confident that each blazer on this list is sure to make you stand out, no matter what situation you're wearing it in. While layering and pairing outfits is an important part of looking your best, you just can't beat a beautifully made jacket to complete the look.
So there you have it. By evaluating and balancing each of these factors, here are my top five picks for the best sequin blazers you can buy in 2022.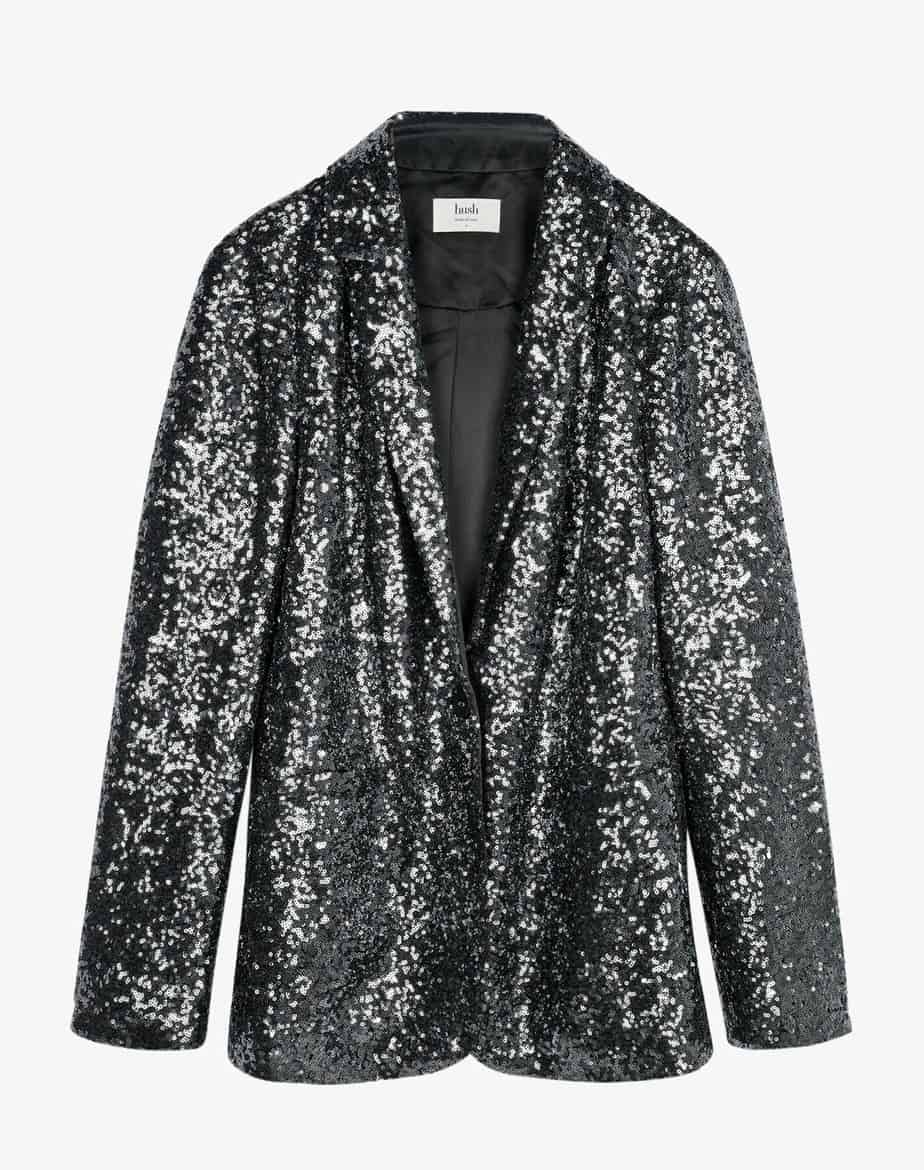 This gorgeous, classic sequin jacket will add a sparkle and a spotlight to just about any outfit you want to wear. With a relaxed cut and classic style, there's pretty much no limit to how many ensembles you can put together with this sequin blazer as the star. Wear it with a simple white top and jeans, over a collared shirt, or even wrapped around a sweater. 
You seriously can't go wrong with a classic blazer cut, and the silver-gold blend of the sequins helps to pair it with a number of different colors and outfits. You won't find yourself shivering underneath this blazer either, will a full lining that's sure to keep out the spring or autumn breeze. Full-length sleeves also help to keep out the chill. 
Like most sequin blazers and other sequin clothing, though, you want to keep this blazer out of direct heat. The coat is made largely of polyester, which is to be expected from a sequin blazer, as well as 3% elastane to ensure that it feels comfortable and easy to move around in throughout the day.
Pros:
Classic, timeless style that works with a variety of different outfits

Full inner lining and sleeves help to keep you warm

Beautiful gunmetal silver sequins match most colors
Cons
:
On the pricier side

Often goes out of stock due to high demand

Might be a little too formal for some for a casual night out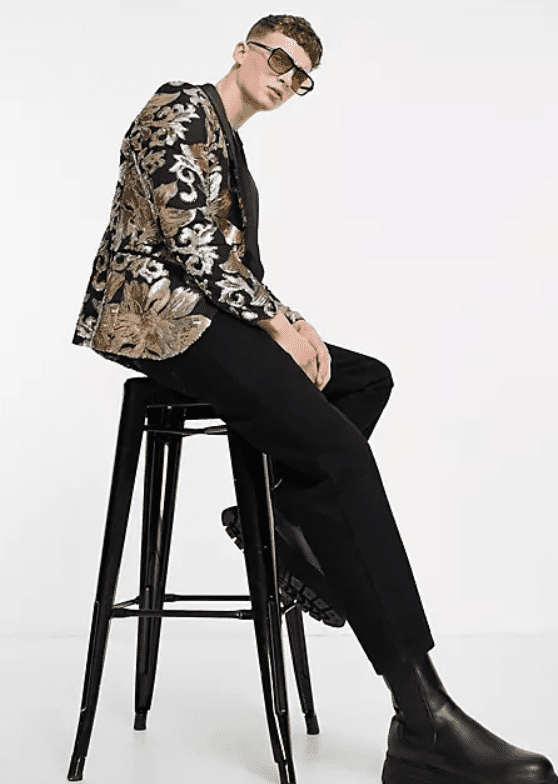 While most of the sequin blazers featured on this list showcase a layer of pure sequins to maximize their color and eye-catching properties, this unique sequin blazer stands apart. Instead, it opts for an elegant and beautiful pattern of sequin flowers.
The sequin embroidery creates an incredible contrast between the radiant gold floral designs and the dark fabric of the coat. Incredibly trendy at the moment with dark floral on the rise, the blazer makes for the perfect statement piece of an outfit for a night on the town, suitable to be worn around a black dress or blouse. 
While this blazer is technically cut for men, this brand tends to run a little bit on the smaller side, making this piece the perfect addition to any androgynous-chic wardrobe. It comes with pockets (a must for anyone!), shoulder pads, and a body-skimming single-breasted style. Plus, the pattern is somewhat understated, adding to its versatility.
Pros:
Bold, creative design makes it great for the office

Beautiful use of sequins to create an outstanding and eye-catching pattern.

Relaxed cut is perfect for both casual and dressy outfits
Cons
:
Sequin patterns may make it difficult to pair with outfits without clashing

On the more expensive side

Intricate sequins may make it more difficult to maintain

May fit slightly large, due to it being cut for men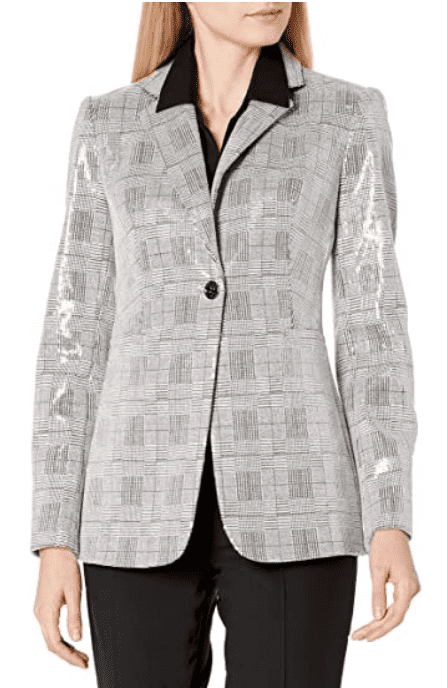 I just adore the checkered pattern on this classic blazer, creating a posh look that nods at the rain-soaked streets of London. The button on this blazer helps it to accentuate the body's curves and waistline, making it an ideal coat for when you're wearing a couple of layers underneath. 
An inner lining will almost keep you warm during the cooler months in the autumn, too, helping to keep you comfortable for longer in the year. The best thing about this blazer is that its classic design helps to make it a go-to option whether you want to dress up or down, while its sequin print keeps any outfit eye-catching, to say the least.
One thing I really loved about the reviews is how one user gushed that when she wore it to a job interview, she managed to get the job! How awesome is that? If you're looking to make a statement — whether you're at work or you're out with friends — this is the blazer to do the job.
Pros:
Single-button style flattering no matter what you wearing underneath

Unique pattern of sequins makes for a bold statement

Classic outerwear look facilitates both a formal and casual look
Cons
:
Plastic buttons make it look a touch less elegant

Runs a little bit on the smaller size

Shorter sleeves and longer length can be awkward for some wearers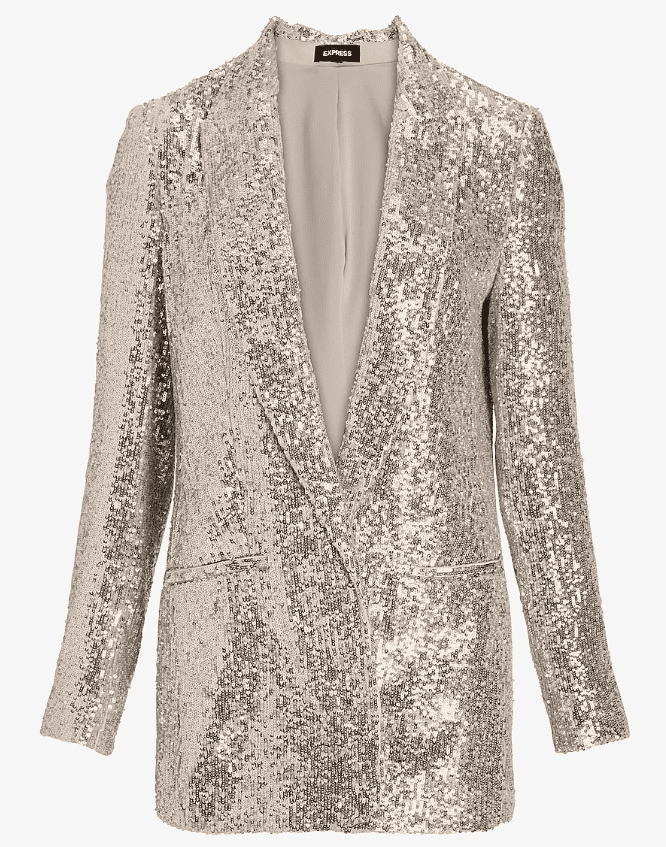 This relaxed and loose sequin blazer is designed to be as comfortable as possible while still retaining a chic and stylish look and feel. The champagne sequins on this blazer are as eye-catching as any without being garish, and the modern, neutral color makes it flattering for most skin tones. 
The addition of nylon and spandex makes it a stretchy and incredibly comfortable top to wear while just hanging out with friends around town or even while going about day-to-day chores with a bit of added zest. The boyfriend-cut style goes equally well with either jeans or that LBD in your closet, making it a piece you'll wear again and again.
The lack of buttons on this blazer also adds to the casual vibe, meaning you'll never look overdressed when wearing it. It's also fully lined, so you can wear it during the winter months (holiday season, here I come!) or a cooler summer evening.
Pros:
Easily dressed up or down, with jeans or an LBD

High elastane content and loose fit make this sequin blazer more comfortable

Surprisingly affordable for such a reputable brand
Cons
:
Cut and styling may be too casual for more formal or dressy situations

Lack of buttons can make it harder to keep you warm when wearing

Cannot be washed or dry-cleaned (handwash only)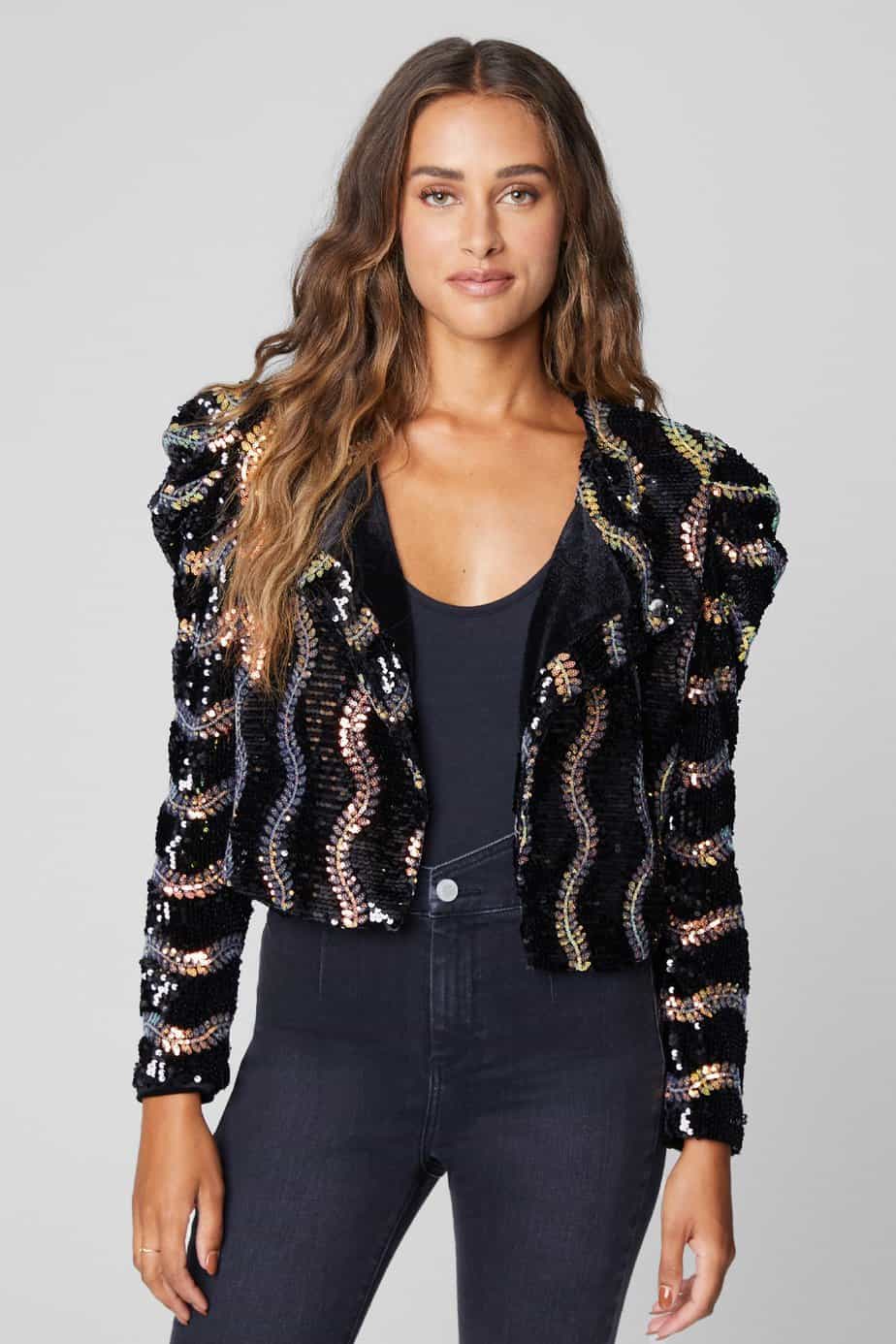 Finally, I've finished off my list with this bold multi-colored sequin blazer from BLANKNYC, a relatively new fashion company that is still making strides in presenting avant-garde styles. Their Beauty Spot Blazer showcases a beautiful array of different colored sequins in a wavy, vine-like pattern, making it one of the most eye-catching sequin blazers I've ever seen.
What I like about this blazer is that it's completely different from other sequin blazers you'll find. There's nothing boring about it, and the feminine puff-sleeves soften it up just enough so it's not overwhelming. Despite its heavier material, it still has an amazing drape while still keeping you warm.
Even though you can match this modern, cropped blazer with any dress or slacks in your closet, it won't look out of place with a pair of slim-fit dark wash jeans. And because it's not some simple, monochromatic piece, you can easily wear it with almost any color without clashing.
Pros:
Such a fun color and style!

Eye-catching yet elegant due to the way the sequins transition color

Cropped cut style is ideal for wearing around a dress or with

high-rise jeans

Warm inner lining and comfortable drape make it suitable year-round
Cons
:
Bold colors and patterns, plus sequins, can be a bit much for some

Has to be hand washed to avoid risking damage

Limited size range not very inclusive (XS-L)
Frequently Asked Questions
Question: Are there different types of sequins out there?
Answer: Yes, there are a lot of different varieties of sequins! While most of us probably think of the basic round-type sequins when we picture them, other kinds can include:

Reversible sequins
Leaf sequins
Flour sequins
Shell sequins

The right sequin can definitely take a garment or an outfit to the next level. The next time you're out shopping for sequined clothes, why not take a closer peek at the style of sequin stitched upon it?
Question: How do I clean a sequin blazer?
Answer: It really depends on the blazer, honestly. Some sequin blazers must be dry cleaned, while others can go in the washing machine or must be hand washed. You'll just want to be sure to check the label before you begin to avoid accidentally damaging it.
Question: What are sequins made out of?
Answer: This is such a fun question to answer! While sequins today are usually just made out of vinyl plastic and dipped in a metallic coating, they haven't always been so. The earliest sequins actually go back to ancient times, to none other than King Tut himself. 

Apparently real gold sequins were sewn to this pharaoh's clothes, ensuring he had enough money in his afterlife. Other cultures used brass or other metals to create a sort of armor for clothes, such as cultures found in China and even 17th Century England. 

As they grew more fashionable in the 1930s, gelatin became the popular choice (though they would dissolve in the rain). And today, while some brands do splurge on luxe metals, plastic is now the go-to.
Question: Is sequin fabric stretchy?
Answer: Sequin fabric isn't necessarily stretchy on its own, but many manufacturers include stretchy materials in sequin blazers. Just check the tag for certain fabrics, such as elastane or spandex, if you want a little extra comfort in your OOTD.
Question: Are sequins in style right now?
Answer: Oh, absolutely! Sequins are currently trending and are a fantastic way to spice up your outfit for the holiday season (or any time of the year, really). While they do ebb and flow in popularity, they'll never fully go out of style, really.
My Final Thoughts
Whether you've been a long-time fan of sequins or are just starting to think about expanding your wardrobe, there's no better time than the present to finally go out and get that sequin blazer to add a bit of bling to your life. With how wearable and classy they are, they're more than worth the splurge.
My favorite of these top picks is undoubtedly the Tommy Hilfiger Women's One-Button Blazer, thanks to its classic look and flattering one-button design. No matter which sequin blazer feels right for you, though, don't be afraid to be bold and make an eye-catching statement with your outfit today!
Recommended reads: