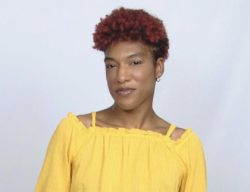 Latest posts by Jessica Ross
(see all)
The weather is getting colder by the minute! Now is the perfect time to break out a corduroy jacket. The ridges in a corduroy jacket create a standout look, and the jackets are usually very warm. You can wear a jacket that has shearling details or has a cropped design to keep stylish.
When styling a corduroy jacket, you can choose to pair them with many different bottoms, including jeans, skirts, and even shorts on days where it isn't extremely cold. You can have a modish fall look with a t-shirt underneath, or you can spice things up and wear a dressy top.
Quick Corduroy Facts
The actual name is believed to come from the phrase "corde du roi," which means "King's Rope" or "Cloth of the King".
The woven technic originated in Ancient Egypt.
In the 19th century, Europeans adopted the technique and wore the fabric to symbolize social status.
King Henry VIII was known to have worn corduroy clothing.
Long Jacket
To start the season with a bold look, try a long purple corduroy jacket. Choose a jacket that has silver or brown buttons so that they easily match your top or bottom. This look will pair well with a black skirt and a white tank top. Add sheer stockings or tights and short boots. If it's more of a dressy occasion, add thigh-high boots instead of ankle or mid-calf. You can also wear this look with classic, white sneakers in a low-top style.
You can wear a white t-shirt or sweater underneath. Add cropped, destroyed denim in a light wash. Wear accessories with a white or cream color infinity scarf. You can also wear a fringe scarf and wrap it multiple times to give the feel of an infinity scarf. Add a brown shoulder carry handbag to complete your look.
If you want a more bohemian look, try wearing a pair of cropped jeans in white and a brown leather belt. Add short, mid-calf boots in a western-style (more of a cowboy boot). Your boots can be a dark brown color. Add a cropped top that has neutral stripes or a graphic design made of neutral colors. Wear a wide brim hat in brown to coordinate with your shoes. Your purple corduroy jacket will balance out your look to keep it interesting!
You can wear a more relaxed, layered look with your jacket, as well. Try wearing a pair of joggers and a sweater. You can wear a sweatshirt, instead of a sweater, if you want more warmth. Wear your jacket on top as the final piece. You can wear classic sneakers or a pair of sneakers that have a bit of color within their design. Top off your look with a hat if you're having a tough hair day. Wear a leather backpack for a cool, street-style look.
Pros of a long corduroy jacket:
Extra warmth since the jacket falls past your waist.
It can be worn with thick sweaters without looking bulky.
Cons of a long corduroy jacket:
It may get too warm if you wear too many layers underneath.
Not weather resistant.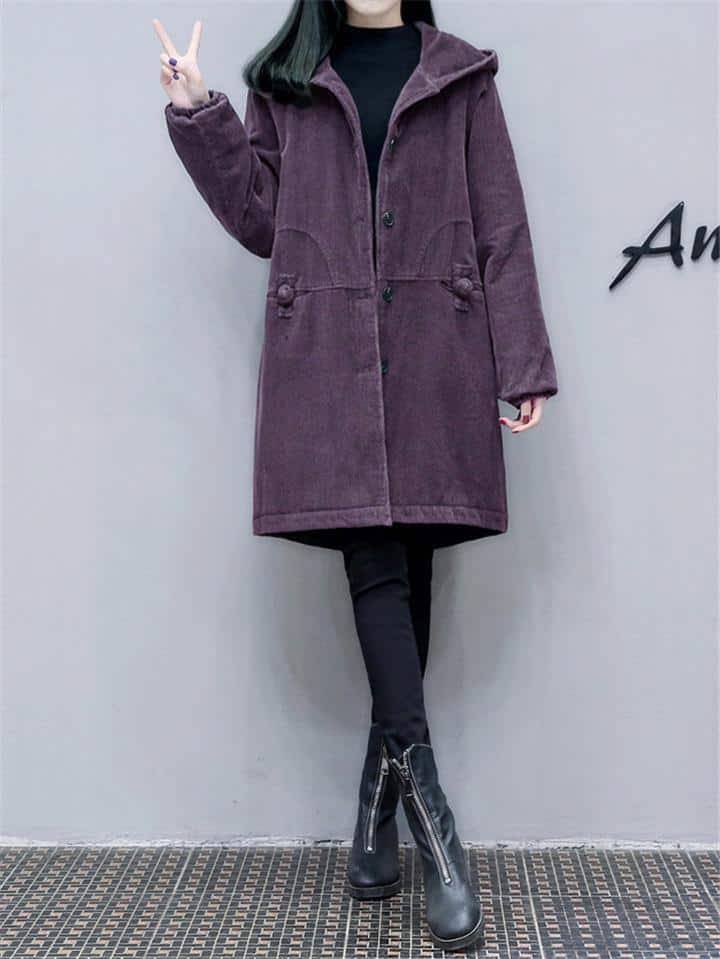 Cropped
You can wear a cropped jacket that has a crisp collar to give a nice, tailored look. Try choosing a color that is calm and cool, like light or mint green. Since it is cropped, you'll be able to show off your shirt underneath. Try wearing a fitted t-shirt. Or, if you want to be more feminine, try a ruffle shirt.
For a more girl-next-door look, try wearing a crème, beige or nude color turtle neck under your jacket. You can wear this top with black, destroyed skinny jeans. Add jewelry in the form of stacked or layered necklaces, where one chain hangs lower than the other. You can choose gold or silver-tone jewelry for this style. Wear your choice of boots for shoes. You can wear rustic style boots to give your outfit more character.
To really give your look a chic touch, try wearing your turtle neck in black with your cropped corduroy jacket. Add a mini skirt with a buttoned front that is also high waist. You can choose a brown skirt if your corduroy jacket is brown. Or, you can choose a jacket in a vibrant color since each piece in your outfit will be in a neutral, solid color. Choose mid-calf or ankle booties in black that have a pointed toe. This is also a great outfit for dressy events that are also casual. You can wear your legs bare if you'll be out on a day when it's not too cold. Add a top-handle tote for a sophisticated look.
Pros of a cropped corduroy jacket:
Lightweight.
Allows you to show your top underneath.
Cons of a cropped corduroy jacket:
No full coverage on cold days.
You will need to wear extra layers.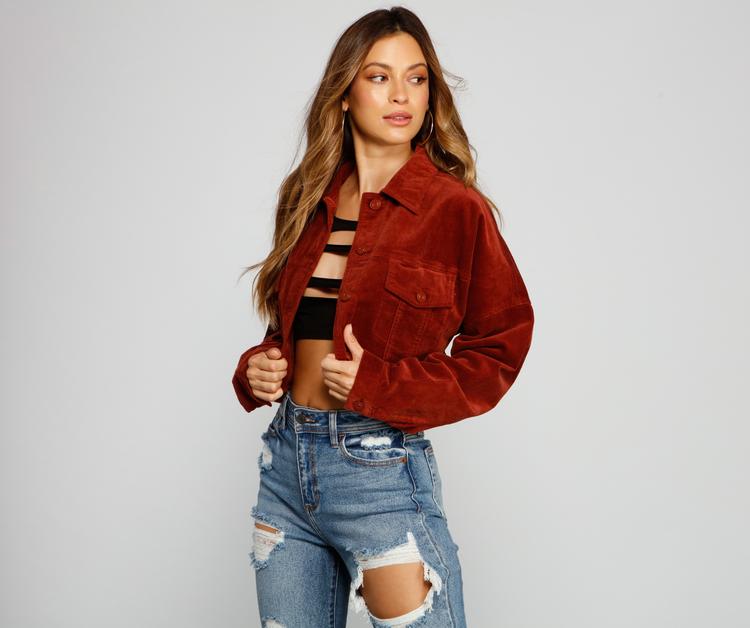 Shearling
A jacket with shearling lining in a pastel pink color is the perfect way to wear a girly color for a sweet outfit. This type of jacket is ideal for wearing when going on a quick store run. It allows you to be dressy without trying too hard. Your colorful jacket will add extra spice to your outfit, allowing you to look pretty on top of a simplistic palette. Add some chunky heel boots for a pop princess type of look, or wear sneakers for an updated athleisure look.
A shearling-lined jacket will pair well with a button-front skirt, also. With this outfit, the best color to choose would be black. This way, you can add black lace-up boots. You can choose a boot style with a chunky heel. Or, you can go for more of a prairie-like boot design. Add a cropped top under your jacket since your skirt will be a high waist. This way, you can tastefully show a bit of skin. You can also wear a full sweater if you need to. With this look, add small hoop earrings that will look dainty and sweet.
If you want a professional look, you can wear a button-up in a blue color. Try choosing a lighter blue to complement your jacket color if you're wearing a brown jacket. Add cropped black pants or jeans. Wear pointed-toe heels and a shoulder carry handbag or a bucket bag. This look is very minimal and can be worn with studded earrings. You can also add a sweater vest to your look so that you stay warm when you remove your jacket, but you don't take away from your business look.
When you're having fun in the sun, on a day when the weather is not too brisk, try wearing jean shorts and a sweater. Choose light wash denim shorts. They can be cut off to give a little fringe detailing at the hem. Add a white tee, or you can add a pink t-shirt with this look since it's more playful. Wear your shearling corduroy jacket and a fedora. Add snug-fitting boots in the form of pull-on Uggs or simple mid-calf boots with minimal details.
If you want, you can also wear this look as a corduroy-on-corduroy style with a matching pair of flared pants or a skirt. This will ooze the 70's era and is super fun! Wear a pair of pants in a matching color and add a black or white long sleeve t-shirt underneath. This way, your t-shirt will peak underneath your jacket sleeves. Bring focus to your sleeve coordination with rings on two or three of your fingers. This look will also look great with a pair of oversized sunglasses on a bright day.
Pros of a shearling line corduroy jacket:
Warmth at the neck area.
Allows you to skip a heavy coat at times.
Cons of a shearling line corduroy jacket:
Your jacket can be bulky if you want to wear a thick sweater.
Shearling can be difficult to keep clean.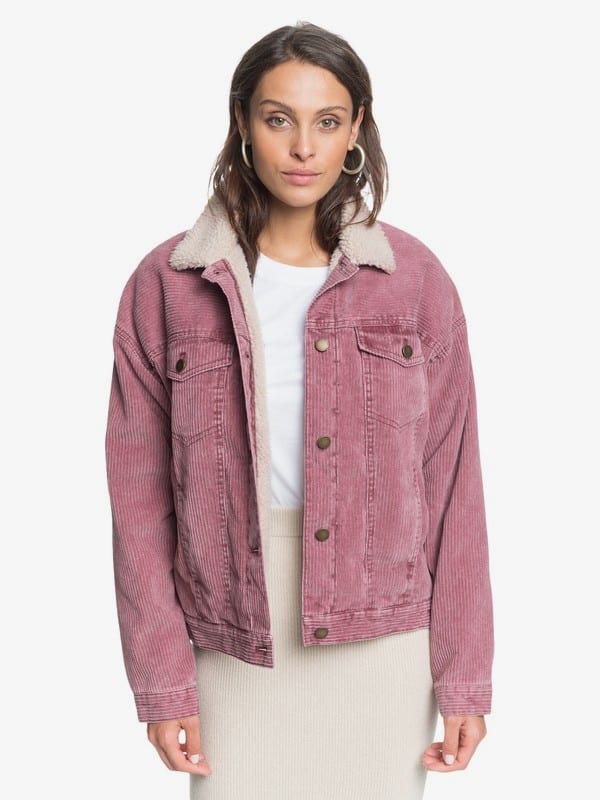 Shirt-Jacket
A lighter style jacket that also has a button-up and collar design will look more like a shirt. Especially when worn in a larger size than your normal size. You can wear a jacket that also has cuffed sleeves.
You can wear a sweater that's chunky in a cable knit style since you might need an extra layer of warmth.   If you wear a jacket that has long sleeves, you can cuff them yourself, to your own liking. This is great for showing off your jewelry in the form of a watch or bracelets.
Wear this style of jacket with leggings so that your jacket will stop at your upper thigh, giving a 90's vibe and a dress type of look. You can also wear slim jeans, or you can wear flare style jeans. You can wear short booties that have zipper details and a chunky heel. The shorter chunky heels will pair the best with flare jeans since your jeans will drape over your ankle, giving your legs breathing room. Or, you can wear sneakers on your casual day, when you want to be laidback, or if you're grabbing a quick coffee. This is the perfect outfit for wearing your hair in a messy bun.
Pros of a corduroy shirt jacket:
Lightweight.
It can be folded easily for storing.
Cons of a corduroy shirt jacket:
Not as warm as a long or lined corduroy jacket.
It can look outdated if you wear too many pieces.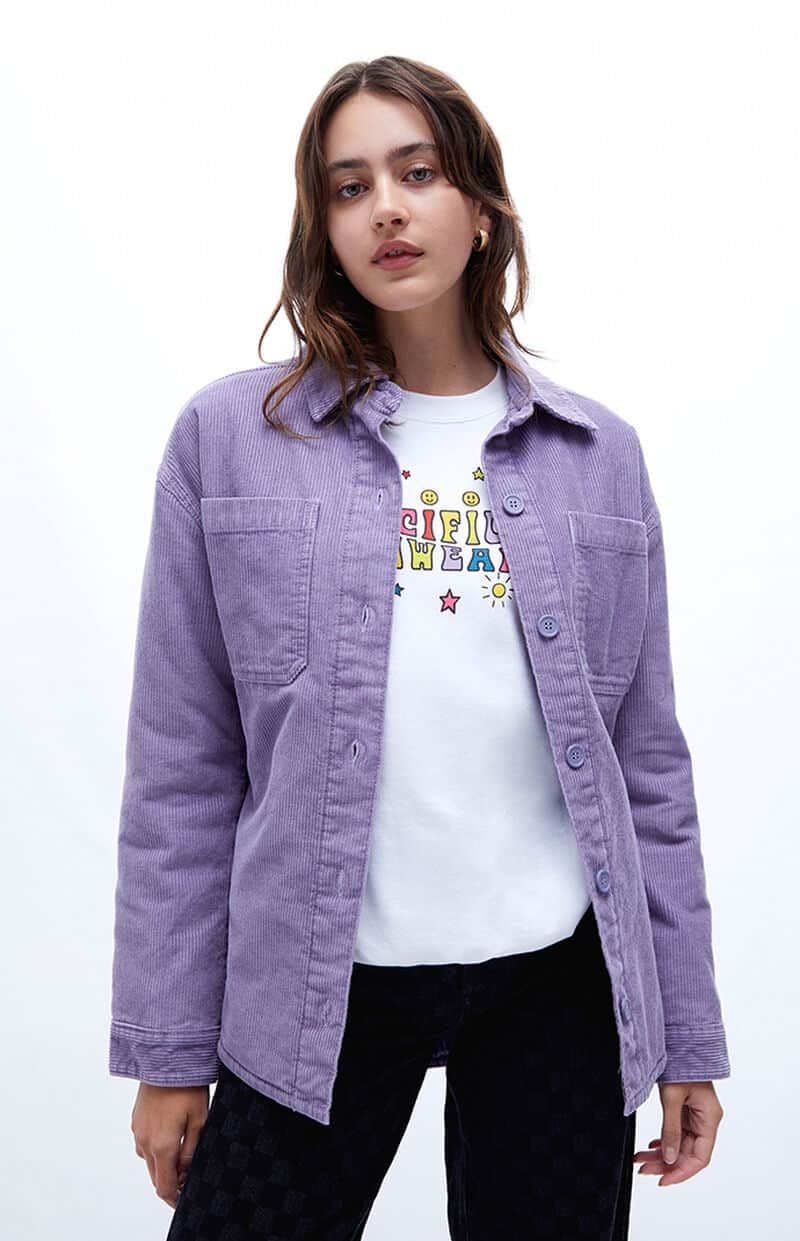 Printed
A printed corduroy jacket is also a fresh way to style your winter outfits when it's really cold. Choose a jacket that has a bold print but also has the classic corduroy ridges. You can choose one with geometric prints or Aztec-inspired prints.
You can create many outfits with this look. One of the easiest outfits to create is a white t-shirt with skinny blue jeans. Your jeans can be destroyed if you'd like a more edgy type of style. Pair your skinny jeans with combat boots and a backpack. If you want more of a sweet, girly style, try wearing your jacket with a shoulder carry handbag and a skirt. Add tights and a ruffle blouse in white. Wear taller boots that are mid-calf or thigh-high.
When choosing your style of boots, try to choose leather or suede. Usually, these types of boots compliment corduroy the best. When choosing your accessories, try choosing light accessories since your jacket is already printed. Go for silver or gold-tone jewelry. You can layer your necklaces if you want to stay on-trend. Wear a single accent ring or midi rings on a few of your fingers for a more modern approach.
If you really want an out-of-the-box outfit, you can wear your printed corduroy jacket with black jean overalls! Try wearing a turtle neck and black jean overalls. You can turn the look from less school-girl to sophisticated with pair of pointed-toe heels. Wear your jacket on top in black or brown and skip a handbag. Wear your hair in a sleek back bun, or try 70's curtain bangs and wear loose curls.
Pros of a printed corduroy jacket:
You can coordinate your top with the printed design.
Your jacket can be the main focal piece, allowing you to wear muted colors if you want.
Cons of a printed corduroy jacket:
The print pulls it away from becoming an everyday jacket.
You have to be extra careful with choosing to wear colors along with your jacket, as they may not mesh well.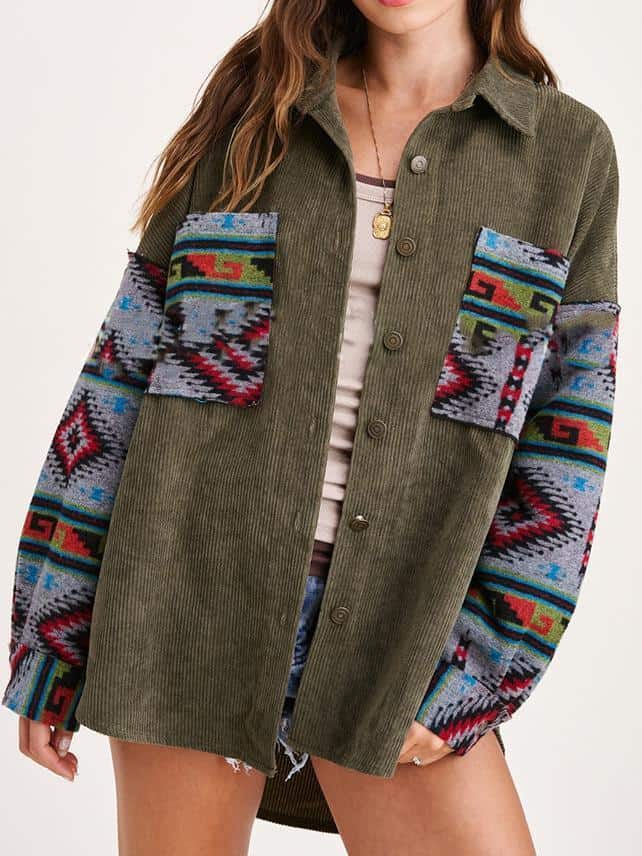 Blazer
A corduroy blazer is the top jacket style when you want a polished look. Try wearing your blazer with a soft, cashmere-style sweater in a scoop neck design. Your sweater can be in a neutral color, or you can wear a striking color like forest green. Add mom jeans or if you want a more fitted look, add skinny jeans. Your jeans can be blue or black. If you want to go for white jeans, this is an option, as well. Add your corduroy blazer in a camel or dark brown color. Choose chunky boots or even boots that have a small platform!
If you're headed to the office or a corporate-like event, try wearing your blazer with a white button-up and black dress pants. You can wear a shoulder carry or a top-handle handbag with a clasp front-closure for a briefcase-inspired look.
When you're having a casual day, but you still want to look posh, try wearing jeans and a t-shirt with your blazer. Wear distressed jeans in a cropped style that fit more loosely versus skinny jeans. Add a t-shirt in a solid color, or you can even add a graphic t-shirt. Wear your outfit with ankle booties or sneakers.
The best thing about the blazer look is you can totally wear it with a dress too! Wear a sweater dress or a dress that has a high collar (or turtleneck). You can wear a dress that's shorter in length and add tights. If you want, you can also wear a slightly longer dress and skip the tights. With a dress, add thigh-high or mid-calf boots that will cover your legs so that your skin barely peeks out.
Pros of a corduroy blazer:
It can be both professional and casual.
They usually have large front pockets for quick storage of your phone or money.
Cons of a corduroy blazer:
Does not pair well with athleisure, such as leggings.
Not as warm as a full jacket or coat.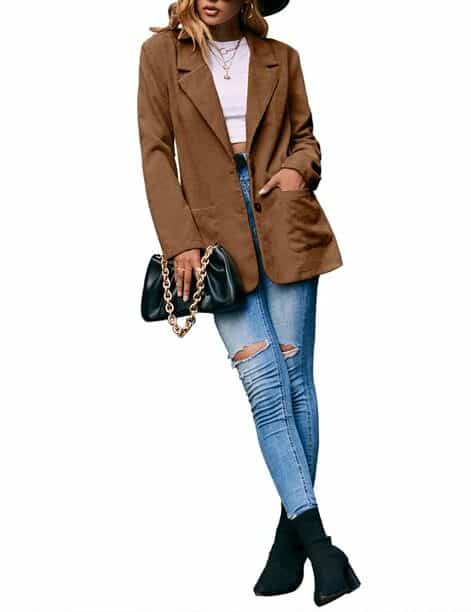 FAQs:
Question: Can corduroy get wet?
Answer: Corduroy will become damp and heavy when wet since it is made of cotton (instead of water-repellant fabric such as nylon). The material will eventually dry, but it is not recommended to wear when the weather is rainy.
Question: Can you put corduroy in the washer?
Answer: Corduroy can be machine washed. Be sure to wash the material with hot water and turn the garment inside out before you start the washer. Avoid washing corduroy with towels or any other fabric that builds-up lint.
Question: Can you put corduroy in the dryer?
Answer: You can, but not for long. The fabric may shrink if you heat them for too long in the dryer. It is best to dry them for a short period of time and hang them to finish air-drying.

A corduroy jacket is the best jacket to wear when it's cold for its versatility. It's not your average bubble coat or jean jacket. Corduroy has a flair to it that is unmatched! When you're putting together your outfits to wear with your jacket, try to keep the top and bottom pieces simple. Your jacket will remain the focus, and your added accessories, such as jewelry, handbags, and hats, will bring out the texture and color of your jacket. When it's time for a relaxed look, remember to wear sneakers and jeans without downplaying your jacket. If anything, this will give you an up-to-date, athletic look. When you're feeling girly, compliment the texture with ruffles or a mini skirt. Overall, wearing a corduroy jacket is a sure-fire way to hike up your everyday style! Now that you know how to style a corduroy jacket, which looks will you try this season?
Recommended reads: