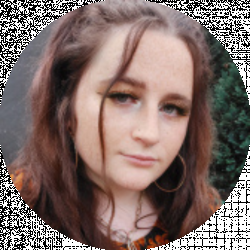 Latest posts by Lou Siday
(see all)
I am a big fan of overalls, dungarees, and playsuits. They are comfortable, stylish, and effortless to wear and I probably have too many in my wardrobe right now. But this means I am a bit of an expert, right?
In this article, we are going to be talking about linen overalls. You probably saw our recent article about overalls, which discussed the history of how workwear became fashion (pretty interesting if you ask me!) and listed some fabulous pairs of overalls and where you can get them. A lot of these outfits on the list are denim, which is the material that many overalls are made out of.
So, in this article, I want to talk specifically about linen overalls and why these may be your new favorite fashion item! So, why are linen overalls so good, and how can we style them?!
What is Linen?
Of course, we should probably talk about linen first. According to Britannica, linen is a fabric that is made from the flax plant. This type of material has been used for centuries, with evidence of it being used to wrap mummies up in ancient Egypt!
To get linen from the flax plant, the plant stalks are put through a few different treatments. It is kind of a long process, but it is worth it; linen is really strong and durable and lasts a long time. This means that when you buy clothes that are made out of this material, you know that they are not going to break after their first wear!
Linen is also great at keeping in natural heat and dries much quicker than cotton. Linen also holds dye pretty well, so linen overalls will keep their bold colors after many washes. It is a breathable material, too, and this makes you feel comfortable wearing linen for long periods.
Are Linen Overalls Always 100% Linen?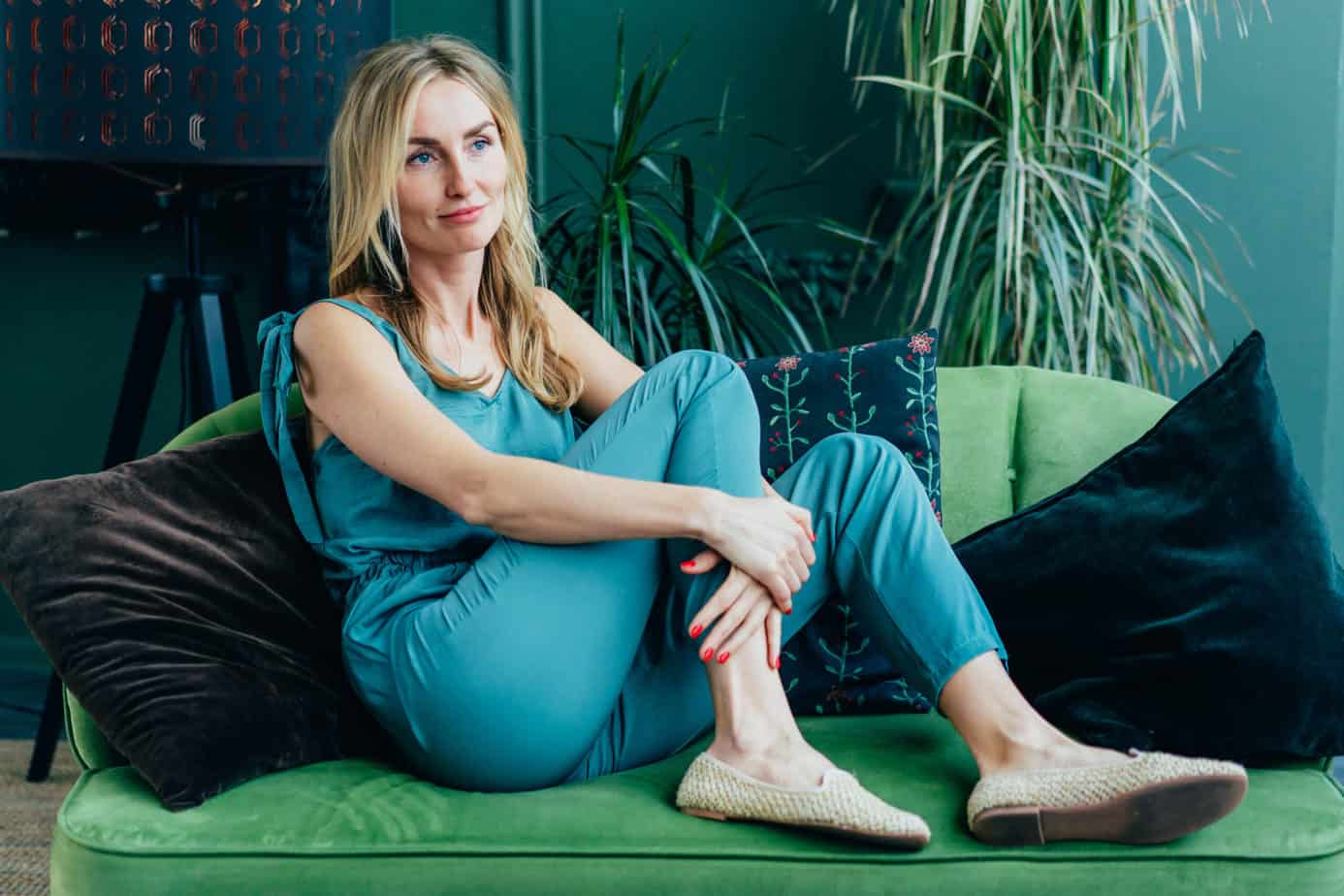 Like most clothes, linen overalls will often be made up of a blend of materials. This is because all materials have their advantages, and when making clothes, brands try and make them the best!
In this article, I will list some overalls that are linen blended with other materials. But I will always point out when this is so you know exactly what the overalls are made out of! I will also discuss the reason that the linen is blended and why the blend might be desirable.
How To Style Linen Overalls
What I love about linen overalls is that they are super versatile! Honestly, you can dress them up or dress them down and they will still look amazing. It is down to your own personal taste and what you are going to wear the linen overalls for!
But, let's have a look at some ideas on how to style linen overalls.
Shoes
When it comes to shoes, the possibilities are endless with linen overalls! You can pair the overalls with a cute heel, boots, or sandals, depending on where you are going. If you are going to the park or chilling with friends, sandals or trainers are your best bet.
But, you can also wear your linen overalls to a more sophisticated event! I love the look of pairing overalls with chunky heels. It looks great and is such a versatile outfit.
Accessories
When it comes to accessorizing linen overalls, I think you have two options—nothing or something big and bold. Maybe I am dramatic here, but hear me out!
Firstly, why would we want to go for no accessories? Well, we all know that cottage core is a big trend right now, and is there any better way of celebrating country life than pulling on a pair of overalls?
This means that, when styling our linen overalls, keeping it simple is a great look. A T-shirt, some boots, and maybe a bunch of flowers are all we need.
If the no-accessories life isn't for you, it is best to match your linen overalls with a staple piece, such as big hoops, a hat, or a big belt. This is a good idea when your overalls are in a nude or brown color, and you want to bring a bit of yourself into the look.
How Did We Pick The Best Linen Overalls?
When picking the best linen overalls out there right now, I made sure that the product was linen or a linen mix. Then, I found the most stylish and affordable pieces online right now.
I also considered ways to style the overalls and reviews of people who have bought the product.
The Best Linen Overalls You Can Buy Right Now
Okay, it is time to look at our picks of the best linen overalls that you can buy online and in-store today! I had a lot of fun looking at these (and want them all), so I hope you enjoy them!
Linen and Lace is a small company that sells affordable, handmade clothing. It is a family-run business that cares about simplicity and sustainability. We love to promote small businesses here, so I wanted to put this linen overall first on the list!
This product is 100% linen with a relaxed fit. It is simple, perfect for everyday wear, and comes in a range of colors; this means that you can find the right pair of linen overalls for you! I love the timelessness of this piece and its versatility.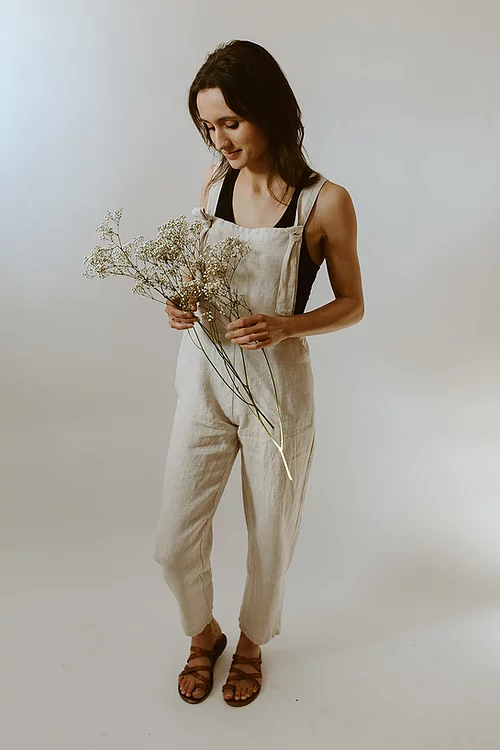 Pros:
Handmade
100% linen
Sustainable
Relaxed fit
Cons:
A little on the expensive side
Limited colors
This is an out-there piece and I love it. It is perfect for holidays, parties, and nights out. With these 100% linen overalls, you don't have to worry about how to style them because they style themselves!
The sweetheart collar is extremely flattering and the belt enhances your waistline. The colors are just fantastic. It is a bold and beautiful piece, and did I mention that it has pockets?!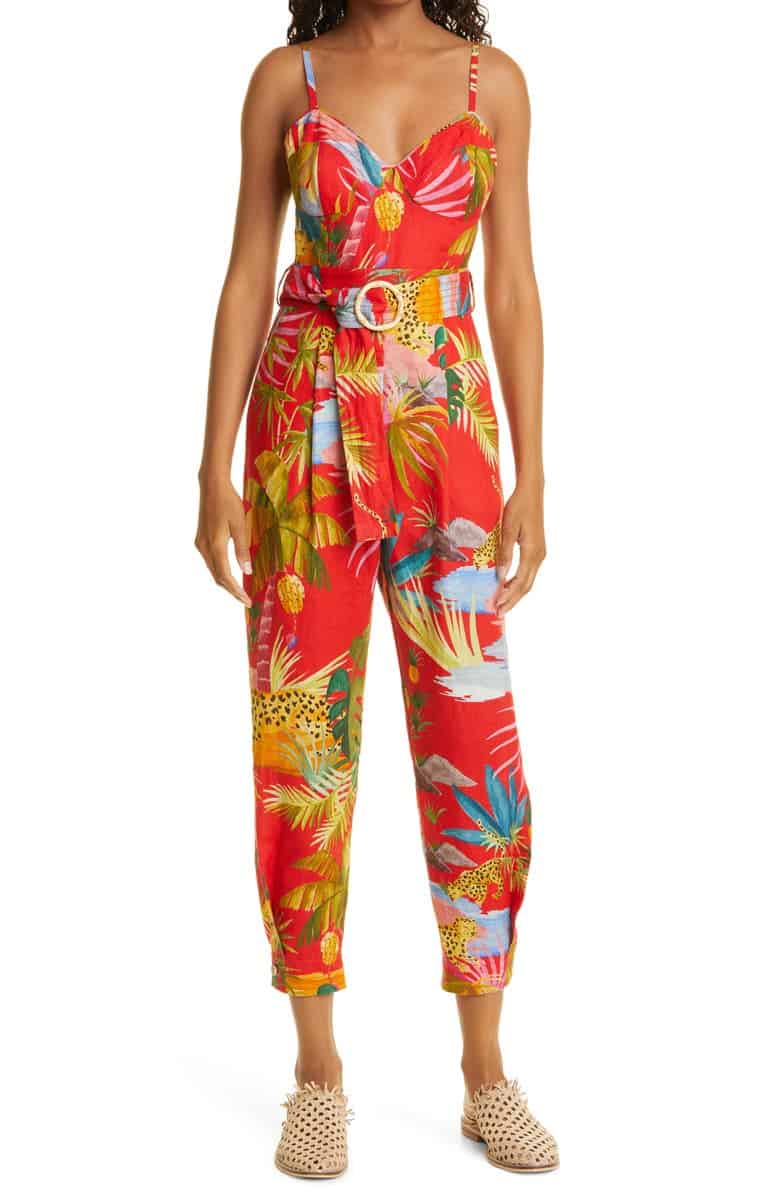 Pros:
Beautiful colors
Pockets
Adjustable Straps
100% linen
Sustainable
One tree planted with your purchase
Cons:
Expensive
Only a few left in stock
You can pick these linen overalls up at Walmart or order them online for an affordable price. They are super comfortable too, with a wide leg and a loose fit. Perfect for relaxing around the house or going out and about on errands.
It is not 100% linen but a cotton-linen blend; this isn't necessarily a bad thing, though! Cotton is softer than linen, so a blend of them both means that the product is comfortable and cozy.
They come in a few different colors, too, so you can find the pair that you like! I must point out though, that customers have complained about the sizing issues with these linen overalls. It might be safe to size up when buying them.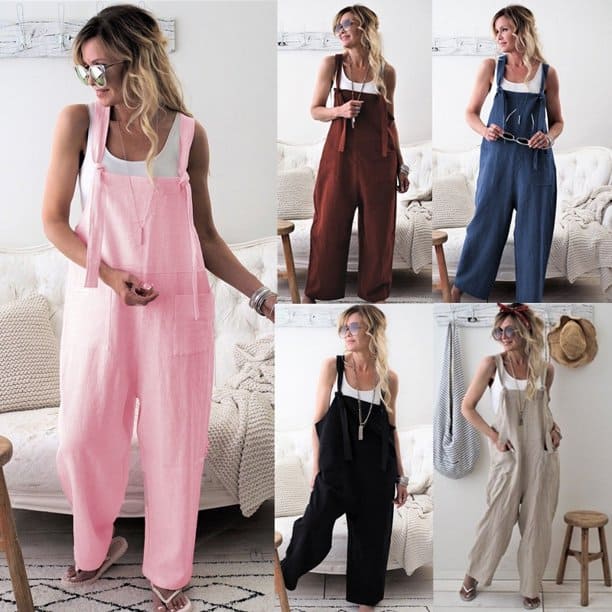 Pros:
Affordable
Comfortable
Loose fit
Pockets
Cons:
Sizing issues
Not built to last and might fall apart quickly
These linen overalls are super cute and you could wear them at a variety of events. The sleeves mean that you don't need to worry about matching these overalls with a T-shirt or jacket. You can simply pull these overalls on and look fabulous straight away!
I like the color of these overalls and the fit. The small belt means that your waist is enhanced and the buttons are really cute and fun. These overalls are a linen and cotton blend which means they are very comfortable and airy. I also love how the website shows the overalls on a size S and a size XL. It means that we can see that these overalls are super flattering on all body shapes!
There are so many ways that you can style these overalls, from a beach look to a more formal vibe-definitely a versatile pair that you can wear time and time again!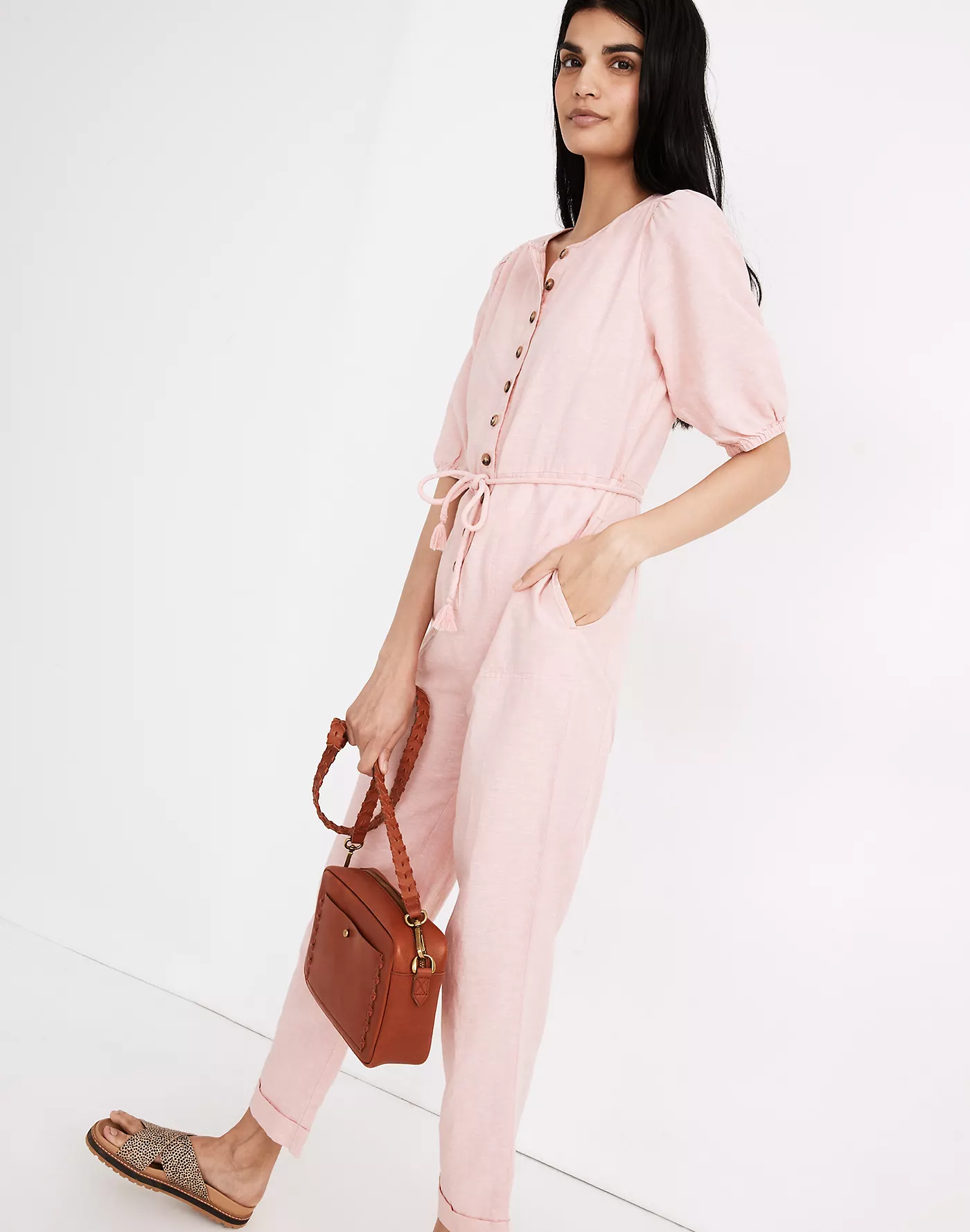 Pros:
Simple color
Sleeves
Fits well
Breathable and comfortable
Available in lots of different sizes
Cons:
Only available in the baby pink color
These linen overalls are a real statement piece. The low neckline with the bow at the front is cute and sophisticated, and the structured fit is extremely flattering.
If you are looking for a pair of versatile linen overalls, this is your best bet. You can accessorize them with some jewelry and a pair of heels for a nighttime look, but you can also keep them relaxed with a pair of sandals.
They are linen blended with rayon, which is a semi-synthetic fabric. It is a breathable, durable, and soft fabric, so adding this into the linen makes these overalls comfortable and strong.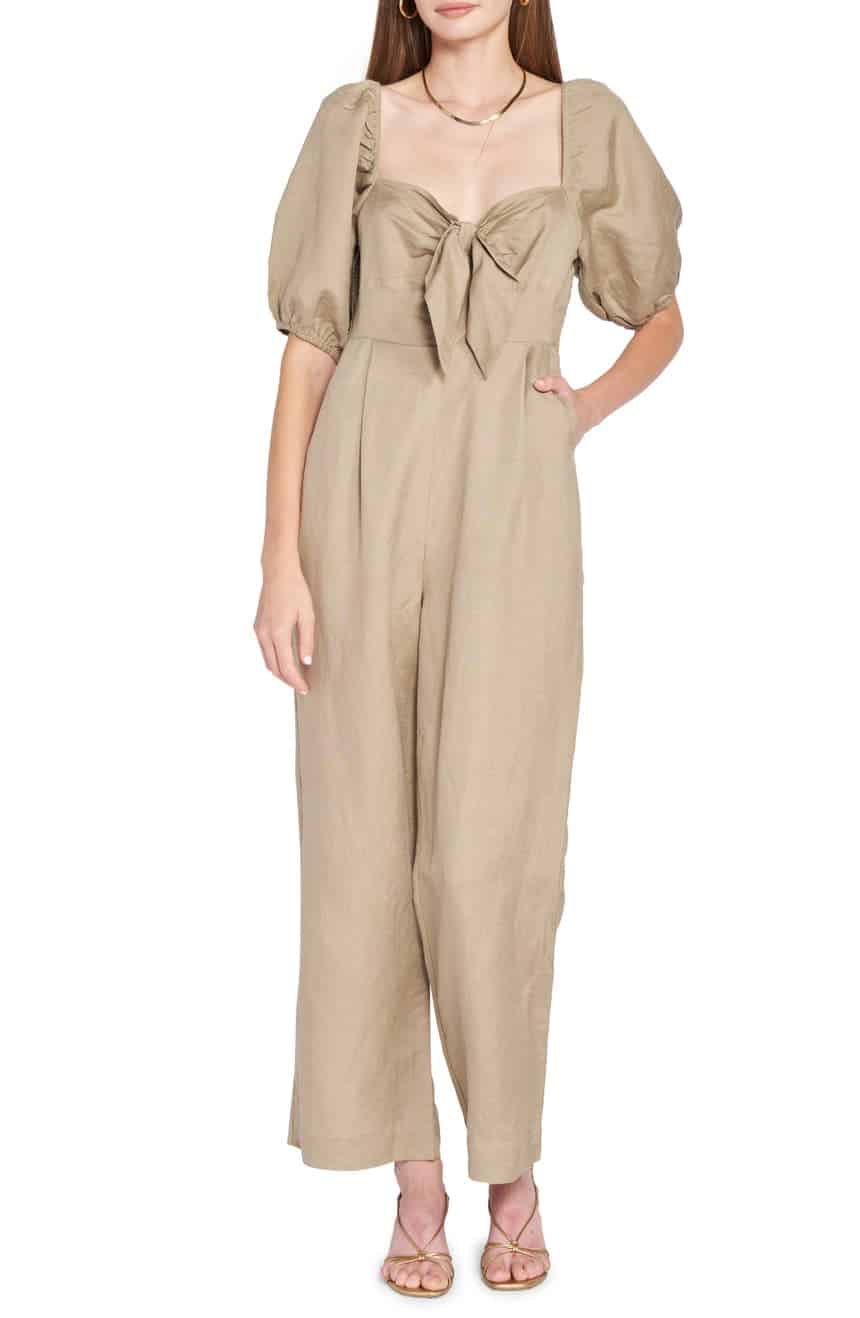 Pros:
Cute
Flattering
Sophisticated
Strong and longlasting
Unique
Cons:
Expensive
Only available in one color
These wide-leg linen overalls by FantasyLinen are brilliant for everyday wear. The loose fit and style mean that they are comfortable and wearable. They are the kind of piece that you will have in your wardrobe for years and always go back to. This kind of cut of linen overalls is timeless and forever in style.
They are made out of 100% linen and therefore, you know exactly what they are going to be like. Some people might not be a fan of the low crotch, but this is down to personal taste!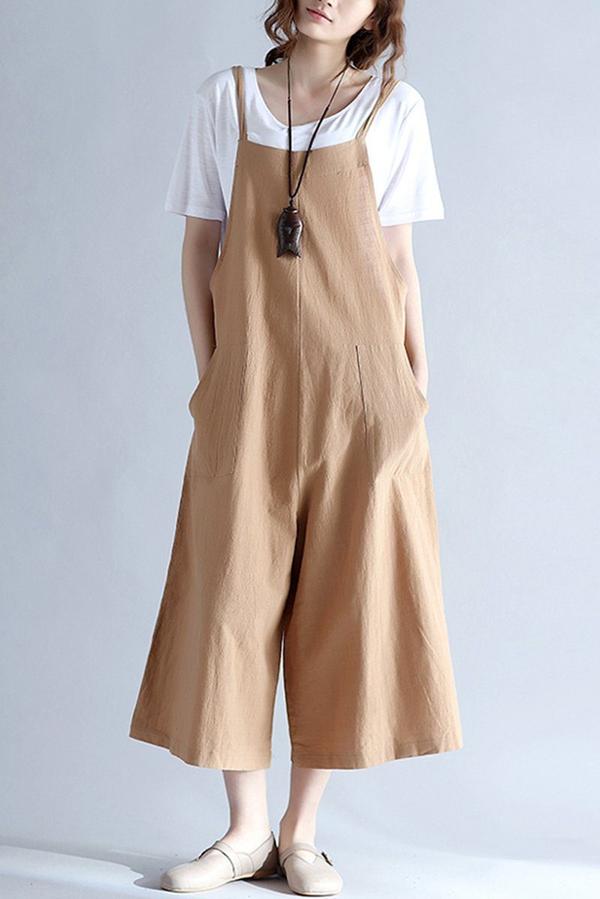 Pros:
Affordable
100% Linen
Wide-leg
Loose fit
Comfortable
Cons:
Low crotch, which some people might not like
Only available in two colors
I love this twist on the linen overalls. Free People have taken a look and added a bit more class, and they have pulled it off impressively!
The halterneck design and the waist tie flatter the figure and the backless style is fun and flirty. The three colors this dress in are all beautiful, but I love the orange. It gives me beach party vibes.
I must admit that the one-piece is only 15% linen, so I had doubts about adding them to the list of linen overalls. However, I just love them so much I had to include them!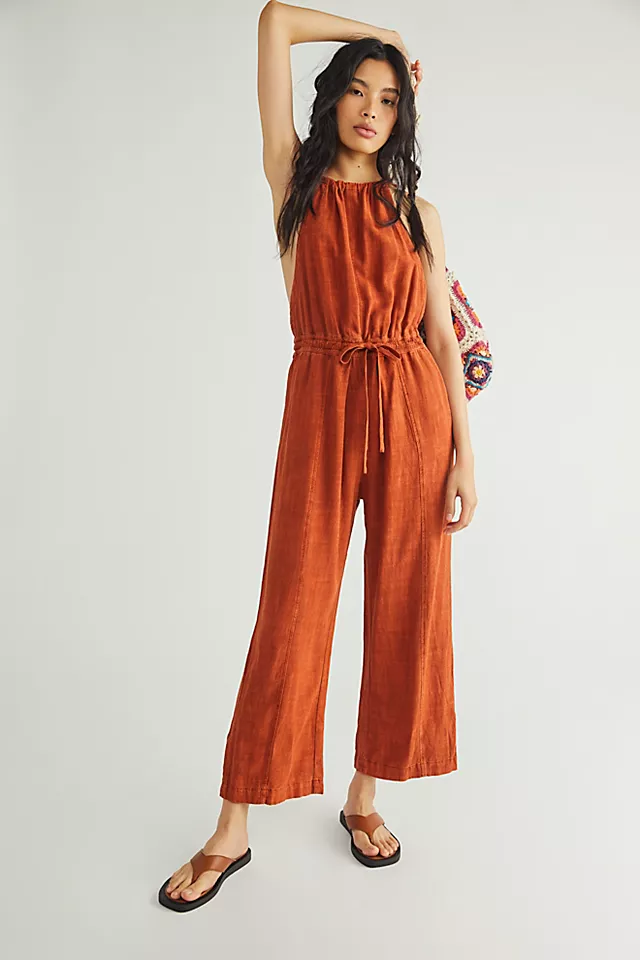 Pros:
Colorful
Fun
Classy
Versatile
Simple
Cons:
Only 15% of linen
You probably can't wear a bra with these
This orange pair of linen overalls are on sale right now, with over 50% off their original price. But, that isn't the only reason I have included them on the list. They are also absolutely stunning!
Another sophisticated and stylish pair, these orange overalls can be worn in so many different ways. They are perfect for work, parties, and casual wear. I like the V-neck cut with the short sleeves and their bright color.
They are a linen blend; 55% linen and 45% viscose. Viscose is a type of rayon fabric that makes a garment strong and breathable. It also holds color well, so these orange overalls will stay just as bright even when you have worn them over and over again!
If you want to buy these, I recommend sizing down. A lot of the reviewers say that they fit pretty big and this might be a little unflattering!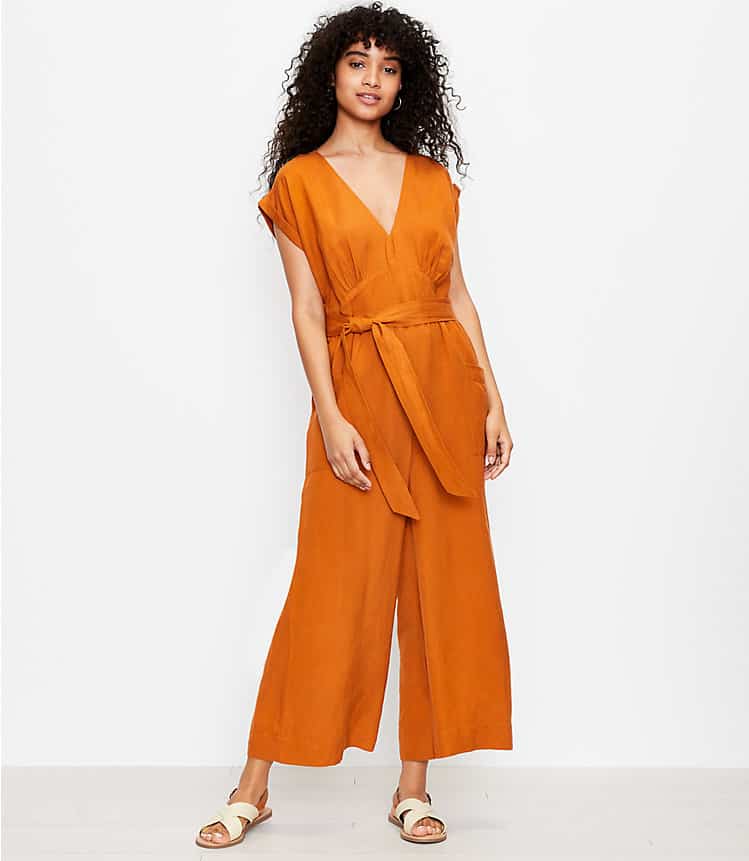 Pros:
Durable
Bright color
Stylish
Versatile
Cons:
Only available in a few sizes
Only available in one color
Sizing issues
FAQs
I hope this article has inspired you to go out there and buy yourself a pair of linen overalls! These pieces are super cute and comfortable and can be worn on so many different occasions. Let's look at some FAQs you might have about linen overalls.
Question: Why Choose Linen?
Answer: Linen is a really strong fabric and this means that the products that are made with it last. They are also great at holding dyes.
Question: How Should I Style Linen Overalls?
Answer: Linen overalls are great because there are so many ways to style them. You may wish to keep it simple and match them with boots or sandals, or you may want to add a statement belt or some bold earrings.
Question: What Should I Wear Underneath Linen Overalls?
Answer: Depending on the style and cut of your linen overalls, you may wish to wear something underneath them. A simple white or black T-shirt looks great with linen overalls, and if it's cold, go long-sleeved!
Find The Linen Overalls That Are Perfect For You
Everybody needs a pair of overalls in their wardrobe, and linen is one of the best materials out there. It is time to get out there, get inspired, and find the perfect linen overalls for your unique style!
My personal favorite is the Tessa Linen overalls by Linen and Lace. I think they are versatile and can be worn on so many occasions, so definitely worth the money! I also love how they are made by a small, sustainable company. This is important to me and I love knowing where exactly my clothing comes from and who makes them.
Recommended Reads: