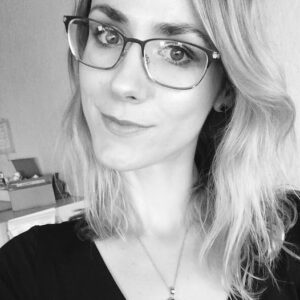 Latest posts by Karyl Trejo
(see all)
Dresses are one of the most common clothing pieces we see on women (and even men!) every single day. They have many uses, and the way people wear them has changed over the years. But, what exactly is a dress? 
Most definitions agree that it is a one-piece garment composed of a skirt with a top. It covers all the torso and (depending on how long it is) part of the legs as well. When people first invented dresses, they were often used for a combination of protection and warmth. 
However, as fashion evolved, the purpose of dresses was almost relegated to make the wearer look more beautiful. Dresses can vary in length, but if we talk about the top portion of the garment, they can have:
Sleeves

Spaghetti straps

A halter top

Or none of the above, leaving the shoulders completely bare!
Dresses can also vary tremendously in their design too. That's why today, I'll focus on one specific type of dress that I love: the eyelet dress. Eyelets are holes in the fabric that serve as decoration for any type of clothing, not only dresses. They add texture to the material, and it's common to see this fabric used to make shorts or blouses. 
If you're wondering whether eyelet dresses go better on casual or formal occasions, it all depends on what you're trying to achieve. Either way, these embroidered holes are often associated with summer since they let clothes "breathe." 
If you search for eyelet dresses, most of them are probably in white color. Still, you can also find them in more vibrant colors or even with patterns! Below, I'll teach you everything you need to know about this type of dress. 
I'll even go through the best ones out there and provide you with all kinds of ideas on how to wear them. Excited? I am, too! Let's go make you an expert on eyelet dresses, shall we?
A Brief History of Eyelets in Fashion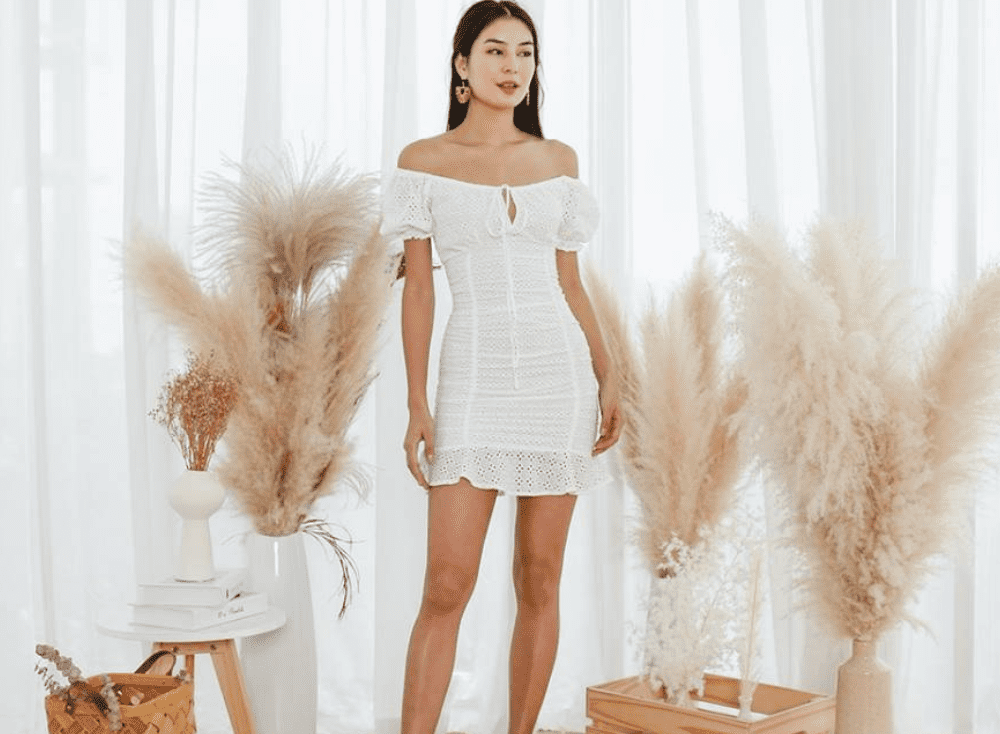 Eyelets became more common in fashion during the 16th century. They often receive the name of "Broderie Anglaise," which means "English embroidery." This technique began in Eastern Europe, or what would now be the Czech Republic. Contrary to what the name suggests, it didn't originate in England, though.
The reason behind why people associate them with English culture it's because they grew wildly popular in that country during the 19th century. At that time, seamstresses made eyelets by hand. But now, two centuries later, most of them are machine embroidered.
Eyelets were common in underclothing and nightwear and were often associated with elegant and classy clothing. 19th-century fashion dedicated part of this style to making women look feminine and graceful. Today, eyelets are still prevalent in that area, but it's also common to see them in blouses, skirts, and dresses that aren't necessarily for the night.
In today's fashion, eyelets have a summer connotation. International designers approve of adding cute eyelets, and thanks to that, they have become one of those fashion trends that stood the test of time — regardless of the many trends that come and go every now and then.
My Top Eyelet Dresses Ideas
Now you know what an eyelet dress is and where it all started, so let's get to the fun part! I'll show you some of the best eyelet pieces I've chosen for you. The good thing is, there are lots of ways someone could make an eyelet dress, so there are plenty of options to choose from.
My Selection Criteria
When deciding which dresses would make it to the list, I made a set of different characteristics that the dresses needed to be considered. There may be a few exceptions, but if they had these features, they had more likelihood of appearing on the list. My criteria included:
Fabric.

The best fiber for eyelet dresses is

cotton

, hands down. This is because the same round holes look especially nice on a soft and natural fabric. Depending on their design, polyester or poplin fiber also go well with eyelet dresses. Nonetheless, a dress had a better chance of appearing on the list if it had cotton as the main fabric.

Sizes.

But, if there is something I love about dresses' sizes, it's their variety. All dresses on this list have different sizes available. The only excuse I accepted were dresses who actually ran out of a particular size due to popular demand.

Originality.

I get it. Most eyelet dresses are white so as to achieve the summer look while looking vaguely cottagecore bohemian. Still, I value originality, so I also picked dresses that moved away from the standard and gave us a more colorful look. I wanted to include

all kinds of ideas

!

Color.

As I started to dive into types of eyelet dresses, I realized most of them came in only one color, white. It seemed like the norm, so I searched even harder to get to the dresses that came in different colors. Not everyone has the same preferences about a specific color, so I think the cause was completely valid.

User Reviews.

If most user reviews were in agreement with something about the dress, I'll tell you. However, the same goes if it's the other way around. I took both good and bad reviews into consideration, and if a dress had pretty unfavorable reviews, I discarded it immediately.
I also made sure all of the dresses I selected were distinctive from one another. I wouldn't want to show you the same dresses over and over again! There is too much variety and too many different dresses to be limited to one idea. Now, let's show you my top eyelet dress ideas.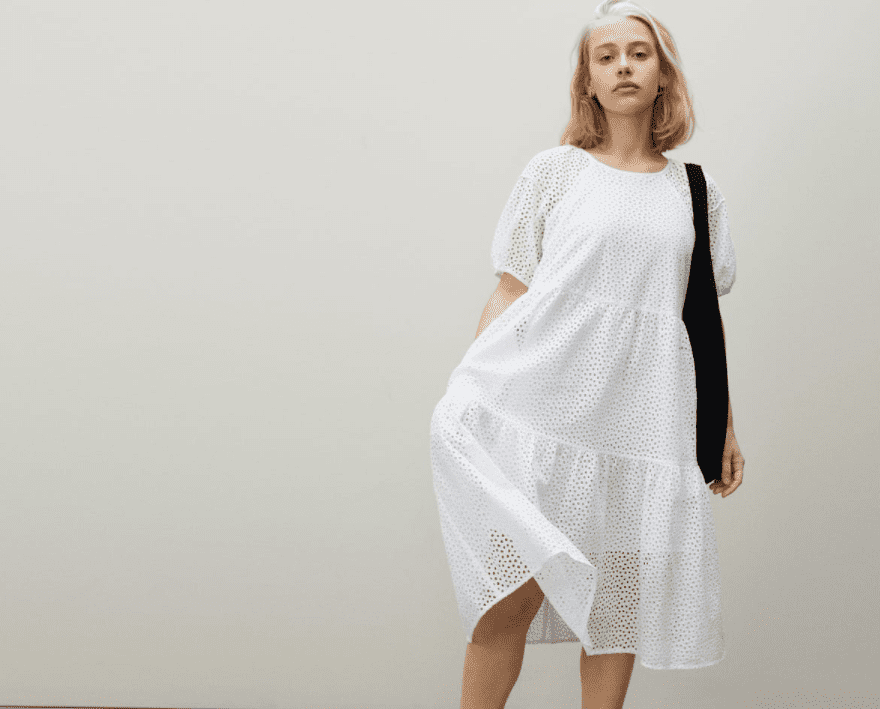 This dress is the one I picture when I think about eyelet dresses: white, kind of oversized, and simplistic. But that's part of the beauty of it. I loved that it's made of artisanal cotton eyelets, and the puffy sleeves were a delicate touch. They both make the dress look dreamy.
The only disadvantage of this type of dress is that you must take care of the way in which you wash it. To make it the most durable possible and ensure its longevity, the brand recommends washing it with cold water and dry cleaning.
Pros:
It's available in three colors: white, black, and walnut.

It's available in sizes from XS to XL.

The fabric is 100% cotton.

It has an oversized fit that emphasizes the comfortable and breathable features of this dress.

User reviews loved it!

You can wash it in the machine (but only with cold water).
Cons:
The oversized fit may not be for everyone.

Some user reviews say the dress is kind of heavy.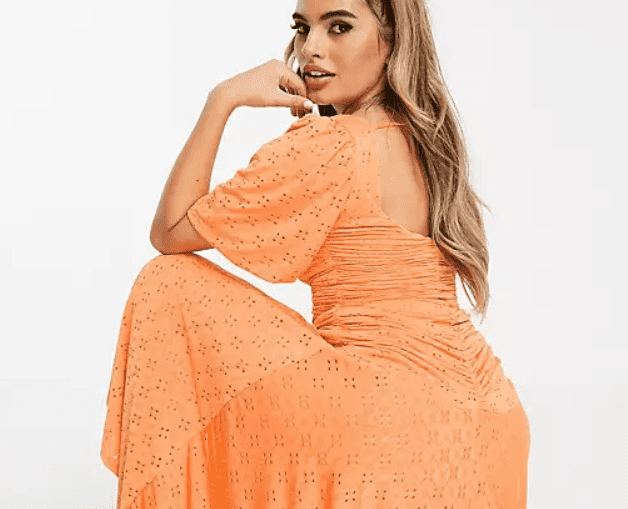 Some eyelet dresses confine their patterns to ovals and call it a day, but some others go a step further and create flowers or geometric figures with them. It's a nice touch that I really appreciated. 
Some of the other things I loved about this skater dress were the ruched waist and the puffed sleeves of the dress, as well as the warm orange color. All of these combined details made for a pretty and feminine dress.
Pros:
It's available in Size 0 to Size 14.

It comes in a flirty and playful design.

The fabric is a blend between stretchy elastane and polyester.

User reviews agree the fit is true to size.

You can machine wash it.

User reviews love it!
Cons:
It's available in only one color: orange.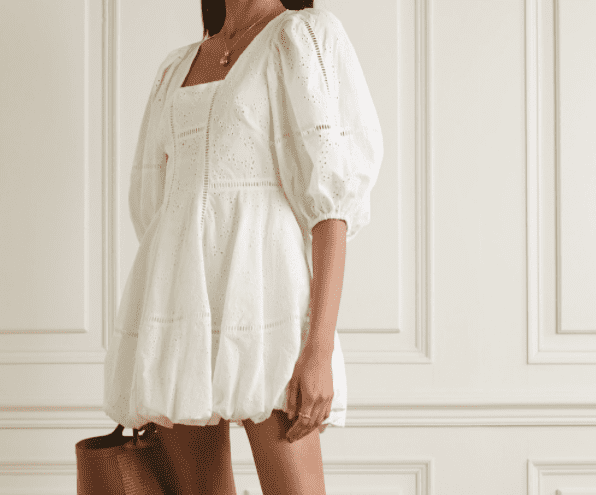 I knew I wanted this dress to be on the list the moment I started it. Its cut makes it look elegant without taking away the essence of the classic eyelet dress. Furthermore, the white color made the gathered hem and puffed sleeves look stunning. You can wear this dress with either sandals or boots, and it will look amazing either way.
Pros:
It fits true to size.

The fabric is 100% cotton.

It's available in different sizes (and you can always check the size guide).

It has a loose fit that contrasts perfectly with the length of the dress.

It has a zip at the back, too.
Cons:
It's available in only one color: white.

It's fairly costly, as well.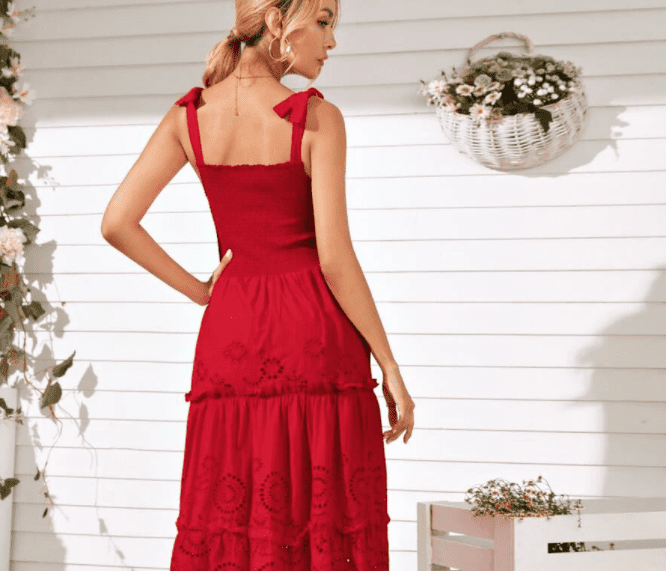 The bold red color looks simply gorgeous on this dress, and only that was enough to make me fall in love with it. Even so, it had other distinguishing features, as well. For example, it doesn't have the classic cut most eyelet dresses have. 
Instead, it's high-waisted and sleeveless. Both of those qualities, plus the color, make it look very sophisticated. You'll love having this dress in your rotation, for sure!
Pros:
It's available in sizes from XS to L. 

It fits true to size (but you can always check their size guide).

It comes in two different shades of red: burgundy and rose.

The fabric is 100% polyester, making for easy care.

You can machine wash it.

There are more than 4,000+ user reviews that love it!
Cons:
It doesn't come in the classic white color.

The larger sizes tend to sell out more frequently.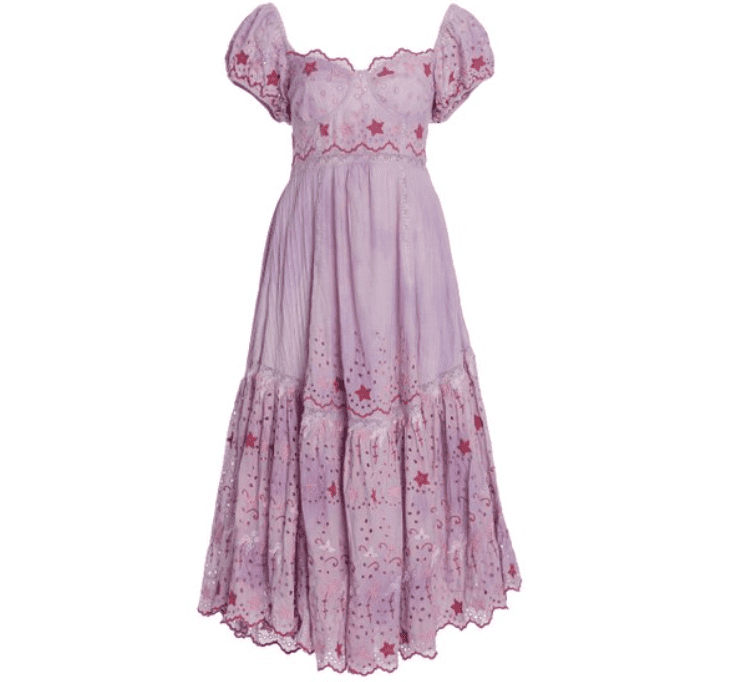 One of the things I love the most about eyelet dresses is how dreamy they look. This is especially true if they come in the classic white color we're accustomed to seeing. 
This dress, however, shifted from the predictable classic choice and moved into a more romantic narrative. Its pinkish-purple hue draws attention immediately, and its details with stars and waves contribute to the lovely look that characterizes this dress.
Pros:
It comes in a lovely purple color.

It has puffy sleeves and a corseted bodice.

The fabric is 100% cotton.

It fits true to size, and it has more of a fitted style.

It has a zip fastening at the side.
Cons:
It comes in only one color: purple.

You can't wash it in the machine.

Some women may not like the details of the hem of the dress.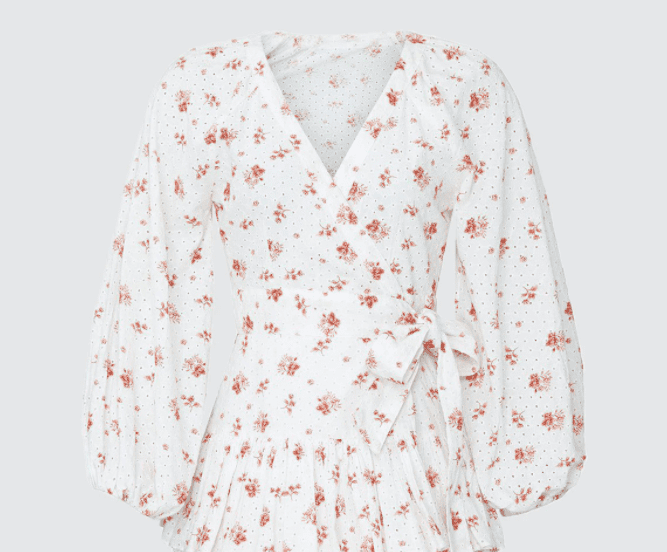 Some eyelet dresses are very recognizable and classic. They stay in the summer wear lineup without taking risks on the eyelet's patterns and figures. Still, I love to see original designs, and I love even more to show them to you.
Different features make this eyelet dress special. One of them is the fabric, with red flowers all over a white background (which, by itself, is a soft and welcome touch). The idea of a dress with long sleeves and a tie-up at the waist also adds to its magnificence.
Pros:
It comes in sizes from XS to XL. 

The fabric is 100% cotton.

Instead of being completely white, it has a gentle design that includes flowers.

It's a mini dress, perfect for casual outfits.

It has long puffy sleeves that complete the look.
Cons:
It comes in only one color and pattern: white with red flowers.

You can't wash it in the machine, only dry clean it.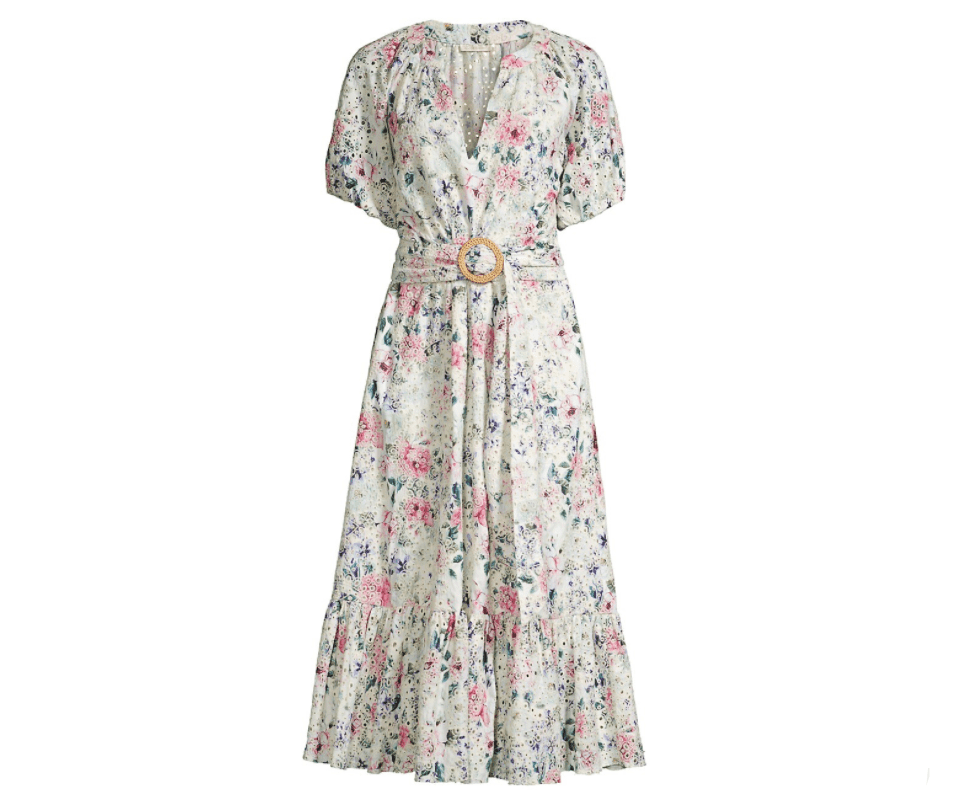 What if you're in a floral mood, but you want a longer dress? Usually, you'd need various items to complete the look, which isn't really practical during summer. Long skirts are an easy way to achieve elegance and class in your floral outfit, but they're far from the only ones. Shoulder sleeves and a belt also make for good combinations.
There is one last thing you need to keep in mind before reaching for this dress, though. When I refer to its style in this setting, I mean a summer picnic-like event, maybe on a beach. Going out at night with cotton and flower patterns it's a no-no. Instead, you should save for pretty specific situations only.
Pros:
It's available in sizes from 4 to 10.

The fabric is a blend between cotton and polyester.

The V-neck gives the dress a classy look.

It comes with a belt made of the same dress fabric.

It has a concealed zipper at the side.
Cons:
You can't wash it in the machine.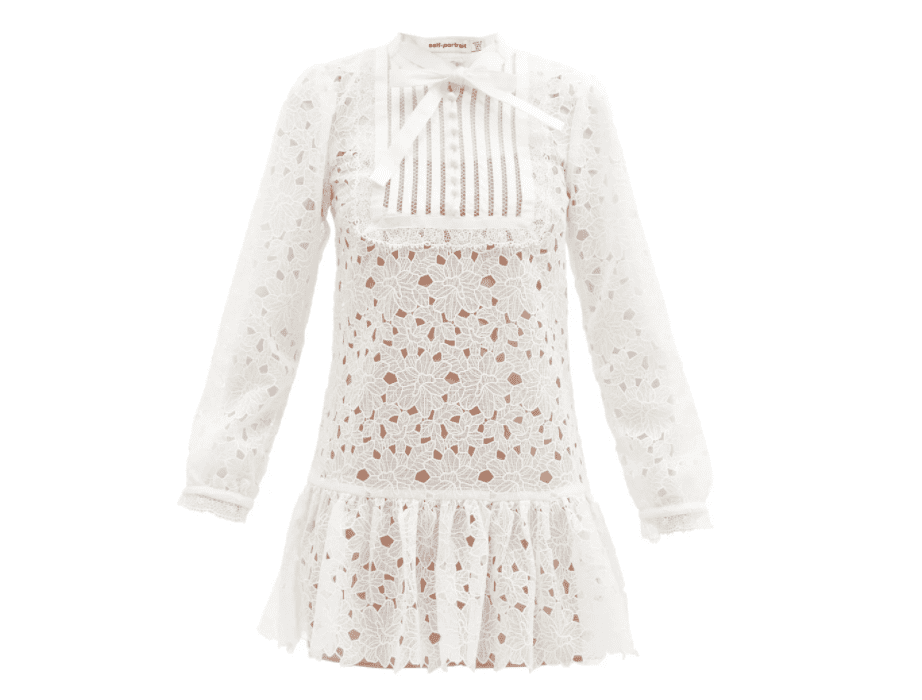 Eyelet material doesn't necessarily have to form a pattern, but when it does, it's beautiful. The fabric of this eyelet dress creates all kinds of flowers interconnected where the eyelets represent the spaces that separate them. It doesn't sound too convincing, but the result is incredible. 
In addition to the pattern, the long sleeves with trim cuffs make it look even more elegant. It's a mini dress, but the dropped waist delivers a great contrast that keeps this dress fancy and romantic.
Pros:
The fabric and lining are 100% polyester.

It's available in sizes from 0 to 12 (but you can always check their size guide to be sure of what size you should choose).

It has a beige dress lining under the lace and eyelet fabric.

Reviews state that it's true to size
Cons:
It comes in only one color: white.

You can't wash in the machine.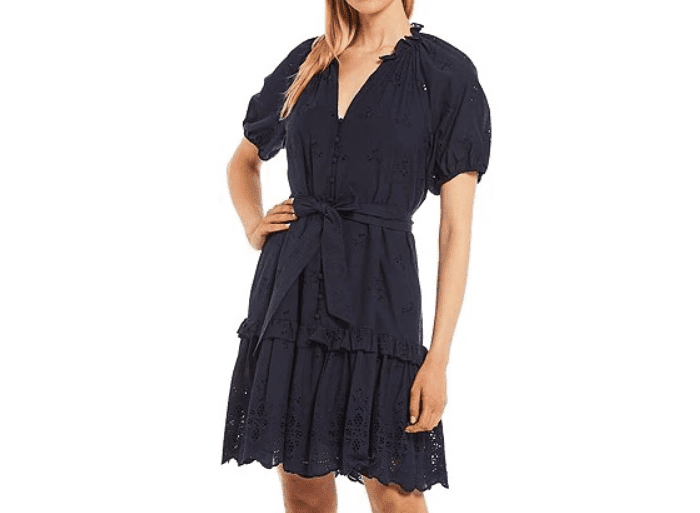 Sometimes the eyelets don't have to be big to make a difference. I have to admit it, I didn't think there could be an eyelet dress that leaned over the formal side. We're all used to the for-the-beach and flowery dresses, but this one surprised me.
From the subtle beige color to the flowers scattered all over the fabric, this is truly a unique piece. The short sleeves and the V neck are also refined details that will catch the attention of more than one.
Pros:
It's available in three colors: Sand, Abyss, and Loden.

The fabric is 100% cotton.

It's available in different sizes.

User reviews love it!

The V neck and short sleeves help to complete the sophisticated look.
Cons:
Some user reviews say the dress runs too big.

You can't machine wash it.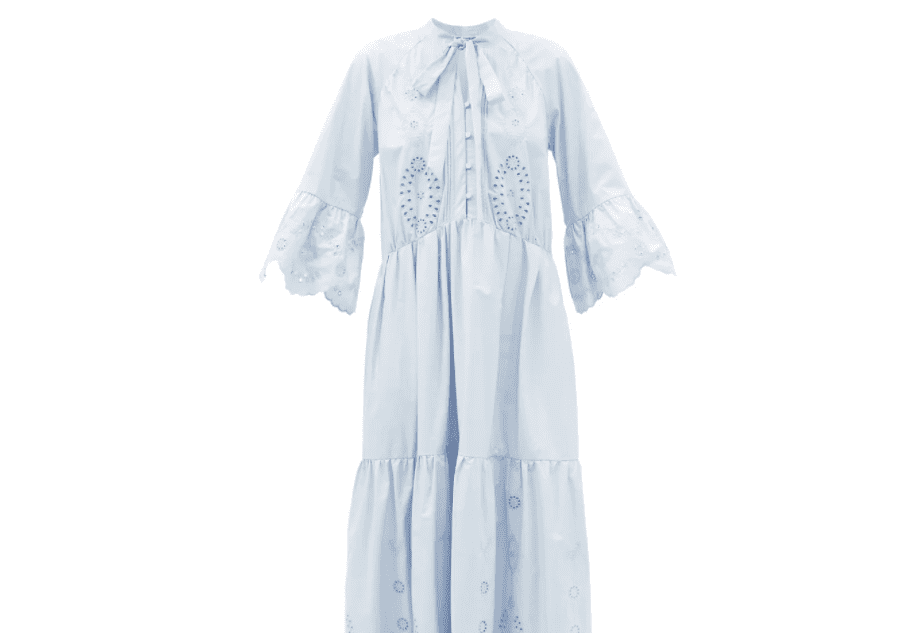 We've seen mini and midi dresses. But, I couldn't bring myself to finish this list without adding a maxi dress. The way this dress falls, instead of going for a more fitted look, gives the effortless appearance I imagine when picturing a maxi dress. The fluted sleeves were a nice touch, as well.
Pros:
It's made of breathable poplin.

It comes in a sweet and delicate baby blue color.

It's available in sizes from 0 to 10 (and they also have a size guide for you to check the measurements).

It fits true to size.
Cons:
It comes in only one color: blue.
My Top Style Recommendations
I have shown you all kinds of eyelet dresses, going from the classic white color and moving to the more colorful pieces. From the mini dresses to the maxi ones, you got to enjoy them all. Some of them form patterns on their fabric, while others limit themselves to be round without following any geometric structure.
Even so, what's the best way to wear these dresses? To answer that question, I compiled different outfits that may help to inspire your own. You can choose which one you like best and see if you can make it work for a specific casual or formal situation.
Throw a Jean Jacket Over a Midi Dress
Layering clothes it's not always going to be easy. You have to make sure that you can still see the elements that form the outfit and look good while doing it. A good way to do this is to match a jean jacket with the midi dress. It adds a bit of casualness to it, while also making the outfit much more chic.
If you're short, midi dresses tend to make you look smaller, so wearing heels can help you with that. If your dress is white, you can also use some neutral colors to combine it with, like beige or black.
White Dress, Nude Accessories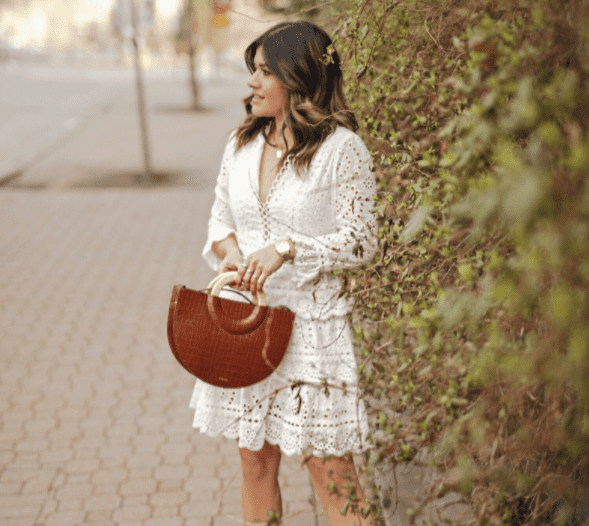 Sometimes, if the dress is remarkable and stands on its own, you may choose not to layer it with any other jacket. This works especially well if you are aiming for a stylish look for going out in the day.
In these cases, your accessories will be your best ally. Have fun, and get creative with necklaces, watches, and bracelets. Since your intention is to look classy, nude heels will do perfectly, as well.
Have Fun with a Blue Eyelet Dress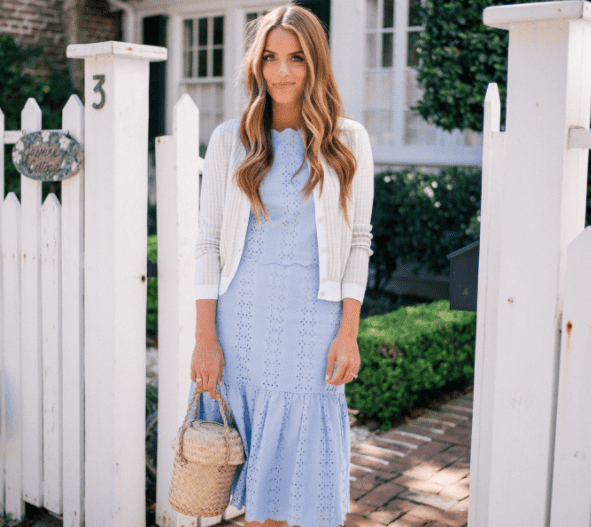 You can't go wrong with the standard white eyelet dress, but why not wear it in any other color? When they are not white, it's common to see eyelet dresses in pale colors, but vibrant ones are also fine.
Of course, the garments that complement your outfit can't be the same color as your dress, and this is where you use neutral colors like dark navy blue, white, or grey. You can layer your dress with a cardigan and heels of the same color. 
Another tip: don't button up your cardigan. The trick here is to add layers, not to take away the dress's starlight.
Accessorize with Sunglasses and a Handmade Woven Bag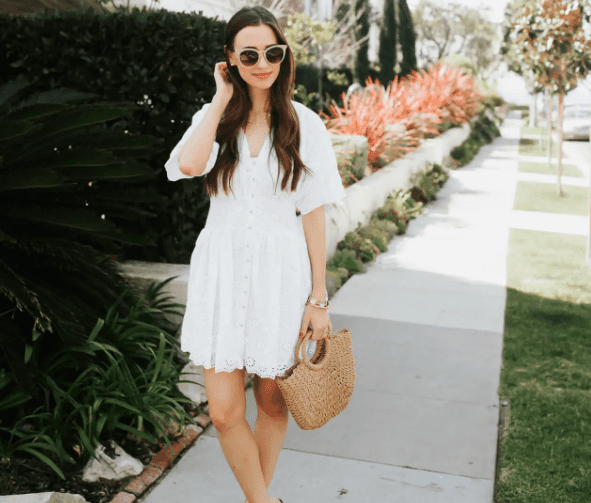 Some eyelet dresses are more casual than others. If its design is looser and beach-like, you can throw in some sunglasses and accessories for a nice combination. The accessories don't have to be that fancy, though, as you're going for a carefree look.
You can wear sandals, but boots work nicely, too. The color can be brought by makeup, like in this case. Since the outfit's dominant colors are white and beige, the lipstick and nail polish are red. It's very subtle, but it works. To complete the beach look, get a nice handmade wicker beach bag!
Pair It with Blazer and Hat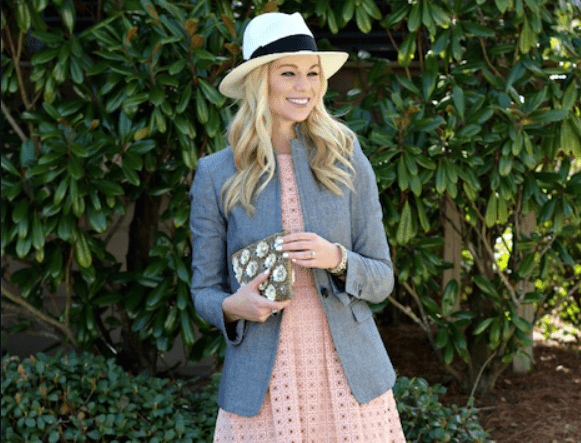 If nothing convinces you, you can just do you. Instead of a jacket or a cardigan, you can also go with a blazer. Still, you have to be careful with that combination, because it can make you lose your figure or overshadow the dress.
Don't be afraid of wearing hats, either! Fashion is supposed to be fun. Play with the balance of your clothing and figure out which way your dress looks best. It may be with a blazer, a jacket, or none of them at all.
For the shoes, flats are an option if your dress length is above the knee. It doesn't mean they are not an option if your dress is longer, but they can make you look short.
Just Add a Messy Bun and Sunglasses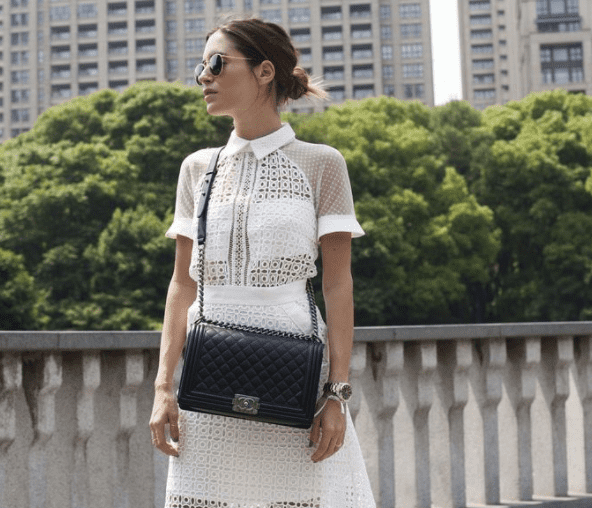 Is there a way to look chic while also being completely effortless? For some time, it's been fashionable to emulate an orchestrated nonchalant look. The trick is to look "natural," and the trend has been present in many makeup and hairstyles.
This particular dress is pretty elegant by itself. To tone it down a bit, you can add a messy bun and sunglasses. A black purse will also give it a nice touch and contrast with the white of the dress. To complete the look, you can add a watch and rings as accessories.
Frequently Asked Questions
Question: On what occasion can I wear an eyelet dress?
Answer: As with everything related to fashion, part of it depends on your style and how you want to look. A common piece of advice is to wear eyelet dresses in summer, and maybe spring. Because of the characteristics of the fabric, it would look weird in any other season. With that in mind, the rest is way easier.

Clothes in summer tend to be more carefree, and you can wear the dress however you feel comfortable. For instance, you'll look amazing with an eyelet dress if you're going out for lunch or even to a party at the beach at night. (Psst… I elaborate more about this in the Style Recommendations section!)
Question: Is an eyelet a type of fabric?
Answer: Yes, and no. When people talk about eyelets, they frequently refer to the holes created in the fabric. You can hear about "eyelet fabric," but this refers specifically to its design. 

Generally, eyelet fabric is made of cotton alone, or cotton blended with another fabric. Even so, it's not uncommon to find eyelet fabric made of silk, jersey, or leather.
Question: What is the difference between eyelet and lace?
Answer: Eyelet fabrics are made by making holes on them, where each hole is sewn with a buttonhole stitch. These holes are sized and positioned precisely to create patterns, which are usually floral designs or geometric forms. On the other hand, lace is a lightweight fabric containing tiny holes embroidered and web-like patterns. 

The main difference between both is that lace is more transparent, and it's often used for decoration. Eyelets, however, can be used to make entire garments. Plus, the most used fabric for lace is silk, whereas the most used one to make eyelets is cotton. Still, you can find both of these interchangeably or in the same garment.
Question: What is the difference between eyelet and Broderie Anglaise?
Answer: Believe it or not, there is not much difference between the two. In fact, they are the same, but with different names. Broderie Anglaise is the French name for "English Embroidery," which just makes it sound a touch more fancy. 

Its main characteristics are the oval and round patterns pierced on the fabric. You could say that eyelets are the pattern present on English Embroidery, but it is common to see people just calling them eyelet fabric.
Question: How do you wash an eyelet dress?
Answer: There are divided opinions on this question. Some people agree that you can wash eyelet dresses on the machine. Some other people do not recommend using it at all since it can damage the fabric. However, I believe it depends on the specifications of each dress. 

Either way, if you're going to use the machine to clean it, it has to be on a gentle cycle. What we can all agree on, though. is that excessive rubbing can damage the dress. However, you still need to wash it every time you wear it, as the eyelets can catch dirt and get a little grimy over time. 

If you're unsure, you can hand-wash the dress with cold water but without rubbing it, and just let it soak in water with detergent. You can also dry-clean your dress or lay it flat to dry. If you're going to do this, though, make sure not to twist the fabric or squeeze it because it will damage it.
My Final Thoughts
Eyelets have been around for centuries. Even so, the reasons for wearing them in everyday clothing have changed. Before, they were synonyms of elegance and class. Today, they have been mostly relegated to summer wear, but they have not gone out of fashion.
If I had to choose my favorite dress from the list, I'd pick the Matches Fashion SELF-PORTRAIT Floral guipure-lace Mini Dress. It has the classic white color we often associate with eyelet dresses, as well as long sleeves with trim cuffs that complete the chic look. It's definitely worth checking out!
From throwing on a denim jacket over it or pairing it with a pair of strappy sandals, there's no wrong way to wear an eyelet dress. And no matter which one you decide to purchase for yourself, you'll be sure to look amazing in everything you wear.
Recommended reads: