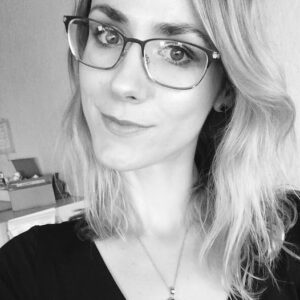 Latest posts by Karyl Trejo
(see all)
Tea dresses! They can be a fun, largely feminine, and awesomely comfortable addition to your wardrobe. You could have them with a vintage look with ribbons and a belt. Or you could have them cut low from the top for a sexier style. They're perfect! And if they aren't, then you can make them perfect with the right tricks.
What Are Tea Dresses?
But first, let's take a look at what makes a tea dress, well, a tea dress. 
Normally, tea dresses are supposed to end right above ankle level. But you can still have them up to two or three inches above the ankle. That length is important. Anything short of that and you could consider it as a cocktail dress. Meanwhile, going further past the ankles will make it into a floor dress.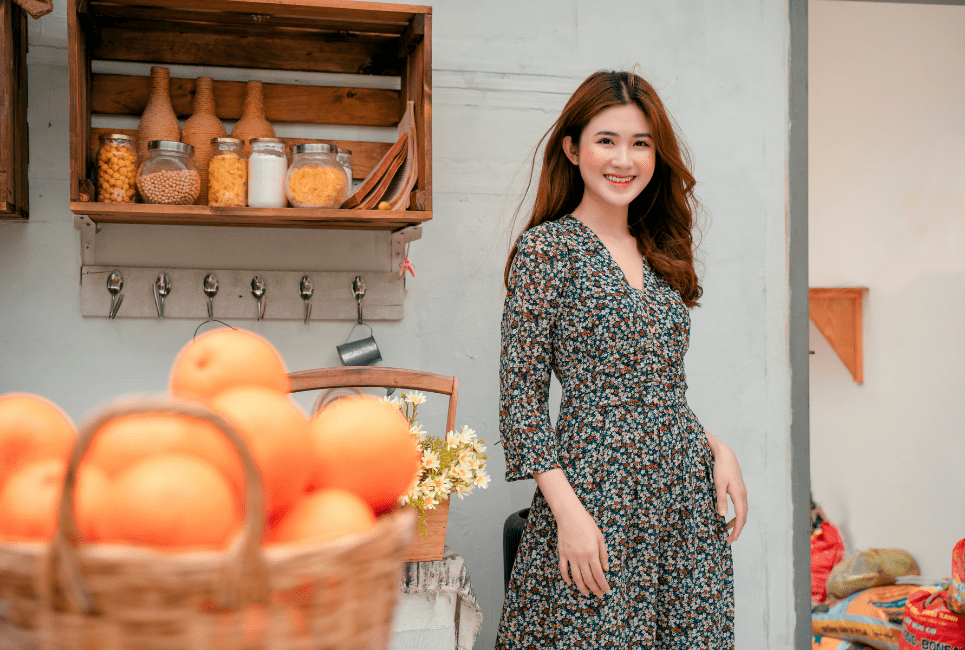 And that's basically it. Traditionally, they're supposed to have puffy but loose sleeves like the Victorian tea gowns they came from. But modern looks like the ones Kate Middleton wears can be a little more fitting around the arms.
History Of Tea Dresses
Tea dresses came from the earlier tea gowns of the mid-19th century that were so popular in Europe. These were the comfy home clothes meant for entertaining a visitor if someone were to come around. Unlike a traditional dress, tea gowns were easier to wear. They were made to be worn without a corset, so they wouldn't even need servants to help them up.
But unlike modern tea dresses, the tea gowns at the time were floor dresses that were never worn outside the house. It wasn't until the cloth rationing of WWII when tea dresses became the kind that we all see and love today. The modern tea dress has turned from a home-only garment to a work uniform and a mainstay fashion piece.
After the war, the tea dress had become such a success that women all over the western world would wear it everywhere.
What Makes Tea Dresses So Great
From a fashion perspective, tea dresses are fashion staples. We could make a ten-page list of what makes them so great. But we'll just boil it all down to four main reasons, or the world will break from its greatness. As a fashion piece, tea dresses:
Fit any body size

Are comfortable yet fashionable

Meant to be worn without any help (unlike other dresses)

Can be worn on many different occasions
They are just so versatile! It doesn't matter whether you're apple-shaped, bottle-shaped, going to school, going to work, or being late for wherever you're gonna go. If you have a tea dress, then you can just slip it on and you'd be ready to go.
Styling With Tea Dresses
Now that you know everything else about tea dresses, it's time to talk about how to style them. Remember, tea dresses are very versatile. You could use them as-is; there's no problem with that. Or you could do them in one of these five ways we've got for bringing out the best-looking you in a tea dress!
Classic Street Summer Style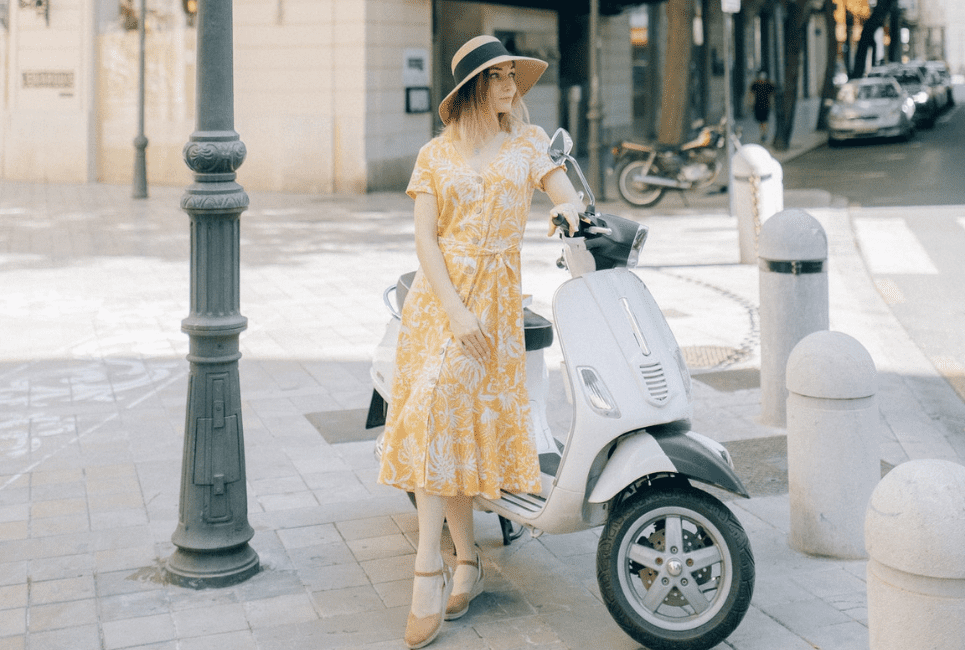 Tea dresses can be worn on any day of the year, unless you're swimming on the beach all day, of course. But if you wanna rock that summer look without a bikini or swimsuit, then you should try the classic street summer style!
Take a sleeveless or cap-cut tea dress and match it up with a pair of sandals or doll shoes. Best if they're white or light-colored. That's basically the essence of the classic street summer style. Anything with sleeves can get too hot. Pair it up with a color-matching handbag and a nice floppy hat and you'll be ready to storm the summer vibes in the streets.
The Sexy Date
This one takes a bit of confidence and fashion sense to pull off. Get a "relatively" low-cut neckline tea dress and put on some accessories. Go for light accessories that bring attention to you and not to your jewels. You can go for high heels for this look, which just makes it even better.
Now with this look, subtleness is the key. You don't want a super low-cut dress that reaches down to your navel. What are you, a comic book superhero? Pick something that shows a bit of skin but leaves a lot to the imagination.
Cool Autumn Afternoon
If the days are getting colder, then you'll probably want something more on you. But if you still want to make the tea-length dress your signature style, you don't necessarily have to brave the cold breeze to get what you want. Autumn is when you start wearing coats. And that means you get to wear coats over your dress!
While some tea dresses are made of thicker fabric for the colder seasons, you can wear a coat over your light tea dress and be both comfortable and awesome! Just pick a coat with a different color from your tea dress. Or choose one with a similar color, but a different style; this should emphasize the fact that you're wearing a coat over your tea dress, and not a really thick dress.
Formal Office Dress And High Heels
Tea dresses aren't just made for the streets. You can have them in the office and still look formal and dignified. But you may have to be a bit more choosy on your dress design and accessories. We're going the "office formal" route here, so you should leave your ribbons and cute headbands at home.
Choose a non-patterned dress. Flowery dresses are for office "casual", not formal. And make sure that it hides as much skin as possible. You can add a belt to show off your curves or hide that tummy fat you've been working on. That belt also keeps the flowy dress from snagging into things, so that just makes things more fashionable and practical!
The Wedding Attendee
On somebody else's wedding day, you should wear something a little bit more formal than the office dress but a lot less beautiful than the bride. Nobody, and as in nobody, should be more beautiful than the bride. It's her day, not yours.
If you wanna show up to a wedding without looking too fashionable but still fashionable, if that works, the tea dress is the right way to go! Flowy dresses hide your curves, so if you're sexier than the bride, at least you're not showing it. You can match that up with anything else you're required to wear on the big day, like handpicked ribbons and bracelets. It'll all fit in a fancy way!
Famous Tea Dresses
Maybe you haven't noticed this yet, but tea dresses are so appealing that they're featured in a lot of celebrity shots. It doesn't have to take you long enough to see that somebody's wearing one. As long as you're watching something that's not situated in the distant future, you're always bound to find a tea-dressed character.
So here are a few famous tea dresses worn by celebrities!
Taylor Swift: Gucci Liberty Floral Print Maxi Dress
In the official music video for her song, "willow", she is seen in a Gucci Liberty Floral Print Maxi Dress about three minutes in. She wears the dress right by the fireplace as she meets the leading man near the end of the video. The dress's frills matched well with her curled-up hair, giving her an innocent yet graceful look on the screen.
Hailey Baldwin: The Reformation Lacey Dress
Hailey Baldwin rocked the classical The Reformation Lacey Dress with a casual look by matching it up with a pair of sneakers. It's just one of her signature summer looks, street-style clothes that bring out her charm.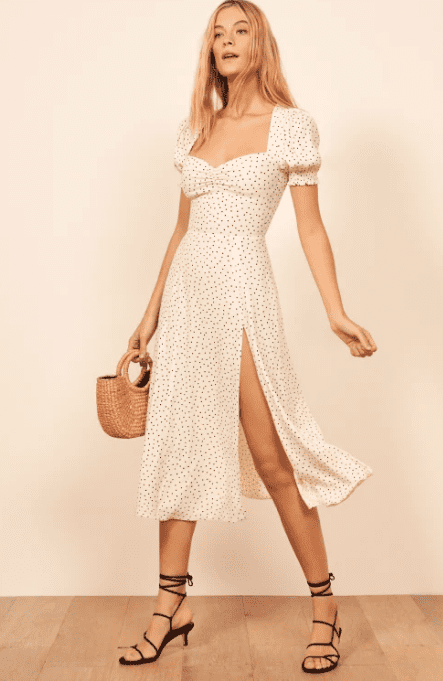 Kate Middleton: Zara Black & White Houndstooth Printed Dress
There's no one alive who might be wearing the formal tea dress better than the Duchess of Cambridge, herself. Kate Middleton wore the Zara Black & White Houndstooth Printed Dress on her 2021 visit to University College London. She was formally stunning, to say the least.
Buying Tea Dresses
Tea dresses are fun and all, but how about actually buying them? You'll want a good shop that sells clothes at a fair price, that's for sure. Good thing that we've made a list of the best shops to buy at. From the best budget shops to the top-quality designer brands, we've got them all covered for you.
How We Chose Our Tea Dress Shops And Brands
But first, let's talk about what makes the best shops better than just any other shop.
When looking for a shop, you're not supposed to look for the things you want. You're supposed to start with the things you don't want. Those that pass this are the minimum of what we can call a decent shop. The good shops offer something way better than all the other shops that remain. And the best shops are the best at what they do.
So while choosing our shops and brands, we made sure that we crossed out all those known to have the following:
Unnecessarily overpriced

Have inconsistent sizing (unless they're tailor-made)

Poor factory conditions
By adding in the third criteria, we removed a lot of clothing brands that commonly have plenty of manufacturing problems. Color errors, stray threads, there's a lot to be said about choosing the right brand. But cheap is cheap and not choosing cheap means you're gonna have to look at the more expensive shops. Or you'll have to make more effort to find the right ones.
Granted, some of the "better" brands will still have manufacturing defects. So choosing the best of the best, we compared each depending on these criteria:
Price-to-quality ratio

General material quality

Range of selection

Ease to buy
Besides these four, there are other noteworthy brands that deserve a spot on the list despite lacking one quality or another. As long as it's something you'll be sure to want to buy from, it'll definitely belong here.
So now, let's get started!
Best Tea Dress Ideas: Our Top Picks
The Italian Supergiant: Gucci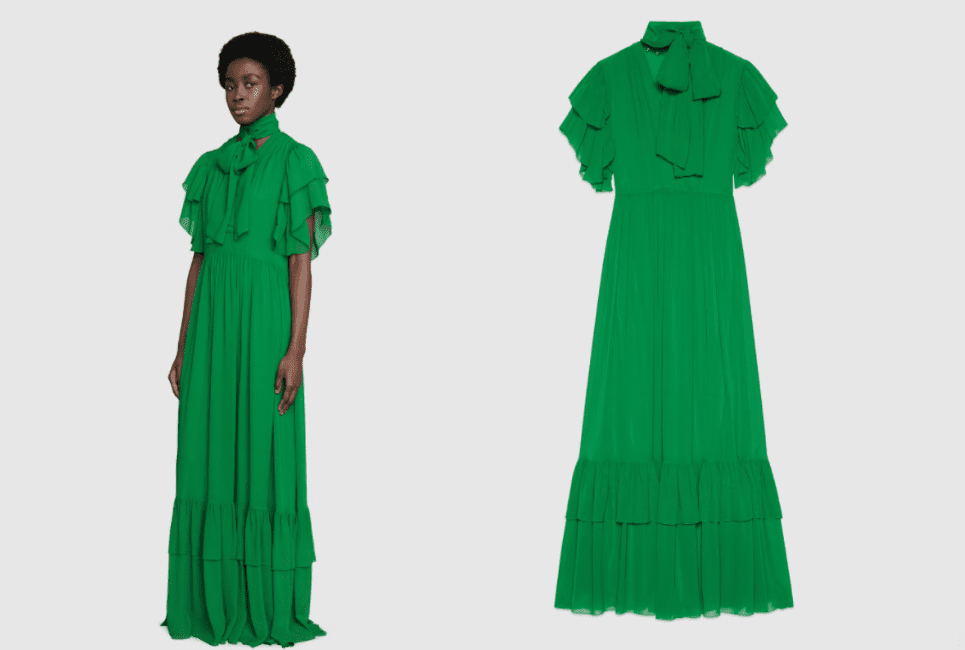 Pros
You can find their clothes everywhere

Made from best-class materials

Most easily accessible luxury brand
Cons
When it comes to luxury clothes with luxurious quality, Gucci should never be missing from the list. It's among those clothing brands that you would see everywhere and have a huge selection in most malls and department stores. If you think about it, this Italian fashion giant truly is gigantic. You see it everywhere, and you can find them anywhere.
The only problem with Gucci is that they're luxuriously expensive. But if you want to pay extra for the sake of quality, then look for something from here. You will never be disappointed.
Set The Bar For High Class: Louis Vuitton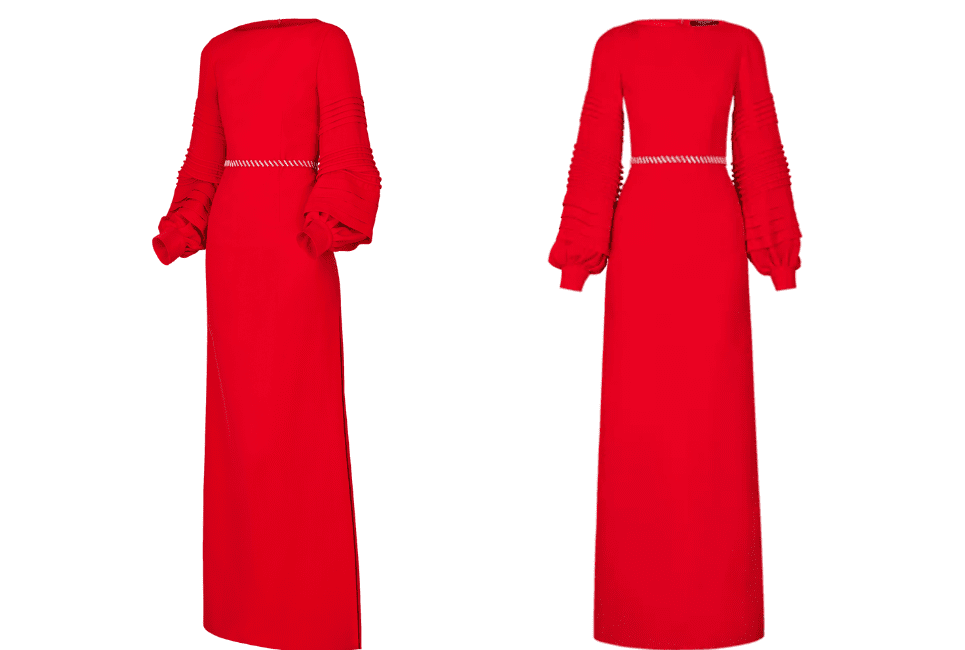 Pros
Plenty of low-neckline and sleeveless tea dresses to try

Top-of-the-line luxury clothes
Cons
The most expensive among high-end luxury clothes

Too form-fitting for the body-conscious
If you have to compare between the best luxury fashion brands out there, then you'll find Louis Vuitton topping that list. And when it comes to tea dresses, they're probably even better. Louis Vuitton has a lot of form-fitting tea dresses under their evening dresses collection.
As a luxury brand, all of its clothes are made from the best materials. So you won't have a problem there. Although you might find the lack of formalwear and casualwear tea dresses a bit too hard to find.
Flowy And Comfortable: Zara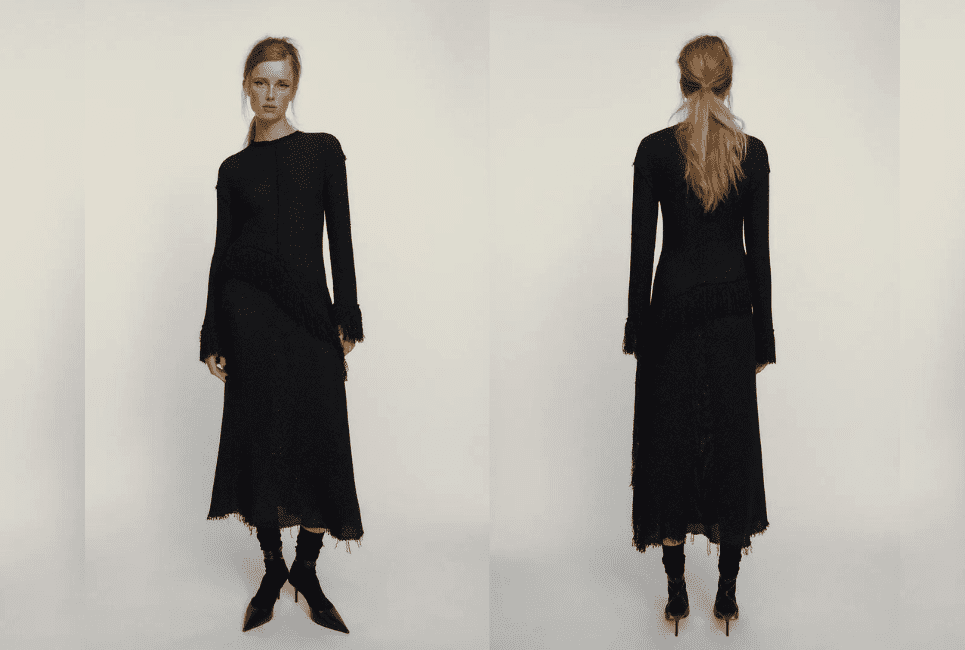 Pros
Affordable price tags

A whole selection of tea-length dresses under the maxi category

Plenty of shops worldwide
Cons
Mostly has flowy tea dresses
Zara fits the bill if you want something that's of great quality at a low price. Sure, most of their tea dresses have the same style. Most of them are flowy and show a lot of skin. But the materials they're made off makes them look great even if you wear a jacket or blazer over them.
Most of the tea-length dresses you'll find under their brand all belong to their Maxi category. But you can still find good ones under the Satin Effect and Party categories. You don't have to look hard for their shops, either. Unlike Gucci and Prada, Zara has a lot of shops all across the world.
Fit For Royalty: Alexander McQueen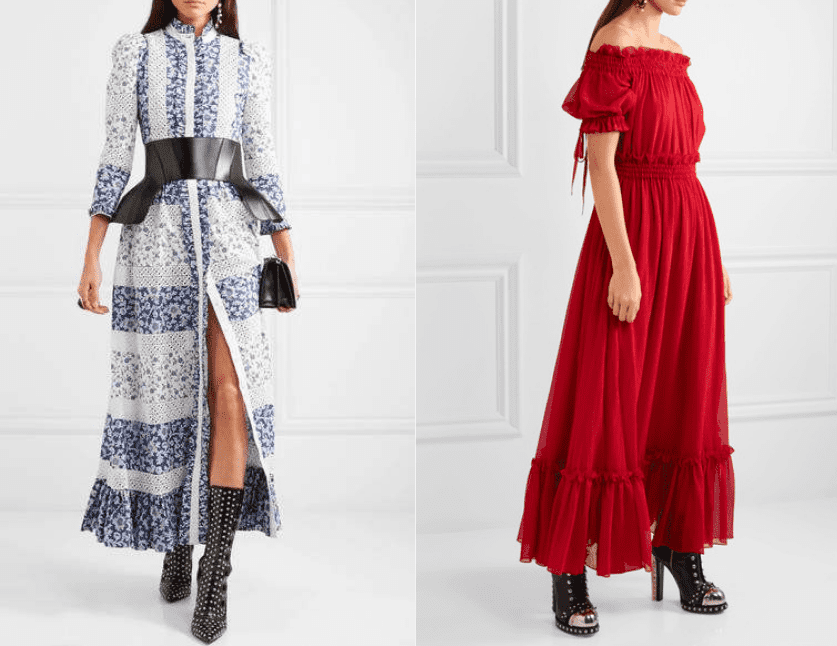 Pros
Top class clothing

Lots of tea-length dresses

Great variety
Cons
Few shops

It easily runs out of stock
This one is the kind that Kate Middleton wears a lot. Alexander McQueen is a luxury clothing brand that brings elegance to every piece they make. There's a lot of tea dresses in their selection that you could choose from. And all of their clothes are made from the finest materials you could find.
They're perfect if it wasn't just for one problem. Alexander McQueen is a rather smaller chain compared to Prada and Gucci. You'd easily find their dresses going out of stock and it's hard to find their shops outside of the UK. Nonetheless, this should be one of those shops you'd go to if there's one available nearby.
For Mother Nature: The Reformation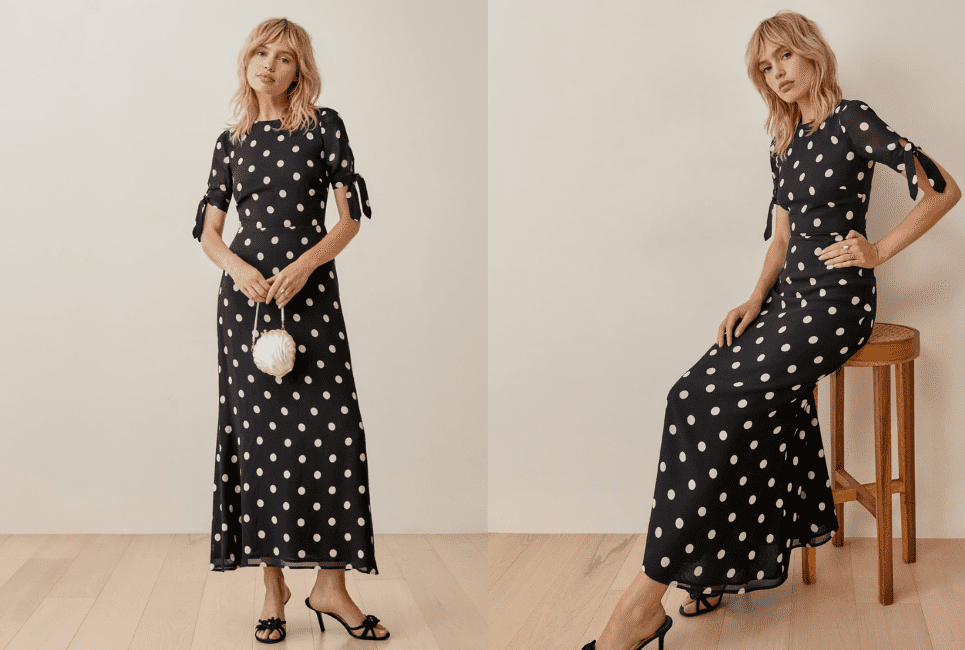 Pros
Great quality of materials

Wide variety

Environmentally sustainable
Cons
Pretty expensive for their quality
This one is an eco-friendly brand. The Reformation sources their materials from sustainable producers. They call themselves a "carbon neutral" company yet do not cut corners when it comes to delivering quality clothes. They're always great. And that reflects on the looks of their tea dresses.
However, you do seem to have to pay for the price of ecological sustainability with their clothes. For the kind of clothes you get, they'll feel a bit overpriced. The good thing is that they deliver what they have to deliver. And your money will be supporting the businesses that work on developing better sustainable sources in the fashion industry.
Do It More: ASOS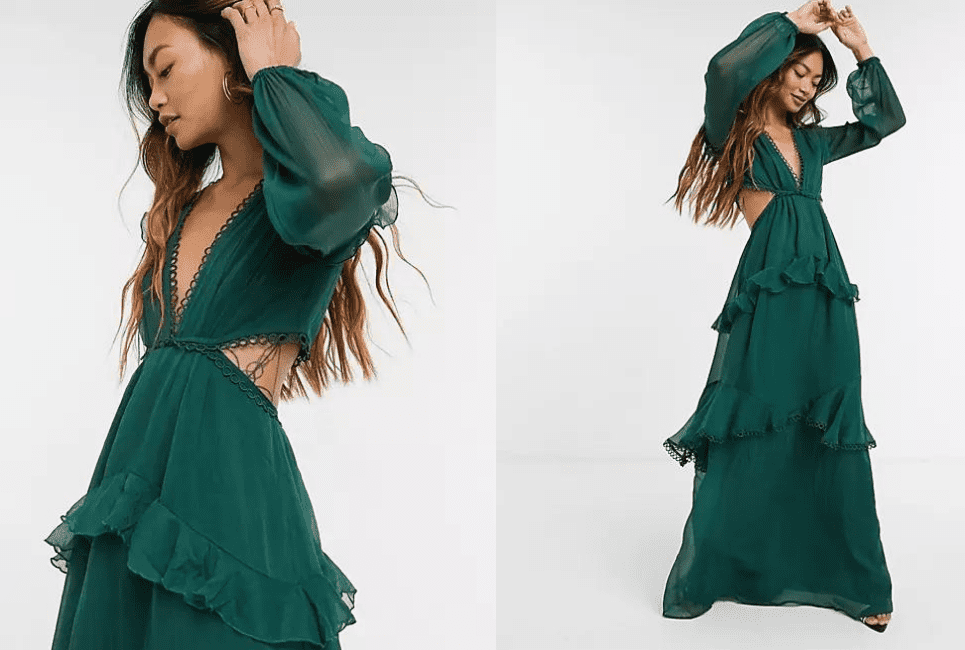 Pros
Has clothes for different body shapes

Budget-friendly

Lots of different designs

Decent price ranges
Cons
For the budget prices, you get exactly what you pay for
ASOS appears to have the best selections when it comes to catering to as many people as possible. With a ton of designs, plus-size and petite sizings, and great price ranges, what's not to love? And when it comes to tea dresses, they seem to have it all. From the flowy to the flowery and the form-fitting and formal-looking. They have it and they sell it.
Frequently Asked Questions
The Bottom Line
Tea dresses have a long history. From Victorian fashion to a world war, and then to modern times, tea dresses aged just as well as our fashion sense. They both reach higher peaks, looking different at every summit.
As a clothing item, tea dresses are very versatile. You can have them in many different styles. They fit well with hats
and coats, with jackets and blazers, and with rings and necklaces. Tea dresses are comfortable enough to be worn in the summer. Or light enough to be worn under a coat at fall.
Clothing brands have different tastes and styles. The best ones depend on what you want out of a particular item. Alexander McQueen wins the luxury fashion league if you want the best of the best. But for everyday clothing, ASOS seems to have the best selection. They even have a whole category featuring tea dresses, unlike other brands that tie them up with maxi dresses.
Now that you know everything about tea dresses, from picking the right style to choosing the right store, here's hoping you'll enjoy wearing them as much as they were ever meant to be!
Recommended Reads: