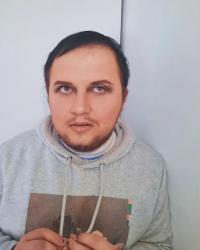 Latest posts by Jamie Tugayeva
(see all)
Navy blue dresses are a very classic choice. It's not that they never go out of fashion, but they remain stylish. It's not just a choice for the modern 30-40 year old woman, blue dresses work for any age! In the article you will find different recommendations on how to find your ideal navy blue dress for different occasions and how to style it. Navy blue is the color of elegance, so you will always look the part.
How to style a navy blue dress
Navy is a bold yet smart color to have in your wardrobe. It's very often used for black tie events such as weddings or official ceremonies, but that doesn't stop you from taking it to a more casual getaway like a holiday or a daily selection for your wardrobe.
A navy blue dress can be worn all year long with the right things to match. Depending on the shape, silhouette and length of the dress you'll find different ways to accessorize. You can go all out by wearing your favourite shoes and accessories, but if you feel like you need some inspo, read on.
Of course, the cut of the dress depends on your choices, but let's go over some basics.
Shoes
Shoes are a girl's best friend (probably more than diamonds if you ask me). Go for flats if you want a smart look or elevate yourself to the next level with a pair of heels.
Heels and a dress are an understated decision, a timeless classic that leaves you feeling confident! Go for an open toe to show off that pedicure and a silver accent if you're feeling festive. White heels make the statement far more formal yet smart for a date with your friends at a fancy restaurant. Nude heels will get your look together and show intent. Also, navy dresses can be easily paired with boots of your choice. In this case something with a small heel at least will work for the best.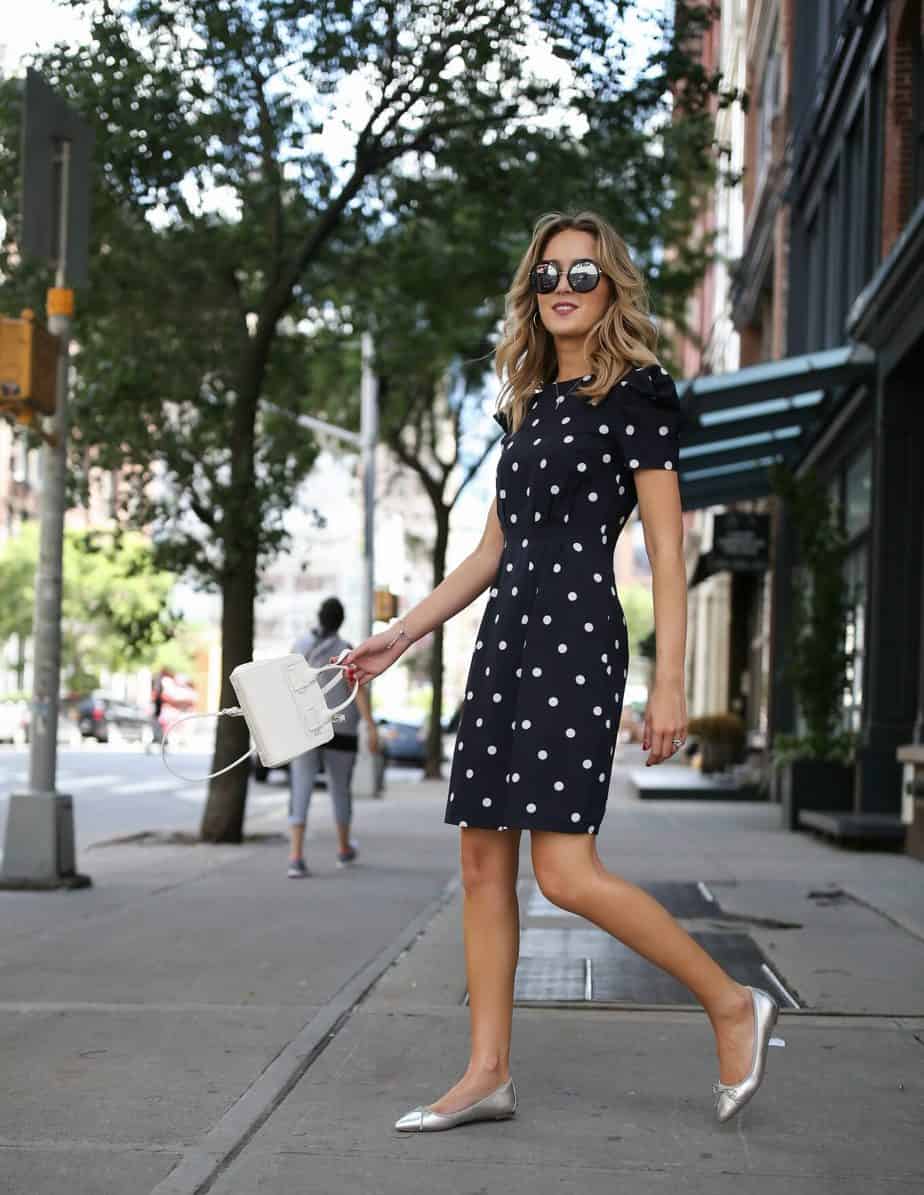 Flats come in all shapes and sizes. Go for lighter colored flats for an accent in your style choice for the day. Ballerina flats with their chic little bow will match perfectly with your dress. When it comes to silver, it's not just heels which are your only option, a flats gal will rock it too.
Jewelry
There are many solutions to what to wear, even when you've got a full wardrobe and need to mix it up. That navy blue dress is calling you out tonight and you need the matching accessories.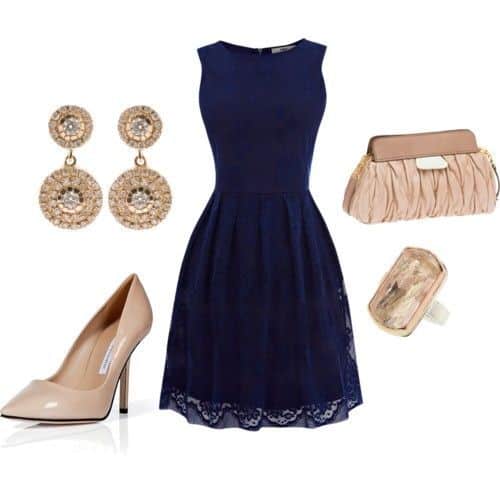 If you're going for nude heels, consider keeping all your accessories in a nude/gold/bronze shade range. It'll all look matchy and chic. Strong, big earrings will put the outfit together, while a beige or nude clutch will pull it together.
Don't forget that if you're cold, layer it! Layering different patterns is in right now, so don't be scared to go bold or color block with a matching sweater. Fashion may be a guide, but style is forever, so make sure to listen to you and know what you want from this outfit.
Who can wear a navy blue dress?
Absolutely everyone. It may not be as bold of a statement as a red dress, but it will bring the right amount of attention. Every person has their own shape and preferences about dresses, but navy blue is a very universal color which looks flattering on almost everyone.
If purple is one of your favourite colors to wear and love, blue will be just a small step away while looking just as great and daring. If you're a warmer tones gal, it's always fun to try something out of the box. Maybe a different shade of blue will pop up as a next fave, but starting with navy is a good, measured step.
Where to buy Navy Blue dresses
ASOS
Farfetch
Zara
John Lewis
Nordstrom
H&M
Next
Debenhams
The best navy blue dresses on the market right now: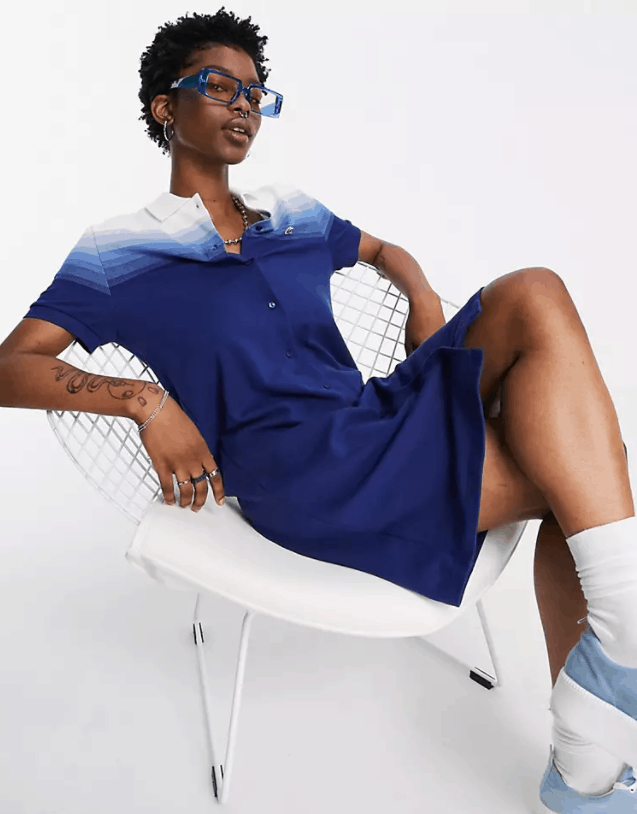 A polo dress can be used for most occasions. It doesn't have to be Lacoste, as many other brands offer great polo dresses. We can't ignore this dress with the ombre touch though. Lacoste is always consistent with their quality and they deliver fashion to our doorstep without hesitation. It's a smart choice for a navy dress and will work for the years to come. Not to mention that polo dresses are a good choice for years to come.
Pros
Classic
Easy to wear
Used for many occasions
Cons
Expensive
Ombre might get tiring
Little black dress who? It's all about this little navy blue dress now! This piece is a great spin on a classic black slip dress and with the current y2k trend coming back, this is a very elegant way of waving to the 2000s and still be stylish as ever. You'll need an occasion to wear it, but with such a stunning piece in your wardrobe, you'll want to go out!
Pros
Affordable
Great for occasions
Easy to wash
Cons
Could be considered short by some
Not ideal for daily wear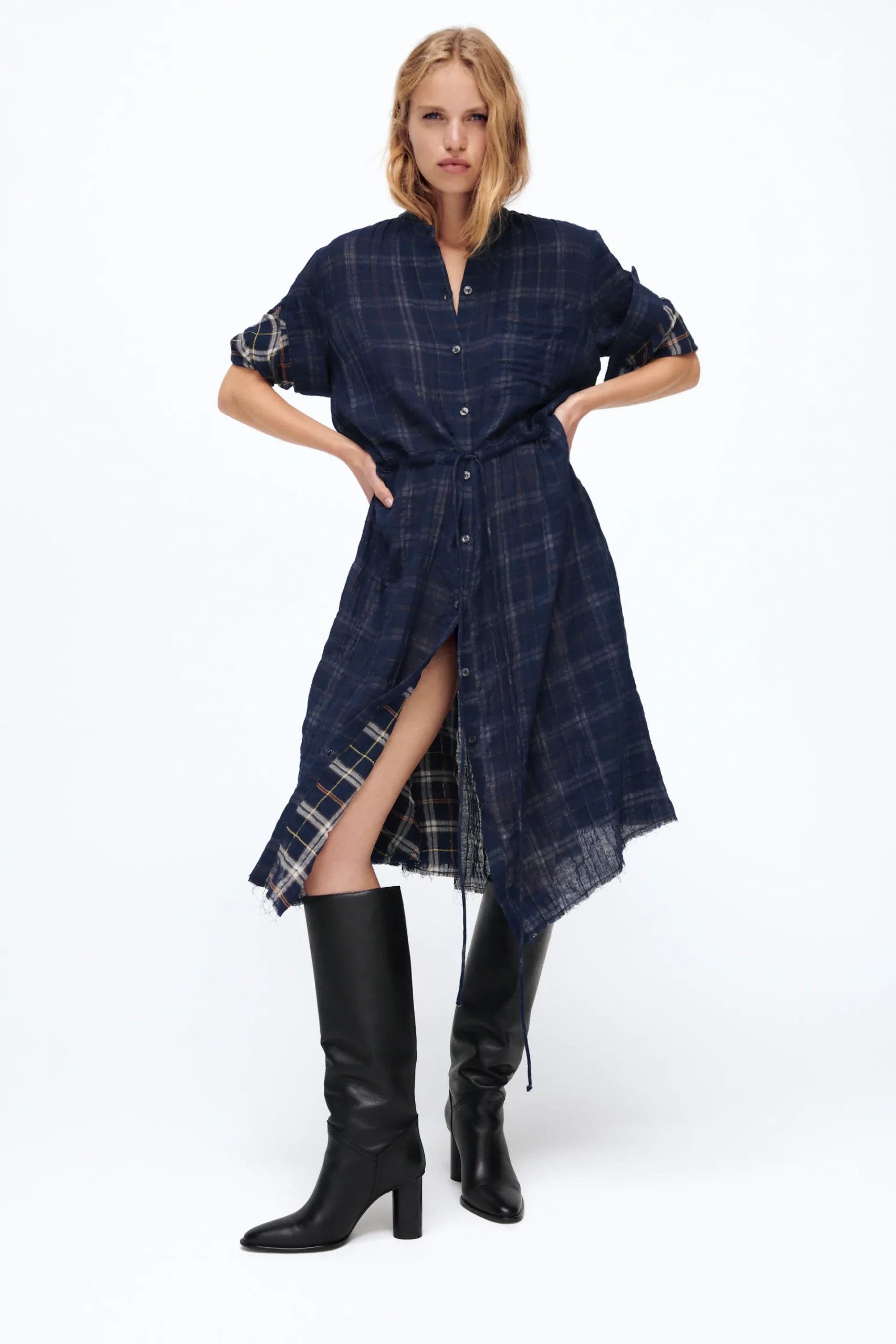 Here is a different take on your classic color block navy blue dress. Blue tartan makes you think of punk fashion, but Zara still takes a quite elegant stance on it. It's surely a fashion statement and for someone who is not afraid to go bold tonight! It may also be used for daily wear, so you can use it any day of the week and any occasion. It's surely going to make you stand out in the crowd, but not enough to make you worry.
Pros
Fun pattern
Fashion-forward, as prints are in season
Clean products
Cons
Could be a bit bold if you prefer a more tame look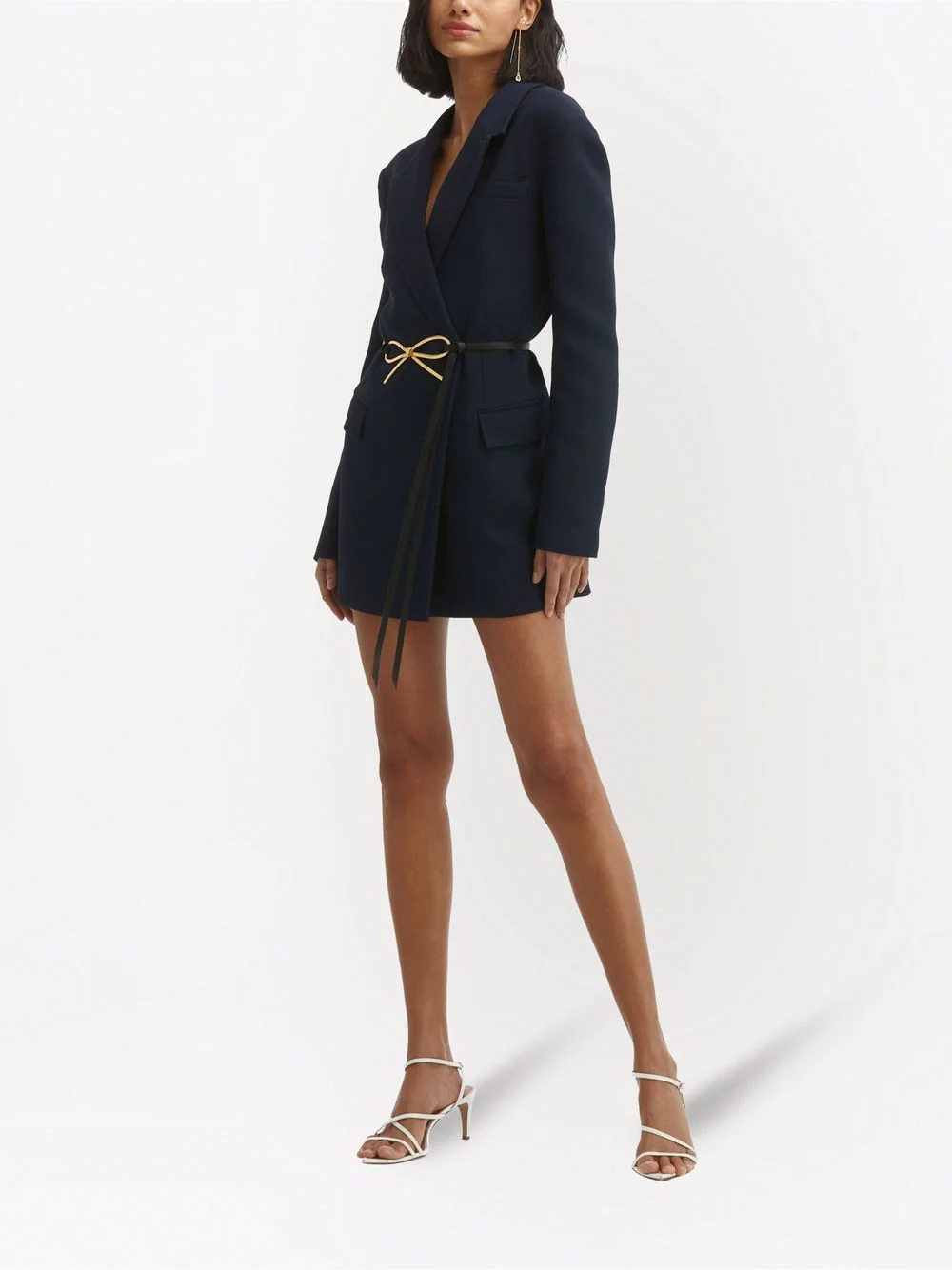 This wouldn't be a list without some high fashion. If you've got money to spare or you're looking to spend, look no further. Oscar de la Renta always delivers high fashion and this dress is a statement piece like no other. The tuxedo dress is cheeky, chic and classic. The two gold bows tie the tuxedo dress together, making it impossible to look away.
Pros
A piece in your wardrobe for a long while
Great fabric
Iconic
Cons
Chic? Check. This is a warmer solution to get a great navy blue dress, so if you live in a cold area and want a great alternative to a warm boring dress, do consider this option. MaxMara always delivers elegance with their own signature twist and are a good brand to spend on to look stunning.
Pros
Will lift-up that sad winter mood
Ready for office-wear and schoolwork
Great brand
Cons
Warm, if you live in hot weather
On the expensive side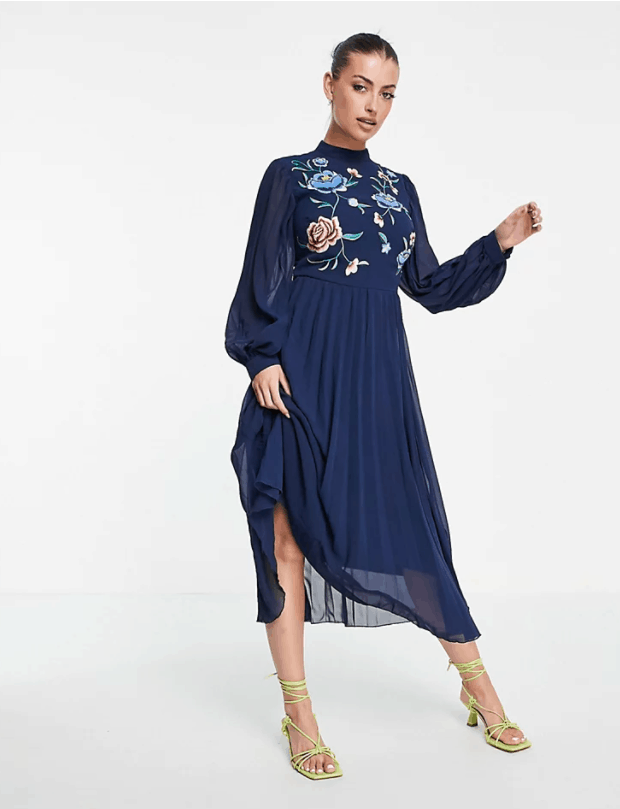 With each passing year, ASOS has proven that it is a force to reckon with. You can find all brands on ASOS and scroll forever. Their own clothing lines deliver good quality, fashion-forwardness and stay on top of trends. This dress is no exception with its embroidery. No matter how hard fashion houses try to avoid it, embroidery is here to stay, and we will always love a good flower motif.
Pros
Affordable
Flower motif
Makes a statement
Is in trend with the transparent detailing and fabric
Cons
Will you want to wear transparent sleeves for longer than a few seasons?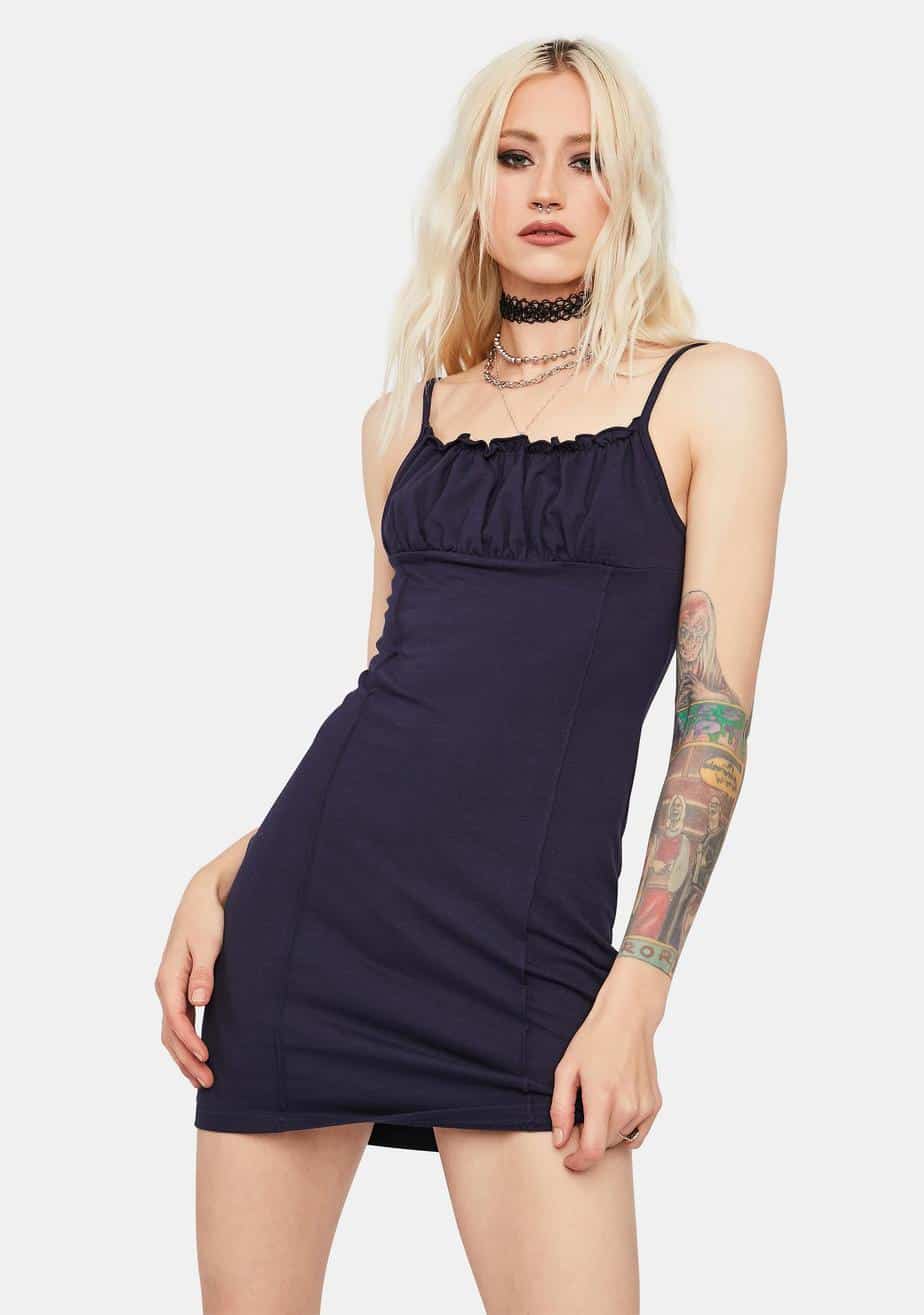 Dollskill might not be everyone's cup of tea, but they have great fashion items which will make you stand out. If you're younger or unafraid to go bold with your navy blue dress, this is your chance! It can be paired with a color block t-shirt underneath or with not much underneath. Perfect for summer weather and to make heads turn.
Pros
On sale and affordable
Fast delivery now not just to the USA
Casual
Cons
Short
Fast-fashion, if you're not into it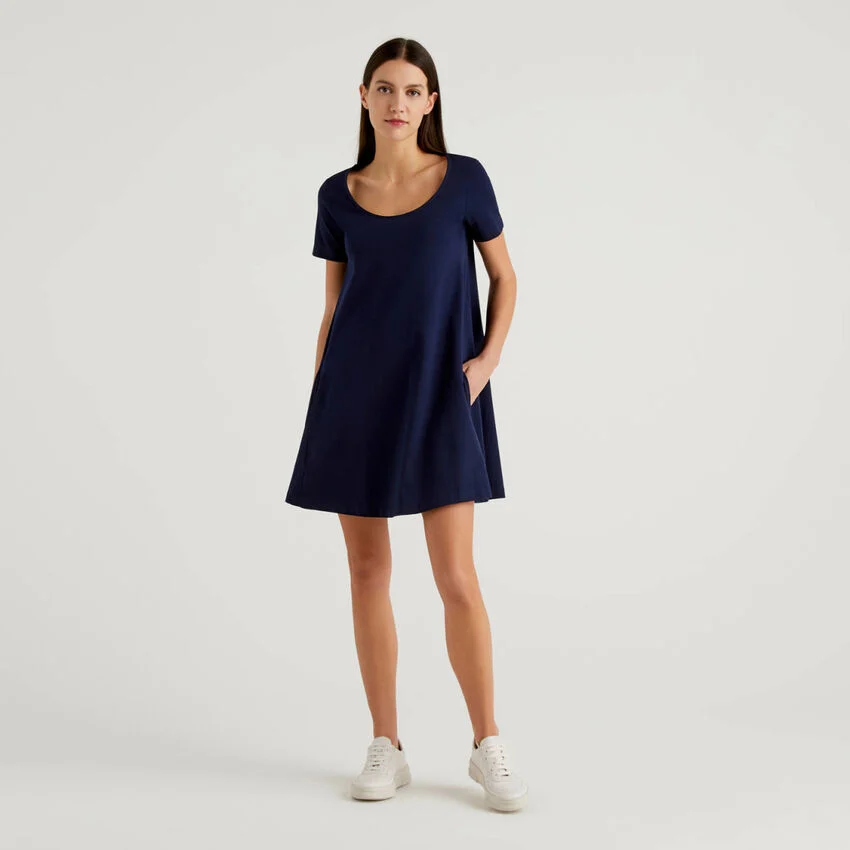 Benetton always has the best casual dresses. Their quality is great and their fashion flawless. If you want something simple to make sure everyone knows that you're a force to be reckoned with, this is your piece. It comes in different colors and is very environmentally friendly, like the whole brand. Pair it with anything and you'll look great.
Pros
Environment friendly
Easy to wear
Easy to mix and match other clothing items with
Cons
Could be plain for some and if wearing alone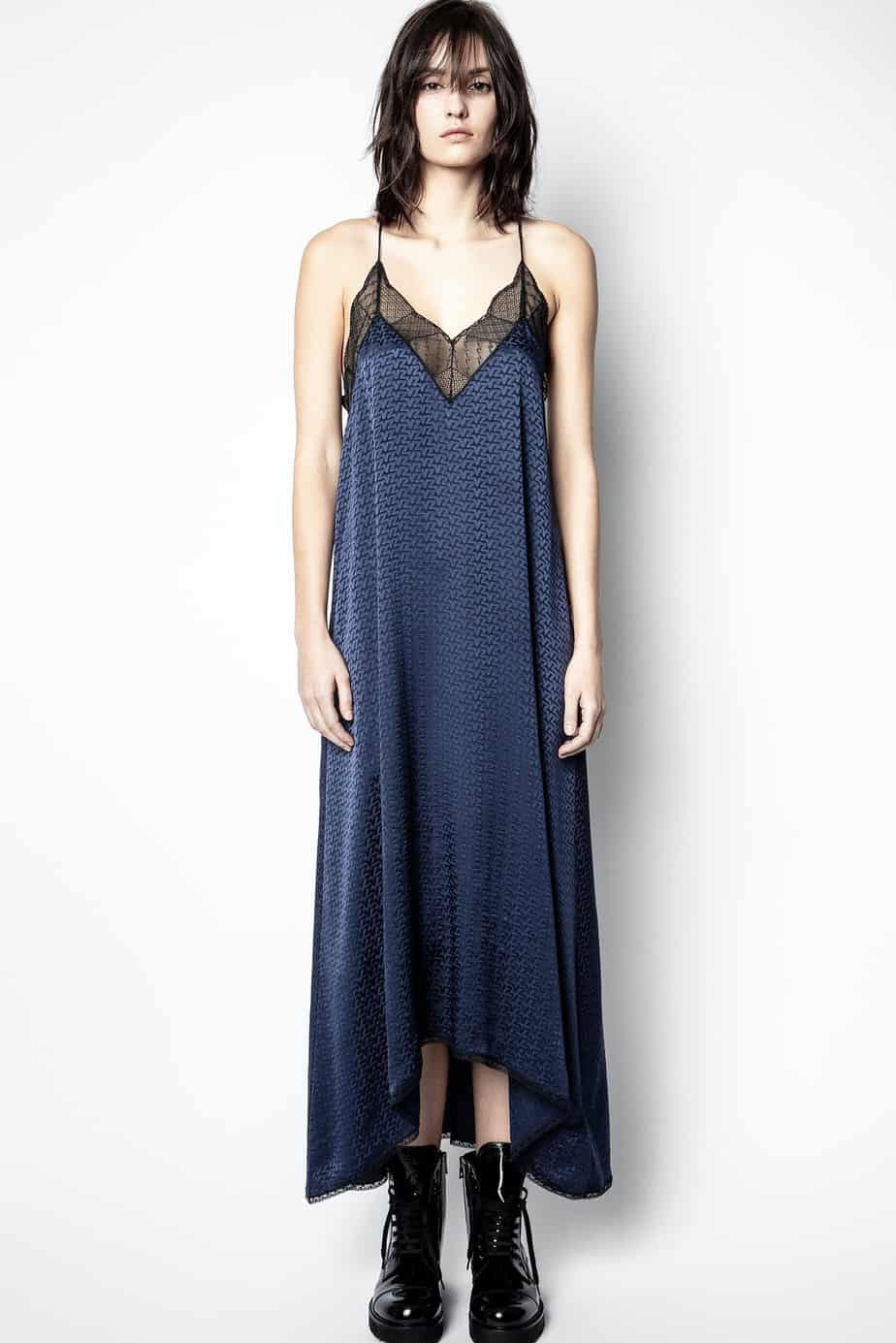 We know fashion emblems and logos can be tacky, but when it comes to this stunning piece by Zadig and Voltaire, it has our full attention. The brand all over the dress, but in a classy way as it comfortably plays the role of a pattern in this piece. It has a riskier silhouette which will scream fashion statement if you are feeling daring. This is a great opportunity to step outside the box and look great for anything.
Pros
Stunning piece
Can be a refreshing summer choice
Fashionable
Cons
Expensive
Low cut, which might not your cup of tea
Only to be used in warm weather
FAQ
Question: Is a navy blue dress appropriate for a wedding?
Answer: Absolutely! It'll look great on you on any wedding, from a black tie to full casual. You'll make a fashion statement without stealing attention from the gorgeous newlyweds but also without fading into the background. Navy blue is always associated with elegance, so it's everything you could want from a dress choice.
Question: How do you wear Navy Blue Dresses?
Answer: Pair them with lighter shoes or boots, but if you want a more darker look, black shoes will look great as well. Navy blue can also be a great alternative for not wearing black all the time or a new version of purples. It looks great on almost everyone and is a smart choice.
Question: How to accessorize a navy blue dress?
Answer: You can wear nearly all jewelery sets that you want with them. It's better to stay smaller unless your dress is very bold and you want to make it stand out even more. You can wear a broch which is always a classy touch or pearl accessories. It's also cute if you wear silver jewellrey and matching shoes or a gold look with matching nude heels.
Question: Is a navy blue dress in fashion?
Answer: When is it not? Sometimes fashion flips colors and which are popular. Sometimes fashion doesn't go for a color. For this season we've got bold prints or color blocked clothing items. What's going to be next? We don't know and we don't know how the high street fashion will reflect it. But a navy blue dress always will scream sophisticated and elegance. It is always great choice and you'll look great in it.
Conclusion:  Navy Blue Dress Ideas and Picks
A navy blue dress is a strong elegant statement, regardless of your dress of choice. The color is associated with royalty, fashion designers gravitating to it and simply reminding us of the beautiful night skies. Navy blue is a great alternative to the little black dress, and great to wear to weddings! It can be used for nearly all occasions and you'll always look smart and elegant in one. You can pair it up with your favourite jewelry or those heels which you can't wait to wear again. A navy blue dress is always versatile and willing to accommodate to the occasion, with style.
Further Reads: