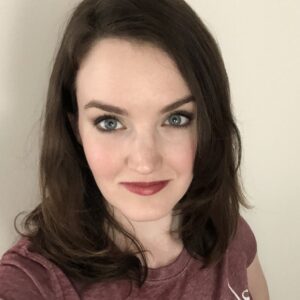 Latest posts by Crystal Schwanke
(see all)
It's fall. You're looking for the best long cardigan ideas and inspiration, but where should you start? Who has the best long cardigans, and how do you style one once you have it? I'll walk you through where to get the long cardigans, some of my favorites that are available right now, why you might need a long cardigan (or more than one), and how to style one. Get ready to discover the coziest piece of clothing you can own, next to sweatpants and oversized hoodies.
The Best Long Cardigan Ideas and Inspiration
Here's a variety of long cardigan options you can use for inspiration. Take these ideas and use them as starting points to create some of your favorite fall outfits. You can never go wrong by adding a sweater.
Adrienne Vittadini Long Sleeves Open Cardigan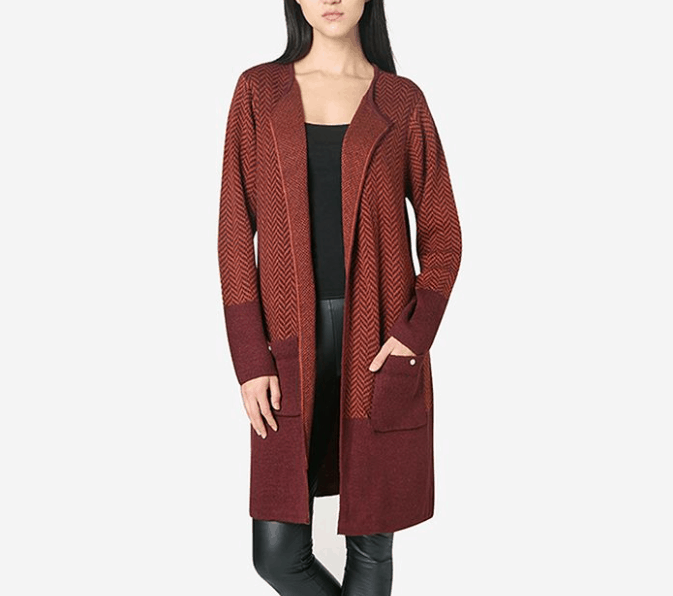 The Adrienne Vittadini Long Sleeves Open Cardigan is a two-toned rust traditional style open cardigan that hits around knee-level. It lends itself more toward work clothes than cozying up at home, and it's gorgeous for fall.
Pros
Inexpensive (when not on sale, it's still under $50.00)
Flattering on a variety of body types
Cons
Not the coziest option
Only available in one color
Ribbed Longline Cardigan Sweater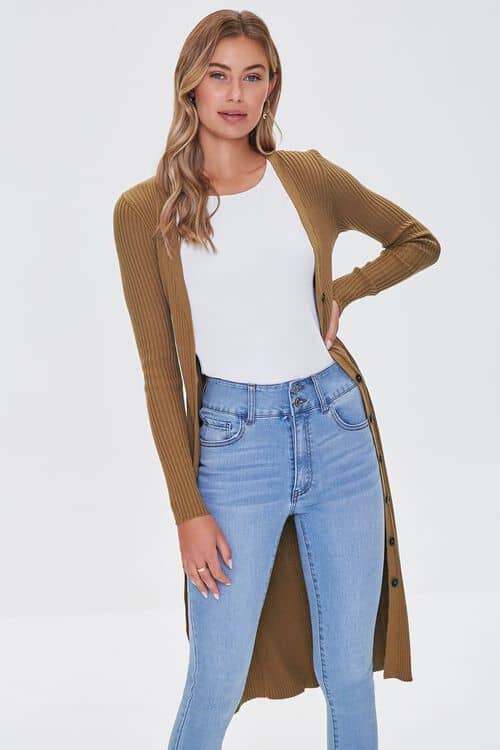 The Ribbed Longline Cardigan Sweater is the one to go for if you like length but need a body-skimming, thinner option. You can get it at Forever21 for around $20.00. It has a button front and ends around the knees.
Pros
Inexpensive
Available in three neutral shades (brown, heather gray, and taupe), so it's perfect for everyone, during any season
Flattering on most body types
Cons
Because it's so fitted, it won't be as versatile as other options (you may find yourself limited to tank tops underneath)
The sizing seems to be off, according to reviews (size up)
Cocoon Waffle Cardigan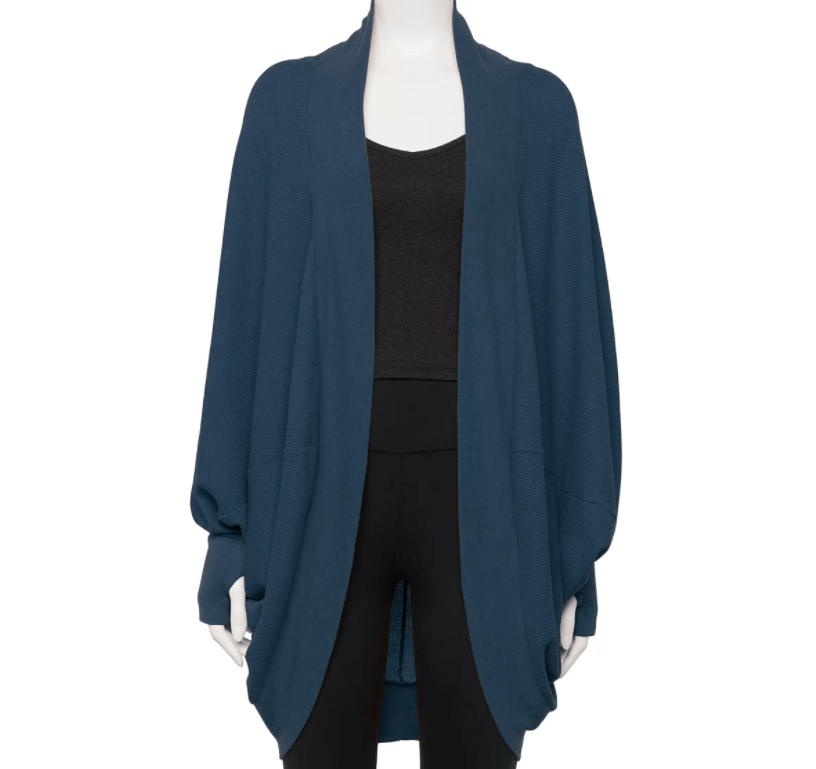 If it's coziness you're craving, look at the cocoon waffle cardigan from Kohl's. It's in the juniors' section, so make sure you take that into account as you're choosing your size.
Pros
Comes in a variety of colors–and not just neutrals. Take your pick from olive green, navy, black, shadow gray, and cinnamon
Cozy, relaxed style that's perfect for going out or curling up with a book at home
Cons
Can hide your curves
One of the pricier options at around $50.00
Short-Sleeved Open Front Cardigan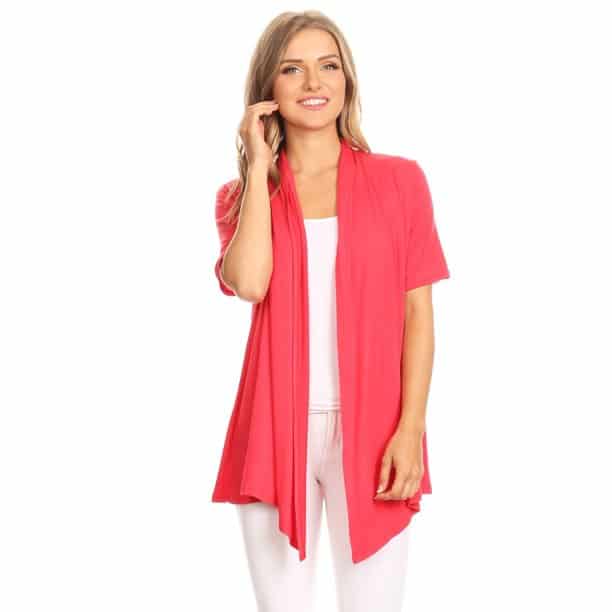 The short-sleeved open front cardigan is a stunner from Walmart. It's the perfect extra layer for spring or early summer. It comes in a bright coral tone and costs under $20.00.
Pros
The often overlooked short-sleeved style makes this one a good option for warmer months when you still want a little extra coverage or the opportunity to add a pop of color to your outfit.
Lightweight
Inexpensive
Asymmetrical hem adds visual interest without bulk
Cons
It's hard to tell exactly what color it is and Walmart warns that the color on the screen may not be exact, so it'll be hard to match to things already in your closet before it shows up.
Women's Open-Front Cardigan from Universal Thread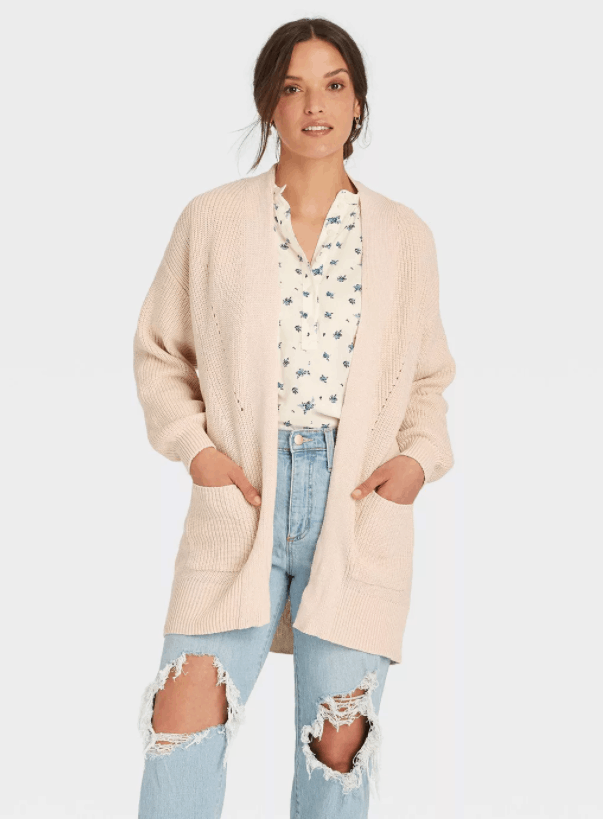 This open-front cardigan is a classic option with a subtle high-low hem, two front pockets, and a traditional fit. It comes in sizes XS to XXL and more of a variety of shades than most other long cardigan options offer (blush pink, charcoal heather, cream, gray, olive green, rust, taupe, and teal).
Pros
Variety of colors covers almost any outfit you could want to add it to
Not especially expensive
Relaxed, comfortable fit that can go almost anywhere, from work to brunch, a layer to keep you warm while you run errands or watch a movie at home
Layers well over t-shirts, button-ups, and more, so it won't be hard to work into your wardrobe
Cons
For some, classic may be equal to boring
Depending on the environment, it may be a bit too slouchy
Tips for Styling Long Cardigans
You can just about throw a long cardigan on over anything and head out the door. That said, I do have some tips to share that will take your whole outfit up a notch when you use one of these long cardigan ideas as inspiration for your own ensemble.
Keep Everything Else Fitted
The cardigan will be an extra layer, and it'll most likely be loose. Create balance by choosing more fitted pieces, like leggings, skinny jeans, skinny flares, bodysuits, fitted tees or tanks, etc.
That doesn't mean everything has to be skin-tight, though. Check out how beatriz84 created long lines with a tucked-in top and jeans with a gentle flared shape:
A larger flare or untucked t-shirt wouldn't have the same polished, balanced look. The pointed toe pumps also help streamline the look.
Keep Your Body Type in Mind
Be conscious of where the cardigan has extra detailing (a chunkier knit, ruffles, large patterns, etc.). Keep the bulkier or "louder" parts of the sweater to areas you don't mind playing up. If you want to minimize the bust area but don't want the "typical" cardigan style that's straight up-and-down, look for a cardigan with an asymmetrical hem and skip the waterfall/ruffled style that starts higher up, at the chest.
If you love to show off your waist, you may prefer long, belted cardigans, or at least those that you could easily belt using something in your closet.
You Don't Always Need Boots
Boots and booties are the go-to shoes for fall, so it's no surprise they're often seen with long cardigans. Consider branching out and wearing ballet flats or sneakers with your long cardigan, though. It'll feel more casual, but sometimes that's just what you need. You can even wear them with a pair of trousers and a button-up shirt, as seen here:
Use a Belt
Some cardigans come with their own belts, but when they don't, you can add your own to cinch in the waist, show off your figure, or keep your layers under control. Here's an example of a belt that didn't come with the cardigan. It brings the whole outfit together (literally):
Here's an example of how you can put the belt included with the cardigan to use (not the typical bow or knot):
Break Some Rules
Don't be afraid to experiment and break some rules. For example, a typical "rule" to wearing a long cardigan involves keeping things balanced with more fitted pieces underneath, and not to add a chunky knit on top of looser-fitting pieces. However, look how cozy and relaxed–but still chic–this looks:
Try a Monochromatic Outfit Under a Cardigan of a Different Color
This is a fun way to mix things up if you tend to rely on your cardigans to tie different colors in your outfit together or you just like to pair them with a pair of blue jeans and a simple top. It's a way to make the long cardigan look a little more sophisticated (but still cozy!). Check out how it's done and how it compares to the jeans-and-t-shirt look:
Advantages of Long Cardigans
There are so many things to love about long cardigans, ideas and inspiration are everywhere. They can work magic on your wardrobe and keep you warm and cozy, all at the same time.
They can make a basic outfit look like you put more time and effort into it.
They can create a cohesiveness from top to bottom that you might not be able to achieve with a shorter cardigan, no cardigan at all, or any other jacket or blazer.
They're a way to incorporate more colors into your outfit, often tying together other colors in your outfit that might not seem to work together otherwise.
They're cozy and an extra layer of warmth, perfect for when the days start to turn cooler.
Feeling a little bloated? The long cardigan can help hide it.
It's a chic fall piece that ushers in the season almost as well as your favorite pair of boots.
 Disadvantages of Long Cardigans
As much as I love long cardigans, they're not perfect. Here are some of the disadvantages:
They're more likely to get caught on things as you walk by (doors, for example) than a shorter cardigan.
They can easily overwhelm petite frames (skip the bulkier fabrics and opt for something thinner that stays close to body to make them work if you're short).
Can add bulk to your frame if not chosen carefully. (Watch out for especially bulky, shapeless styles or waterfall/cascade front open cardigans that have extra material where you carry your weight. For example, if you're large-busted, or apple-shaped, you may prefer a wrap style that doesn't have the extra "ruffles" around the chest or abdomen.)
The Main Differences Between Long Cardigans and Shorter Cardigans
For the sake of this comparison, I'll consider short cardigans to be around waist- or- hip-length.
Long cardigans are especially flattering on tall frames (shorter cardigans may create a blockiness to their overall look), whereas shorter cardigans flatter shorter frames (long cardigans may be overwhelming on some shorter frames).
Long cardigans tie a variety of elements in a look together, whereas shorter cardigans don't add the same sort of cohesiveness from the top to bottom of an outfit.
Long cardigans can be worn with leggings without too much second-guessing, whereas shorter cardigans may bring anxiety about the opacity leggings in the back or stirring up the "are leggings pants?" debate.
Long cardigans offer more coziness and warmth since they cover more of the body, whereas shorter cardigans add a little warmth but act more as an accessory than a blanket.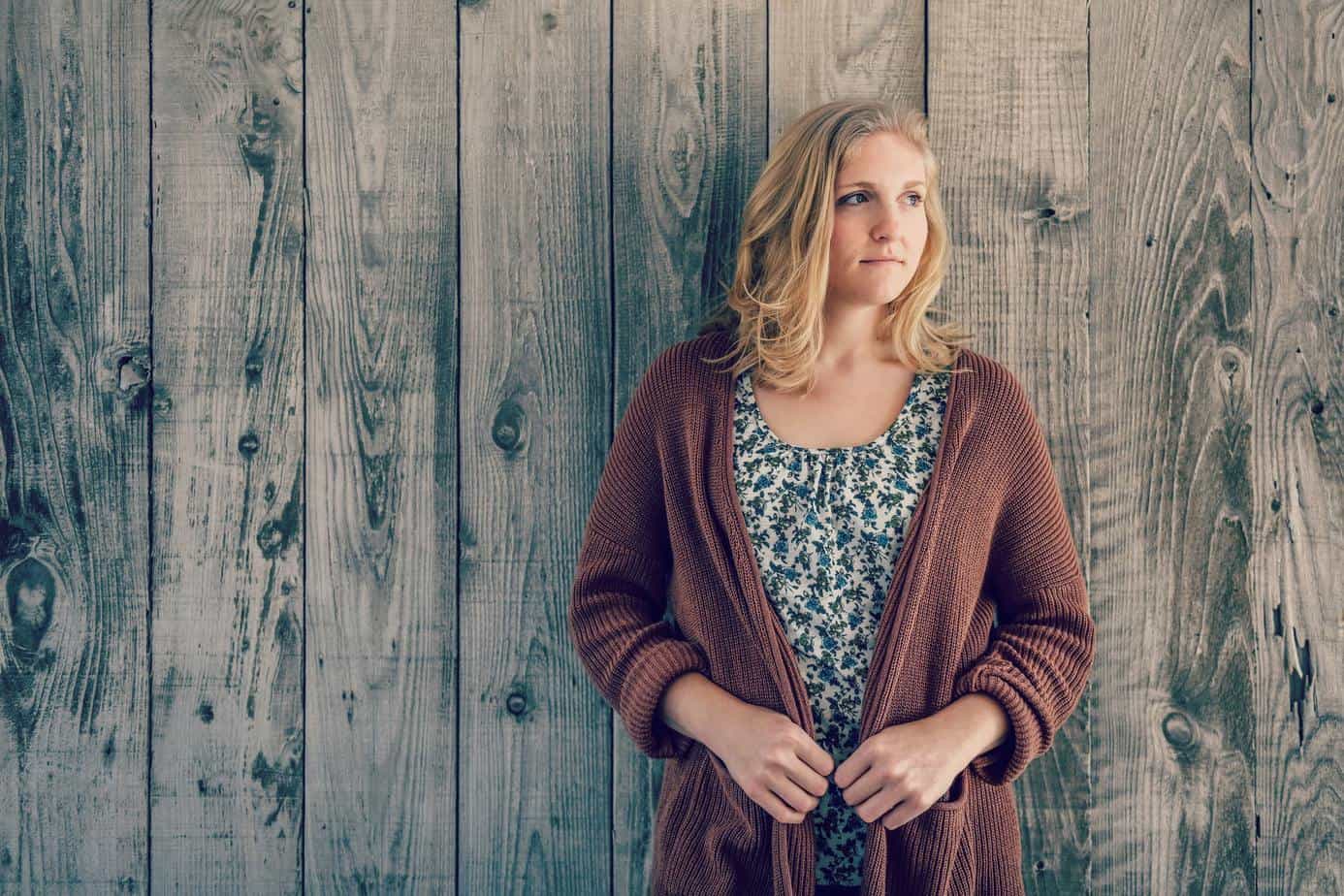 Where to Shop for Long Cardigans
Now that you know you need a long cardigan and feel inspired to use some of the ideas here to style it to fit your body, wardrobe, and style, where do you find them? Since they're pretty much always in style during the cooler months, they're relatively easy to find. Shop here:
Amazon
Banana Republic
SHEIN
Kohl's
Land's End
Old Navy
Express
Thrift stores
Macy's
Target
Walmart
Forever21
Belk
Nordstrom (or Nordstrom Rack)
Venus
Soft Surroundings
Really, anywhere women's clothing is sold will probably have at least one or two options to choose from.
FAQs
If you still need help finding long cardigan ideas and inspiration, maybe some of the most frequently asked questions will help:
Question: What do Long Cardigans Look Good With?
Answer: Jeans and t-shirts (fitted, not baggy), bodysuits with fitted jeans, dresses (around knee-length), button-ups with slacks, skirts or leggings and tops–anything, really. As far as accessories go, try long or layered necklaces, scarves, boots/booties, flats, sneakers, hobo style purses or small structured bags, and belts.
Question: Are Long Cardigans Fashionable?
Answer: Yes, they are, and they're quite versatile!
Question: Do Cardigans Make you Look Old?
Answer: No, not at all. Long cardigans are especially good at looking young and in style, especially when worn with a t-shirt, leggings, and boots.
Question: Can you Wear a Cardigan With a Dress?
Answer: Yes, it's cute! If it feels like too much material and you don't want your shape to get lost in all of it, consider a belt around your waist, either wrapped around the dress alone or over the cardigan, too. If you're wearing a dress that hits around knee-length, it's best to make sure your cardigan is a few inches longer.
Question: Can you Wear a Cardigan With Leggings?
Answer: A long cardigan, yes. Still make sure your leggings aren't too sheer when you move or bend over, though, to avoid any mishaps.
Conclusion: Using Long Cardigan Ideas as Inspiration for Your Own Look
Use the cardigan styling tips and photos above to determine your best way to wear a long cardigan. Is your style more casual and laidback, or do you want something sophisticated and chic? Is coziness what matters most, or aesthetics?
Long cardigans look good on just about everyone since there are so many styles, knits, and lengths (even within what are considered "long" cardigans) to choose from. The secrets are choosing the right style for your body type and then styling it to make it truly fit your body and the look you're going for.
I personally love a belted wrap style in a medium-chunky knit because you can wear it open or tie it up for extra warmth and waist definition. The cocoon style is a close second.