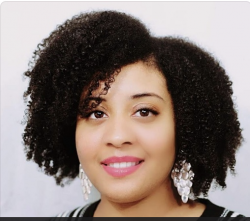 Latest posts by Candis Pope
(see all)
Are you on the hunt for some of the best Teddy jackets on the market? If you are, I have an incredible list for you. Whether you are new to wearing Teddy jackets or they're your favorite wardrobe piece, you can never go wrong with getting a little advice. 
In the content below, I've put together an extensive breakdown of how to style Teddy jackets, and I've included some of my favorite pieces. When the fall and winter months roll around, you don't have to ball up inside of frumpy coats and lose your sense of style. Teddy jackets are super sophisticated, and you can wear them in a variety of ways. So, are you ready to get into this? I hope so! Just keep reading.
A Teddy Jacket vs. a Regular Jacket: What's the Difference?
You may be asking yourself, "What's a Teddy jacket, and how does it differ from a regular jacket"? Well, much like the name, a Teddy jacket puts you in the mind of a teddy bear. It's a fluffy version of a coat that provides a cushioned layer of warmth. It's like soft fur and it feels like a cozy blanket. You can also liken it to a bathrobe. 
When you want to feel soft and snuggly, a Teddy jacket is the coat to grab. On the other hand, traditional jackets are made from a variety of fabrics, and they incorporate various designs. Of course, not all conventional jackets are going to have a soft, bear-like fabric. Some of them are very sleek—like a leather jacket— and others are soft and plush. For the most part, jackets are made from materials like wool, nylon, flannel, cotton, cashmere, and faux fur.
Essentially, both options will keep you warm in the winter. However, Teddy jackets add an extra layer of warmth and softness. They also look different because they're not the traditional design of regular jackets. So, I guess you can say they're also a fashion statement.
What Are Teddy Jackets Made Of?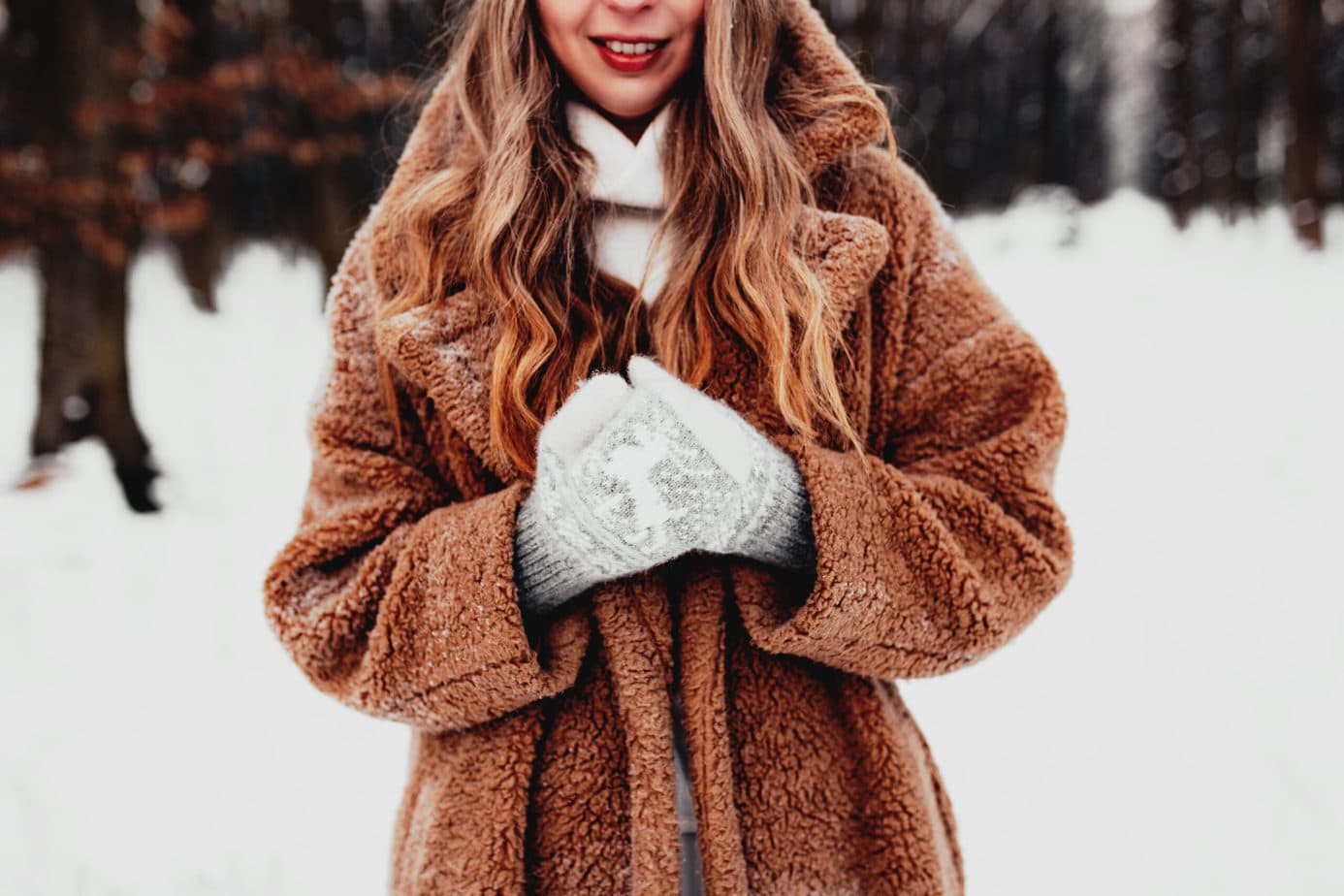 Okay, so of course you've noticed the fluffy, cozy fabric of Teddy jackets. The next obvious question is, "What are they made of"? Well, they're made from a variety of fabrics. The fabric must be soft and thick for it to be considered a "Teddy" jacket. But in most cases, it's made either from faux fur, Sherpa, or shearling. It may even be made from natural furs that are sheared from beavers or rabbits. The design for Teddy jacket fabric is dense and approximately 1/2 to 3/4 inches thick.
My Favorite Teddy Jackets
Ok, so now we've made it to the good part. Below, I have a list of my most favorite Teddy jackets and coats. Check them out:
Shearling Coat by Coach
This coat is absolutely stunning. It comes in a mint green color, and it's such a classic design. There's fur around the collar, which gives it more of a sophisticated look. However, it's a bit pricey, and you can expect to pay about $1,000 for it. After all, it is a Coach jacket.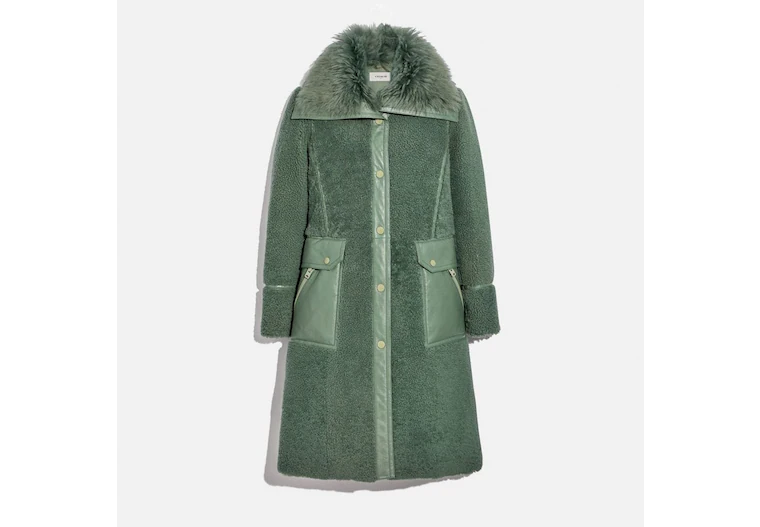 Pros
Made from 100% lamb shearling

Includes pockets

Long length for extra warmth
Cons
Only available in green

Expensive

Difficult to buy (It's a popular item)
Sandy Liang Quilt Fleece Jacket
So, this Teddy jacket is completely out of the box. It has a patchwork style that's reminiscent of fall. When you're in the mood to be daring, this is the piece to wear. It's not your average Teddy jacket, and that's what I love about it. The price is approximately $675.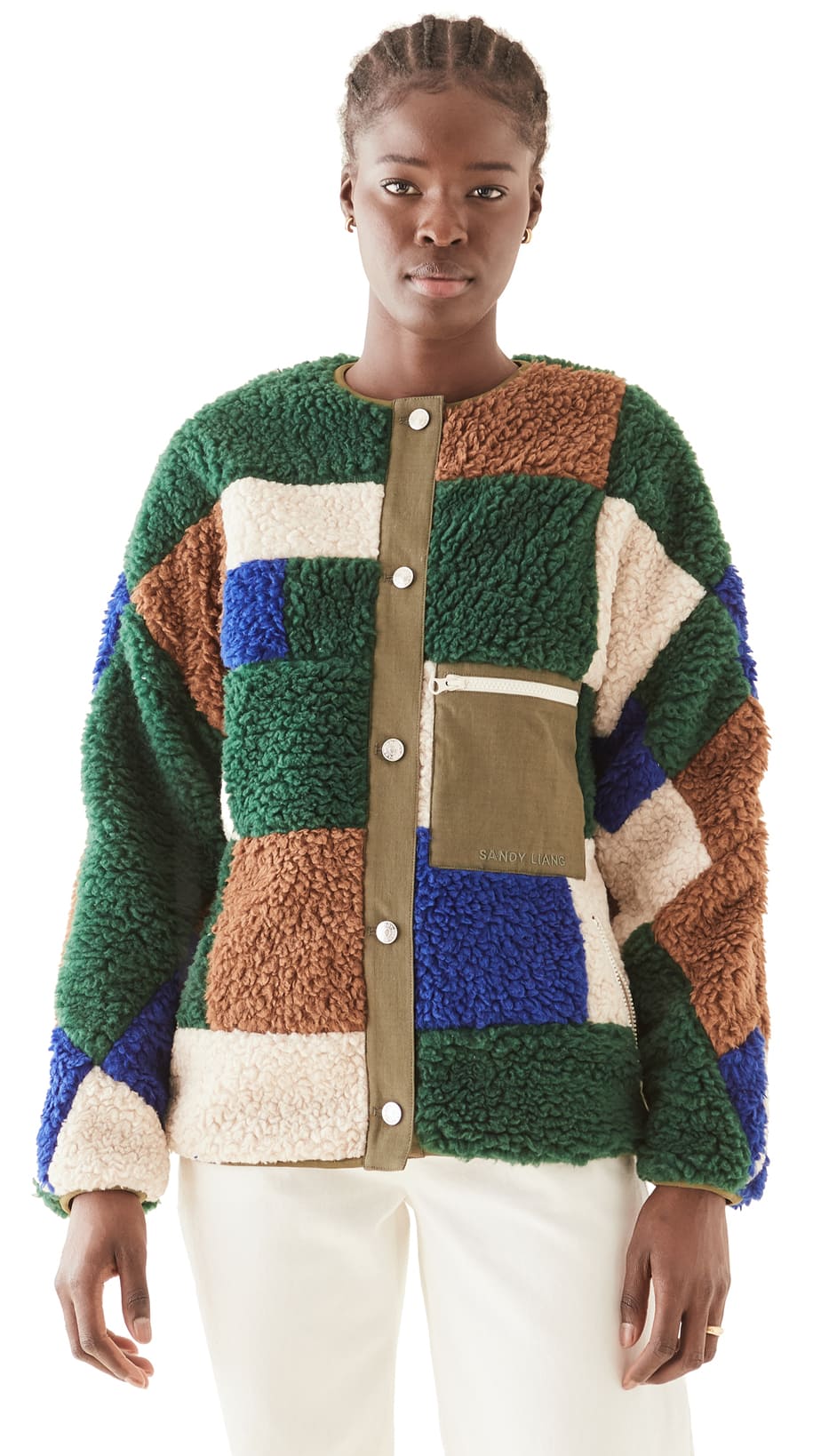 Pros
Unique design

Made with soft fleece material
Cons
A bit pricey

Hard to get your hands on (This is also a popular item)
Women's Mountain Pile Fleece Coat by LL Bean
This Teddy jacket is all about warmth. When you're not concerned about fashion, this is the coat to wear. It's extra-long, so your bottom and upper legs will feel warmth, and it comes with a hood. The front is embroidered with a zipper, so you'll be completely wrapped and the coziness of this jacket. If a bit more affordable and costs about $150.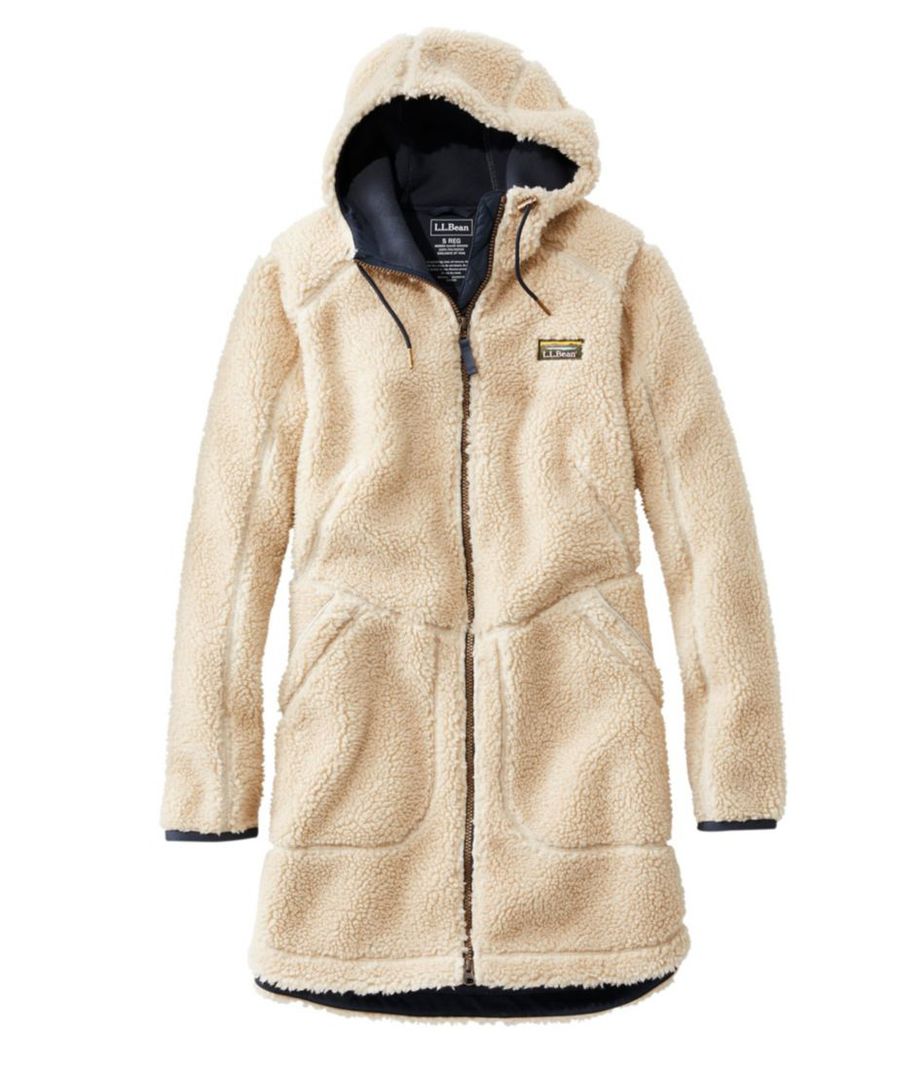 Pros
Includes a hood

Available in more than one color

Long for extra warmth
Cons
Not very stylish

Affordable

Size options stop at XL
Selby Oversized Double-Breasted Teddy Coat by Burberry
This teddy coat is nice! It's all white and super long. It has such a sophisticated look. It's embellished with beautiful buttons on the front and an impressive collar design. The price for this coat is roughly $737.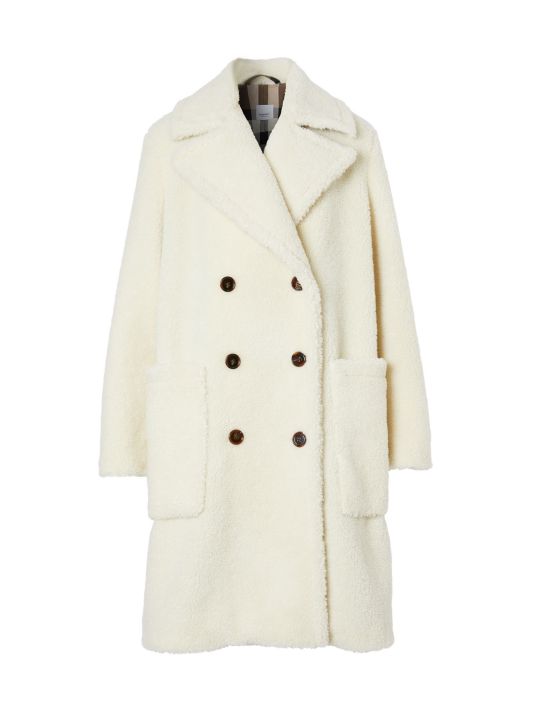 Pros
Stylish design

Includes pockets

Long for extra warm
Cons
Available in limited sizes

Only available in one color

A bit pricey
BB Dakota Teddy Jacket
This cropped jacket is so cute. It goes well with jeans or leggings and completes the perfect casual look. It's sophisticated, yet edgy at the same time. You can expect to pay about $45 for it.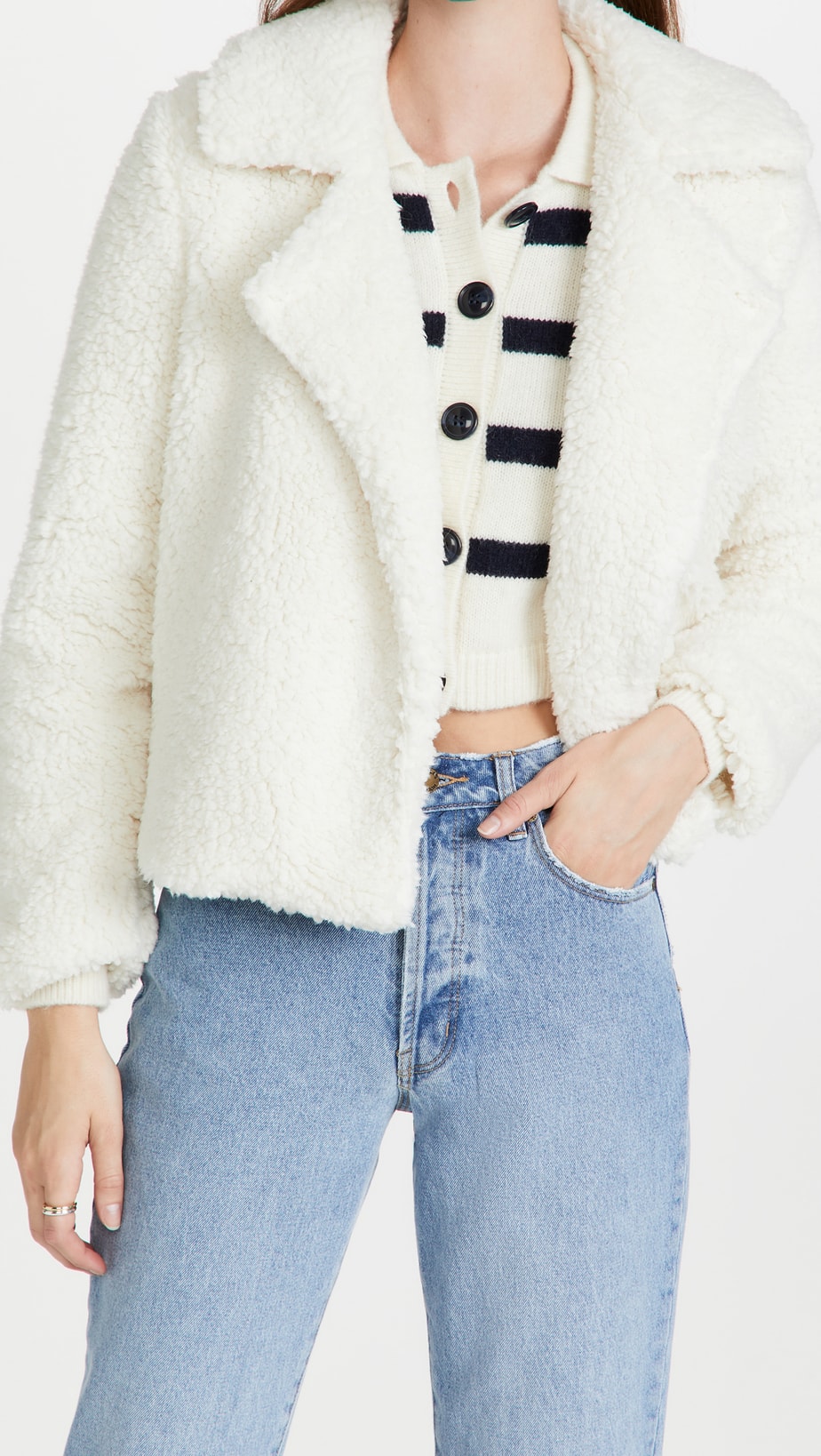 Pros
Cons
Ellos Women's Plus Size Teddy Coat
If you are a full-figured woman, you can enjoy the style of Teddy jackets. This particular coat is so cute and cozy, it'll look great with any outfit. You can find it on Amazon for about $95.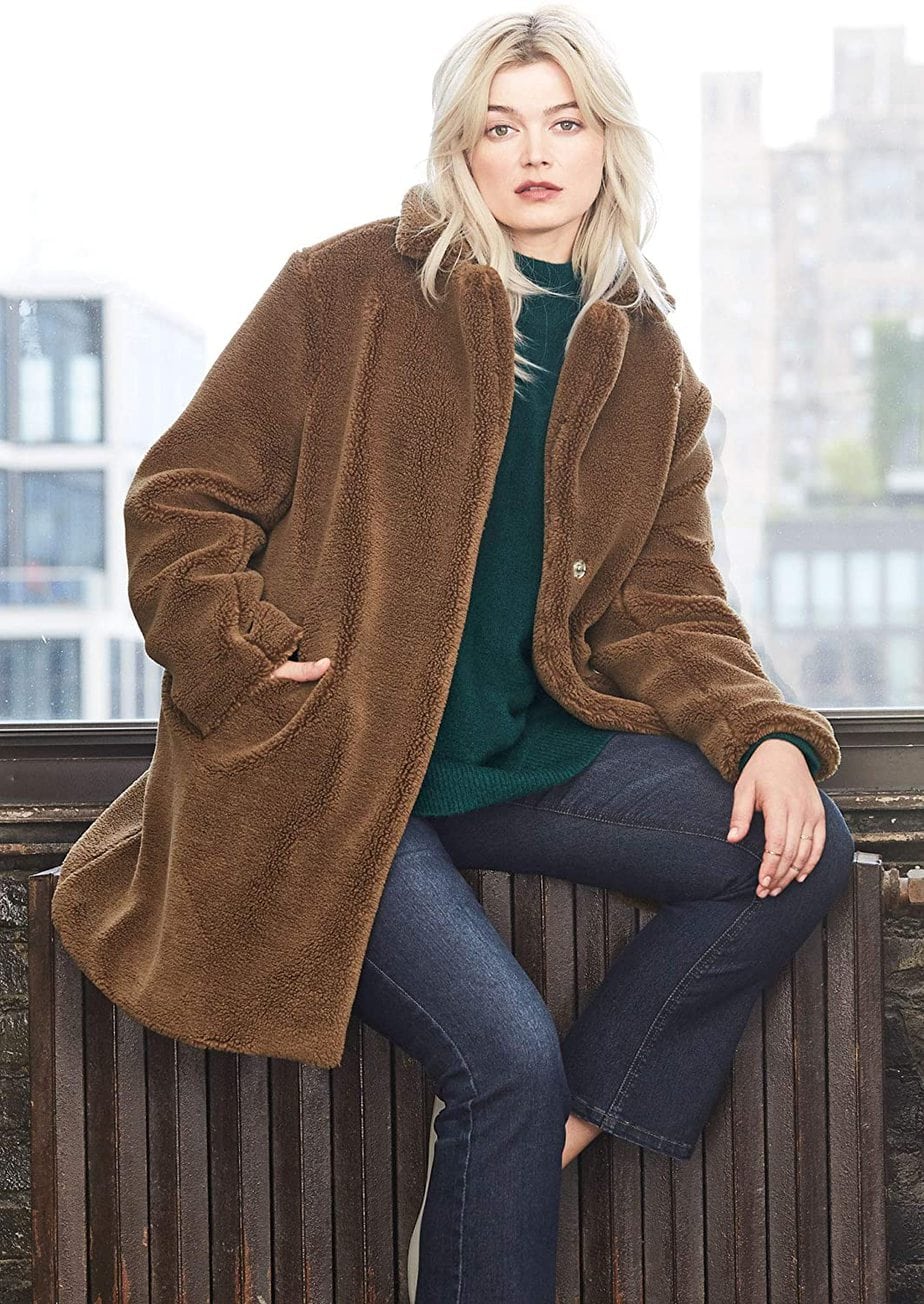 Pros
Available in plus sizes

Comes in more than one color

Made with sauce faux fur
Cons
How to Style Teddy Jackets
Well, Teddy jackets are just that… jackets. There's no specific way to style them. You simply put them over your clothing, and that's it. But I get it, you're a fashionista, so you have to find the best ways to pull together your ensemble. With that said, here are some of the ways that you can style Teddy jackets:
Over Business Casual Clothing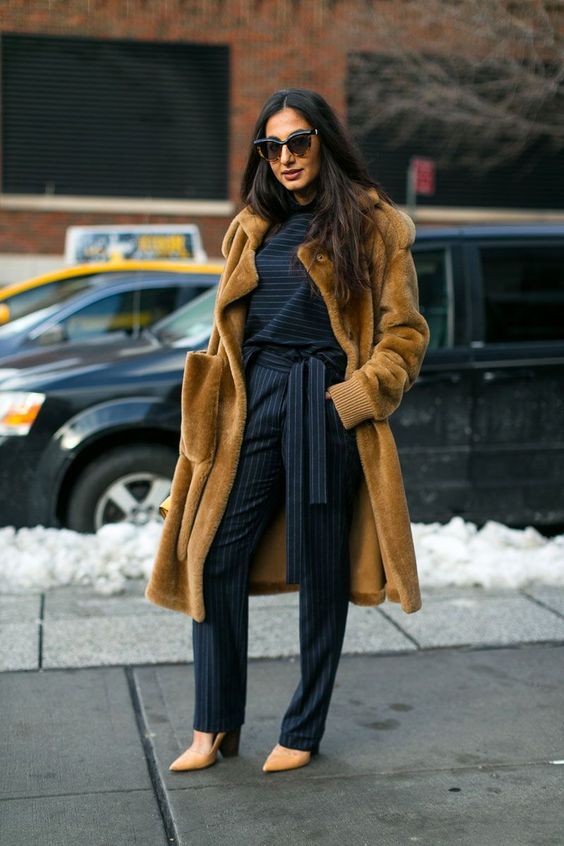 You may have seen high fashion magazines that showcased Teddy jackets. Many of them come in trenchcoat-style designs. That makes them perfect to pair with business attire. Imagine a burgundy pantsuit and heels with a tan-colored Teddy jacket over the top. You can even pair it with a pencil skirt, high-heeled boots, and a long-sleeved blouse. Trust me, it'll look good.
With Jeans and Sweats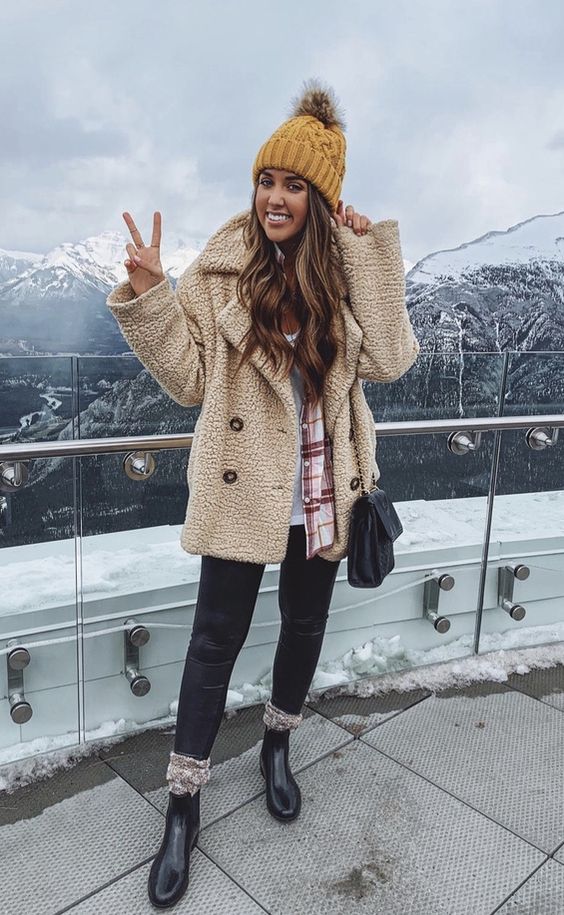 Believe it or not, not all Teddy jackets have a high fashion look. There are some that are designed to look like sweatshirts. They're perfect for those casual days when you want the feel of a teddy jacket, minus the intricate design. Therefore, you can pair it with jeans, sweatpants, or leggings. Sweatshirt Teddy jackets are ideal for running errands during the fall, or for those autumn mornings when need extra warmth while heading to yoga class.
With Button-Down Shirts
You can wear your teddy jacket closed with the buttons or zippers all the way up— especially when it's cold outside. However, there may be times when you'll want to wear your jacket as a fashion piece. If that's the case, I suggest wearing it open and pairing it with a beautiful shirt. It can be an elaborate dress shirt or a buttoned-down blouse. The goal is to accentuate your shirt while also receiving warmth from your jacket. By pairing the two together, you'll get the best of both worlds.
Frequently Asked Questions About Teddy Jackets
Now that you know a lot more about Teddy jackets, you may have a few curious questions about them. Check out the frequently asked questions section below to hopefully find your answers:
Question: Are All Teddy Jackets Expensive Runway Pieces?
Answer: Not at all. Although the teddy jacket first gained popularity on the runways, it has since become a diverse fashion piece. You can buy a Teddy jacket in almost any retail store. Not only that, you don't have to spend a large amount of money on it. 

There are affordable versions that you can buy from stores like H&M, and it won't break the bank. Trust me, you can look good on a budget.
Question: Can I Wear a Teddy Jacket Anywhere?
Answer: Of course! You don't have to limit Teddy jackets to a specific place or occasion. They're made to accommodate a variety of events—even if you're enjoying a casual day out on the town. As long as you can piece your teddy jacket together so that it looks nice, I say wear it anywhere you'd like.
Question: Are Expensive Teddy Jackets Worth the Price?
Answer: I think so. When you buy an expensively priced Teddy jacket, you're primarily paying for the quality. In most cases, if you see a high-cost Teddy jacket, it's because of the retailer that's selling it. Stores like Neiman Marcus and Coach will have higher prices. But of course, you get what you pay for. The fabric and the quality of jackets from high-end retailers will always be worth the price. You can expect to wear those pieces for many years. On the other hand, you don't have to shell out a lot of money for a Teddy jacket. There are plenty of retailers who sell them for an affordable price, and they're just as comfy and cute.
Question: Are There Any Colorful Teddy Jackets?
Answer: There are some out there, but honestly, they're rare. In most cases, you'll find an abundance of mild-colored Teddy jackets. Since jackets are primarily made for the fall and winter months, the color scheme usually follows the mild spectrum. You can expect to find numerous brown, tan, light blue, black, and gray teddy jackets. If you look hard enough, you can find a few that come in bold colors.
Question: Are All Teddy Jackets Made With Real Fur?
Answer: No, they're not. Many Teddy jackets are made with faux fur. If you are someone who doesn't like the idea of wearing fur, don't worry. You can enjoy the Teddy jacket style without compromising your morals.
Question: Where Can I Buy a Teddy Jacket?
Answer: You can find them anywhere. Several retailers sell them. You'll find them at high-end stores like Neiman Marcus and more affordable retailers like H&M and Old Navy. However, if you don't have any luck finding them in the physical stores, check online. You'll have a greater chance of locating the exact jacket that you want if you order it online. You can even purchase them on Amazon.
Question: Why Should I Choose a Teddy Jacket Over a Regular One?
Answer: Well, because Teddy jackets look different. Although there are standard jackets with fur or bear-like lining, they're not the same. Teddy jackets have a unique look. Not only that, but they're soft and warm. Have you ever put on a leather jacket during the cold months? Chances are, it didn't feel too comfortable. Teddy jackets are made to make you feel good and look good.

But as a person who loves fashion, you need more than one style of jacket in your wardrobe. A Teddy jacket should just be one element of a variety of styles that you own.
Question: Are Teddy Jackets Made for Every Body Type?
Answer: It's natural to feel apprehensive about wearing a Teddy jacket if you don't have a slender build. Of course, they're bulky and puffy, which could throw off the look if you are broad in the shoulders, large-chested, or plus-sized.

My advice would be to try on a few different designs of Teddy jackets to see how they feel and how they look on you. If you're concerned about looking too bulky, then opt for a black Teddy jacket, so that you can get a sleeker look.
My Closing Thoughts on Teddy Jackets
Overall, you cannot go wrong with owning a Teddy jacket. Yes, it's a different type of style that you may not be accustomed to, but that's all the more reason to buy one. Let's not forget that they are super comfy and warm. 
Anytime you can blend comfort and high fashion in one piece, you're winning. If you're on the fence about buying a teddy jacket, I suggest that you go for it!
Recommended reads: