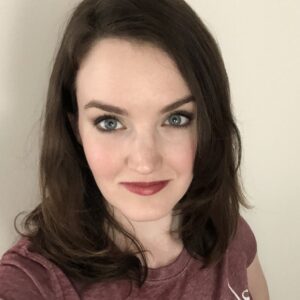 Latest posts by Crystal Schwanke
(see all)
Skater dress picks and ideas are perfect when you only have a vague image in your mind of what you want your flirty, fun dress to look like. You can get ideas from stores, magazines, and social media. Here are some of the cutest ones I've found, and hopefully, they will help you track down just the look you're going for.
What Is a Skater Dress?
At the core: It's a dress with a fitted top and a flared skirt that stops at or above the knees. A lot of styles are on the shorter end of the spectrum, though.
The top can have long sleeves, short sleeves, half-sleeves three-quarter sleeves, straps, one sleeve, etc., and they can have any type of neckline–the sky's the limit as long as they have the fitted top and flared short skirt.
Styles range from completely casual to dressy enough to wear to a wedding, and you'll see them in all types of materials.
You may sometimes see skater dresses referred to as fit and flare dresses. They're also similar to A-line dresses.
Why Do They Call It a Skater Dress?
These dresses were inspired by figure skaters' outfits, which also have a fitted bodice and flared short skirts.
Skater Dress Picks and Ideas for Inspiration
A picture is worth a thousand words, so instead of just telling you all about skater dress picks and ideas, I'll show you as much as I can, too.
You can pair a ruffled skater dress that doesn't look all that casual on its own with a pair of sneakers, to give yourself more opportunities to wear it as seen here:
Don't be afraid to dress it up with sandals and wear it out during the day, either, though. Who says it has to be casual? Here's a perfect example:
You could even take it a bit further and dress it up even more with delicate jewelry, a pair of heels, and a sparkling clutch for an evening out or special event. Here's an example of a glamorous skater dress:
Here's one more example of a skater dress you could wear out to an evening event, even with minimal jewelry (it shimmers enough on its own, so you won't need much!):
I don't know about you, but I usually think of skater dresses as mostly spring and summer fashion options, but pairing it up with dark tights and ankle boots will give you more options, you could even toss a light corduroy or jean jacket on top as seen here:
Here's another example (complete with a jacket, in this case) of how to wear a skater dress in the fall. Don't be afraid to pair high heels with it!
How to Wear a Skater Dress
Skater dresses are especially fun to wear and accessorize because they can be dressed up or down, plus they're available in so many colors and fabrics, which opens up even more opportunities.
Pros and Cons of Skater Dresses
There's a lot to love about skater dresses, but they're not the perfect silhouette for everyone all the time. Let's analyze the pros and cons for a second so you can decide if this is the type of dress you need to stock your closet with:
Pros
So versatile and can be dressed up or down, worn with almost anything (even jeans)
Available at most price points
Flattering on most figures, but especially nice on hourglass shapes
Can be worn all year by adding leggings and/or a jacket or cardigan in the fall and winter and skipping those items in the spring and fall
The tops on skater dresses come in enough styles to be flattering for anyone, regardless of what sleeve length or neckline they prefer.
Cons
Some skirts may be too short for comfort if you're tall with long legs and on the go, going from sitting to standing a lot, or you need to bend down or squat down a lot through the day. That said, some skater dresses do have skirts that go almost to the knee.
Where to Buy Skater Dresses
You can find skater dresses almost anywhere dresses are sold, but especially in the juniors' section if you're in a department store that has one of those. Here are a few examples:
Windsor
Windsor has an exceptional collection of skater dresses to offer. It's shocking, really, how many they have compared to most other stores. Here are just a few to consider, but seriously, go look at the whole collection.
It's not every day that you see elegant mesh and a mock turtleneck style paired up with a short and flirty tiered skirt, but here it is, in black.
Pros
Elegant
Inexpensive
Shows off gorgeous shoulders
Cons
It'll probably be hard to dress this one down, so it's not especially versatile
Only available in sizes XS to L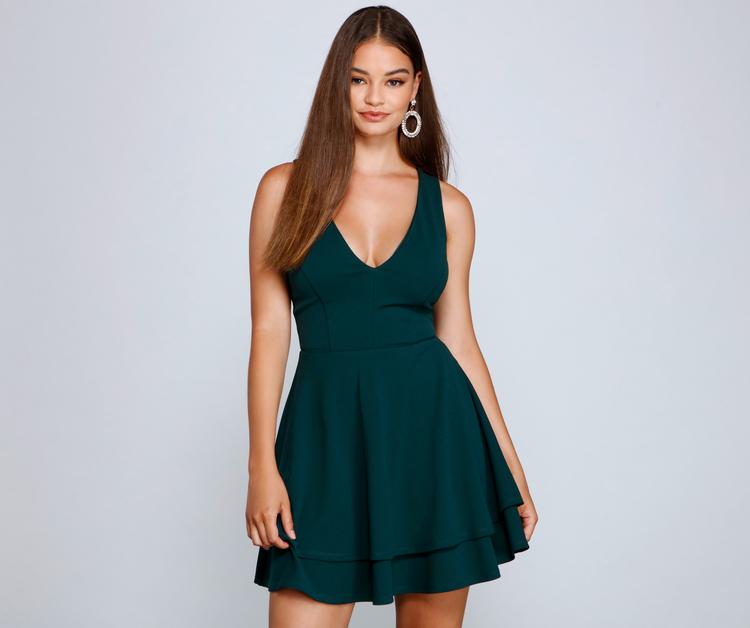 Here's another beautiful skater dress option, this time in a stunning deep teal shade, with a deep V-neckline.
Pros
Padding, so you may be able to comfortably go braless
A bit more versatile than the previous style
The color makes it especially nice for evening events and cooler months
Cons
It's only available in one color
Some people may prefer not to have the padding in the dress
Sizing is limited to XS to L
ASOS
Leave it to ASOS to have cute, trendy styles you'll want to wear. Skater dresses are no exception.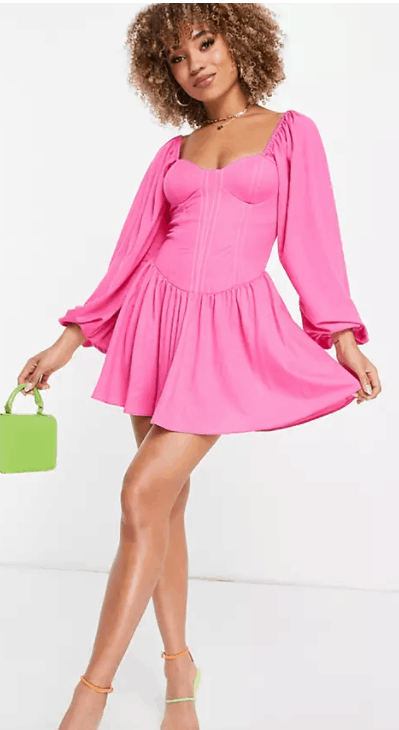 There's a lot going on with this dress and it'll get people's attention for sure, so wear it with confidence! The top is giving me Ren Faire vibes, but the flared, short skirt keeps it from veering too far in that direction. What we're left with is a unique, vibrant dress that'll turn heads.
Pros
Unique
Beautiful shade of pink
Arm coverage, which some people may love but have a hard time finding in skater dresses
Cons
It can be dressed up or down but may not be right for as many occasions as some simpler styles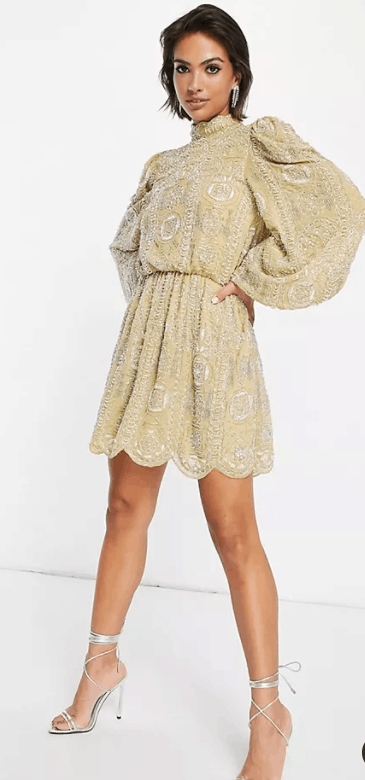 Here's another skater dress with sleeves, so if that's what you're looking for, you may have hit the jackpot with the ASOS collection. This one is an attention-grabber, but it doesn't come across as especially trendy, so you may be able to wear it year after year.
Pros
Gorgeous beading
The open back with the high neck and volume sleeves give it a 1960s vibe
Cons
Expensive, at over $200.00
Not especially versatile (it's fancy!)
Dry clean only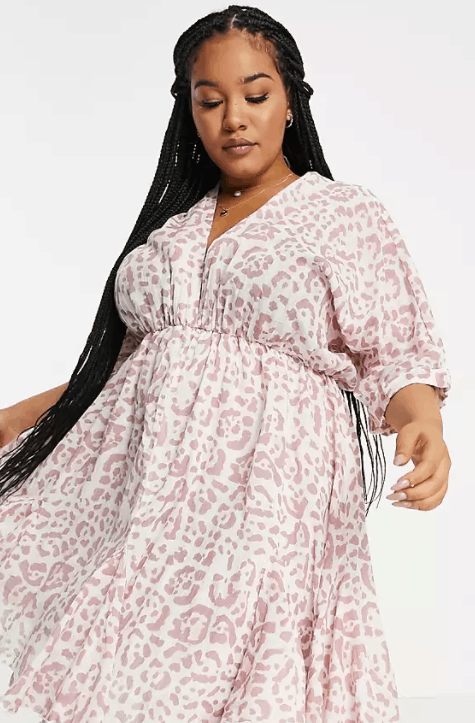 Love leopard and cheetah print? This could be your dress. It's done in softer tones than the traditional golden background with black spots; it's a white/cream background with blush/mauve spots. That'll make it easier to accessorize and wear in different settings.
Pros
Soft neutral tones, overall, even though there's animal print involved
This style is available in sizes zero to 26 (here is the size 0 to 12 listing of the dress)
Flattering V-neckline
Cons
Light colors may make it feel more like a spring/summer dress than something you'd wear year-round
Some reviewers don't like the lightweight material
Macy's
Macy's is good at having trendy, flirty dresses available, no matter what the occasion. In most cases, here, they're considered Juniors', so if you go to look in the store, be sure to check there.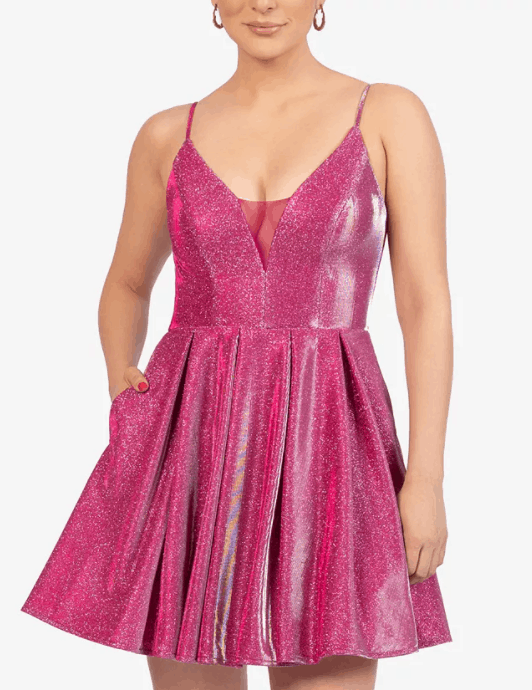 For the girl who wants to look as glam as possible for a dance or other special event, this could be the perfect dress.
Pros
Fun fabric that shimmers in the light
Beautiful colors available (peri/blue, rose, seafoam/silver, and magenta/berry)
Not a bad size range, from 0 to 15/16
Cons
A little expensive at just under $80.00, but not unreasonable
Not that versatile, so it may only be worn once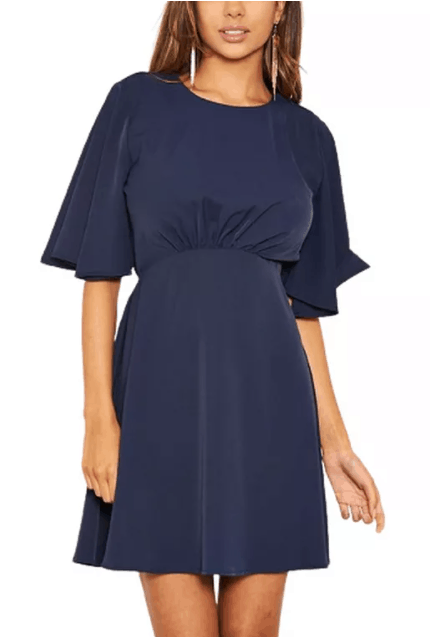 This is an understated style for a skater dress, and perfectly appropriate for more serious situations and could even be workwear. It comes in navy, so the color helps keep it versatile.
Pros
Inexpensive
Navy blue looks good on a lot of different skin tones
Versatile enough to be dressed up or down and go almost anywhere
Cons
Not the best size range (4 to 14)
It may be a little short for work on some people
Amazon
What would a shopping guide be without Amazon on it? You can find inexpensive skater dresses at a range of price points. Here are just a few I found: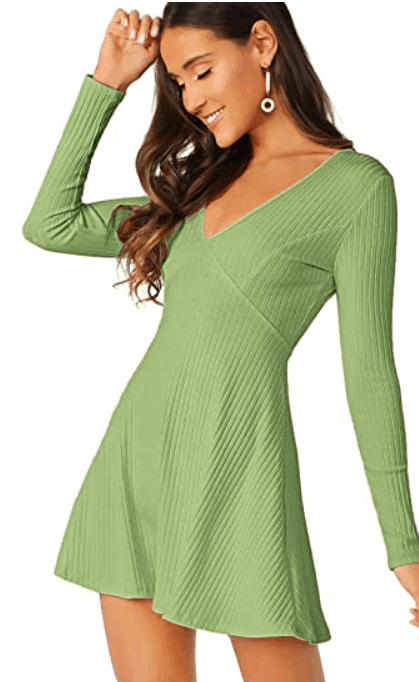 What I love about this dress is that it comes in so many colors. I also like the fitted sleeves paired with the flared skirt because of its classic silhouette.
Pros
It comes in 13 colors
Inexpensive
Flattering V-neckline
Cons
Only available in XS to XL
It looks like it could be pretty short on some frames
Some reviewers report that the dress runs very small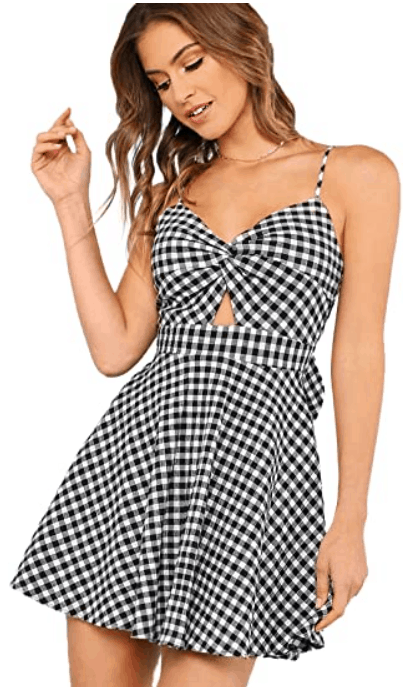 If there ever were a skater dress to be the epitome of spring and summer, it's this one. The gingham (in addition to other prints), the tiny sliver of exposed skin just above the waistband, the spaghetti straps, and the short, flared skirt all just scream that the weather is warm and it's time to escape the day-to-day responsibilities.
Pros
It comes in 17 colors and patterns
Inexpensive
Available in X-Small to XX-Large
A youthful, fun design that can be dressed up or down
Cons
It won't be appropriate in as many situations as some of the other options
Some reviewers did not like the fabric and felt the dress was poorly made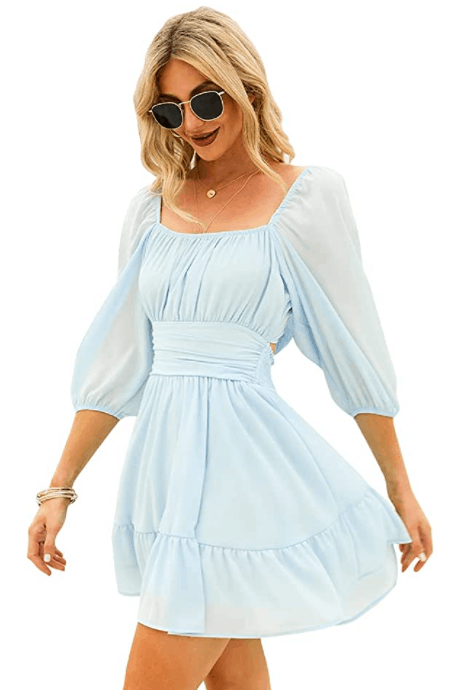 As the name suggests, this dress has a vintage vibe, between the flowing, lightweight fabric, ruched bust, tie in the back, and square neckline, and half-sleeves with a little bit of volume.
Pros
The vintage vibe of it is adorable
It comes in 11 colors
It can be worn with a square neckline or off the shoulders
Casual, but could be dressed up
Inexpensive
Cons
Much too short for some reviewers
Though most of the reviews were positive, a lot of reviewers complained about the fit in the shoulders and say that the dress was poorly sewn together
FAQs
Are you still wondering if the skater dress style is right for you? Here are a few of the questions people frequently ask regarding the style, how and where to wear it, and who it looks best on.
Question: What Goes with a Skater Dress?
Answer: That'll really depend on the fabric and overall style of your skater dress, though in general, you can put these with a skater dress: leggings, skinny jeans, sandals (with or without heels), casual sneakers, tights, ankle boots, lightweight jacket, and/or a cardigan.
Question: What Body Shape do Skater Dresses Suit?
Answer: The best and most obvious match is the hourglass shape because of the way the dress dips in at the waist and the flares right back out again.
However, almost any body type can pull these off, especially pear shapes, who may prefer not to have anything too fitted across their lower half.
Skater dresses can add the illusion of curves to a rectangle shape, too.
Petites also look cute in skater dresses because the hemlines are typically high enough not to make them look shorter.
Question: Can you Wear a Skater Dress with Jeans?
Answer: Wearing a dress with jeans is a trend that's re-emerging lately, so yes, embrace it! Pair skinny jeans with your skater dress for a balanced effect.
A too-wide/loose pair of jeans will compete with the dress for attention and probably make your outfit look like there's too much material, too much going on, and maybe even look a little sloppy.
Question: Can you Wear a Skater Dress to a Wedding?
Answer: Yes, some of the examples above show just how glamorous a skater dress can be. Keep the accessories understated and let the dress stand out.
Question: Can you Wear Leggings with a Skater Dress?
Answer: Of course! The skater dress looks fabulous with leggings, and because you can get laidback, casual skater dress styles, you can have fun pairing leggings of all colors and patterns with your dress, too. Leggings will help you enjoy your leggings year-round and give you a little extra coverage if you're not always comfortable wearing a shorter skirt.
Further Reads: