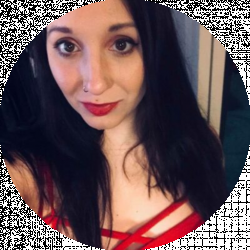 Latest posts by Stephanie Jensen
(see all)
Now that fall is here, it's time to take out your warm clothes! But what are the latest fall trends? Cropped sweaters are one of the biggest trends we'll see right now. Crop tops, in general, are a big trend, especially with the high-waist jeans and pants trend that we see everywhere.
Don't worry, you don't have to stop wearing crop tops when the summer is over. Cropped sweaters are here to stay! But how do you wear a cropped sweater? Here are some of our favorite cropped sweater outfits, as well as some style advice.
Advice When Wearing a Cropped Sweater
Before we get to some fashion ideas, let's cover some basic advice when wearing a cropped sweater.
Find a Sweater That Fits You
Cropped tops, in addition to cropped sweaters, are sexy. But the issue with the crop top trend is they fit all body types differently. For example, crop tops may make somebody types look bigger around the top, such as the apple figure.
Does that mean you should avoid crop sweaters? Absolutely not. Just try and find one that accentuates your figure. Black is a universal color that looks amazing on everyone. Thinner materials won't make you look as wide. In addition, match your sweater with bottoms that do an equally good job at showing off your figure.
Stay Casual
Sweaters are meant to be casual and comfortable. So, keep your cropped sweater style with these best practices in mind. Some of the best looks we found are the ones that are the most simple.  We'll cover later which items look best with a cropped sweater, but you'll be shocked how amazing your favorite pair of high-waist jeans look with a simple cropped sweater.
That doesn't mean your sweater has to be boring. Find a sweater with patterns for more fun.
Accessorize
Even though cropped sweaters are meant to be casual, you can still have some fun and accessorize! If your sweater is small, add a lace bralette underneath. Simple accessories, such as a belt and a fun purse, go a long way.
What to Wear With a Cropped Sweater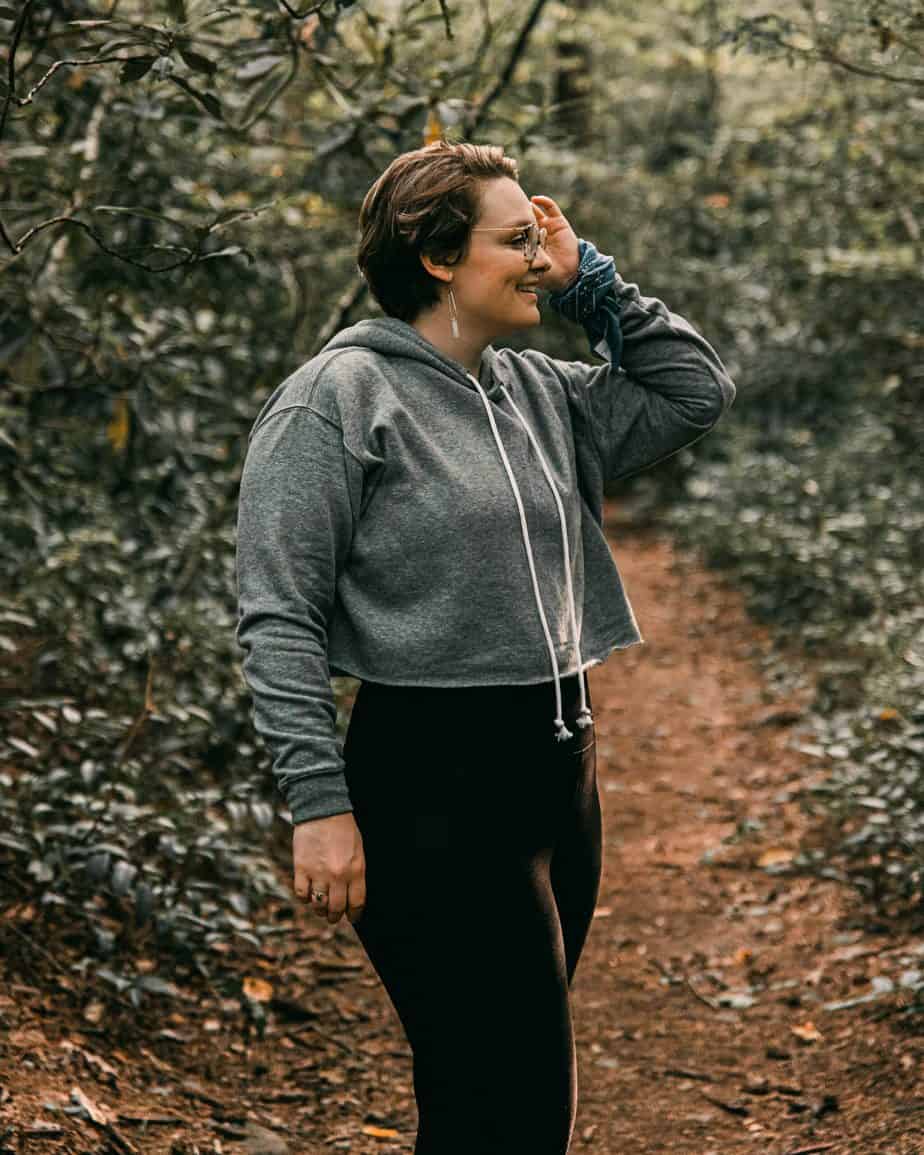 Before we get to the outfit ideas, let's cover what looks best with a cropped sweater.
Both pencil skirts and mini skirts look amazing with a cropped sweater.
Let's first take a look at the pencil skirt. A pencil skirt is an office staple. While a sweater may be too casual for some office settings, most cropped sweaters look amazing with a pencil skirt. Since sweaters are warm and comfortable, they're the best option to wear during those colder days. Pencil skirts also work because they're tight, off-setting the loose-fitting sweater.
For best results, stick to neutral colors. Heels are always an elegant addition that looks even more polished. If your office allows it, wear a patterned pencil skirt for the ultimate eye-catching look.
If you want something more feminine, wear a mini skirt with your cropped sweater. This is also the perfect look if the weather is still warm. A cropped sweater with a mini skirt and flip-flops is the perfect casual day look for the summer. If the weather is cold, wear some tights, add a scarf, and replace the flip flops with boots.
Shorts
Don't want to wear a mini skirt with a cropped sweater? Wear shorts instead! Shorts and a cropped sweater are another great outfit combination for the summer. I personally love the way a cropped sweater looks like denim shorts. The look is very casual but edgy enough to where you can still wear this outfit while out and about.
Skinny Jeans
Jeans are usually the first choice when putting together a cropped sweater outfit. But which sweater is the best choice? Since cropped sweaters have a blocky look, opt for skinny high-waist jeans. This way, your looks will look slim while you're still comfortable.
The high-waist style jeans and cropped sweater will also accentuate your waist, making it look smaller and defining your curves.
Take comfort to the next level by wearing your cropped sweater with high-waist yoga pants or tights. Wear a cropped sweater with your favorite yoga pants and sneakers the next time you need to run errands. All you need to do is kick off those sneakers to sport a chic lazy outfit. You can also turn this outfit into one to wear while out with friends. Switch out those sneakers for heels
Undershirt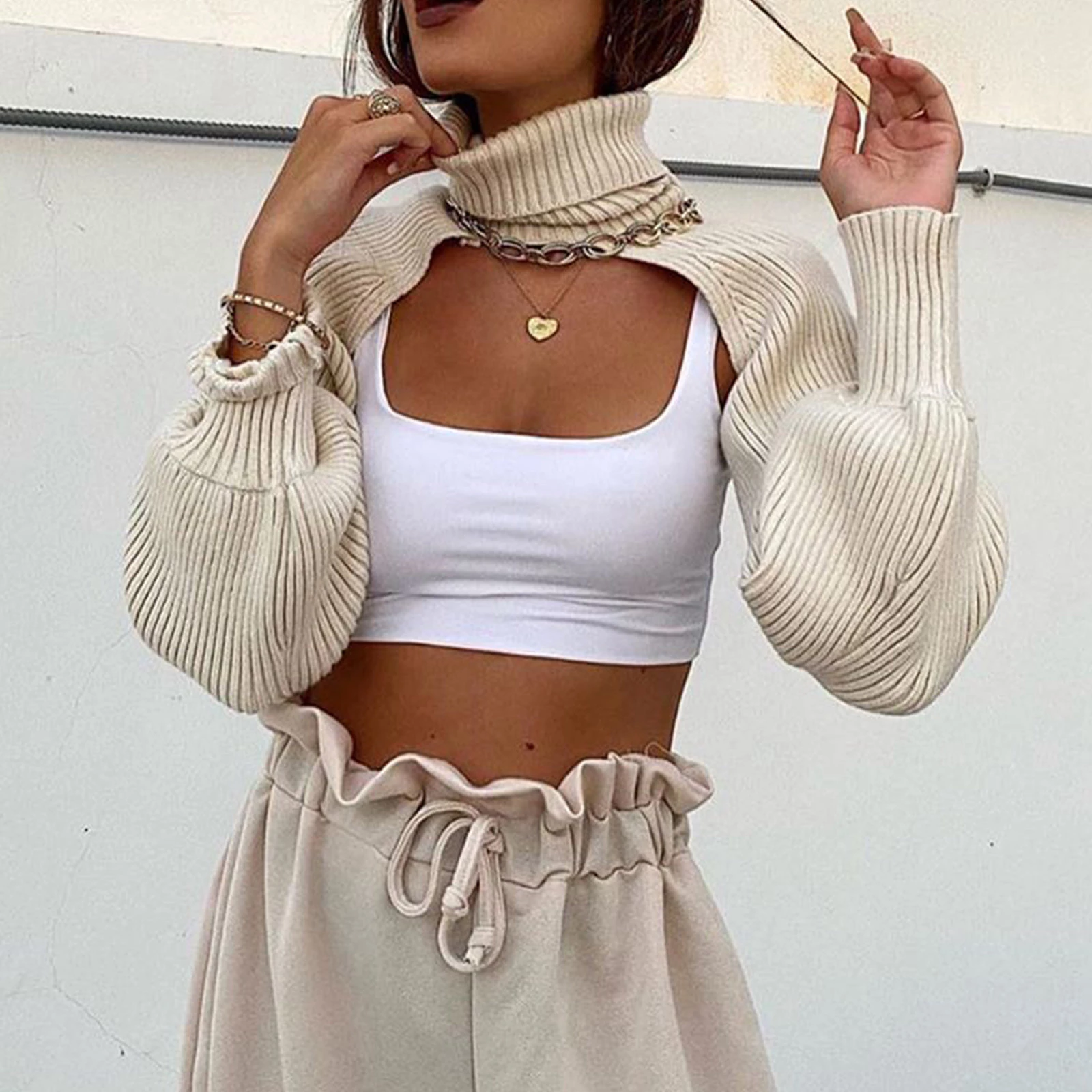 I have a cropped hoodie that I always wear with a tank top underneath. I love this look and wear it often with various types of bottoms.
If you don't feel comfortable showing off your belly, wear a shirt under your cropped sweater. This also adds dimension to your outfit, giving it a more interesting touch. You can also layer your crop sweater over your work shirt so you can still stay warm, even in the office.
Additional Tips When Wearing a Cropped Sweater
Make sure your sweater matches your bottoms
Keep event and occasion in mind when choosing an outfit
Accessorize to keep things interesting. Focus on jewelry and watches
When in doubt, find sweaters in colors that look great on you
You can find cropped sweaters in all styles, so keep that in mind when shopping for one
Our Favorite Cropped Sweater Outfits
Are you ready to look for some cropped sweater inspiration? Here are our favorite cropped sweater looks!
Classic Comfy
@heyemmylou is rocking this outfit after her pregnancy. Because postpartum life can be just as rough as the pregnancy itself, you'll want a super comfy look. Her pre-pregnancy jeans and beige sweater not only look super comfy, but it's a totally chic and effortless look.
Kiwi, Kiwi
Okay, this cropped and crochet kiwi sweater is absolutely adorable. I technically think it's a cardigan, but whatever.
@bairetro pulls it off well with a tank top and shorts. This look proves that you can also take out your favorite cropped sweater for the summer. I just love the overall aesthetic of this look. You can easily inject some of your personality into an outfit as simple as a cropped sweater!
Fitness Chic
Who knew you could exercise in a cropped sweater? @carlie_ferrell looks like she's about to go out on a bike ride or jog during a cool autumn morning. She matches her long-sleeve beige cropped sweater with a pair of gray bike shorts. Even if you don't exercise, an outfit like this is the perfect transition from summer to fall clothes.
Girly and Comfy
Do you want your cropped sweater look to be more feminine? There's only one color you should choose: pink! But it can be hard to find a pink cropped sweater. Instead, do what @gracie.lately is doing and wear pink pants with a beige or white cropped sweater. I also love the unique pattern on her pants.
Cropped Sweater for Summer
This look by @thejennshelton is also the perfect cropped sweater look for summer. She pairs a lightweight white cropped sweater with a black-and-white patterned skirt. She finished the look with white ankle boots and a floppy black hat. With some simple accessories, this is an effortless look that anyone can pull off.
Ready for Fall
@taylordgarrisonn looks ready for fall with this cute outfit! Her gray cropped sweater and ripped black jeans look both stylish and comfortable. Her hair and makeup are also minimal and she's wearing simple accessories, so this is a great outfit when you're spending time with family and friends. Honestly, I kind of wants to steal this outfit.
Fun Cropped Sweater
This look is simple, but it's still too much fun! @jennifertayllor is wearing a coral cropped sweater with jean shorts. With only earrings on and no makeup, she's a totally natural beauty. I would wear something like this when running errands during Florida's fall season (though this looks like a summer outfit in most other places).
Unique Colors
You don't have to choose neutral-colored sweaters. I absolutely love this lovely mint green cropped sweater. @amy_wi11iam5 matches them with her unique white pinstripe trousers for an interesting outfit. Her outfit is polished but still comfortable. It's definitely something you can wear to the office or when you're out with family.
FAQs
Question: What's the Point of Cropped Sweaters?
Answer: Sweaters are supposed to keep you warm, right? So why do people wear cropped sweaters if they don't cover your full stomach? Well, it's mainly for fashion. The sweater will keep your upper body warm, so you can always wear an undershirt if you fear your stomach will get cold. You can also wear high-waist pants and a jacket over the sweater to ensure you stay warm.
Question: Do Cropped Sweaters Look Good?
Answer: I personally love them and think they look adorable! They're perfect for cold days as well as warmer weather. The cropped style is flexible, so you can easily dress them up or down, depending on the weather.

I would also say cropped sweaters look best when paired with the right clothing items. The key is to let the bottoms show off your figure, so match your cropped hoodie with tight pants or short shorts/skirt. In addition, everything should be high-waist to accentuate your curves.
Question: What About Cropped Hoodies?
Answer: Cropped hoodies are similar to cropped sweaters in that they have the hood in the back. Like cropped sweaters, they end at the midriff, giving them a bolder style compared to traditional hoodies. At this point, crop hoodies are a staple, like traditional hoodies. If you love cropped sweaters, definitely get yourself a cropped hoodie!
Question: My Cropped Sweater Is Too Big! What Do I Do?
Answer: Don't return or give away that cropped sweater just yet! I frankly love the oversized cropped sweater look. Pair your cropped sweater with a pair of tight pants, such as high-waist yoga pants. If you still don't like the way it looks, there's nothing wrong with saving your oversized crop sweater for lazy days around the house. Wear it with sweatpants for the ultimate comfy look.
Question: What Looks Best With a Black Cropped Sweater?
Answer: Black cropped sweaters are my life! I personally love wearing them with jeans. You don't have to choose blue jeans — gray and black jeans both look great with black tops. I love ripped jeans because they look edgy. If it's hot outside, I would wear a black cropped sweater with a pair of shorts and funky shoes, such as gladiator sandals.
Question: Do Cropped Sweaters Look Good on Mature People?
Answer: Hey, you do you! If you're in your golden years and want to wear a cropped sweater, by all means, rock one! Technically, if you style it well, you can pull off a cropped hoodie at any age. I read a study where they recommend ditching hoodies at 26. That makes me roll my eyes. Just because you're older than your mid-'20s doesn't mean you shouldn't look stylish.
Question: It's Too Cold for My Cropped Sweater! What Do I Do?
Answer: While sweaters are meant for the colder weather, some weather is just too cold for your favorite cropped sweater. Don't worry; you don't have to ditch it when the weather reaches below freezing. You can always wear a long-sleeve shirt or turtleneck underneath, layer it with a warmer jacket, and you can even wear it with a warmer sweater.
Bottomline
If you're looking for new fall clothes, look no further than the cropped sweater. They're not only stylish but are sexy, accentuating your curves and showing a little bit of midriff.
But many people are confused about how you should style a cropped sweater. Many different clothing items look great with a cropped sweater.
Just focus on keeping things casual but comfortable with jeans, yoga pants, or shorts. If you're going out, sport this outfit with heels and fun accessories. A pencil skirt or high-waist trousers will also look great if you want to wear your cropped sweater to the office. And if you want to look sexy, there's no better choice than the mini skirt.
Further Read: