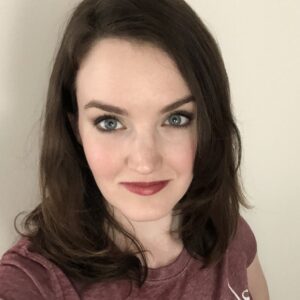 Latest posts by Crystal Schwanke
(see all)
The best A-line dress ideas and picks are some of the most flattering options available for a variety of body shapes. It's really hard to go wrong with an A-line dress, anyway. While they're not perfect for everyone, this silhouette tends to be one of the most flattering on most body types and heights.
While most people will immediately think of the fitted bodice, cinched waist, and flared skirt, not every A-line dress has the same features. What they have in common is an A-shape from the shoulders to the hem. What happens in-between can vary, which is one reason A-line styles are classic and almost universally flattering.
How I Chose the Best A-Line Dress Ideas and Picks
It's both easy and difficult to choose the best A-line dress ideas and picks. The shape itself is flattering on so many body types, you almost can't go wrong. Sure, you can choose a fabric, pattern, or neckline that isn't the most flattering on your shape, but the A-line shape overall? Classic. Timeless.
What I did here was select a variety of fabrics, patterns, additional details, necklines, and sleeve types. Because there's so much variety under the A-line dress umbrella, I tried to choose dresses that represent different types to give you a few ideas on what to look for and what might look most flattering on your body.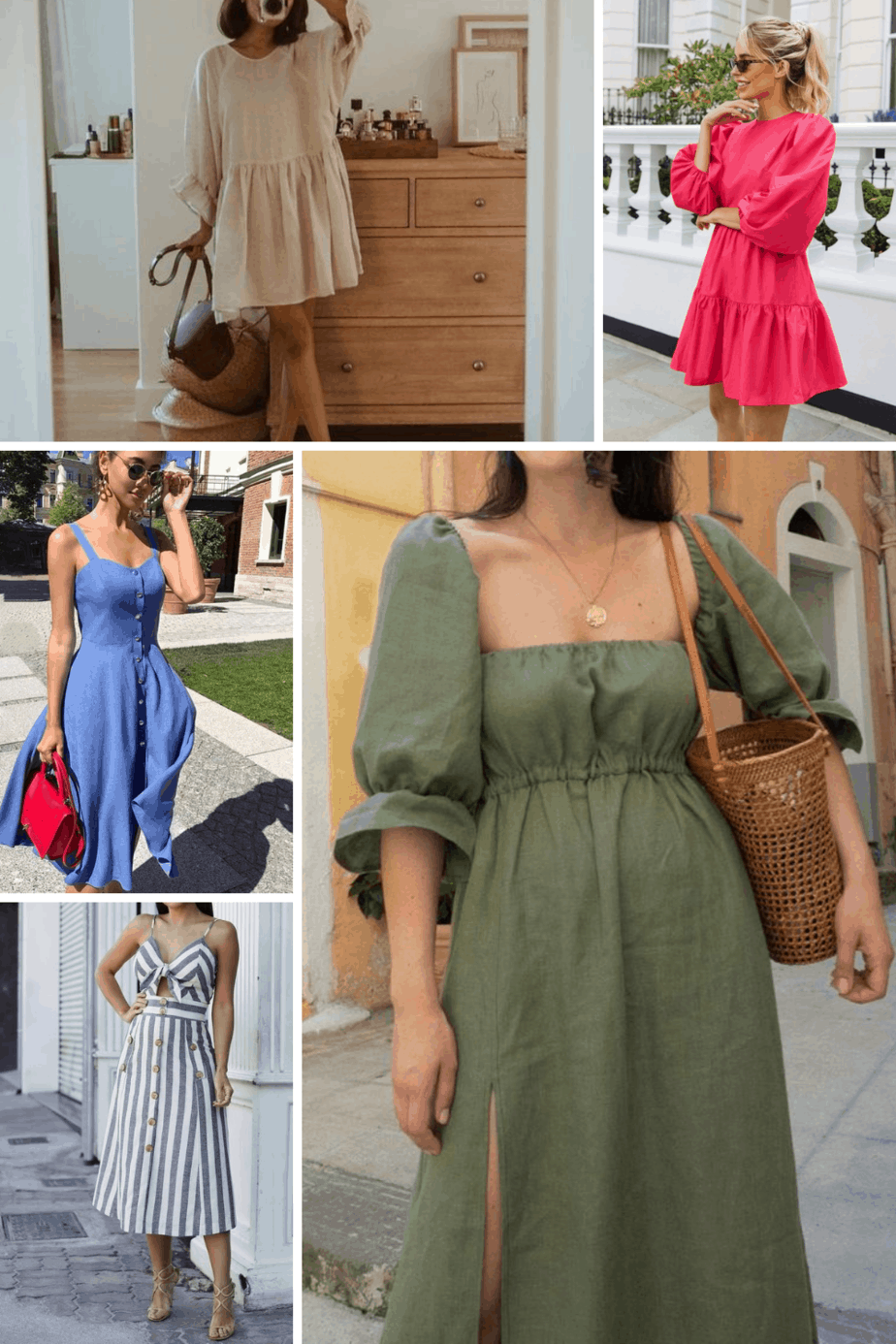 Why Wear an A-Line Dress?
There are so many reasons to make sure you have at least one A-line dress in your closet:
They're flattering on most body types.
If you're bloated, an A-line dress can hide it.
They're good for a variety of occasions, whereas some other dresses may seem too casual or too dressy in certain situations.
They won't cling to areas you don't want to play up (you'll need to choose your fabric wisely, though).
They're fun to accessorize and can be dressed up or down.
Between the shape of the skirt and the availability of different necklines and sleeve lengths on A-line styles, they can add balance to your body.
You can show off your waistline.
They tend to be comfortable (though not always as comfortable as a maxi dress).
Styling an A-Line Dress
You'll need to keep your waistline in mind when you style an A-line dress. A jacket or cardigan that's too short or too long can make you look wider and disguise one of the benefits of wearing an A-line dress in the first place—that gorgeous, cinched-in waist.
Choose a cardigan or jacket that hits right around the waistline to continue playing up the effects of the dress' shape. A fitted option will work best because it will follow the lines of the dress and avoid adding too much bulk. Here's an example of a cardigan of the perfect length paired with an A-line dress.
Another option is to take a longer, thin cardigan and cinch it in the middle with a skinny belt. The belt will make sure you still have the hourglass silhouette, but you'll get an extra layer of warmth.
Even without the sweater, a belt is a nice addition to an A-line dress. The ideal width of the belt will depend on the style of the dress and how it falls on your body type. Experiment with widths, colors, patterns, scarves vs. actual belts, and belt styles to find what's most flattering on your shape when you wear an A-line dress.
Best A-Line Dress Ideas and Picks
Looking for some of the best A-line dress ideas and inspiration? Here are some cute options to get you started.
Grace Karin Boatneck Sleeveless Vintage Tea Dress with Belt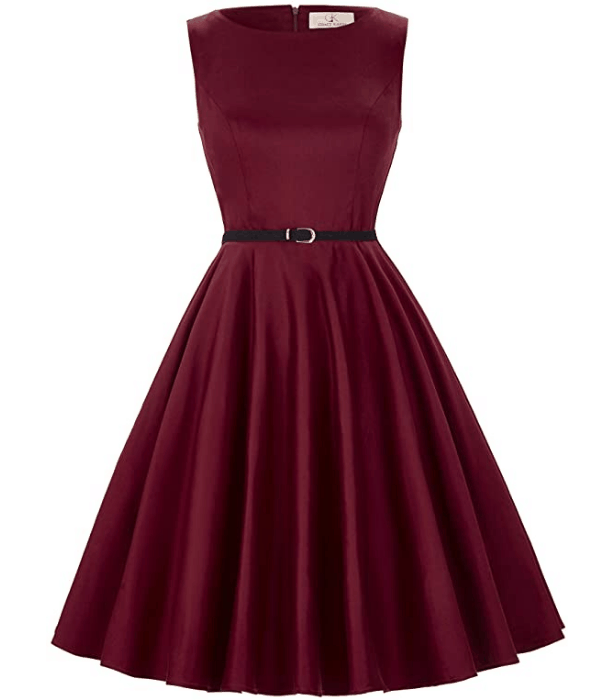 I personally love the Grace Karin Boatneck Sleeveless Vintage Tea Dress with Belt so much, I bought it and wore it to a wedding. It's comfortable and the fabric is thick and sturdy enough to disguise the things I wanted to hide (bloating and panty lines, mostly) but still feels comfortable. There are tons of colors and patterns to choose from.
Pros
Can be dressed up or down
Inexpensive
Classic style will always be appropriate, regardless of trends
Looks good with flats or heels
Neckline is flattering with most bust sizes
Easy to layer with a cardigan
Cons
Wrinkled in the car on the 2+ hour car ride (I had to get dressed at home and travel in it)
Belt isn't the best quality and looks older than it is after just a few wears
Hand wash only
BTFBM Women's Summer Bohemian Floral Casual Wrap Dress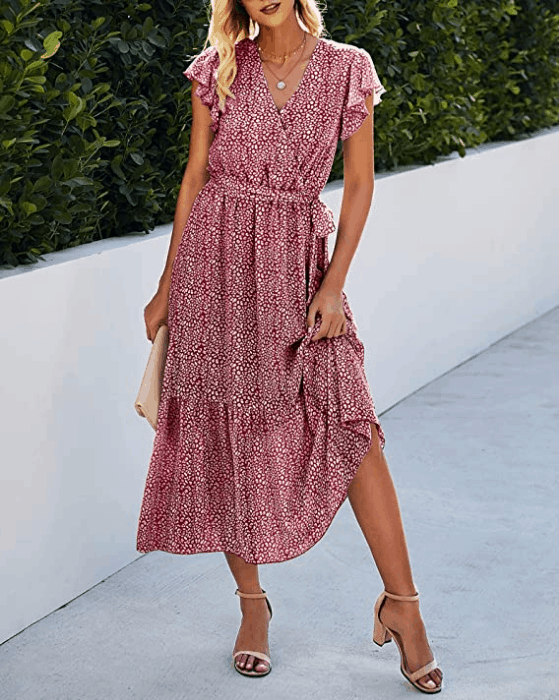 The BTFBM Women's Summer Bohemian Floral Casual Wrap Dress is another affordable option from Amazon. It's available in two patterns and a variety of colors, and it's longer than most A-line dresses. The V-neck, ruffled sleeves, and sheer bottom panel give it an especially delicate look.
Pros
Inexpensive
Fast shipping
Shape is flattering on a wide range of body types
Can be dressed up or down
Cons
Sizing chart may be inaccurate (read reviews for more guidance based on your height and weight)
Some reviewers complained about the quality (many others found it outstanding, though)
They seem to run out of stock in some size/color combinations and it takes a while to get them back in
Madewell Swingy Tee Dress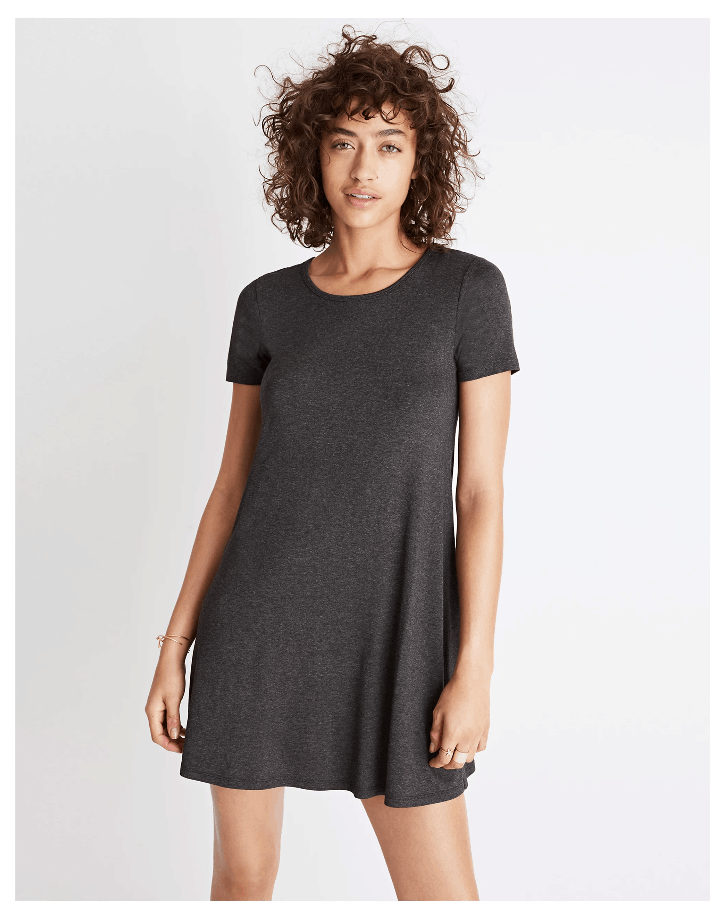 This Swingy Tee Dress is an example of a non-waisted A-line dress, which may not be the style that immediately comes to mind when you think of A-line dresses. This one is comfortable, short, and casual.
Pros
Comfortable
Can be layered easily (jackets, leggings, scarves, etc.) and looks fun to style
Neutral color will be flattering on most skin tones and easy to pair with other pieces
Cons
Expensive
Not a wide range of sizes
Even though charcoal is a nice base for a lot of different outfits, some people may wish there were more colors to choose from
Dress the Population Catalina Crepe V-Neck Sleeveless A-Line Dress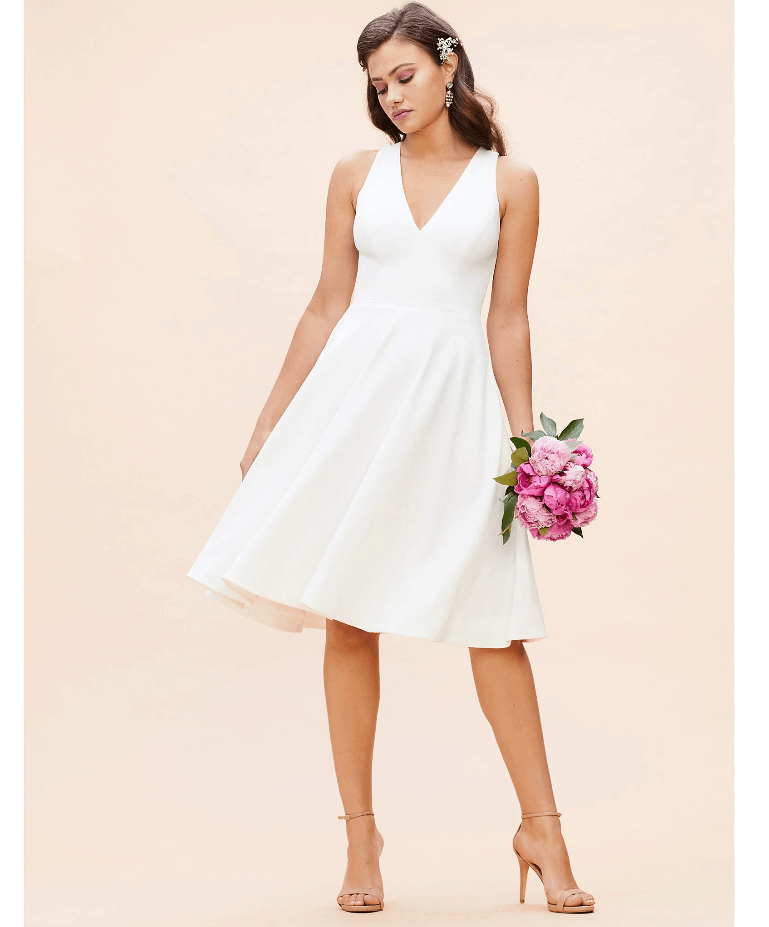 This Catalina Crepe V-Neck Sleeveless A-Line Dress is one of the dressier options, but that doesn't mean you couldn't dress it down and enjoy it on a more laidback day, too, if you really wanted to.
Pros
Pockets
Heavier material ensures that it will hang nicely without bunching up or clinging to your body where you don't want it to
Comes in a range of sizes, from XXS to XXL
Machine-washable
Comes in five colors (black, off-white, blush, garnet, and midnight blue)
Cons
Expensive
Reviews say it runs small
Plunging neckline may be too much for some people
Calvin Klein Tulip Sleeve V-Neck A-Line Midi Dress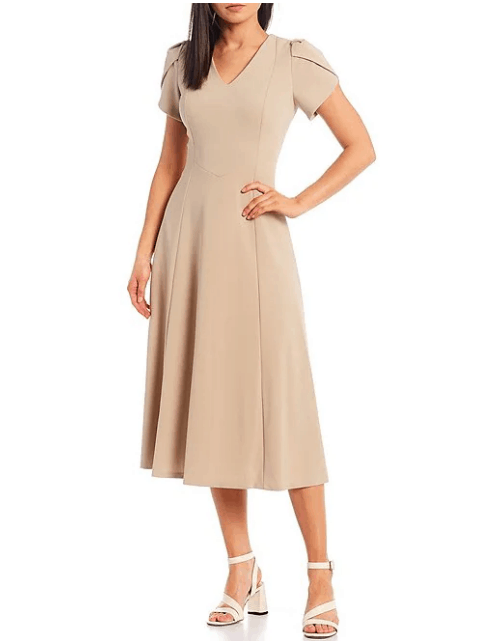 If the dress above was just a little too much (in price or in how low-cut it was), you may love this one. The colors and sizing are different, but you may be able to find just what you're looking for here. The tulip sleeves give it a little something extra and may make it a little more challenging to dress it down, but depending on the occasion you're shopping for, that may not matter.
Pros
Fairly inexpensive for the type of dress that it is (though it's not as inexpensive as some of the other options on this list)
Sizes range from 2 to 16
Good length for most occasions
Heavier material will hold shape and hide what you don't want to bring attention to along your midsection and lower half
Cons
Colors are limited to watermelon, black, and khaki
Some may not care for the exposed zipper in the back
Dry clean only
Alex Evenings Long V-Neck A-Line Dress with Cold Shoulder Flutter Sleeves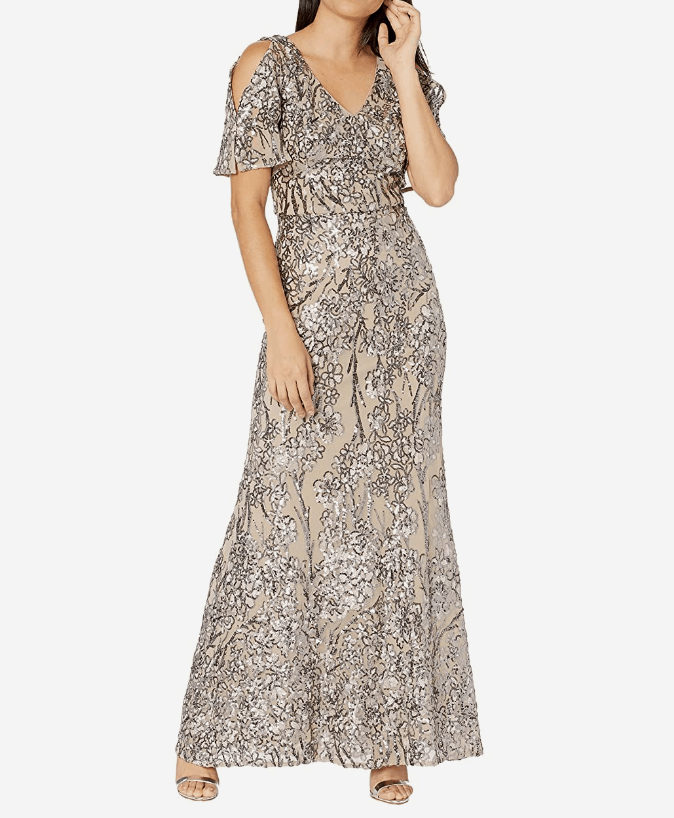 A-line dresses are often around knee-length, but not always, and this shape is stunning in a longer style. This Alex Evenings long A-line dress is the perfect example, and it's perfect for formal occasions.
Pros
Eye-catching shimmers
Flattering shape
Interesting enough details (like the pattern and cold shoulder sleeves) to make it stand out without looking too trendy
Cons
Expensive
Hand wash only (lay flat to dry)
Can't really be dressed down, so that will limit how often you can wear and enjoy it
Vince Camuto Chiffon A-Line Dress with Long Sleeve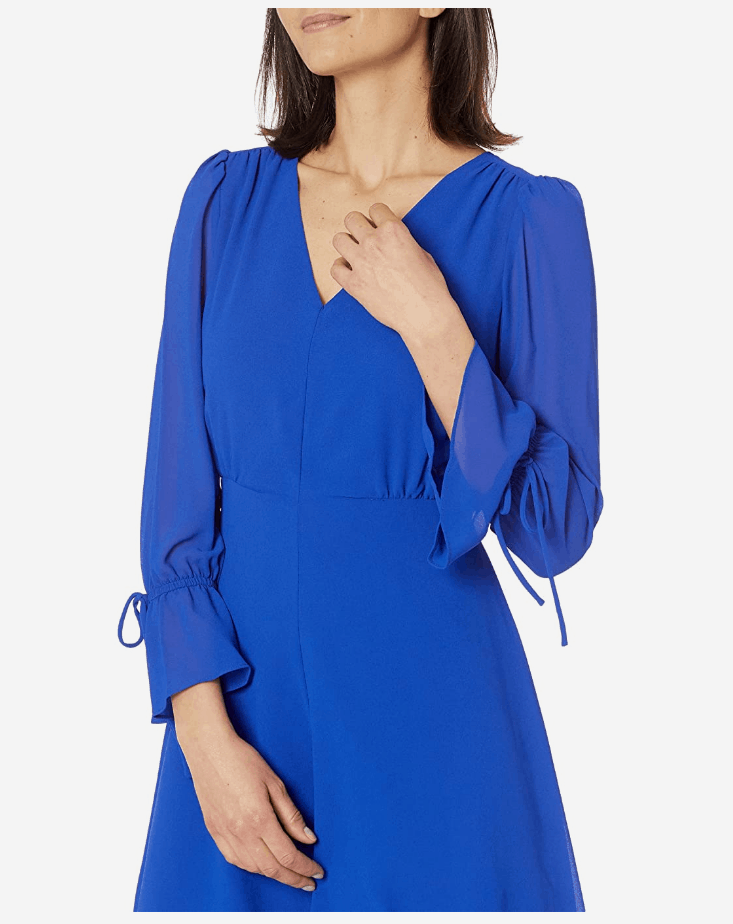 The Vince Camuto Chiffon A-Line Dress with Long Sleeve shows what an A-line style is like with a shorter skirt and long sleeves for balance, and it's done in a stunning cobalt blue shade. It's on the dressier side of things, but not as limited as a longer dress might be.
Pros
Gorgeous shade of blue
Long sleeves and a shorter skirt provide balance and may make an excellent option for ladies who feel knee-length and tea-length dresses are less flattering on them
Puff sleeves can add balance to the overall look
Side darts add more structure and shape without the need for a belt or wrap
Cons
Only one color is available, which may not suit everyone
Hand wash
Limited sizes available
The Main Differences Between an A-Line Dress and a Fit and Flare
The Main Differences Between an A-Line Dress and a Fit and Flare are:

A-line dresses and the fit and flare style are so similar, they're almost interchangeable. A quick online search to determine the difference between the two will give you quite a few different answers.  Here are some of the main differences between A-line dresses and fit and flare dresses:
A-line dresses usually end pretty close to the knee, whereas fit and flare dresses are sometimes shorter than that (but don't have to be).
A-line dresses aren't usually considered the same as skater dresses, whereas fit and flare dresses sometimes are considered the same.
A-line dresses gradually get wider toward the bottom to create the A-shape (they're always wider than the shoulders at the edges of the skirt), whereas fit and flare styles flare out more dramatically right away (though the end result is still very similar).
A-line dresses aren't necessarily especially fitted at the top (they often are), whereas fit and flare dresses are fitted all the way to the waist (sometimes just below the natural waistline), then flare out.
A-line dresses tend to have a more subtle flare shape that works well in a majority of settings, whereas fit and flares are more dramatic and some may not be the best choice for professional settings.
A-line dresses can have cinched waists (but don't have to, as long as the overall shape is wider at the bottom than the top), whereas a fit and flare style will always have a fitted bodice and cinch in around the waist. Here's an example of an A-line dress that does not cinch in at the waist
With a little digging around online, you'll see that no one seems to agree across the board on what makes a dress A-line vs. fit and flare. At the end of the day, the styles are so similar, there's no need to obsess over the details and differences. You could argue that a fit and flare is a type of A-line dress, too.
They're both incredibly flattering across the board, with enough room to mix up the details (neckline, sleeves, length, etc.) to make some more flattering than others, depending on body type. If an A-line style looks good on you, a fit and flare probably will, too, and vice-versa.
Tips for Wearing A-Line Dresses
A-line dresses are some of the best picks on the rack, but how do you make them even better?
Choose thicker, sturdier fabrics if you're trying to minimize your midsection, hips, or thighs. Lightweight fabrics may cling where you don't want them to and highlight things you'd rather keep hidden.
Accessorize with a belt and cropped jacket to make the look more casual.
Balance your figure with the right neckline and sleeve choices.
Choose the length that's most flattering for your height and proportions. The beauty of an A-line style is that it can be short, long, or somewhere in-between and still carry the benefits of this shape (which makes it even more universally flattering).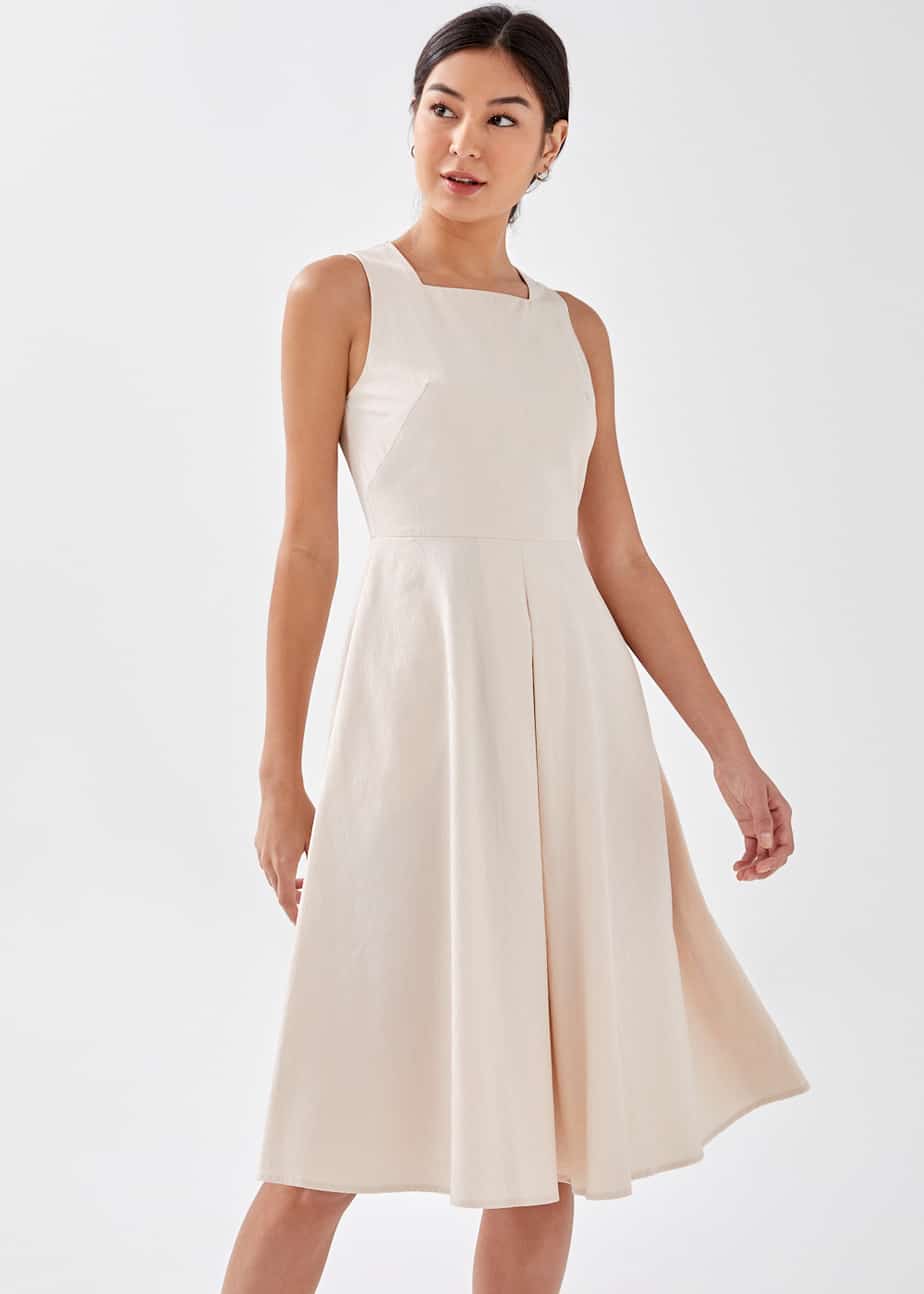 FAQs
Here are some of the top questions people ask about A-line dresses, how they look, and how they compare to other dress styles.
Question: What does A-line dress mean?
Answer: An A-line dress means it has an A-shape. It's wider at the bottom than the top, like fit and flare styles. They'll usually be pretty fitted from the shoulders down (especially at the waist) but then flare out around hip level.
Question: What is a straight down dress called?
Answer: A shift dress.
Question: What is a maxi dress?
Answer: A maxi dress usually hits around the ankle or may even extend to the floor. They tend to be loose, flowy, and comfortable.
Question: Are A-line dresses flattering?
Answer: Almost universally flattering, yes. They add balance to the body, disguise the areas a lot of women don't want to call attention to, accentuate the natural waistline, and are generally pretty comfortable to wear. They're also especially feminine among dress types (think of the fashion of the 1950s).
Question: What is the most flattering length for a dress?
Answer: That really depends on your height. On average, at or just above the knee is one of the best and most versatile dress length options. However, if you're petite, you may prefer something shorter (like a mini). If you're taller, your proportions can wear the longer dresses (midi and maxi) more easily, but you can also wear dresses that end at or above the knee.
Question: What style dress is best for a big belly?
Answer: Wrap dresses like this are great for this. A-line dresses (wrap or not) are good at hiding a belly because they tend to cinch in at the waist, above the belly, and then flare out over it. Sometimes, there's no cinching in and they just glide over the belly area without the fitted waist. The loose material helps disguise what you'd rather not call attention to.
Question: How does an A-line dress fit?
Answer: There are different types of A-line dresses. Some are fitted at the top and/or cinched at the waist, whereas others are looser, almost flowy, and simply gradually flare out as you go from shoulder to hem. Some come with belts, some have a seam at the waist, some have no seam anywhere along the midsection, and some have a wrap style. The main distinguishing feature is that the skirt is wider than the shoulders of the dress and the dress overall has an A-shape.
You Can't Go Wrong with One of the Best A-Line Dress Ideas and Picks
There's really very little chance you'll be disappointed in one of the best A-line dress ideas and picks shown here (or any quality A-line style, honestly). They're flattering on everyone, once you nail down the other best features for your body type.
Do you need a cinched waist, and should it be as dramatic as a skinny belt, or subtle, like a wrap style? Do you love a V-neck or should you choose a scoop neck style? Sleeveless or long-sleeves (or even puffy sleeves)? Would a heavier, more structured material be best on you, or can you wear a lightweight A-line dress?
Determine the details and features you need and you'll be able to narrow things down to find the perfect A-line dress for you.