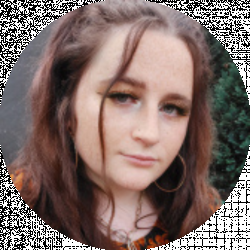 Latest posts by Lou Siday
(see all)
When it comes to merging comfort, cuteness, and style together, overall dresses do it perfectly. They are a classic look that can be styled in so many different ways. Perhaps you saw our recent article about linen overalls and know that we are a big fan of the look and style of overalls.  But what about overall dresses? Are they in at the minute, and how do we style them?!
How To Buy the Right Overall Dress For You
Overall, dresses are super cute and versatile. They are great for days out, parties, and casual dates. But, what are some buying tips when shopping for overall dresses?
Style
When it comes to picking the right overall dress for you, it is really important to follow your own personal style. What I really like about overall dresses is that they come in so many different colors and patterns and follow so many different trends.
If you go for a more alternative style, a tartan overall dress looks great and is easily accessorized. Or, if you are a big fan of the cottage core aesthetic, a white, embroidered overall dress looks super cute.
Colors
It is important to pick an overall dress that compliments you. So, before you buy, consider the color that is most flattering on you. Think about your skin tone and what looks best on you!
If you want a more professional overall dress look, consider neutral tones.
Materials
When buying clothes, it is really useful to take a look at what materials are used. Clothes made out of cotton or a cotton blend are normally high quality and comfortable, whilst synthetics might wear more quickly. You will find many overall dresses made out of corduroy, which is a strong and durable fabric.
Linen is also a great material for long-lasting clothes. There are also some great semi-synthetic materials out there that are great for overall dresses!
Sustainability
For a lot of people, sustainability is a really important issue when it comes to clothing. I like to check out the company behind the clothing to see where they get their materials from and who makes the clothes.
However, I do know that sustainable clothes are often significantly more expensive than fast fashion brands.
How To Style Overall Dresses
I love the range of overall dresses available out there right now, and there are so many different ones to pick from! This means that you can style overall dresses in loads of different ways depending on the occasion and what look you are going for.
The versatility of overall dresses means that they can be paired with any shoe you like, really! If you want a dressed-down casual look, you can definitely go with pairing your overall dress with trainers or flats.
Another option for overall dresses is to match them with a chunky boot or heel. This is a great autumnal look that is perfect for fall festivals and nights out.
I love accessorizing overall dresses because they can be styled in so many different ways. If you want a grunge look, the overall dress is a perfect base. Matching a dark overall dress with fishnet tights, big boots, a belt, and a plain T-shirt looks really alternative and stylish. You can add some gothic jewelry, such as a statement silver ring, to really go for the look!
If the gothic look isn't for you, keep it simple with a gold necklace or earrings. This will allow you to dress your look up a little but still keep it relaxed. I love this look that matches an overall dress with a turtleneck sweater and a chunky gold chain!
Most overall dresses need to be matched with a shirt or blouse. This can be a bit daunting, especially if your overall dress is a bit flamboyant and out-there!
If you have a patterned and bright overall dress, keep the shirt underneath plain and simple. Plus, if you want a more professional look, keep all your colors pastel or beige. I really like this look of a long overall dress in a simple, beige color matched with a white sweater. It looks relaxed but still pretty sophisticated!
If you are going after a casual day-to-day look, matching a plain overall dress with a floral blouse is super cute! It is a nod to the cottage core aesthetic and perfect for so many different events and occasions.
How Did We Pick the Best Overall Dresses?
I had a lot of fun researching overall dresses for this article. I loved seeing all the different styles and colors available!
When deciding what ones to put on the list, I considered the product's style, affordability, and material. I also checked out the buyer reviews to see if the product really is worth it.
The Best Overall Dresses You Can Buy Right Now
Okay, now onto our pick of overall dresses.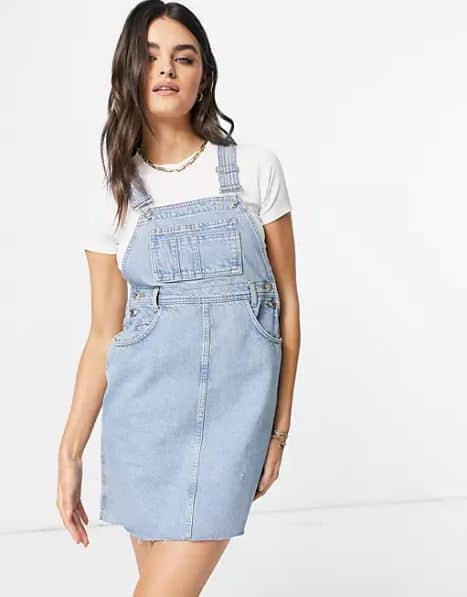 This overall dress by Asos is the perfect outfit for everyday wear. Its light wash denim is made out of 100% cotton, which means it is comfortable and stylish.
It is a pretty classic design and cut, so nothing too radical with this overall dress! It is a staple and versatile piece that everyone should have in their wardrobe and is not too short. It is also part of the Asos responsible edit, which puts sustainability at the front of fashion choice.
Pros:
Comfortable
Sustainable
Affordable
Classic overall dress design and cut
Cons:
Reviewers point out that it can be too tight around the thighs and bum
I am a big fan of the tartan and checkered overall dress look. It can be styled really easily, and you can go for a pretty alternative or punk look with it!
This pair by Nasty Gal is super cute, and I really like the cut of it. The high waist is really flattering and shows off your figure, and the skater-style skirt creates a nice silhouette.
I quite like the cut of the neckline, but I think that this might cause issues if you have a bigger bust. It also means that you will have to wear something pretty tight underneath the overall dress, and this might not feel that comfortable!
Plus, it is made out of polyester, which isn't a breathable fabric and isn't a sustainable fashion choice.
Pros:
Flattering cut
Checkered Pattern
On sale
Affordable
Cons:
100% Polyester
Might not suit someone with a bigger chest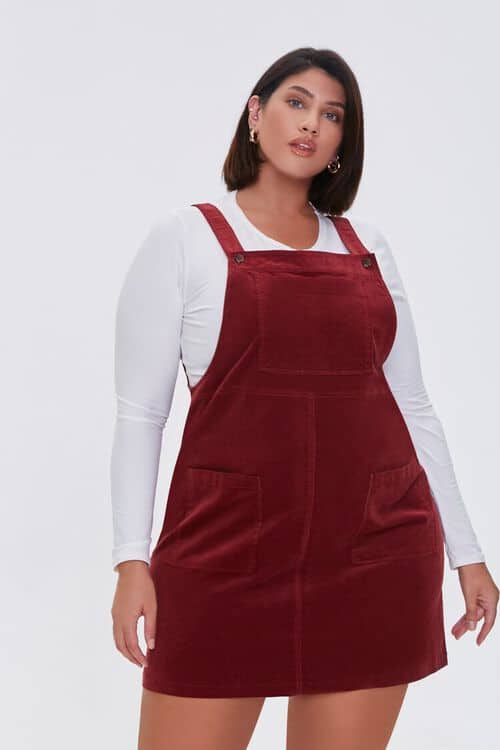 This cute overall dress is perfect for the fall season. It comes in either burgundy and dark blue, and I really love both colors! It is a simple cut and design and super flattering. It can be dressed up or dressed down really easily and is roomy and comfortable.
I really like corduroy on overall dresses, too. It is a warm and cozy material and will keep you looking and feeling good over the winter months!
The only real problem with this overall dress is that you can't adjust the straps. This means that it might not fit perfectly on different people.
Pros:
Affordable
Flattering
Corduroy
a classic cut
Cons:
Straps aren't adjustable
Only available in limited sizes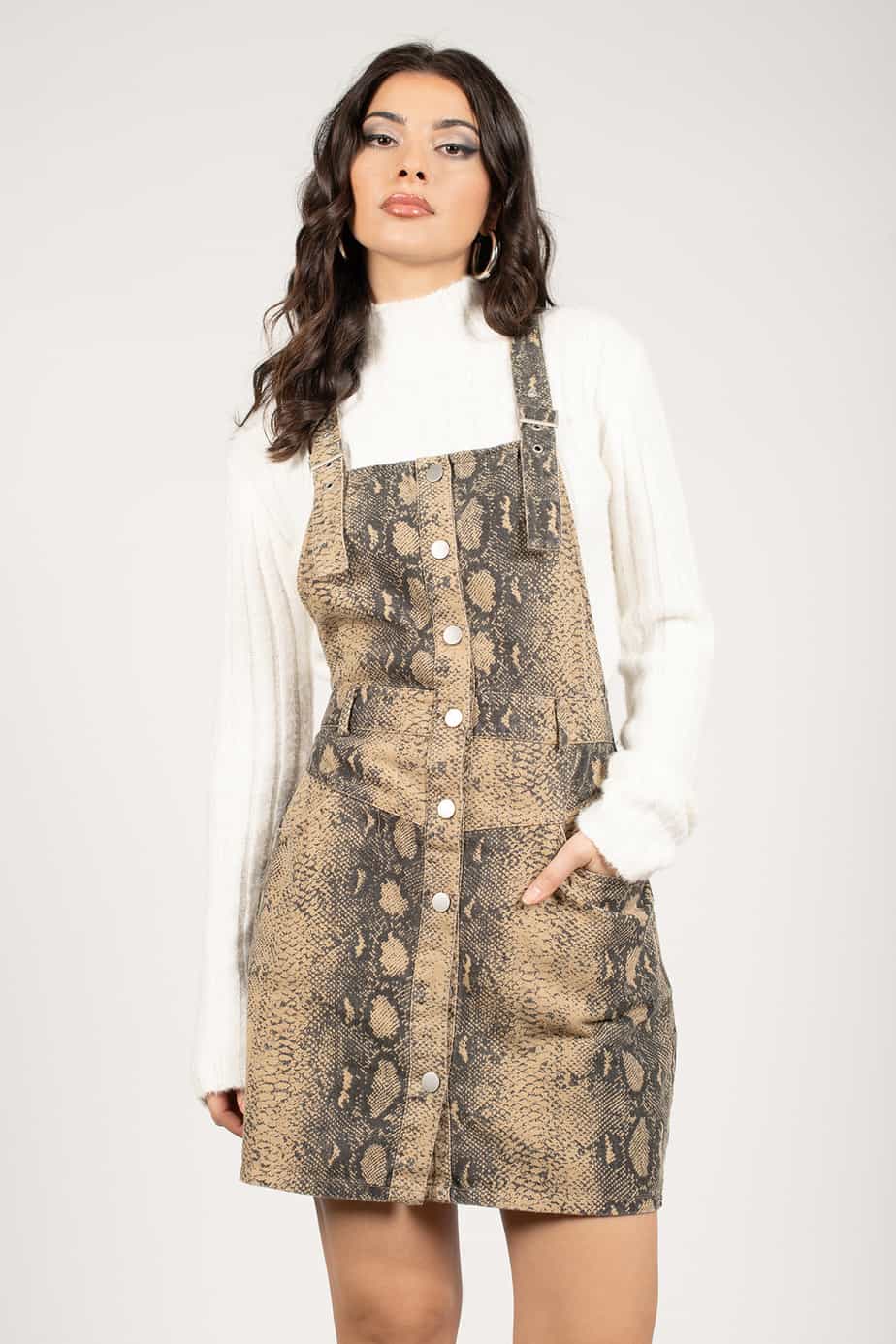 Animal print is always in fashion, and I will hear no different! There is nothing as iconic as leopard, crocodile, tiger, or snakeskin print, and it just suits everyone. So, how about this statement overall dress by Tobi?
It has adjustable straps, and I really like the length of it. It is not too short and not too long, and I can imagine wearing this dress on autumnal days out. Simply match it with a sweater, thick tights, and chunky boots will be super cozy and look fabulous!
My only hesitation with this overall dress is the sizing situation. It only comes in small, medium, and large, and large most certainly won't be large! This means not everyone will be able to get this overall dress in their size.
Pros:
Animal print
Nice length
Affordable
Denim
Cons: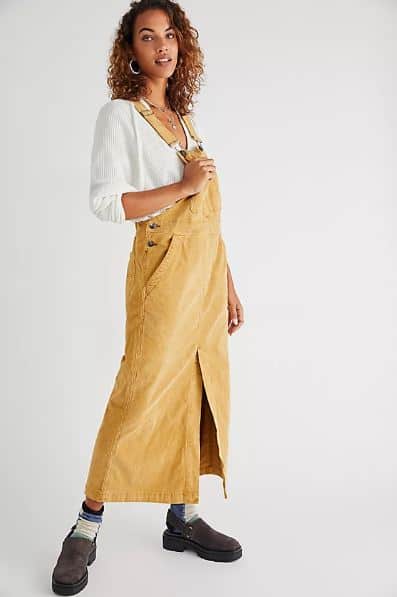 If what puts you off overall dresses is the fact that most of them are pretty short, this might be the perfect piece for you! It has all the good qualities of an overall dress but is ankle-length. This means you can stay fashionable and warm. 
I actually really like this dress. At first, I thought that it being so long might not be too flattering, but actually, it is a really nice fit! It looks so comfortable and wearable, and I think if you get this overall dress, you probably will never take it off.
It only comes in one color, which is a bit annoying. However, the color is pretty versatile and means you can wear it with a range of tops and shoes.
Pros:
Comfortable
Long
Corduroy
Adjustable Straps
Cons:
Expensive
Only available in one color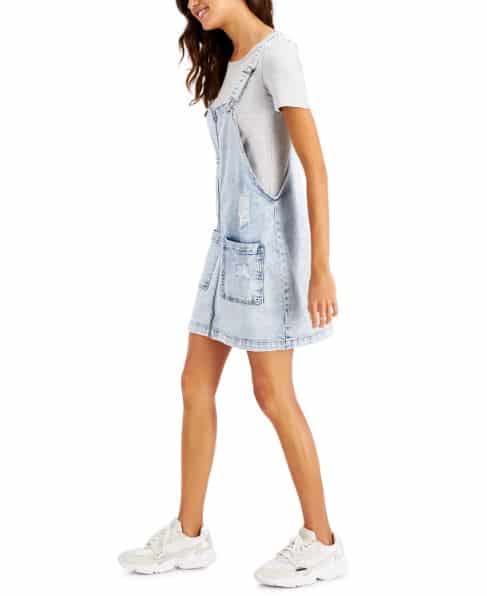 This overall dress looks really comfortable, and I love the washed-out, distressed look. It is super retro, and the zip at the front is really cute. It has a bit of stretch as it is made out of a cotton and spandex mix. Because of its loose fit, I think it would suit many different figures!
It is on sale now, so you can pick it up extremely cheaply. However, it is only available in a few sizes and will soon sell out.
Pros:
Affordable
Retro
Comfortable
Cons: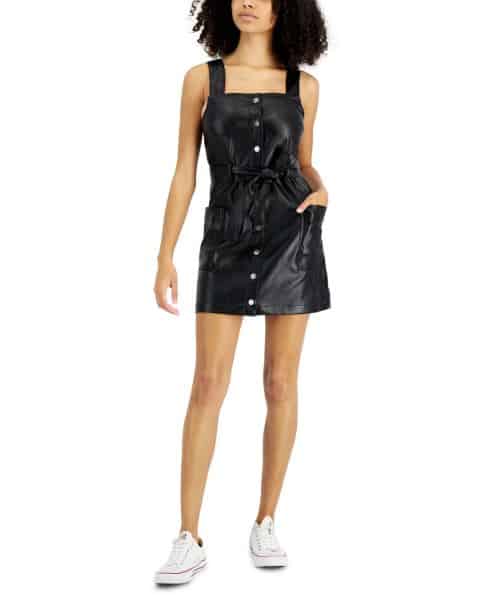 I am a big fan of fake leather. It is a really versatile material as you can dress it up or go for a more punk vibe, depending on how you are feeling!
I really like the cut and design of this overall dress. The self-tie belt means that you can pull it in at the waist to enhance your figure. The pockets and the buttons are really cute, and this overall dress is perfect for parties and nights out.
Pros:
Affordable
On sale
Available in a range of sizes
Fake leather
Cons:
Not made out of a sustainable material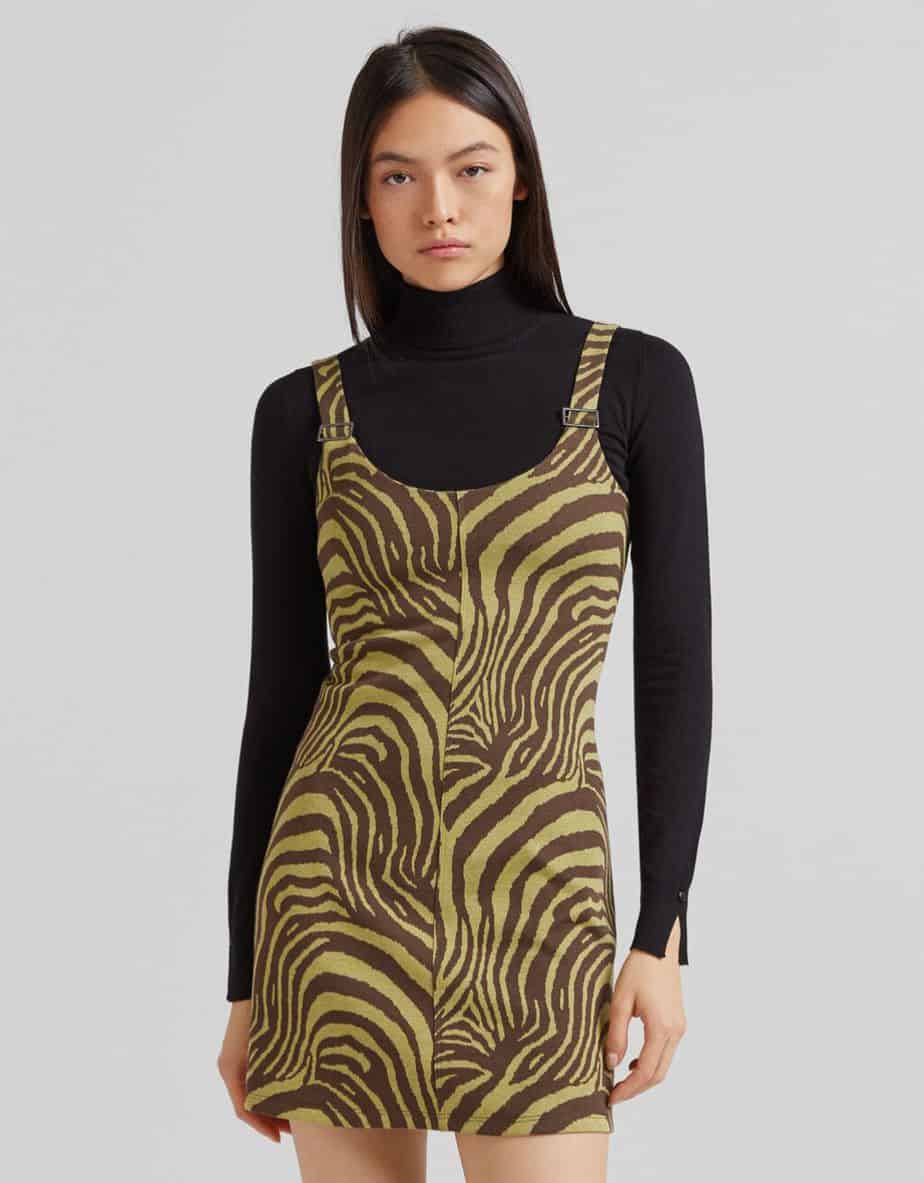 I absolutely love the retro print of this overall dress. It definitely gives me 70s vibes and feels stylish yet playful. Therefore, it is a statement piece and would be perfect if you want to dress up for an event but still feel comfortable.
It does look like a pretty cozy overall dress, and I think it can be styled pretty easily with a dark shirt or jumper and boots.
Pros:
Cons:
FAQs
I hope you enjoyed our pick of overall dresses and have found some inspiration on how to style them your way!
Let's look at some FAQs you might have about overall dresses.
Question: How do you style an overall dress in winter?
Answer: Overall, dresses can be styled well in winter by simply finding a matching jumper to wear underneath the dress, cozy tights, and some big boots.
Question: Where can I buy overall dresses?
Answer: Because overall, dresses are a pretty staple fashion piece, most department stores and online shops will sell them. Check out Macy's, Asos, and Nordstrom for a selection of overall dresses.
Question: Are overall dresses in style 2022?
Answer: The relaxed fit and retro style of the overall dress means that it definitely is in style in 2022!
Question: What should I wear under an overall dress?
Answer: What you wear under your overall dress really is down to you. A simple block color T-shirt or jumper will look great!
Have Fun Styling Your Overall Dress!
I love overall dresses, and I really hope this article has inspired you to go out there and buy the right pair for you! There are so many different cuts and styles to choose from, and you can get purchase overall dresses in a range of materials.
My personal favorite overall dress on this list is the checkered pair by Nasty Gal. I just love the cut and the skater-style skirt. Plus, the checkered pattern feels both professional but alternative!
Recommended Reads: