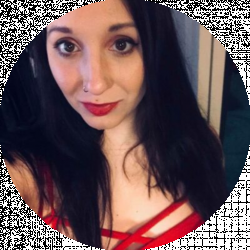 Latest posts by Stephanie Jensen
(see all)
Sock boots are one of the biggest trends right now. What are sock boots? Well, they're exactly what they sound like. Sock boots look similar to boots but they're made of fabric that imitates your favorite pair of socks. They're extremely comfy and are very versatile. You can also easily put on your sock boots; just slide them on and you're good to go!
But how do you style your sock boots? And what are some of the best sock boots out there?
How to Pick Sock Boots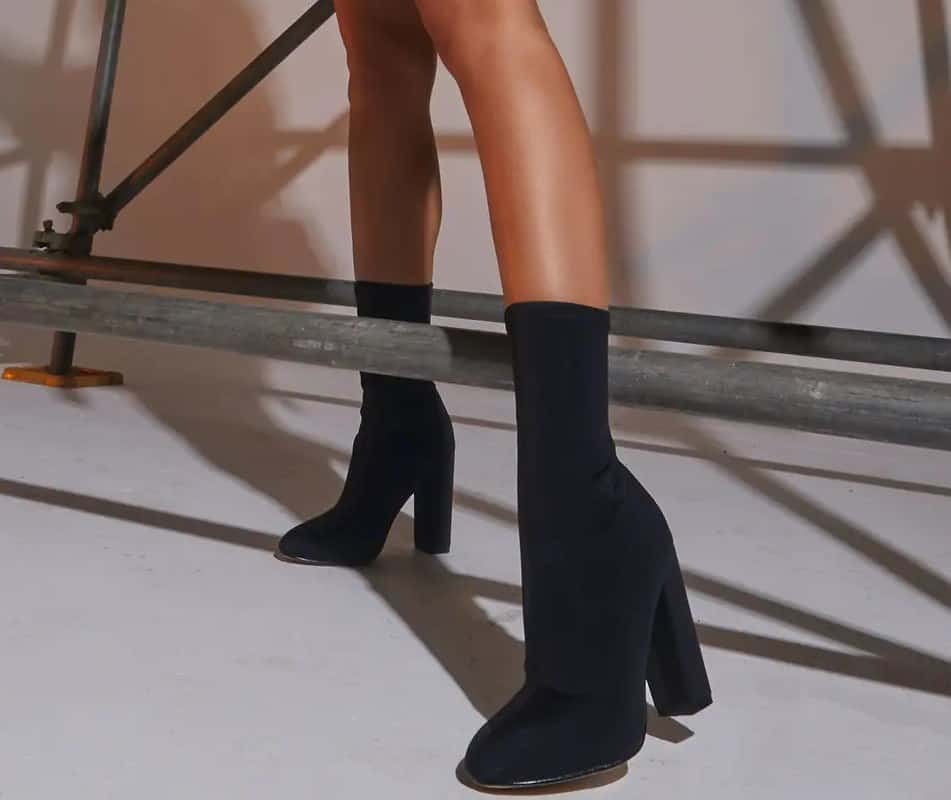 Before you can style your sock boots, you'll want to pick the best ones. Here are some factors to look for.
Choose the Right Color
You can find sock boots in just about every color, from neutrals to vibrant neons. While you have a large selection of colors to choose from, you'll still want to pick the best one. For most, neutral colors are a safe bet and are popular for first-time sock boot wearers. You can style them with practically any outfit and they're not overpowering. Gray, beige, and black are popular color examples.
Think About Fit
While sock boots are versatile, they should always fit well. Make sure the boots fit your calves comfortably. The fabric shouldn't dig into your skin; rather, it should slip over your feet and legs the way your favorite pair of socks do. Walk around in them. Make sure you can move in them with no problems.
At the same time, your boots shouldn't be too wide. They should easily fit under any pair of pants or trousers (though you make have to wear the boots over skinny jeans).
What if you have wide calves? They make sock boots for those with your body type. Keep on the lookout for stretchy fabrics.
Boot Height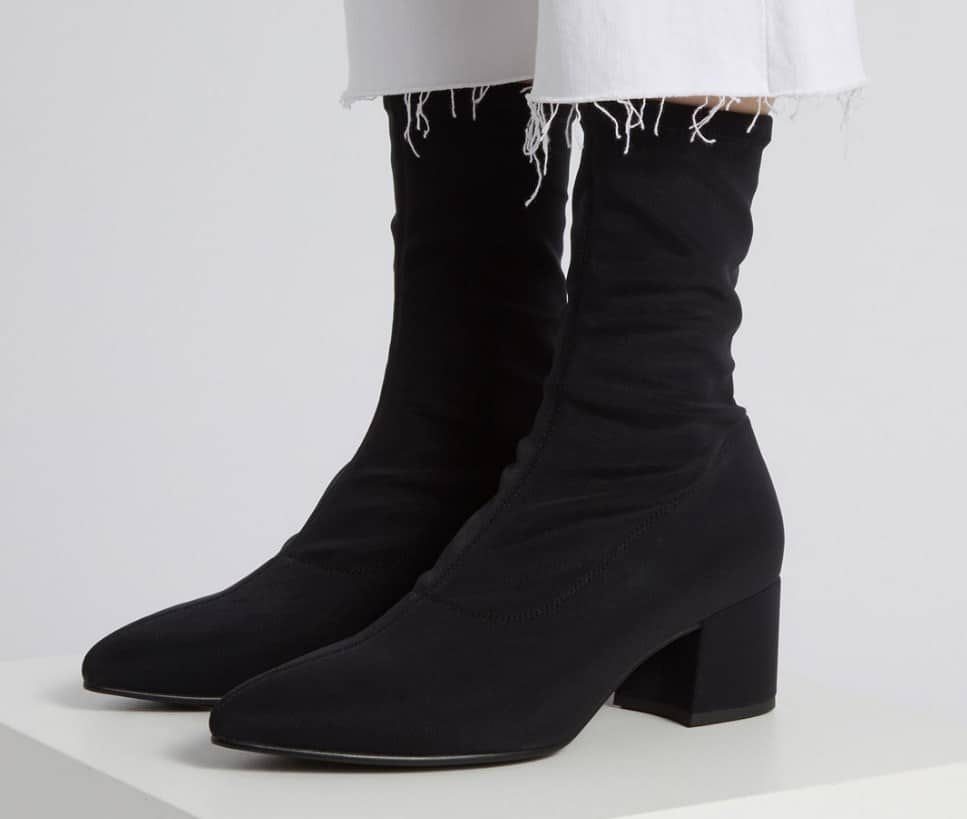 You can find sock boots in just about every height, from ankle booties to over-the-knee boots. However, you'll want to be smart with the height of your boots.
Certain body types look better with certain boot heights. For shorter women, long boots such as over-the-knee can make your legs look shorter. Ankle and knee-high boots will make your legs look longer, especially if they have a heel. While all boot heights look amazing on taller women, you may want to steer clear of boots with a heel.
If you want a general rule of thumb, 6-8 inch boots are a happy medium and this length is universally flattering. This is between the calves and the area right below the knee.
What to Wear With Sock Boots
Now that you know which sock boots to buy, you can start putting together your new favorite sock boot outfit! But what items look best with sock boots?
Shirt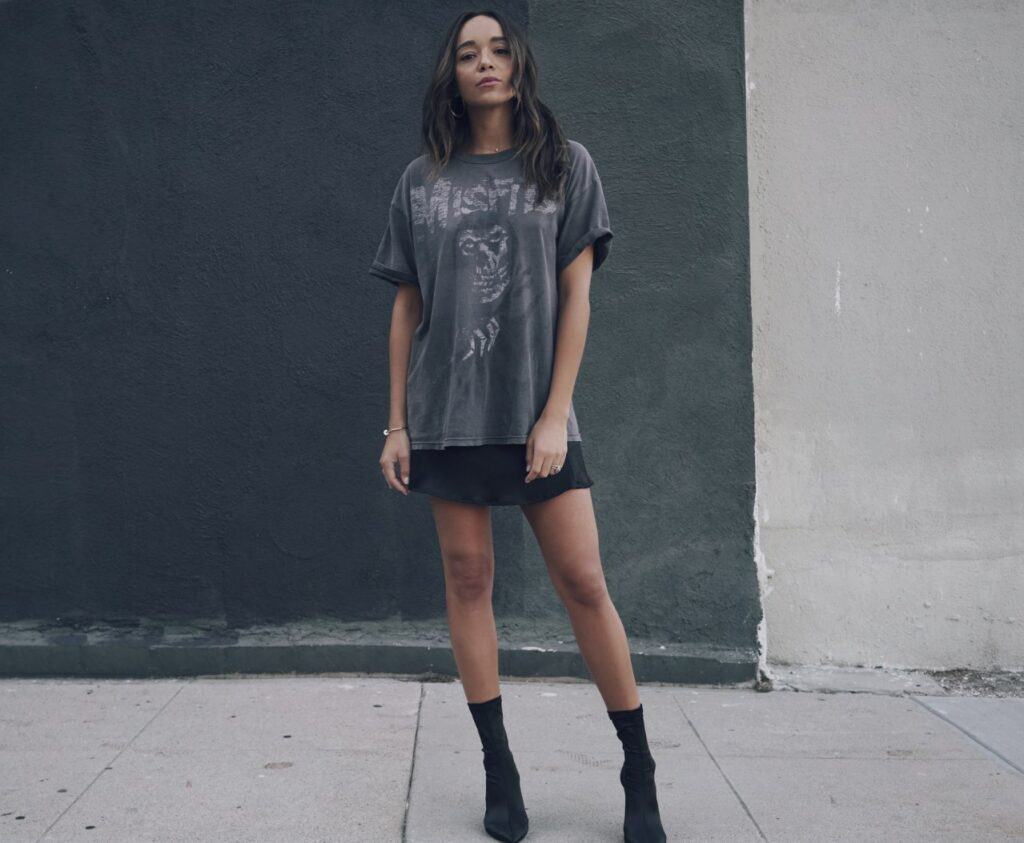 You have many shirt options! Blouses look lovely with sock boots, both buttoned and pull-over blouses. Long and short-sleeve blouses also work. If you wear neutral-colored sock boots, feel free to pick a blouse with a pattern or bright color. But a neutral-colored blouse will look lovely with a bright-colored sock boot.
Pants
Jeans, jeans, jeans! Whether you wear flare jeans over sock boots or your sock boots over skinny jeans, you'll have a very stylish outfit. While classic blue jeans work, you can choose fun-colored jeans if your sock boots are neutral-colored. However, if you plan on wearing your sock boots to the office, sock boots also look great with slacks.
Skirt
Sock boots also look great with a skirt. But the skirt length and sock boot length are factors you have to consider. For example, if you're wearing over-the-knee sock boots, choose a shorter skirt. Miniskirts, as well as thigh-high and knee-length skirts, are usually a safe bet. Anything longer and the boots won't stand out as much. Your skirt shouldn't also be too flowy. You don't have to wear a pencil skirt, but a slim-fitting skirt is recommended.
Dress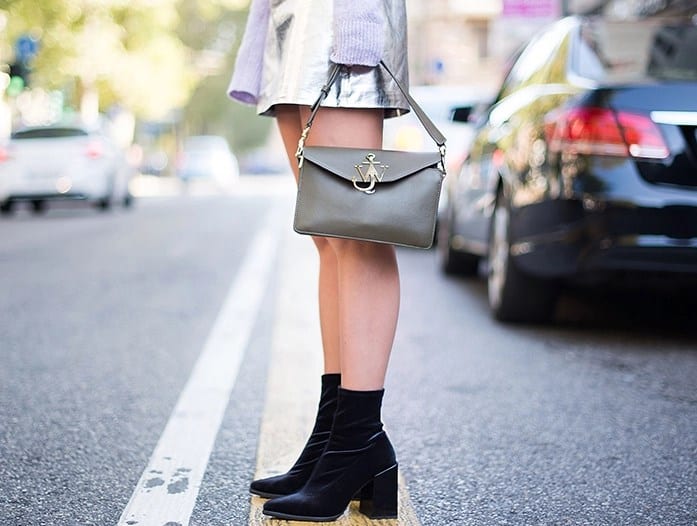 Dresses have the same advice as skirts. Because dresses are generally flowy, you can pull off a flowy dress. However, your dress shouldn't be too short. Any length below the calves is too long.
Outerwear
You have many outerwear options if you're wearing your sock boots on a cold day. A long coat will look great with some jeans on a winter day. If the weather isn't as old, pair your sock boots with a denim or leather jacket instead.
Accessories
Minimalist accessories are key here. Simple jewelry in either gold or silver and black sunglasses are classic options.
What Not to Wear With Sock Boots
Sock boots are very versatile and pretty much look great with everything. However, there are some rules to follow. For example, don't wear sock boots with clashing colors if you're opting for colorful sock boots. For example, green and red are clashing colors. For best results, choose neutral-colored sock boots or only wear colored sock boots with neutral colors.
You should also avoid wearing maxi dresses and skirts with sock boots unless you're wearing ankle sock boots. Still, if you want to show off your sock boots, opt for a shorter dress or skirt.
Sock Boot Outfits We Love
Need some more inspiration? Here are great sock boot outfits we're finding on Instagram!
White and Bright
Just because it's fall doesn't mean you have to ditch the bright colors. @ajstyleblog rocks white sock boots with a white sweater, blue skinny jeans, and a brown belt. The white cowboy hat seriously seals the deal. I especially love the style of the sock boots. They have a pointy heel and a clunky boot, perfect for short legs.
Neutral Queen
If the outfit above is too much white, this is a great way to use neutrals with white. This outfit is neutral-based but still chic. @interiordesignerella rocks a white long sleeve with a fur coat, black skinny jeans, and ankle-high stiletto sock boots. While those heels are a little too high for me, I do love the sleek design of the boots.
Office Ready
If you want to wear your sock boots to the office, this is a great outfit. @biancamelb is wearing a beige sweater with black slacks and black sock boots. She finishes the outfit with a simple purse and sunglasses. For best results, wear cropped slacks with ankle-high sock boots. For a more corporate look, don't make the heel too high.
Our Favorite Sock Boots
Just a quick look around the internet and you'll find some seriously cute sock boots! Here are some of our favorites.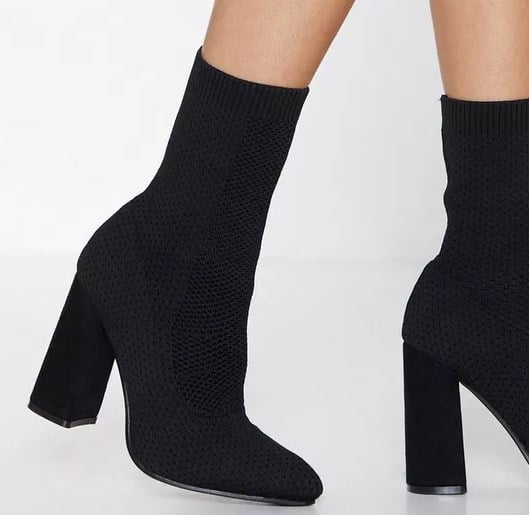 These black heeled sock boots are an essential piece in any wardrobe. They fit comfortably right at the calf. With a four-inch blocky heel and almond toe, these boots will make your legs look longer. Plus, the knit fabric will keep your feet warm and comfortable. And at $30 on sale, you really can't beat these boots.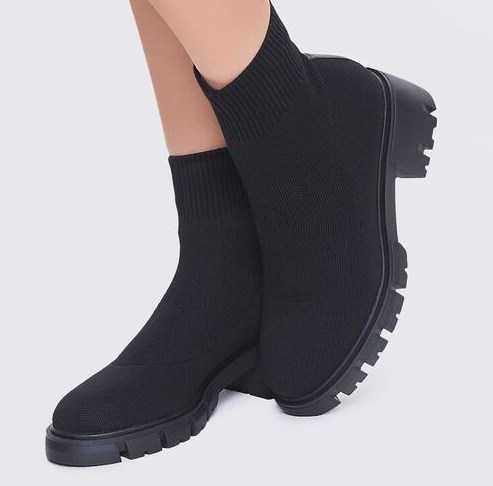 If you want sock boots designed for comfort, then get these. These sock boots feature a lug sole that's extremely durable. They have padding on the inside, so you can wear them all day. The boots go up to the ankle, making them universally flattering. They do have a slightly high platform feel, so they will also look great on shorter women. In addition to black, these shoes are available in brown and cream.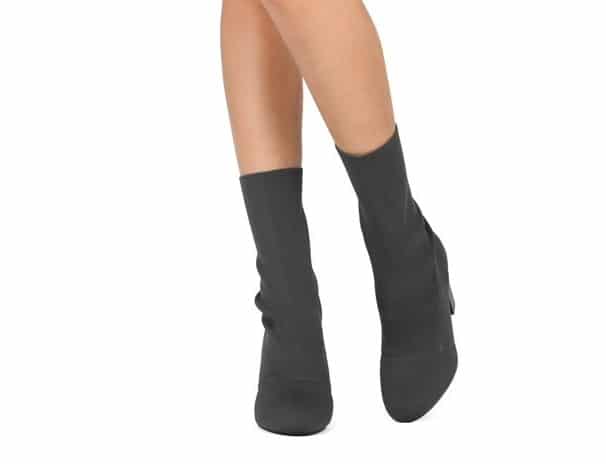 I never expected to find a cute pair of sock boots at Walmart! With a three-inch blocky heel, these shoes are extremely chic and trendy. The boot design is very sleek, great when you're at the office or are out on the town. The shoes feature padding so your feet stay comfortable all day. These shoes are also vegan and the rubber soles are made of man-made materials.
While these boots originally came in a variety of colors, they're only available in gray. I personally think this shade of gray is really cute.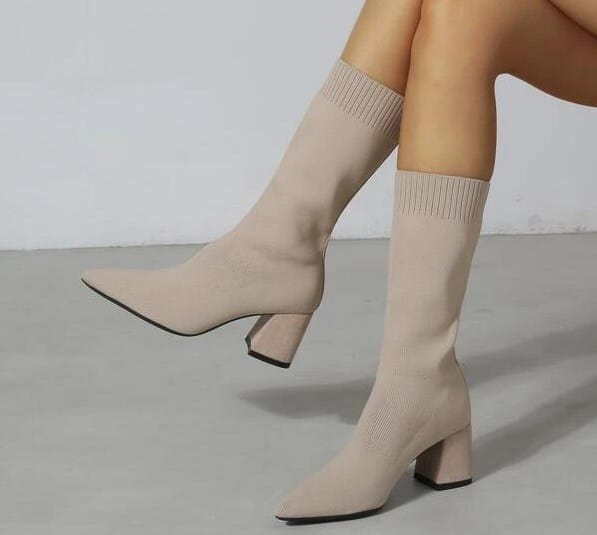 I have to say, I'm not the biggest fan of Shein, but these boots are really cute. I especially like the heel. I'm not a big fan of high heels, and these boots have the perfect size heel. I can't find the exact measurement, but it's shorter than the other heels on this list. It's also a chunky heel, so it's comfortable for those like me who aren't used to heels.
The boots go up to the mid-calf. In addition to beige, these boots are available in black.
FAQs
Question: What Type of Toe Do Sock Boots Have?
Answer: Great question! You can find a variety of toe shapes in all sock boots. I have found pointed toe, almond toe, and even peep toe sock boots. The type of outfit you wear also depends on the toe of the boot. For example, you can pull off a flowy dress or skirt with a peep toe, as well as slacks. However, pointed and almond toes look best with a tight dress.
Question: Are Sock Boots Universally Flattering?
Answer: I personally think they are. Sock boots are great because they're versatile and there are so many types of sock boots to choose from. They look great with a variety of outfits and can be worn just about anywhere — even to the office. While some women with thicker calves may find it more difficult to find a great pair of sock boots, there are stretchier alternatives available.
Question: Do You Need Socks With Sock Boots?
Answer: I personally wear socks with my sock boots, just for some extra comfort. Wearing socks with sock boots will also keep your feet warm on colder days. Socks also make your sock boots funner. Wear different colored socks for an easy way to layer up. But with all things, whether or not you wear socks with sock boots depend on your outfit. If you're concerned about your socks sticking out of the boots, then ditch the socks.
Question: I Have Thick Legs! Will Sock Ankle Boots Make Them Look Thicker?
Answer: I have short legs and thick thighs. I stay away from ankle and calf boots (unless I wear them over leggings or skinny jeans) because I think they make my legs look thicker. However, because sock boots are slim, they usually won't make your legs look thicker. Still, if you don't like the way they make your legs look, opt for a knee-high or over-the-knee pair of ankle boots.
Question: What Are Other Ways to Make My Legs Look Slimmer?
Answer: First and foremost, dark colors. I practically live in black. It's a very slimming color and will make your legs look a lot longer and slimmer. If you want to avoid black, dark brown and gray are also great colors.

Make sure you don't wear wide boots and pants. Wearing skinny jeans, slacks, or leggings will show off the natural shape of your legs and they will look slimmer.
Question: Do Jeans Go Inside or Outside Sock Boots?
Answer: If the jeans are skinny, I wear them inside sock boots. The fabric is stretchy and your boots will stretch out around the jeans. The same goes for leggings. But if you're wearing flare jeans, then wear them over the boots.
Question: What If I Don't Like Heels?
Answer: Hey, neither do I! But if you can't find flat sock boots, I suggest trying a smaller heel. Ideally, one that's clunky. I also find wedge and platform heels to be very comfortable. Plus, they also make your legs look longer!
Bottomline
Sock boots are by far the most surprising trend. However, many people are still confused about them. For best results, choose a neutral-colored sock boot and ensure they fit well. Know the best boot look for your body type and find a corresponding sock boot fit. From here, you can put together your favorite sock boot outfit. You have many outfit options with sock boots, so be creative! You can also take a look at our outfit recommendations.
Lastly, be sure to check out our favorite sock boots!
Recommended reads: