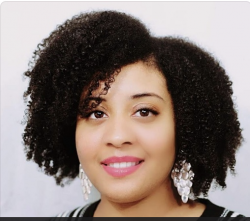 Latest posts by Candis Pope
(see all)
If you're someone who loves to look good, you might think that flat white shoes are a no-go. But that's not true! You can definitely fix up flat shoes when you need to give your feet a break.
 If you're looking for some cute flat white shoes, this guide has them. Not only that but there are also a few style recommendations listed below to help you put together the perfect look. Are you interested to learn more? If you are, just keep reading.
The Best White Flats to Wear
Here are some of my favorite white flats:
Toms Olivia Flat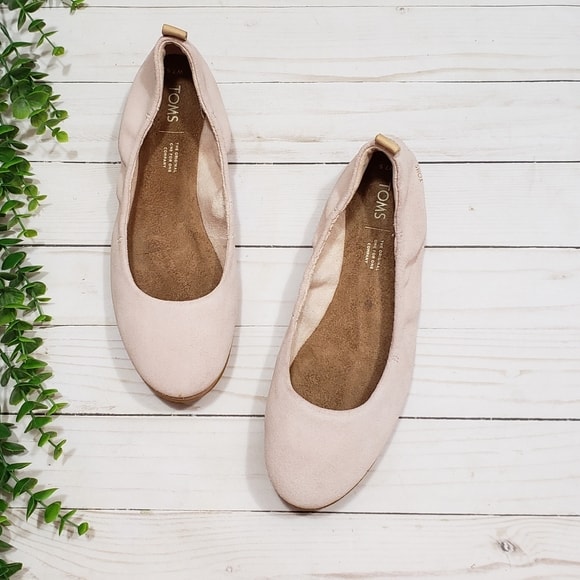 This is such a cute, comfortable shoe. It's lightweight and breathable. As you know, some flats tend to be uncomfortable and make your feet sweat—but not this one. These flats come with a padded footbed and a rubber sole. You can slip these on and wear them with nearly any outfit. 
They look good with shorts, skirts, leggings, and jeans. Not to mention, they're easy to pack, so they won't take up much room in your luggage. You can buy these on Amazon for about $25.
Pros
Affordable

Made with soft material

Rubber outsole
Cons
Suede material may become dirty easier
Eugene Travel Ballet Flat

You'll love these shoes. They are such a classic white flat, with a ballet design. What's great about these shoes is that they make traveling easy. They fit in suitcases with no problems. Pair this footwear with a cute dress or capri pants. The cost for these flats is a bit expensive and will cost about $150.
Pros
Available up to a size 12

Shoe material easy to clean
Cons
Hush Puppies
Hush Puppies are so cute, but they're also comfortable. This white flat is bendable and breathable. They provide additional stretch to give your feet and ankles more flexibility. The leather on these shoes is soft, so your feet won't develop sores or calluses.
Not only that, but you can walk in these things for hours without your soles or toes feeling cramped. These shoes look cute with practically any outfit. You can expect to pay about $64 for hush puppies.
Pros
Breathable

Bendable

Soft interior
Cons
DREAM PAIRS Women's Ankle Straps Flats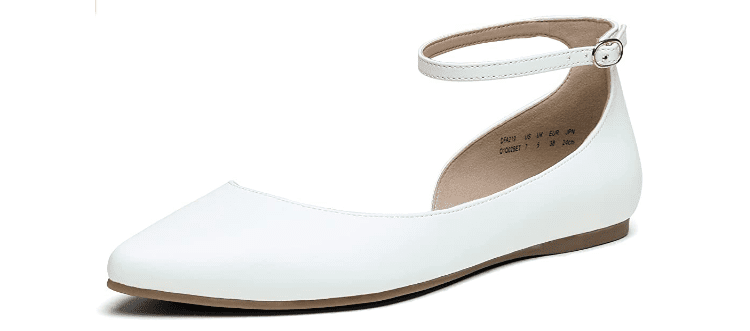 These flats take things to a new level. The design is equipped with ankle straps to give the shoes a more intricate look. In fact, the design is similar to ballet shoes. Dream Pair flats look best with shorts and dresses.
When you want to add a bit more "oomph" to your work, these are the perfect shoes to wear. They have a soft rubber outsole and soft lining on the inside. You can purchase these on Amazon for about $20 to $50.
Pros
Affordable

Rubber outsole

Beautiful design
Cons
May not be suitable for wider ankles and legs
Soda Flat Women's Linen Loafers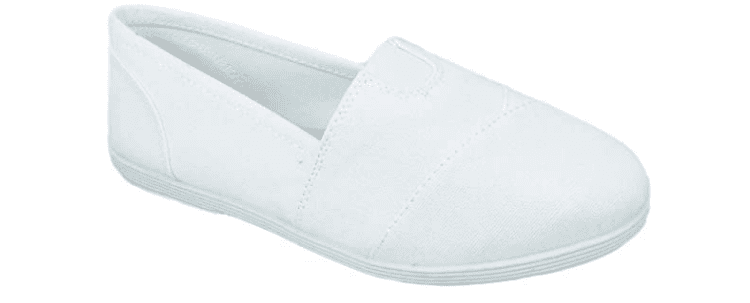 Flat white shoes offer a different style and look. They're made from linen, but there's still comfortable. They're so easy to slip on, which makes sense perfect for those days when you want to have a basic, casual look. 
Not to mention, they're ideal for running errands because they're equipped with gel foam insoles. Soda flats look great with jeans, leggings, and capris. They are available for about $12 to $35 on Amazon.
Pros
Affordable

Soft linen material

Gel foam insole
Cons
Linen material easily becomes dirty
The Best Occasions for White Flats
White flats aren't made for every occasion, but they're pretty versatile. Here are some of the primary occasions when flat shoes are acceptable.
A Work Environment
Do you work in an office where business casual attire is mandatory? If you do, flat white shoes are an incredible accessory. While wearing heels is nice, there are some days when your feet aren't in the mood for them. 
Of course, white goes with everything, so no matter what color you're wearing, flat white shoes will pair well. Not only that, but since they are very simple, they're appropriate for a work environment. Some corporate offices don't allow employees to wear open-toe sandals or high heels, so flats are great.
Running Errands
When you're out and about, one of the things that'll get you through the day is comfortable feet. If you're going here and there, popping in and out of multiple stores, your feet can wear quickly. However, flat shoes are good companions.
If you take this route, make sure you have on a quality pair of flats. Choose flat shoes with a soft lining and a padded sole.
Everyday Wear
For the most part, you can wear white flats anywhere. They're so versatile, that you can take them to pretty much any setting. Church functions, meetings, and even a movie date. Obviously, they don't fair well for over-the-top, formal occasions. Those situations generally require high heels. 
You also want to stay away from crowded situations when wearing white shoes. If you're in a crowded bar or party, your shoes might get stepped on, which leads to staining. In that case, you may want to opt for a different color.
How to Style White Flats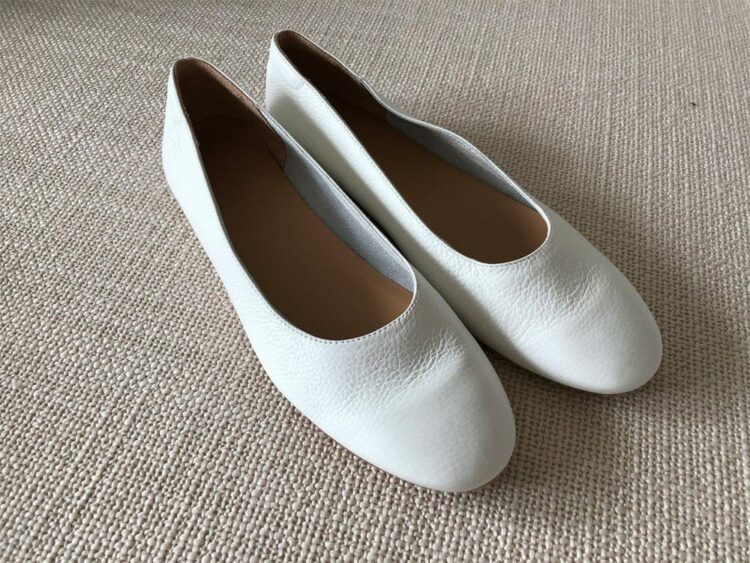 As I've mentioned already, flat white shoes are extremely versatile. Here are some of the best clothing pieces to wear with them:
Skinny Jeans
It's safe to say that white flats look the best with skinny jeans. There's just something about the dynamic between the two that makes them look well together. Sometimes skinny jeans don't look right with standard tennis shoes. But for those days when you're not in the mood to wear heels or boots, flats come in handy!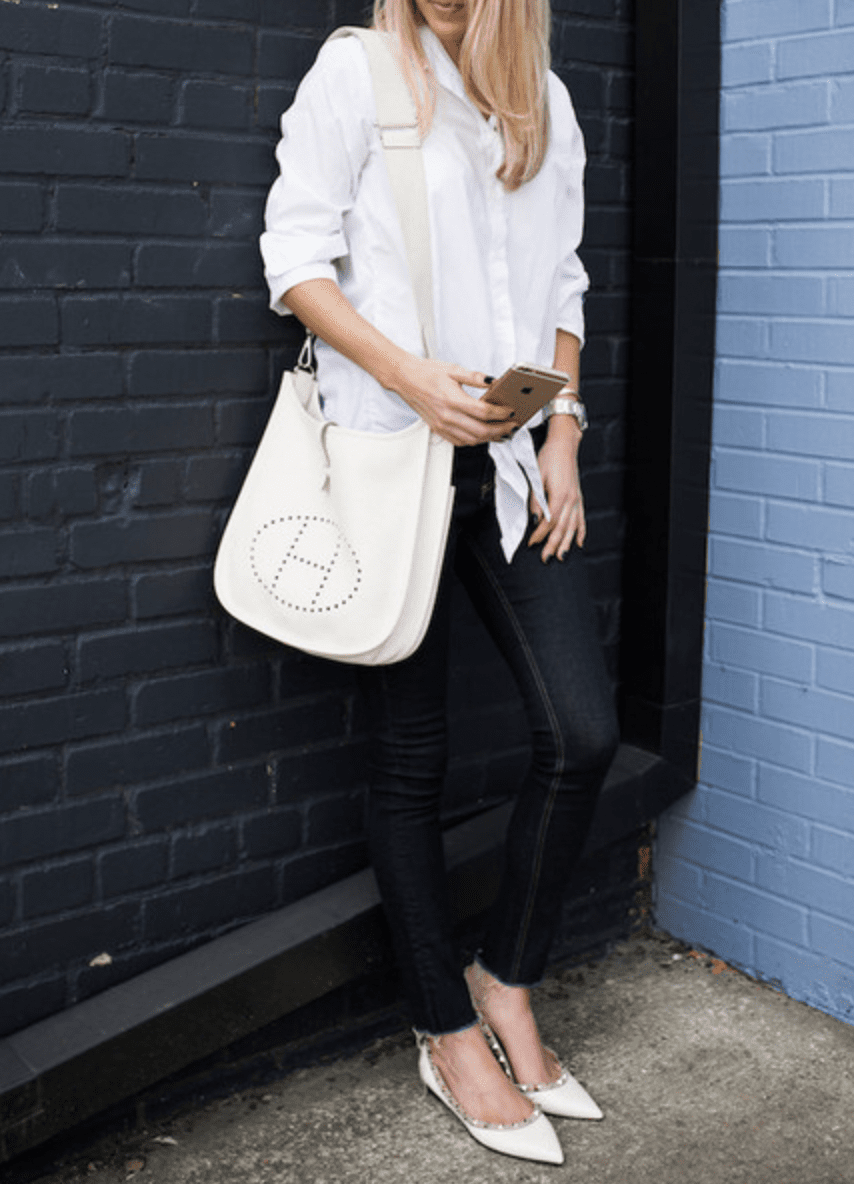 Dresses
Flats look good with dresses, but they look the best with a certain type of dress. You may want to steer away from white flats when wearing bodycon dresses or pencil skirts. However, they complement denim dresses and skirts, summer dresses, and fluffy, ruffled skirts. In most cases, you should pair these two wardrobe items together when you want a cute, casual look.
Capris
Short capris that cuff at the ankle look so cute with flats. The two complement each other so well. But flat shoes also look good with capris that stop just above the ankle. It creates a comfy, casual ensemble. Picture a printed t-shirt, cuffed capris, and white flats. It makes the perfect everyday outfit. 
Leggings
Everyone knows how comfortable leggings are. When you're having one of those days when you just want to feel laid back, these two will make you feel relaxed. The good thing about leggings is that they are also versatile. So, if you wanted to wear them as your pants, they'll look great with your flats. But if you also wanted to wear them underneath a dress, they still look just as good.
Shorts
Wearing shorts with flats is a great idea. Sometimes you may not want to wear sandals or the weather may feel too hot for tennis shoes. In that case, flat shoes are the perfect alternative. However, there's a certain way you should style them with shorts to make sure that you pull the look together. If you're going for a dressy style with your shorts, you can still wear flat shoes.
For instance, if you put on khaki shorts and pair them with a flowy blouse or a quarter-length jacket, flats will complement that ensemble perfectly. But you can also pair flats with casual shorts. Let's say you want to wear denim shorts.
If that's the case, you may want to stay away from ballerina flats —unless you're wearing a style similar to the Dream Women's Ankle Strap Flats. But if not, opt for white flats that offer a more casual look, such as the Soda Women's Linen Loafers.
How to Prevent Sweaty Feet in Flats
One of your main concerns about wearing flats might be sweaty feet. I understand. But there are a few ways that you can cut down on perspiration. Start by making sure that you have on the right shoe size. Flats are the worst shoes to wear if they are too little. The material hovering over your toes and soles will definitely lead to extra sweaty feet. So make sure that there's plenty of wiggle room. 
Also, consider using foot powder. There are tons of products out there that absorb sweat from your feet. Not only will this keep your feet from perspiring, but it'll cut down on the bad odor. 
Lastly, it's important to stay hydrated. I know that sounds a bit weird, but if your body is hot, then your body temperature will instantly go up, which leads to more sweating. However, increasing your water intake will drastically help with regulating your body temperature.
Frequently Asked Questions About White Flats
You may be curious to learn more about white flats. If so, here are some of the frequently asked questions about these comfy shoes:
Question: Do Flat White Shoes Hold up Well?
Answer: Yes, they do. However, the longevity of your flats depends on a variety of factors. If you're wearing them several times a week, they'll wear out quickly. They may begin to bend, or the soles may wear out quicker.

Furthermore, since they're white, they may start to look dirty. If you want to extend the life of your flats, get more than one pair. That way, you're not wearing out one set all of the time. Also, take care of them by washing them when needed. 
Question: Can I Create a High Fashion Look With White Flats?
Answer: Absolutely! There are so many cute ideas you can put together with these shoes that give you a casual outfit. Imagine wearing liquid leggings and a chic blazer with your foot. Other than the fact that you're wearing flat shoes, the rest of your outfit will look super high fashion.
Question: Do I Have to Spend a Lot of Money to Get Quality Flat Shoes?
Answer: If you want white flats that'll last, you'll have to dish out a little more money. For the most part, this type of footwear is inexpensive. However, there are some retailers that have a heftier price tag for their shoes.

Your best bet is to take your time selecting your flats. Either go into the store and try them on to make sure they're comfortable, or read online reviews from other customers. Try to find flats with a soft interior lining and cushioned souls.
Question: How Do I Prevent Blisters When Wearing White Flats?
Answer: If you buy quality white flats, it'll cut down on the chances of blisters. However, if your feet are prone to sweating and blistering, limit your time in your flats. For instance, if your feet easily blister, these aren't the shoes you want to wear for a long day out. 

Preserve them for workdays when you're sitting down for several hours. There are remedies that you can try, like covering blister-prone areas with band-aids. But sometimes that's not foolproof. If you want to avoid issues with your feet, try not to stay in flats for too long—especially if you have sweaty feet.
Conclusion
Overall, you can't go wrong with wearing sweat white shoes. Not only does white match every color, but it also provides a clean, crisp look. Furthermore, when you're not in the mood for tennis shoes, heels, or boots, flats are the way to go.
They're simple and easy to put on your feet to head out the door. Not to mention, they are the ideal packing shoes. Boots and tennis shoes are bulky, which makes packing difficult. But you won't have that issue with flats. I suggest that you get these in your wardrobe ASAP!
Recommended reads: