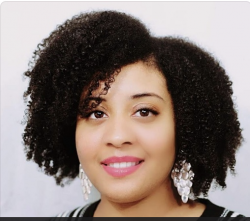 Latest posts by Candis Pope
(see all)
Who doesn't love overalls? But the more important question is, "Who doesn't love short overalls"? When you want to throw on a fun outfit, they are the go-to wardrobe piece.
Overalls are classic, they're cute, and you really can't go wrong with them. However, they're not always easy to style. For the most part, they complete themselves, and you don't have to put too much work into the look.
But if you want to understand how to give your overalls a little more pizzazz, I've got you covered. Below, I've included some of my favorite overall looks, as well as a few styling tips. Check it out! 
Shirts to Wear Under Overalls
One of the main concerns that people have when it comes to wearing short overalls is the type of shirt to wear underneath. Well, I'm here to help you out.
T-Shirt
So, the most simple go-to shirt to wear underneath overalls is a t-shirt. You can't go wrong with it. You can wear a standard tee or go for a flowy, boyfriend tee. This is best for a casual look. But of course, this isn't the most fun overall style, but it's practical.
Tube Top
If you're going out with the girls or having a day at the beach, a tube top is the perfect summer shirt to wear under short overalls. When the weather is hot, you want to have as few clothes as possible. Well, tube tops are the way to do it. Not to mention, the two make such a cute ensemble. It's the perfect summer look for those days when you want to have fun and enjoy yourself.
Blouses
When you want to dress things up a bit, blouses can take short overalls up a notch. Some overalls have a carefree, dressy look, making them the perfect match for blouses. You can wear button-down shirts with collars or a plain blouse. Either way, it'll look good.
Long-Sleeved Shirt
You don't have to wear sleeveless shirts with short overalls. In fact, long sleeves look fantastic with them. You can do the mix-match look to give yourself a little contrast.  It's a good way to spice up your outfit.
 Also, when the temperature gets a little cool, you can pair your short overalls with a long-sleeved shirt and stockings. This is the best way to get the most out of all of your wardrobe pieces without having to buy something new.
Many people push their summer clothes to the side once autumn and winter come in. But you'd be surprised at how many cute outfits you can put together by recycling pieces from other seasons.
Wraps
I've talked a lot about shirts that you can wear underneath your overalls. However, wraps look great over them. Since they're lightweight and flowy, you can throw them on over your overall set to create a different type of look. In most cases, wraps are large and flowy. They look good with denim overalls, as well as overalls made with other fabrics.
My Top Short Overall Picks
Now that you know more about how to style short overalls, check out some of my favorite styles and brands:
AE Denim '90s Boyfriend Short Overall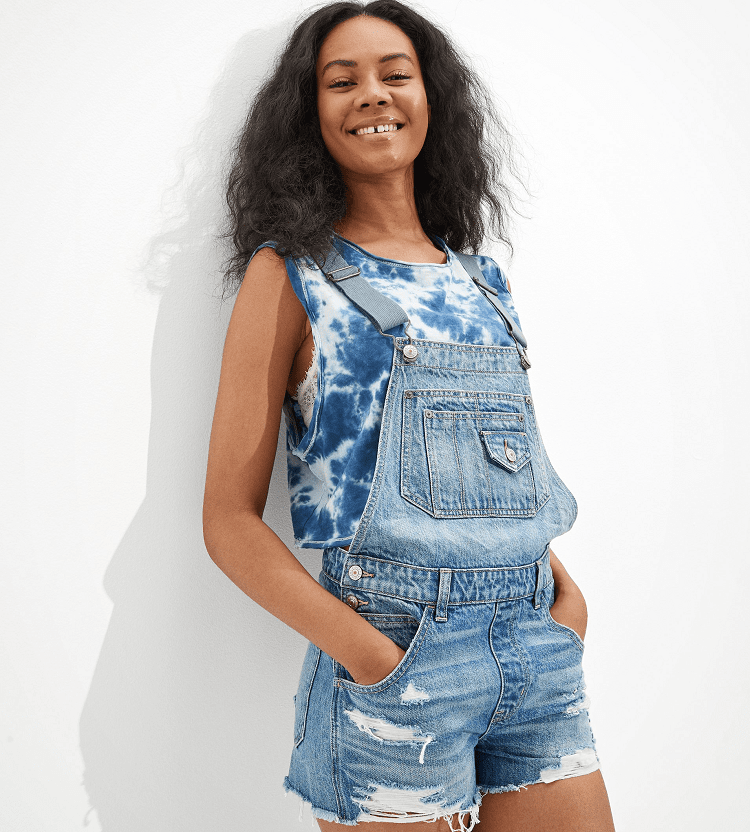 This overall set will definitely make you feel like you're in the 90s. It's a medium vintage wash color, and it comes with a cute pocket design on the front. The shorts are ripped, so it gives the overalls a nice edge. This is a laid-back fit that gives throwback vibes. Not to mention, these overalls feel very nice. They're soft and breathable, so even when you wear them on a summer day, you won't feel too hot.
Pros
Made with 100% cotton

Soft and breathable

'90s design
Cons
The straps are not made of denim
Billabong Women's Wild Pursuit Short Overall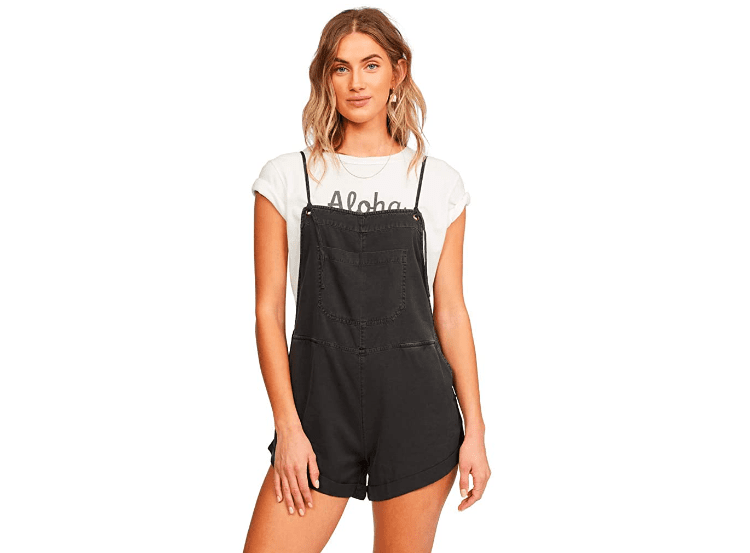 These overalls are so cute, but they're not your typical denim design. They're an easy fit made with soft, lightweight fabric. The details on these overalls include straps that tie in the front and rolled hems. I love how fun and playful this outfit is.
Pros
Made with an adjustable closure

Lightweight and breathable

Available in a variety of colors
Cons
Target's Women's Denim Shortalls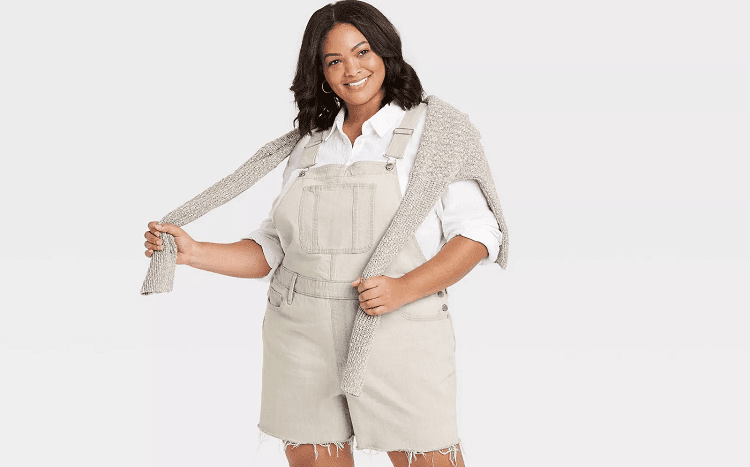 If you don't like your overalls too short, then you'll love this look. This outfit has a boyfriend fit with a fringed hem. The material is soft and stretchy, so you'll definitely feel comfortable. There are multiple pockets on the front, which makes it a functional piece. 
Pros
Made with spandex for extra stretch

Machine Washable

Pairs well with any top
Cons
Love Moda Women's Slim Fit Short Overalls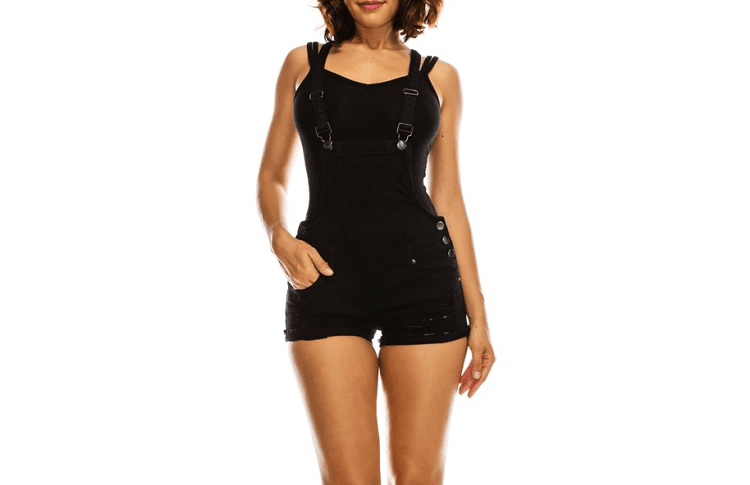 When you want a sexy overall look, wear this. It comes with a slim-fit design that'll hug your curves. However, the material is made with a little spandex to give you more wiggle room. These overalls have a cute front chest pocket and distressed accents to add a little more flair.
Pros
Available in multiple colors

Goes up to a size 3X

Includes spandex material
Cons
Must air dry after washing 
ZANZEA Ladies Sleeveless Romper Short Overalls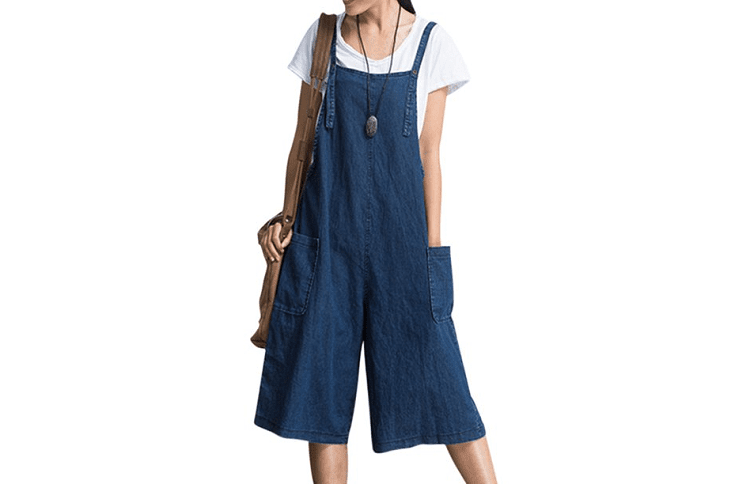 These overalls are all about comfort. They're not your typical fitted design. It's a jumpsuit design with a wide leg that comes down to the knees. There are large pockets on the sides, which makes this piece great for a busy day out on the town. Plus, this look comes in black, light blue, and denim blue.
Pros
Available in multiple colors

Goes up to size 5XL

Super comfy
Cons
Made with polyester fabric that wrinkles easily
How to Style Short Overalls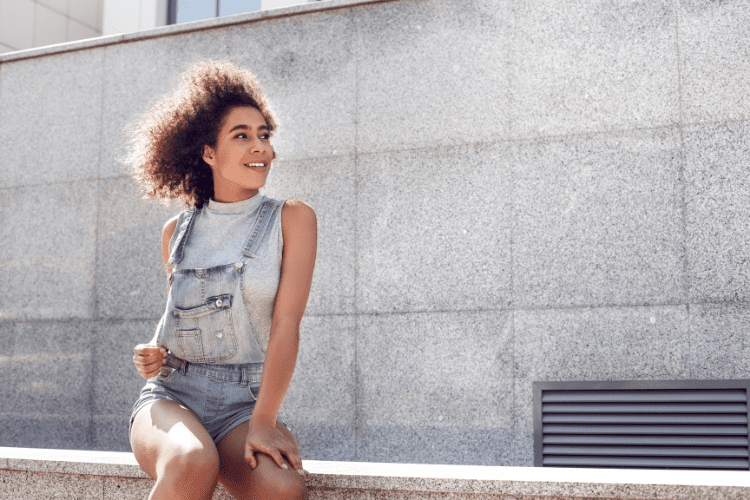 Let's talk style. When you hear the word overalls, you may think of a country farmer. But oh no, overalls have come a long way. Below are a few ways that you can style them:
Chic Style
If you think that overalls are just for a casual look, think again. You can actually dress them up. Not to mention, not all overalls are denim. Some of them are made with a variety of fabrics, and they come in various designs. For instance, the Billabong short overall set mentioned above works well for a dressed-up look. You can pair it with heels, add some cute jewelry, and you've got a chic ensemble.
Boho Style
A laid-back look isn't required when you wear overalls. You can actually go for any style that you want. One of the most popular is the boho look. Think Coachella. You've got on your overalls, a large fedora hat, and ankle boots. Listen, overalls are an incredible piece to wear when you want to feel like a Bohemian princess!
The Boyfriend Look
There are so many "boyfriend" short overalls. This style gives the laid-back look, but it's also high fashion. You'll see slouchy, "masculine" women's ensembles in a lot of fashion magazines and on the runway. With the right shirt and shoes, you can definitely pull this look off. Generally, a basic t-shirt and simple tennis shoes are the way to go.
Frequently Asked Questions About Short Overalls
Do you have a few questions about short overalls? Well, you're not the only one. Here are the most common FAQs regarding short overalls:
Question: Are Short Overalls Only for Spring and Summer?
Answer: No. They're primarily for spring and summer. However, if you want to be daring and make a fashion statement, you can certainly wear short overalls in the fall. The best way to pull it off is with stockings or leggings. It's actually a cute look. Wear a long-sleeved shirt underneath the overalls, put on stockings, and wear heels or boots.
Question: Are Short Overalls Comfortable?
Answer: Yes, they are. Most times, they're made from a thick denim material, but that depends on the style that you get. However, there are some overall sets that are made with spandex or other fabrics to make the outfit more comfortable. As long as you get the proper size, you should have no issues with how your overalls fit and feel.
Question: Where Can I Buy Short Overalls?
Answer: You can purchase them anywhere. They're available at a variety of retailers like Old Navy, Walmart, and Target. But you can also find them online. Short overalls are a popular wardrobe piece, so you should have no issues with finding them. Not only that, but they're affordable. You won't have to break the bank to buy them.
Question: Do Short Overalls Look Good on Plus-Sized Figures?
Answer: Absolutely! Of course, every person's body is different. Therefore, your main concern should be finding overalls that fit you well and are comfortable. If you carry a lot of weight in your midsection, some overall styles may feel a bit uncomfortable. 

Some of the thick denim overalls don't offer a lot of wiggle room in the midsection, and you'll have to pull them over your stomach to secure the straps. In that case, you should opt for overalls made with more stretch or a different material.
Question: Is it Difficult to Use the Bathroom Wearing Short Overalls?
Answer: No, it's not. Of course, overalls are a one-piece set. So, depending on how it's made, you may have to pull the entire piece down in order to go to the bathroom. Luckily, overalls aren't as difficult as jumpsuits or rompers. Once you unfasten the top, they'll come off easily. 

Not only that, but since they're shorts, you don't have to worry about the fabric touching the floor. Just be careful with the straps, especially when you're in public spaces. You don't want your clothing falling in the toilet or touching the bathroom floor.
Question: Are Short Overalls a Good Look for Any Age?
Answer: Yes! You might assume that overalls are for kids, but that's not true. Even if you are an adult, you can enjoy wearing them. Not to mention, fashion has no age. You are free to wear whatever you like.

Plus, with the way that short overalls are made, you don't have to worry about looking "kiddie" in your outfit. As I mentioned above, there are a variety of ways to style your overalls to give them a more mature look—if that's what you're going for.
My Final Thoughts on Short Overalls
In my opinion, you need short overalls in your wardrobe. They provide such a classic look that never goes out of style. For those days when don't feel like putting a lot of effort into your look, overalls get the job done. But what I also love about them is that they work well for times when you want to put together a stylish ensemble.
The different designs and brands that I listed above offer an array of looks for you to choose from. I actually think you need multiple overall styles in your wardrobe.—just to give yourself a little versatility. Trust me, you won't regret having the different options in your closet!
Recommended reads: