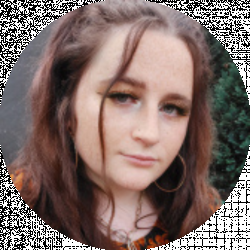 Latest posts by Lou Siday
(see all)
It is getting colder in the Northern Hemisphere, and winter is definitely upon us. Jackets and coats are now necessary every time we leave the house, and this can be pretty annoying when you want to look and feel stylish! I don't know about you, but I get pretty frustrated when I have got the coolest outfit and then have to cover it up with a basic, boring jacket.
But, of course, not all jackets are basic and boring! Winter of 2022 means one thing: fringe jackets. A fringe jacket is a stylish, statement piece that looks fab with loads of different outfits. There is something effortlessly funky about the fringe jacket and something that will be in a fashion not just this winter season but many winters to come.
I have had a lot of fun looking at all the best fringe jackets available to buy right now. In this article, I am going to show you the best ways of styling fringe jackets and my top picks of fringe jackets.
Let's get to it, shall we!
What Is a Fringe Jacket?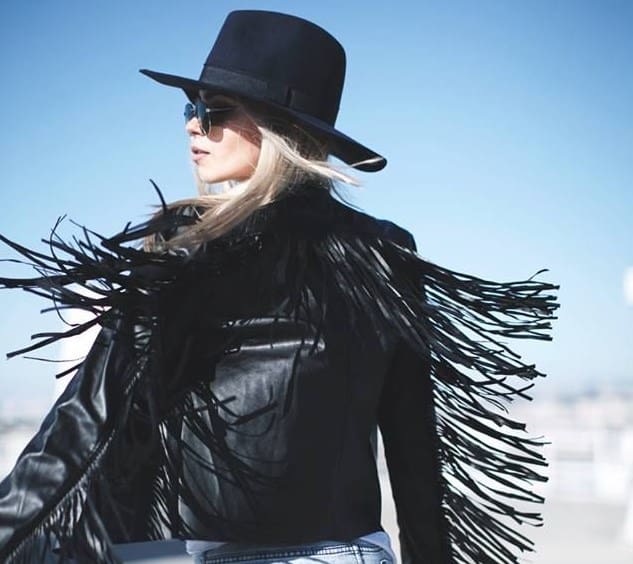 Okay, let's just talk briefly about fringe jackets. They are jackets (duh) that are accessorized by fringing on the arms, backs, and front. Some might just have fringing on the arms, but some might be covered with fringing.
Fringe jackets have BIG cowboy vibes. But did you know that cowboys had fringes on their jackets for a reason? Yup! These are called buckskin, and they are jackets or leggings that have fringes on them. The fringes were designed to allow the clothes to shed rain. How cool is that?! Stylish and functional!
Now, I don't think that most modern fringe jackets have the same rain dispersing qualities as the buckskins of old-school cowboys, but you never know! So next time you are wearing your fringe jacket, and it's raining, let me know, yeah?!
How To Choose a Fringe Jacket
If you are looking to buy a fringe jacket, there are some things you should consider in order to make the right choice for you.
Fabric Type
There are loads of different fabrics that fringe jackets are made out of, and this means that there is something for everyone!
A lot of fringe jackets are made out of suede or a faux-suede. Suede is a type of leather that is made out of the underside of an animal's skin. It is pretty soft and durable. However, real suede is expensive, and many people do not like wearing items made out of animals. Because of this, fringe jackets are often made out of faux-suede. This is often cotton or a cotton blend.
You will also find fringe jackets in denim, which I think look super cool!
Color
A great thing about fringe jackets is that they are interesting and stylish but come in pretty chill colors. This means they are perfect for people who don't really want to stand out too much but still want to have a bit of edge about them.
Fringe jackets often come in beige and neutral colors, and this means that they are super versatile and you can wear them on so many different occasions. They also come in browns and oranges, which feel pretty autumnal!
Not just me absolutely obsessed with this orange fringe jacket and matching boot combo?!
Purpose of the Jacket
It is really important to have a think about what you need the jacket for. Yeah, you may see a fringe jacket that you absolutely fall in love with, but if it is a light jacket and you live in a super cold place, will you actually get any wear out of it?
Fringe jackets are great for nights out, walks in the park, and could even be worn to more formal events. What will you need a fringe jacket for?
How To Style a Fringe Jacket
Fringe jackets can be styled in so many different ways, depending on the occasion. Because they are the statement piece of the outfit, you don't have to think too hard about what you wear it with!
Here are some top tips on how to style your fringe jacket.
Dresses
You can totally match your fringe jacket with a dress underneath, making the outfit perfect for a cocktail night or date!
Matching the colors of the dress with the fringe jacket feels super sophisticated and pretty effortless. Because a fringe jacket is usually in a neutral tone, you can totally go a bit out there with your dress choice, bringing in patterns or floral prints.
Tops and Jeans
Fringe jackets are intrinsically Americana and so perfect to wear with a T-shirt and a pair of jeans. This relaxed look is super cool and laidback, and it feels really vintage.
A band T-shirt, your favorite jeans, and a fringe jacket is timeless look that will never go out of style.
You could also go a bit wild with the trousers and pick some stripy flares to match the jacket. I absolutely love this look and the brown tones. Super 70s!
Skirt and Big Boots
This look really shows us that fringe jackets are extremely versatile and can be worn in so many different ways. Yup, the fringe jacket is not just for cowboys! I love how she has taken the fringe jacket and made it suit her alternative look with a tartan skirt and big boots.
Our Favorite Fringe Jackets In Store Right Now
Let's look at our top picks of fringe jackets available to buy right now. When picking these, I considered affordability, style, and sustainability. I also looked at reviews (when available) and the materials that the jacket is made out of to make sure I have found the best picks of fringe jackets!
This fringe jacket by Nasty Gal is classic and forever fashionable. It is the fringe jacket you picture when you think about fringe jackets and properly embraces the cowboy Americana vibes. The jacket can be worn again and again, with so many different ways to style it.
It isn't made out of suede, but faux-suede. This means that it is not made out of animal products, but because the faux suede is made out of polyester, there still are ethical implications. This is because polyester is a synthetic material that can be harmful to the planet.
Pros:
Affordable
Stylish
Classic look
Cons: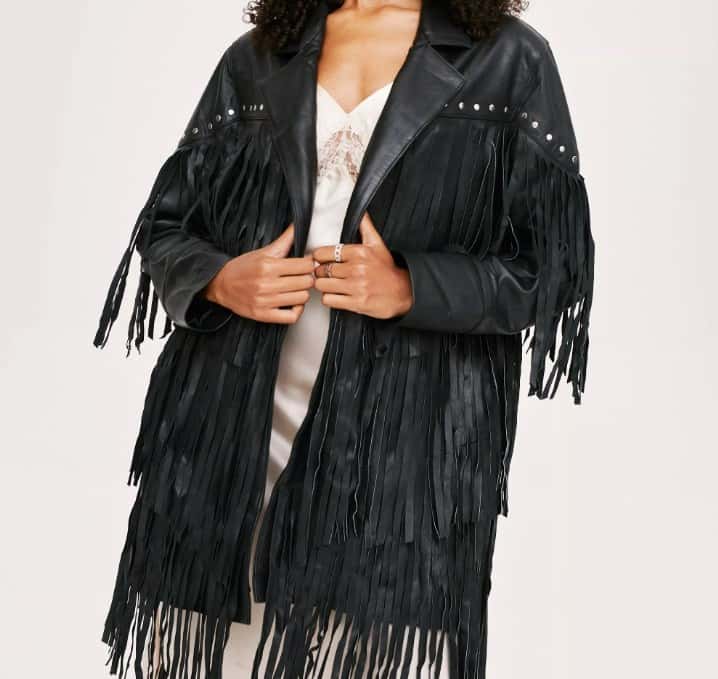 Another one by Nasty Gal next! They have a great selection of fringe jackets at the moment, and this is probably my favorite. This jacket is absolutely stunning and a proper statement piece. It feels super rock and roll and you will feel amazing wearing it.
It is made out of leather, which means it will last a long time. However, you may not feel comfortable wearing an animal product. This is really down to personal taste!
It is also on sale right now with 60% off, so grab it while you can.
Pros:
Built to last
Fashionable
Versatile
On sale
Cons:
Not vegan
Expensive, even if it is on sale.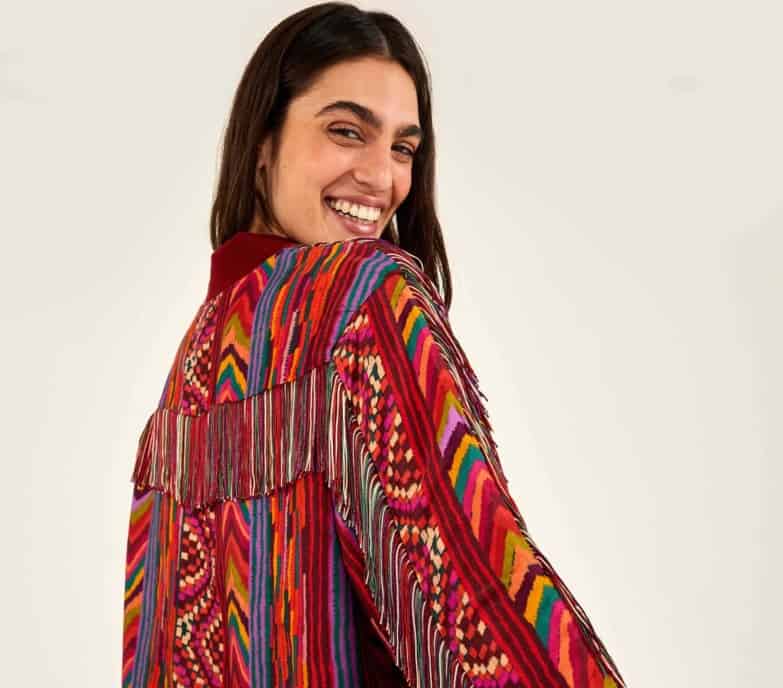 Who said fringe jackets had to be in neutral colors? I am in love with this bomber fringe jacket by Farm Rio and its beautiful, bold patterns and colors. This jacket feels like an explosion of fun and fabric, with the fringe detail really enhancing the out-there vibes.
Okay, it is pretty expensive and I know that this will put a lot of people off this fringe jacket. However, I wanted to include it to show the huge range of fringe jackets out there, and show you that there really is a fringe jacket for anyone's style! I am a huge fan of bold, bright colors, so this jacket is one that I would really consider buying.
It is also made out of sustainable fabrics, which is a big plus for me. You can also get a matching skirt to go with it. What an outfit!
Pros:
Bold and bright
Unique
Sustainable
Cons: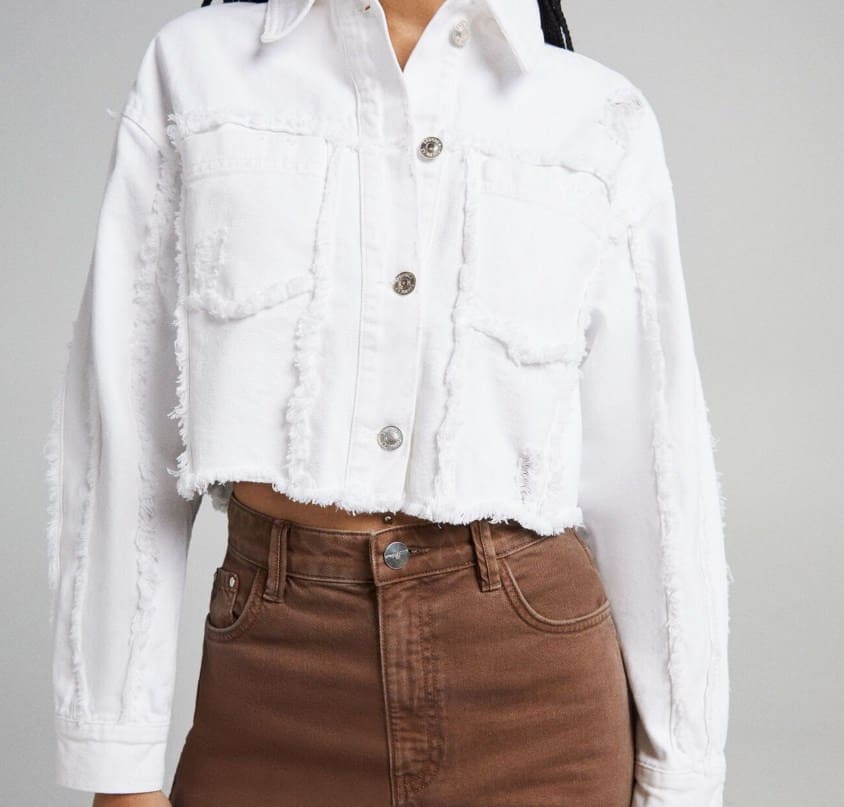 The cool thing about this fringe jacket by Berksha is how they have taken the classic look and really made it modern. The fringing detail is short and fluffy and feels pretty minimalistic. I really like the texture of it, and the jacket would be perfect for everyday wear.
It is also extremely affordable for a jacket that is 100% cotton and made from sustainable sources. In the making of this jacket, Berksha has used as little water as possible in order to protect the planet.
Pros:
Minimalist
Fashionable
Versatile
Sustainable
Affordable
Cons:
Limited Sizes
Only available in one color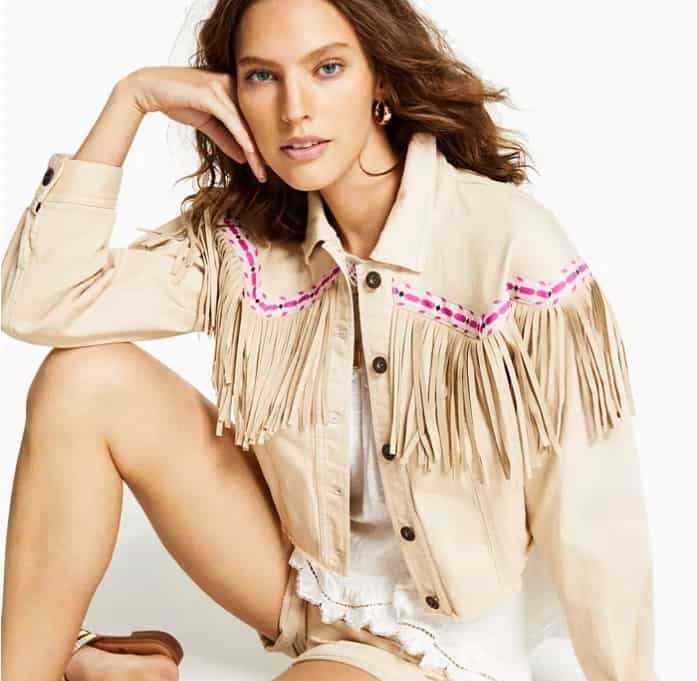 This is a very cute classic fringe jacket that is versatile and stylish. I really like the creme color and the patterned ribbon that is at the top of the fringing. It feels pretty DIY and I love this about it.
It is made out of a cotton blend and is pretty lightweight, so this may not be the best jacket for you if you live in a super cold place! However, because it is lightweight you are able to wear it easily for nights out and events.
Pros:
Affordable
On sale
Classic cut and style
Cotton blend
Cons:
The cropped style might not be for everyone
Only available in one color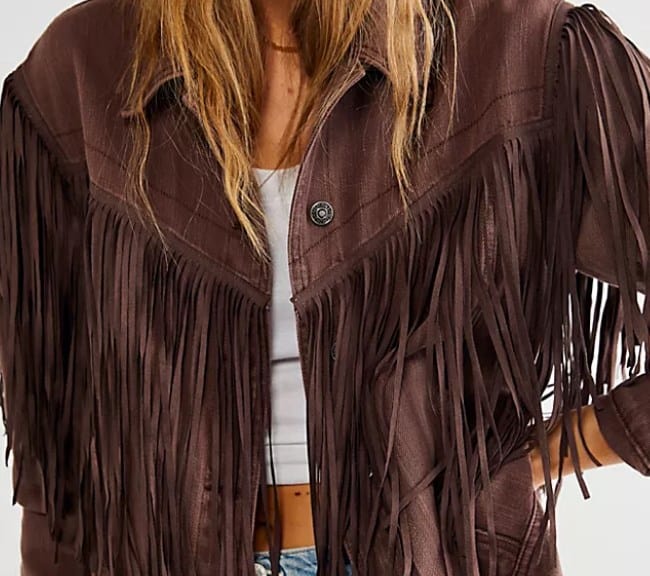 If you are looking for a fringe jacket with a whole lot of fringing, this is the one for you! This fringe jacket with exaggerated fringing is very cool and stylish and is definitely a statement piece. I really like its relaxed look, it looks comfortable and wearable.
It is made out of a cotton mix which is soft and lightweight. The fringe jacket is oversized, so you may want to size down if you are looking for the perfect fit.
It comes in four different colors, but my favorite is brown!
Pros:
Soft and lightweight
Cotton blend
Comfortable
Available in different colors
Cons: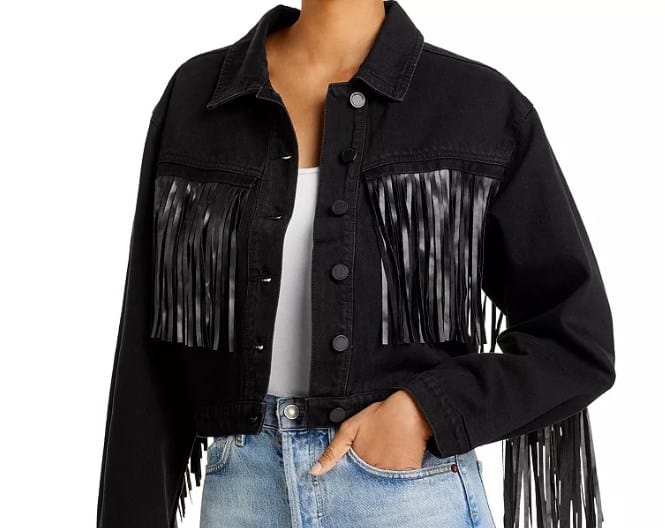 This cropped jacket has fringing all down the arms, which I think is pretty cool! It will add a lot of fun to your outfit when wearing, with movement and flare in the arms.
It is a simple fringe jacket, but effortlessly stylish and cool. It is definitely a jacket that you will wear time and time again!
Pros:
Simple but stylish
Cropped
Cotton mix
On sale
Cons:
Limited sizes
Only available in one color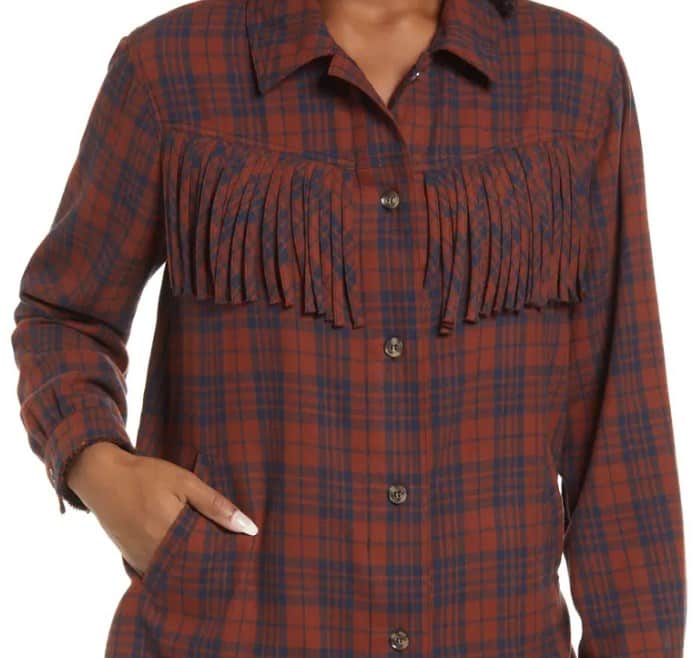 When I was looking for fringe jackets, I noticed quite a few plaid shirt jackets with fringe detail. I have never seen this before, and really enjoyed the mix of styles! It still feels Americana, but a bit more relaxed. Not full cowboy, but still nods to the fashion.
I really like this plaid fringe shirt jacket with the simple fringe detail. It is perfect for getting cozy and comfortable in wintertime! It is made out of 100% cotton, which means it is durable and built to last.
Pros:
Plaid pattern
100% cotton
Causal
Cons:
Expensive
Only available in one color
FAQs
Let's look at some FAQs you might have about fringe jackets.
Question: What is the purpose of fringe on a jacket?
Answer: Fringing is an ornamental addition to most jackets nowadays, but it was first used for a reason! Cowboys used to use fringes on their jackets in order to dispel water.
Question: Are fringe jackets in style in 2022?
Answer: Fringe jackets are a classic look that is perfect for winter 2022. Definitely in style.
Question: Where can I buy fringe jackets?
Answer: Lots of online stores are selling a whole range of fringe jackets at the moment. Check out Nordstrom, Macy's, and Nasty Gal for the best picks of fringe jackets.
Question: How do I style fringe jackets?
Answer: Fringe jackets are pretty versatile when it comes to styling. You can wear them with dresses and heels or can keep it relaxed with a T-shirt and jeans.
Keep Warm and Stylish This Winter With a Fringe Jacket!
Fringe jackets are the perfect addition to your winter wardrobe. They always add a fashionable twist to an outfit and are really versatile.
My favorite fringe jacket on the list is the longline studded leather jacket by Nasty Gal. It feels so rock and roll and looks very cozy and warm! Perfect for going out and about this winter and keeping your look fresh and stylish at the same time.
Recommended reads: