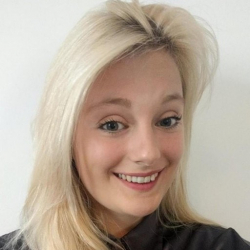 Latest posts by Rosie Greaves
(see all)
In fashion, trends come and go – but jeans are genuinely timeless. We've been blessed with many styles over the years, from high-rise and hipster jeans to classic skinny jeans and Mom fit. However, pull-on jeans are one subtype that doesn't get the hype they deserve. 
Jeans are laden with buttons, zippers, and unforgiving stretch. Yes, they're a classic, but they sometimes lack the versatility we're so desperate for. 
Pull-on jeans straddle the border between formal and informal. They still exude style but offer a slightly more generous stretch. 
You've probably noticed that most fashion retailers aren't reeling with options when it comes to pull-ons. So, where do you find the best pull-on jeans, and how do you style them? 
In light of these questions, we're here to run you through the best pull-on jeans money can buy and show you how to swing between the girl's night out and errand run with a host of stunning looks. 
There's lots to cover, so let's get started!
What are Pull-On Jeans?
Pull-on jeans do precisely what they say on the tin. Generally, there are no zippers or buttons here – just throw these on like you would your favorite sweats, and you're good to go. 
Pull-on jeans usually feature an elasticated waistband and often a drawstring for you to adjust your fit. In addition, they're typically made out of soft, stretchy denim. However, some types are made from cotton designed to give you that unmistakable 'real jean' look. 
How to Buy The Right Pull-on Jeans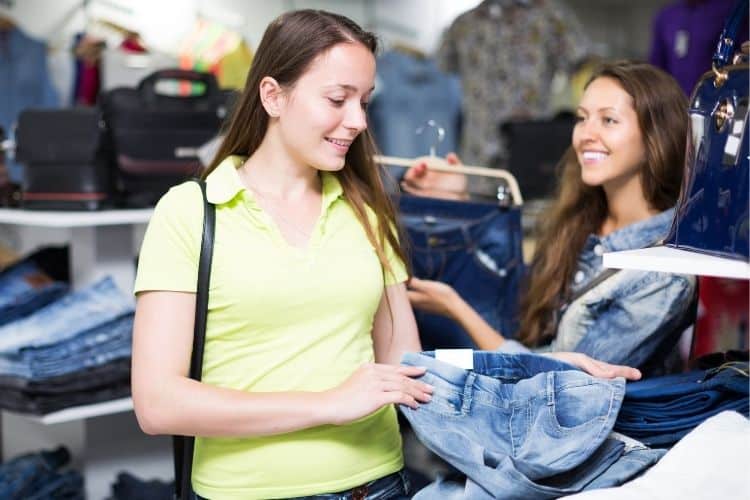 With some luck and careful purchasing, your next pair of pull-on jeans might just become your favorites. However, for that "just right" feeling, it's essential to keep in mind the following as you browse online:
Sizing
As we've already said, pull-on jeans typically come with a stretchable waistband. This makes them stretchier and easier to pull on, giving you a little wiggle-room where your hips are concerned. That said, you'll still need to carefully choose the right size to ensure the fabric fits snugly around your legs and reaches down to your ankles.
The length of your jeans may vary from 28-32 inches, depending on the brand and fit. To measure for length, hold a tape to the inner seam of a well-fitting pair of jeans. Then measure down along the inseam to the bottom corner of the trousers. 
If you don't have a pair of jeans to measure – just measure from the inside of your crotch to the ankle.
You can also measure your waistband by laying a tape around your waist – just don't pull the tape too taught. Note: for mid-rise jeans, the measurement needs to be in line or slightly below your navel. Whereas, for high-rise fits, the measurement should be taken an inch above your navel.
Top Tip: Always consult the brand's sizing notes. Different brands might use a slightly different sizing system, and, as such, their jeans might fall larger or smaller than standard sizes.
Color
As we've already alluded to, unlike ordinary jeans, pull-ons come in a wide range of colors because they're not limited to the traditional denim material.
Although traditional denim colors like light and dark blues and greys are available, you can also experiment. So, shop around to find the color that best fits your mood, style, and occasion -reds, yellows, purples, greens, are all out there – or whatever else your heart desires!
Fit
Pull-on jeans are just as versatile as ordinary jeans due to the wide range of fits and styles available. Here are just a few examples of what you might find when browsing pull-on jeans online:
Flared:

These fan out more loosely near the ankle

High-waist:

As the name suggests, these fit snugly around your waist rather than your hip.

Ankle-jeans:

These sit just above your ankles for a sporty, casual look

Balloon:

This provides a tight fit around the waist and then bellows out with a rounded silhouette for a more casual, curvy look.
Budget
Finally, of course, your budget remains an all-important consideration. Luckily, pull-on jeans are often more affordable than their traditional button-and-zip counterparts. A pair can start at around $10 and rise to be as expensive as $120 or higher. However, the price will, as always, depend on the material and style, as well as which brand you shop from.
Benefits of Pull-On Jeans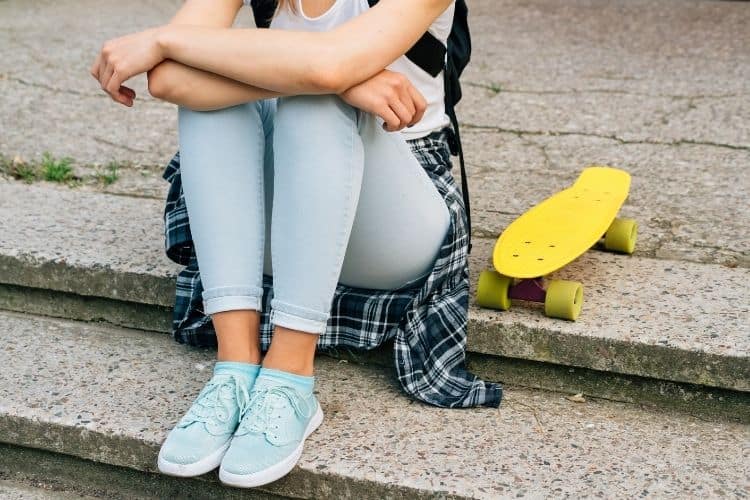 Pull-on jeans come with a range of benefits, most notably:
A Comfortable Fit
This is the biggest benefit of them all. Their elasticated waistbands usually offer a more forgiving stretch than traditional denim jeans, plus you won't have those pesky zippers or buttons to contend with. Their lightweight design is also great for more active people who require something to keep them comfortable while they're on the go. 
Versatile
When shopping for pull-on jeans, you'll instantly notice a much wider choice of colors to choose from. You can still buy pull-on jeans in traditional colors like dark and light blues, but you can also get them in less common tones like reds, purples, and greens.
This makes them an incredibly flexible option for all events – whatever the occasion, you're bound to find a pair of pull-on jeans to suit your needs.
Cheap
A high-quality pair of traditional jeans can set you back big time. Although some pull-ons are still pricey, typically speaking, they're much more affordable than your average pair of jeans. This is great for people who don't want to break the bank to be comfortable and stylish. 
When Shouldn't You Wear Pull-On Jeans? 
Pull-on jeans are far less formal than their traditional counterparts. As such, if you need to attend a 'smart casual' event, you may be better off wearing conventional denim jeans. These tend to look smarter and less relaxed than pull-on versions. In contrast, these are more appropriate for casual affairs. 
That said if you want to wear pull-ons for a more formal event, opt for a version that looks closer to the real thing. I.e., the same denim blue and a tighter fit than a relaxed fit on the legs and a baggy waistline.
How to Style Pull-on Jeans
If pull-on jeans are a novel fashion adventure for you, here are some general tips for how to style them to look your absolute best. Of course, the right style depends on where you're headed. A night out on the town with the girls? A smart-casual work-do? A quick weekday errand? Here's a quick style guide for any occasion:
Timeless and Classic
If you go for straight-leg, pull-on jeans, you're on your way to achieving a striking leg line, characterized by providing a not-too-tight fit in the hips. As a result, it's form-fitting without clinging to every curve. 
As a result, straight-leg, pull-on jeans create a clean line from hip to ankle and a streamlined silhouette. 
Pair jeans like this with light sweaters for an everyday elegant look. Or, a crop top and heels for some evening glam.
Needless to say, your choice of shoe can also change the appeal of the outfit. For example, ballet flats offer a softer look. In contrast, chunky sneakers can give the style some punch for more casual outings with friends.
Activewear
If you live an active lifestyle with many demands on your time, fashion might be the last thing on your mind. 
But, fortunately, errand runs and appointments can be completed in style with minimal effort with the right pair of pull-on jeans. Pull-on jeans look great with light tees, combined with a flannel shirt or hoodie for that ultra-casual and cozy look. 
The denim styling certainly elevates your outfit from the usual yoga-pants-and-hoodie combo for a more refined and put-together ensemble.
Smart-Casual
Although pull-ons are comfortable and easy to wear, that doesn't mean they don't lend themselves to smarter affairs. For example, skinny pull-ons can pair amazingly well with a tailored jacket. The combo pulls together what's otherwise a casual look and adds an air of refinement to your appearance. Then, combine with high heels or ankle-length boots to add that final polish.
Pull-On Jeans Worth Considering
Now that we've covered the basics, let's take a look at the hottest pull-on jeans of the season and how to style them:
Signature by Levi Strauss & Co.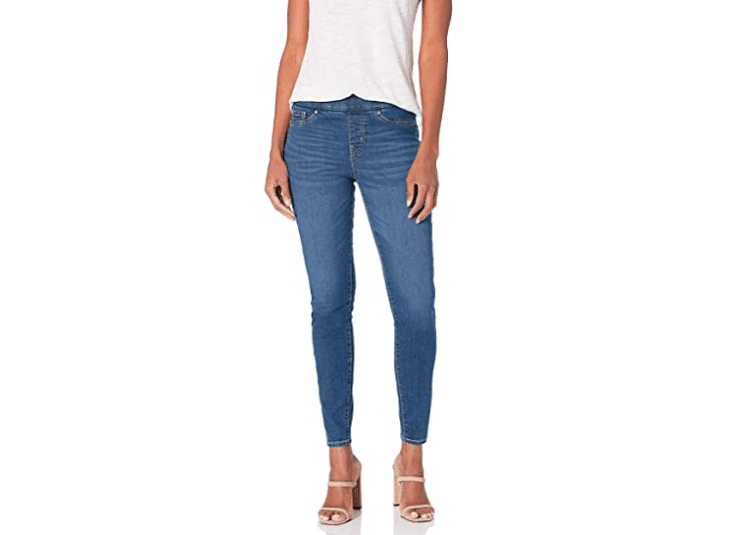 These pull-ons are amongst Amazon's top-rated – plus, with that unmistakable brand name, you can rest easy knowing you'll get bang for your buck.
The Signature by Levi comes with a vintage, worn-in look, made from 78% cotton, 20% polyester, and 2% elastane for a comfortable fit. These pull-ons also boast a mid-rise waistband plus a tummy-slimming panel, making them perfect for all body types. 
They're available in several colors, from deep green to classic black, making them perfect for any and all occasions. There's also a choice of standard and plus fit, and leg lengths vary from 28 to 32 inches. 
When paired with a classy evening top, these pull-ons are great for more formal affairs. Or, opt for a classic tee with their range of color options for more relaxed occasions, like a coffee or shopping trip. 
Pros
There's an in-built tummy-slimming panel.

These pul-ons have a vintage, worn-in look, which gives the appearance of traditional jeans. 

The fabric is stretchy, which guarantees a comfortable fit. 
Cons
The pockets are fake, so if storage is essential for you, these aren't the pull-ons for you. 

There are limited leg length options – taller women may struggle to find the perfect fit. 
H&M Pull-On Pants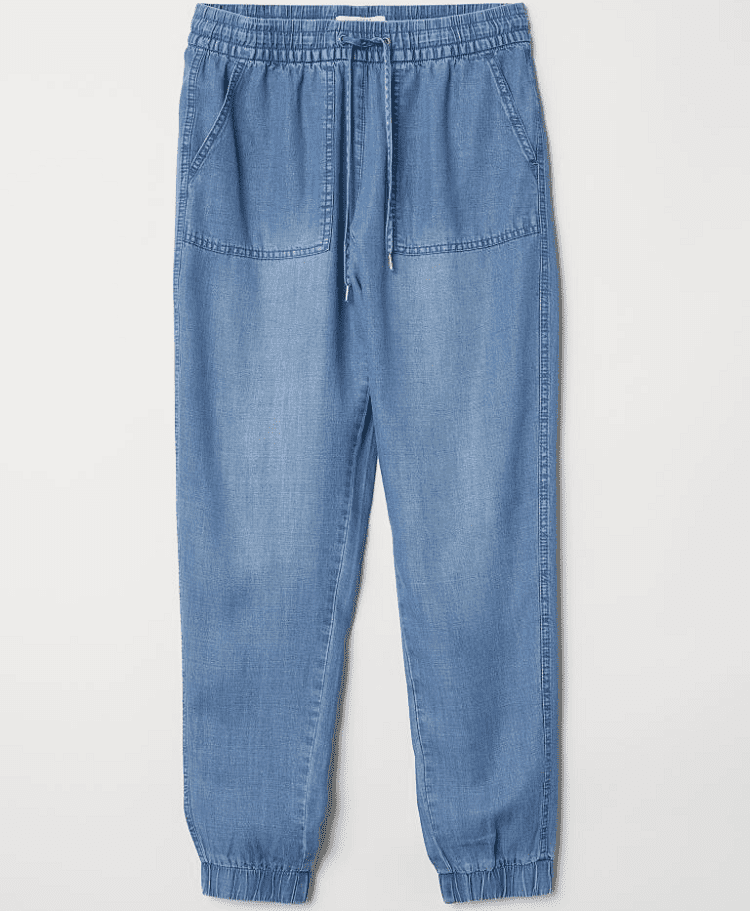 These pull-on pants from H&M offer a more casual, floaty vibe than your classic pull-on jeans. They sport a regular waist rise in blue denim, made from 100% lyocell with 100% cotton pockets. 
There's undoubtedly nothing restricting about the fit of these pants. They have an elastic drawstring waistband, tapered legs with elastic hems, real side pockets, and mock back pockets. 
These aren't as skinny as the Signature by the Levi Strauss pants. They fit better than the traditional Mom jeans cut, making them great for warm, active days that demand more relaxed attire. That said, these aren't the right style for more formal events, but they're excellent loungewear. 
These are currently on sale for $27.99 at H&M. 
Pros
There are real pockets.

The lyocell guarantees a reasonably thin and slightly baggy fit.

The drawstring fit gives you more control over the fit of the pants. 
Cons
The thinner fabric makes them unsuitable for colder days. 

Although you get a few real pockets with these pants, there are still some mock ones at the back, which isn't ideal if you want all of your pockets to be fully functional. 
ASOS Pull-On Jeans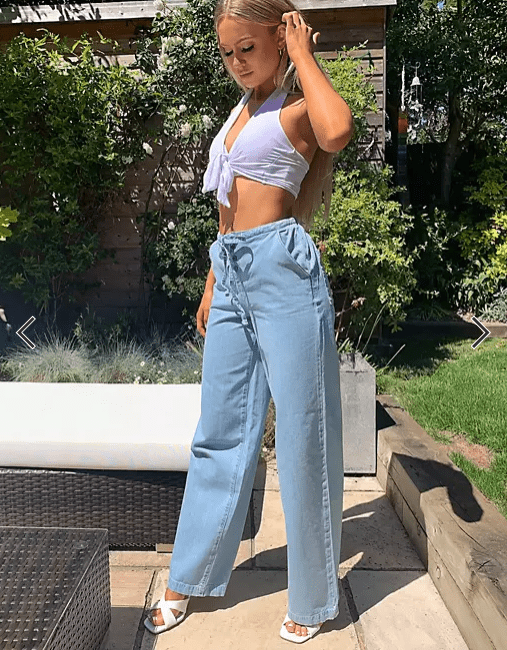 At just $14, these pull-ons are the cheapest option so far on this list, which is great if you're looking for something stylish on a tighter budget. 
These pull-on jeans are lightweight, breathable, and come with a statement flared leg and drawstring waistband with buttons. 
They're made from 100% cotton for that iconic floaty feel and boast four fully functional pockets for extra storage. In addition, their light blue coloring makes them a great piece to add to your summer wardrobe. 
Pros
Every pocket on these jeans is usable – what's not to love about that? 

Buttons don't make frequent appearances on pull-on jeans, so this is pretty unique, and it gives you more control over the fit.

There are no elasticated hems on these pants, making them more appropriate for formal occasions. 
Cons
These aren't as thick as genuine denim alternatives, so they're not as suitable for colder weather. 

There's a limited choice of colors – these are only available in a light blue wash – so you don't have much choice here. 
Boohoo Basic Denim Jegging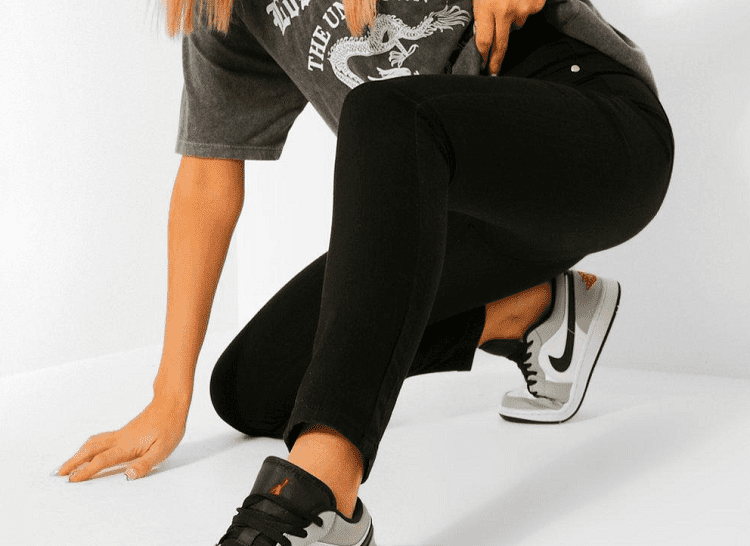 These Boohoo basic pull-ons come in classic black, making them perfect for everyday wear and more formal occasions. 
They're made from 95% cotton and 5% elastane for a super comfy fit. They also feature an elasticated waistband (again, super comfortable!) plus that timeless skinny leg that never seems to go out of fashion. 
You can buy these pull-ons between sizes 2 and 12 (US). You'll also notice those classic side button studs that feature on regular jeans, giving them a more authentic appearance.
These are currently selling for 60% off their original value at just $16 on Boohoo – another great bargain buy if you need to tighten those purse strings! 
Pros
There's an elasticated waistband for a comfortable fit. 

The skinny leg enables you to rock these with a statement heel or some classic trainers, making them suitable for all occasions. 

The side studs are an excellent little addition that gives these pull-ons a more authentic, 'real jean' feel. 
Cons
These pull-ons only have mock pockets, not the real thing. 

No buttons or drawstrings -These are a 'straight on, straight off' kind of situation. Super practical, but they don't offer much control over the fit, so choose your size carefully. 
Petite Lands' End High-Rise Pull-On Skinny Jeans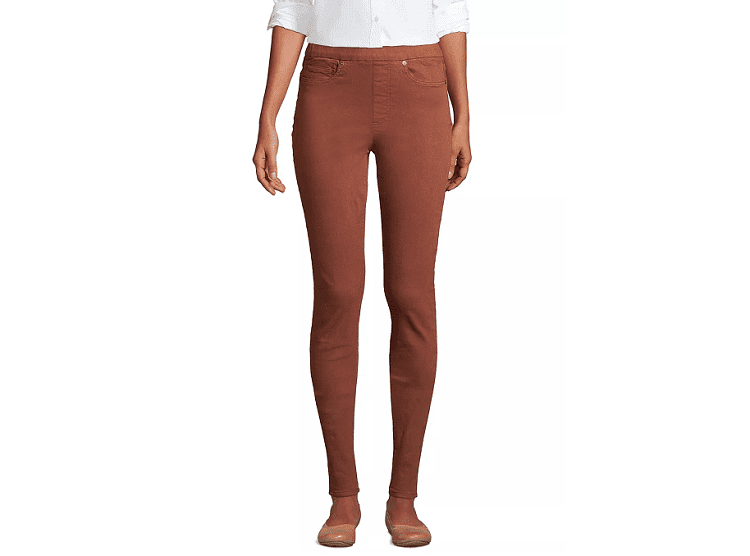 If you have a bit more cash to spare, these pull-ons featuring a slim cut from hip to hem are a timeless investment for more petite ladies. They're made from a mixture of cotton, polyester, and spandex, plus they have five usable pockets and a range of colors to choose from, including greys and paprika colorings. 
Their slim fit is a classic look suitable for all occasions, and the broad range of colors available means you're bound to find the perfect pair for most events, big or small. 
These are currently on sale for $48.96 at Kohls, around $20 cheaper than their usual retail price. These certainly aren't for people looking for a cheap buy, but they're absolutely worth the money. 
Pros
There's a wide range of colors on offer.

The pockets are functional. 

There's an elastic waistband for a comfortable fit all day long. 
Cons
There are no buttons or drawstrings, so you're limited to the fit that the stretch offers, which some find restrictive if you want more control over the sizing. 

These pull-ons are at the higher end of the price range compared to our other competitors.  
NYDJ Pull-On Bootcut Jeans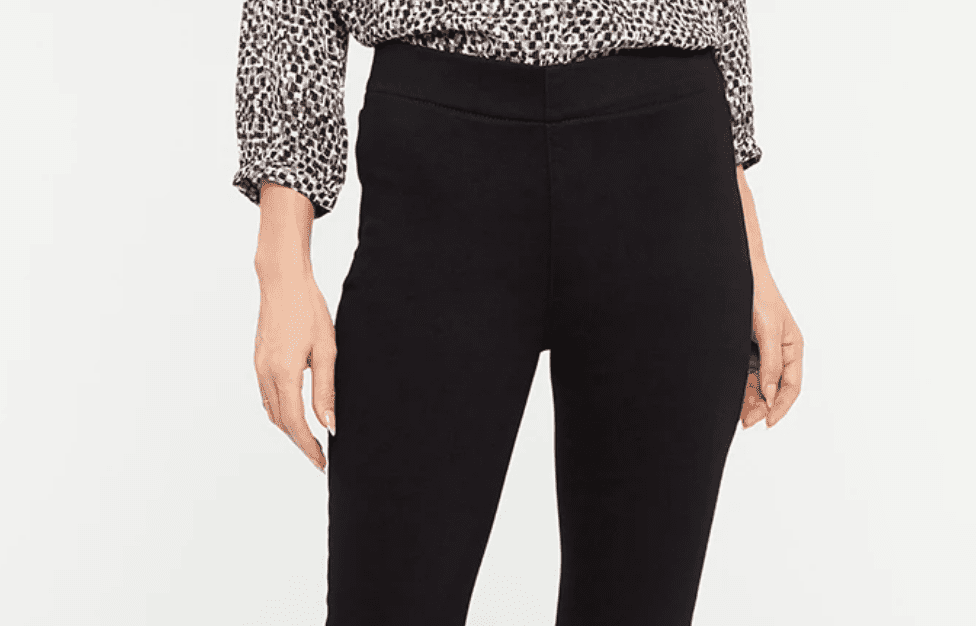 These pull-ons by NYDJ are the most expensive option on this list. However, if these fit your budget, you'll benefit from some sleek, professional-looking pull-ons. These will last for years to come and look great in the office and on other formal occasions. 
These pull-ons come in black, and they're available from XXS to XL sizes. In addition, they're made from an exceptional type of expandable denim, which can stretch up to three times its original size. So, rest assured, you really won't have to worry about comfort with these pull ons! 
They also recover their original shape with ease, so you won't have to worry about ruining the fit if you lose or gain weight. 
Their Lift Tuck technology provides a hidden waist panel to smooth and support your curves. These beautifully sculpt all body types, making them an excellent choice for both petite and curvy women. 
You also get functional back pockets and a pull-on waistband thrown in for good measure. Of course, with such incredible features on offer, it's no surprise that these pull-ons boast an elaborate price tag of $109.  
Pros
The lift tuck technology is excellent for women wanting in-built body-sculpting. 

There are fully functional pockets available.

If you want something for more formal occasions, these are a classic wardrobe must-have that you can wear time and time again. 
Cons
The price tag is a little eye-watering, but you get what you pay for when you consider the features on offer. 

There aren't any pockets (mock or real) on the fronts of the jeans. 

These jeans are only available in black.
FAQ'S
Before rounding off this review, let's answer some of the commonly asked questions we hear about pull-on jeans:
Question: Do They Make Pull-On Jeans for Men?
Answer: Yes! There are plenty of options for men when it comes to pull-on jeans, and most are still reasonably priced. Brands like GAP and Levis offer some of the most popular choices. 
Question: What Are Pull-On Jeans Called?
Answer: Pull-on jeans are also popularly known as "denim jeggings." This is the term you've most likely seen or heard of. 
Question: How do You Wear Pull-On Jeans?
Answer: The fit and color of your jeans determine how you can wear them. Most can be styled with tailored blazers, trainers, tunics, casual jackets, jumpers, and even trench coats. So there's usually a look available for most occasions and personal styles.
 
Best Pull-On Jeans Brands and Ideas: Our Final Thoughts
Now that the colder months are upon us once more, comfort and ease are everything. So why not spruce up your wardrobe with some of the pull-on jeans listed above in a color of your choosing?
To summarize, here are the brands that stand out to us the most:
ASOS: Affordable jeans with fully functional pockets for the practical fashionista.
Levi: Vintage-styled pull-on jeans with slimming panels for an unmistakable, comfortable look in a wide range of colors.
NYDJ: Body sculpting pull-on jeans for more formal occasions – perfect for anyone looking for high-fashion alongside more comfortable denim.
As far as we're concerned, the timeless world of jeans can only benefit from the new take pull-on jeans offer, and we hope to see more designs in stores in the future.
Let us know in the comments below whether you already have a pair at home and how they compare to ordinary jeans for you. We'd love to hear from you!
Further Reads: