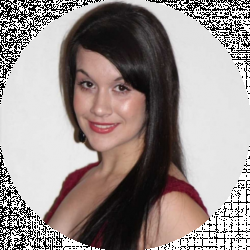 Latest posts by Christine Kent
(see all)
Do you still recall the Jordache jeans? One of the trendy brands that defined the '80s? High-waisted skinny jeans were essential in every fashionable woman's wardrobe in the 1980s, helping women to get used to the notion of ​​spending a lot of money on a piece of clothing that was worth every coin. Read on to find a guide on the best women's Jordache jeans ideas.
​If you were popular in the 80s, you likely wore Jordache jeans. If you weren't famous, you've probably seen the brand's logo with the horse's head more than once in paparazzi photos, and fashion shoots back then. Jordache Jeans were the jeans to own back then.
Jordache disappeared from most big retail stores for some time, but it has returned with an exclusive line of vintage styles. This time around, the legendary '80s designer jeans are high-waisted and so affordable, it's unbelievable. 
A Short History of Jordache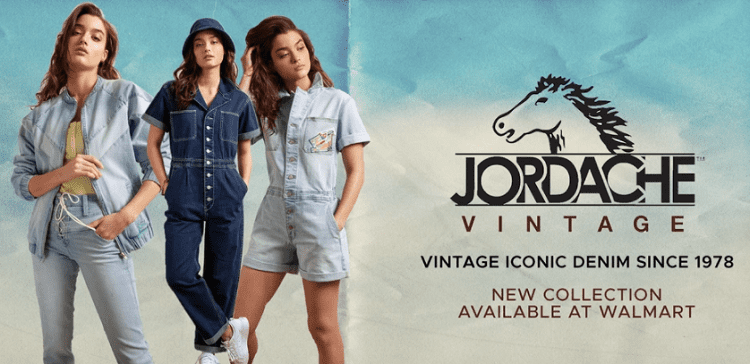 Since it was launched by Israeli brothers Avi Nakash(Naccache), Joe, and Ralph in 1978, Jordache has become a leading designer jeans manufacturer. The three Israeli brothers left Israel for the US to learn how to live the American dream. They all acquired jobs in clothing stores located in Manhattan, working in warehouses and retail stores.
The founders found inspiration from European fashion to design these sexy and tight distinctive jeans.  
The three founder brothers then set up a small chain of designer jeans stores and sold the luxury jeans for less. In 1977, Time Magazine reported that their biggest store was broken into and torched during the New York City blackout. With the payment of the insurance, the brothers decided to start producing their line. 
Their first TV commercial was rejected, except for local advertisements in New York. Jordache jeans became well known almost overnight among teenage girls, and affordable denim jeans became trendy and spread worldwide.
When Did Jordache Jeans Become a Thing?
Jordache is a famous brand that manufactures clothing and designer jeans. They rose to fame in the 1980s with the distinctive crotch logo for perfectly made jeans, and having a pair of these jeans was and still is a fashion statement today. 
Why are These Jeans in Fashion?
Whether your style is mom jeans, skinny jeans, or acid-ripped wash jeans, everyone had their favorite jeans from the '80s. Most people loved and still love these sexy Jordache jeans.
They are also conscious of the environment and society. Based in Los Angeles, California, these jeans are made in the USA, offering reasonable wages. They also work tirelessly to increase sustainability by constantly ensuring that their production techniques have the least possible negative impact on the environment. 
How to Choose the Best Jordache Jeans
Have you ever found things, be it clothes or something that immediately brings you back to your childhood? Or how all your old clothes are making a comeback? It's normal to hear some people say, "Dude, I should've held on to all those old T-shirts! They are back in fashion!
But now, it seems to me that it is me who says it! I was born in the late '90s and grew up in the '2000s, and never did it occur to me that I would be wearing my all-time favorite denim in 2021 with the new vintage Jordache collection! But how do you choose the best Jordache jeans?
The Style
Jordache marketed narrow-legged skinny jeans, but mothers wore baggy, high-waisted "mom jeans." Jordache was not just a brand of jeans, and it stood for equality and freedom.
The brand is famous for its designer denim jeans which were well known in the late '70s and early 80's. They fit precisely on the natural waistline, and the miniature horse on the pocket and decoration at the back made a complete outfit.
Also, Jordache was branded jeans, unlike old, regular plain jeans. On the pocket, they had the designer's name embroidered. 
The Fabric Types
Denim is a beautiful, strong fabric with minimal stretch, making it the ideal fabric weight, neither too heavy nor too light, a perfect blend of stretch and denim.  
Also, Denimology experts state that stretch denim jeans are products of elastane, an elastic synthetic fiber referred to as Lycra or Spandex. They are generally made up of 1% to 3% of elastane. 
The Rise
On average, high-waisted jeans are the preferred choice since they accentuate the natural waistline, and surprisingly, the secure fit above the belly button has an increase of around 11-12 inches. Typically, Many people find high-rise and mid-rise jeans a lot more comfortable than low-rise jeans because of their secure and flattering fit.
Jordache Inc designs beautiful jeans that embody sensuality. These are perfect for an hourglass shape or anyone looking for trendy denim. The super high waist cinches everything leaving a little extra space at times stretching on the thighs, and its tapered leg makes these luxury jeans fit for curves. 
How to Style These Jeans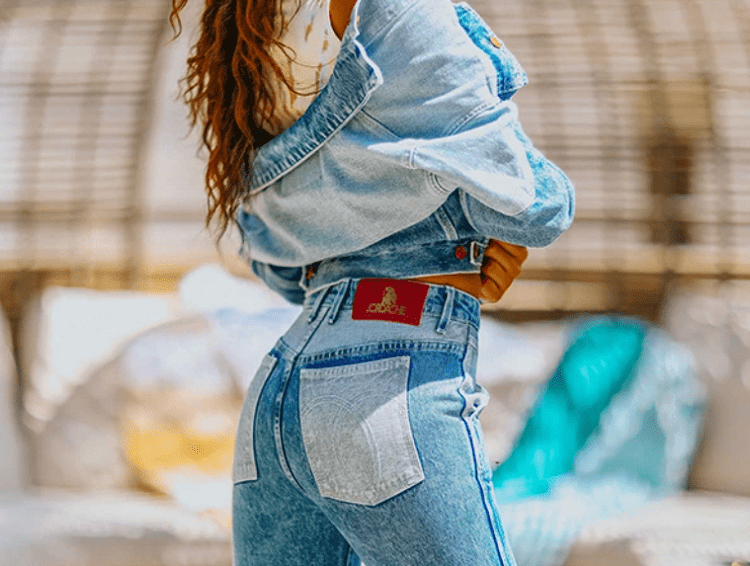 If you are wondering how to match your Jordache jeans, you don't have to look any further. We took inspiration from the way you dress and put on these luxury denim jeans just for you.
Denim on Denim
You can wear your Jordache vintage black straight jeans from the 2019 collection with a matching denim jacket. The detail of the topstitching and the brand's craftsmanship is present, specifically in the back pockets. This isn't the only denim in the photo that catches the eye. The look of Jordache denim on denim jacket is by far one of the most stylish.
Jordache with a Shirt and Boots
These high-waisted acid wash jeans have zippers at the ankles and will take you way back in time. These Jordache jeans look fantastic with bandeau shirts and combat boots giving you serious rocker vibes.
Wearing Jordache Jeans to an Official Business Meeting
For a casual work look, team up your skinny Jordache jeans with a gorgeous blazer and a matching pair of heels. These luxury jeans show off the legs and waist for a fitted look. Although wearing jeans is not recommended for a business meeting, this outfit is always a great look for a day or an evening.
Jordache High-Waisted Designer Jeans with a Turtleneck Top
You can wear your Jordache high-waisted designer jeans with a turtleneck top. You can include a shoulder bag, gold jewelry, and platform sneakers. Also, the Jordache jeans look fantastic with a thin braided belt, and it delicately accentuates your waist and complement your outfit.
Jordache Jeans With a Tee and Sneakers
Jordache jeans are genuinely unique. These designer jeans have been around for over four decades, so there are plenty of vintage styles to select from. You can get a vintage pair perfect for you. If you are artistic, consider adding a piece of vintage-inspired jewelry or bags to your look. A simple T-shirt and your favorite sneakers will complete the look.
The Best Jordache Jeans
Mixed Animal Dye Vintage Crop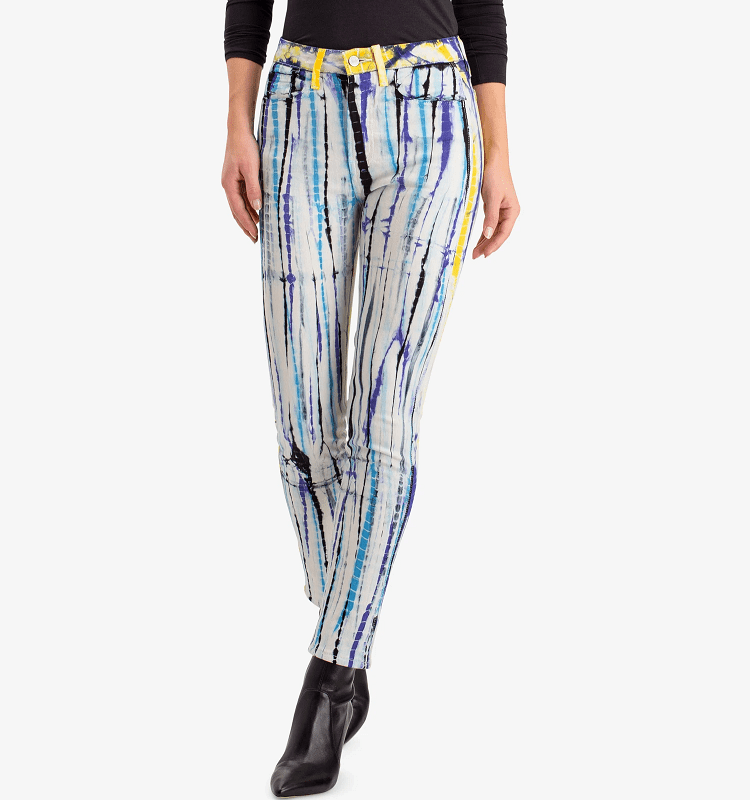 These perfect vintage high-waisted jeans are dyed in Los Angeles to perfection, with a unique dyeing technique that mimics animal prints. 
Pros
It's seamed at the waist and the front to back panels 

These jeans are triple stitched making them durable

They have a classic embroidery on the back pocket that adds to the style and beauty of the jeans
Cons
 Some people may find it too girly
High Rise And Half High Rise Vintage Crop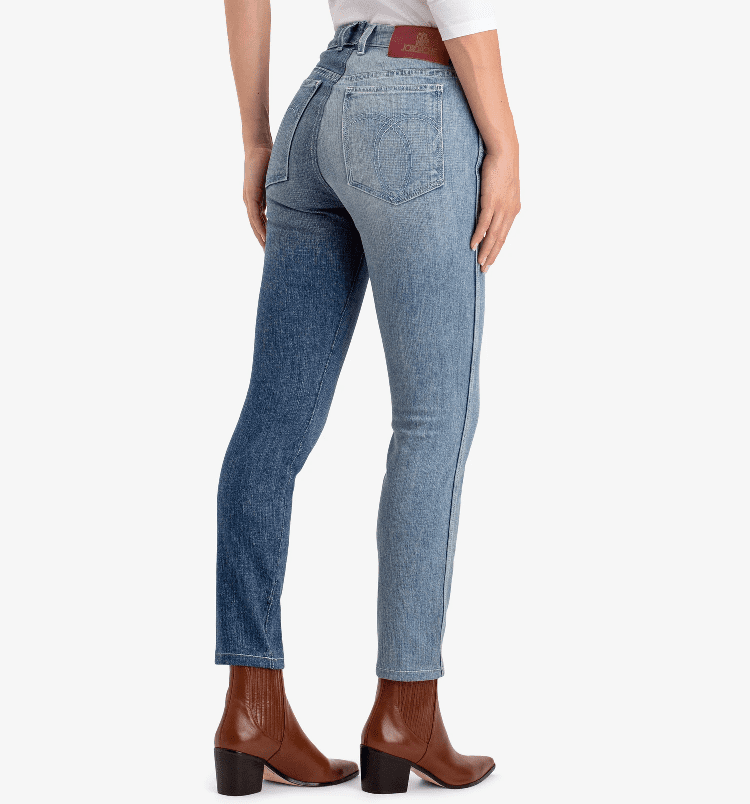 This is an utterly distinctive take on Jordache's back-and-forth concept. Each of the two legs of these jeans has been washed separately for a lighter bright color on the right side, and a darker color on the left side. 
Pros
External triple needle seams make them more durable

Versatile
Cons
Again some people may find it too girly
White High Rise Boot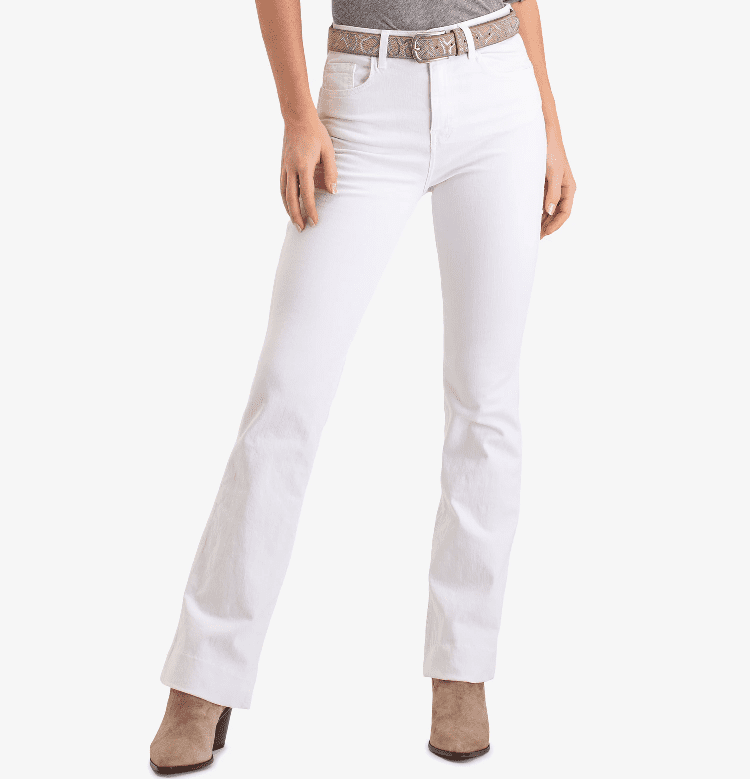 These are perfect bootcut jeans with a distressed whitewash. These ideal retro-inspired jeans are an ideal fit.
Pros
They are stylish
They are soft to touch
Cons
Black Destroy Vintage Crop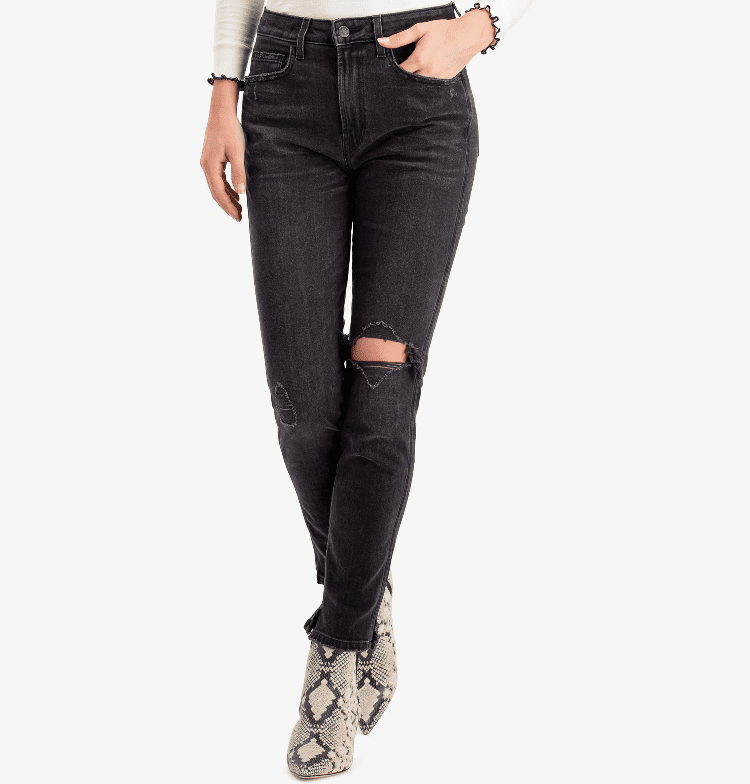 These vintage high-waisted cropped jeans are perfectly relaxed with minor destruction to the knees and nibbled hems. 
You can wear it high and tight. It's ankle length and slim around the waist, hips, knees, and legs.
Pros
Cut hems 

External three-needle seams making it more durable

Classic Jordache Omega embroidery back pocket
Cons
 Not ideal for office wear
New Acid High Rise Slim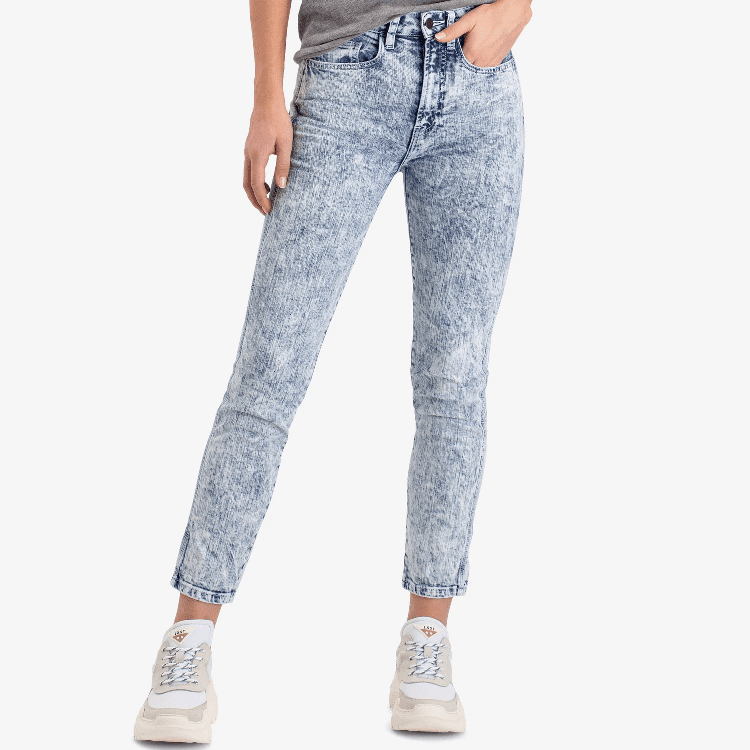 Taken from Jordache's '80s archives, these modernized acid wash jeans are perfect for now. 
They are to be worn high and narrow, adjusted to the waist, hips, and knees. Right at the leg opening. Strikes on the top of the foot or below the ankle. 
Pros
Modern acid wash 

The triple outer stitching zipper flap 

Classic Jordache Omega back pocket embroidery
Cons
Reserved people may find this pair of jeans too be conspicuous

Not ideal for office wear
Cosmic Dye Vintage Crop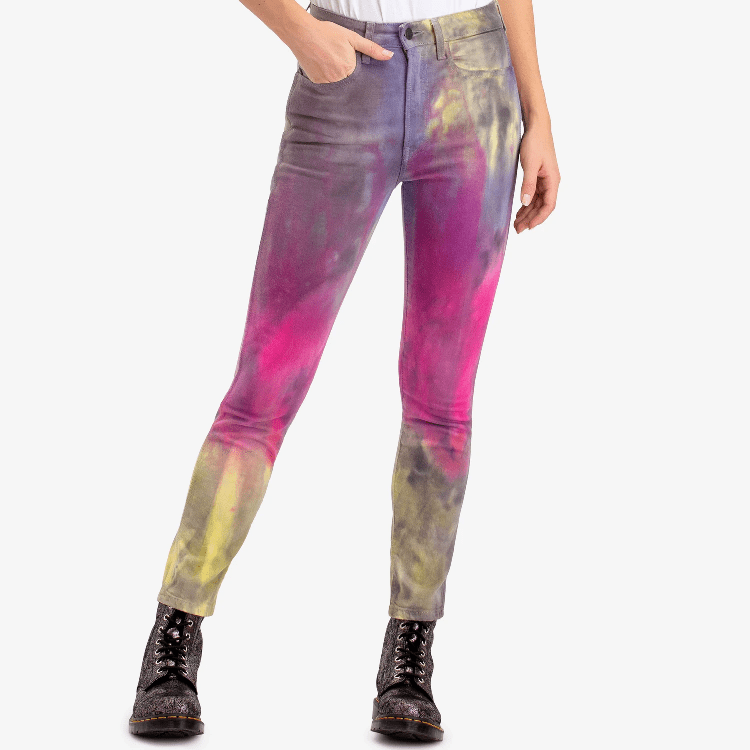 These luxury vintage high-waisted jeans are dyed to perfection, using a unique dyeing technique to mimic outer space. 
They are ankle length and worn high and narrow, adjusted to the waist, knees, hips, and leg openings. 
Pros
Unique animal print inspired dye

External triple needle seams, making it more durable

Classic Jordache Omega back pocket embroidery
Cons
Skinny jeans can sometimes be uncomfortable 
Light Acid-Washed Denim Ski Pants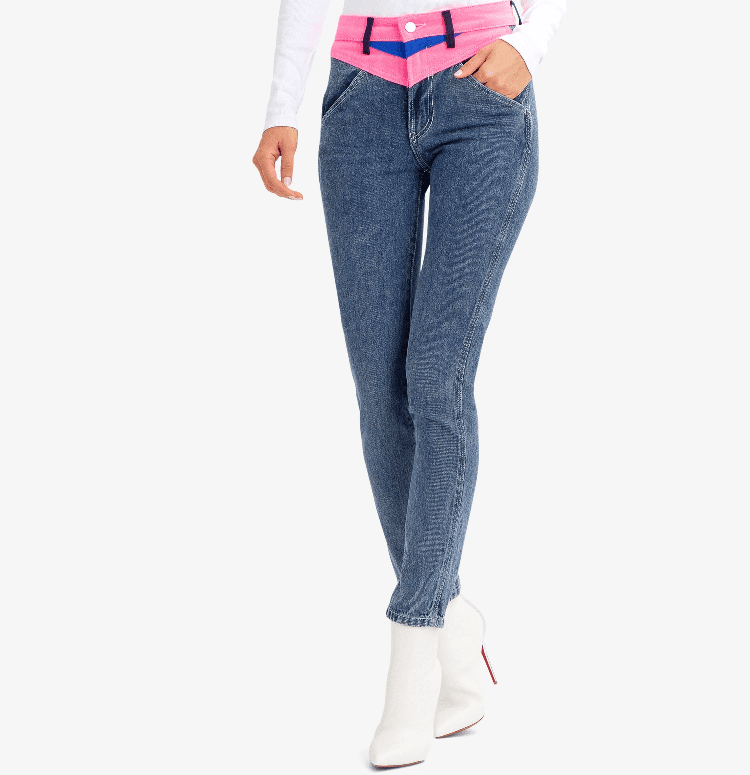 These Los Angeles-made Jordache jeans were inspired by ski pants mixed with Jordache's traditional vintage fit. The top is a mix of navy blue, and hot pink with 90s inspired stitching.
Pros
Its 100% cotton

It's stylish
Cons
 Some people might find these jeans are too girly
70s Blue High Rise Boot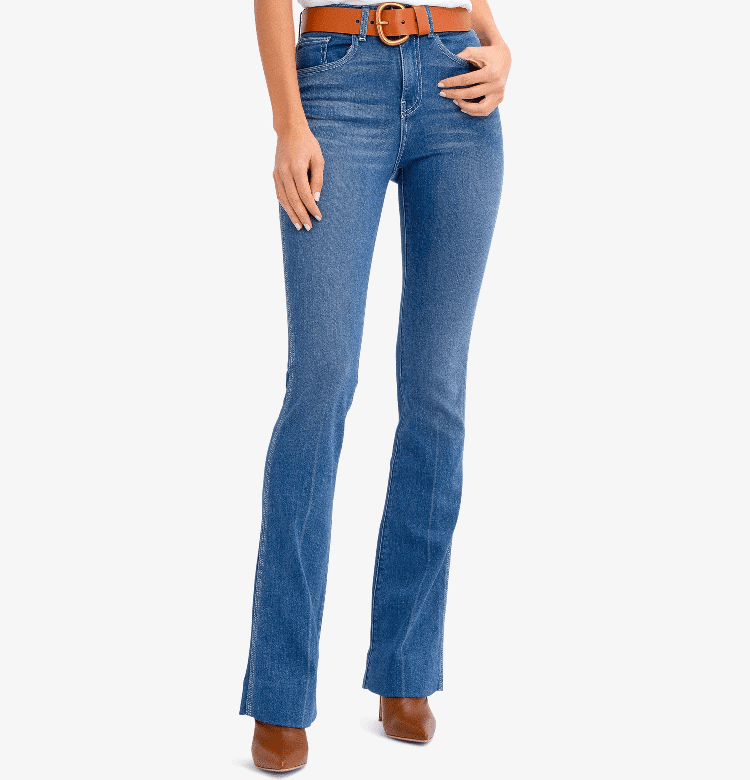 These retro boot-cut Jordache denim jeans are made to stretch to hug your body quickly, and it feels great. It has a long internal seam to cover your shoes and a customized blind hem to give that elegant look. 
They are 36.50% rayon, 1.50% elastane ,45% cotton ,14% modal, and 3% polyester
Pros
They are elegant and stylish
Cons
 Are not a great choice for a formal environment
Coming & Going Jean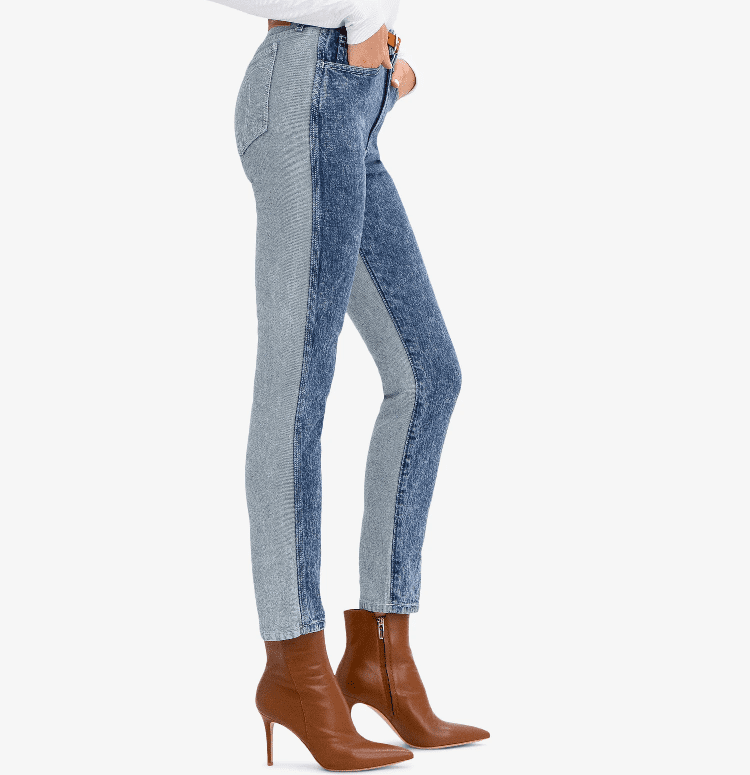 An upgrade to the Jordache Coming and Going jeans with a mix of denim and denim on the outside. The waistband and back are mixed; they are the only jeans with the 21st century feel. They are 98 % cotton and 2% elastic.
Pros
They are modern

They're stylish

Durable
Cons
Skinny jeans can lead to nerve damage
Who Will Wear These jeans?
"The Jordache Look" was a famous 1984 ad for the iconic jeans. Back in the day, jeans were associated with the movie stars and cowboys who played them, making it the favorite garment of young people of the 80s. 
These jeans keep getting better and better. Jordache brings style to different types of people, and today they are perfect for every person, and because of their versatility, you can wear them for almost any occasion. 
FAQ's
Question: Which is the Current Jordache Jeans Collection?
Answer: The most recent is a collection that is dedicated to New York.
Inspired by the logo souvenir shops located at Canal and Broadway, this collection features unique vintage silhouettes, like oversized jackets and high-waisted straight-leg jeans, which are contemporary and reinterpreted in paint rainbow spray all-over logo prints, and a version of denim ever – salmon-colored jeans.
Question: Is Jordache Inc. Still Operating?
Answer: Jordache Enterprises, today, is a privately held conglomerate. The company designs then manufacture a wide variety of denim, apparel, and accessories. Jordache unveiled a premium denim collection in 2018 to celebrate the brand's 40th anniversary.
Question: Where Can You Get Jordache's New Collection?
Answer: The recently released Jordache Vintage collection is available exclusively on Walmart.com.
Conclusion
Now that we've shared the best Jordache jeans ideas for women, we know you've learned why Jordache jeans were and still are popular, why you need to get those sexy luxury jeans, how to pick the right pair, the top ten features Jordache Jeans, and where you can get the latest collection.
There we go guys! We know you're ready to buy a pair. Go and try on these jeans mentioned above. And who knows? Maybe you find a pair that will be your new favorite! 
Recommended reads: