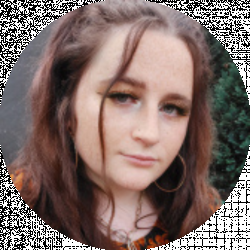 Latest posts by Lou Siday
(see all)
The little black dress is said to be an essential piece of your wardrobe, which I agree with. But, I also think the gold dress is another essential piece that everyone needs in their life. There is nothing better than slipping on an extravagant and glamorous dress for a cocktail night or a first date, and gold is the most extravagant and glamorous color there is!
Okay, gold is a bit out there, and I know that you might not feel confident enough to wear a gold dress. They make everyone look at you, that is for sure, and you might be uncomfortable with this. But, I think everyone should have a gold dress in their wardrobe, and I do think that there is a gold dress out there for everyone. Kind of like the perfect match, right? So, I hope this article will help you find your gold dress perfect match!
How To Style a
Gold dresses are pretty bold and striking, and this means that they can be hard to style. You don't want to over-accessorize with a gold dress, but you always want to put your own personality into the outfit.
So, what are the best ways of styling a gold dress?
Let's start with the shoes. I recommend matching a gold dress with either nude or light-colored shoes, as this doesn't distract from the dress. A darker shoe with a gold dress can look a bit weird and off, so I think the rule is to keep it light.
If you want, you could match your gold dress with gold shoes if you are feeling extra glamourous!
When it comes to the style of the shoe, it really depends on the cut and length of the gold dress you are matching it with. A strappy sandal or heel is a safe bet, as they are simple and understated.
Bags
A gold dress is normally a nighttime going-out dress, so we probably need a bag to go with it, right? Matching dresses with handbags should be simple, but it can be a total minefield sometimes! I think a gold dress can be pretty hard to match with handbags, but that might be because my handbag collection is a bit whacky!
Like picking shoes, when picking a handbag to go with a gold dress, I advise keeping it tame. A nude over-the-shoulder bag will mean that you can have a bag, but the attention is not taken away from the gold dress.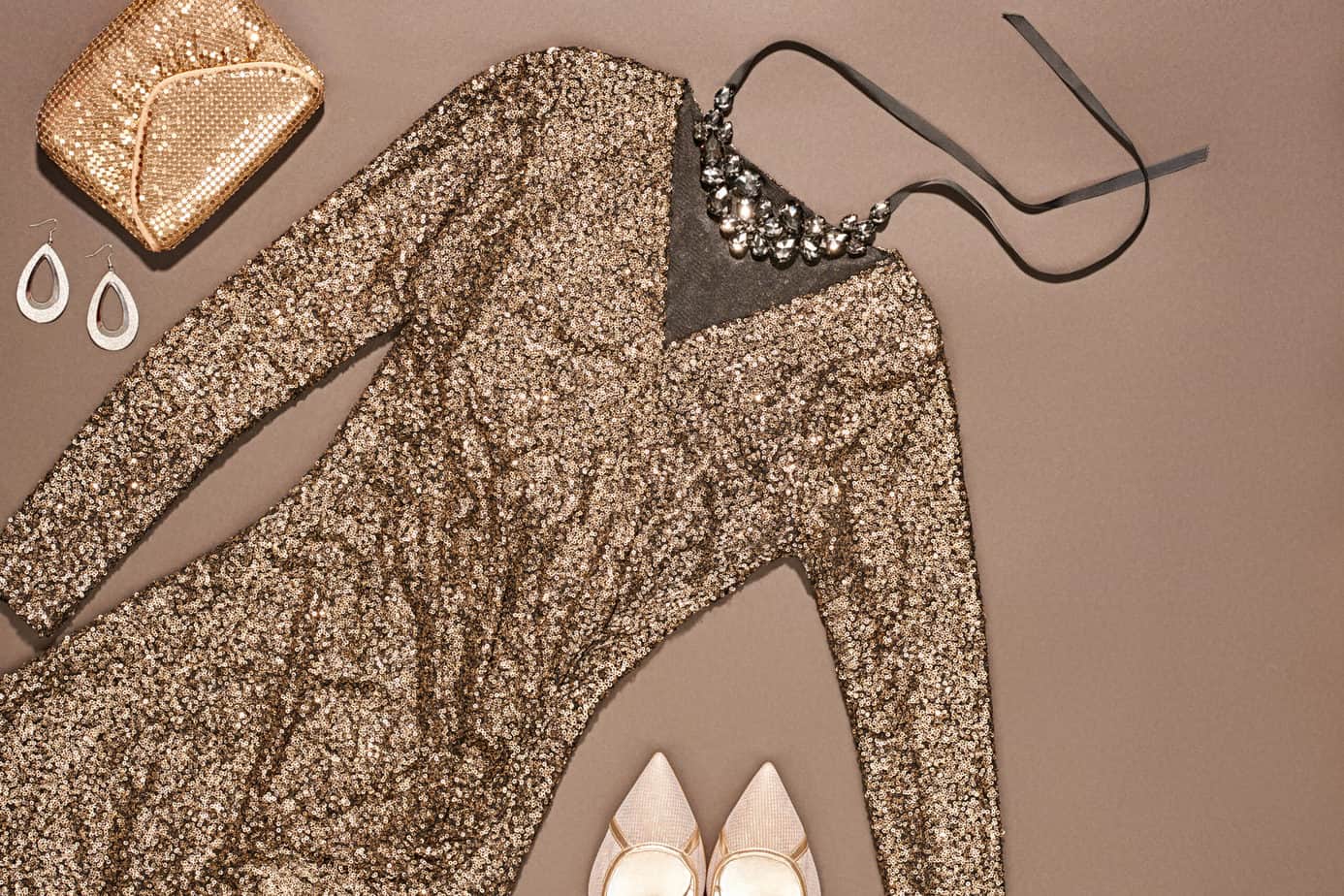 A small, gold handheld purse can be a nice touch, but I know a lot of us don't like handheld bags. When we are out and about, we don't want to worry about losing our accessories!
Jewelry
Jewelry can make or break an outfit, and I cannot leave the house without a few rings and a necklace. But, when you are wearing gold, can you match it with gold jewelry?!
Yes, you can! But don't overdo it. Also, remember to keep the color gold. I wouldn't recommend matching a gold dress with a silver necklace. Gold hoops or a gold choker necklace can look really glamourous, as long as you keep it simple and sophisticated.
Masks
Because of the pandemic, you might have to wear a mask when visiting public places. This is just the world we live in right now, and it can be a bit scary and a bit weird, but we should do our best to protect ourselves and others.
When it comes to outfit planning, I see face masks as an opportunity and not a hindrance. To put it simply, a mask is an accessory, and accessorizing is important!
So, how do we match a gold dress with a mask? A gold mask, of course! There are so many beautiful gold masks out there that you can pick up fairly cheaply, and they will keep you safe and keep you looking amazing.
Coats
You may want to wear your gold dress with a coat, especially as winter is approaching. Thankfully, a gold dress is pretty easy to match. A simple nude faux fur coat looks great with a gold dress and will keep you warm and cozy!
If you are looking for a more relaxed look, match your gold dress with a leather jacket. This is a perfect look for a night out or a party.
What Styles Of Gold Dresses Are Popular?
There are so many different styles of gold dresses out there right now, and this is because gold is really versatile! Gold dresses are perfect for so many different occasions, so there is just so much to choose from!
Formal Gold Dresses
Gold dresses are always popular for formal events because they exude glamour and elegance! A formal gold dress with a plunging neckline is really in style right now and looks great for high-class events or you could even use it as an elegant prom dress.
Gold Mini Dresses
Gold mini dresses are really popular right now, especially with spaghetti straps and a cowl neckline. It is a really classy and sophisticated look that you can wear on so many occasions.
Gold Flapper Dresses
Retro flapper dresses look amazing in gold. This 20s inspired look is really fun and playful and you can really have fun accessorizing the look as you shimmer in this gold sequin dress!
How We Chose Our Favorite Gold Dresses
Whilst I have had a lot of fun scouring the internet for stunning gold dresses, I am going to say that I did try to follow the criteria when choosing the best gold dresses out there right now!
Most of the dresses listed below are:
Gold (obviously)

Fairly affordable

Good customer reviews

Fashionable and stylish
Our Favorite Gold Dresses In Stores Right Now
I hope I am getting there in convincing you that everyone needs and deserves a gold dress in their wardrobe. So, let's look at our top picks of gold dresses, and hopefully, we will find the right one for you!
When I think of gold dresses, this is the kind of dress I think of. It exudes glamour and confidence and would definitely make you stand out at any party. I absolutely adore the details of this piece and how it is backless. The gold chain that falls down the back really is stunning, and I love how the material falls over the frame.
It is a classy dress that is perfect for dates, nightclubs, and parties. It is also super affordable! However, truthfully, I would probably not buy it. I think I want to want to buy it, but I actually probably wouldn't risk it. The super-low plunge line isn't for me, and I would be very worried about a nip slip. Plus, I think it is obviously designed for a certain body shape that really isn't mine!
However, I know that this dress is really popular and a lot of people would wear it, that is why I have included it in the list!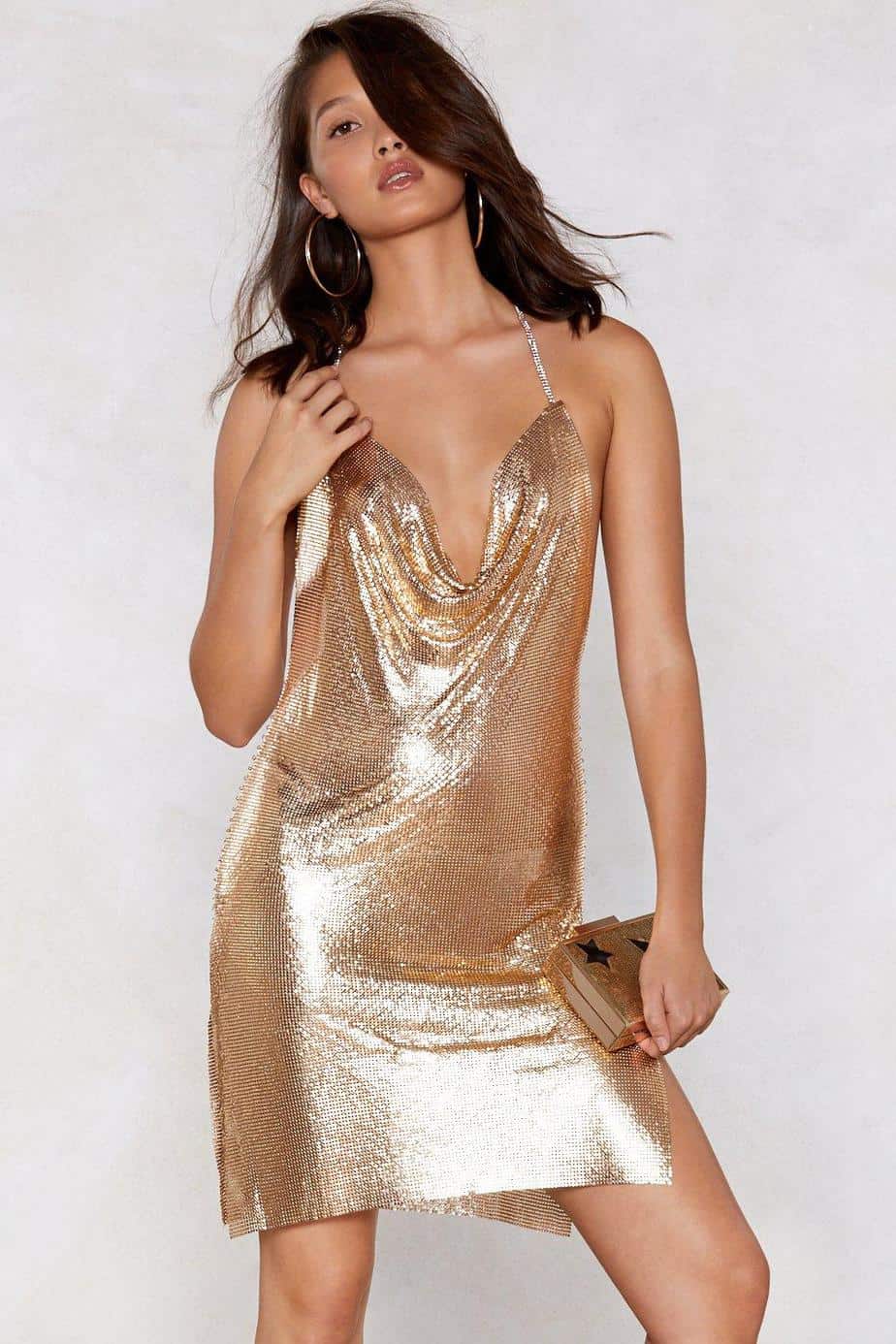 Pros:
Affordable

Glamourous

Iconic

Loose
Cons:
Short

Risks being unflattering

Low-cut, which some people might not be a fan of
This is a simple gold dress that is fitted and flattering. Again, it is an affordable choice of gold dress and very versatile. The sequins really scream partying and good times, and is anyone else considering this piece for their Christmas parties this year?!
It is a really cute piece, and because it is lined, you will feel pretty snug and safe in it! You can match this dress with shoes and a coat pretty easily, with a leather jacket and nude heels. It is a pretty short dress, which some people might not feel comfortable with. However, I am all about flaunting my legs, so I do love this dress!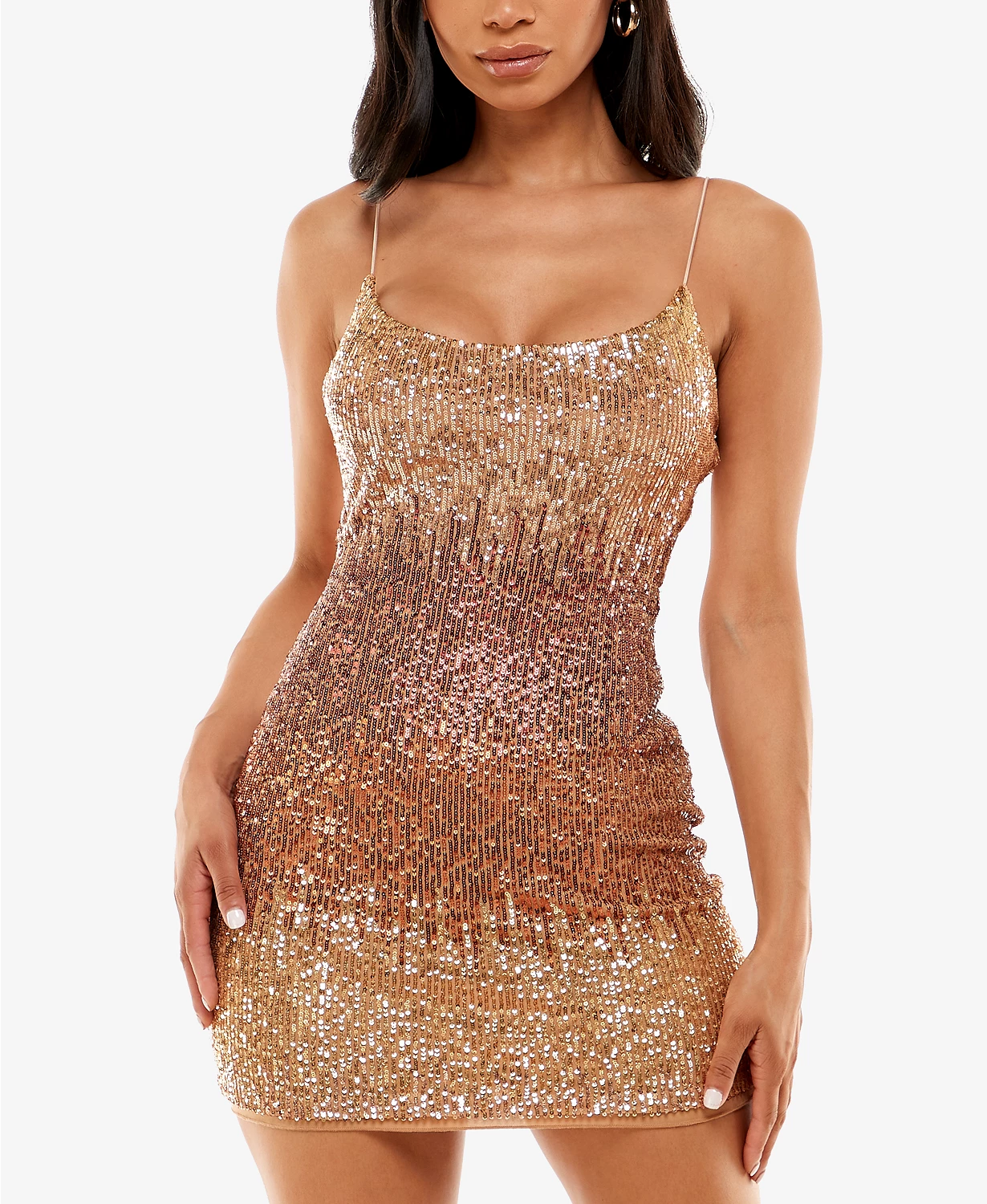 Pros:
Affordable

Fitted

Lined

Glamorous
Cons:
Sequins may shed

Short, which may not be for everyone
I really love how bright this dress is and the simple rose pattern that is embossed on the fabric. Lulus has taken the simple gold mini-dress and gave it an interesting twist, with a cowl collar and a silky shine. It is a fitted dress and very flattering.
Despite absolutely loving the color and pattern, the cowl collar is just not for me. This really is a personal thing; I just don't feel comfortable wearing this kind of cut. Lulus also point out in the description of the piece that it may not suit people with larger busts, which is kind of annoying!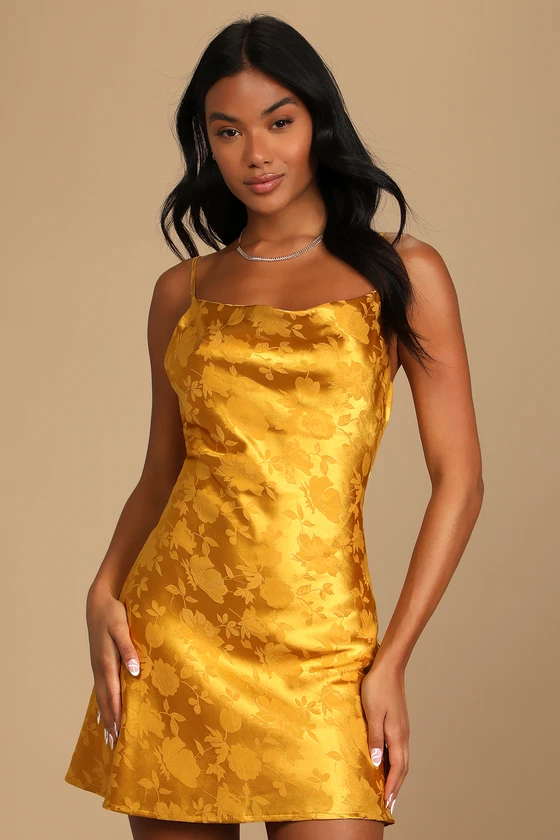 Pros:
Affordable

Cute floral pattern

Fitted

Adjustable Straps

Fully Lined
Cons:
It might be too short if you are tall

It might not suit those with larger breasts and curves

Hand wash only
Okay, I did say that I tried to pick affordable gold dresses, but this dress was so stunning I just needed to include it. This truly is a 'wow' dress, and I just love the style of it. I am a big fan of anything retro, and this gold dress mixes vintage and modern perfectly.
I really like the long sleeves on this dress as they keep you comfortable and warm! It is perfect for winter parties and nights out.
This gold dress is a really high-quality piece. The velvet cuffs and waist tie make the product feel high-end, with the chiffon material adding an element of luxury. It is just truly a beautiful dress and well worth the money.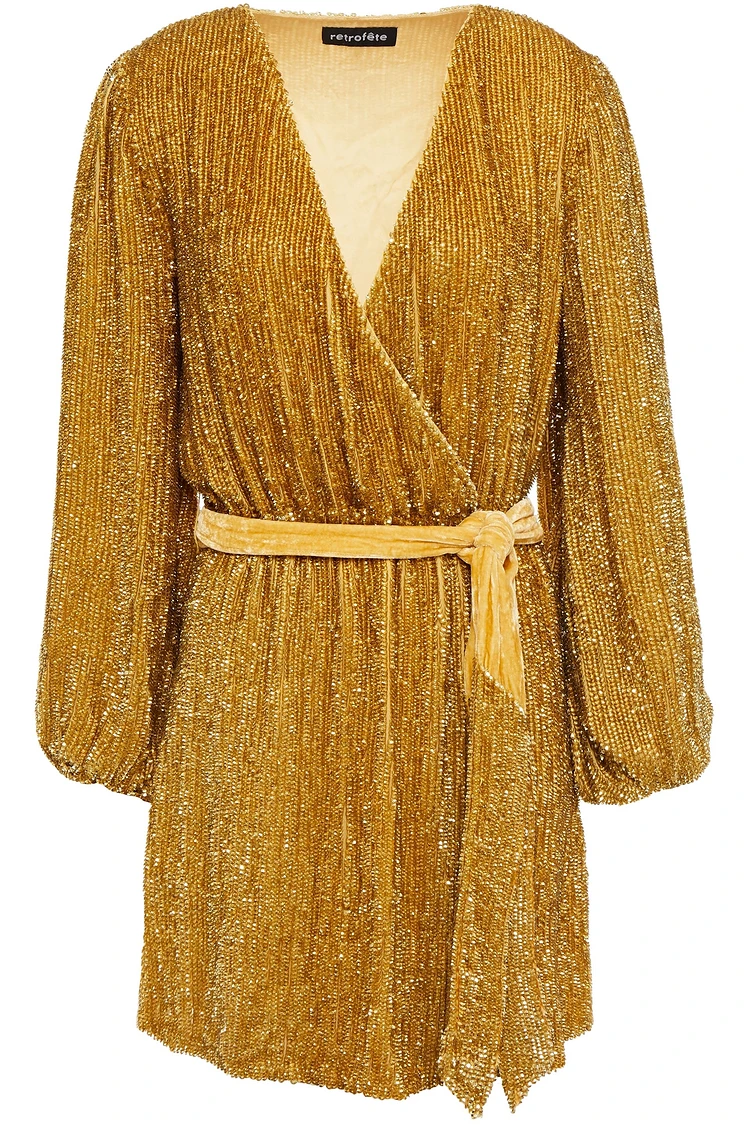 Pros:
High quality

Chiffon and velvet

Retro look

Slip-on

Lined

Elasticated
Cons:
There are so many beautiful gold dresses on Asos right now, but this one really stuck out to me. I love the simplicity of it and the way it falls. The draping at the front and back really gives the piece an interesting look, and I think this gold dress is extremely versatile.
Pairing this gold dress with nude heels, a simple necklace, and a faux fur coat will allow you to bring the party wherever you go!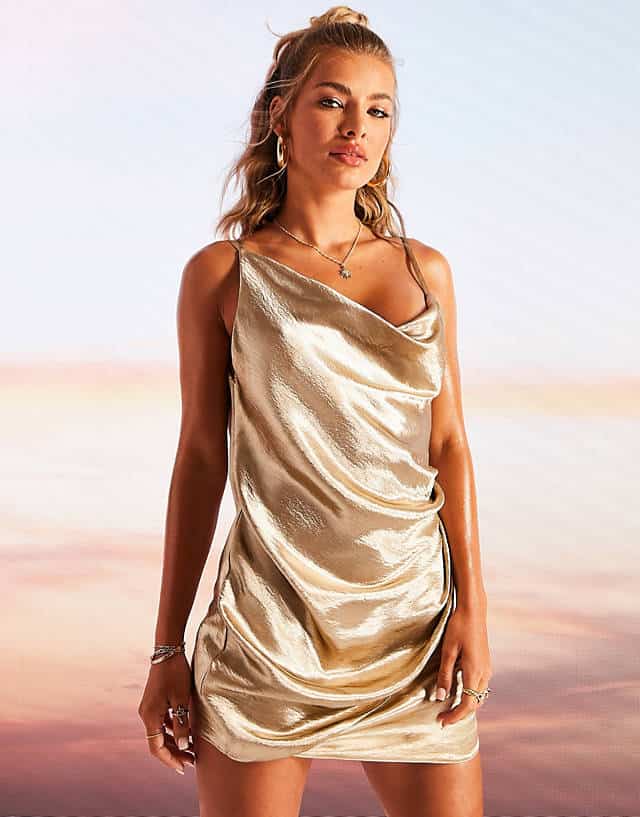 Pros:
Affordable

Bright and shiny

Machine washable

Drapey

Easy to style
Cons:
Cowl

, which isn't flattering on everyone
This dress is definitely for the more daring kind of person, but I absolutely love it! Okay, it may not be appropriate for first dates or more formal events, but I honestly think it is a brilliant fashion piece! If you are all about flaunting what you've got and making a dramatic entrance, this is the gold dress for you.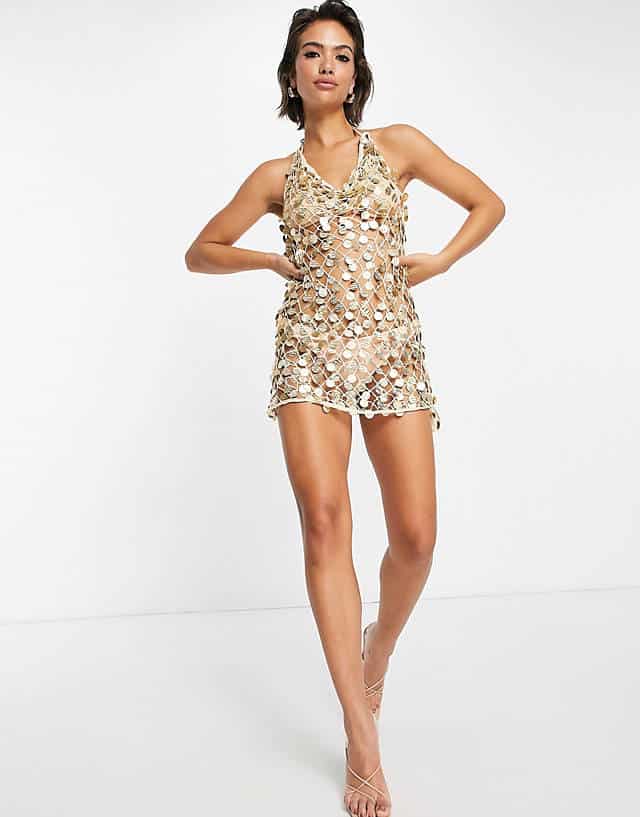 Pros:
Flamboyant

Unique

Attention-grabbing

Crochet
Cons:
Will need to also buy matching underwear that goes with the piece

Not very warm!
This gold dress is super elegant and sophisticated and perfect for formal parties and soirees. Its spaghetti straps on the back are a really nice detail, and I love how it shows off your figure!
The mermaid silhouette style is always a classy look, and the ruched details are there to flatter and work with your body, not against it.
Again, this dress has a cowl neckline, like others on this list. This may not be right for you, and it is something to consider when buying the dress. It is long, too, so it might not be suitable for someone who is on the short side!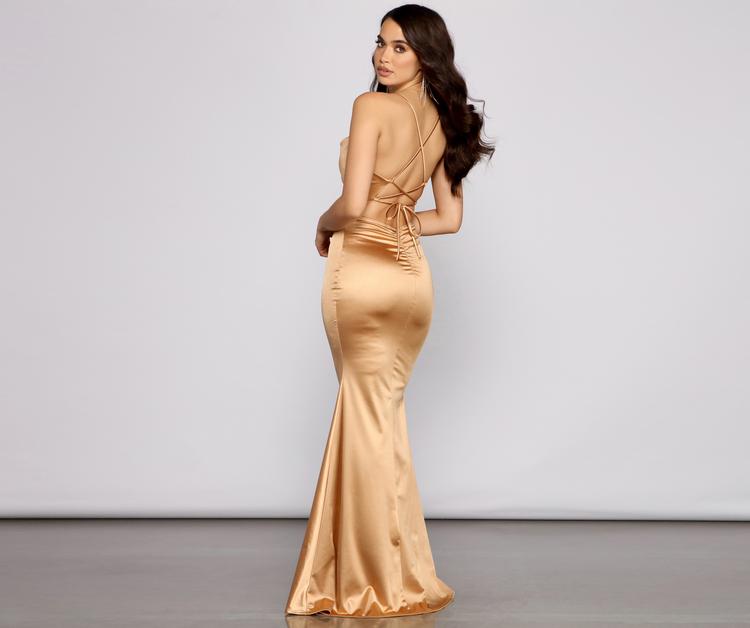 Pros:
Glamorous

A statement piece

Curve hugging
Cons:
It might be too long on shorter people

It might be difficult to relax in
For a lot of us, buying sustainable and eco-friendly fashion is really important when shopping for new outfits. Because of this, I wanted to include this beautiful dress by Guardi on the list of our favorite gold dresses.
All of Guardi's pieces are made from either sustainable and recycled materials or rescued deadstock fabrics. They do not mass produce and have a small family-run team at their factory in Europe.
Not only are the clothes that this brand creates sustainable, but they are also absolutely stunning. This gold dress is simple and sophisticated, and I really like the high collar. The asymmetric style is pretty striking, and I love big cuffs on the sleeves. It is made from a satin weave of recycled polyester and organic silk that is soft and breathable.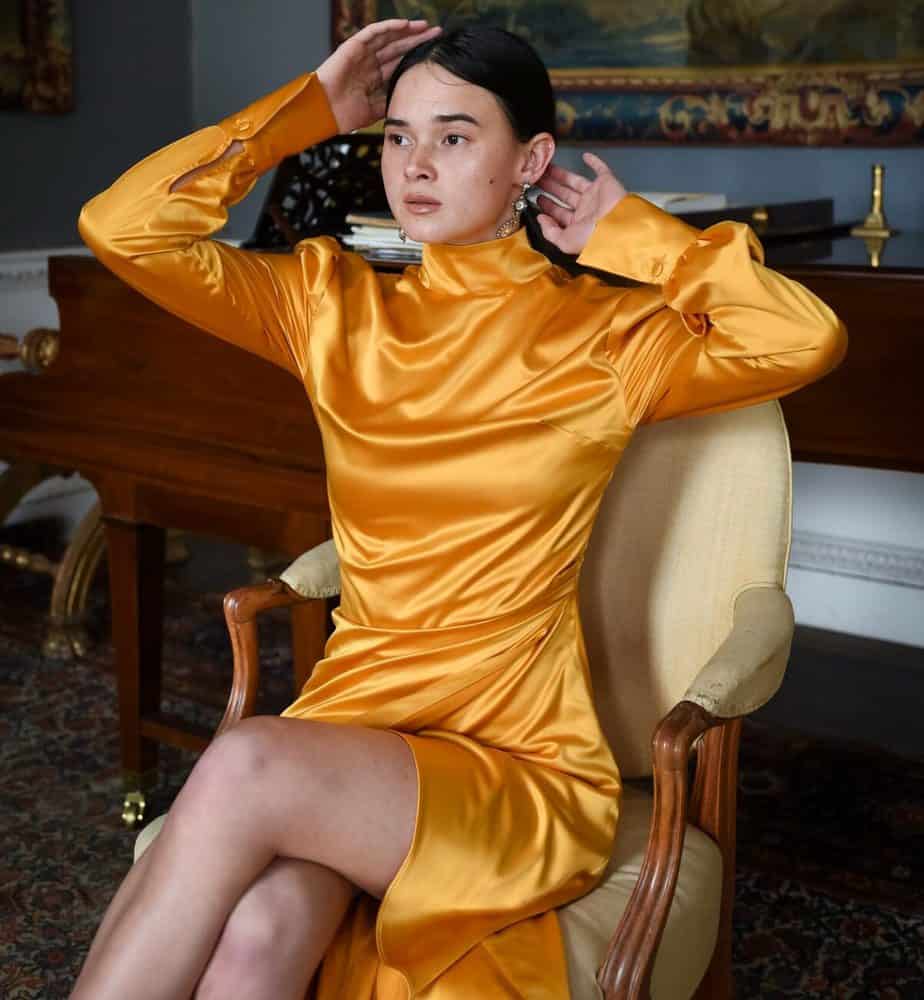 Pros:
Sustainable and eco-friendly

Versatile

Asymmetrical

Glamorous
Cons:
Slightly more expensive than others on the list

Only a few left in stock
FAQs
Have you found the right gold dress for you? Perhaps you have some more questions. Here are some FAQs that people ask about gold dresses. I hope this will help!
Question: What accessories go with a gold dress?
Answer: When it comes to accessorizing a gold dress, keep it simple! A few pieces of gold jewelry and a nude shoe won't take the attention off the gold dress but will compliment it well.
Question: What colors go with a gold dress?
Answer: When it comes to matching colors with a gold dress, there are actually so many options! If you want to keep it simple, matching nudes and whites with gold will look fabulous. But, blues and greens can also compliment a gold dress.
Question: Is a gold dress right for me?
Answer: I think that gold dresses are right for everyone, and whatever your style, you can pull off a gold dress. As long as you are comfortable and feel fabulous in a gold dress, it is right for you!
Question: Is rose gold a suitable substitute?
Answer: If you are a bit hesitant when it comes to wearing gold, a rose gold dress is a great substitute. You can still accessorize this color similarly to how you would a gold dress, and wear it for so many different events and occasions.
Have Fun and Feel Glamorous With the Perfect Gold Dress!
I really hope that this article has provided you with a little inspiration! I absolutely love gold dresses, and I think they instantly make you feel a million dollars. It is time to go out there and pick the perfect gold dress that will make you look fabulous!
Recommended Reads: