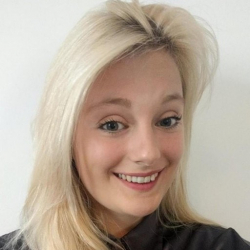 Latest posts by Rosie Greaves
(see all)
They're worn by fashion lovers worldwide, effortlessly pair with tons of accessories, and are worn by celebrities year in and year out. 
Of course, we're talking about ankle jeans.
The beauty of this simple yet stylish closet staple is that it can be dressed up, dressed down, or simply form part of your everyday wardrobe.
That said, we're exploring some of the best ankle jean trends out there, how they should fit, what to pair them with, and more.
But first, let's rewind a little.
Ankle Jeans and Their History
You'd be forgiven for thinking the skinny ankle jean is a modern 21st-century invention. 
However, it's been around a lot longer than that. 
The confusion may lie in their name. While ankle jeans are, of course, the perfect and obvious description, they've also been called cigarette pants, skinnies, drainpipes, and stovepipes.
Their modern-day popularity began around the 1950s when Marilyn Monroe and Audrey Hepburn wore high-waisted ankle jeans way before they became a full-on trend. Fast forward to today, and that classic style has been repurposed for modern-day bodies and tastes. Now you'll find A-listers like Reece Witherspoon and Kim Kardashian donning them. In fact, Sarah Jessica Parker went one step further when she was photographed in New York (where else?), wearing a stylish pair with a fishnet print.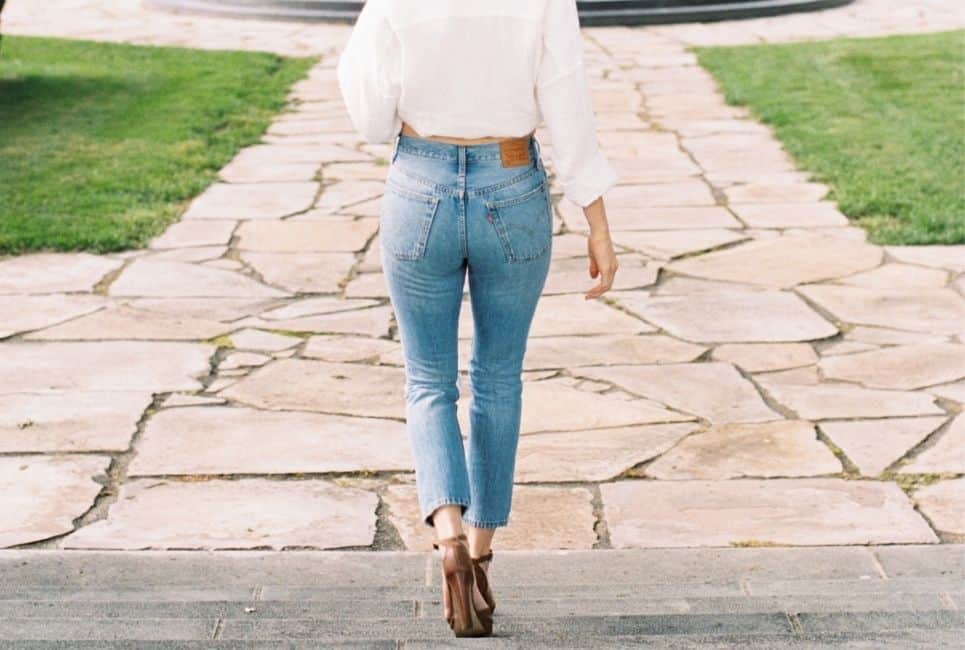 How Ankle Jeans Should Fit
First off, there's no right or wrong way to wear these classics, but generally, the idea is to show just a little leg. As such, ankle jeans typically land just around or above the ankle. The result is a skinny silhouette that's both flattering and easy to pair with different types of shoes or boots, shirts, t-shirts, and jackets. 
Typically, for a sleeker, ankle-grazing fit, these jeans have a bit of stretch in them. The elasticity makes it easier to fit your ankles into the smaller opening.
One way to create that longer leg look is to pair ankle jeans with pumps with a pointed shape. Alternatively, go for an ankle boot; just ensure your jeans end right where your ankle boots begin. The result? A lovely longer-legged-looking silhouette. 
The most popular style is the skinny ankle jean, whether it's high, mid, or low rise. However, other styles are emerging too, and we'll zone in on one or two of these later on. 
Factors to Consider When Buying Ankle Jeans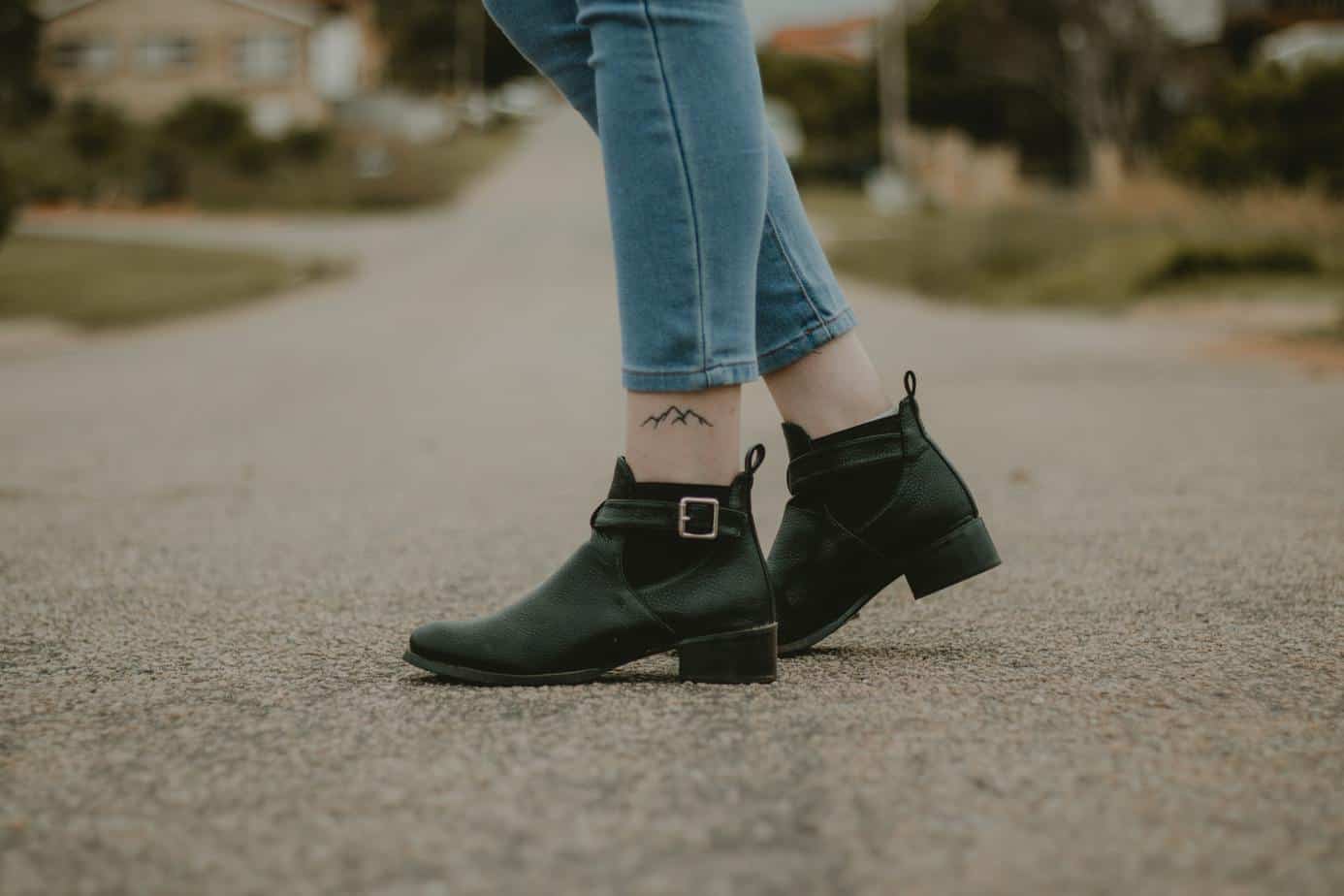 When it comes to finding the best ankle jeans for you, there are a few things to consider. Namely, style, fabric type, budget, fit, wash, rise, etc. That said, below, we'll quickly outline a few things to keep in mind as you go about shopping:
Style
There are so many different styles of ankle jeans that we couldn't possibly cover them all in one blog post. So, we strongly suggest spending some time shopping around and browsing Pinterest to get a feel for the different styles out there. That said, here are some of our favorite styles:
Straight jeans: Aptly named, these jeans are generally cut, so they sit 'straight' from hip to ankle
Skinny jeans: Well-renowned for their figure-hugging silhouette, the tighter fit starts at the waistband and continues right the way down to the ankle. Typically, for comfort, these jeans come with a degree of stretch.
Cigarette jeans: Best described as not quite skinny but not straight. Instead, they sit tighter on the thighs and more relaxed over the calves.
Wide-leg jeans: Although this style doesn't have a universal definition, typically speaking, wide-leg jeans fit loosely around the legs. As such, they're not straight and don't get narrower as you go down the leg. Instead, they boast a tapered design that gets baggier towards the bottom.
Relaxed jeans: These are like straight jeans but with a slightly looser fit.
Boyfriend jeans: These boast an all-around baggier fit than 'relaxed' jeans.
Jeggings: As the name suggests, jeggings are best described as a skinny-jean-leggings-hybrid.
Pleated jeans: These feature pleats that start at the front belt loops; it's an 80's style that gives your legs plenty of space to breathe!
Fabric Type
Whether you're shopping online or in-person, do some snooping to see what your jeans are made from. If you're shopping online, this should be in the details section of the product page. Alternatively, if you're able to check the product label, you should find the fabric composition there.
Although synthetic materials are cheaper, if you want jeans that go the distance and can withstand repeated washes, you're better off opting for a pair made from a blend of natural fabrics.
Fit
Ideally, your jeans should strike a balance between stylish and comfortable, which means getting the right fit. As we've already said, when it comes to length, the hem should sit just above your ankle bone.
However, let's turn our attention to how your ankle jeans should sit on your hips and around your waist. In short, they should fit snuggly, without being overly tight (you want to be able to breathe and sit comfortably!). As a general rule, you should be able to fit at least two fingers between your body and the waistband and comfortably button and unbutton your jeans.
Also, when trying on your jeans, pay attention to which way the wrinkles face. If they're slanting inward, the fit may be too small, and conversely, if they're pointing outwards, the jeans may be too big. So, be sure to bear that in mind when picking the right size and fit for your jeans.
Budget
The price of ankle jeans massively fluctuates depending on brand and quality. So, be sure to set yourself a budget and stick to it. Rest assured, there are tons of options out there to suit all manner of needs and price points, so be sure to do your research to avoid overspending!
Wash
When we refer to the 'wash' of pair of jeans, were' talking about how the jeans are rinsed or bleached during production. For your reference, the 'classic wash' is what gives classic jeans that medium blue color. In contrast, a 'vintage wash' creates a slightly faded and distressed appearance, resulting in a lighter blue. Then, of course, some darker rinses create that smarter-looking, inky blue effect.
Rise
The rise of a pair of jeans describes where on the waist the jeans sit; more specifically, it's the distance starting from the middle of the crotch seam to the top of the waistband. Typically, this length ranges between seven to 12 inches.
There are three common rise types: low, mid, and high. At the moment, high-rise jeans are very in. However, if you're looking to veer away from trends and pick something to suit your body shape, it's worth remembering mid-rise jeans tend to be the most flattering – no matter your body type. Conversely, although they are associated with the '90's 'hipster' look, low-rise jeans are great for those with shorter torsos. They go a long way to create a balance between your legs and torso, helping your torso appear longer.
Alternatively, high-rise jeans are perfect if you want that long leggy look while highlighting your waistline.
Of course, as well as picking the most flattering rise type, you should also be guided by comfort. For instance, if the rise is snagging your rib cage, there's a good chance the rise is too high. Alternatively, if when sitting (or standing), you feel your stomach "spilling over" your jeans, this is a good indicator the rise is too low.
Best Ankle Jeans Available Now
A quick meander around the internet will tell you there are literally thousands of ankle jeans to choose from with varying prices to suit all budgets. 
Earlier in 2022, many column inches were devoted to Gen Z abandoning skinny jeans in favor of something baggier. So much so, the trend went viral, with debates raging between Gen Z and Millennials. 
There's no right or wrong here – it all comes down to personal taste. But, despite fabulous trends, we think the skinny ankle jean is here to stay!
That said, below, we've listed some of our favorite ankle jean types:
The Eco-Ankle Jean
Suppose you're as eco-conscious as you are fashion conscious, head to Nudie Jeans. They're a GOTS certified brand (global organic textile standard), and their timeless designs are made using 94% organic, fairtrade, or recycled cotton.
There are plenty of styles and denim types to choose from. But, we like the high waist regular fit Breezy Brit with a tapered leg.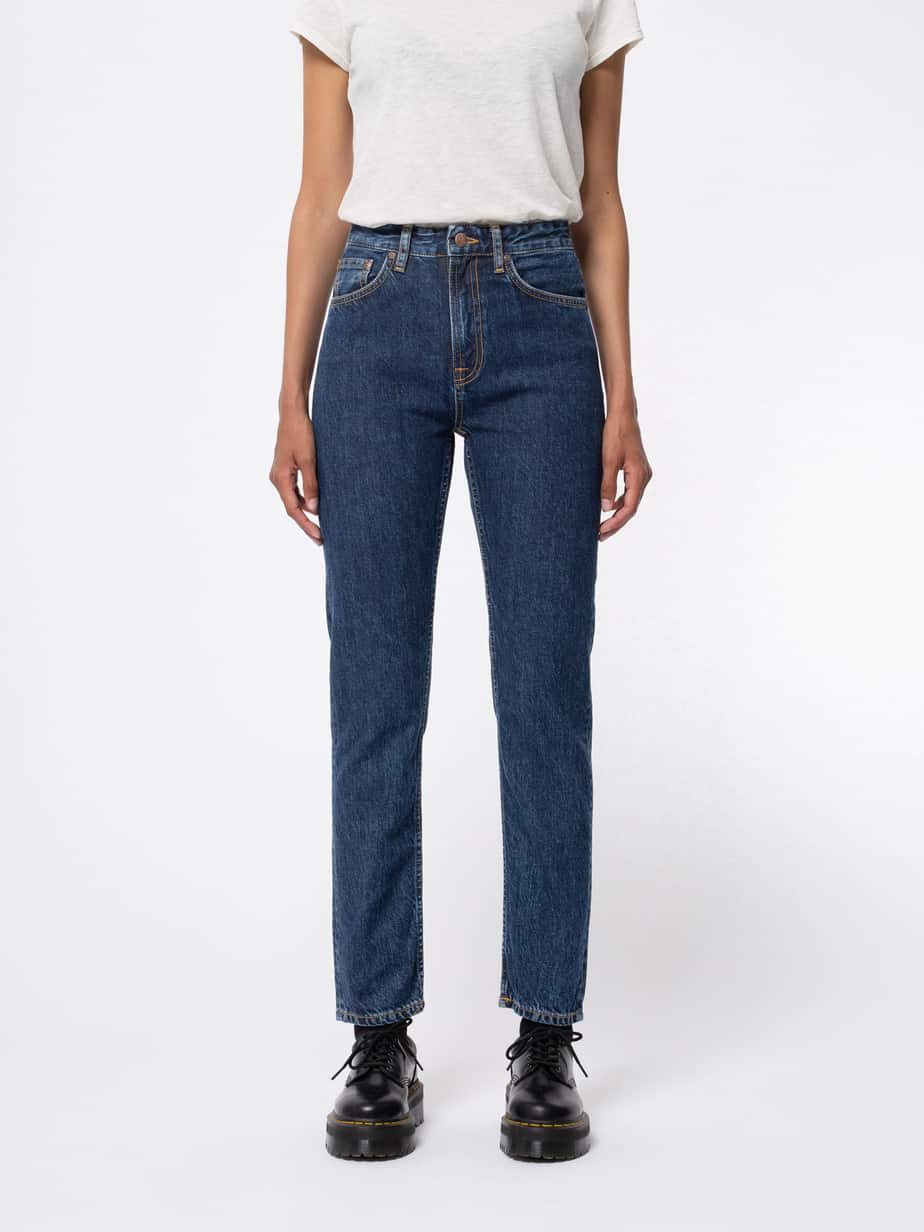 But we also really fell in love with the Hightop Tilde Jean, in either black, grey, mid-wash blue, or dark super-stretch denim. 
The High Street Ankle Jean
If you're lucky enough to live somewhere with excellent malls or leading high street stores, then you won't find it hard to find a GAP store in the US for affordable, classic ankle jeans. Alternatively, shop at their sister brand Old Navy. 
Please note: Sadly, as of 2022, neither GAP nor Old Navy has physical stores in the UK.
We like these mid-rise True Skinny Jeans in black. Available in regular, tall, and petite, they'd make a great go-to pair.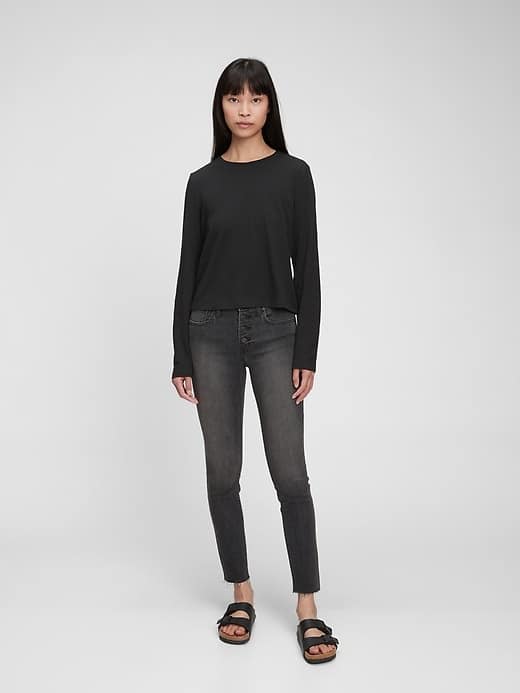 Also fabulous is this selection of Old Navy ankle jeans boasting more affordable prices ranging from just over $20 to $44.99.
Happily, both stores host regular sales, including online discounts, especially if you sign up for their newsletters. So, be sure to keep your eyes peeled for the latest bargains!
The Designer Ankle Jean
No one can resist a pair of gloriously made, fabulous-looking designer ankle jeans, especially if your favorite celebrity has worn them, right? Their casual, leisurely style has scored with Jeniffer Aniston and models Karlie Kloss, Heidi Klum, and Gigi Hadid.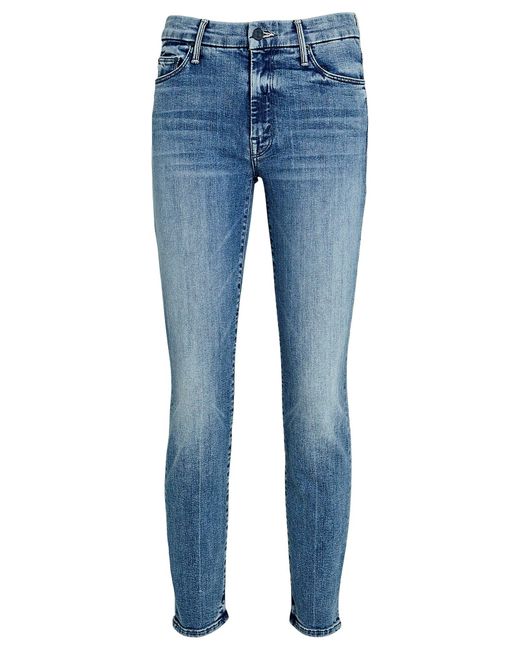 There are tons of brands out there, making it hard to choose which to go for. But in the end, we plumped for these Looker ankle skinny jeans in high-rise stretch denim. Retailing currently on Lyst, they're the kind of jeans you can wear every day or with some heels for a night out. 
Cindy Crawford is a fan and generated tons of headlines when she was photographed wearing Mom ankle jeans. So here she is in a pair of Hustler Ankle Fray Jeans: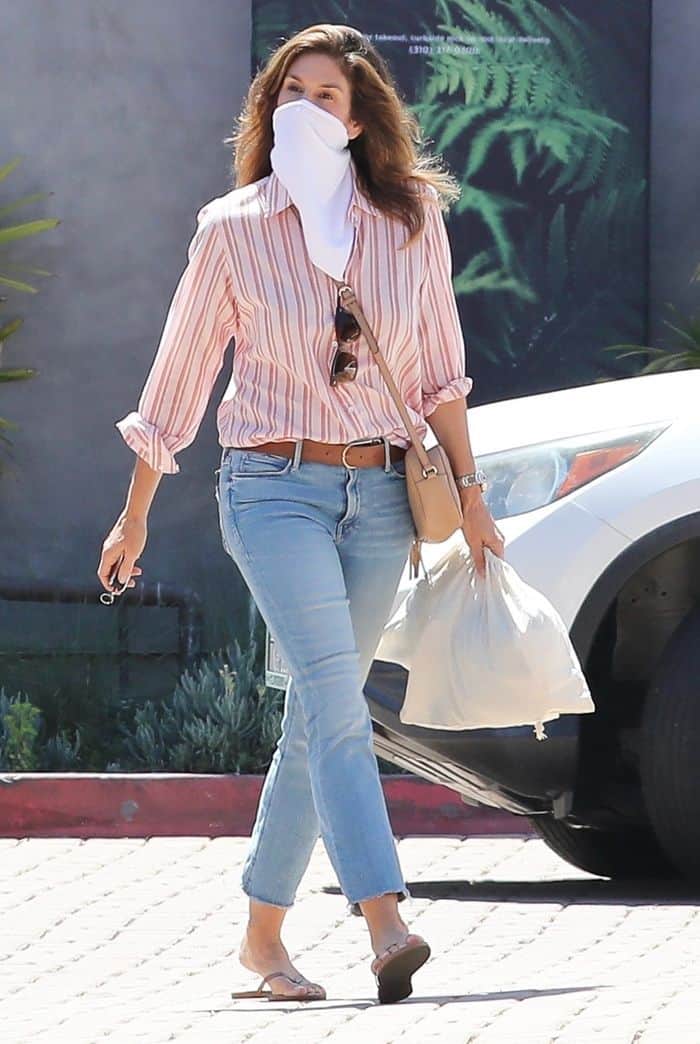 Of course, it's possible to pick up last-season designer jeans at everyone's favorite discount store, TJ Maxx. Still, it's always a potluck, so as long as you keep an open mind about what you may find, you bag yourself some beautiful designer gear. 
Button-Front Ankle Jeans
Kim Kardashian's worn them, and we think these BP high-waisted skinnies found at Nordstrum are perfect when worn with chunky trainers or simple flats and a white t-shirt. Thanks to their stretch, they're figure-hugging in the most flattering of ways.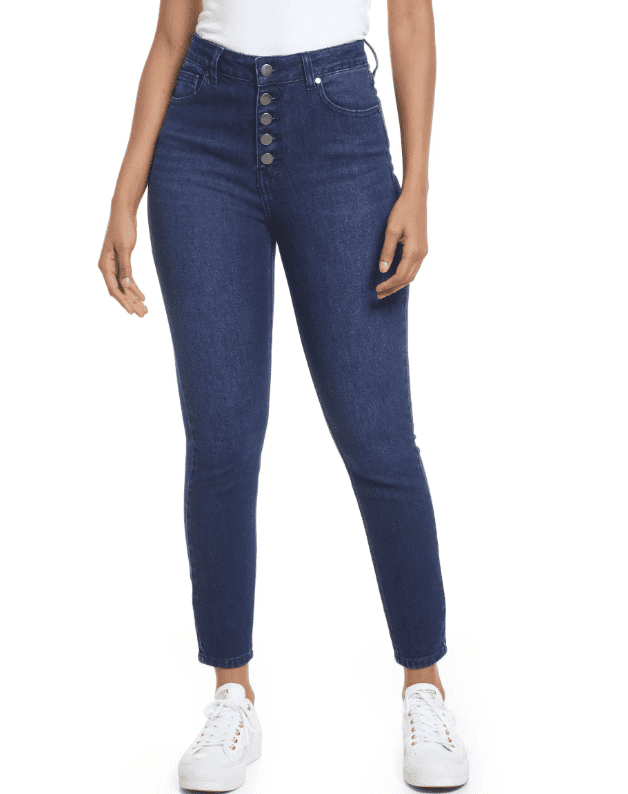 Alternatively, these grey button fly cropped skinny jeans we found on Instagram would look amazing on a night out with your favorite heels. 
Flared Ankle Jeans
If you're looking for an alternative to the ubiquitous skinny ankle look, how about this increasingly popular style? We especially like these high-rise mini flares with a relaxed unfinished hem from Zara US, and available in a choice of colors.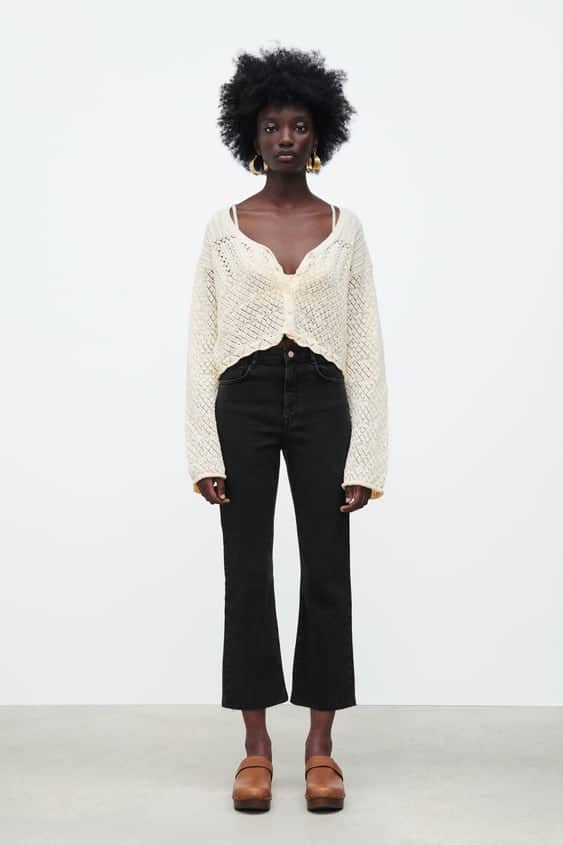 Or, if you fancy something non-denim, check out these high-waist Stradivarius cropped wide-legged flared jeans in khaki from ASOS at a reasonable price.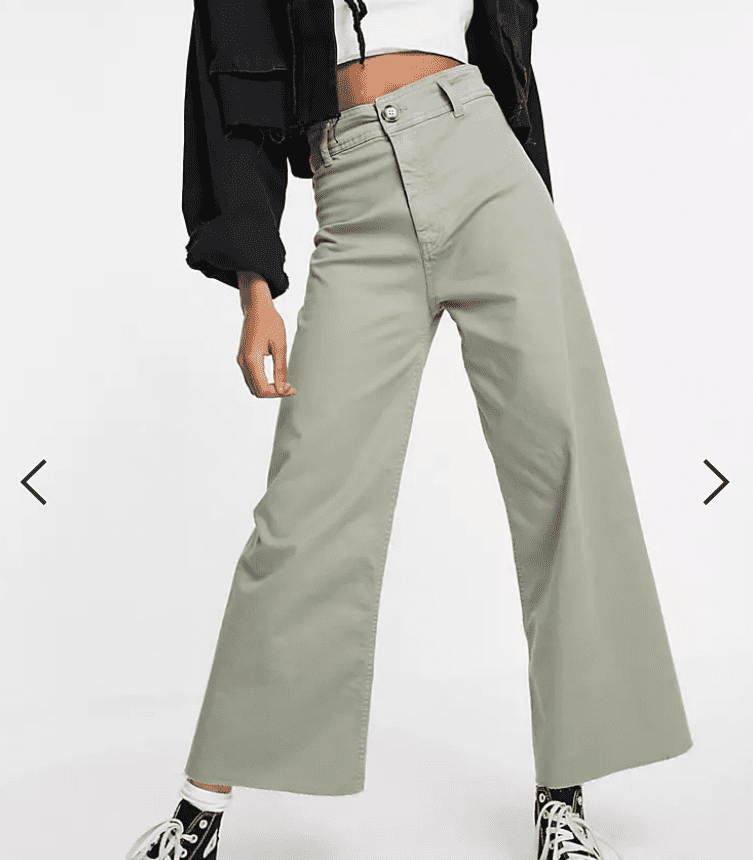 Mom Ankle Jeans
Mom jeans, in general, are a popular choice for fashion lovers. They sit nice and high on the waist, giving your middle more definition. Not only that, but because they're looser, they're incredibly flattering too. 
We took a look at some ankle jean versions of this 1980s- 90s style that's recently rebounded into modern fashion. We're all about these BP high-waist ripped mom ankle jeans in non-stretch denim.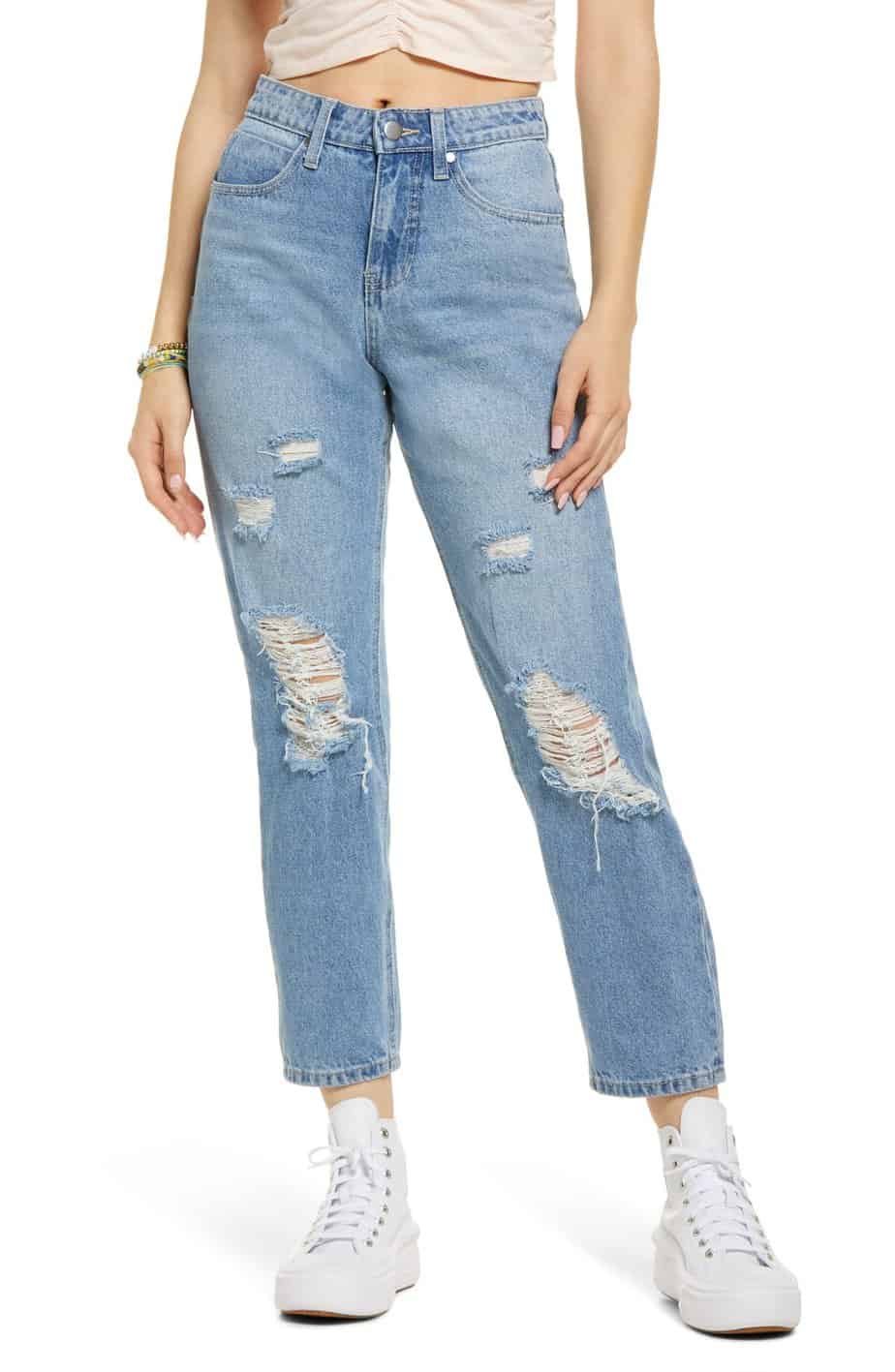 Or, if rips really aren't your thing, try these BDG Urban Outfitters high waist mom ankle jeans. They come in faded non-stretch denim for that all-out 80s vibe.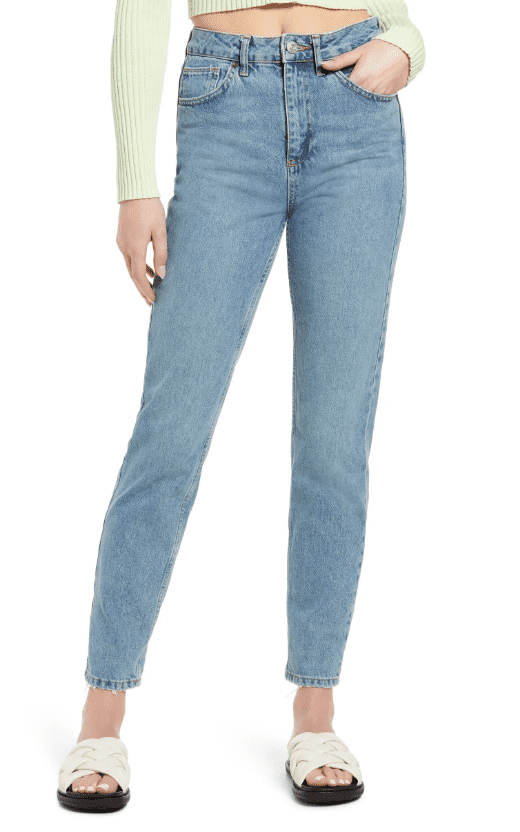 501s® Ankle Jeans
No feature about ankle jeans would be complete without putting this Levi's® classic on the podium. This famous style may have been invented in 1873, but it's never gone out of fashion. 
Levi® has gone one step further and given us their take on the ankle jeans in a classic style: The 501® Levi® Crop Jean. They have a straight fit, the iconic button fly, and a little bit of room for maneuver because of their 1% elastane.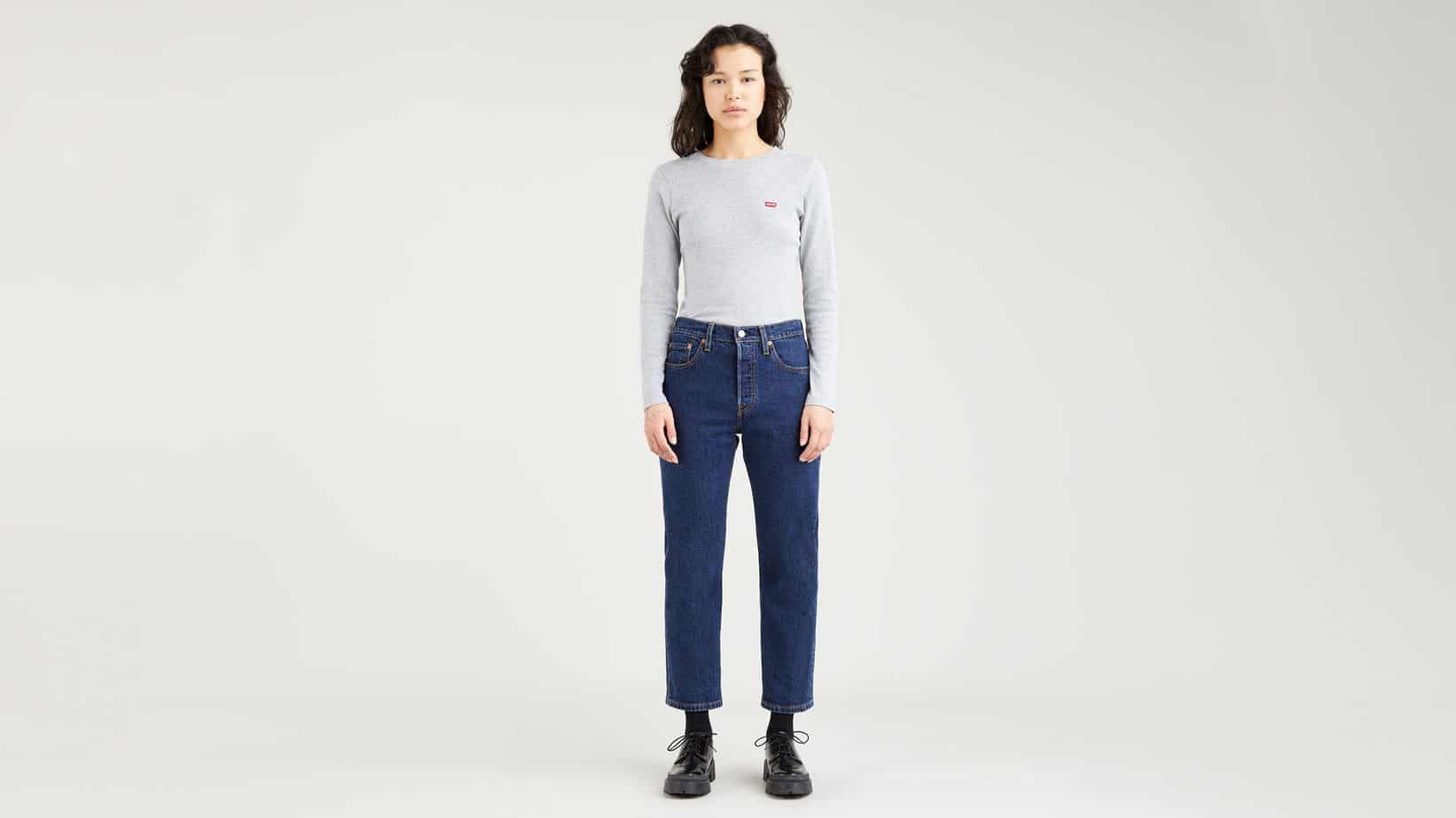 White Ankle Jeans
There's no reason why you can't wear white, cream, ivory, or ecru ankle jeans all year round. White denim has earned its place as an essential wardrobe staple for every season. 
The thing about white ankle jeans is that they look effortlessly cool – especially when you need to dress your look up a bit. It's tough to narrow down our favorite white ankle jeans, but we're going to take a punt that you'll also love our choices.
First off, these skinny ankle jeans worn with a simple black top and neutral accessories offer up a classic Fall look. 
Elsewhere, we love these Slvrlake (sic) Beatnik high-waist slim ankle jeans made from premium Italian denim.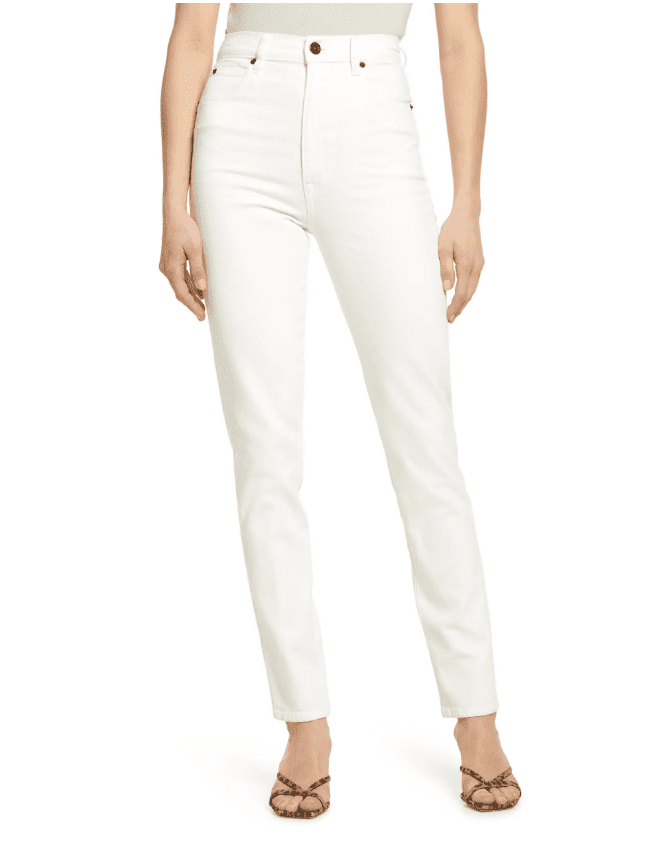 Or, if you favor the wide-leg ankle jean look, we're right with you. Keep things simple on top with a crew neck blouse or sweater and a  cross-body bag for an on-trend look this Fall.
Dressing Up Your Ankle Jeans
As we've already hinted at, the fastest way to dress up ankle jeans is to throw on a pair of heels. Be they chunky strappy sandals, stiletto-heeled boots, or the classic wedge; they're the perfect accessory for a night out with friends or on a date night. 
We love these ankle jeans combined with strappy sandals and a skimpy vest top ensemble we found on Pinterest.
Alternatively, go for a plain colored t-shirt or round-neck blouse and pair it with a chic blazer. Or, if you're looking to make more of a statement, try choosing one with a pattern to add some texture to your look. Alternatively, consider dressing up your look with a patterned scarf or multi-layer necklace if patterns aren't your thing.
Or, suppose you're more about achieving that classic dressed-up ankle jean look. In that case, grab a plain leather or fabric jacket, a white round-necked t-shirt. This look can be worn either with high or low heels. Then, just add a matching structured bag or large shopper for a smart daytime look that can easily be dressed up with bold jewelry for a night out. 
Alternatively, here's how Cece Olisa wears her ankle jeans with style. She's added a touch of glamor to her look by tucking her striped top in and pairing it with strappy sandals and a blue blazer. 
Hopefully, these ideas give you a sense of what you can do with just one pair of ankle jeans when you're heading to work or play! That said, this classic style is just great when dressed down too. Let's take a look: 
Dressing Down Your Ankle Jeans
Just because you want to wear ankle jeans in a dress-down look doesn't mean you can't look stylish, right? 
So, how about wearing your favorite pair of ankle jeans with some chunky sneakers? These bright white sneakers totally set off the ankle jeans paired with a camel coat for that dressed-down yet chic autumn-city look.
If you're aiming for a more casual vibe with your ankle jeans and sneakers, simply pop on a bright-colored t-shirt or a graphic t-shirt for some standout style. We love this fall look. The graphic t-shirt, ripped ankle jeans, and chunky cardigan look great together!
If coats really aren't your thing, how about some more knitwear ideas instead? Try wearing an oversized chunky sweater with your ankle jeans. Whether it falls on or below your hips or you're able to it tuck into your waist or belt, this is a great casual look you can adapt through fall and winter. 
You can also vary your look with an oversized cardigan with the bottom buttons undone. Alternatively, invest in a long-sleeve cropped sweater and some high-waist ankle jeans – this look is very on-trend right now, 
Lastly, this classic look simply never goes away – of course, we're talking about pairing your ankle jeans with an oversized roll-neck sweater and some ankle boots or sneakers. 
Ankle Jeans on a Budget
As we said earlier, ankle jeans don't have to cost the earth. It's possible to achieve that on-trend look without spending tons of money. That said, it's still important that any money you invest in ankle jeans is put to good use. I.e., your jeans should still fit well and create that all-important silhouette.
Thankfully, aside from the aforementioned GAP and sister brand Old Navy, there are other wallet-friendly alternatives out there. For instance, we like this Japanese brand Uniqlo's style. Check out their skinny high-rise ankle jeans in a range of colors.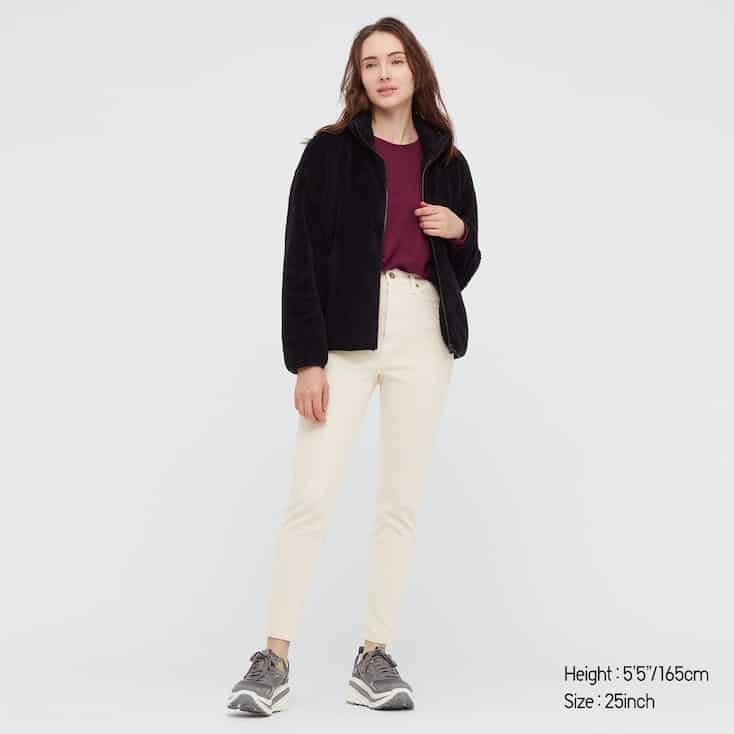 Then, naturally, when we fancy some online window shopping, we take ourselves to ASOS. You'll find yourself tons of bargains there, including some lovely-looking ankle jeans. For example, we found these Mango Balloon Leg jeans on a discount..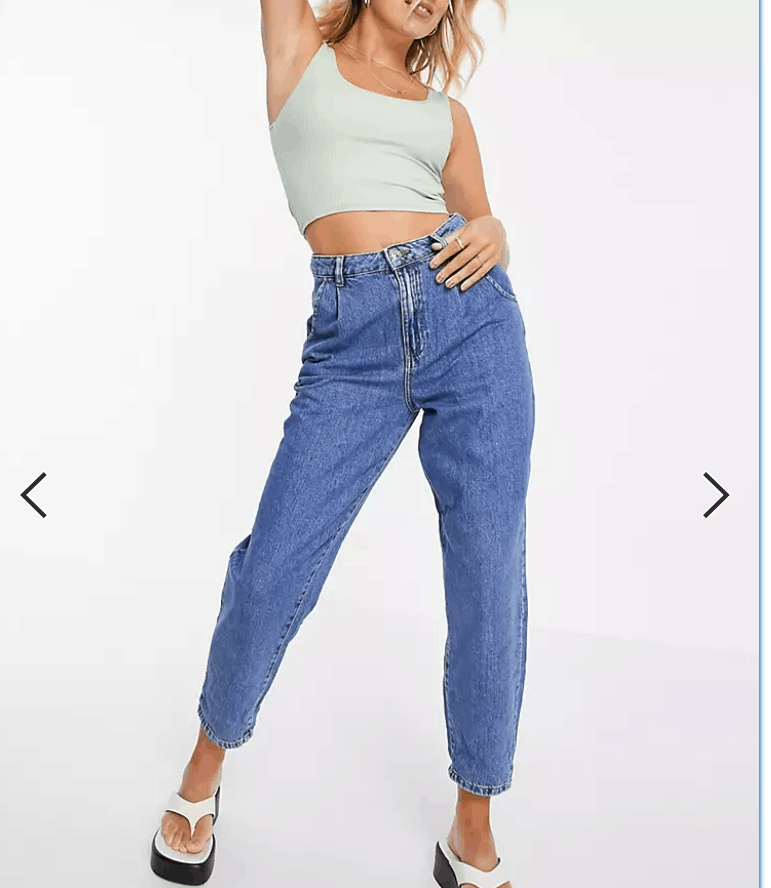 We also loved these super cute ASOS DESIGN Petite high-rise original mom jeans in a dark wash for just $10.15 at the time of writing – what a steal!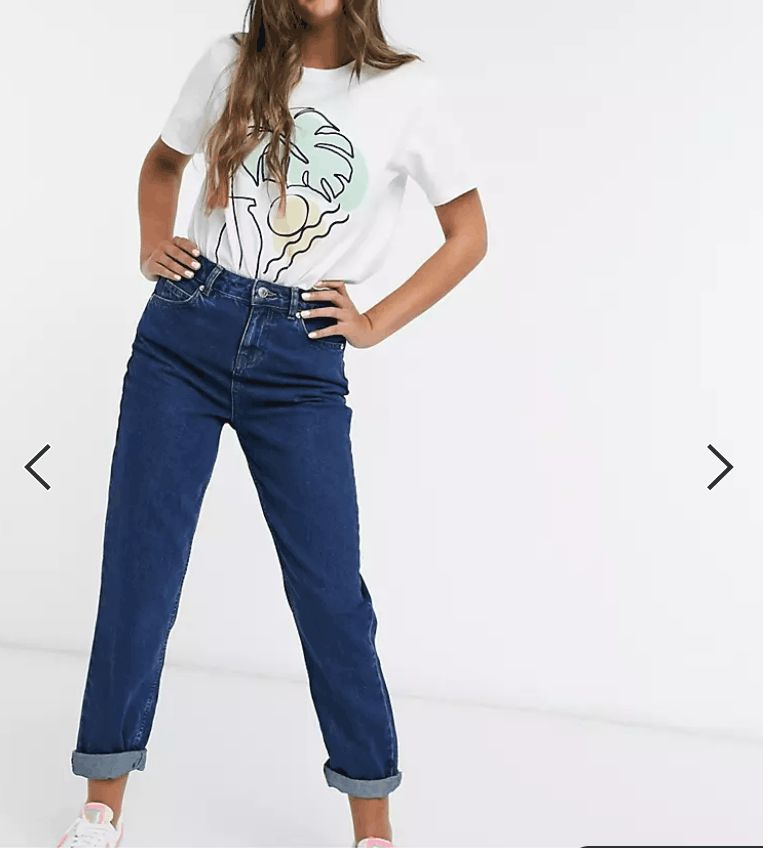 Best Ankle Jeans for Men
Ankle jeans are also a staple item for any stylish man. So whether you're wearing them to work, on a night out with the lads, or to chill out in after a long day, there's a good chance your jeans will have to withstand lots of wear. As we've seen above, there are lots of choices when it comes to women's ankle jeans – and the same goes for men. That said, we've outlined a few different styles worth considering:
Skinny-fit
This style was incredibly trendy during the 2010's – however, if you're after a close-fitting style that sculpts your thighs and calves, skinny jeans will do just the trick!
Take these Skinny Dark-Wash Non-Stretch Jeans for Men by Old Navy, for instance. We love the color and style of these jeans. However, if this specific pair isn't to your taste, you'll find plenty of other wallet-friendly options on Old Navy.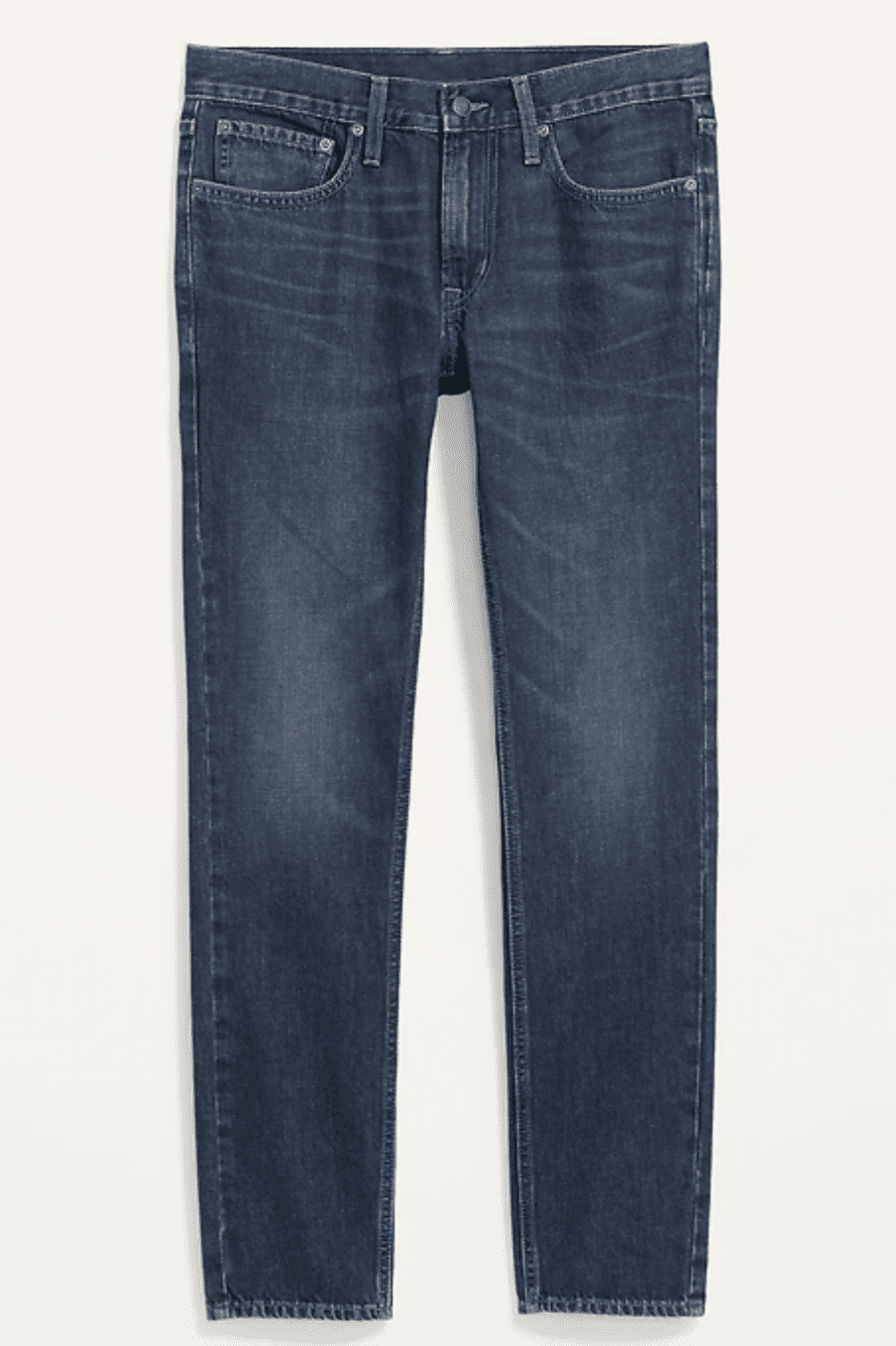 Straight-Leg
If you're looking to achieve a classic silhouette, this style should be your go-to. They're also pretty comfortable as they tend to provide a bit of room around the thighs and backside. As such, they're perfect for everyday wear.
Top Tip: Consider a darker-colored pair of straight-leg jeans if you want to create a smarter look.
For instance, these Relaxed Fit Crop Jeans from TOPMAN. We love the faded wash and cuff-ready look. Pair with a plain tee for a more casual look or a collared-neck shirt for a night out.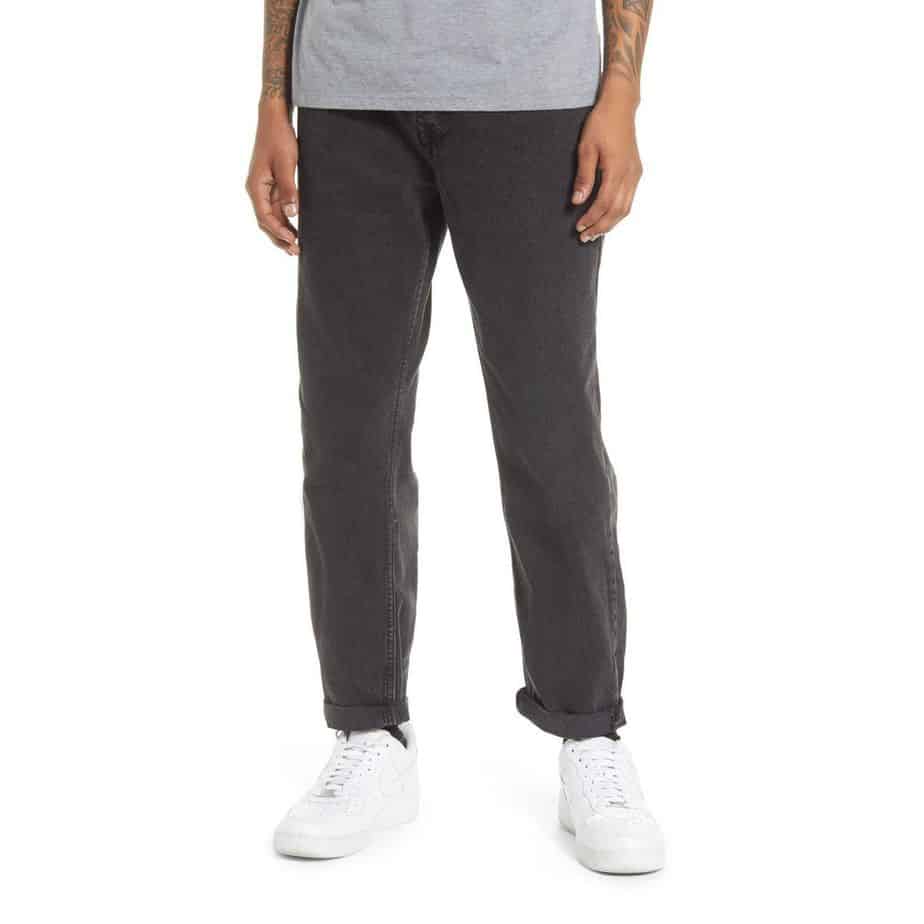 Tapered
Tapered jeans are more oversized at the top and narrower at the bottom – creating a happy medium between the slim and skinny fit. So, if you're a man with more muscular thighs, this could be the perfect style of jeans for you. A great example is Men's Levi's® 512™ Slim-Fit Tapered Jeans. You can't go wrong with these classics!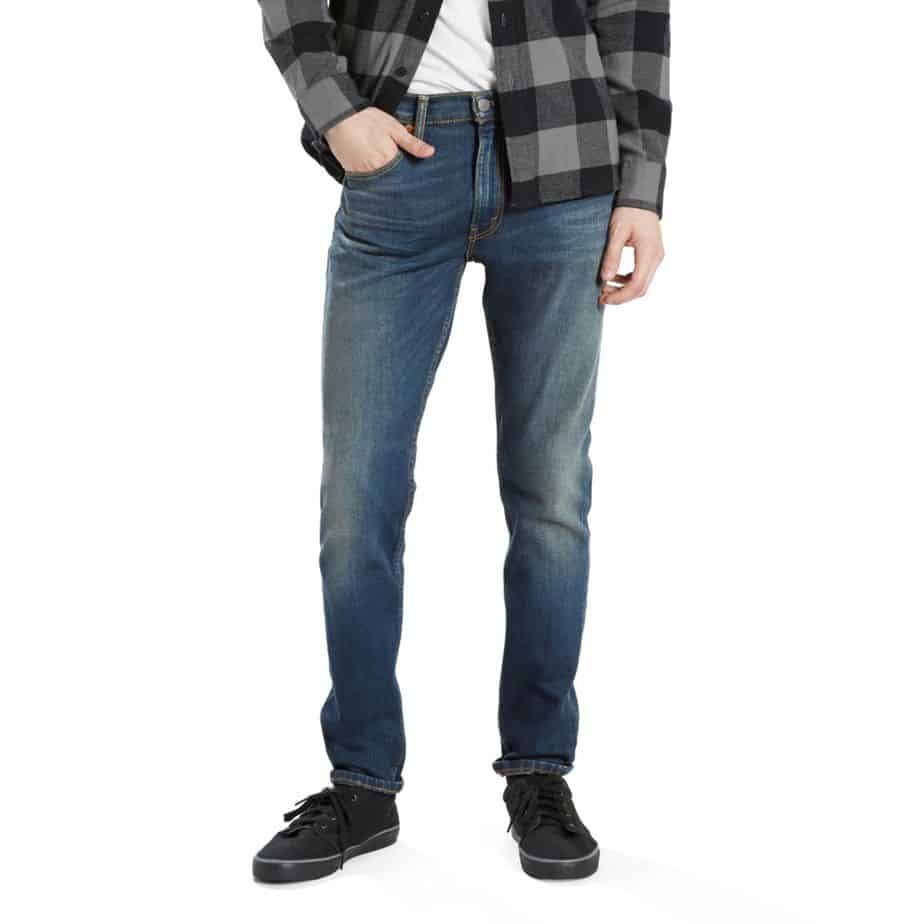 Before We Go
So there you have it, our list of the best ankle jeans and style ideas for you to take away and try out. It's hard to choose a winner, but if we had to, it would be the BDG Urban Outfitters high waist mom ankle jeans. We're seeing a gradual shift away from the skinny jean in favor of the Mom jeans – and it's no wonder because they're as comfortable as they are stylish.
There's no fashion rule book here. You can dress these up or down, have fun accessorizing them, and just enjoy being able to wear the same pair of ankle jeans in many different ways. 
In short, ankle jeans are the perfect wardrobe staple because they never go out of fashion! So are you ready to try some new ankle jean styles? Tell us all about it in the comments below!
Further Reads: