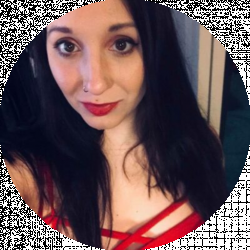 Latest posts by Stephanie Jensen
(see all)
A babydoll dress is a short, loose-fitting dress that can be worn out or used as a nightgown.
There are babydoll dresses to fit a variety of body types; some dresses are tighter around the bust and flow outward, while others are loose-fitting all over. Babydoll dresses are popular for a variety of reasons, but especially for their diversity. You can find babydoll dresses that are perfect for sleeping as well as ones that are appropriate for the office.
Do you need some babydoll dress inspirations? Here's a guide that features some of our favorite babydoll dress styles.
The History of the Babydoll Dress
The babydoll dress was first seen at the beginning of the 20th century. Women no longer wore corsets and embraced a complete opposite dress — one that emphasized comfort. A few decades later, this dress became shorter. The average babydoll dress ends right above the knee. And this has nothing to do with sex appeal; it has everything to do with fabric conservation.
This all occurred in the 40s during the height of World War II.
The war resulted in fabric shortages. Clothing companies and designers responded by cutting everything short, including the babydoll dress. In fact, this is one of the reasons why we see babydoll dresses worn as a nightgown. Lingerie designer Sylvia Pedlar of Iris Lingerie started cutting her nightgowns shorter as a result of the shortages.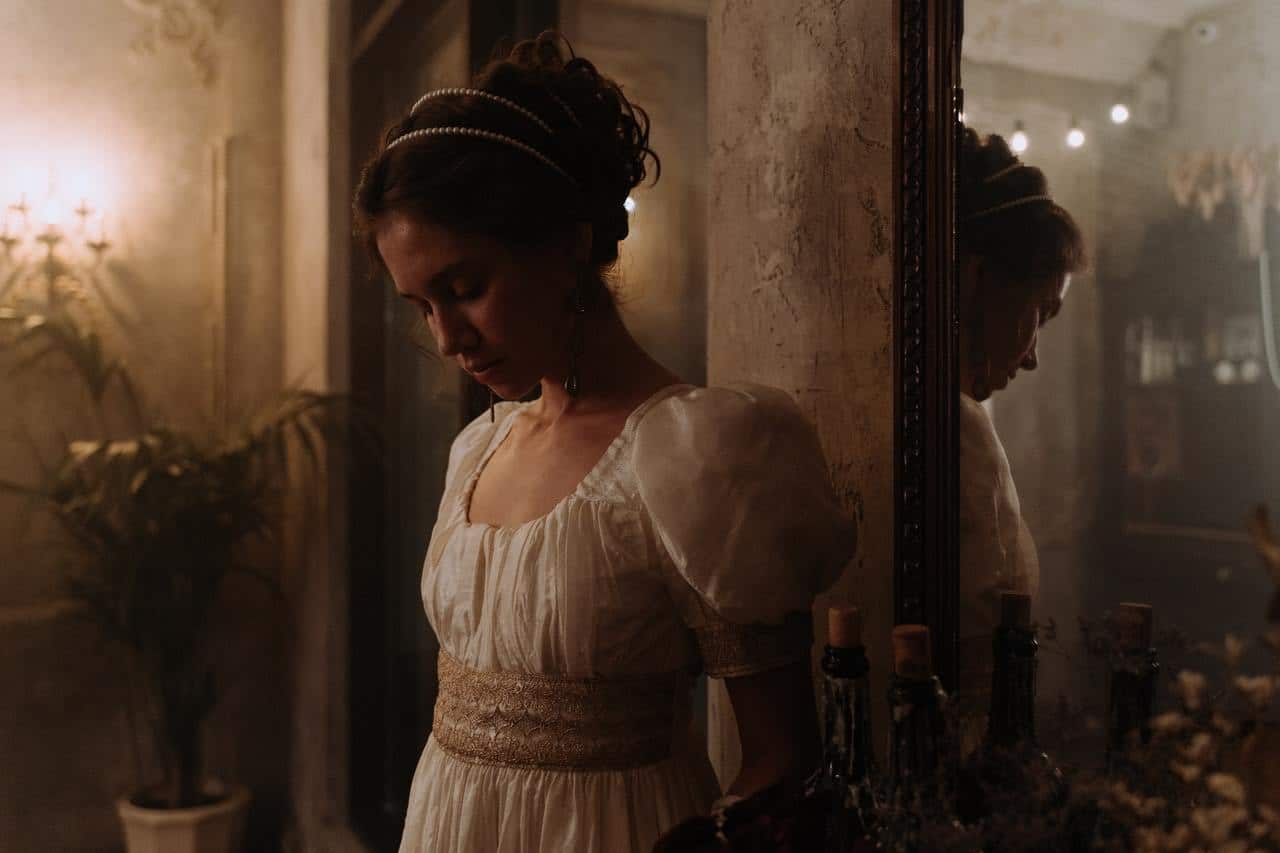 From here, babydoll dresses entered the public. The style became even more popular after the movie "Babydoll" when the 19-year-old female character was wearing one. From here, designer Cristobal Balenciaga created a line of lacey, tiered dresses that he called "babydoll dresses." This trend extended to the 60s, where it fizzled out after that era.
The babydoll dress returned in the 90s during the grunge movement. Rock icons such as Courtney Love were seen wearing babydoll dresses, questioning the stereotypes of women in punk. Courtney Love would wear babydoll dresses on stage while performing with her band Hole.
Fast-forwarding to today, babydoll dresses are making a comeback thanks to brands such as Miu Miu. This is why you'll often see babydoll dresses on the runway and on your Instagram feed.
Why You Need a Babydoll Dress
Babydoll dresses are amazing for a variety of reasons, such as:
Extremely comfortable
Perfect dresses for pregnant women
Great for other purposes, such as for nightgowns and bathing suit cover-ups
Are Babydoll Dresses Trending?
Yes! But certain silhouettes are trending more than others. Dresses that are tighter around the bust and are poofy at the bottom are the biggest trend now. In addition, baggy dresses with poofy sleeves are also a serious trend.
What if poofy dresses don't look good on your figure? These dresses don't look good on mine, but there are ways to make the babydoll dress work for you and follow trends. Find a bodycon dress with poofy sleeves.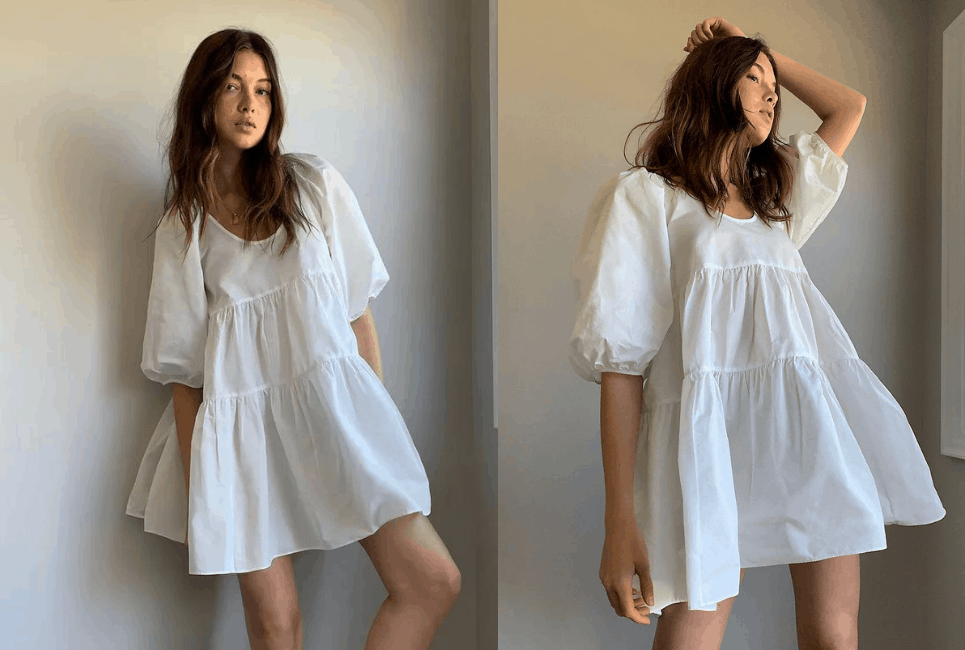 How to Style a Babydoll Dress
Do you want to start wearing babydoll dresses? If so, you'll first want to know how to style them. Here are a few pieces of advice we offer.
Shoes
Which shoes should you wear with a babydoll dress? Since these dresses are more casual, you'll want to match the casual style of the dress with your shoes. If you want to wear heels, make sure they're casual heels as opposed to something like stilettos. If you need a specific example, I would choose clogs, blocky heels, and wedges.
If you don't like heels, then flats, mules, or slip-on sneakers are extremely comfortable.
Boots also look cute with this style of dress. Even though it's a short dress, I recommend shorter boots to show off your legs. Anything under the knee works, though I think ankle boots look the cutest with this dress style. I especially love the way cowboy boots look with a babydoll dress.
But if you tend to gravitate toward your favorite combat boots, these boots add an extra edge to this dress style without taking too much away from it.
What color shoes should you choose? I always try to keep my shoes simple, so I would suggest only wearing nude colors. Brown, tan, black, white, and gray are good examples.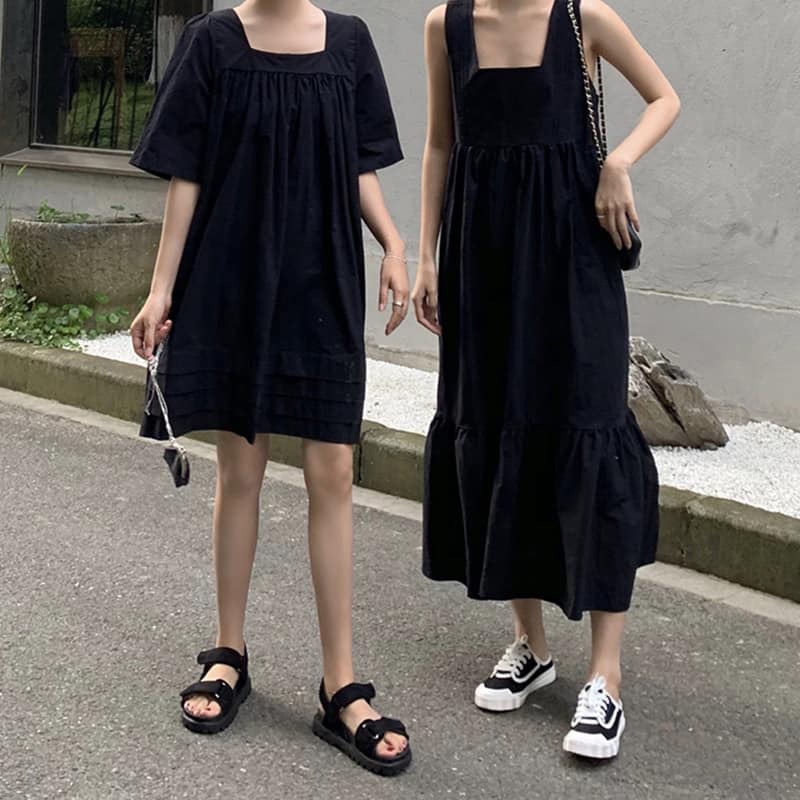 Jacket
If it's chilly outside, you'll want a jacket to put on. I personally think denim jackets look best with this type of dress. Denim jackets, in general, are versatile, but these jackets fit over this dress style so well. If it's very cold, wear a sherpa jacket or larger coat and leggings underneath (I will discuss that more in another section).
Accessories
I absolutely love the way a hat looks with this dress! Since babydoll dresses are fun for the summer, I suggest wearing a floppy hat with one. You can wear a hat in any color, as long as it matches the dress.
Since babydoll dresses are simple, spice them up with accessories! Chunky necklaces and rings especially look great with a babydoll dress. If you love the rustic look, tie a bandana around your neck for a unique flair.
Pants and Shorts
Should you wear pants with a babydoll dress? Babydoll dresses are meant to be worn alone. However, you want to wear pants if you're tall, the dress is extremely short, or it's cold outside. However, I would only wear leggings with this dress. Another looser and the outfit will look strange.
What if the dress is too short, but you don't want to cover your legs? I suggest wearing biker shorts. That way, you don't have any worries about wearing a short dress and you can still show off your legs!
Our Favorite Babydoll Dress Looks
Do you need some babydoll dress inspiration? Here are our favorite looks!
Green Babydoll Dress
Green is one of my favorite colors, and this dress screams St. Patrick's Day! @ruthnmaya looks comfortable in the baggy dress with her white sneakers. The babydoll dress isn't too short, going a little past her knees. Finished with plenty of jewelry and a drink in her hands, she looks like she's ready for a night out.
Minimalist Babydoll Dress
Babydoll dresses don't have to be too baggy or look too much like a nightgown. This dress worn by @luiza2392 is a perfect example. This babydoll dress is slightly baggy, so it still shows off her frame. It's an off-white color, and the design looks perfect for summer. It's a more minimalist look than other babydoll dresses, which is why I really like it.
Beetlejuice Babydoll Dress
I'm seriously in love with this look by @dreronayne. She looks like a character from the Beetlejuice movie. Her black-and-white checkered babydoll dress pairs surprisingly well with the black-and-white striped bloomers. Her green hair and spooky makeup make her look ready for Halloween. And I'm someone who's personally always ready for Halloween!
Princess Babydoll Dress
When I think of babydoll dresses, I tend to think of a dress like the one @mandyyliuu is wearing. The pink color and bushy design remind me of a princess dress. Her overall look is very soft, especially when paired with the nude heels, white bow, and white purse.
Denim Babydoll Dress
I'm usually not a fan of denim dresses, but I absolutely love this denim babydoll dress that @laura.luxxe is wearing. The rich denim color looks amazing on her and the design isn't too baggy, still showing off her figure. Her sneakers and large hoop earrings also compliment the outfit well.
Fruity Babydoll Dress
This babydoll dress by @kittybadhands is so unique! This white dress has red trim, adorned with a colorful fruit print. I also love the shape of this dress. It sits slightly tighter on the bust and flows a bit at the bottom. The dress also has pockets, and who can hate on that?
Floral Babydoll Dress
In the previous post, I loved the unique fruity print. But you can never go wrong with a floral print.
Even though pink isn't my color, I still love this dress that @_megankristine is wearing. The blush drink dress has a variety of colored floral designs. The dress is also a great length, with poofy sleeves. The square neckline also looks amazing on the model, and it makes me wish I could pull off a square neckline.
Unique Prints
I think the reason why I like this dress so much is I can't tell what the pattern is, as odd as it sounds. Is it leopard print or snake print? Either way, the dress is so cute! The dress also has the perfect amount of bagginess without taking away from the model's figure. @darciebailey1 finished the dress with subtle necklaces and seriously cute black ankle-high boots.
FAQs
Question: Do Babydoll Dresses Have Other Names?
Answer: I also see this dress called daywear dresses. Sometimes, they're called "babydoll tunics" because they're too short to be called dresses.
Question: A Babydoll Dress Isn't Flattering to My Figure. How Can I Change That?
Answer: Babydoll dresses emerged in a time when women were confined to corsets, and babydoll dresses were a feminist stance that encouraged women to be more comfortable. While the bagginess of the dresses makes them very comfy, they're not flattering on too many figures. I, for one, have an hourglass figure, and I steer clear of babydoll dresses even though I love them.

So, how can you follow this trend while still making it look flattering?

I suggest working with the dress and your figure. If you're short, wear feels instead of flats or boots. Wear a black babydoll dress, so it looks more slimming. Avoid patterns and bright colors, because that will only accentuate the puffiness of the dress. If you have an hourglass or triangle figure and want to show off your body, wear a belt around the dress.
Question: Are There Babydoll Tops?
Answer: Yes, there are! Like the dress counterparts, they're baggy, with loose-fitting fabric and puffy sleeves. But I personally think these tops are way more flattering and they definitely fit my figure better. Actually, in regard to the last question, if you can't pull off a babydoll dress then I suggest trying to wear a babydoll top.

The best part about babydoll tops is they're even more professional. Since they cover well, you can wear them to the office with slacks and nice shoes. If you want a casual look, wear a babydoll top with jeans.
Question: Do Babydoll Dresses Make You Look Fat?
Answer: Since the fabric is loose-fitting, it does make you look fuller. I wouldn't say it makes you look fat but does nothing for your natural figure. If you have a small waist, just walk away from the babydoll dress. They won't do anything for your body. If you insist on wearing a babydoll dress, find one that is tighter around the waist and flows outward. You can also wear a belt.
Question: Do Guys Like Babydoll Dresses?
Answer: I can only imagine asking my boyfriend this question. He would probably scratch his head and shrug his shoulders. If anything, he probably wouldn't notice the difference between a babydoll and a-line dresses.

Now, I can't find a source on wearing babydoll dresses for fashion's sake, but only one as a lingerie piece. Men aren't savvy on babydoll dresses, which doesn't surprise me. They don't go into why.

At the same time, wear what you want. Don't wear clothes just because guys like them. Do what you want. Be you.
Question: What Are Other Ways to Hide My Tummy?
Answer: Are you looking for an outfit to hide your belly? Babydoll dresses are perfect for this! If you want something less baggy, choose darker colors, such as black and navy. Find dresses that pull in the waist, such as ones with wraps. You can also use color blocking to accentuate one part of your body over another. An example is wearing a black top with a white skirt.
Bottomline
Babydoll dresses are popular because they're loose-fitting, making them seriously comfortable. They're also great if you're pregnant or just want something comfy to wear around the house.
Babydoll dresses have an amazing history; they were introduced at the beginning of the 20th century as the antithesis to constricting fashion trends such as corsets. We hope this guide inspired you to try some cute babydoll dress looks!
Further Read: