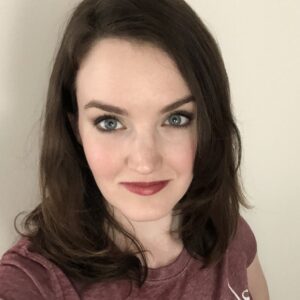 Latest posts by Crystal Schwanke
(see all)
Women's green sweater ideas and inspiration can help you liven up your cold-weather wardrobe. If you've been overlooking green sweaters because you didn't know where to find them or how to style them, maybe this can help.
I've also included some of the best sweaters on the market right now, so you'll know where to get yours once you're feeling inspired by all of the pictures.
A Look at Women's Green Sweater Ideas and Inspiration: How to Style
It seems like there's no limit to the ways to style a women's green sweater. You can color-block, keep it understated with jeans or khakis, embrace a cool, crisp look with white pants against a soft green (perfect in the spring), or throw a green cardigan over a patterned dress.
The range of green shades alone makes it a joy to style women's green sweaters. They aren't as loud as red or yellow, but they're also not as understated as black or beige.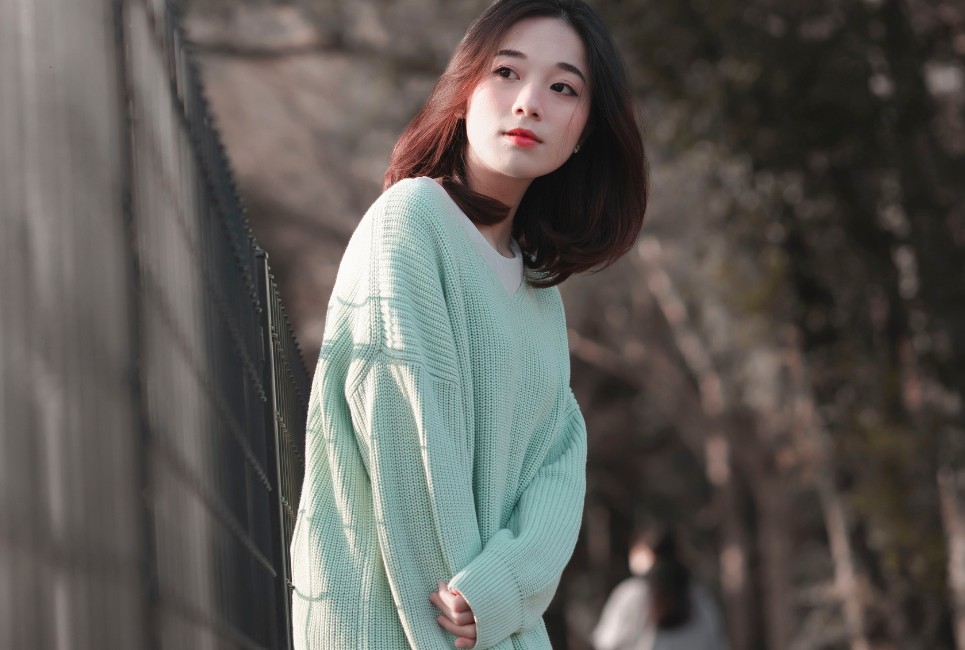 Jewelry
As far as jewelry goes, most greens will look perfect with any metal tone. If your green is especially warm (like olive/forest), you may prefer to stick with gold jewelry. Likewise, if your green has bluer undertones (some mint and teal shades), silver will be your best bet.
Shoes
You can't go wrong by pairing a pair of brown boots in any height with a green sweater. Nude will also look good. If you're wearing a deeper shade that leans cool-toned, black boots will complement your outfit well.
If your green sweater is on the dressier side than classic casual (a cowl neck, deep V, flowy tunic, balloon sleeves, etc.), a pair of pumps or ballet flats will make a wonderful finishing touch.
Who Should Wear a Green Sweater?
Anyone can wear a green sweater. Maybe not all shades of green, but there are so many, from forest green to spring green, lime green to mint green, that there's something for anyone who wants to wear a green sweater.
How do you know which one to wear? You could always do a color analysis to determine which shades look best on you, but there's a good chance you could find that on your own, based on the colors you already like to wear.
If you look good in earth tones, you'll love forest green. If you're more drawn to blues, purples,  pinks, and cool tones like that, you'll probably like a mint green sweater.
If you look best in warm tones and frequently migrate toward orange, brown, yellows, warm reds, etc., a spring green or even lime green. Bright lime green is usually best on medium-deep skin tones, but try it and see how it looks if you love the color and standing out in a crowd.
Teal green could go either way and suit cool or warm skin tones.
Emerald green is gorgeous on cool, neutral, and olive skin tones. Look for deep, rich, jewel-tones if you really want your complexion to practically sparkle next to your green sweater.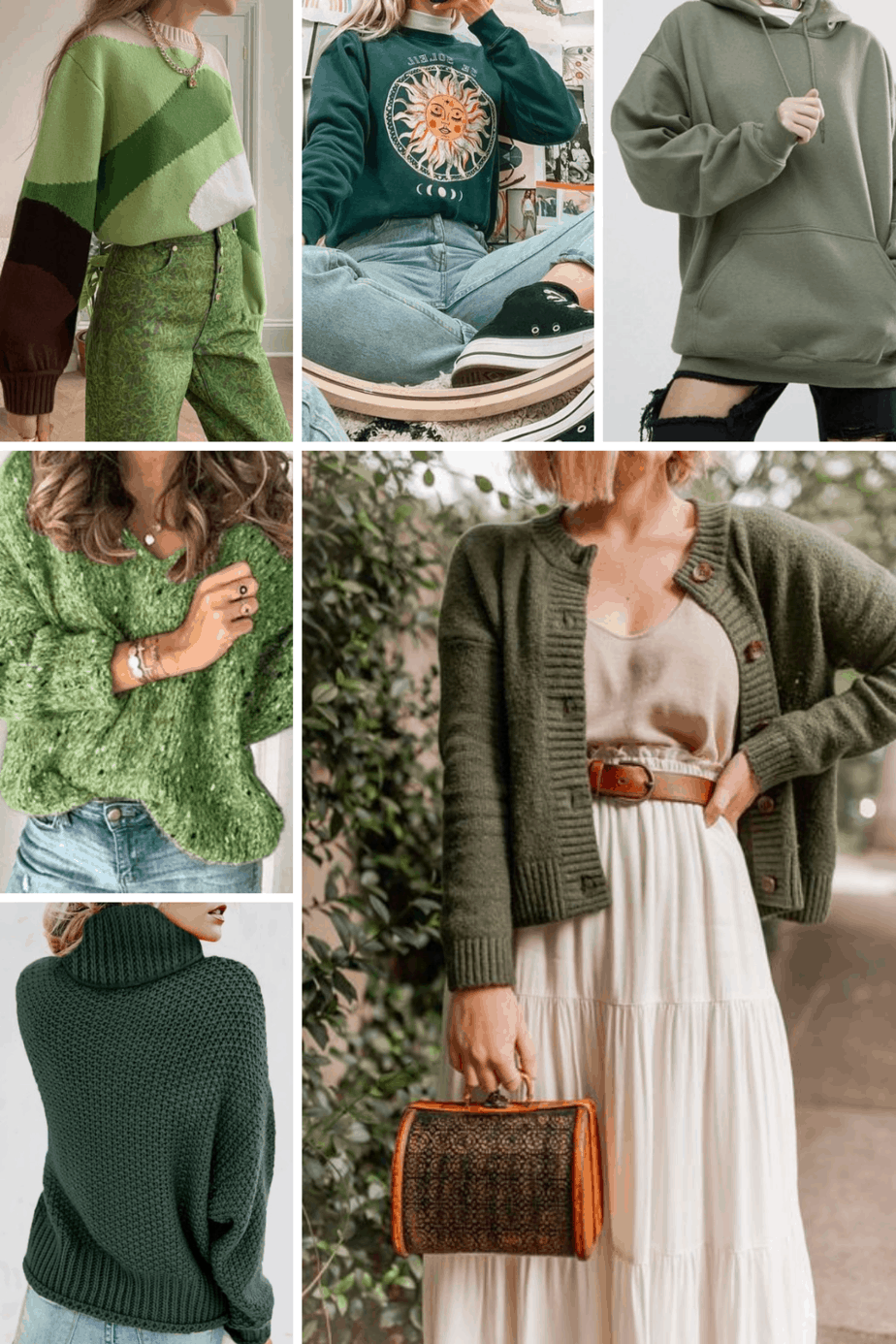 Where to Buy Women's Green Sweaters
You should be able to find women's green sweaters anywhere that sells women's clothing, though the shade of green may vary based on the time of year.
You'll probably see more forest greens and hunter greens in the fall and winter, teal green will creep in with the jewel tones of winter, and then mint green, spring green, and lime green may show up as the weather starts to warm up again.
Those aren't hard guidelines to when the stores will have each shade in stock since it will depend on the stores and the trends at the time, but it's a rough estimate. With online shopping,  you can usually find just about whatever you want, year-round.
Check:
Macy's
Kohl's
Bloomingdale's
Target
ASOS
Land's End
J. Crew
Belk
Forever 21
American Eagle
SHEIN
Venus
GAP
The Top Green Sweaters You Can Buy Right Now
Here are some of the best women's green sweaters I've found:
Ted Baker Austenn Stitch Detail Sweater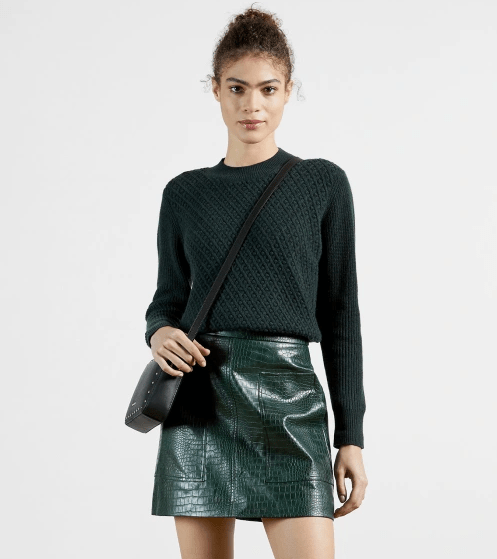 This Ted Baker sweater comes in a deep green shade that's perfect for wintertime. It has a bit of texture so it's visually interesting, but not so much that the texture hinders your ability to pair it with other things easily. Here, it's paired with a textured skirt in a slightly different shade of green, for a stunning monochromatic look.
Pros
The deep green shade isn't as easy to find as lighter shades
Texture makes it interesting
Classic style and shape
Cons
Expensive
Hand wash
Limited size range
Lilly Pulitzer Cortina Sweater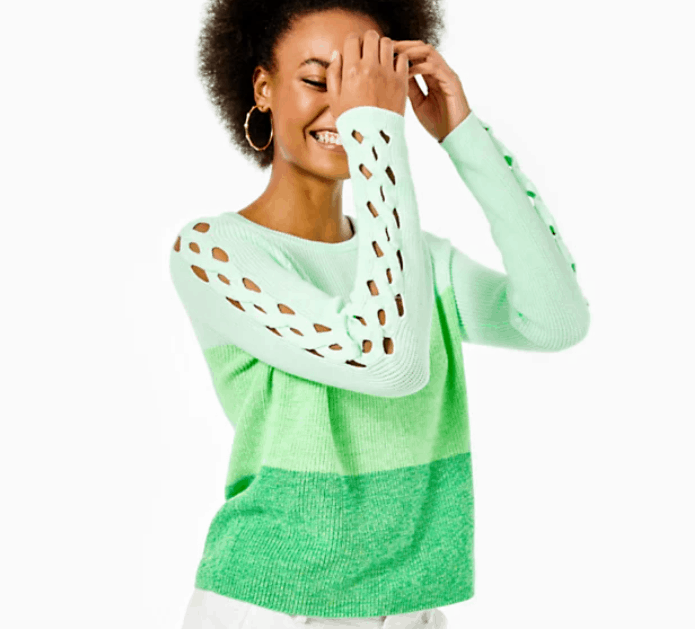 This Lilly Pulitzer sweater is fun and perfect for the days you're beginning to feel a hint of warmth in the air.
Pros
Lightweight, with cutouts along the sleeves, so perfect for transitioning from winter to spring and then to early summer
Machine washable
Ombre
Easy to pair with casual shorts, skirts, or pants
Cons
Depending on where you live, you may have limited time to enjoy a style like this (it'll be too cool or too warm)
Expensive
Karen Scott Open-Front Side-Slit Cardigan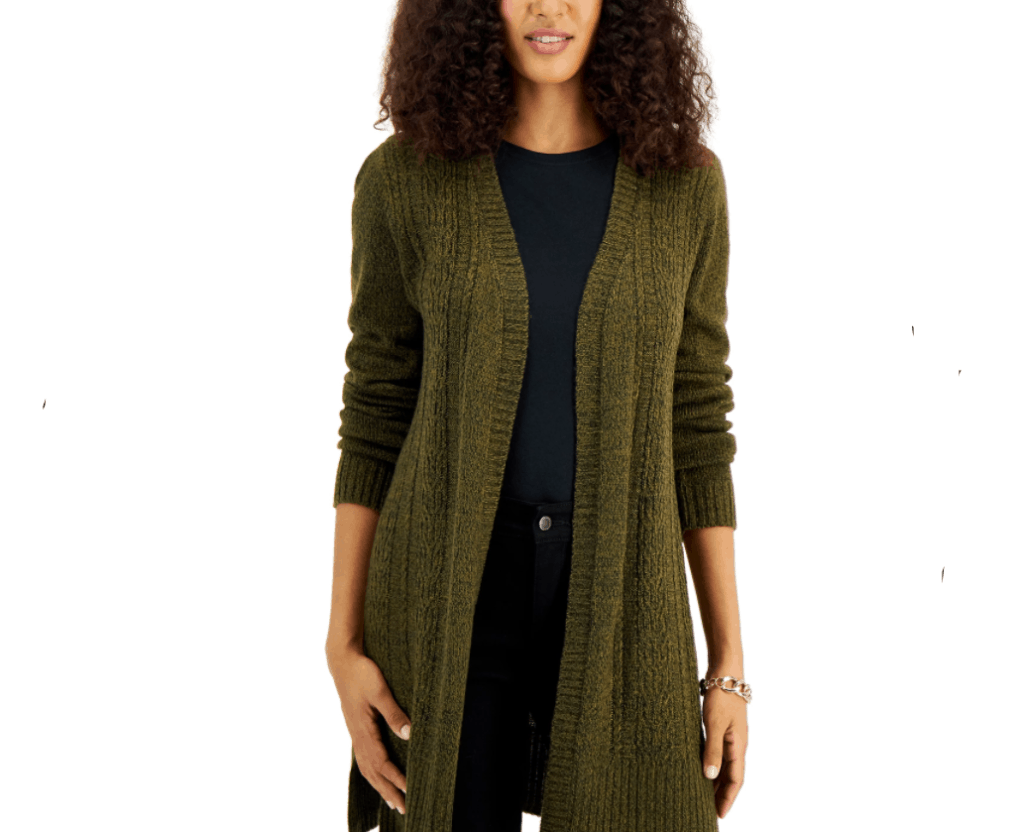 This Karen Scott cardigan was designed just for Macy's. It's one of the few cardigans on the list, but you'll love the classic, flowy style.
Pros
The olive shade can act as a neutral and go with almost anything
Not too expensive
Machine washable
Cons
If you want to be able to button it up or wrap it around you with a matching belt for extra warmth, you'll need to look elsewhere
Women's Nine West Top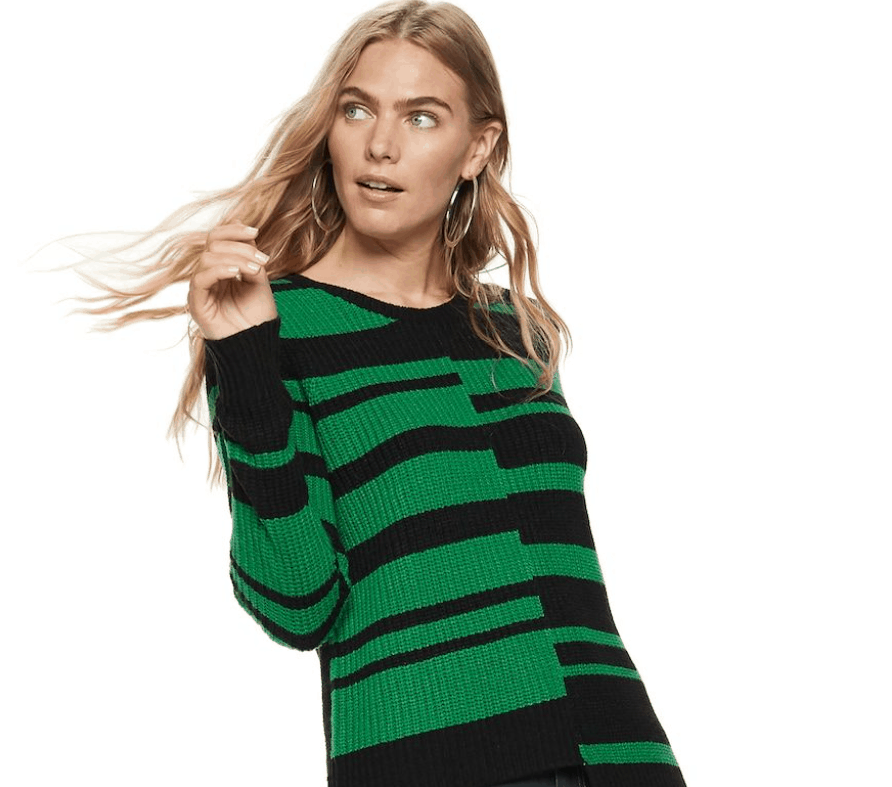 This Nine West sweater is one of the trendier options in a sea of classics. If you like to stand out, this may be the one.
Pros
Trendy balloon sleeves make this one especially interesting
The large pattern (swirls of two different green shades) is also attention-grabbing
Available in X-Small to XX-Large
Can be dressed up or down
Cons
Because of the trendy sleeves, you may feel like tossing this one after a year or two
ASOS Pieces Sweater with Roll Neck in Sage Green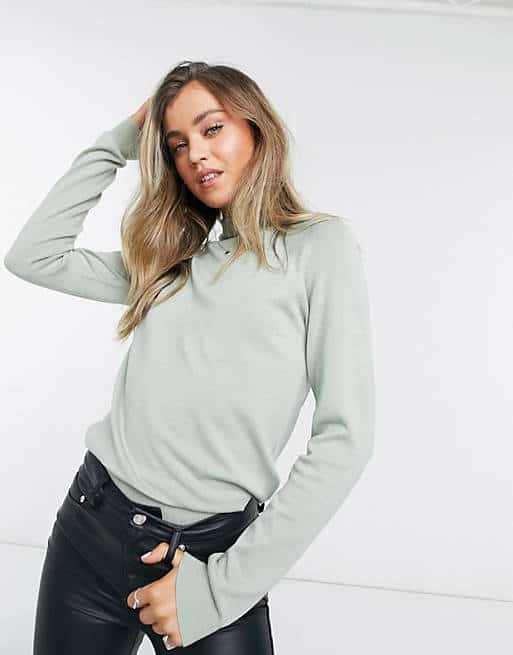 If you love soft greens, this ASOS sweater will probably wow you. It's a timeless style, too, so you won't be limited to one or two seasons.
Pros
Inexpensive
A classic cut and style (somewhat fitted, roll-neck, long sleeves)
It Will look good on a variety of skin tones
Cons
It May be too thin for some situations and doesn't lend itself well to a lot of layering (other than coats)
ASOS In the Style x Lorna Luxe Knitted Sweater in Green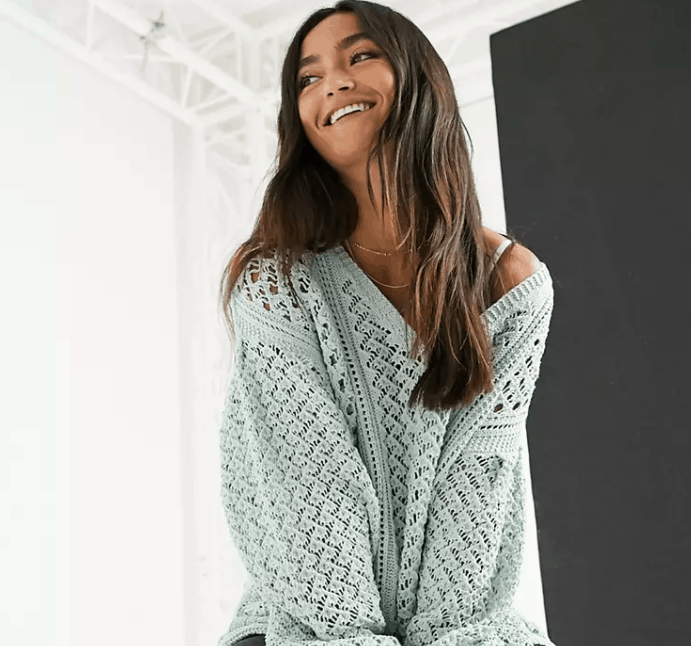 Here's another winner from ASOS, and it's also slouchy, flowy, and it looks incredibly comfortable. It'll have to be layered, though (which makes it perfect for spring and summer).
Pros
The flowy, bohemian vibe
Machine wash
Inexpensive
Interesting combination of chunky but sheer
Cons
Some reviewers say it's stiffer than it looks, and that makes it uncomfortable
May snag on things easily
Forever 21 Sweater-Knit Crop Top & Cardigan Set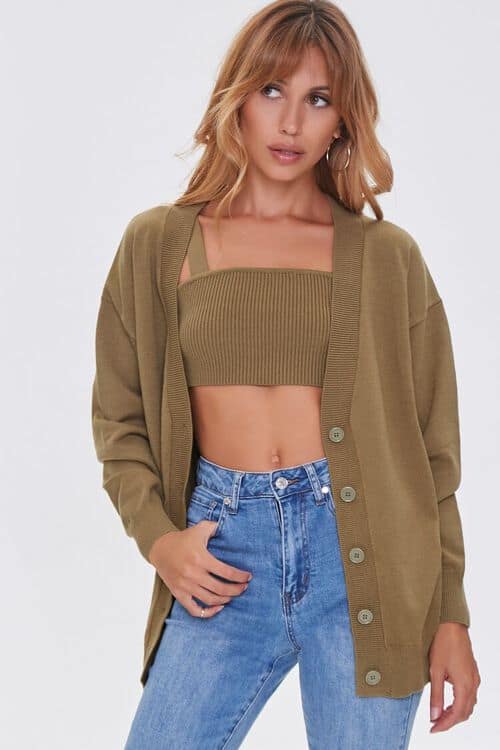 It feels like the 90s are back at every turn, and I can't help but feel like this is a nod to a simpler time—with a twist. The top is cropped while the sweater is longer. The combination is unexpected, but I love it.
Pros
The unusual pairing of a cropped top and longer sweater
Inexpensive
A youthful twist on a classic style
Cons
You probably won't be able to hide the fact that the top is cropped because the buttons on the cardigan start so low. You'll be showing a patch of midriff no matter what, most likely. Showing skin isn't necessarily a bad thing, but tops like this aren't welcome in every situation (like work or school, but enjoy this cute combo on the weekends!).
The olive green almost looks brown in some lighting
The Main Differences Between a Green Sweater and a Green Cardigan
Wondering what the difference between a green sweater and a green cardigan is?  A cardigan is a type of sweater, so they already have a good bit in common.
A green sweater usually won't be any longer than tunic length, whereas a green cardigan can be much longer.
A green sweater doesn't open in the front, whereas a green cardigan does.
A green sweater usually won't have buttons down the front, whereas a green cardigan might.
A green sweater can be layered but won't always need to be, whereas a green cardigan will always have to be layered with something else.
FAQs
If you have questions about styling green sweaters, these may help. They're some of the most frequently asked questions regarding finding and styling sweaters in a variety of green shades.
Question: Where can I buy a lime green sweater?
Answer: Check ASOS, Ted Baker London, and Lilly Pulitzer for women's lime green sweaters.
Question: How do you wear dark green sweaters?
Answer: Pair them up with dark denim, beige/khaki/camel slacks, or even charcoal gray. In some cases,  you can really make a dark green sweater pop by pairing it with white pants.
Question: Where can I find green sweaters?
Answer: You can find green sweaters almost anywhere sweaters are sold, but if you have a particular shade in mind, that may vary from store to store and depend on the time of year as well as current trends. Check J. Crew, Banana Republic, Belk, Land's End, ASOS, Target, Nordstrom, Kohl's, Macy's, and other department stores.
Question: How do you wear a green sweater?
Answer: You could try color-blocking with a completely different color on the bottom (pants or skirt). Try kelly green with bright pink or yellow, teal green with rust, or mint green with another pastel.

Green sweaters also look good with khakis, navy blue slacks, jeans in the medium-to-dark wash (lighter greens will look great with light wash jeans, as well), or black slacks. Even charcoal gray works. If you go with a lightweight lime green sweater in the spring or summer, try pairing it up with white pants or a white skirt.
Conclusion: Using Women's Green Sweater Ideas as Inspiration
When you're shopping for a specific color of any item of clothing, it's important to narrow down the shades that work best for your coloring and what's already in your wardrobe.
You'll be able to mix and match more freely then, and your new green sweater will be less likely to end up in the bottom of a drawer or back of the closet.
The beauty of green is, there are so many different shades to choose from, there's something for every skin tone, whether you're cool or warm.
Take the styling ideas and inspiration above, combine that with the selection of sweaters, and have fun with it. Play around with color-blocking, going sophisticated with neutrals paired with green, or accessorize with unexpected colors. Green can be dressed up or down and made to be an attention-grabber (just give that color-blocking a try and you'll see what I mean) or something that lets you blend in.
Find one that checks all the boxes for you, based on your coloring, how you envision pairing it up with things you already have in your closet, and the time of year you want to wear it.