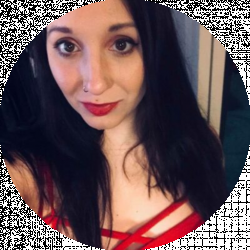 Latest posts by Stephanie Jensen
(see all)
The blazer is a staple in any woman's wardrobe. But a blazer doesn't have to have the square-shouldered and bulky look.
Modern blazers are very feminine and chic, perfect for wearing to the office but also to any event. And with more women working and owning businesses, the fashion industry took this stylish yet sophisticated item and made it even more feminine. Introducing: the blazer dress. It has the classic blazer look, but it's longer and better hugs your curves, resulting in an ensemble that's both professional and flattering.
But how do you style a blazer dress? Where do you find the best blazer dresses? We have answers to these questions and more.
What to Wear With a Blazer Dress
Styling a blazer dress is easier said than done. Do you wear pants with them? What about an undershirt? And which accessories look best with this dress style?
Undershirt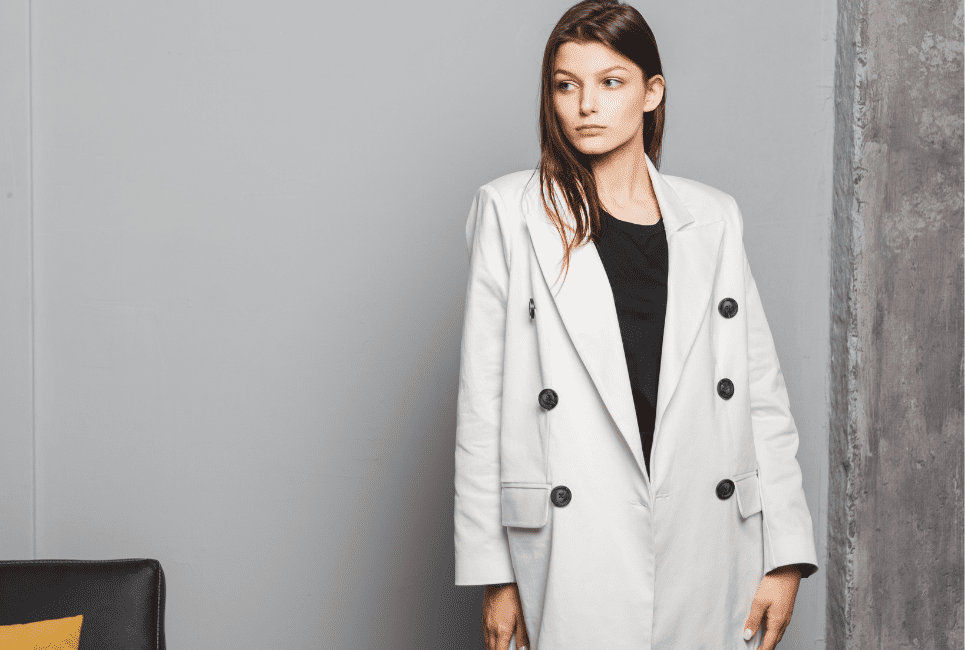 We suggest wearing something under your blazer dress. Fortunately, you have plenty of options.
The first one is one of my personal favorites: the jumpsuit. Jumpsuits are easy to throw on in the morning and are comfortable. A blazer dress can immediately make any jumpsuit look more polished. As long as you find a jumpsuit in the same color wheel as the blazer, it will look extremely stylish.
If you're attending a fine event and are planning to wear a blazer dress, wear it over any other dress. You'll still look trendy and polished, perfect for any event. Since blazers are timeless and sophisticated, it's recommended you wear a dress more on the conservative side. For best results, make sure your blazer dress matches your regular dress.
What if your office has a relaxed dress code, or you're wearing your blazer dress out to dinner? Sport a stylish top under your blazer dress! A camisole, t-shirt, off-the-shoulder, and tube top are all cute ways to up your blazer dress. If the weather is on the chilly side, wear a sweater under your blazer dress.
Pants or Leggings
Depending on the length of your blazer dress and where you're wearing the dress, you may want to wear leggings or pants under your blazer dress. Since blazer dresses tend to be bulky, avoid trousers and jeans.
If you're wearing your blazer dress to a semi-formal event or dinner, wear them with leggings. Your favorite fitness leggings may not be formal, but the look is very stylish. If you need to look more polished, opt for a pair of fashionable leggings instead.
Many blazer dresses are long enough to be worn as, well, dresses. However, you should still wear a pair of shorts under them.
Accessories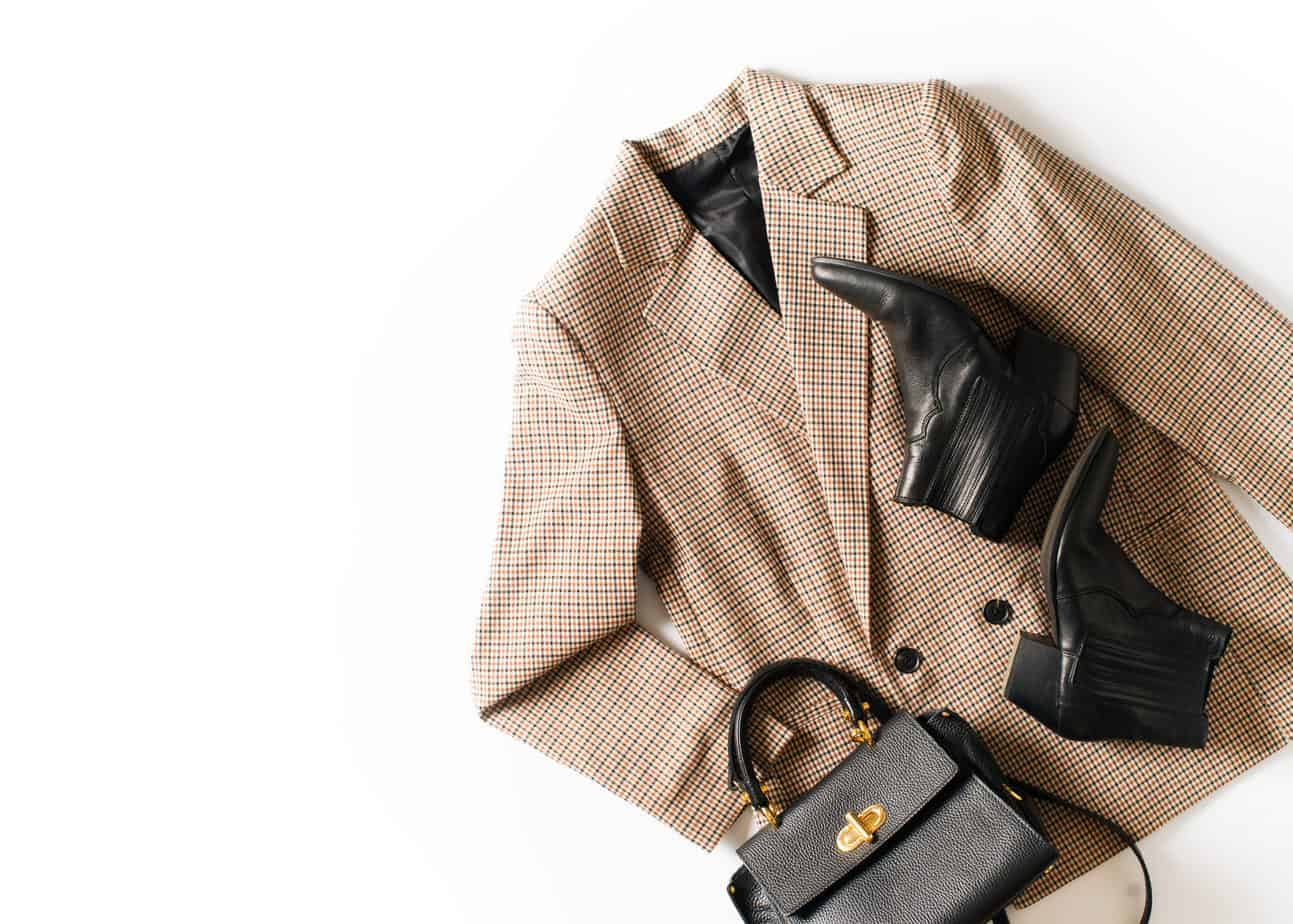 Blazer dresses are flexible, and many accessories can take your outfit to the next level. Let's start with purses. From mini bags to office totes, you have limitless options.
Assuming you're wearing your blazer dress to the office, you should keep your jewelry to a minimum. Hoop earrings and chain necklaces match with everything and are ideal for all occasions.
You should always complete your look with the perfect sunglasses.
Shoes
The shoes you wear with your blazer dress depend on the occasion. If your office has a relaxed dress code, boots are some of the best shoes to wear with a blazer dress.
A formal pair of boots is also the best heel alternative, from ankle boots to even knee-high boots. Just about any type of boot looks amazing with a blazer dress. Of course, heels are often the best choice of shoes for the office. They make a statement and align with just about every office's dress code.
If you're wearing your blazer dress to a casual event, such as dinner, then you don't have to be as classy. A nice pair of sandals will always work. If you want to be cozy, throw on your favorite pair of sneakers.
Where to Wear a Blazer Dress
Now that you know how to put together the best blazer dress outfit, where exactly should you wear a blazer dress?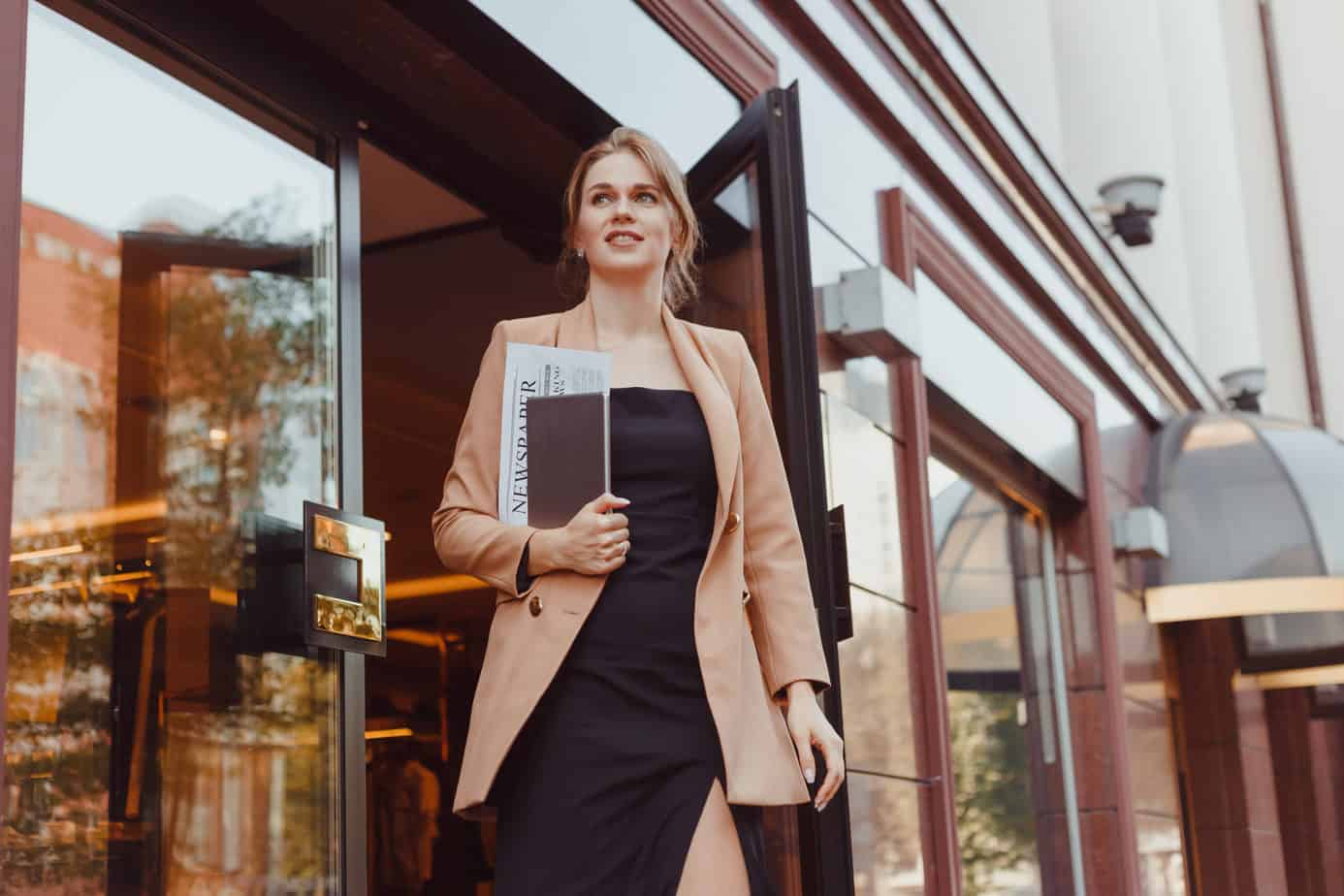 Office
It should be no surprise that the best place to wear a blazer dress is the office. There are many blazer dress options out there and they appeal to both a casual and strict dress code. However, always make sure your blazer dress meets your office's dress code. For example, you may need to wear pants or fashionable leggings under your dress if it's too short.
Wedding
Believe it or not, blazer dresses look amazing at weddings. They're classy and look amazing on just about everyone. Blazer dresses are also very minimalist, making them easy to pair with virtually any makeup look and shoes. Choose a blazer dress in clean neutrals such as white or cream for best results. This way, your dress not only looks exquisite but matches the wedding theme.
Formal Event
With that being said, you can wear a blazer dress to any formal event. However, there are some special rules to follow. The dress should be on the longer side, ideally knee-length. The blazer shouldn't be tight but not too loose — fitted is always the best option. Always be sure to properly maintain your blazer dress. Keep it ironed and clean.
Our Favorite Blazer Dresses
Are you ready to shop for a blazer dress? Here are some of the cutest ones we can find!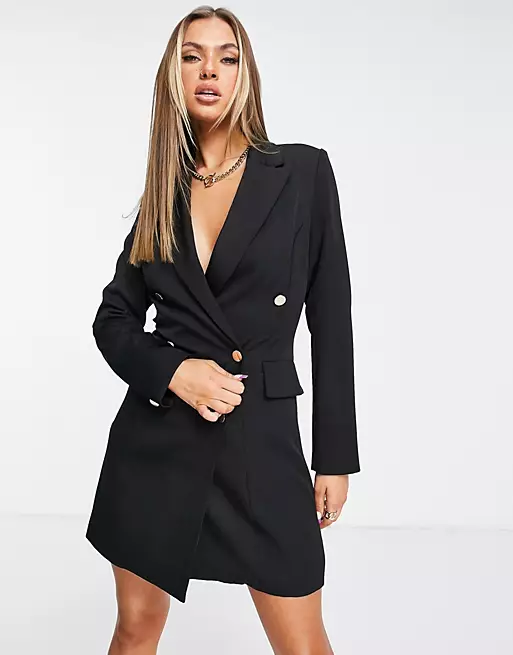 If you want a subtle blazer dress that still makes a statement, choose this one by ASOS. This blazer dress looks appropriate for the office and the runway, with a sleek style that flows outward at the hips. It is a little on the short side at a mid-thigh length, so make sure you wear leggings with this if you plan on wearing it to the office. Otherwise, it's perfect to wear to an office party!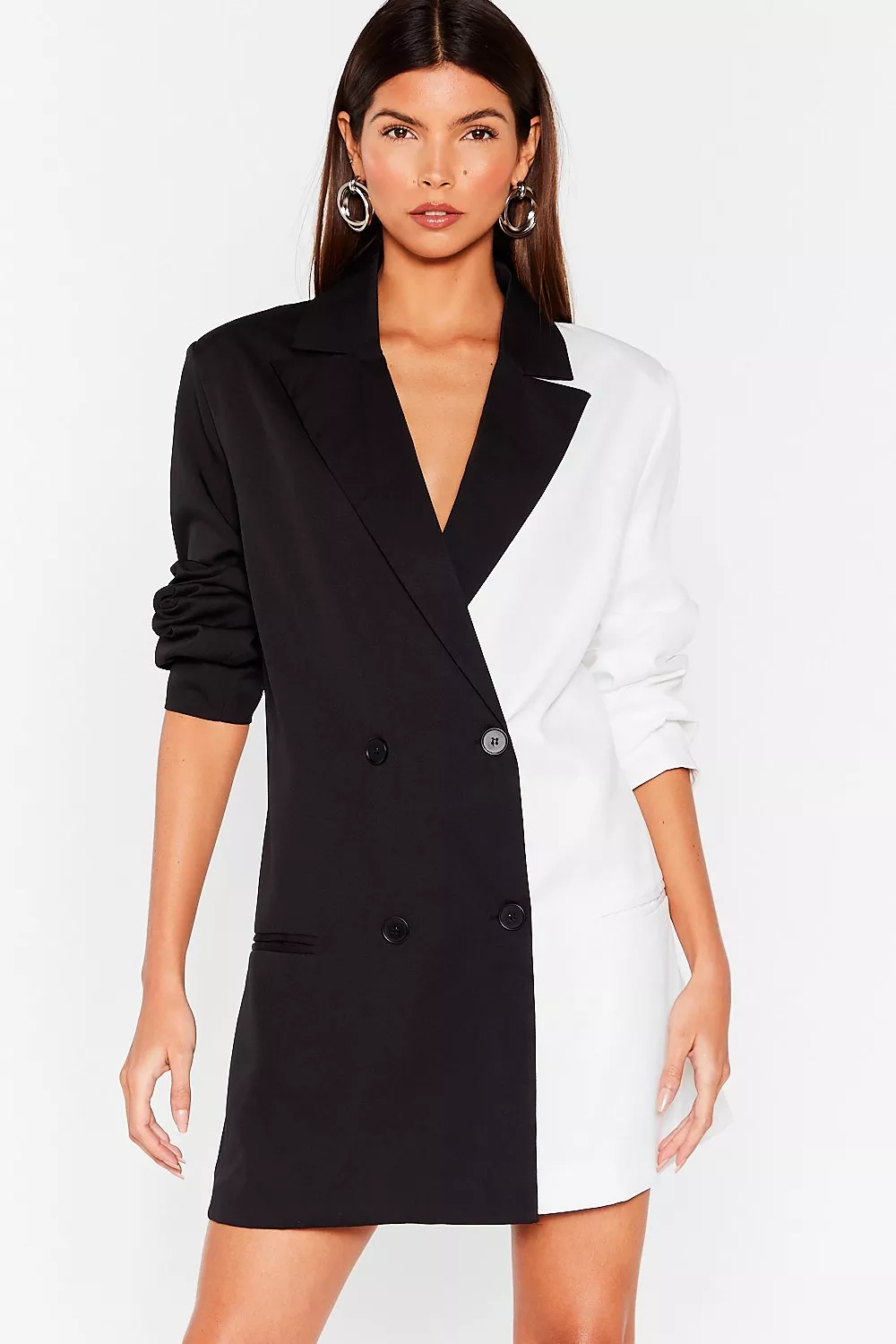 First, I have to say I love the color blocking going on here. The half-black-half-white is chic and is still neutral enough for even the strictest dress codes. The fit of the dress is relaxed, so it's form-fitting but not too tight. Plus, this dress has pockets! Again, it is short, so be sure to wear leggings under this one.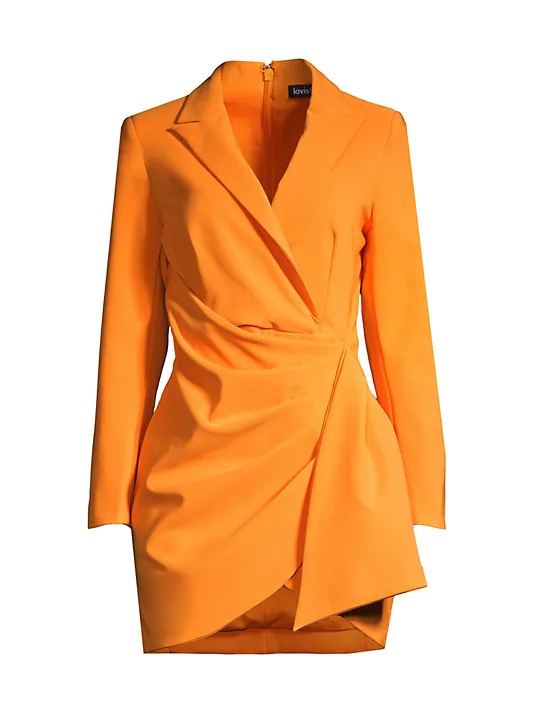 While orange isn't my color, I wanted to include a more colorful blazer dress to expand the options. Unless your office dress code allows bright colors and short dresses, this is a dress I would save for a formal event or a high-end party. I do love the style of this dress. Rather than buttons, it twists asymmetrically around the waist to accentuate your feminine figure.
The Cutest Blazer Dress Outfits
Do you still need some blazer dress inspiration? Here are some of the best looks we can find on Instagram!
Blue Bombshell
While I wouldn't wear this baby blue ensemble, it does look lovely on @helen_burkun. Because of the color and the shortness, I would only wear this to a party or a dinner/drinks event. However, it is extremely chic. I also find her frilly matching shoes to be a stunning and perfect match for this blazer dress.
Office Ready
Most blazer dresses I'm finding are extremely short and not appropriate for the office at all. However, this one is the exception. @allanna_cuellar looks incredible in this blazer dress. I love the shade of red and the matching purse. While the dress is so simple, the belted waist will make this dress look flattering on just about anyone.
Simple Yet Chic
If you're looking for a quick outfit to throw on when you're running late, this is a great outfit idea. @theedit_wardrobestylist wears an oversized blazer as a dress and matches it with knee-high boots. The outfit is minimalist and is simple enough for anyone struggling to find that perfect office outfit. This look is very fashionable yet easy, and the oversized blazer is the perfect length for the office.
CEO Ready
As a successful woman, your style should make a statement. An easy way to turn heads is to wear a blazer dress outfit like the one @courtneymichelle is wearing. Her almost vintage-looking cream blazer dress also matches with her purse and knee-high boots. The outfit is cute, and you can be sure that you will be the most dominating presence in the room.
FAQs
Question: Are Blazer Dresses in Style?
Answer: Blazer dresses are still in style! That's because different silhouettes, designs, and colors all look amazing on a blazer dress.
Question: I Want to Wear Another Dress Under My Blazer Dress. Which Dress Should I Wear?
Answer: The dress you wear under your blazer dress depends on the occasion.

For a formal event, wear your blazer dress over a form-fitting gown. Otherwise, any dress that fits the shape of your body is a good option. Bodycon dresses are other similar styles that look best with a blazer dress since loose-fitting dresses may get lost in all of the fabric. Since blazer dresses tend to be on the short side, the dress you wear under it should be at least knee-length, if not longer.
Question: Can I Wear a Skirt Under My Blazer Dress?
Answer: Absolutely! I recommend it. Again, blazer dresses tend to be on the short side. Longer skirts make your outfit still look polished, and you don't have to worry about your dress being too short. However, there are some rules to follow. Your blazer dress and skirt are different pieces. Take advantage of this flexibility and match different colors.
Question: Are Blazer Dresses Professional?
Answer: I keep mentioning the shortness of blazer dresses, and you may wonder if they're even professional at all. Still, if you find the right blazer dress or style it well, it is a professional-looking item. Most blazer dresses are basic and can be styled easily. They're also sophisticated enough for most office settings, assuming they're not too short.
Question: Can I Wear a Blazer Dress to a Job Interview?
Answer: Absolutely! However, more businesses are switching to a more casual dress code. So much so to where 79% of workers say their workplace allows a business casual office attire.

Let's put it this way: if you have a job interview coming up, there's no reason to go out of your way and buy a blazer dress. But if you already have a blazer dress or just want to get one because you like the style, then you can wear your blazer dress to your job interview.

Again, how you wear the blazer dress matters more than anything. Make sure the dress is long enough and wear nice shoes with them. Doesn't mean you need to wear heels, but avoid wearing over casual shoes such as flip flops.
Question: What Color Blazer Dress Should I Buy?
Answer: Doing a quick Google search, here are some of the most popular blazer dress colors:
Black
Blue
White
Gray

The most important thing to remember is to stick to neutrals (except for brown). Bright colors are often too loud for a dominating piece, such as a blazer dress. If you're going to wear shades, make sure they're toned down. For example, choose navy over teal. While red is also one to avoid, you can stick to a maroon color, such as the Instagram photo I attached earlier.

Last but not least, avoid multi-colored prints and patterns. Again, the blazer dress is the dominating piece here, so make sure it doesn't stand out more than it already does.
Bottomline
A trusted blazer is the first item any woman grabs when going to the office or a formal event. However, blazer dresses take this classic silhouette and make it look chic. I don't see blazer dresses as often as typical blazers, so you may wonder how to style them. We hope our advice helped you plan your next blazer dress outfit!
Recommended reads: