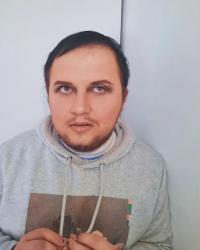 Latest posts by Jamie Tugayeva
(see all)
A striped sweater is just as popular as color block clothing or plain outfits this season. They may represent a statement in your wardrobe. Despite being just cloth lines, stripes became a favorite through all ages and something that everyone has in their wardrobe. There are vertical stripes, there are horizontal stripes, stripes of all shapes and sizes.
Striped clothing makes us think of everything from sailor-themed runaways by Jean Paul Gaultier, the Navy, or an American motif if paired with stars, pinstriped suits, and everything you could think of. It may have had a negative connotation on clothing in the Medieval ages such as in France, but those days are long gone.
Breton or striped clothing is a modern fashion staple, and this article will guide you through how to style it. The focus will be on the top striped sweater ideas of today.
Even as the weather gets colder, it does not mean we lose our sense of fashion and neither do the clothes get less thought through. You may prefer summer over winter, but who doesn't love to shake up their wardrobe every season?
Why buy a stripy ?
It doesn't matter if you prefer simple and strict clothing or more flashy choices, a striped sweater is always a well-balanced item to have. For the more outgoing styles, it's a grounding piece in your wardrobe. For those who shy away from the more 'in your face' trends, a striped sweater represents a good balance of classic and chic.
When sweater weather hits, you want something which won't get you bored right away, a trusty fashion choice that you can keep wearing without dreading it by the end of the season. Stripy sweaters are also rather easy to style, either as part of an elaborate ensemble or as a statement piece.
How to style a stripy ?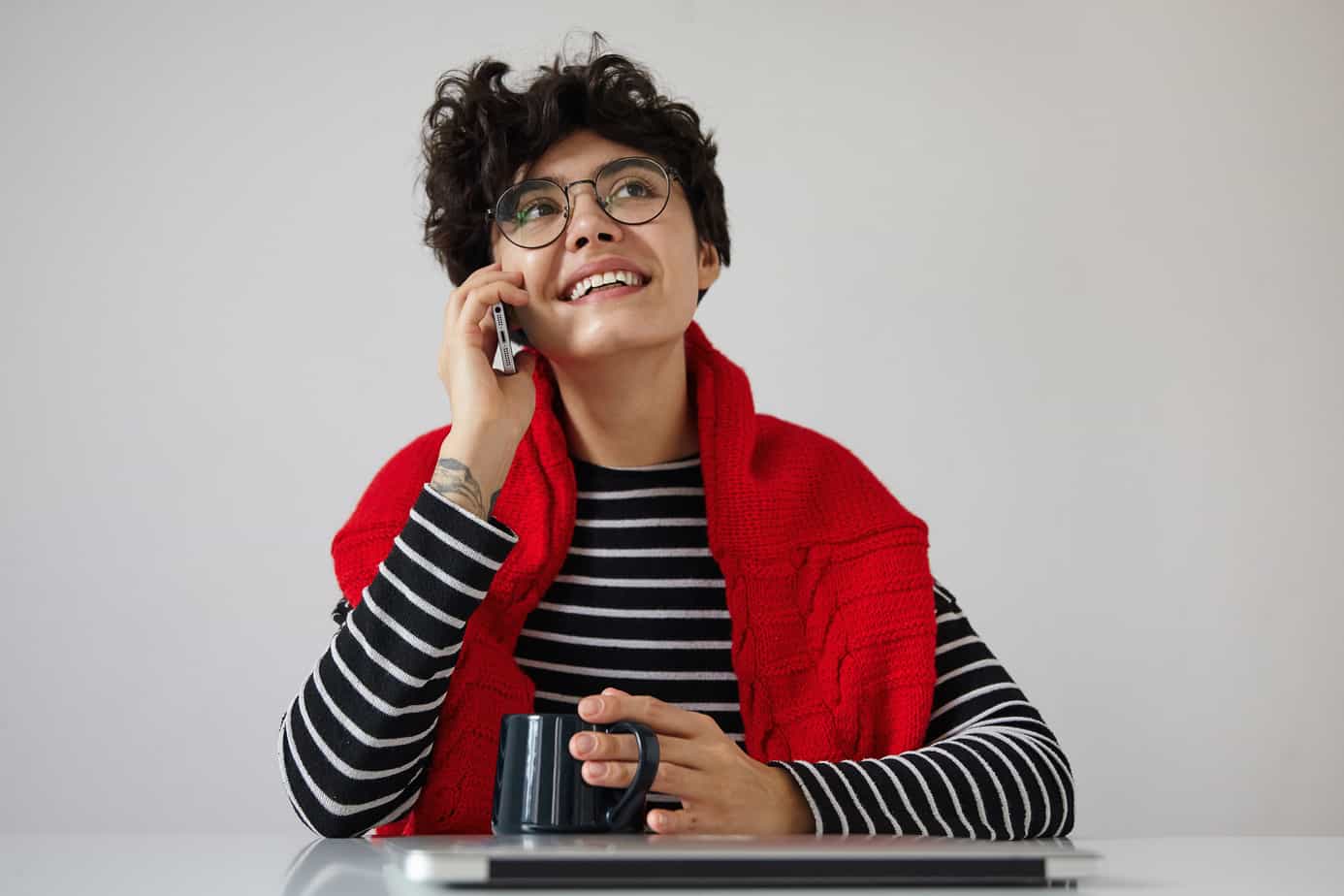 Besides making sure that you're warm, a stripy sweater mustn't look out of place relative to current weather. You don't want to look like you're wearing a puffy jacket in summer while others are in lighter clothing. Just like most sweaters, it's easy to choose a pair of your favorite jeans to go with a striped sweater.
If your stripy sweater is baggy, think if you want to achieve an overall baggy look if the shape of your jeans is also oversized. Above all, wear what they enjoy. You can do a mix and match between baggy and skinny, as a sweater will always be versatile for different days.
Besides jeans, you can always have a button-up or a blouse underneath with the collar peeking outside for a dressed, smart look. In that case, the most popular look would be to pair up with a pair of plain colored pants for office dress code compliance.
Many fashion icons still enjoy wearing open heels with a heavier top choice, including stripy sweaters. Choosing a moderately high heel for to go with your striped sweater is a great choice. If it is too cold, boots are a straightforward solution, and you can tuck your pants or jeans into them too.
Sweaters over dresses can be a chic choice, and the same goes for skirts. This season has clashing patterns in fashion, which means you can go all out or stick to the classic mix of stripes with a single-tone dress or skirt.
You could even go for a combination including a striped shirt, striped pants, striped dress, or a striped blazer if you are feeling bold. Just be careful not to go into stripe overload
Styling a bag over your sweater is a must for many. This season, opt for a larger bag and stick with a different color unless your idea is to dress from head to toe in a certain tone. As the motif is stripes, you don't have to worry about a crossbody bag covering a front pattern. Backpacks have been swinging in and out of fashion, but for a more casual or smart school look, they are appropriate.
For jewelry in sweater season, it's better to focus on heavy and large statement earrings. The details are down to your preferences of course but keep the jewels bright and accessories large.
Who can wear a stripy ?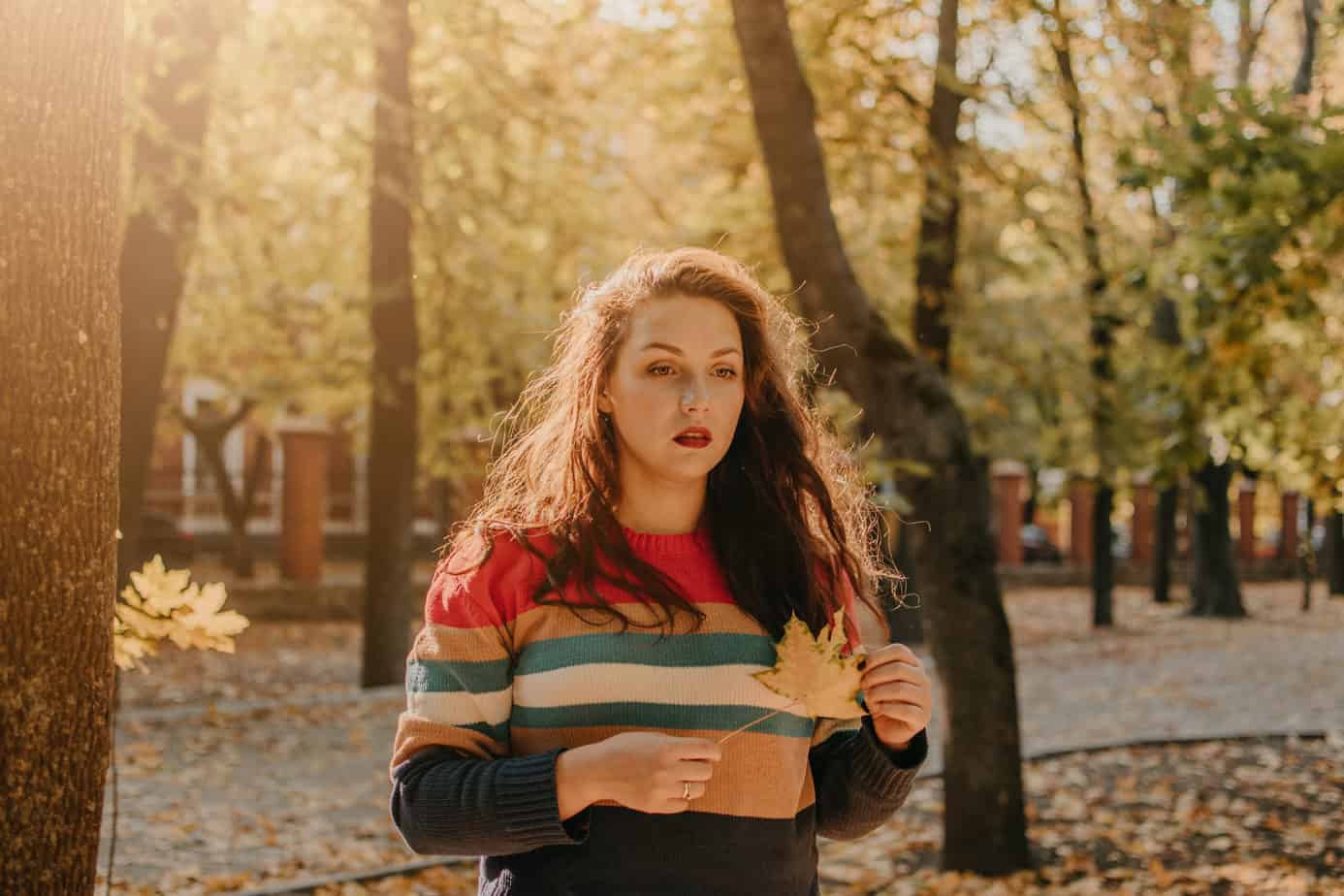 Anyone can! It's not a very bold outfit, which makes it accessible for everyone to embrace and love. Some people do prefer to consider their body shape as vertical lines tend to give the illusion of being taller, in contrast to the horizontal stripes that tend to be avoided by bigger people. Both can be worked by anyone – it's just a matter of finding what you like and want to dress in!
Where to buy sweaters
Farfetch

ASOS

H&M

Bimba y Lola

Jean Paul Gaultier at SSENSE

Hollister

Mango

SUPERDRY
The Best Striped S Choices on the Market Right Now:
Because it's such a versatile and staple piece, it's very easy to find a striped sweater that you'll love. Whether it's a simple stripe, a few stripes across the sweater, vertical, the trendy horizontal ones, many designers and brands are opting for variations when it comes to striped sweaters this cozy season.
Jean-Paul Gaultier has done so much for pop culture and fashion that it's hard to pinpoint his greatest achievement. His cone-shaped bras and corsets which Madonna are all iconic. But the sailor motifs and the striped sweaters which can be seen on many of his collections through the years made something so simple and chic so extraordinary that they became a must to have. This may not be the plain silhouette most of the time, but with the peeking out back cut, it gives it a different flair for a night out and will make others admire your fashion sense.

Pros
An iconic with a twist

Chic

Out of the box creativity
Cons
Might be too much for daily wear

As it is a statement piece it can be hard to combine looks
Made by the iconic YSL brand in their Saint Laurent line, this sweater is a must classic point. Unlike Jean Paul Gaultier's entry, this one is a much more versatile piece and comes with a button placket on the left shoulder. It may be less on the dress-up side and costs a hefty amount, but if that's what you're going for, it will stay in your wardrobe for many seasons without losing its touch of fashion.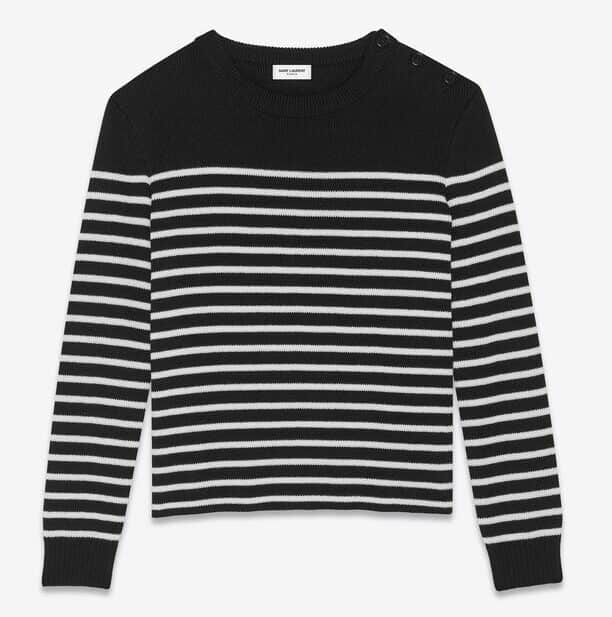 Pros
Cons
Hard to make it a -up

Expensive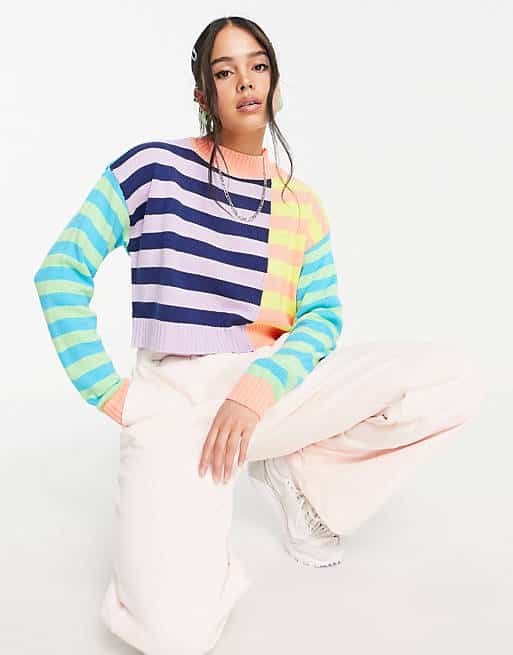 It doesn't have to be a monotone stripy sweater: you can always go for brighter ideas and colors. You don't have to follow the exact trend to the T. This sweater available on ASOS is far more budget-friendly while still giving you a bright statement. It may not be the easiest one to style, but it is fashion-forward as well as a colorful addition to the gloomy cold months.
Pros
Comfy fabric

Bright and colorful

Easy on the wallet
Cons
Not for everyone

Might not match a strict code
A new talent in the past few years, Charles Jeffrey's punk Scottish heritage runways have become a favorite among many. Known for his knitwear, this queer designer knows how to make a bold statement. It may retail for a larger sum, but that's the price of fashion often enough. This striped sweater may not be the most practical one, but one of the most fun options in the market.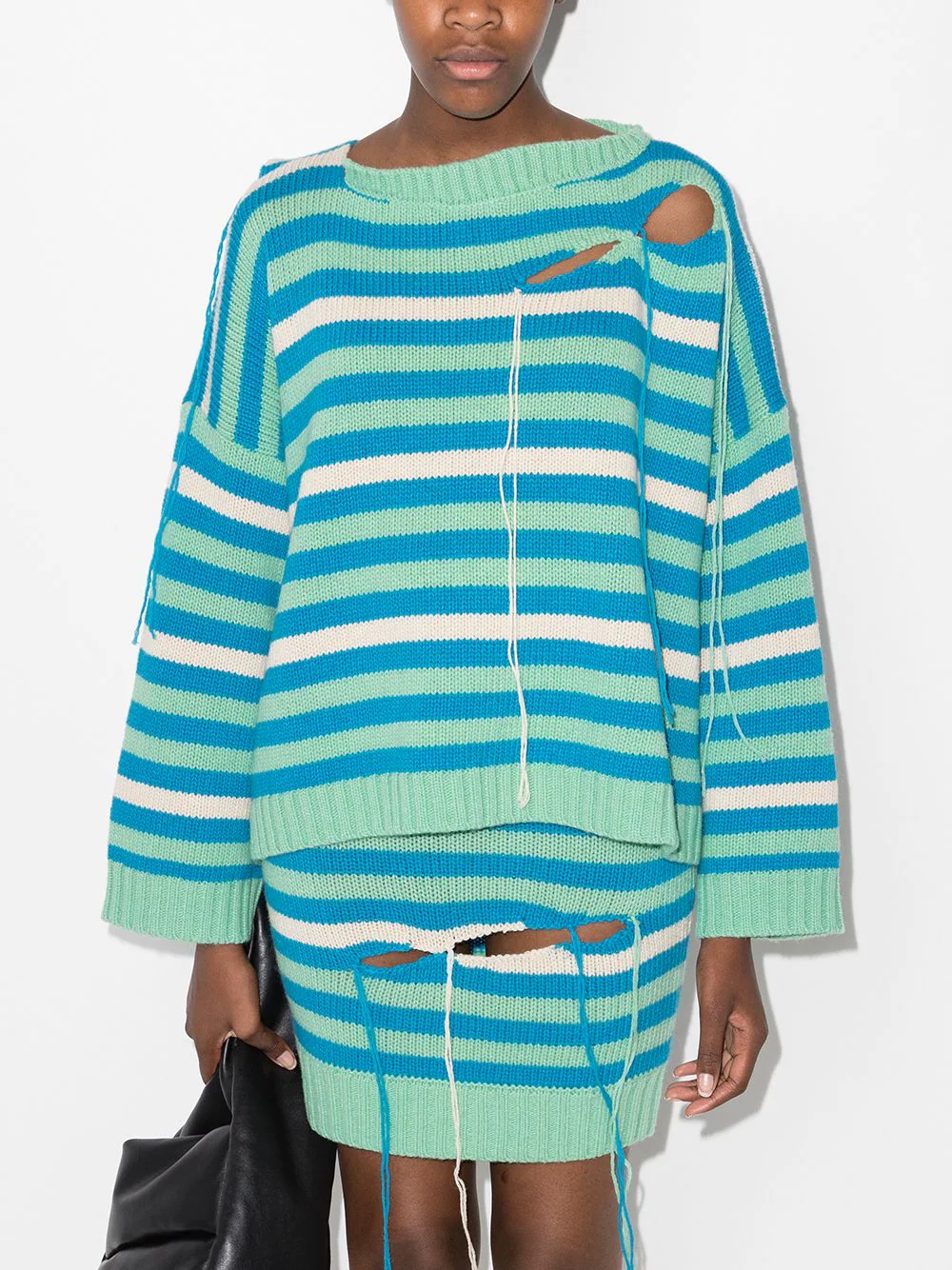 Pros
Statement piece

Loud

Not a worn-down fashion name
Cons
Pricey

The hole could be a bit too avant-garde for the office
Combine the need to accessorize with the cute, flashy buttons in this piece by Marc Jacobs. Marc Jacobs has always been chic from fronting numerous houses eponymous and not. His fashion ideas have always attracted many and this sweater is no exception. The cute camel color adds a unique, flirty touch to this striped sweater. It's possible to use it for any occasion, which will only add flair and spice to your look while making your day brighter.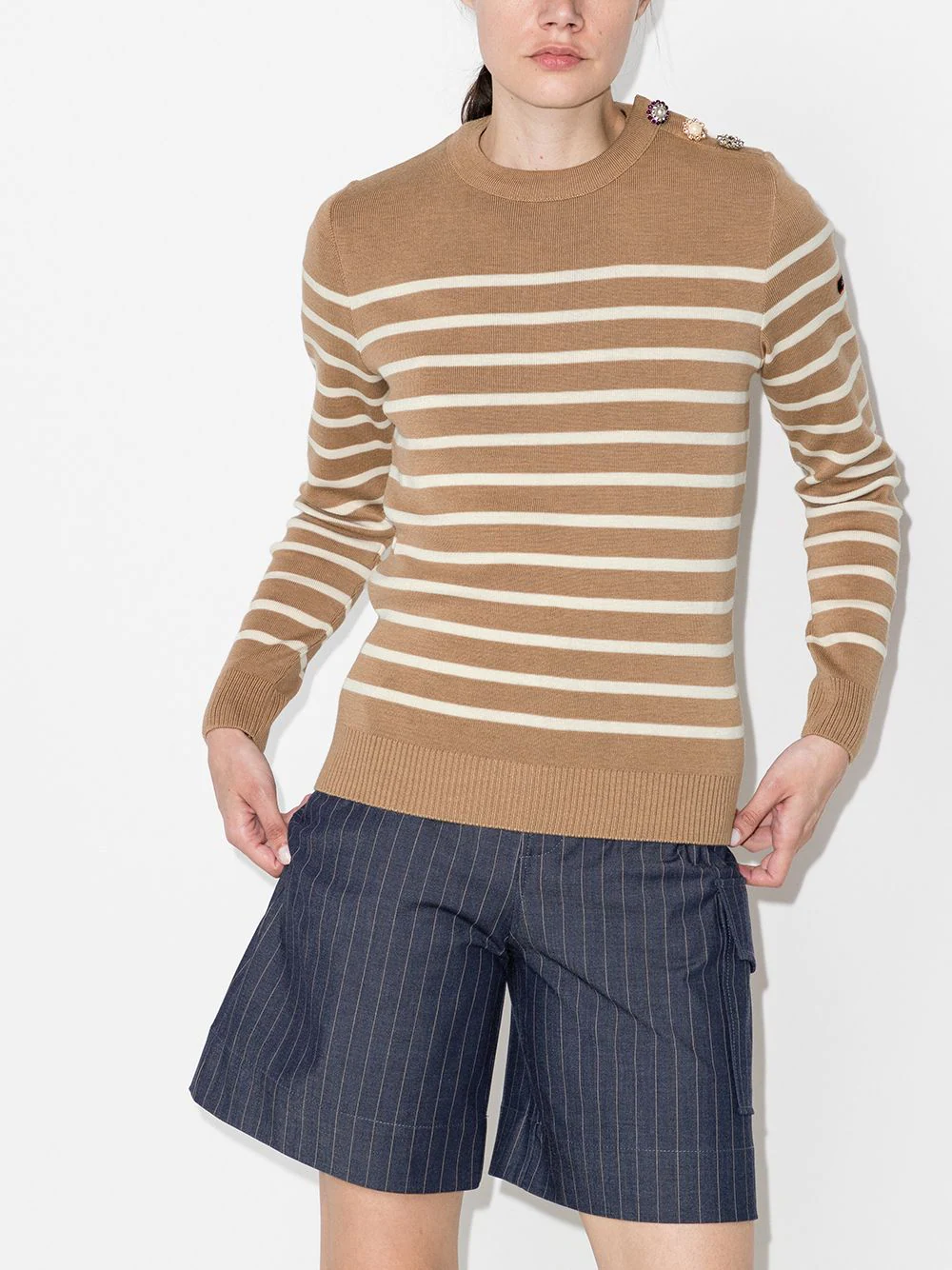 Pros
Versatile

Consistent quality brand

Chic
Cons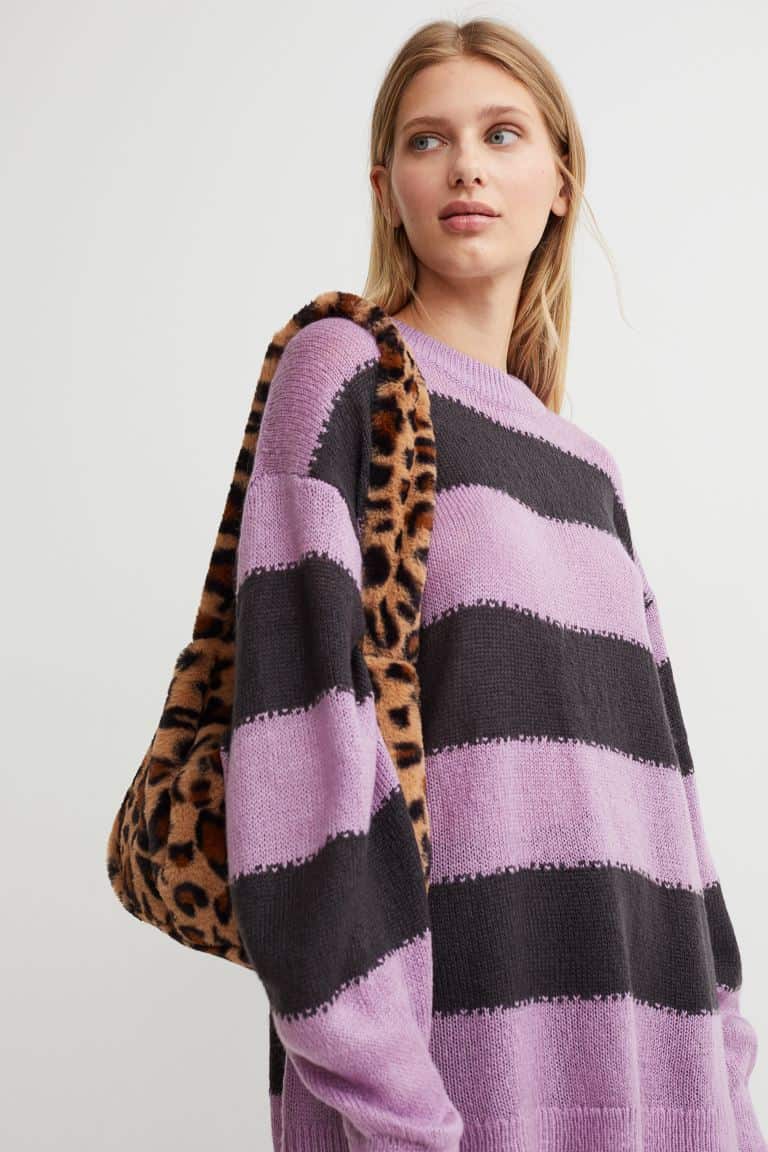 H&M clothing has captured the hearts and wallets of many. If you want something cheaper or don't want to spend a hefty sum on something fashionable or unique, H&M has proved over their years to have our back. Everyone has at least one item by the unique store in their closet whether a shirt or plain jeans or more than a few beloved items. When it comes to knitwear and striped sweaters, H&M with its Swedish roots fails to disappoint. Take it a further step by pairing yourself to a purple and black wide striped sweater. Give yourself the cozy look and stay warm.
Pros
Baggy

Comfortable knitwear

Easy to keep/clean
Cons
Some people label H&M as fast fashion

As it's widely available, many could be wearing it
Taking the world one shop at a time, Bimba y Lola is a force to be reckoned with. Their outfits have the best quality one can find in the market today, albeit their prices bite a bit. It might not be the cheapest option, but one that will make you smile once you see it on yourself or in your closet. The choice of the different shades of pink, cream, and peach bring this vintage-looking sweater to life within its baggy form.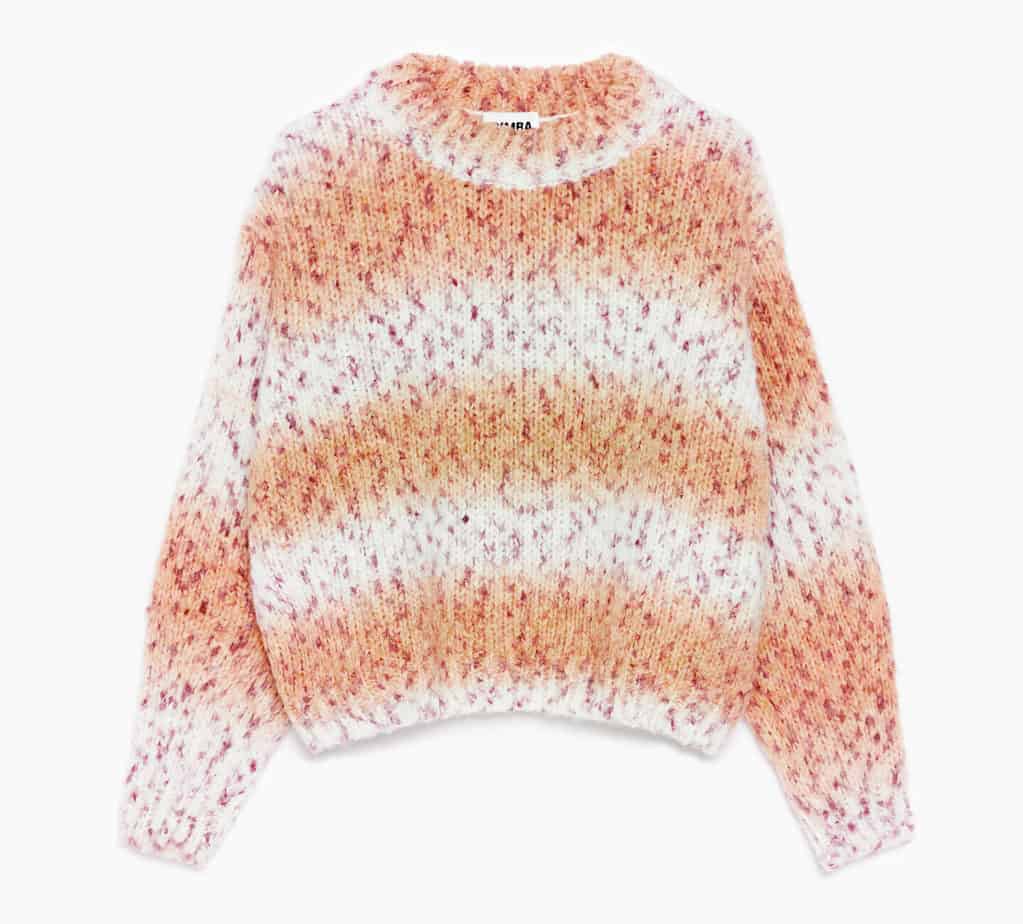 Pros
Unique Spanish designs

Cute spin on a classic idea

Easy to pull an with
Cons
May not ship to your location

Expensive
Superdry has been a staple of UK fashion for decades now. It has slipped into the European market for good and will stay there, together with its expansion worldwide. One of the few brands that make logos not look tacky and offer a unique spin. Their logo-less items offer great quality, a wide range of items, and a unique selection within a comfy price and fabric. This sweater is another reason to love the brand with their chic, simple solutions which will make you feel cozy and ready to take the day head-on. It is available in many colors such as navy, pine, or our choice, cream. Not too flashy, but smart and warm.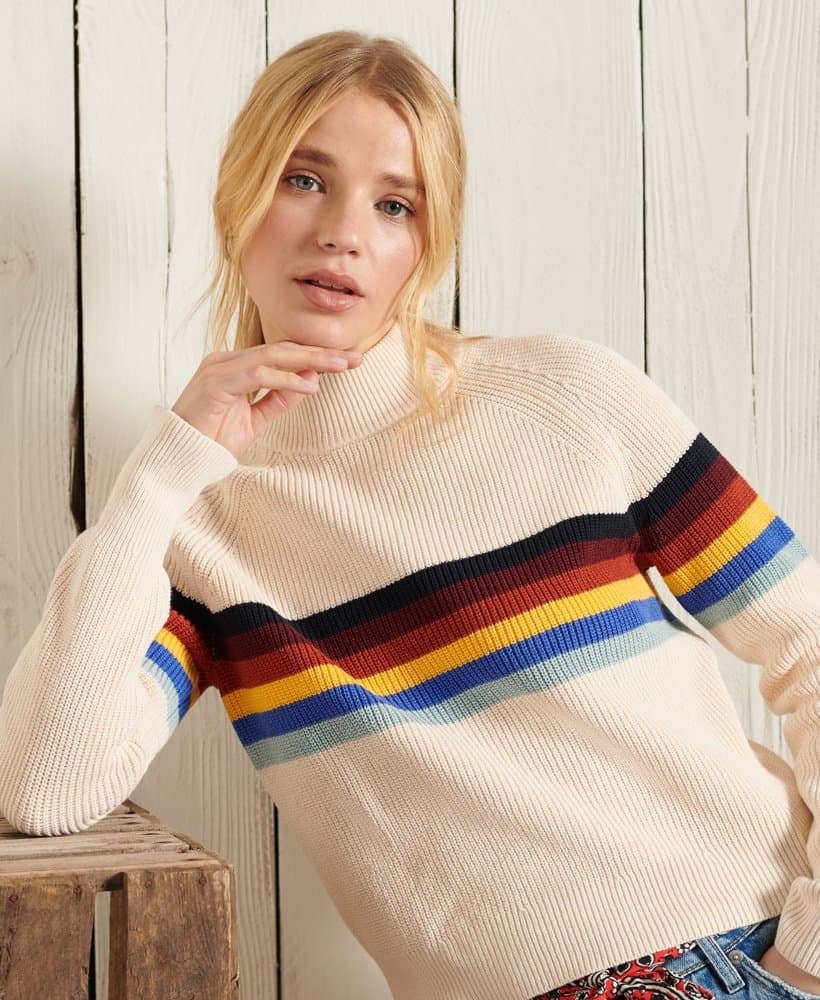 Pros
Classy

Strict yet fun

Known for great quality
Cons
May not be easy to find in stores

Oriented for colder weather
Hollister may be in fashion or out of fashion depending on the country, but they've taken a turn from their usual surf items and now have much more to offer in their tropical background stores. This sweater is a great example of that. It's a laid-back choice that will make your days in the office or school warmer as well as give you a chic feeling and look.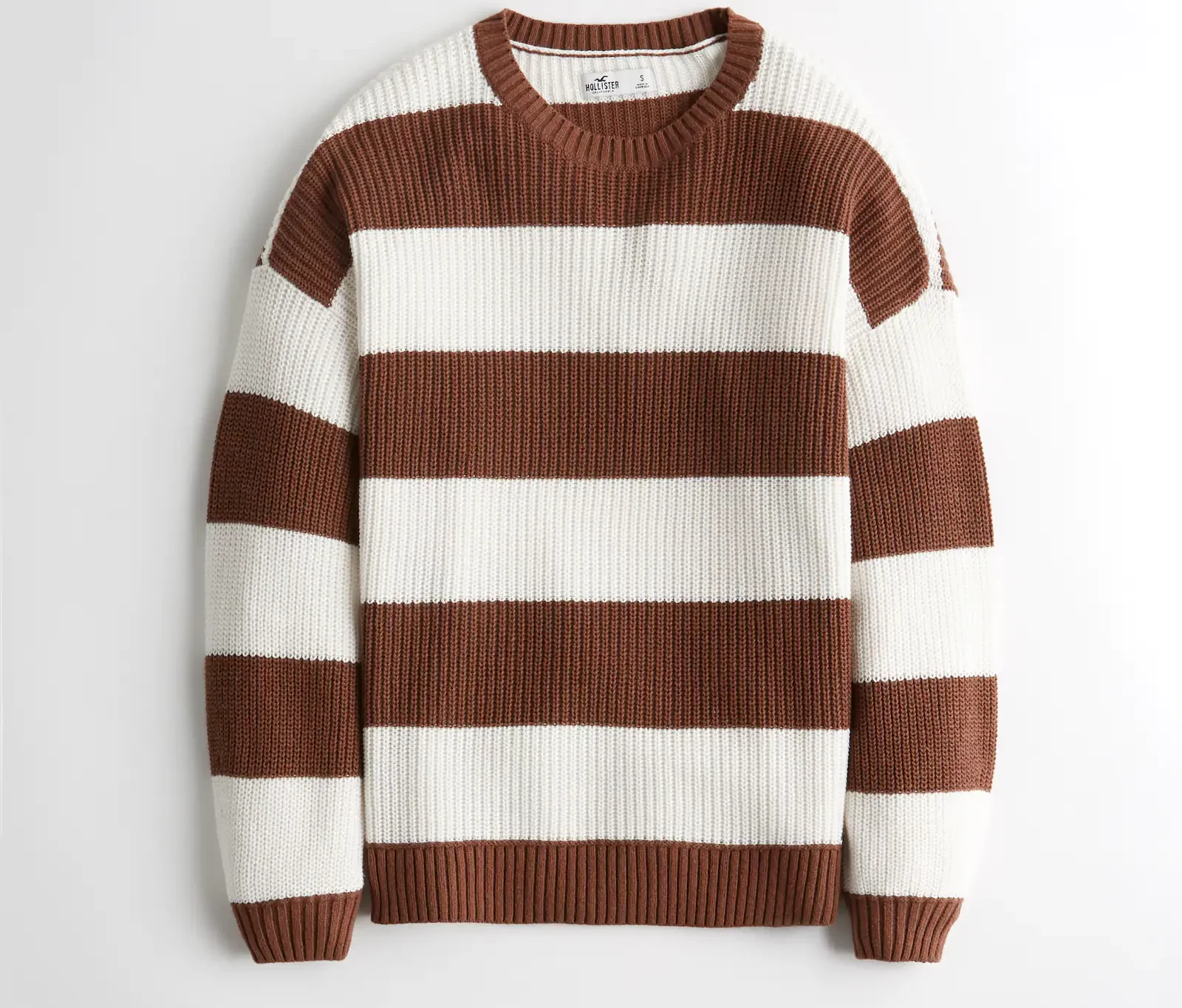 Pros
Oversized

Easy to layer

Good price
Cons
Baggy

Sleeves can be too long and require a longer look
Give yourself an additional touch of thin green stripes and a knit collar to your sweater. It is a classy twist whether you want your knitwear to stick out or just give it a subtle push out of the old and ordinary. Mango is a classic Spanish brand that is loved by many with good reason. It will elevate your daily wear and keep you warm.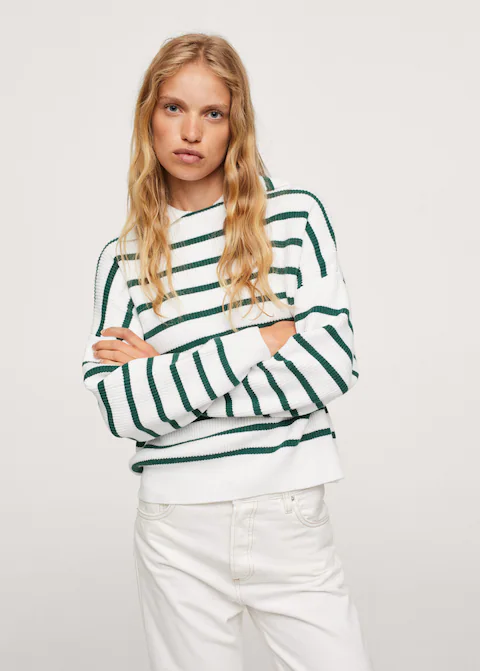 Pros
Easy to wash

Within workwear guidelines

Warm
Cons
You might want to avoid other collared items

White might be prone to get dirty easier
FAQ
Do you have a question about striped sweaters? We will answer them for you.
Question: Are stripy sweaters in fashion?
Answer: Yes, they currently are, but don't forget that they are also a timeless classic. Striped sweaters are appropriate for every occasion in general, but of course, it depends on the cut, the fabric, and the fit. But no matter which striped sweater you choose; you will look chic in it.
Question: Are striped sweaters just for one season?
Answer: Of course not. This autumn/winter season they spilled on from the summery collections which were navy focused and had a wide variety of stripes. Fashion is ever-changing but also cyclic, striped sweaters always stay in fashion as a staple. You shouldn't think whether a cult classic and even basic outfit are out or in, regardless of if you follow each trend or have your unique style.
Question: Can I wear a striped sweater with pattern pants?
Answer: Yes! In this season clashing patterns are very fashionable and even encouraged. It may not be the IT factor for every season, but that's where personal style comes in. Remember that you can wear whatever you want, but there is nothing wrong with looking online for guidance on how to style your new striped sweater.
Conclusion: Striped Sweaters
A striped sweater can last a long while in your wardrobe, just like any other quality piece of knitwear. Stripes can go with nearly anything if you want them to. It may be a bold fashion statement on its own or with a twist, strict or flirty as well. It's as versatile as nothing else and can be worn any day as long as the weather and fabric won't make you too warm. A striped sweater being in a wardrobe is as natural as clouds in the sky.
Recommended Reads: