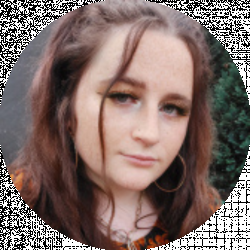 Latest posts by Lou Siday
(see all)
A gingham dress is a classic style that never really goes out of fashion. It creates a cutesy vintage look that makes me want to go for picnics or frolic amongst meadows. Okay, I do neither of these things much, especially now the weather is getting colder, but I still think we can rock the gingham look all year long!
So, I have looked all over the internet for the best gingham dresses that will make you feel like Dorothy from the Wizard of Oz. It is time for an adventure, right?
What Is Gingham?
Okay, before I show you all the cute options for gingham dresses, let's look at what gingham actually is. It has long been in wardrobes (and on table cloths) and is a staple pattern for many fashionistas.
It is normally made out of cotton or a cotton blend and is a two-color yarn-dyed fabric. This means that the fabric is dyed before woven.
The dyed yard goes in contrast with the non-dyed (usually white) yarn. This creates a checkered pattern that is simple, old-school, and classic.
Why are Gingham Dresses in Fashion?
Gingham dresses are in fashion because they are a classic vintage look. This means that they will most likely be in style for a while, and therefore picking up a gingham dress is an investment. It nods to 50s and 60s fashion and is a great way to embrace the rockabilly look.
They also appear in so many different styles and cuts, and this means that you can find the right gingham dress that is comfortable and flattering for you.
How To Choose a Gingham Dress
If you want to buy a gingham dress, there are a few things to consider. Here are our handy tips when it comes to picking the right gingham dress for you!
Style
Because gingham refers to the pattern of a dress, there are so many different styles of gingham dresses out there. This means you can consider what styles and cuts of dresses that you like and go from there.
If you like a tight-fitted, short dress, there are loads of options available for you. I really like this modern take on the gingham dress that feels fun and playful but still echoes their retro vibes.
There are also loads of rockabilly swing gingham dresses out there, which I absolutely love. This take on the vintage gingham dress looks incredible, and I adore the sweetheart collar!
Color
Gingham dresses come in many different colors, but most have white as their base. Then, blue or red color is woven through the fabric. This is a classic, timeless gingham look.
This pink gingham dress is cute, wearable, and effortlessly stylish!
However, if you love a colorful dress, there are still loads of gingham dresses out there to choose from! This dress uses a range of gingham colors and really makes you stand out from the crowd!
Fabric Type
Most gingham dresses are made out of cotton or a cotton blend. This means that the dress will be long-lasting, breathable, strong, and comfortable.
Some stores will sell 'gingham' in synthetic materials, but this is actually not true gingham. Plus, these clothes might not last as long as those made of cotton, and therefore you really need to consider not purchasing these items. Because a gingham dress is a timeless, vintage look, you want to buy one that lasts.
Purpose of the Dress
It is good to consider what you want to wear the gingham dress for. Is it for a casual day-out look or for nights out and parties?
Gingham is really versatile and therefore looks great for so many different occasions. Brigitte Barbot even wore a gingham dress to her wedding in 1959!
How To Style a Gingham Dress
Okay, for a lot of us, we might see gingham dresses and immediately think of primary school. Maybe this is just a UK thing, but a gingham dress is often used as a part of a school uniform.
This means that you might not think you could style a gingham dress without a schoolbag and terrible home-cut bangs, but get rid of those beliefs and embrace the gingham look!
So, what are the best ways of styling a gingham dress, so you look cool, cute, and sophisticated?
Shoes
Gingham is super versatile, and therefore you can match a gingham dress with so many different shoes depending on the occasion. If you wear it on a night out or to a party, a gingham dress can be matched perfectly with light-colored heels or wedges. A pair of pumps also looks cute with a gingham dress.
If you are going for a more relaxed day out vibe, a pair of white sneakers is a perfect match for a gingham dress.
Accessorize
When it comes to accessorizing a gingham dress, keep it subtle, classy, and relaxed. Something simple like a headband, a watch, and a bag really enhances the retro look!
Because of the colder weather, you may think that the gingham season is over, but this is just not true! Gingham dresses can be perfect in the cold, especially when accessorized well.
I love this dressed-up, winter gingham look that matches a gingham dress with a blazer, a scarf, and a pair of heels.
Coats and Jackets
Gingham dressed can definitely be worn with coats and jackets, allowing you to stay cute but also stay cozy over the winter months!
I love this gingham dress look that matches a rockabilly style gingham dress with a long coat. The matching headband is absolutely stunning, too!
Our Favorite Gingham Dresses in Store Right Now
Let's get onto our pick of gingham dresses that are available to buy right now. When I was picking these dresses, I looked for ones that were both affordable and fashionable.
I looked at reviews and the fabric that the dress is made out of to make sure my picks were long-lasting and comfortable, the way gingham dresses should be.
The Everyday One: Easy Gingham Dress by Madewell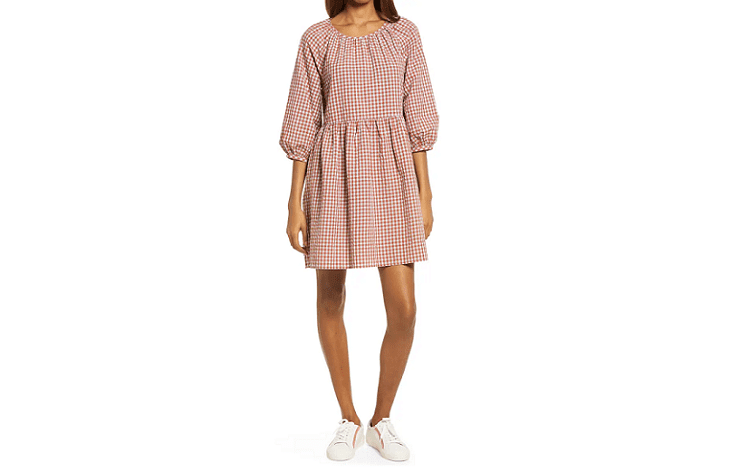 This gingham dress is one that you can wear all day, every day. Seriously, I think if you buy it, you will probably never ever take it off!
It is designed to be comfortable and cozy, with a relaxed fit and elbow-length sleeves. It is just super cute and definitely can be worn around the house or out and about. Made out of 100% cotton, you know, that is designed to last and be worn again and again.
It is on sale now, and this means that the sizes are running out pretty quickly. Grab it while you can!
Pros
Wearable
Classic design
100% cotton
On sale
Cons
The Panelled One: Maxi Cami Dress by Native Youth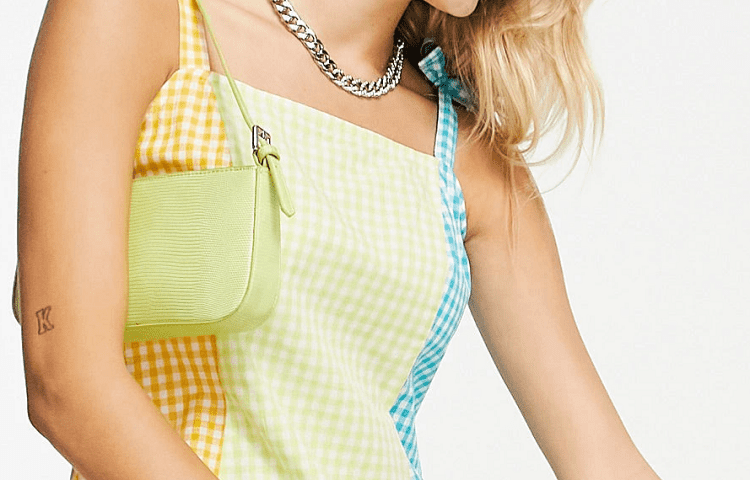 If you can't decide what color you want your gingham dress in, how about going for a dress with three different colors? I love this gingham dress by Native Youth and its twist on the classic gingham dress. It has rave reviews, and I can really see why. The fit and bright colors are cozy, comfortable, and will brighten up even the darkest winter days!
The DIY patchwork vibes are proper cute, and I really love the tie straps. It can be styled easily with a long, neutral coat and a pair of boots.
Pros
Affordable
Bright colors
Maxi dress
Comfortable
100% cotton
Cons
The Professional One: Flutter-Sleeve Plaid Shift Dress by Jessica Howard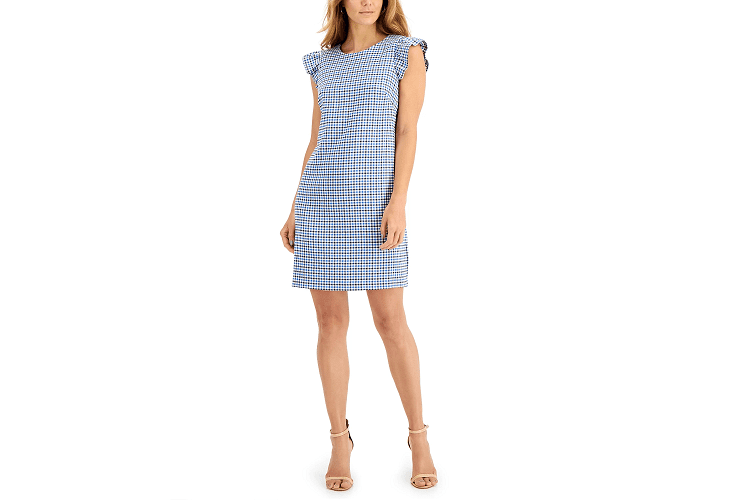 This gingham dress shows us that while we might think that gingham is cuteness overload, it can also be sophisticated and professional. This shift dress is flattering and upmarket and is perfect for cocktail nights or work meetings!
I really like the sleeves of this dress as it is a slight, playful twist on the classic shift shape. The dress looks perfect with a pair of heels and a blazer.
The only real downside to this dress is that it isn't made out of cotton but rather a blend of synthetic and semi-synthetic materials.  This means that it might not feel as good as a cotton dress whilst wearing, and it might not last that long. As gingham should be made out of cotton or a cotton blend, this dress isn't technically gingham.
Pros
Professional
Flattering
Affordable
Cons
Not made out of cotton
Only available in one color
The Cut-Out One: Gingham Dress with Back vent and Straps by Bershka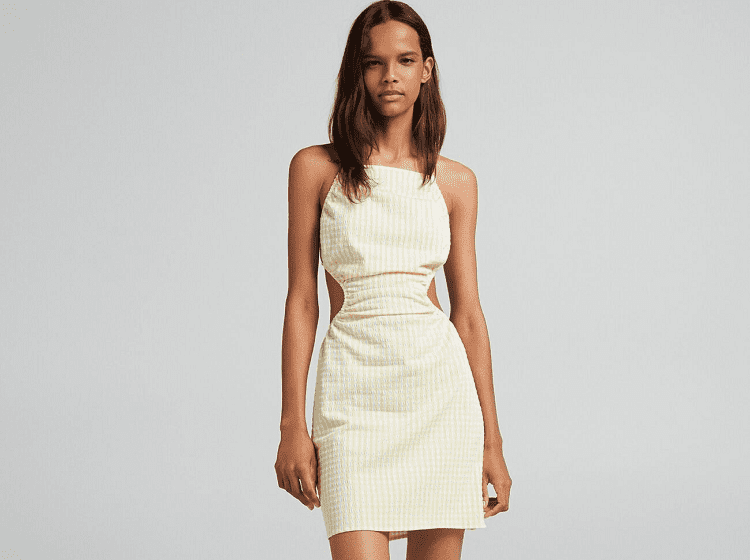 This gingham dress by Berksha is super cute and is definitely perfect for both nights out and casual days. I really like the cut-out details and the bright color. This dress would look great with a pair of heels and a leather jacket, and some big, bold gold jewelry.
This dress is a cotton blend, with the main fabric being viscose. Viscose is a semi-synthetic fabric that is derived from wood pulp and is comfortable and breathable.
Bershka uses viscose from a sustainable source that guarantees reforestation, which is another reason I love this dress. Sustainability is really important for me when making fashion choices, and I always try to be thoughtful in regards to my choices impacting the wider world.
Pros
Affordable
Cut-out details
Versatile
Sustainable
Cons
Only available in one color choice
Not available in plus sizes
The Patchwork One: Angela Ruffle Dress by Cami NYC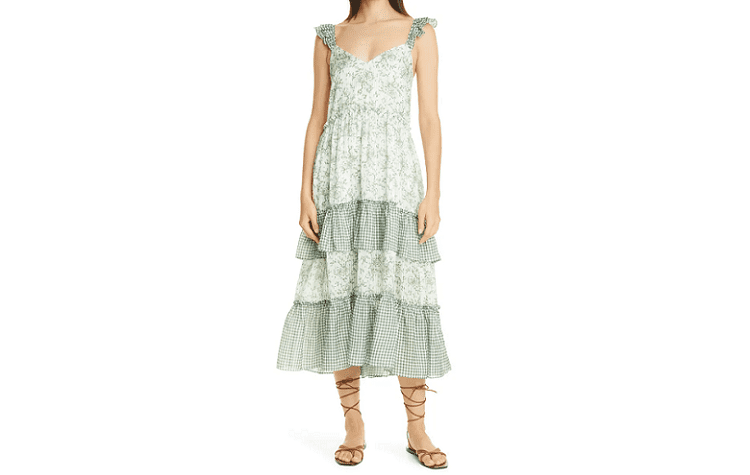 Okay, this is quite an expensive gingham dress, but I love it so much, I just had to include it! I am a massive fan of the cottagecore craze (honestly, I want a complete revamp of my whole wardrobe right now), and this dress echoes it perfectly.
I can just imagine myself wearing this beautiful dress, feeding my chickens, and checking on the crops.
The mix of gingham and floral is absolutely stunning, and the flowing ruffles create a beautiful and timeless silhouette. The details are fabulous, and I love how the straps are gingham.
It is made out of a mix of cotton and silk, which means that the dress will feel AMAZING. It is a high-quality, long-lasting product.
Pros
Patchwork style
Ruffled skirt
Cotton and silk
High quality
Vintage style
Cons
Expensive
Only available in a few sizes
Dry clean only
The Shirt Dress One: Mini Shirt Dress by ASOS Design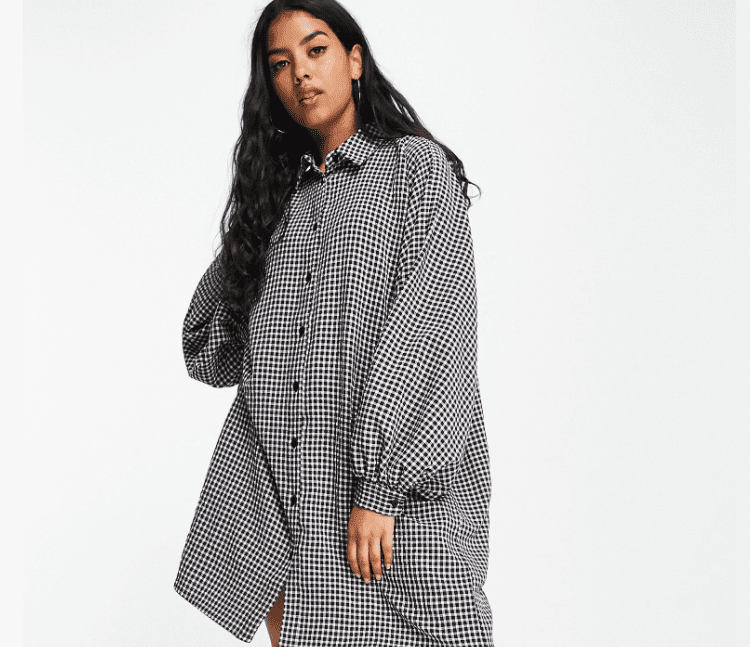 If you love the alternative, punk look, this oversized shirt dress is the perfect choice for you. It is affordable and looks incredibly comfortable. I love the big batwing sleeves and the simple colors of black and white.
This gingham dress will be great for winter nights out by simply matching it with big boots, a leather jacket, and some fishnet tights. I like how the dress falls. It is oversized, but it still looks flattering.
It is not made out of cotton but rather polyester. This means that it is not sustainable and might not last as long as other gingham dresses.
Pros
Affordable
Alternative
Cozy
Comfortable
On sale
Cons
Not sustainable
Made out of polyester
The Off-The-Shoulder One: Afternoon Sun Gingham Smocked Babydoll Dress by Tobi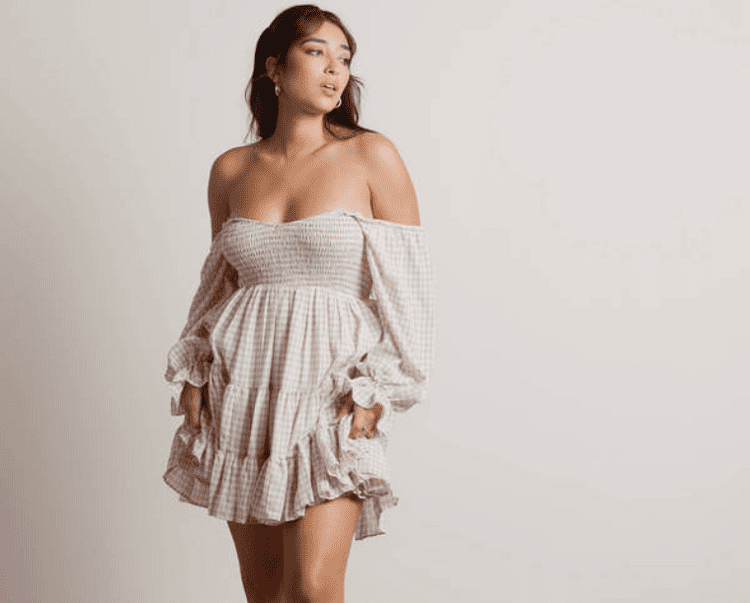 This is a vintage-inspired gingham dress that is playful and fun. It has a smocked bust and long sleeves that can either be worn off or on the shoulder. The ruffles are super cute and flattering and give the dress a really relaxed vibe.
You can get this dress in three different colors. However, they do come in limited sizes. It is made out of a cotton blend.
Pros
Vintage style
Playful
Flattering
On sale
Cons
The Recycled One: Gingham Dress by Zara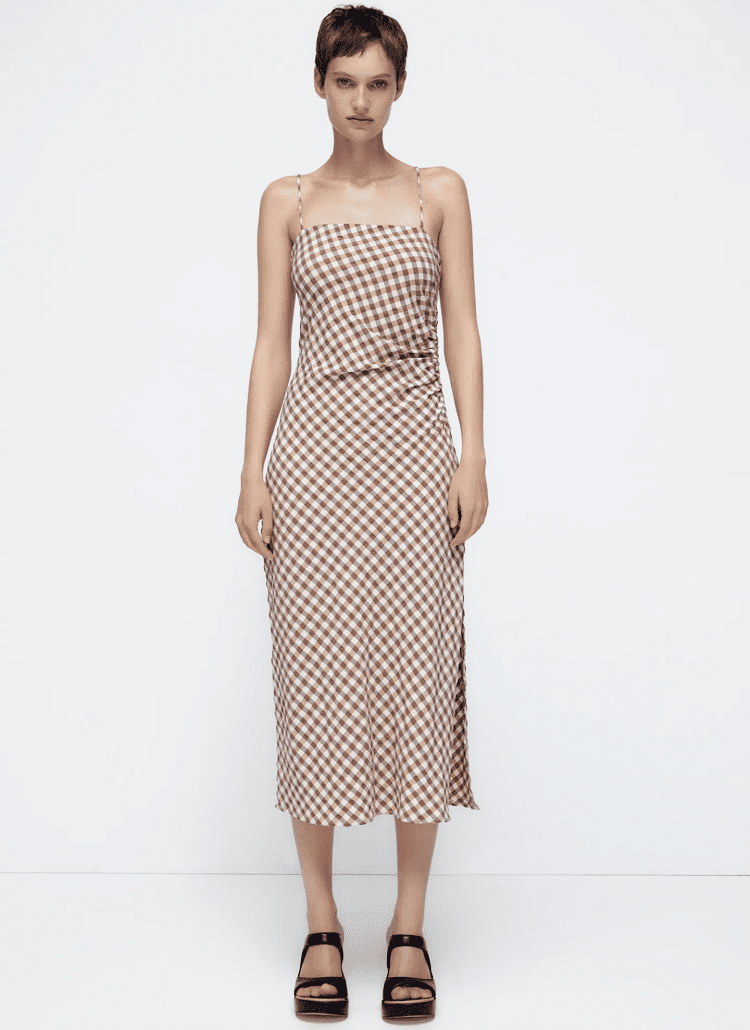 This midi dress is both sophisticated and flattering, with a straight neckline and side pleats. The brown color really feels retro, and I love the cut-up the side. It is a classic dress that will be wearable time and time again.
I don't just love the classic cut of this dress, though. It is made out of recycled materials which means sustainability is at the forefront of the creation of the dress! When you buy a polyester dress from most stores, it is made out of new materials and therefore damaging to the planet. The polyester used in making this dress, however, is from recycled products.
The dress was also produced using technologies that are designed to reduce water consumption. Another reason why this gingham dress choice is better for the planet!
Pros
Vintage-inspired
Sophisticated
Flattering
Sustainable
Cons
Only available in one size
The side pleats might not be flattering on all body shapes
The Long-Sleeved One: Women's 3/4 Sleeve Wrap Dress by A New Day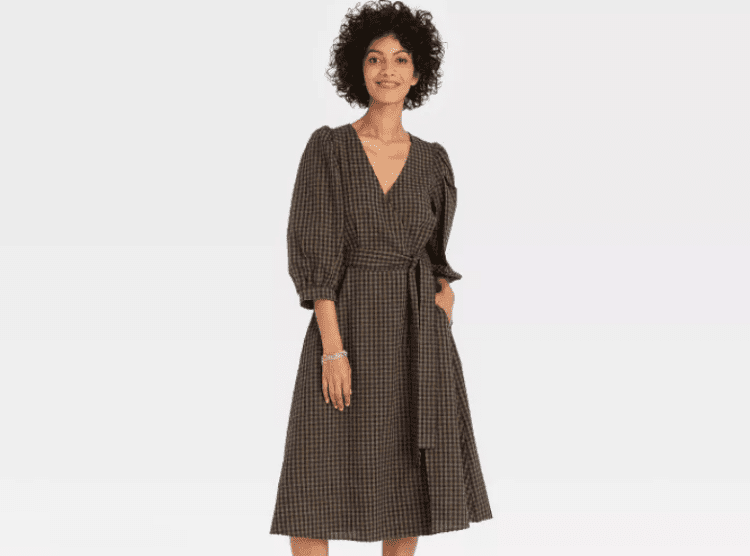 This piece is an affordable gingham dress with a lot of styles! It is an excellent dress for autumn and winter and can be dressed up or dressed down. It is a flattering cut, perfect for both smaller and larger sizes. It is comfortable, has pockets, and comes in two very cute colors.
It is made out of cotton blend and, therefore, lightweight and easy to wear.
Pros
Affordable
Comfortable
Stylish
Versatile
Made out of a cotton blend
Cons
Not a true wrap dress, so not as adjustable as you may think
FAQs
Let's take a look at some FAQs you may have about gingham dresses.
Question: Is Gingham Still in Style in 2022?
Answer: Yes! Because of the vintage style of gingham dresses, they are always in fashion.
Question: Can You Wear Gingham to a Wedding?
Answer: Gingham dresses are definitely suitable for a wedding when dressed up with a pair of heels and statement jewelry.
Question: Where Can I Buy Gingham Dresses?
Answer: Because gingham dresses are a classic look, there are so many places where you can buy them. Most high street stores will stock gingham dresses, and they are also available in department stores such as Nordstrom or Macy's. There are so many options online, too!
Question: How Do I Style a Gingham Dress?
Answer: How you style your gingham dress really depends on the look you are going for. Keeping accessorize light, and minimal helps create a laidback look, but you can also pair your gingham dress with big boots and bold makeup for a more alternative look.
Gingham Dresses Will Always Be a Wardrobe Staple
Because gingham dresses are a classic vintage look, they will always be a wardrobe staple. This means that you can buy a gingham dress and know that you will get a load of use out of it!
I hope this article has helped you find the right gingham dress for you and has inspired you with ways of styling and accessorizing gingham.
My personal favorite dress on this list is the patchwork ruffle one by Cami NYC. I am in love with the playful, vintage vibes and the mix of gingham and floral. Okay, I definitely can't afford it, but a girl can dream, right?!
Recommended reads: