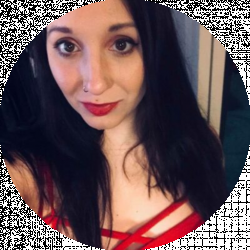 Latest posts by Stephanie Jensen
(see all)
There are very few clothing items that women love more than the sweater. And the fashion industry agrees — there are 41 different types of sweaters! But the one sweater that all women have in their closets is the black sweater.
The black sweater is one of the most versatile items of clothing you can own. A black sweater matches with virtually anything and there are so many looks you can do. This makes the black sweater the best fall sweater option (or at least I think so).
Do you still need black sweater inspiration? Here are a few outfit ideas and ways to wear a black sweater.
Why the Black Sweater Is the Best Clothing Item for Fall?
Okay, I made a bold statement in the previous section. Why do I think the black sweater is the essential clothing item for fall?
You Can Wear It Just About Anywhere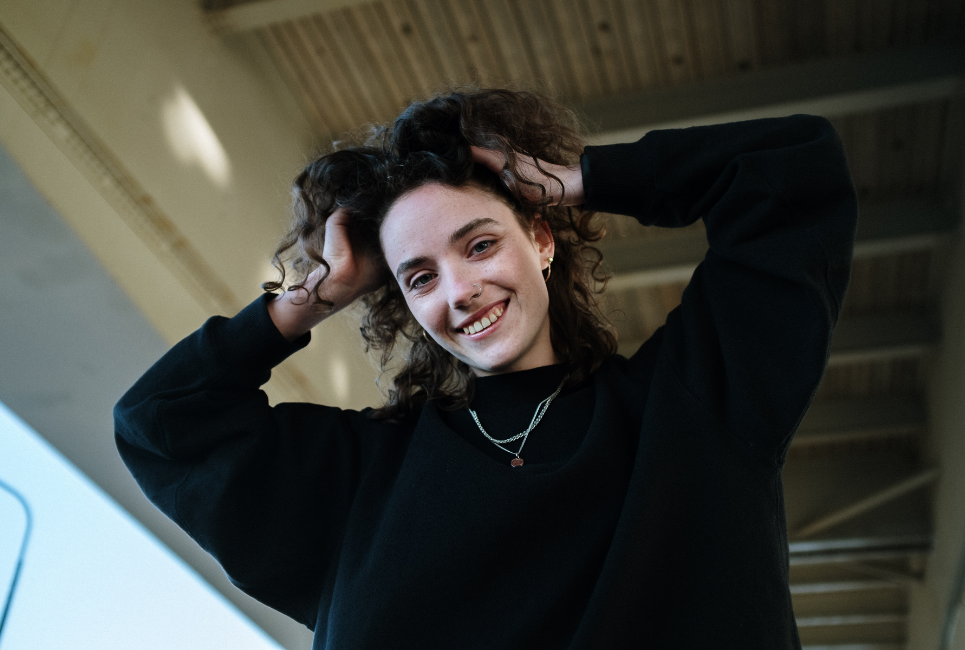 Whether you're at the office, out with friends, or lounging around the house, you can rock a black sweater. This is also an effortless clothing item to wear; just throw it on and you're good to go. Therefore, you can never go wrong with a black sweater (or three) in your closet.
They Match With Everything
Black sweaters are very minimalist, meaning they match with practically anything. If you're still not sure how to style your outfit, we will go over a few ideas later.
There Are So Many Different Types
As stated previously, there are countless sweater options, and you can likely find one in black. From comfy home sweaters to the coolest and trendiest options, there's always a sweater that comes in black!
You Can Find Black Sweaters Everywhere
Doing a mall shopping spree? What if you're browsing online? Chances are, you'll find a black sweater at every store. You have so many options; you're bound to find a black sweater (or a few) that you'll love.
They're Comfortable
There's nothing better than snuggling up on the couch with your coffee while wearing a sweater. But why wear any sweater when you can wear your black sweater! They're super chic and comfortable, and there's no better combination than that.
They Look Good on Everyone
No matter your size, skin tone, or general fashion preference, you'll look amazing in a black sweater.
Want Something Fun? Opt for a Black Patterned Sweater
Who said your sweater needs to be plain black? Plaid, stripes, polka dots, and animal print all come in black. If you want to update your typical black sweater wardrobe (*slowly raises hand*), then choose a black patterned sweater. This small tweak can ramp up any outfit!
Best Practices When Wearing a Black Sweater
While a black sweater is essential to a fall wardrobe, there are some tips to ensure your black sweater style is amazing all season long.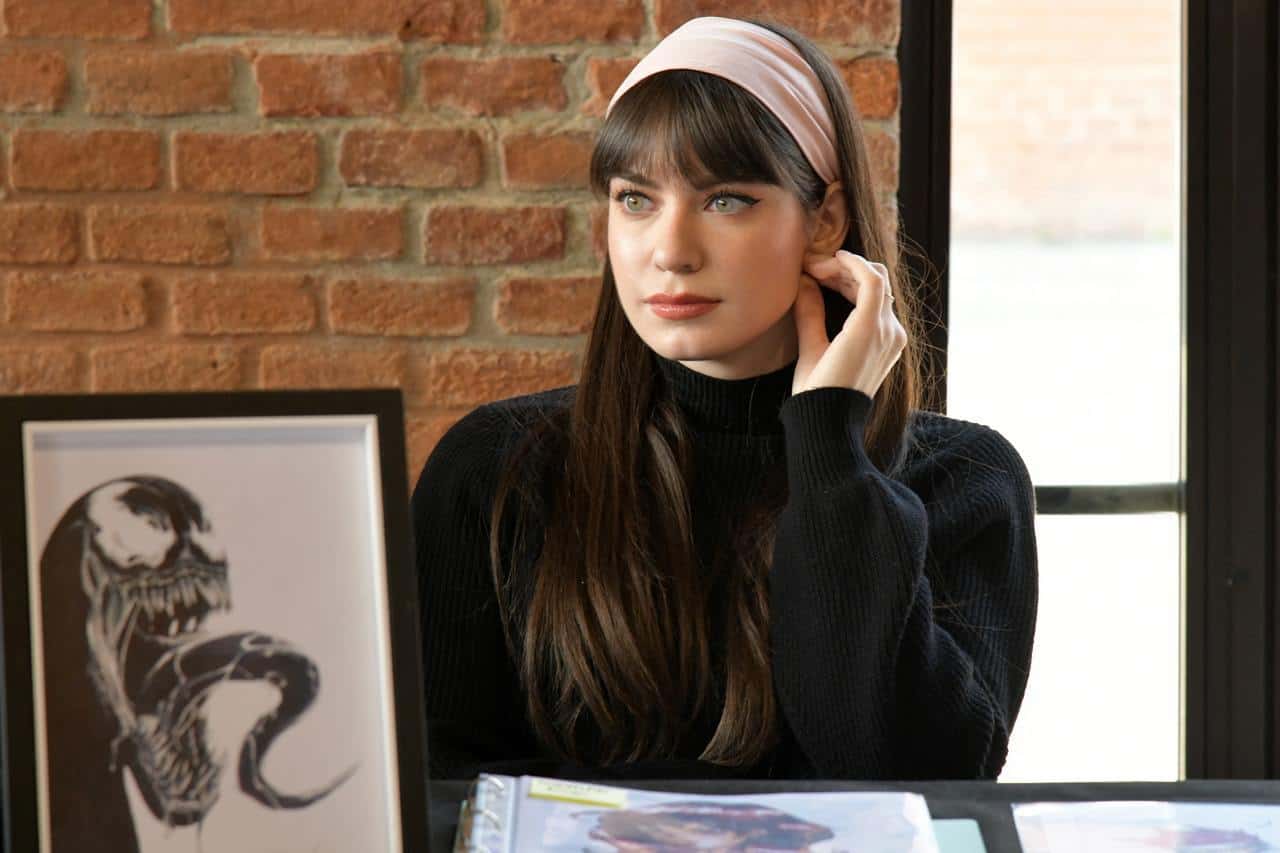 Have a Lint Roller Handy
Especially if you have pets! Unfortunately, hairs stick to black sweaters like nothing else. This way, your sweater will always look amazing.
Prioritize Quality
Sure, you can find black sweaters everywhere. But they may not be the best quality. A good quality sweater will make the biggest difference, especially when you choose one that's warm and cozy!
Stay Versatile
No two black sweaters are the same. If you love nothing more than black sweaters, make sure to wear different types of sweaters. You can find sweaters with varying collars, sleeves, and silhouettes.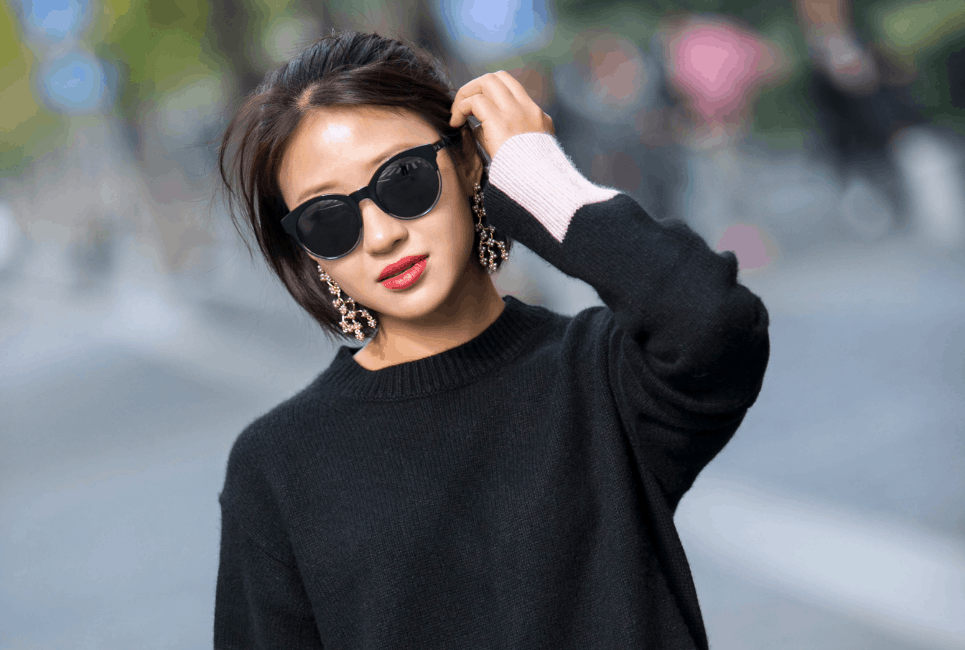 For example, turtleneck sweaters are ideal for the cold weather and black sweaters with a V-neck or shawl collar are more casual. You can also opt for fitted sweaters in addition to baggy sweaters, as well as sweaters made of different fabrics.
Choose the Right Size
While we mentioned that you can wear baggy sweaters (I personally love them when the weather is cold), your sweater shouldn't be too tight.
Your sweater should be fitted, hugging you in all the right places. All brands have different sizing standards, so make sure to know your measurements and look at different size guides when ordering a sweater.
What Clothes Look Great With a Black Sweater?
Before we get to some of our outfit inspiration ideas, it's a good idea to know which pieces generally look great with a black sweater. Here are our recommendations.
Outerwear
If the weather isn't too cold, then sport a blazer over a fitted sweater. This look is great for the office and is sleek enough for an event.
For those chilly days, you'll want some cute outerwear to wear over your black sweater. My first choice is a leather/moto (or faux-leather) jacket. The leather jacket adds a bit of style and will be sure to keep you warm.
If the weather is really cold, you'll want to rock a coat over your sweater. There are many oversized coats that are super chic and warm. Opt for a gray coat to keep things neutral, yet interesting.
Bottoms
Since black sweaters are so versatile, you can wear just about any bottom of any color with a black sweater.
First, let's go over skirts. A mini skirt will make your black sweater look even cuter. Opt for a colorful skirt in red to give your outfit more life. Or, if you're running errands, a denim skirt looks cool and casual. Wear a pair of tights under the skirt for a very cold day or go tight-less for warmer days.
You can also opt for a longer skirt, such as a knee-length or even a maxi skirt.
A leather skirt will make you look fashionable and is also warm enough if you're going to a holiday party. Don't be afraid to rock a black sweater with a patterned skirt, such as plaid. But for a laidback look, a neutral-colored maxi skirt looks seriously stylish.
If it's too chilly for a skirt but not super cold, tights are a great go-to. The right tights will look edgy enough for a night out, but you'll still be comfortable.
If you want something for the office, trousers should be your pick. Trousers are not only cute but are professional-looking and will keep you warm during the workday. White and navy pants look amazing with a black sweater.
Last but not least, if you just want something basic, grab an old pair of jeans and wear that with your black sweater. You'll still look stylish, but this look is comfy enough to wear while running errands.
Shoes
If you're looking for chic shoes that will keep you warm, opt for over-the-knee boots. This is a simple yet comfortable look that will add life to any outfit. Wear the boots with your favorite pair of leggings or over skinny jeans.
If you're going out, rock that black sweater with a pair of patterned heels or clogs. I personally love leopard print, though any printed shoes will look amazing with a black sweater. This look is bold but won't clash with your black sweater and bottoms, such as jeans or plain tights.
If you're going out but it's too cold for heels, opt for booties. Your favorite booties are not only sleek and can match with anything, but they will keep your feet warm all night.
If you're running errands and still want to look great, simply opt for a pair of sneakers. You'll look stylish but casual enough for a quick trip to the store.
Black Sweater Styles for Your Inspiration
Are you wondering how to style your black sweater? Here are a few ideas for your inspiration.
Top Hat Casual

We love this look by @cassidyculp. She sports a warm and baggy black sweater tucked into jeans. The look is stylish but doesn't take away from the adorable black top hat she's wearing. The only other accessories she has include a simple C necklace and a Gucci purse.
Comfy and Glam

@michellejosephh_ has the cutest comfy look I think I've ever seen. She's wearing a puffy black cropped sweater with baggy black pants. A gold necklace and bracelet is the only other color she needs. All-black outfits are my personal favorite and this look is the best for those chill days.
Cold Sweater Days

@nataliebertolone looks especially warm and comfy in this outfit! She matches a black sweater with a pink plaid scarf and a small gold necklace. But by far the best accessory she's holding is a cup of coffee! This is an especially cute look for the wintertime.
Sweater Dress Life

Sweater dresses are my jam and I wish I could wear them more. I absolutely love this sweater dress. The black sweater dress is form-fitting and looks so warm. It can be perfectly worn over black tights and boots, or alone like the model in the picture is wearing. Photo credit: @cousincouture.
Goth Black Sweater

I'm forever a goth and love this look like @therostenebris is wearing. Her black sweater and dark blue eye makeup give her the ultimate spooky look, but she still looks warm and comfy. I'm all about still looking vampy in the wintertime, and this will totally be wintertime inspiration for me.
Gold Buttons

I absolutely love this sweater by @imperial_milano_clothes. The big gold buttons are enough to spice up the traditional black sweater and the fit is absolutely perfect. It especially looks chic with the white jeans that the model is wearing.
Crazy Cut Sweater

I love the cut of this sweater that @julchen_46 is wearing. A little bit of skin is showing on the sides. I also love how the sweater is tucked in and the ripped jeans that are worn over the sweater. It makes this outfit look even edgier.
Black Sweater and Overalls

I have to admit, I've never been the biggest fan of overalls. However, this photo posted by @lesliesessums shows the daughter (I'm guessing her daughter) rocking ripped overalls over an oversized black sweater. To finish her outfit, she's wearing snakeskin booties.
Coat Life

If you're looking for a super chic outfit for a cold day, take a look at this ensemble posted by @out.fits.idea.s.
The outfit consists of a black turtleneck sweater, high-waisted jeans, black combat boots, and an oversized brown coat. To finish off the look, the model has a Louis Vuitton bag and gold earrings as accessories.
FAQs
Question: Which Colors Look Best With a Black Sweater?
Answer: Just about any color matches with black. However, there are some black color combinations that don't look good. In my opinion, I hate black and yellow; it reminds me of a bumblebee. But I know people who love that color combination.

Many people say they don't love black and red. I'm not sure why; black and red are usually one of my go-to color combinations. But everyone has a different opinion.

If you want to stay safe, match black with darker tones. A dark espresso brown or a rich burgundy look amazing with black. Many light colors also look great with black. I often wear light gray with black, and I also see pale pink with black (though I hate pink).
Question: Are Black Sweaters Good for Formal Occasions?
Answer: Yes, but it depends on the sweater and what you wear with it. As stated previously, trousers and blazers are office-ready and can be paired with a fitted black sweater. If you're wearing a black sweater to a formal event, I would wear one with a skirt and nice shoes.
Bottomline
The black sweater is a wardrobe staple for a reason. They're stylish and match with just about anything. A black sweater is appropriate just about anywhere — if you style them well, they're ideal for the office and for formal occasions.
Whether you want a minimalist or an extravagant look, be sure to use some of our outfit ideas the next time you wear a black sweater.