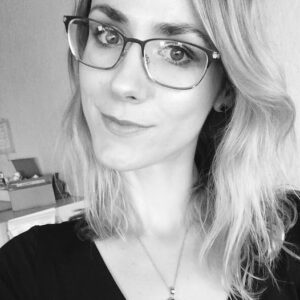 Latest posts by Karyl Trejo
(see all)
The cardigan has long been a wardrobe staple, and it looks like it's not going anywhere anytime soon. This item is an amazing, evolving fashion piece that keeps us warm when we don't feel like donning sweaters jackets against the chill. 
Its use isn't limited to cold weather, though. I can't count the times I spotted cardigans paired with dainty spring dresses and as an extra piece for summer outfits! Let's take a look at the many ways to style a chunky cardigan, especially now that the weather's getting a little nippier.
What Exactly Is a Cardigan?
A cardigan is a knitted sweater that is open in front and has buttons or zippers (or none at all!) to make it easy to take on and off. Cardigans can also vary in knit size, length, and yarn used in knitting. 
They are generally more lightweight than the bulkier knitted sweater, but cardigans made from thicker materials are also available. Cardigans are generally viewed as casual attire, but they can also be considered business casual when paired with appropriate clothes. 
A cardigan is a great way to add warmth, but without the unwanted bulk that coats and padded jackets might otherwise offer. Lightweight ones are great as cover-ups in spring and summer, and they can even double up as a part of your beach outfit, layered over your swimsuit.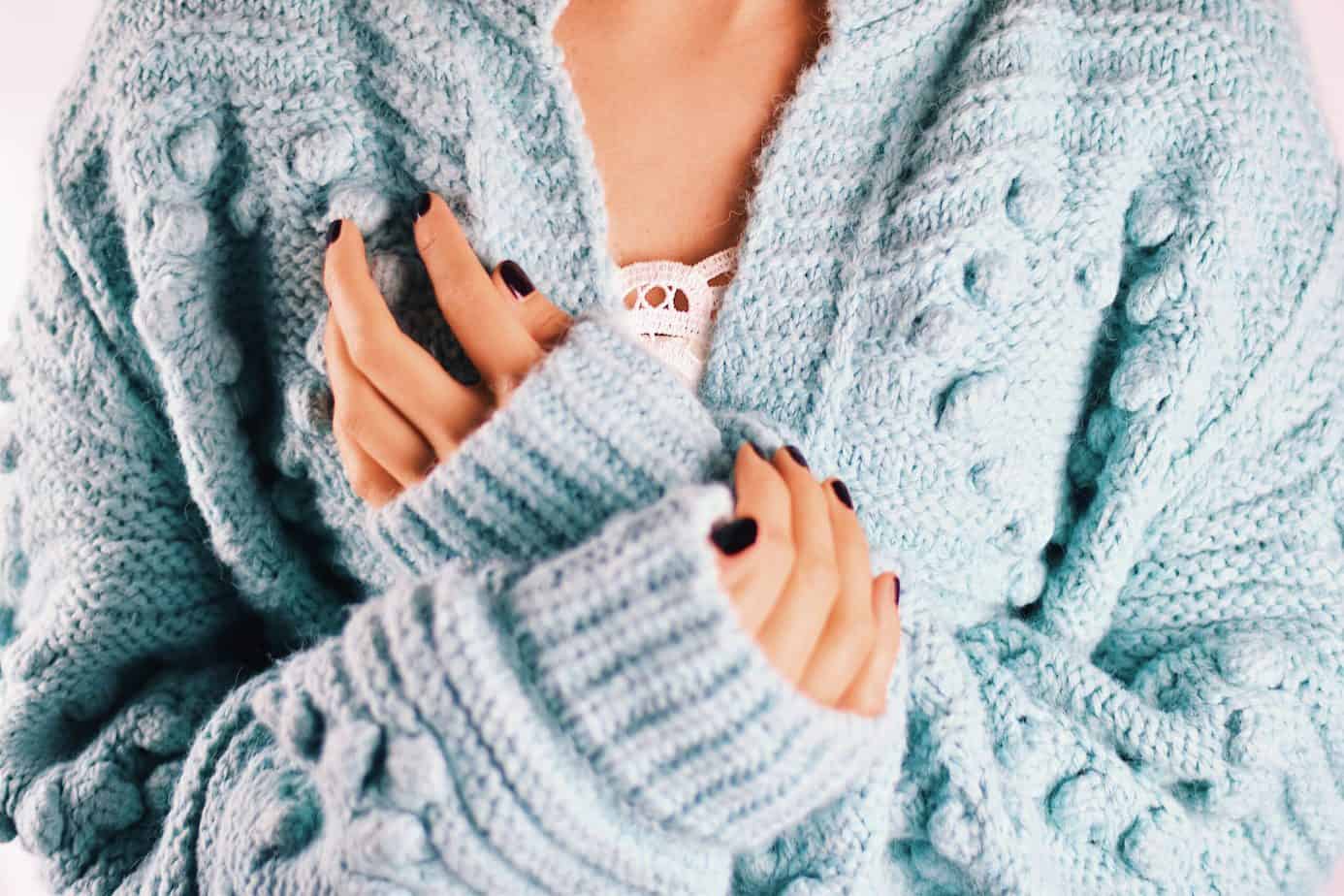 The Cardigan's History (Briefly Revisited)
The cardigan sweater is named after a British Army general, James Brudenell, the 7th Earl of Cardigan. Lord Cardigan was said to make this garment popular after accidentally burning his coattails off a fireplace. From then on, cardigans looked like knitted, sleeved waistcoats until they evolved into the unique style they showcase today.
Coco Chanel also contributed to the cardigan's beginnings. Hating how turtlenecks messed her hair, she opted for a sweater that opened in front. As with other trends, the cardigan's popularity waxed and waned after a few years, but it is considered a wardrobe staple.
Celebrities contributed to the trend of wearing cardigans, as with other fashion items. Kurt Cobain, Jessica Alba, and Taylor Swift were among the more famous personas seen slipping into the garment regularly.
Commonly Used Materials for Cardigans
Most cardigans share the same knit fabric used for sweaters, as they have the same function — to keep the cold at bay. The material used differs, too, depending on what season the cardigan is worn.
For example, chunky cardigans suitable for winter are made of angora wool, cashmere, or mohair, while a cardigan worn during spring is more likely to be made with cotton to wick moisture away from the skin. Polyester knit is also used to make cardigans, as well as other knit fabric blends.
Things to Consider When a Choosing Cardigan
When choosing cardigans (especially if you plan on getting one to start your capsule wardrobe), you must consider the following:
The fit.

 Some cardigan styles are more flattering on certain body types compared to others. Choose a fit that complements your unique build.

The knit. 

You can either go for a chunky-knit piece or one with a smaller knit pattern. If you choose chunky ones, make sure to pair them well with other items so that you don't end up looking like a plushie!

The weather. 

Thinner knits are suitable for spring and summer, while 

thicker weaves

 help you retain heat during fall and winter.

The material. 

You can pick from natural fibers or synthetic wool blends. Choose one that is not hard to maintain so you can wear it with ease.
The Upsides and Downsides of Wearing Cardigans
Cardigans seem to be an all-time favorite type of outerwear, but they are not the best to wear on certain occasions. An example would be wearing one outdoors when it's freezing or wearing a cardigan style that might not flatter your silhouette. Here's what makes cardigans wonderful and what to watch out for when shopping for them and wearing them.
The Upsides
The opening.

 Cardigans are convenient to put on and take off because they open in front. This feature is enhanced by their type of closure. Zips, buttons, and belts help secure the front while still being easy to open. Open cardigans don't need to be closed, though, allowing your inner outfit to shine through.

Cardigans are classic clothing. 

You can never go wrong with wearing the right cardigan. It's worn everywhere by everybody. Plus, it matches many clothing styles.

Keep the chill away. 

Whether you're out shopping on a windy day or lounging inside, a cardigan is your best bet to keep warm. Too cold for your liking? Layer your favorite coat over it. Too hot, perhaps? A tank top underneath will keep you cool.
The Downsides
Some cardigans add to the bulk. 

Chunky ones, in particular, make the wearer seem bigger. To counter this, carefully matching a cardigan with other clothing items that complement it (like some cute 

black jeans

) is the best bet. Don't forget your accessories!

They tend to look plain. 

Cardigans tend to look basic when they are not paired with interesting tops or bottoms and could even age you as a result. Spruce up your cardigan by choosing 

jewel-toned tops

 or a 

leather skirt,

 belt it up with a contrasting color, or choose a loud-colored knit pattern to set you apart.

Belted cardigans accentuate heaviness in the waist, cropped ones "cut" the torso short, and long ones make you look shapeless. 

This is why I can't stress enough the importance of considering your body type before you purchase a cardigan. You want to go for something that looks good on you and feels comfortable. 
On the plus-size side? Stay away from belted cardigans. Petite? Choose a long cardigan that's midi length instead of an ankle-skimming one. Are you feeling shapeless? Cinch it with a belt to show off those hidden curves!
The Many Different Types of Cardigans
There are many types of cardigans to suit different needs and preferences. Cardigans have evolved from a garment that gives you warmth into a fashion statement piece as a more lightweight outerwear alternative. Here are several versions of the cardigan for your perusal.
The zipped cardigan. 

The best friend of many outfits, and one that never feels out of place. Zipped cardigans are simple, versatile, and convenient, letting you open and close them in a pinch whenever you need to. 

The open cardigan.

 There are no zippers or buttons to speak of in open cardigans. As such, they're ideal for showing off a beautiful tank while still keeping you warm.

The long cardigan.

 The closest a cardigan will be to being a dress. Long cardigans are usually open, and they come in handy if the temperature demands something lighter than a bulky coat.

The belted cardigan. 

Belted cardigans are casual but rather fancy-looking at the same time. You might wear them tight or slightly loose, depending on the style you're going for.

The tunic cardigan.

 People wear their tunic cardigans open to show a top underneath. However, with their cute designs, they look just fine when closed, too. 

The hooded cardigan.

 Who said you have a mysterious vibe while being cozy? Keeping your head and body warm, the hooded cardigan has nothing to envy of other common sweaters.

The cropped cardigan.

 Cropped cardigans sacrifice the warmth of their cousins for a more cute and shorter fashion look. Their length makes them stand out when paired with 

long dresses

.

The sleeveless cardigan. 

Sleeveless cardigans hit the sweet spot between lightness and coziness, giving off a relaxed vibe. Paired with the right tops, they can make any outfit stand out.

The Zipped Cardigan
Zipped cardigans are generally waist-length and can be worn with formal and casual clothes. They look similar to a jacket and may even feature some pockets. They look great worn with almost everything-dresses, a shirt-and-jeans combo, or paired with yoga pants.
You can choose to wear it zipped to better ward off the chill or open it a little (or all the way!) to show your exciting top underneath. Either way, the zipped cardigan is among the most versatile items of clothing you can own. It can even be a part of an athleisure-inspired OOTD!
The Open Cardigan
There's a lot of variations to choose from when opting for an open cardigan! Cardigans in this category have zero buttons, snaps, or zippers, and are great to wear with tank tops, cropped tops, and t-shirts paired with ankle jeans.
Some open cardigans have tasseled hems or asymmetrical ones. These cardigans often reach mid-thigh up to the knees and highlight what you choose to wear underneath. Open cardigans are similar to coats in this aspect, only more lightweight. 
The Long Cardigan
Do you feel the chill but don't feel the need to don a full-length coat? The long cardigan is here to save the day. 
The long cardigan looks like an open cardigan's sibling, and it's a dressier one as well. It's held together with a belt or a single button (or none at all) and does a great job of keeping one warm without looking poofy.
Long cardigans can either have a plain front or drapes for more drama. Ranging from knee-length to a floor-sweeping number, the best one will make you stand out!
The Belted Cardigan
The belted cardigan comes in different lengths, usually from below the hips to just above the knees. The belt might be the only thing that keeps your cardigan closed, or it may come with a button (or a row of buttons) along with the belt.
Belted cardigans are fashionably cozy and keep you warm enough for cool weather. They're great to layer over a dress, with the belt cinched to highlight one's curves.
Another version of the belted cardigan is the wrap-around cardigan. As its name says, it wraps around the body for a snug, warm fit. Two ribbons replace the belt that holds the garment closed. It can also be worn loosely tied for a more relaxed fit, with a cute shirt or tank top underneath.
The Tunic Cardigan
The tunic cardigan is many things, and that's what I love about it — you can wear it as outerwear, with a cute top and leggings or tights underneath, or wear it as a dress with all its buttons closed. Tunic cardigans look fantastic when worn with boots.
Its straight silhouette allows for versatility, too. Almost all body types can wear it, given the right accessories. Not to mention, it keeps you incredibly warm, as well. A tunic cardigan is one of the must-haves in your wardrobe.
The Hooded Cardigan
Hooded cardigans are part athleisure, part mystery, and I love it! We are used to seeing hoods in sports clothing but forget that they once were part of those magical capes that kept the cold out. The hooded cardigan combines both. The hood protects your head, and at the same time, your body is kept warm.
Extra points for those drapey cardigans with hoods, too. They give you extra flair! There are also hooded cardigans that resemble their distant cousins, the zippered hoodies, and the difference lies in the knit fabric used.
The Cropped Cardigan
This kind of cardigan usually reaches right below the chest (and the length is because of fashion, rather than warmth) and is generally made to be worn with printed dresses or coverups for nightgowns. It never goes beyond waist-length. Rather, the longest ones just sit right on the waist.
Cropped cardigans (like cropped sweaters) can look classy, especially when worn with dresses, and casually cute when paired with jeans and shirts. Their lightness and length make them perfect to be worn just as fall approaches and cold winds become the norm. 
The Sleeveless Cardigan
The closest to the waistcoats it was initially patterned from, sleeveless cardigans give a relaxed, casual vibe. It's perfect when you need warmth in your torso but none of the bulk in your arms. Worn with the right clothes and hues, it can be a dressy piece, too.
Sleeveless cardigans or cardigan vests are great when you want to add interest to your outfit. Plus, both men and women can both wear them for cool weather.
The Chunky Cardigan
What makes a cardigan chunky, by the way? As with chunky sweaters, chunky cardigans are made with thick yarns with a yarn weight of at least five. These thick yarns make for more visible knit patterns compared with thinner yarn. 
As a result, an item made with chunky yarn looks big and puffed up. All the cardigans mentioned above can be made with chunky yarn. So yes, you've got a lot of style options with your chunky cardigan!
As for softness and warmth, chunky cardigans never fail to deliver. However, their loud knit patterns and bulky structure tend to be tricky to style. That's why I have compiled more than ten ways to wear your chunky cardigan and stay fab and warm.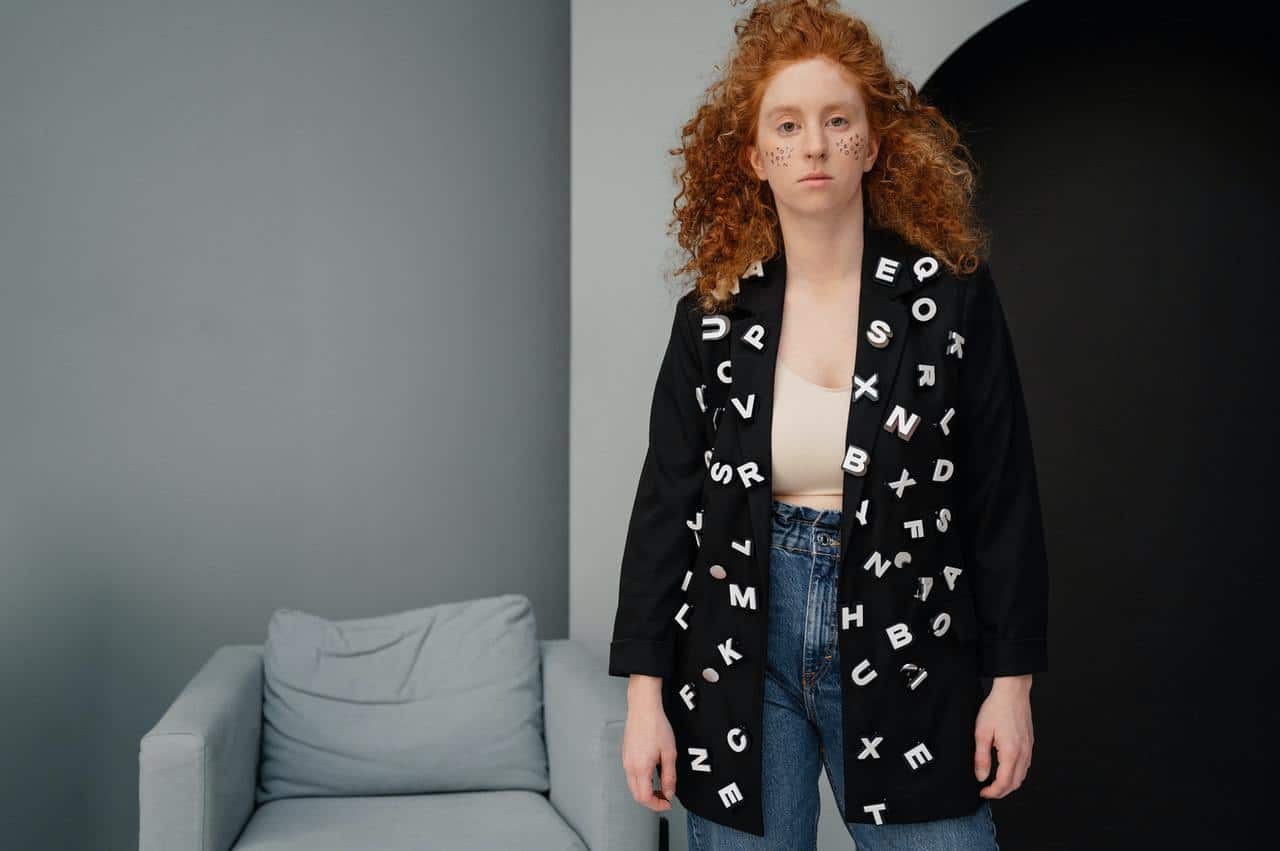 My Favorite Styling Tips for Chunky Cardigans
Your chunky cardigan can call attention to your whole outfit, so you might as well make yourself look fantastic while at it. Here are my style suggestions for your chunky cardigan.
Neutrals and Earth Tones
Wear a chunky gray cardigan over white pants and a light-colored top.

 This combination is refreshing to the eyes. Add a matching bag and some gray heels, and you'll be ready to project that cool chic look.

Similarly, light camel-colored cardigans with a cream top underneath look sweet and warm.

 Choose a similar color with the cardigan to match the pants, or make the inner top and pants of the same color to contrast with the cardigan.

Take monochrome to the next level.

 Wear a printed neutral top and make sure one of the colors is the same as the color of your chunky cardigan! 
Pros:
Pleasing to the eyes

Neutral pieces are easy to find

It goes well with other wardrobe pieces
Cons:
Light neutral pieces can make you look bigger

They're not the best for attracting attention

They can be boring if not paired accordingly
Chunky Cardigans and Leather Pants
Black or dark leather pants (or 

faux leather

), paired with a chunky dark cardigan, make you look more streamlined. Don't forget to throw in some cute sneakers and your iced coffee, though!

Tuck in halfway a beige cardigan into 

camel-colored

 skinny leather pants that end just above your ankles. Pair with 

heeled slingbacks 

for a taller, sexy silhouette.

Grab everyone's attention with black leather pants and a chunky red cardigan with a neutral top.
Pros:
The contrast in the textures makes them an exciting combination

Knit and leather are warm enough for the cool autumn season

The combination is effortlessly tough and cool at the same time
Cons:
They can make you look bigger, especially if you're on the plus side

With the wrong inner top and shoes, they can look tacky
Chunky Cardigans and Jeans
The timeless white shirt and jeans combo can be made warmer with a chunky cardigan. 

Are you going with the nautical trend? Pair a 

striped shirt

 with your jeans and wear them with your cardigan. Wear sneakers to complete a laid-back, athleisure-inspired look.

A 

lace top

 can add a dainty feel to the jeans' rugged look and the volume of your cardigan. 

The same goes for a sheer top underneath a cardigan and your trusty skinny jeans.

A chunky, buttoned cropped cardigan serves as a top paired with high-waist denim.

Bring sexy back by sporting an oversized chunky cardigan over a crop top and high waist jeans. 

Knee-high boots

 will add extra sass to the outfit.
Pros:
It's an easy, no-nonsense outfit choice

Warm enough for cool mornings and evenings and can be taken off when the weather gets warmer

There are many options to choose from with this outfit
Cons:
It may look plain or frumpy if not styled well

Adds bulk to the upper body

It may drown out your frame, especially if you're petite
Chunky Cardigans and Dresses
Have a lovely chunky cardigan? Pair it with a 

silky slip dress

 or a bodycon dress of the more or less same length. Leave it open and wear ankle boots for a leg-lengthening effect.

Similarly, belt the cardigan closed and wear it as a dress. Thigh-high boots will look amazing with this!

Long slip dresses in 

metallic colors

 or patterns look good with chunky cardigans, too. Opt for less dramatic knits to let the dress shine through.

A midi sheath dress with a cropped chunky cardigan will balance out your proportions. Sexy pumps complete the look.

Put a belt around a floral a-line or 

babydoll dress

, and finish off with a chunky cardigan. You'll indeed look like a sweetheart with this and lessen the bulkiness. Ballet flats look great with this outfit. You can also opt to use the belt outside the cardigan and leave your dress peeking for a maximum waist-cinching effect.

A floral midi dress with a chunky cardigan works well with taller women.

A bodycon dress balances a chunky cardigan. Wear it during chilly evenings.

Into the cottagecore aesthetic? A 

printed, smocked dress

 gets extra warmth with a cropped chunky sweater. Low-heeled ankle boots make it easier to walk around. 
Pros:
It is easy to style

A great alternative to coats-should the weather get warmer, just take off the cardigan! 

There's a lot of combinations you can try!
Cons:
Not knowing which looks suitable for your body type can make you look poorly styled

Long chunky cardigans must be worn with caution together with a longer dress, as you could look drowned in them
Skirts and Chunky Cardigans
Chunky cropped cardigans look fabulous with playful, floral skirts. Sneakers keep the outfit youthful and fresh.

Wear a chunky cardigan with a belt outside with a 

slim pencil skirt

 and a jewel-toned top, plus office pumps for an office look. Classy without much effort!

Nail the skater girl look with a contrasting shirt and skater skirt combo with a chunky cardigan. Black tights and half-boots add to the outfit's appeal.

Cop the edgy nautical vibe with a dark gray cardigan, a black and white striped top, a black miniskirt, and tights for extra warmth.

A chunky cropped cardigan, paired with a plaid skirt and a dainty white top, gives off preppy school-girl vibes. 

Pleated skirts

 make for a classic look or pencil-cut and high waist for a subtle sexy outfit.

Denim skirts and 

cargo skirts

 work well with cropped cardigans, too! You can wear a crop top as an undershirt or wear the cardigan, buttoned-up, alone.
Pros:
The possibilities are endless with this combination

Want to switch up your style fast while wearing this style combo? Change your shoes!

Pairings can be classy, cute, or preppy.
Cons:
Wearing the wrong clothes can make your outfit a disaster. For example, a maxi skirt and loose crew neck top is worn together may look okay, but top it with a chunky cardigan, and you'll look like a bunch of shapeless clothes with no harmony

Skirt length and accessories (or lack thereof) can make or break your outfit

Other Style Suggestions for Chunky Cardigans
Wear a long, chunky cardigan over a white tank top and denim shorts on a windy day at the beach. Should the weather get hot later on, it's easy to take off (and put back on when the wind starts nipping at you again!).

A button-down shirt and paper bag shorts look amazing with a chunky cardigan.

Chunky cardigans work well with trousers and sneakers, too! One with batwing sleeves will look good with relaxed fit jeans and a plain white tee shirt underneath.

Pantsuits can undoubtedly borrow a little warmth from an oversized chunky cardigan.

Are you lounging at home? Layer it over your favorite pajamas!

Your chunky cardigan can be worn under a sports bra and leggings or jogger pants, too!

Don't be afraid to accessorize. A large handbag can look good with outfits like these, as they won't get overwhelmed by the cardigan. Turtleneck tops under cardigans will benefit from statement necklaces. As for footwear, the choices are limitless!
My Top Chunky Cardigan Styling Favorites
I can't enumerate all the possible ways to wear a cardigan, but I've chosen eight of them to highlight. I have comfort, ease of putting outfits together, fashion trends, the wow factor, and uniqueness as my criteria for picking these outfit combinations. Read on and see which one you'd like to copy (or try them all!) for your next OOTD.
A neutral chunky cardigan with ripped black jeans. 

Without a doubt, they are the epitome of cool street dressing!

Wide-leg trousers and a cardigan of the same color with an inner dark top

. Best for ladies with long legs.

A belted dress with a cardigan

. Another classic I love! It's dainty and wholesome and never goes out of place!

A chunky cardigan with a crop top and high waisted denim skirt.

 This combo is youthful and popular right now. The cardigan keeps the cold away and lets the wearer show just the right amount of skin.

Monochromatic dressing. 

This is perfect for putting a look together quickly. Monochromatic outfits are nicely enhanced with chunky cardigans!

A light-colored chunky cardigan with a dark 

turtleneck top

 and trousers. 

Pointed pumps complete this girl boss look!

A 

chunky cardigan as an office blazer replacement

. It's good to switch up your office style every once in a while, especially on Casual Fridays!
My Favorite Chunky Cardigans for Winter 2022
Now that you know how to style these cardigans, you probably want to snag one or two to throw into your closet to wear this winter, right? I don't blame you one bit! Before I show you my top six picks, though, I wanted to let you know why I included them. For this list, I took into account important things, like:
The material.

While luxurious materials such as cashmere and wool are definitely amazing to find in a chunky cardigan, I also wanted to make sure these cardigans were easy to wash and wear. With that in mind, you'll find all-natural fibers (cotton and wool, for instance) mixed with polyester blends (super easy to take care of!).

The versatility.

What good is there in having a cute, chunky cardigan in your closet, but it doesn't match anything else you like to wear? For this list, I was careful to choose pieces that you can mix and match with literally everything in your wardrobe.

The price. When going through the different options, I saw tons of amazing cardigans at a wide range of different price points. While it'd be nice to have an assortment of mohair and silk cardigans, not everyone can justify such a splurge. These cardigans are both easy to wear and easy to squeeze into any budget!
The reviews.

Some of the cardigans I saw when I was looking for ones to add to my list were nothing short of drop-dead gorgeous. Bright, vivid colors and incredible textures… but then the reviews would tear them to shreds for being a poor fit or falling apart after one wash. You won't find any panned cardigans on my list!
And now, without further ado, here are my favorite chunky cardigans for this winter season!

I'm just going to dive right into my list with this gorgeous knitted cardigan. Its beautiful design gives it a very unique texture, making it a must-have for any fashionista. The nylon makes it durable and warm, while also providing bright and long-lasting color. And with all the colors to choose from, it's easy to find the right one to combine with your existing wardrobe.
Pros:
A large variety of colors to choose from

High-quality materials

Warm and comfortable design

A very affordable price point
Cons:
Recommended to hand-wash only

No buttons to keep it closed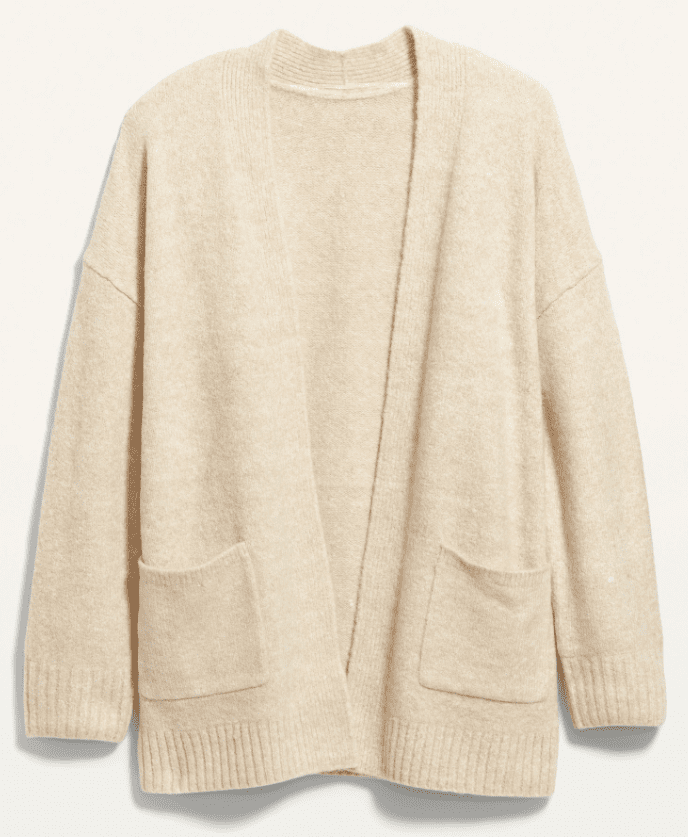 This next cardigan design is a classic. With its earthy, rust-colored tones and easy drape, you can easily pair it with a boho maxi dress or your favorite joggers. I love its simple silhouette, and the pockets are great for keeping your hands warm or hiding snacks. I was also thrilled to discover that it comes in three size ranges (regular, petite, and tall), too.
Pros:
Classic colors easy to mix-and-match

Comfortable and breathable materials

Can be machine washed/dried

Versatile and homey design

Inclusive size range
Cons:
Muted colors can be limiting

No buttons

Runs a little large (size down)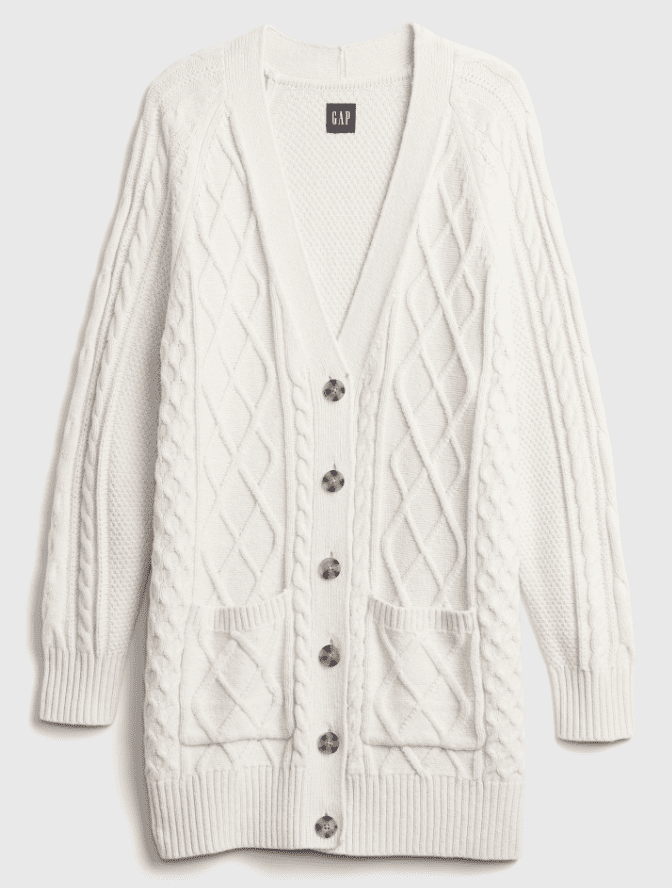 The cable knit on this cardigan absolutely embodies the "chunky" vibe I was looking for. Don't you just want to curl up with a cup of tea and a good book while wearing it? The neutral color palette helps make it easier to integrate into your style — and did I mention that it actually has buttons?
Pros:
Incredibly inclusive size range

Gorgeous, rich colors

Cotton makes it breathable

Easy to take care of

Extremely high-quality construction
Cons:
Can overwhelm petite wearers

Cotton can fade over time

Slightly on the more pricey side

Runs a size or two too big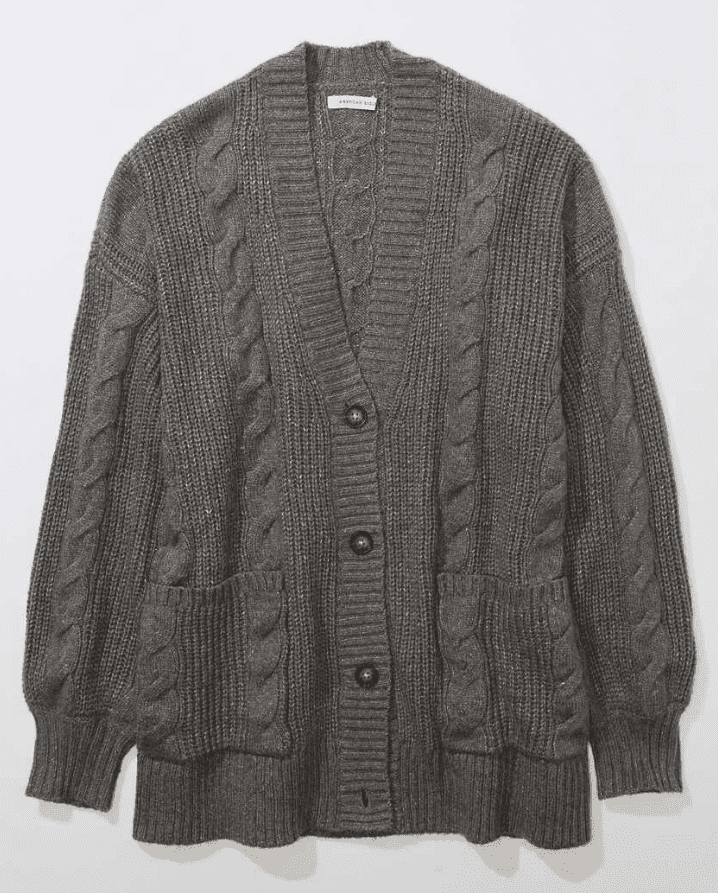 When it comes to chunky cardigans, this one definitely fits the bill. Despite its cable-knit pattern, it still has a fantastic drape on it, allowing it to flow and swish with ease. Its materials include a combo of cotton (soft to the touch!) and recycled polyester (good for the environment!), and the colors are bold and eye-catching. As an added bonus, it's both machine-washable and has buttons.
Pros:
Can be dressed up or worn casually

Fantastic drape

Environmentally friendly materials

Feels like a hug when worn

Buttons keep you extra-toasty
Cons:
Limited choice in colors

Sleeves are a little too long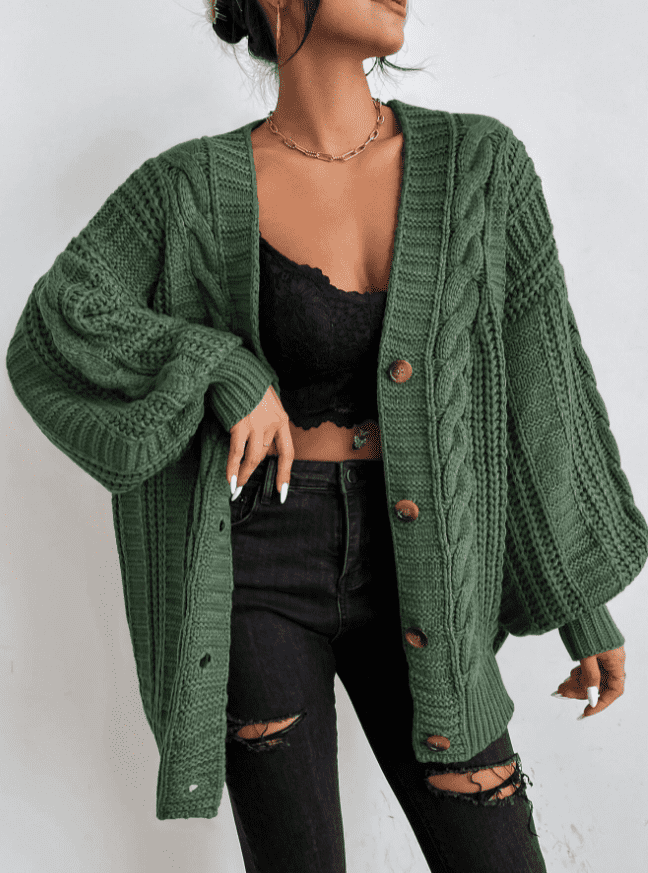 There's so many things going on with this cardigan that I honestly don't even know where to begin. First of all, there are so many gorgeous colors to choose from (I counted twenty!)! And did you see the balloon sleeves? With its oversized buttons and perfect length, you'll want to grab at least one or two of these to add to your rotation.
Pros:
Easy to wash and wear

Huge size range

Doesn't overwhelm the wearer

Fun bishop (balloon) sleeves

Can be dressed up or down

Very affordable piece
Cons:
Limited sizes (S-XL)

Runs a little bit large

Material can pull and snag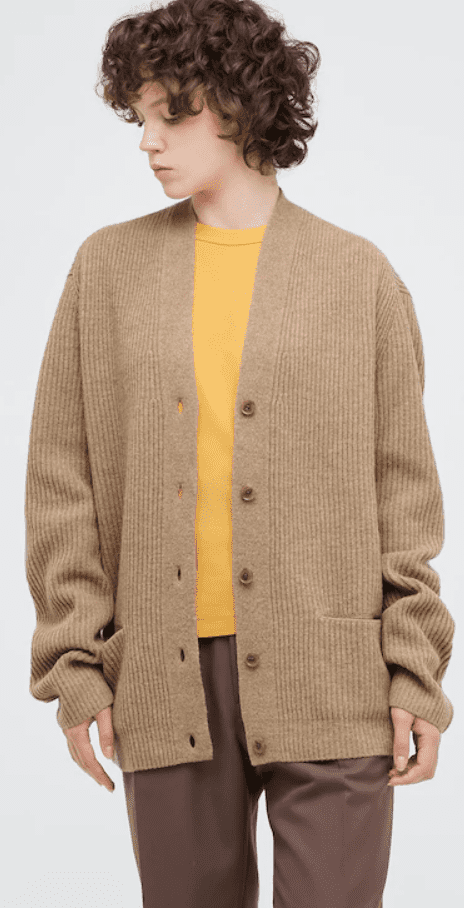 There was no way I wasn't going to include this final entry on my list. Why, you may be wondering? Well, let me break it down. First of all, it's 100% real wool (super warm and toasty for those cold days!), yet doesn't break the bank (yay for affordable luxury!). It also comes in a wide range of sizes (XXS-XL) and despite being a thick, chunky cardigan, it doesn't look too heavy. It's not a want, it's a need.
Pros:
100% genuine lambswool

Gorgeous neutral colors (green, ivory, gray)

Classy and elegant, can easily be dressed up

Lightweight and still warm

Pockets and buttons!
Cons:
Hard to take care of (dry clean only)

Only comes in three colors

Pills after just a few wears

True to size
Frequently Asked Questions
Question: Can I wear a maxi dress with a chunky cardigan?
Answer: Yes, but consider yourself warned: this might not work for everyone. A cropped chunky cardigan is your best bet for this, though, as it balances out the length of the dress.
Question: I have a belted chunky cardigan, but it looks more like a robe to me. How can I style it to wear outside of the house?
Answer: Toughen it up with ripped dark jeans and a cute crop top underneath, and white sneakers! Tie it loosely so that your top still peeks through, and don't forget your accessories like a bucket hat, a reusable cloth bag, and layered necklaces.
Question: My cardigan is too chunky, and it grabs attention a lot! How can I tone it down?
Answer: Wear a neutral-colored knee-length slip dress under it, and secure it with a thin belt (or a thick one, if you prefer). The neutral colors help to balance the outfit. White sneakers would make this casual outfit chic!
Question: I'm petite. Any tips so that my chunky cardigan won't overwhelm my frame?
Answer: Go for chunky cardigans that are just your size, as oversized ones will drown you out. As the cardigan is already loose, wear tightfitting tops and bottoms to balance it all out. Don't make everything oversized, or you'll look like a kid playing dress-up. Heels will help you look taller.
Question: What colors are suitable to wear with a chunky patchwork cardigan?
Answer: Take a cue from the cardigan itself. Choose whatever colors are present in the item and choose the complementing or contrasting color from there. You'll find that whatever you choose, I promise, it'll look good!
Question: I find pairing a chunky cardigan and a dress together to come off as sort of "old-fashioned." How do I upgrade this outfit?
Answer: There are several ways you can upgrade this outfit. A thick knit scarf in a bright color can spice it up. If it's not enough for you, you can choose to wear boots like Doc Martens to toughen it up and a leather crossbody bag.
My Final Say
Chunky cardigans are unparalleled when it comes to warm and cozy clothing, and there's no reason why you can't be fashionable while wearing them. It's just a matter of mixing and matching them with other items to see what works. 
Don't be afraid to try unusual pairings with your chunky cardigan. By experimenting with different clothing items and accessories, you will develop your unique fashion style. I personally adore how cute cardigans match with floral dresses, although the jean-cardigan combo is definitely a close second.
(Psst — my favorite is the SHEIN Solid Button Front Cable Knit Cardigan, thanks to its versatility, price, and wide range of stunning colors. And how adorable would that be over a 90s-style maxi dress with ditsy flowers and some Doc Martens mid-calf combat boots?)
I hope my style suggestions have pointed you in the right way towards rocking your chunky cardigan looks. Have fun expressing yourself through fashion!
Recommended reads: