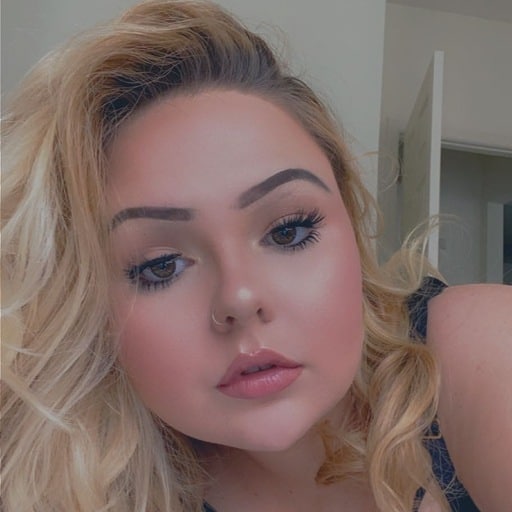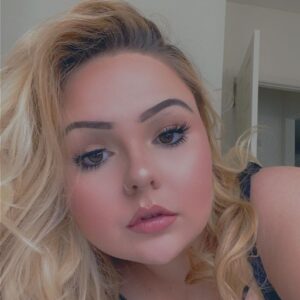 Latest posts by Annalise Swain
(see all)
The greatest plus-size jeans can transform your whole wardrobe, and that is no exaggeration. Denim is a timeless fabric that transcends seasons, simplifies clothing, and is dependent on personal taste. There are plenty of alternatives accessible to denim fans of all sizes. 
The finest plus-size jeans below stand out among editors, readers, and models who understood the plus-size apparel industry for their inclusive sizing as well as their ability to offer that fits-in-all-the-right-places swagger. It's the capacity to virtually live in a pair of jeans, styling them as you want and being comfy throughout the day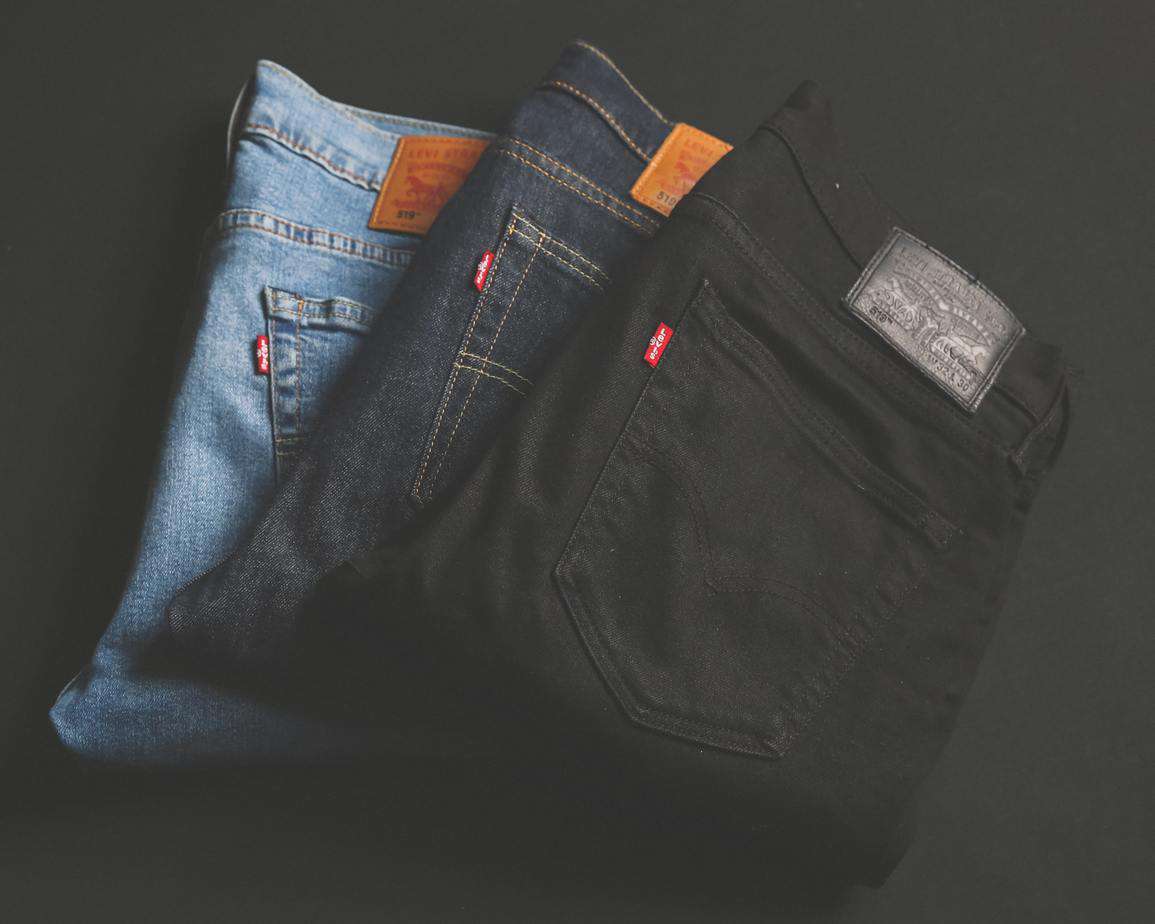 Best Plus-Size Skinny Jeans 
When it comes to finding the perfect fitting skinny jeans it is nearly impossible. We've compiled a list to fit every need it comes to when finding the right jeans for you. 
ASOS Design Ridley Jeans 
The Ridley jeans, which come in sizes up to 24, have fun features like a raw hem and more contemporary washes. Model Felicity Hayward endorses them as well, calling them "an amazing classic" and "a wardrobe essential for plus-size ladies," which she has in every hue. "It's thick enough not to rip and sturdy enough to keep you in, yet elastic enough to be comfortable," she says. 
Price: $36
Torrid Sky High Skinny Jean Premium Stretch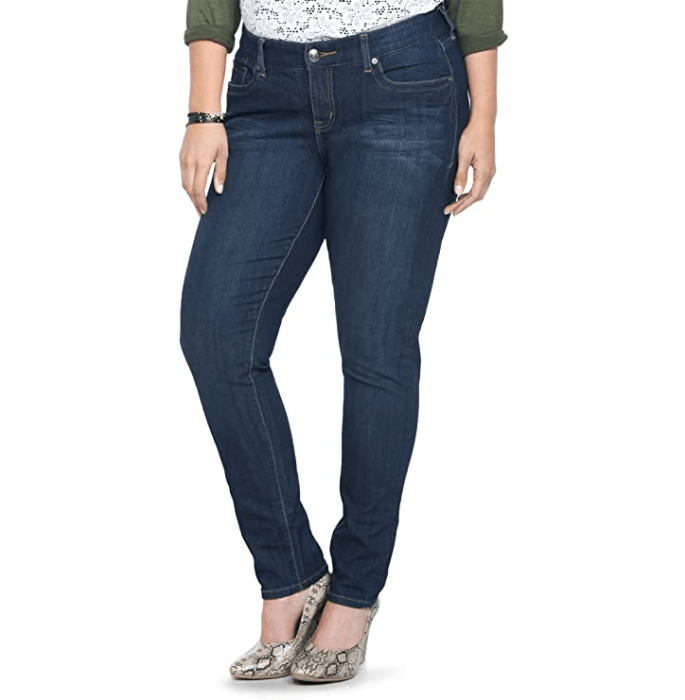 I'm a big fan of Torrid's cheap jeans. The brand's denim is typically comfortable and inexpensive, with a fantastic fit, and they keep their form down, which may be difficult to find. The jeans are available in sizes up to 30 and five various inseams — standard, tall, extremely tall, short, and extra short — to ensure a perfect fit.
Price: $76
Loft Modern Skinny Jeans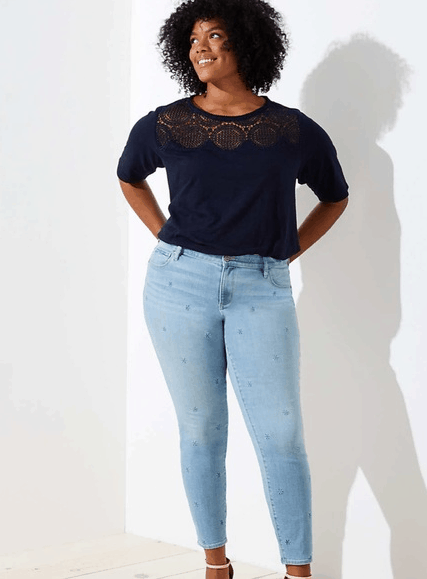 If you find it difficult to find pants that suit your form, are cozy, and stylish, these Loft slim jeans do it all! They may be dressed up or down, making them appropriate for any event. Loft jeans are really the only ones available where I've been able to find my exact size, which is incredible and makes shopping a snap. 
Price: $70
Best Plus-Sized Mom and Boyfriend Jeans 
Mom jeans and boyfriend jeans aren't always flattering on women. Sometimes you need just the right body to look good in them. But there are plenty of jeans out there that look good on everyone, and then good news….we found them!
American Eagle Stretch Curvy Mom Jeans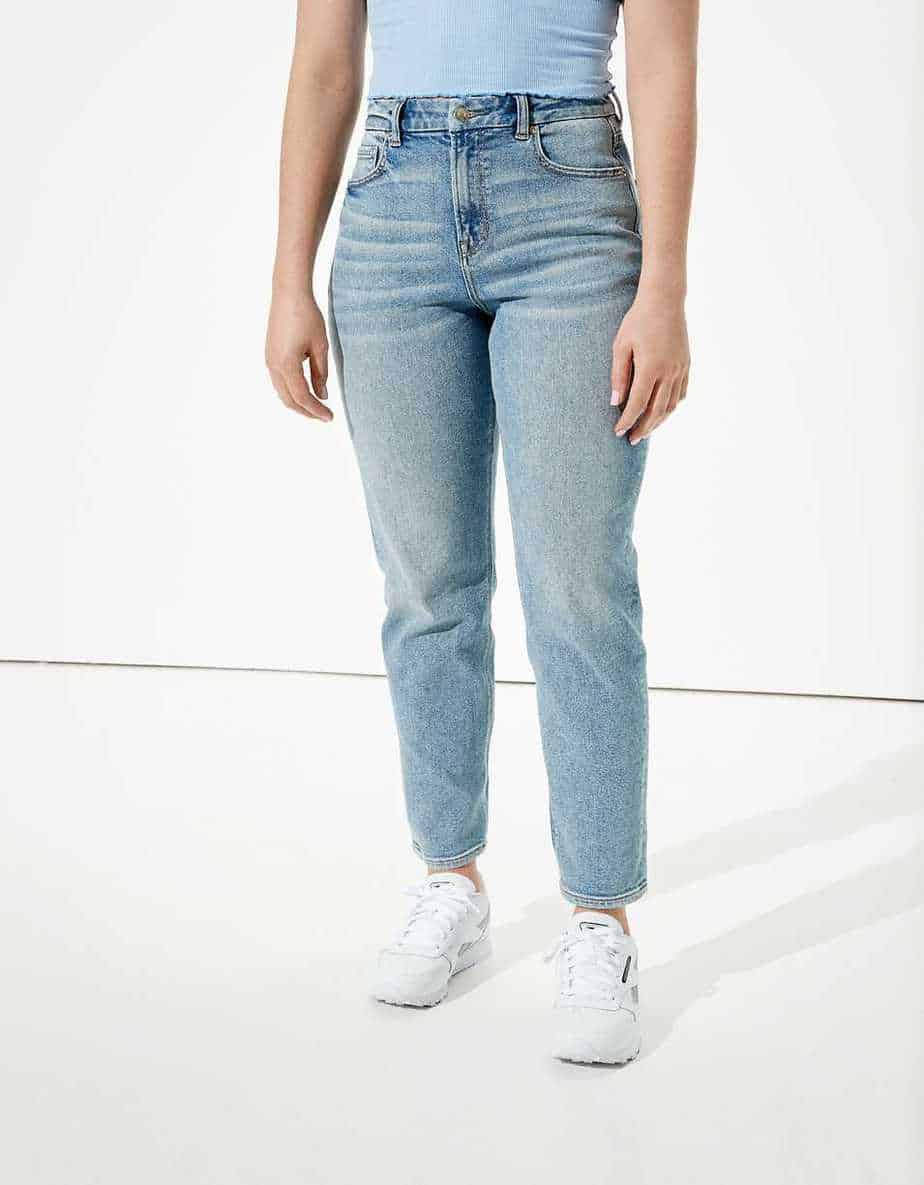 We always admired the appearance of vintage jeans, but haven't been able to locate them in plus sizes. That is until the American Eagle Curvy Mom Jean was launched in sizes 00 to 24. There are short, normal, and tall inseams available from the brand, giving you a range of length options. 
Price: $40
Universal Standard Bae Boyfriend Crop Jeans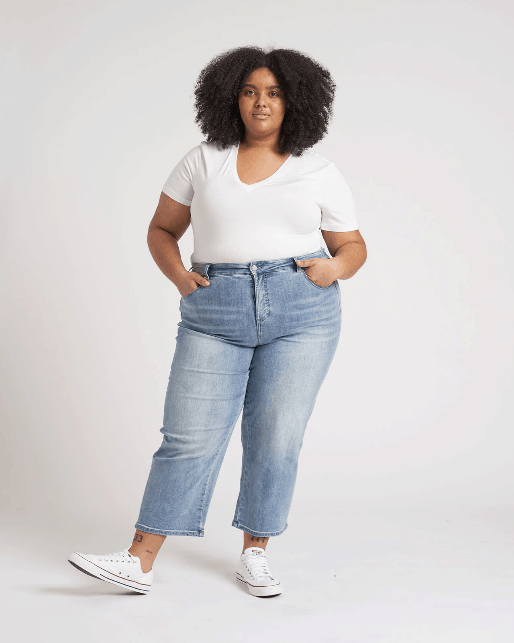 Universal Standard's Bae Boyfriend jeans have a high waist and a straight fit, and despite their substantial stretch, they manage to keep their form throughout the day. The brand is well-known among Strategist readers as our go-to for size-inclusive essentials. The jeans, like everything else from Universal Standard, the run-up to a size 40. 
Price: $98
Kut from the Kloth Rachel Mom Jean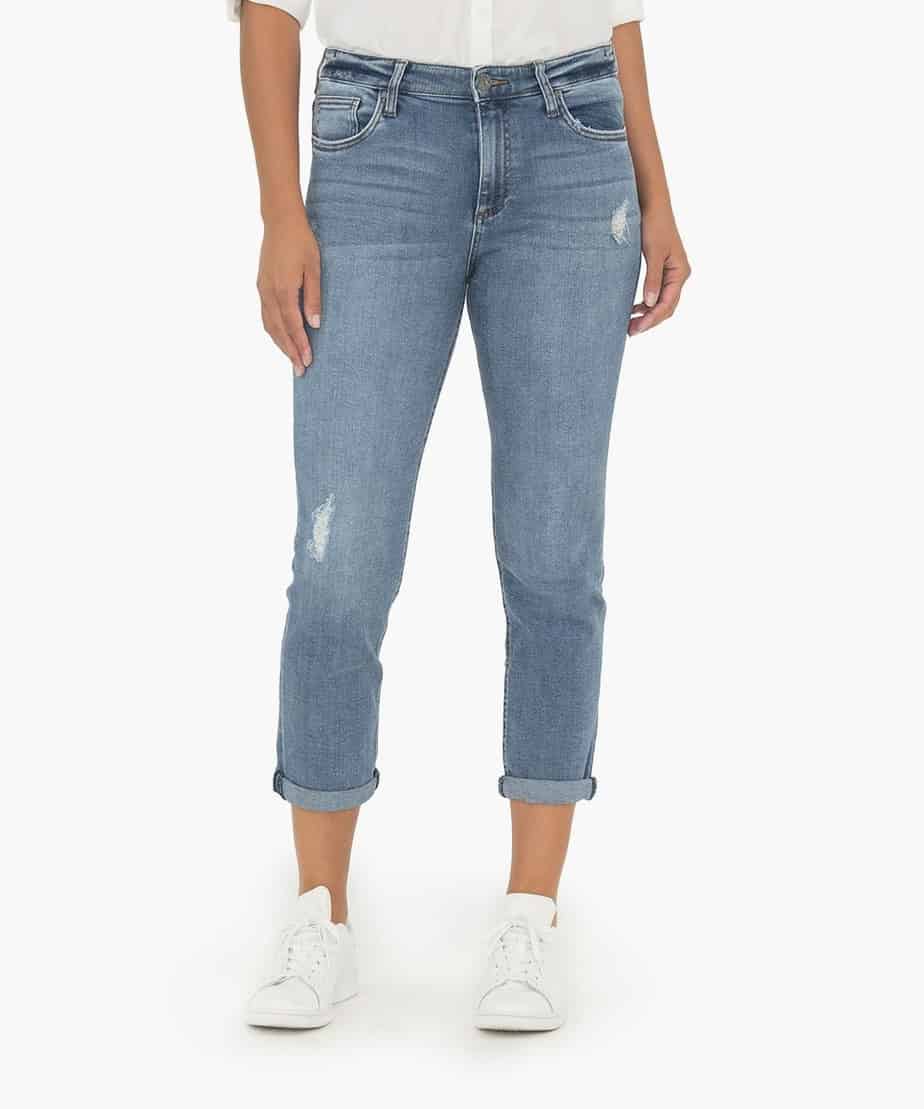 This is a fantastic choice for a casual occasion. When you're out doing errands in these mom jeans, you'll receive a lot of compliments. The high-rise jeans cinch you in and have a loose, effortless fit all down your leg. It'll look great with a warm jacket or your favorite bodysuit. They're available in plus sizes up to 26W. 
Price: $53
Best Plus-Size High-Rise Jeans 
High-rise jeans are almost a lifesaver for many women. I Love high-rise jeans as I can wear a crop top and feel comfortable and amazing, or I can wear a tight-fitting shirt and not be afraid of a little stomach showing. 
Forever 21 plus size high-rise jeans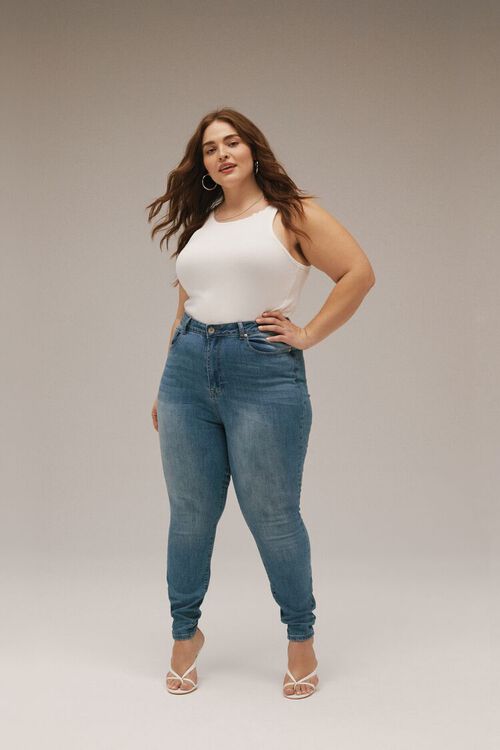 Some high-waisted jeans are barely high-waisted and don't tighten in the waist as much as they should to produce a shape on a curvaceous female. The button-fly on the jeans, which are available in sizes 12–18, is one of our favorites since the buttons run the length of the body and draw in any stray portions of your stomach. As an added advantage, the buttons ensure that the zipper does not slide.
Price: $15
Old Navy High-Waisted Plus-Size Rockstar Cropped Jeans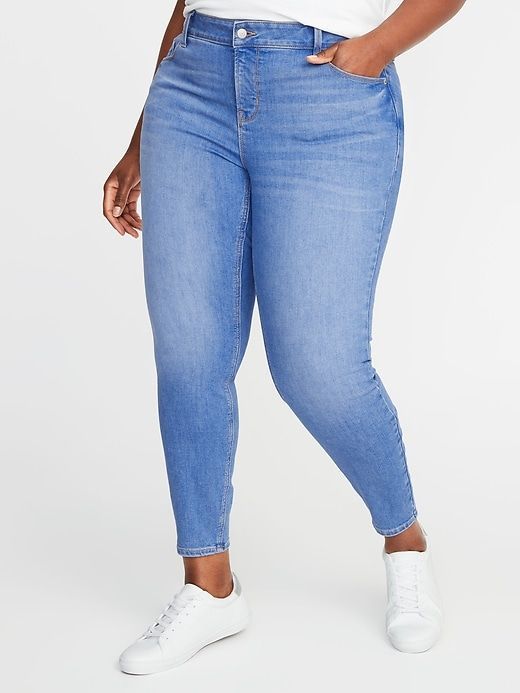 Because they come in three inseam lengths, including short, the Old Navy Rockstar jeans, which go up to a size 30, are ideal for petite plus-size ladies. My favorite feature of them is that they are inexpensive and stretch well without losing their structure.
Price: $37
AE the Dream Jean Super-High-Waist Jeggings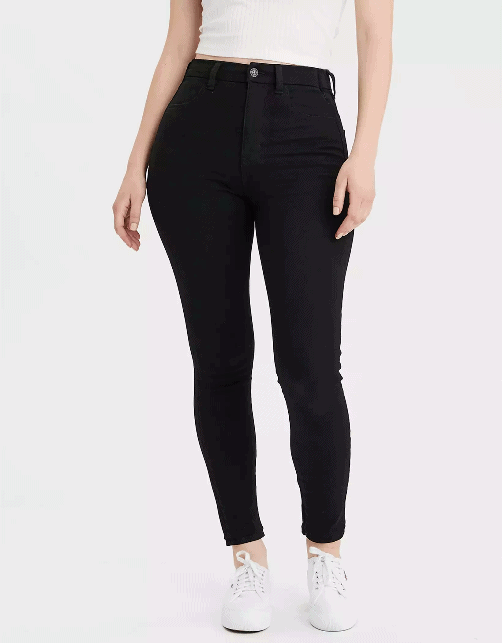 Finding jeans with a lot of elasticity and the ability to take everything in at the same time is difficult for me. This duo is incredible. It has a high waist and a great cut. The material is soft and you can wear these jeans with anything and feel incredible. 
Price: $75
Best Plus-size Distressed Jeans 
When distressed jeans came out, the trend never stopped. They add spice and style to every outfit out there. Unfortunately distressed jeans sometimes run a little tight, but thankfully we have found the best jeans to spice up your outfit. 
Pretty Little Thing Plus Distressed Long Leg Straight Jean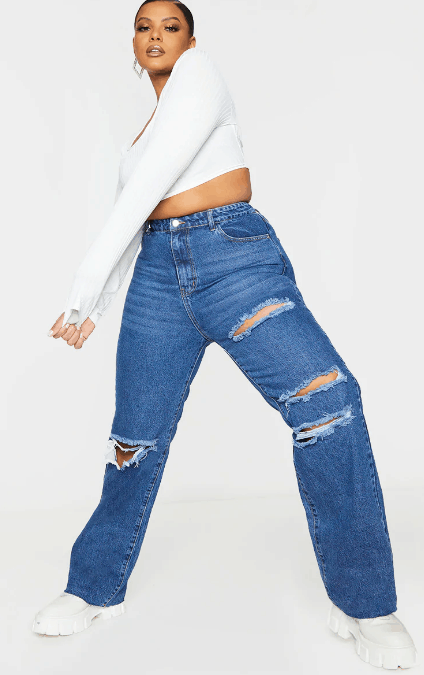 Denim with a wide leg is quite popular right now. However, because trends don't stay for long, you might not want to buy a pricer pair straight away. Pretty Little Thing's distressed jeans are a cost-effective way to join the trend. They don't sag or gap at the waist if you have broad hips and a booty, plus they come in three colors (light blue, dark blue, and black). 
Price: $58
Old Navy Midrise Distressed Rockstar Super-Skinny Jeans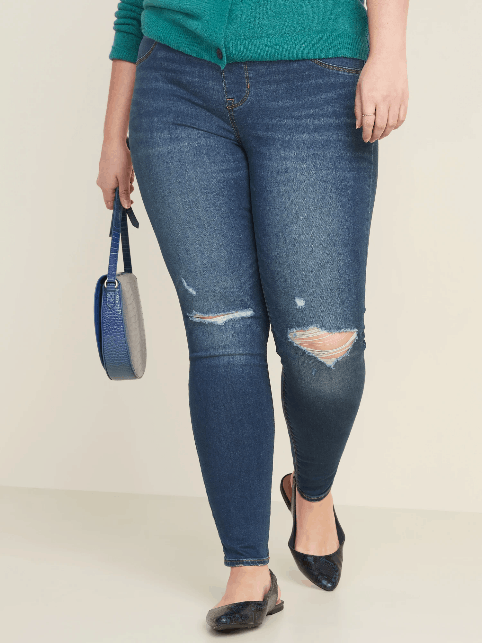 These jeans have belly control and aren't too large around the buttocks, and the "short" length is ideal for a shorter woman who doesn't want to get them altered. The material gives stretch without the possibility of ripping or rubbing holes in the thighs. 
Price: $43
Stonewash Chloe Ripped Skinny Jeans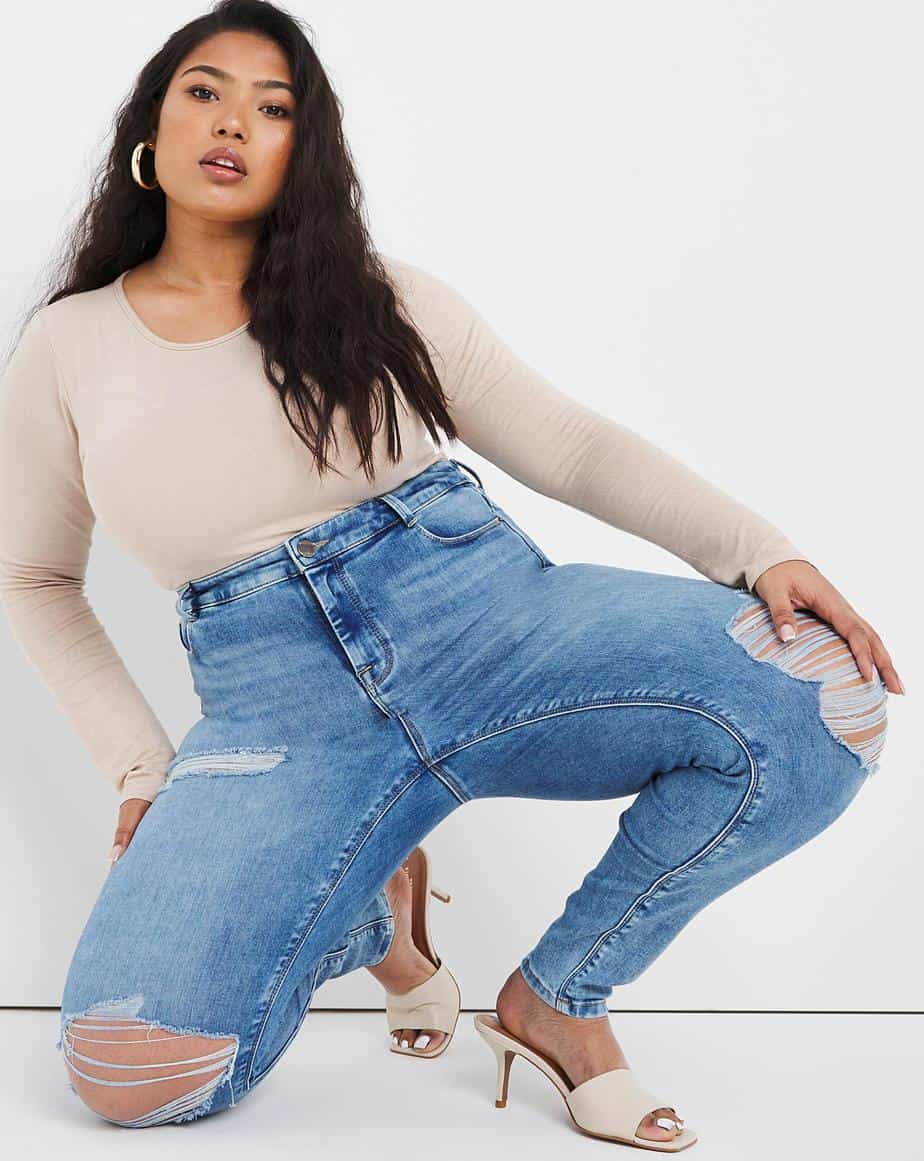 The Simply Be Chloe jeans are fantastic. They hold their form so nicely, and they're thin jeans instead of the wide ankles that so many plus-size jeans have! However, because they have elasticity, they are still quite comfortable. I like how they are available in three various lengths, as well as a variety of colors, shapes, and styles.
Price: $36
How to Buy The Perfect Plus Size Jeans 
For what seems like an eternity, jeans have been one of the most popular styles. Although they may appear difficult to wear, we are here to inform you that plus-size ladies can look fabulous and trendy in jeans. All you have to do now is select the perfect-fitting pair and style them correctly to match your proportions, so you can flaunt your style and proudly show off your body. 
The Right Fit 
Getting the correct fit in jeans is extremely important for everyone. This usually entails trying on a number of pairs of jeans, so be ready and allow plenty of time while shopping for jeans. 
A thin-legged jean that fits tightly around the hips and waist without feeling too tight while sitting or standing, or generating the dreaded muffin top impression, is what you're searching for. 
In the changing room, sit bend over, and stand to get a sense of how the jeans appear and feel in different positions. When you sit down, make there isn't any underwear-baring gaping at the waist., and when you lean down to tie your sneakers, make sure you don't feel sliced in half.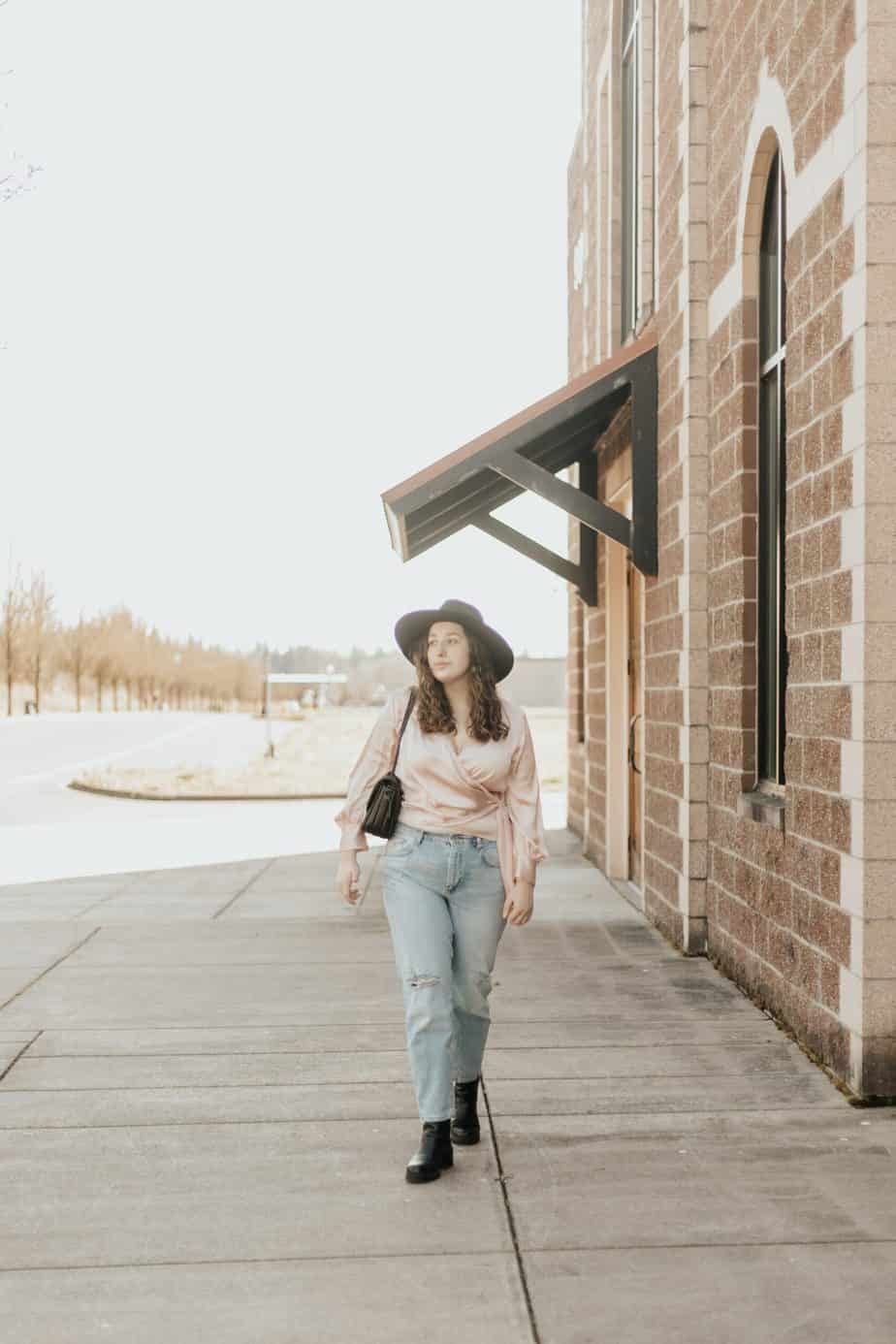 Material 
When made with heavier-weight denim, pants with a fair percentage of elastane in the denim fabric may be quite flattering to plus-size forms. Stretch jeans are also more comfortable and flexible to walk, stand, and sit in than ordinary blue jeans, so they may become your new favorite denim.
Best of all, several high-end denim manufacturers now offer stretch-thin jean designs that are engineered to lift, contour, and smooth curvier women's bodies. 
Plus Size Jeans Outfit Ideas 
Sometimes when I am trying to find the perfect outfit to conquer the day, I struggle to find the right jeans to go with the right tops. So we have compiled a list of different outfits with plus-sized jeans.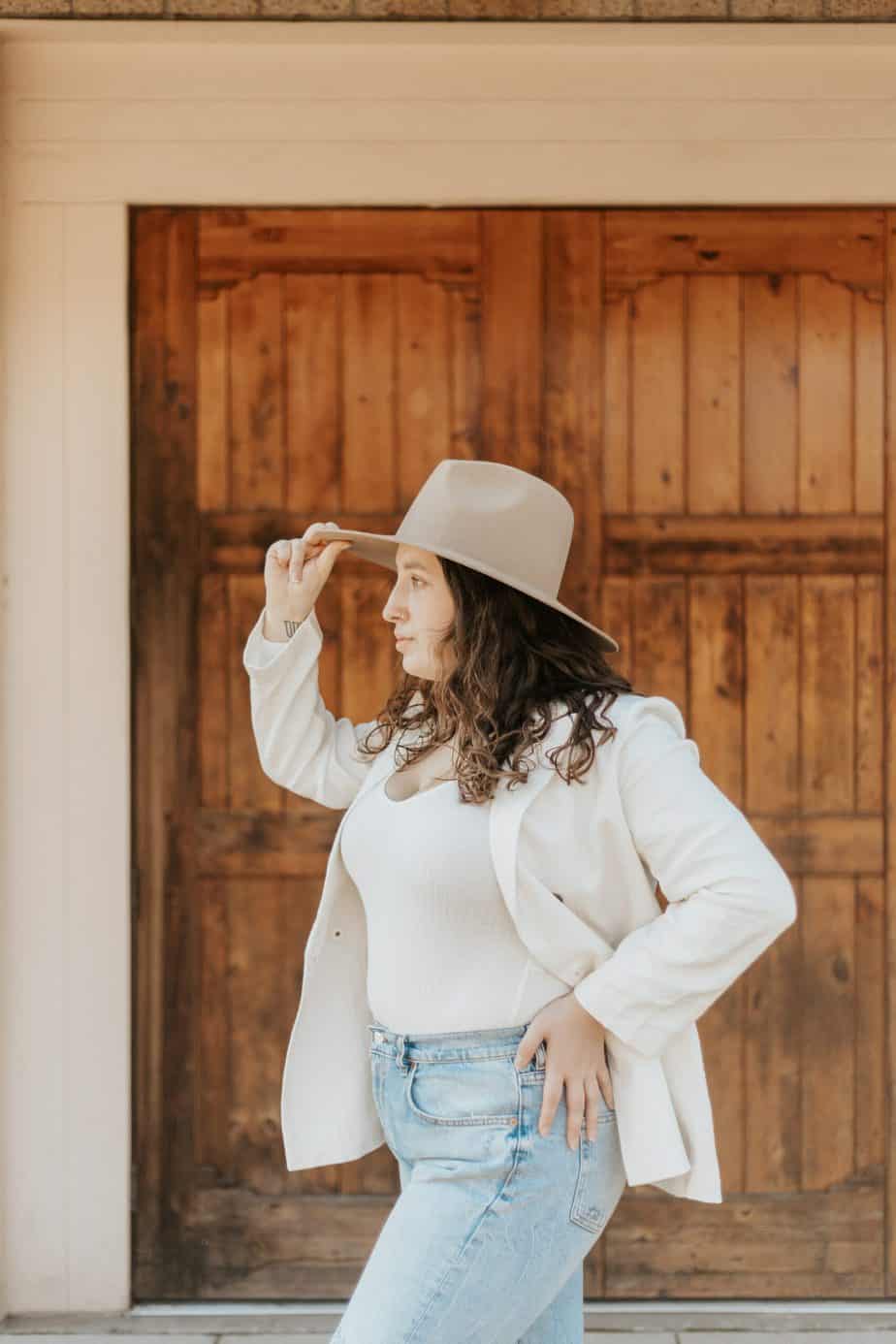 When you welcome the day in perfect-fitting, skinny jeans paired with a classic, body-skimming, button-down shirt in a beautiful hue, you'll stand out from the casual weekend crowd. A notice-me handbag in polka dot design adds a dash of cheeky fun. Combine with your favorite flats, colorful pumps, or sneakers to complete the look.

There are numerous places where you can wear mom jeans, from a cafe to an art museum. This is a look that can be worn at any time of year, thanks to the easy T-shirt and motorcycle jacket, as well as a silky top. For a more casual appearance, swap out your shoes for sneakers, or dress up with a striking belt and a rollneck for a night out. Complete your appearance with bracelets or a necklace, and you'll look like a million bucks.

In a sea of black and grey, this elegant, professional, feminine daytime combination of slim-fitting black denim plus size jeans and a beautiful, pastel jacket in a body-skimming design makes you stand out at the office. 

A loose striped shirt, thin white torn jeans, pale pink flat heels, light blue denim jacket wrapped around the waist, light grey purse, and black aviator sunglasses make for a great weekend outfit. 

Wear high-waisted, thin jeans with a beautiful, ruffled, shoulder-baring blouse for a head-turning appearance on casual summer days. Tuck your top in at the waist to accentuate your waist and create sultry hourglass curves, and accessorize with items that reflect your individuality. 

In a pair of black mom jeans, you may seem edgy while yet appearing effortlessly elegant. Wear it with a leather jacket and boots, or pair it with a white button-down and mules for a playful office look. This style has so many variations that you may try something different every day of the year. It's an essential item of apparel that should be in everyone's closet. 

A pair of light blue mom jeans will give your casual look a new and summery edge. Wear it with a white T-shirt and oversized jacket for an '80s vibe, or a chunky colorful sweater and shoes to remain warm and stylish. There are so many different ways to style this gorgeous denim, so have some fun and try something new. 

How about a flawless glam look? We observe a lady wearing a fitted camel coat with a loose fit over a black V-neck blouse tucked into ankle-length distressed jeans and bright shoes. It may appear basic, but trust me when I say it's a standout appearance.
FAQs 
Do you still have more questions regarding the best plus-size jeans? We are here to help answer your questions. Read on to find the answers to the most common questions asked about plus-size jeans. 
Question: What style of jeans should I wear with a big tummy? 
Answer: The most flattering cut is mid-rise or high-rise jeans. Jeans with a mid-rise or high-rise waistband assist to support and conceal your stomach. If you're worried about your stomach, these jeans are the most flattering. Low-rise jeans should be avoided. 
Question: How can I hide belly fat in jeans? 
Answer: The secret is to wear your jeans with a top that gives the appearance of a flat stomach. Loose t-shirts, tunic tops, and more excellent alternatives are available. Tight-fitting blouses, tunics, and t-shirts should be avoided. 
Question: Can high-waisted jeans make you look slimmer? 
Answer: High-rise jeans, on the other hand, are nothing to be afraid of when worn correctly and may help you seem instantaneously slimmer. This works because well-fitting, higher-rise denim lengthens the lower body, giving the illusion of a slimmer figure. 
Level Up Your Style With Plus-Size Jeans
It's difficult not to like a beautiful pair of jeans that embrace your contours perfectly. When you are plus size, though, finding the ideal pair might be difficult. Plus-size bodies are available in a variety of forms and curves. Unfortunately, the same characteristics that make our bodies unique and lovely may make finding a nice pair of denim that meets all of your needs and desires challenging. What do you think?