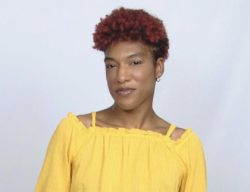 Latest posts by Jessica Ross
(see all)
When I was younger, I hated thick cable knit sweaters because I always thought they were itchy. Little did I know how much depth within their history cable knit sweaters have. I also didn't realize that wearing a long sleeve t-shirt underneath would easily solve the itching problem.
I remember my mom buying sweaters for me during the holidays and me dreading it, non the least. As I grew older, I realized how awesome cable-knit sweaters really are! They not only have cool designs, with some of them having more intricate textures than others, but they are also THE warmest top option during the winter.
Today, cable knits are made with many types of materials, so they aren't as thick, allowing room for you to breathe, number one. They are also fashionable and sleek, compared to the retro sweaters, that were more on the bulky side.
Cable knit sweaters remind me of cozying up during the holidays. The chunky material creates a beautiful look of sophistication, but the functionality of it all is the main benefit. Usually, cable knit sweaters are made with cotton, cashmere, or acrylic.
They can be worn with so many different pant types, including jeans, leggings, and skirts. If styled correctly*, they can even be worn with joggers!
Since I'm a tall girl, I always think about the arm length whenever I buy a sweater or jacket. Simply because I have to make sure it covers my hands.
Sometimes, I even get larger size sweaters and jackets than what I usually wear because I want the material to almost swallow me! I want the sleeves to be extra long so that my hands are warm and so that my sweater looks like it actually fits.
I've scoured the internet to find the best cable knit sweater ideas that are not only full-on nostalgia but also check the boxes when it comes to warm, style, and fit.
Now, each person is different, so I've definitely tried to put together a guide that's all-inclusive. Whether tall, short, or in between, I tried to cover all of the bases. So, dive in! You'll discover just how amazing cable knit sweaters, and hopefully, you'll find one you want to snag today.
Before we dive into my favorite styles, let's take a quick look at why cable knit is actually called cable knit.
Cable ….not the one with the subscription and the cords. haha just kidding
First, let's talk about fish.
Yes, fish and sweaters.
In the 1890s fisherman were looking for a way to stay warm, while at sea. They first started with the "Aran", which was an all-over bodysuit that they wore. This was also a way to identify different fishermen who drowned at sea. This is such a dark note, but a very important one and also a clever one, given the technology during that time (it wasn't so great).
They were also meant to be a way to represent the fishing material they used. The tightly woven collar, armholes, and all of the elements that were thicker were made this way to resist the wind and weather conditions.
The honeycomb design, which is the one we see the most often stands for the worker bee.
More history, before the 21st century: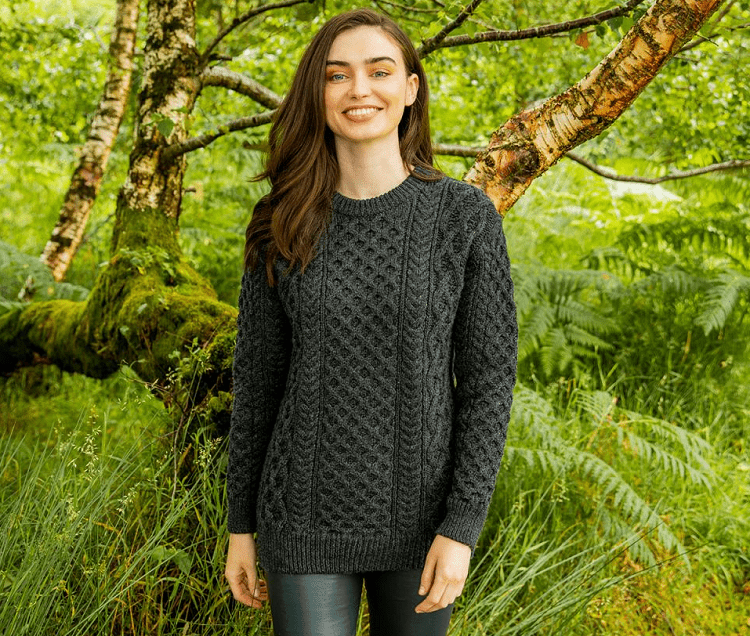 In 1891, the Congested District Board set up a way for poor families to earn a living, by having them knit and weave sweaters.
CoCo Chanel made cable-knit sweaters more popular in the '20s, deeming it a chic accessory worn by women
People started knitting their own sweaters by World War II
Now, let's talk about Chris Evans.
He was a popular actor who brought the most attention to cable-knit sweaters in his movie "Knives Out" in 2019. In the movie, he wore a sweater that became so popular that the official Twitter for the Knives Out movie changed its name to "Chris Evan's Sweater."
Aside from its unique history, cable knit sweaters are usually well made and meant to be more functional than fashionable in cold weather. When it comes to materials, cotton is always the strongest for these types of sweaters, also making them easy to wash. Unlike sweaters made from other fibers, they won't shrink easily.
Popular retailers like GAP usually sell cable-knit sweaters made with cotton. These cotton sweaters are durable and long-lasting but lean more on the pricy side. Right now, for one GAP sweater, you're looking at around $47, which is not so bad when it comes to pricing.
Pros of Buying Cotton, Cable-knit Sweaters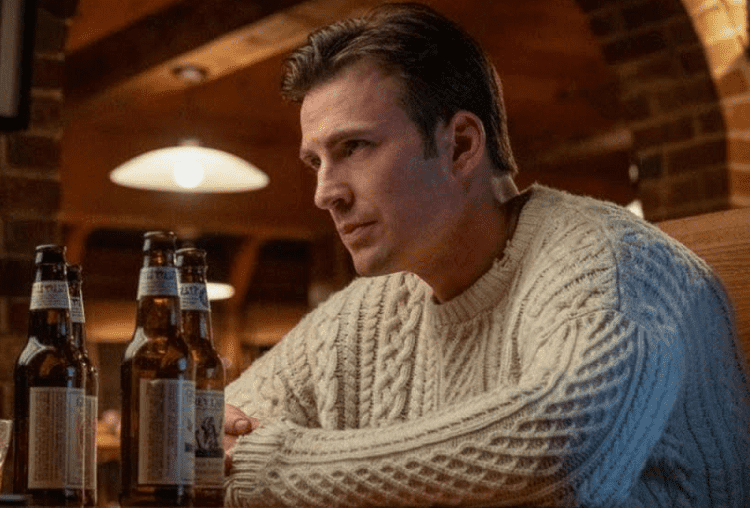 Little stretch
Easy-To-Wash
Cons of Buying Cotton, Cable-knit Sweaters
Price may be a bit on the higher side
Takes a long time to dry
Cashmere wool, which is my favorite since it is really soft, is much higher in price but well worth it. Right now, a cable knit sweater from the Banana Republic will cost you about $300 dollars.
However, the cable knit patterns they currently have on their website are superb! Definitely very striking yet classy and can easily pair with jeans, skirts, and dress pants. J-Crew carries a cable knit in a neutral color that's $148, which I think is really fashionable. Still a bit on the pricier side, but well worth it.
Side note: I love how cashmere wool has a subtle fuzziness to it when you look at the material up-close.
Pros of Buying Cashmere Sweaters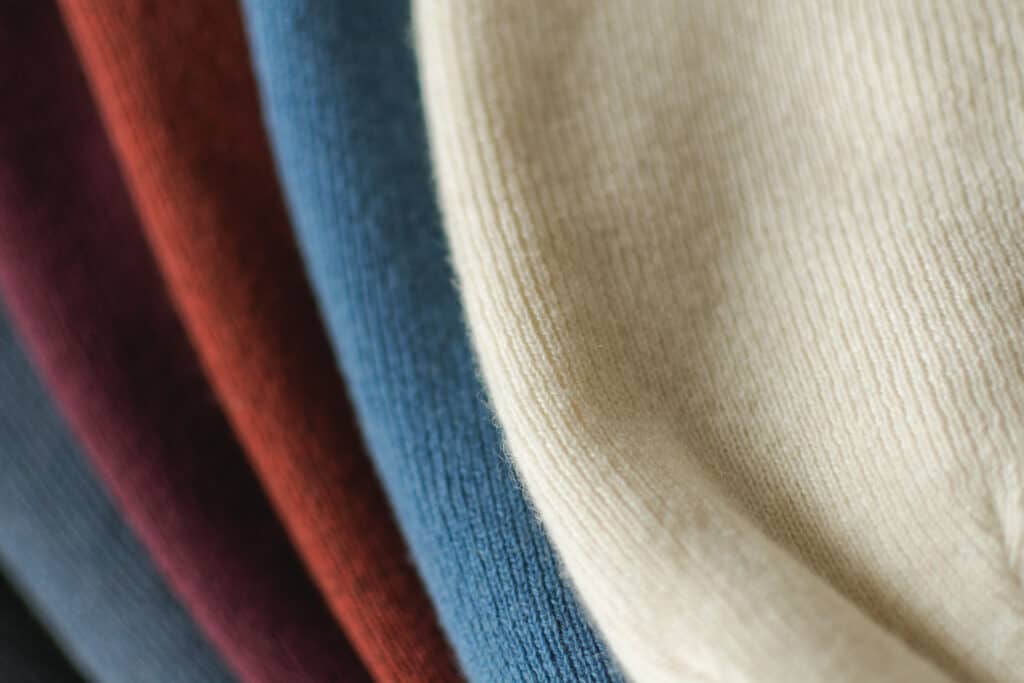 Cons of Buying Cashmere Sweaters
Not as thick, so it doesn't give the extra winter-inspired, chunky cable knit sweater look
Super delicate and not as easy to wash as cotton.
Another one of my personal favorites is wool. Wool sweaters are extremely warm. Wool sweaters are harder to clean, as well, but they will also last for a long period of time. You can keep a wool sweater for years, which is why I wouldn't mind splurging on a few.
Pros of a Wool Sweater
Cons of a Wool Sweater
The last material on the list that I feel is most popular is acrylic. Acrylic materials are used more than you may think, and they make up other pieces we wear that we may not realize like gloves and scarves. The acrylic sweaters are usually on the more affordable side if you want to get more than one. They sell them in fast fashion stores, usually like SHEIN.
Pros of Acrylic Sweaters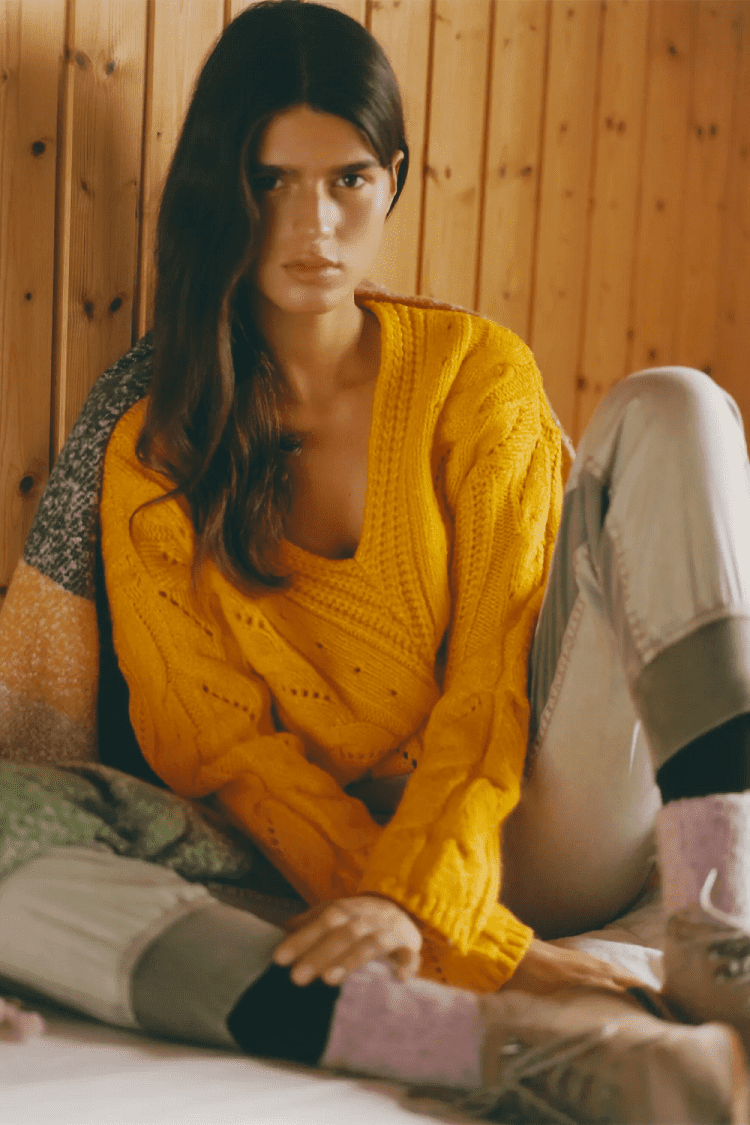 Cons of Acrylic Sweaters
Not as durable
May get damaged in the wash
Now that we have the science of it all down-packed, let's talk about colors. I always say your sweaters have to match your skin tone, simply because wearing a cable knit sweater is such a bold thing to do.
You don't want to be subtle (after all, you didn't simply wear a t-shirt). This is the time you want to stand out and bring attention to your hair and jewelry. I feel like sweaters frame the face and neck.
I'll start with the color that's not mine, which is green. I have more of a red undertone, so I find that certain types of green clash a little bit and make me look grey.
If you have a warm skin tone or a tone that has golden undertones, think Beyonce, J-Lo, and Kate Hudson. You'll do best with orange and yellow sweaters. You can also wear greens!
If you have more of a fair skin complexion or have a blue-ish skin tone, you can wear rich colors like purple. This is the type of skin tone that will look beautiful in pink colors also.
Check out this pink sweater that will look amazing: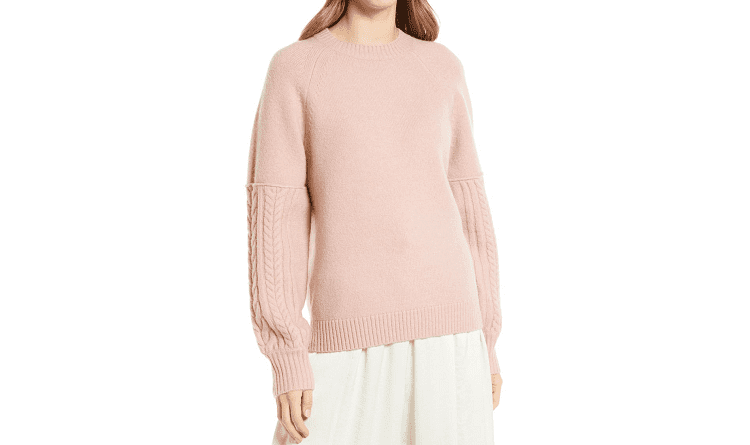 If your skin is more neutral, you can wear colors that are taupe, nude, and tan. You can even wear hot pink.
There's nothing wrong with playing with color, but every part of your cable knit sweater has to be complimented so that you don't look washed out. Add your jewelry accordingly, too. Wear silver or gold, depending on which piece matches your skin tone, as well.
Now that you have the skin tone, we can work on the different ways to style. The best part is you won't need too many layers. All you need is a good pair of jeans and boots.
Bohemian Cable Knit Outfit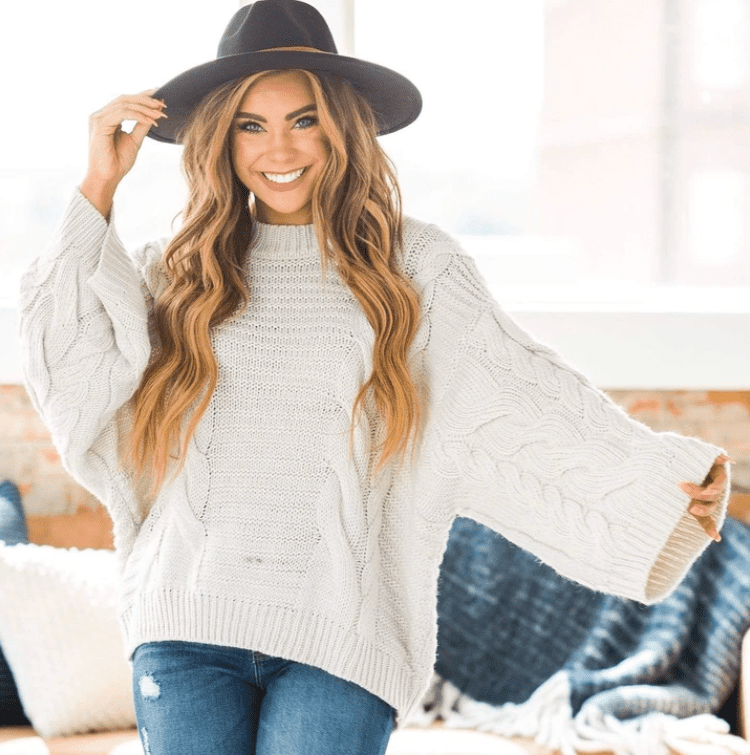 Wear your cable knit sweater with jeans and a wide brim hat. You can tuck your sweater slightly in the front. This look will work best with a thin sweater so that you can tuck it without bulk. With this type of look, it's supposed to be super chic and minimal. When it comes to your jewelry, choose a gold piece if your sweater is a soft pink or brown.
If you wear a black, orange, or green piece, try a silver necklace. Pair your look with western style boots in a complimenting color, black or brown.
Coffee Run Cable Knit Look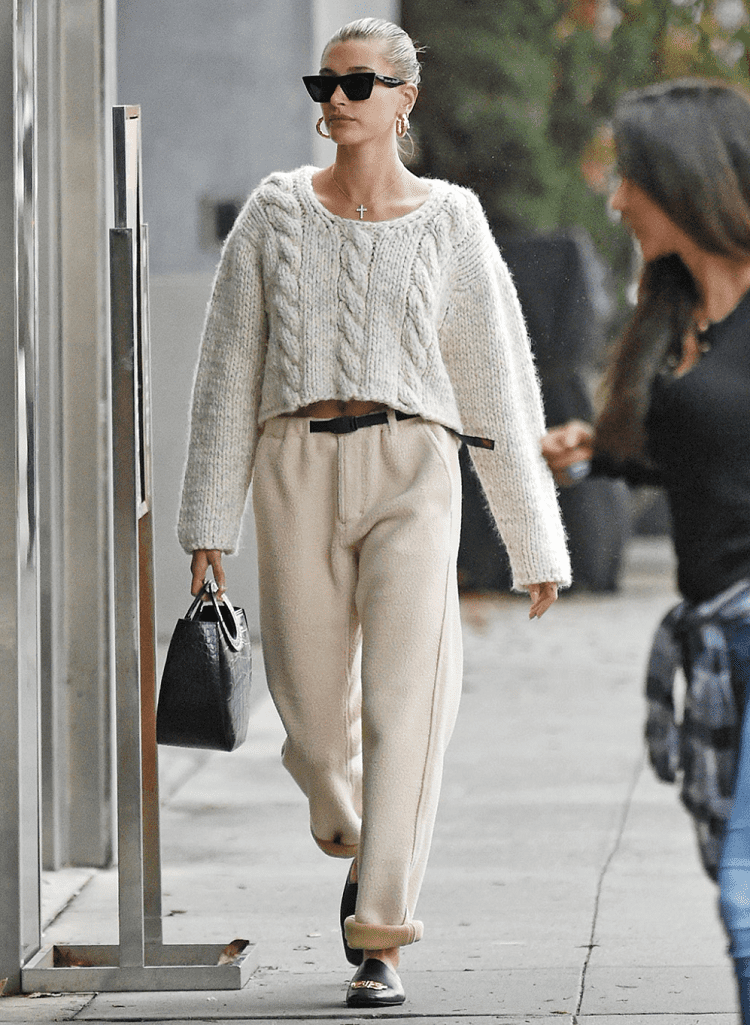 I love an effortless look, the kind that seems as if you didn't try at all to get ready, but somehow you look extra stylish. Try wearing a pair of joggers or comfortable pants. Think of pants that simply have a waistband and are made of movable material.
I always find these kinds of pants at the thrift store and they're perfect for mixing high-end and low-end (thrift or consigned pieces). I love this look because it's not a typical jean look. Although jeans are a great piece to have, you don't have to wear jeans with every single thing. Skip the jeans with this outfit and add some comfy pants!
Winter Inspired Cable Knit Outfit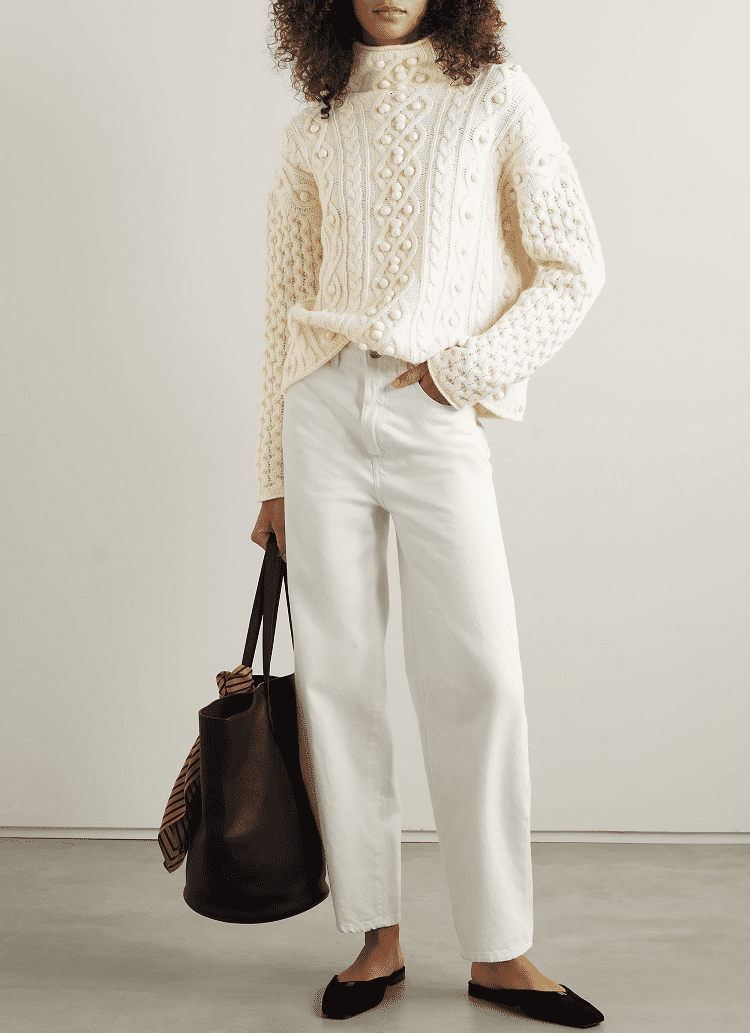 Another piece that I feel looks super wintery and fun is white jeans. Add white jeans with a chunky cable knit sweater. Wear with a statement necklace.
This type of look goes well with a brown sweater, just to keep the look up-to-date. Try to stay away from super loud or harsh colors, but if you do wear a loud color, you can wear destroyed denim, which will give it more character. Add mid-calf or thigh-high boots to this look.
Preppy Cable Knit
Adding a button-up under your cable knit sweater is extra posh, given that it's slightly professional. If you need a look that you can wear to the office, you can definitely wear this on a casual workday or at business-casual events. I find it best to wear a larger size button-up than you usually wear when you wear them under cable-knit sweaters.
I say this because you want to wear your shirt peaking under your sweater. Wear jeans or cigarette pants and add boots. The best boots would be boots that fit snug around your ankles or calves and have some form of stretch to them. Sort of like the Balenciaga sock boots. Since this look is preppy, you can easily wear it with flats or loafers.
Cropped Cable Knit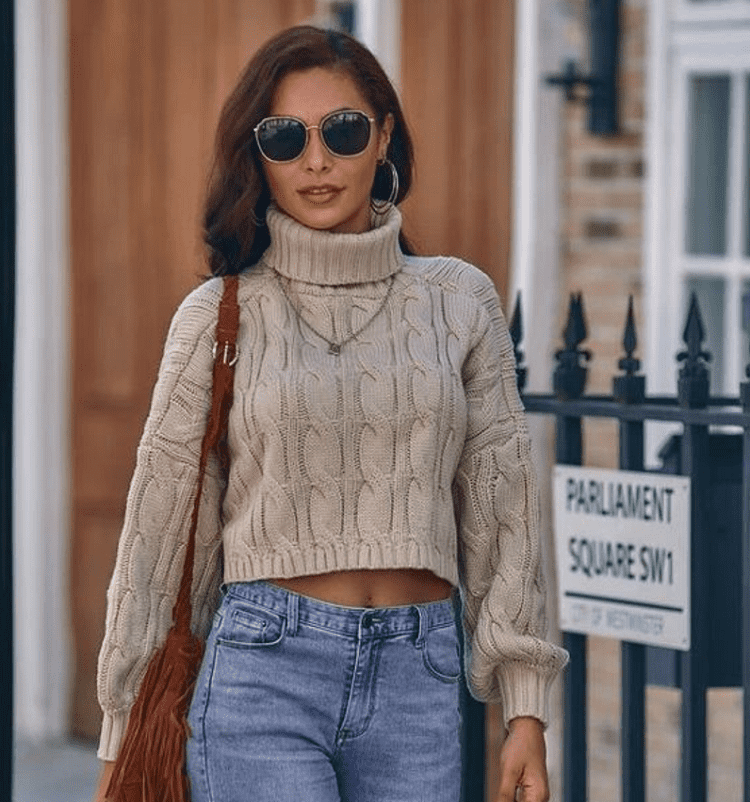 My favorite look is a cropped cable knit sweater. Wear a cropped cable knit sweater with jeans. Try a creme color sweater with medium wash denim. Your jeans can be skinny or high-waist boot cut.
When wearing high-waist jeans, you'll be able to show just a little skin. Or, you can wear a tank or cami underneath. Add booties or short brown boots with this look.
Since there are so many cable knits to choose from, I've picked a few from reputable stores where you can purchase sweaters that will work for all of these outfits.
Top Quality Stores
Ralph Lauren
Madewell
Neiman Marcus
If You Want Quality, but You Still Want to Save a Little Cash
H&M
Oldnavy
Macy's
Express
Banana Republic
When Caring for Your Cable Knit Sweaters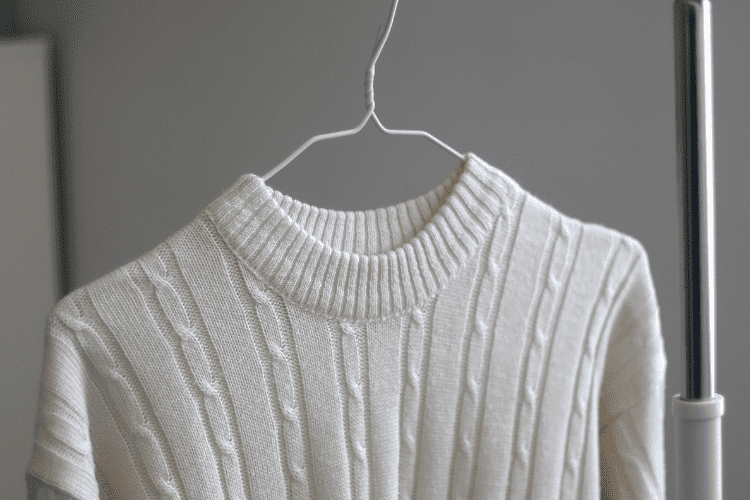 Always handwash
Soak your sweater with mild detergent
Let air dry
Of course, you can throw your sweater in the washing machine, but it is best to still let the sweater dry by air. Putting in the washing machine may cause shrinkage, fraying, or lint piling.
Cable knit sweaters are definitely a fall and winter staple in my book. You have your really itchy ones, like the wool ones that I dreaded growing up, but even then I didn't see the beauty of it all. Cable knit comes from a very strong, sentimental era in a time when fishermen needed to wear them.
They have progressed over the years into one of the most fashionable types of sweaters you can wear that pair with almost any jean color. They even make cable knit sweater dresses!
I would say the best way to choose your sweater is to identify the color that works best for you since your sweater will be the focal point. Once you have the color that works best for you, choose a sweater that will be best to wear with your bottoms, depending on the occasion.
My favorite of them all is the cashmere sweater since i's so flexible and you can tuck it. You can also easily pull it over a button-up and have a classic, preppy look. Overall, cable-knit sweaters will remain a staple.
FAQs
Question: What is a Cable Knit Sweater?
Answer: A cable knit sweater is a type of sweater that is knitted in a twisted pattern called "cable". They were first created in Ireland to accommodate fishermen, who needed protection against harsh weather conditions.

Currently, cable knit sweaters are used for fashion and warmth during the fall and winter seasons. The knitted patterns have evolved from the original honeycomb design into more intricate ones.
Question: Are Cable Knit Sweaters Warm?
Answer: Cable knit sweaters are usually knitted in thick patterns and are made of traditionally warm materials like wool. You can always layer with long sleeve t-shirts and collared shirts underneath for extra warmth. Since they come in different materials, the warmest would be coarse wool.
Question: Are Cable Knit Sweaters in Style?
Answer: Modern cable knit sweaters come in different fashionable styles, including cropped and sweater vests. You can pair your sweaters with jeans and boots. Or, you can wear them with loafers and sneakers. Fashion retailers have a wide array of sweater types to choose from, including ones made of cashmere and cotton.
Conclusion
On the whole, the idea is to wear cable knit sweaters that fit your complexion and the look you're going for, for the day. If you're having a quick run to the store or coffee shop, try a sweater with joggers.
When it's time to get a bit more dressy, wear your sweater with skinny jeans and boots. If it's a professional day, wear your sweater with a button up or collard shirt. Either way, cable knit sweaters are one of the top necessities for fall and winter!
Recommended reads: