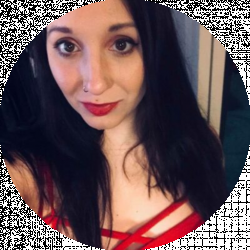 Latest posts by Stephanie Jensen
(see all)
There's a reason why Levi's is the most trusted name in the denim world. That's because Levi Strauss created the very first jean ever. That was in the mid-nineteenth century — and ever since then, Levi's jeans have been the go-to jean brand. Even I swear by Levi's and I don't even like jeans as much as tights.
Another reason why Levi's is still the go-to brand is that they follow trends. For example, high-waisted jeans are the latest fad, and Levi's responded by creating Ribcage Jeans.
In short, Ribcage Jeans are Levi's own line of high-waist jeans that, well, really go up to right below your ribcage. They're perfect to wear with crop tops and more. While the only ribcage jeans out there are Levi's, there are other popular and quality high-waisted jeans to try.
Here, we will discuss everything you need to know about Levi's ribcage jeans as well as some popular alternatives.
Why Are They So Popular?
First things first, let's answer this essential question: why are Levi's Ribcage Jeans so trendy? Well first off, they're flattering. No matter what body type you have, they make your waist look smaller and accentuate your butt. Plus, they won't give you camel toe, which is a common problem that women have with tights.
Another reason why they're popular is they go above the belly button and don't move down. I tend to have that problem with yoga pants; they're high-waist until you start walking, and then they sink. I've even had this problem with jeans.
The hourglass figure is the ultimate trend now. Women who don't have this figure are trying to create the illusion of curves while women who have an hourglass figure are accentuating their natural curves. While leggings can do the trick, the truth is we all want that reliable pair of jeans. Levi's jumped on the trend to accentuate natural curves by using their signature sturdy denim.
Ribcage Jean Styles
The classic Ribcage Jean style is straight-leg jeans. However, they also have Bootcut Ribcage Jeans. These are perfect if you want the ultimate 70s look.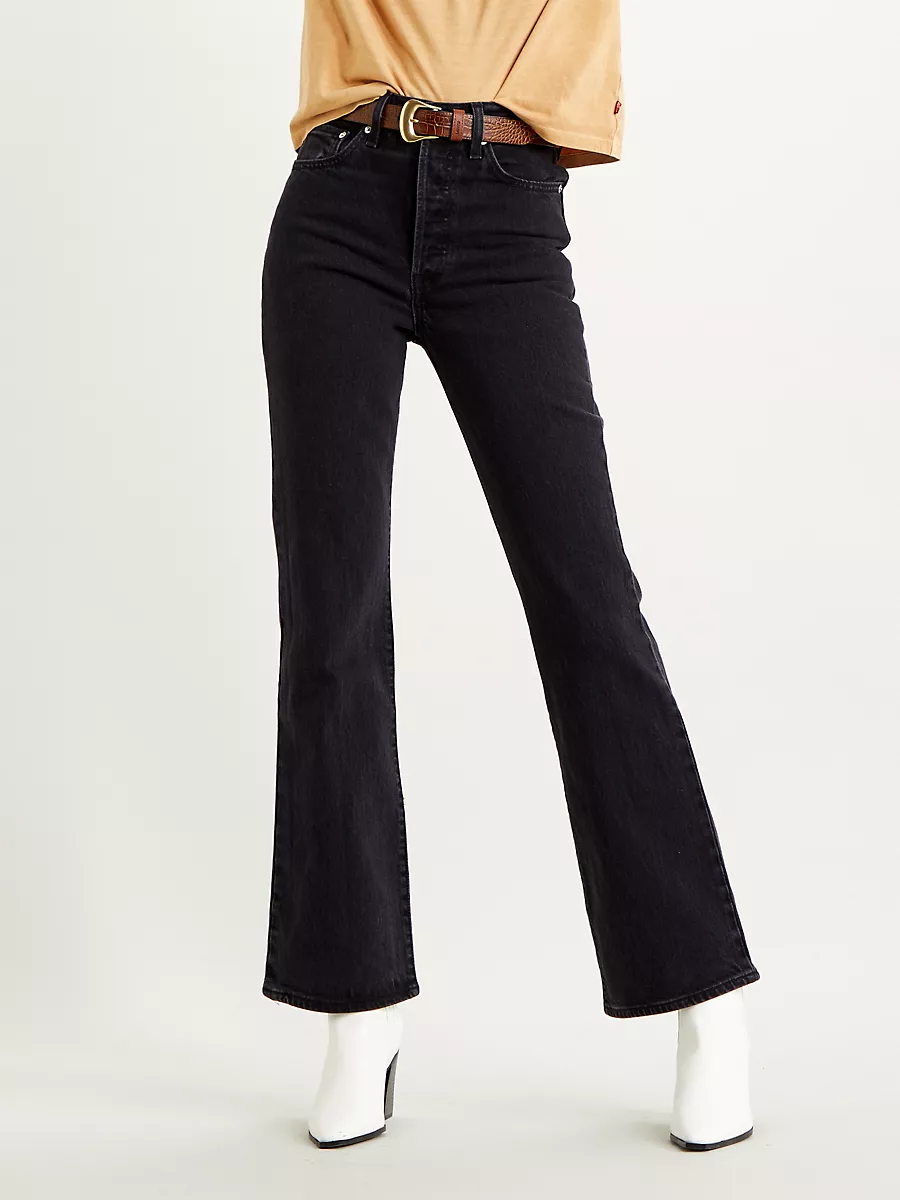 Sizing and Fit
I also like Levi's because they're inclusive and have sizes for practically anyone. Their sizes for women start at 0 and go up to 26W. If you're unsure of your size in Levi's, I suggest using their size guide. I love how it's detailed and tells you what to measure and how to do so.
I enjoy sewing and learned how to size clothes that way. As an online shopping guru, I suggest sizing yourself regularly with a tape measure. If you can, size yourself every time you order clothes. Then, compare your sizes to the ones on the size chart. That's because your size is likely different across all stores.
Do They Carry Plus Size?
Yes, they do! Ribcage Jeans Plus Size starts at 14L and ends at 24L. Keep in mind, this is just for the regular fit. You can find some plus sizes in the other Ribcage Jean styles, such as Bootcut. Check out the best plus-sized jeans here.
Levi's Ribcage Jeans Fit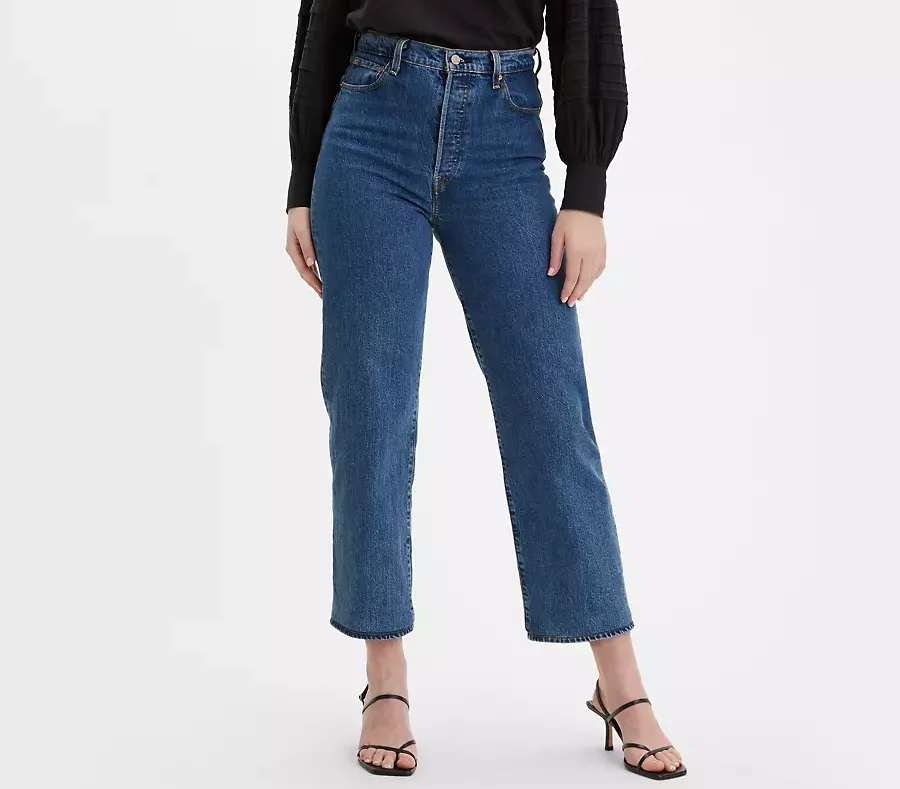 Keep in mind, Levi's Ribcage Jeans may feel tight on you. Again, that's because the Ribcage Jeans are meant to make the waist look smaller. To do so, they bring the belly in and accentuate the hips. So even if you buy the correct size and your jeans are still too tight, don't be alarmed. In addition, many wearers have reported the jeans will eventually stretch out.
So, how do you know if your jeans are truly too small? If you're in-store, I suggest trying a size larger to truly see if the jeans are too tight.
If you're buying them online and don't mind returning a pair, buy your size and the size larger. But if you don't want to return a pair, measure yourself and match those measurements with the closest size that Levi's offers. As long as you do this, you should find the correct size.
Keep in mind, the jeans should be tight around the waist, NOT the legs. If they're tight around the legs, they're not the right size. Levi's Ribcage Jeans are straight-leg jeans, NOT skinny jeans. However, they do have other high-rise skinny jeans.
Colors
Another reason why the Ribcage Jeans are so popular is you can find them in a variety of different colors. Like all Levi's jeans, they offer several shades of blue. For the sake of simplicity, I'm referring to the classic Ribcage Straight Ankle Jeans for the colors.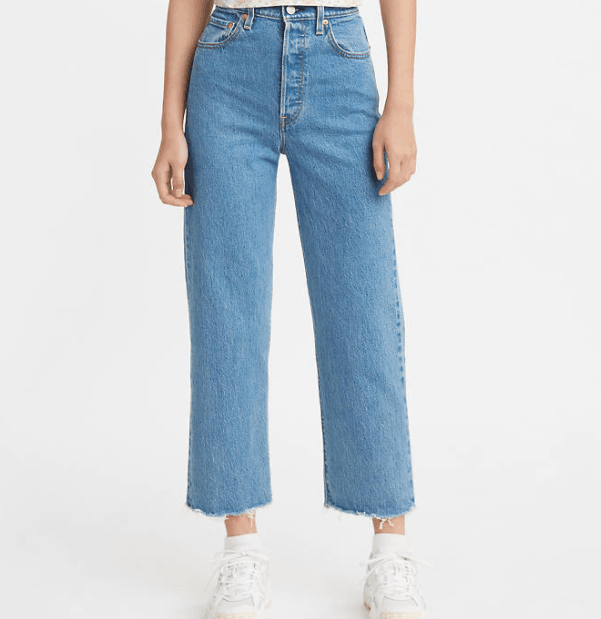 They're currently available in the following shades of blue:
Light wash
Medium wash
Dark wash
In addition, they offer several varieties of these different washes. I suggest looking through each of them to find the best color for you.
In addition to blue, Levi's offers a plethora of different colors. These include:
Black
White
Gray
Pink
Yellow
Patterned
Quality
Levi's has always been renowned for the quality of their jeans and the Ribcage Jeans are no different. One reason why I always wear Levi's is their jeans are extremely comfortable. The jeans are 99% cotton and 1% elastane. Elastane is the material that makes your clothes stretchy and flexible, which is why you can still move around easily in Ribcage Jeans.
But because they're 99% cotton, they may feel a little rough. Levi's used 99% cotton so they feel more vintage. Just so you know, jeans from the 60s and 70s were primarily made of cotton.
Another reason why I love Levi's, and again the Ribcage Jeans are the same, is how the color doesn't bleed. I notice this happens even with well-known name brands. I own multiple pairs of Levi's jeans in various colors. None of them ever bleed.
Fortunately, the jeans also won't shrink in the wash. I still suggest washing them in cold water and letting them air dry if you're concerned about them shrinking.
There are a few issues. Yes, they are tight on the waist. They also leave marks on your belly. I hate that but again, it comes with the territory. You buy jeans, they will leave those uncomfortable marks on your skin. Just the way it is. In addition, it's not uncommon for some threads to become loose, but that also shouldn't impact the structure of the jeans.
Alternatives
While Levi's Ribcage Jeans are a serious trend, at the end of the day, they're only high-waist jeans. You can find different variations at practically any store. So, what are the best alternatives to Levi's Ribcage Jeans?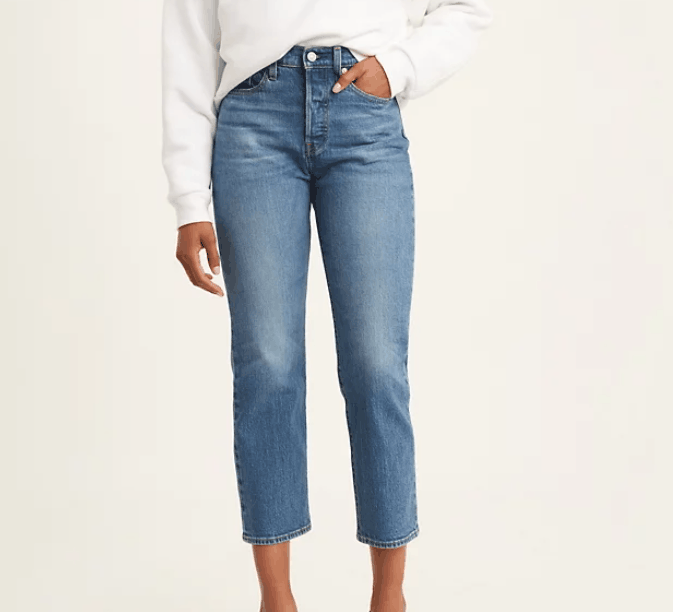 In addition to the Ribcage Jeans, I often saw the Wedgie Jeans. First I have to say, what a weird name. Wedgie jeans? Doesn't sound appealing at all. Fortunately, it doesn't seem like they give you a wedgie at all (phew). But they make your butt look amazing.
While the Ribcage Jeans are very vintage, the Wedgie Jeans have a slightly more modern cut. While they're a high-rise, they're not as high of a rise as the Ribcage Jeans. They hit right at the belly button, so they're still pretty high-waist. Like the Ribcage Jeans, they're also stretchy and extremely comfortable.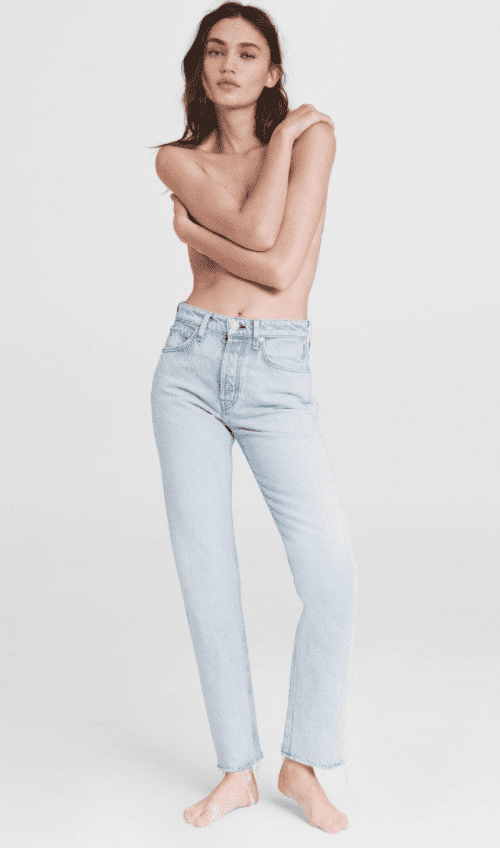 The closest thing to the Levi's Ribcage Jeans I could find is the Rag & Bones High-Rise Slim. These have a very classic and vintage look that flatters any figure. These jeans come in a variety of different colors, including brown and black.
The only thing I will say is the price. Even on sale, the Rag & Bones Jeans are $225 (can't tell if that's USD or CAD). The Levi's Ribcage Jeans are CAD 108/ USD 85. Seems like a better price, honestly.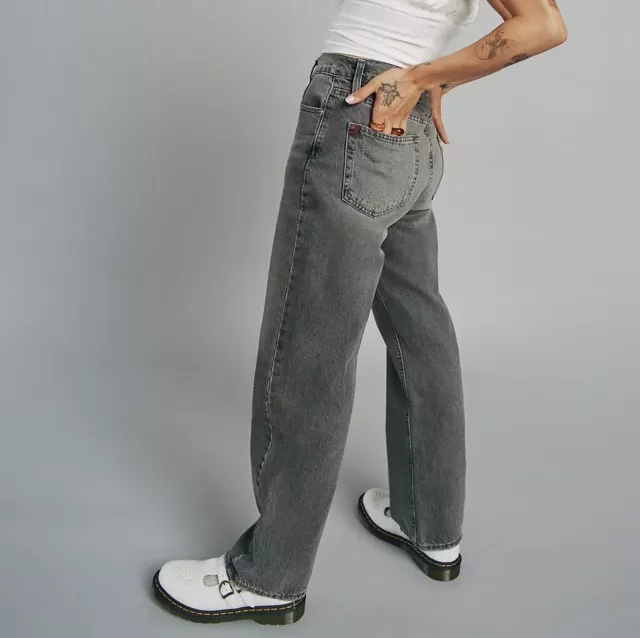 BDG's Cowboy Jean line is inspired by jean trends from the 90s. At CAD 59, they're cheaper than Levi's jeans and also have a similar fit. They're very relaxed and comfortable, and you'll experience these benefits for the long term. The material is very soft and hits below the ankle. At 12″, they're very high-rise and hit the natural waistline.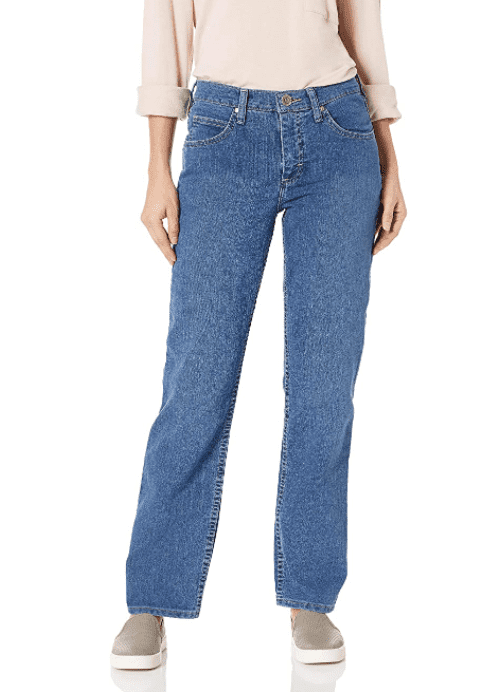 While I wouldn't consider these are high-rise as the other jeans on this list, these will work if you want something affordable. These cost CAD 35, but the price varies by color. Either way, they're still cheap.
You can buy these on Amazon as well as in major stores like Walmart. Many people like them because they stretch a lot and are very comfortable. But reviewers are recommending you buy a size or two bigger since they run small. Based on my measurements, I would be a 12 (I'm 5'3″ so I would order a 12 petite). I usually wear a 12 or 14 in jeans, so this is right along with my normal size.
That and the description says "true to size," so I'm not sure about the "buy bigger" advice.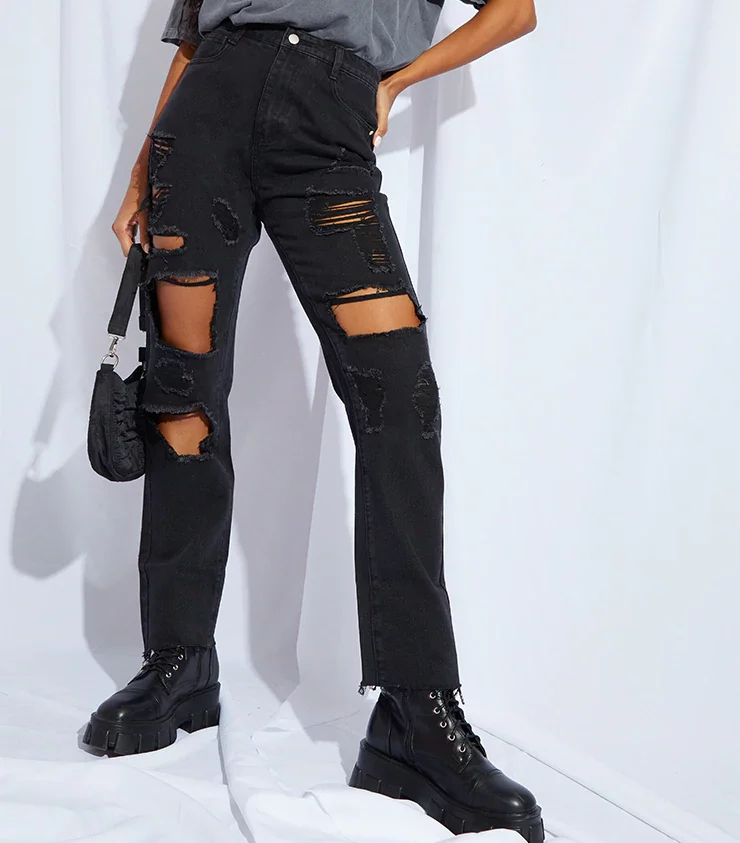 If you're truly looking for fashionable budget jeans, then pick these jeans. They're currently on sale for $25, so you can't go wrong. I also love the ripped look, since it makes your jeans look super edgy. These jeans are available in different colors, the black is featured here.
FAQ
Question: Are Ribcage Jeans Flattering on All Body Types?
Answer: Many people believe that ribcage and high-waist jeans are flattering on all body types.

The unique straight-leg style of Levi's Ribcage Jeans makes your butt look amazing while slimming your thighs and legs. Because they make your waist look slimmer and accentuate your hips, they create the illusion of curves on smaller-framed women while supporting existing curves on hourglass and triangle figures.

Since they're stretchy, they fit a variety of body types.
Question: What Should You Wear With Levi's Ribcage Jeans?
This video has excellent style advice for Levi's Ribcage Jeans. If you don't feel like watching the full video, here's a quick breakdown of the top fashion matches for the jeans:
Plain t-shirt, tucked in
Sweater
Blazer
Leather jacket
Graphic t-shirt (she tucks her in but I wouldn't, I like showing off the t-shirt design)
Long-sleeves flannel shirt (the model ties her, which is cute and I would wear that, but I would also add you can button it and tuck it in)
Coat
Dress shirt
For accessories, the model recommends:
Matching purse
Sunglasses
Simple jewelry (small chain necklace, etc.)
Question: Are Levi's Jeans Worth the Money?
Answer: I thnk so! Levi's last such a long time and they're extremely comfortable. They're available in practically all styles, colors, and Levi's makes jeans for a variety of sizes including a generous plus size selection. They also don't lose their shape, don't shrink or stretch out, and the colors don't bleed.

Also, Levi's aren't THAT expensive. For less than $100, you get an amazing pair of jeans that will last you years. There are jean brands that charge way more than this.

Looking back at my past receipts, I spent an average of $60 on a pair of Levi's jeans. Then again, I look at the sale section first and use their special offers (I get notifications from them because I subscribe to their email list).
I don't have ribcage jeans (yet — going to order myself two pairs!) but I have a variety of other Levi's jeans and I love them all.
Question: Do Levi's Ribcage Jeans Run Small?
Answer: Many reviewers say yes, the Ribcage Jeans do run small. If you want to be safe, buy a size up. Again, I always sized myself by Levi's measurements on their size guide and never had a problem buying my exact size.
Bottomline
Levi's is the biggest name in the denim world and they're my personal go-to brand for jeans. Out of all of Levi's jeans, their Ribcage Jeans are some of the trendiest. These jeans are a straight-leg style that goes all the way below your ribcage and covers your entire belly button.
The Ribcage Jeans are also popular because they're available in a wide variety of sizes and colors. They also feature a bootcut style, which I love.
However, there are many high-waist and straight-leg jean alternatives to Levi's Ribcage Jeans. I suggest looking through the alternatives before buying a pair of Levi's.
Further Reads: