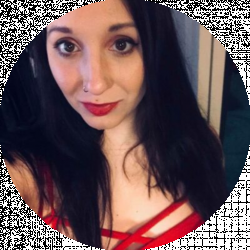 Latest posts by Stephanie Jensen
(see all)
It's the end of October, and we're all taking out our favorite sweaters. Even though sweaters can be worn all year round, we tend to save our sweaters for the fall and winter. And with Christmas around the corner, you're likely taking out your red sweater.
Red sweaters are appropriate for outside of the holiday season, too. The color red is very sharp, and sweaters are always stylish.
But how do you style a red sweater? What should you wear a red sweater with? Are red sweaters ideal for fancy events? We will answer these questions and more. Here are some outfit inspirations that you can wear with a red sweater.
What to Wear With a Red Sweater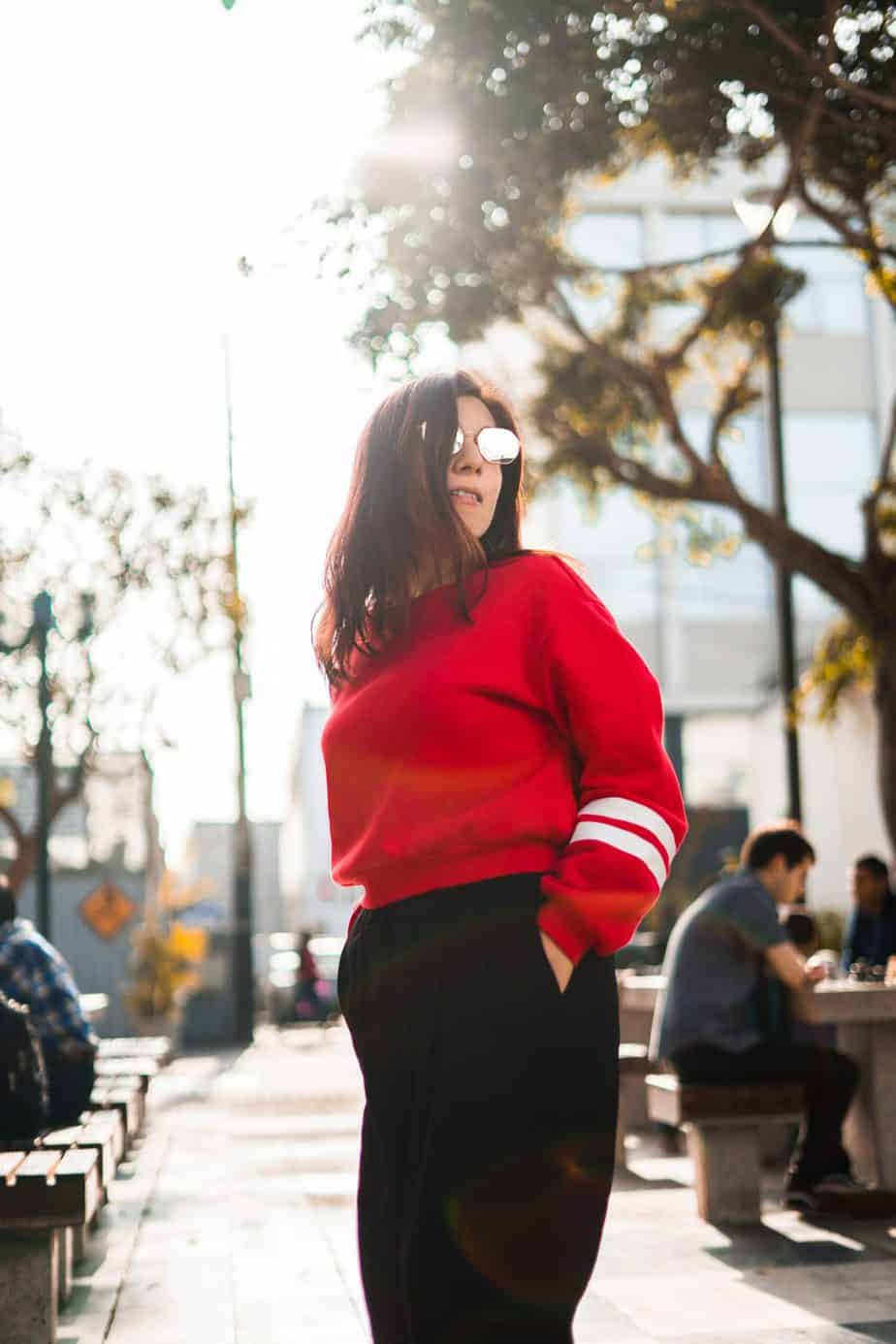 What should you wear with a red sweater? Here are some of our favorite looks!
Bottoms
Since you will usually take your sweaters out when the weather is cool, a good pair of jeans will always work.
When I wear red, I like to choose black pants. Red and black is my favorite color combination. Black also balances out the intensity of red, and the color black makes your legs look long and slim. If you don't have black jeans, blue jeans are always a stylish choice.
While skinny jeans will always work, you can pair your red sweater with a pair of straight-fit or flare jeans for a more unique look. Ripped blue jeans also look funkier.
If you're looking for bottoms appropriate for the workplace, I suggest choosing white slacks. The look is relaxed yet polished, ideal for just about any workplace.
Accessories
You'll want to play up your red sweater with some accessories. To start, let's focus on some fall and winter accessories. Scarves will keep your neck warm and are also playful when styled right. Choose a neutral-colored scarf, such as in white or black, or best results. If you want a patterned scarf, I love the way a plaid scarf looks with a red sweater.
If the weather isn't too cold, you still have many accessory options. I personally love the way a hat looks with a skirt. Choose a black fedora if you want to look artsy. If you want to be bold, wear a floppy hat. Props if you can find one in red to match your sweater!
As you can tell, I love the black and red color combination. That's why I love the look of a plain, black purse with a red sweater. Plus, the purse won't take away from the sweater.
Shoes
Again, your options are endless. If you want to take your sweater outfit up ten notches, wear heels. If you can rock red heels with your red sweater, all props to you.
But since the weather is cold, boots are usually the best shoe for a sweater. Again, you know me and black with red. Black ankle boots are always a stylish choice and literally match with everything.
Undershirt
Do you want to wear your red sweater to the office? If so, wear a button-down undershirt. A white button-down shirt will layer your red sweater, giving your outfit a more professional look.
Coat
If you're wearing your red sweater during the wintertime, you'll want to wear a warm coat with it. This will not only keep you warm but will create very attractive layers. It's best to choose a coat in a solid-colored, neutral tone such as gray or white.
Different Types of Sweaters and Trends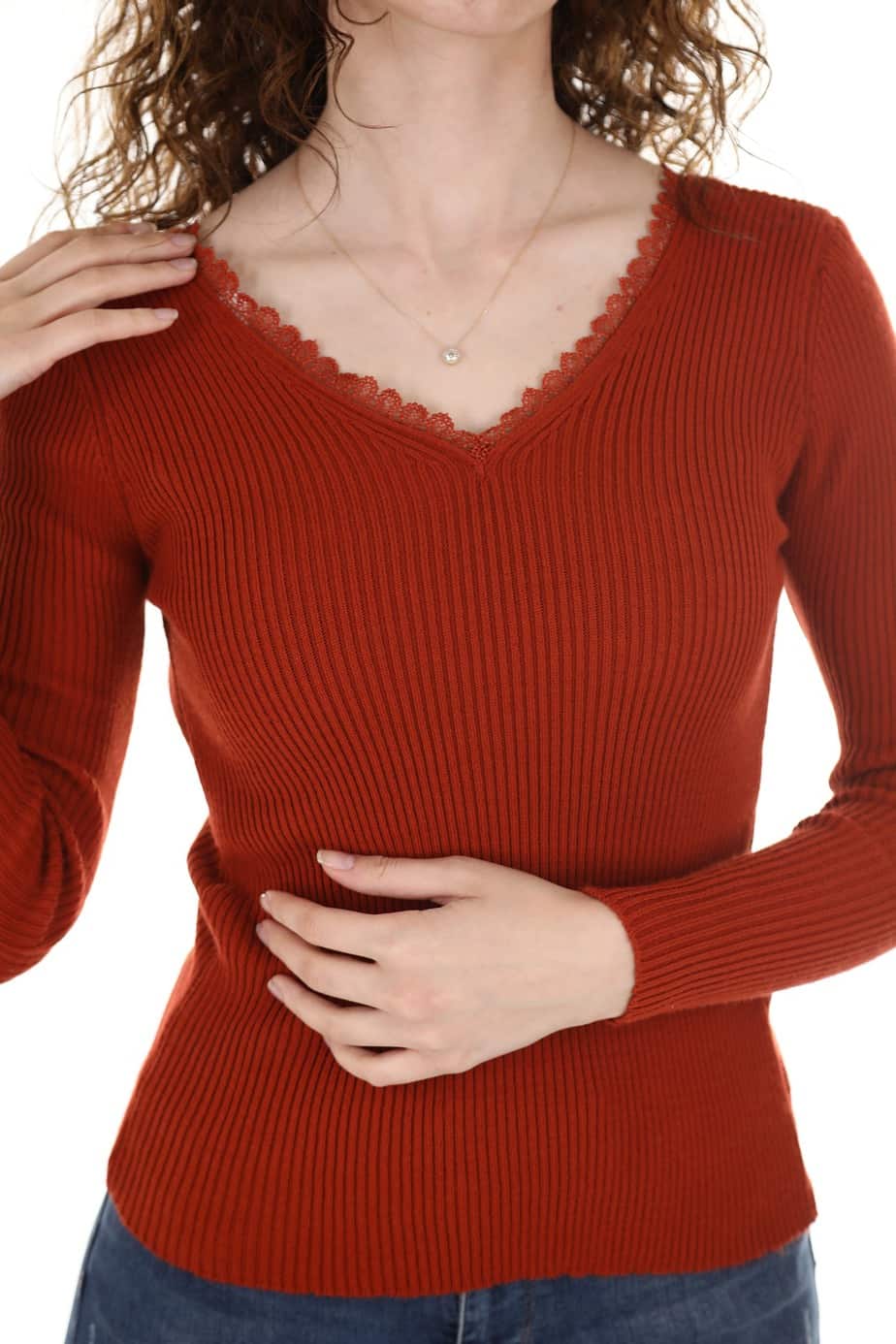 There are different types of sweaters, and it's important to identify these various sweaters. This will ensure you pick the best sweater and one that you will love.
Crew Neck
Crew neck sweaters are easily identified by their round neckline. This is one of the most common types of sweaters and one of the most versatile options. Just about anyone looks good in a crew neck sweater, and you can easily find one in red.
V-Neck
V-neck sweaters have a neckline that's shaped like a V. However, some designers get creative and may angle the neckline slightly differently. These sweaters are perfect if you want to look a little more sensual since this is such a flattering neckline for most women. A red V-neck sweater is perfect for a date if the weather is cold.
Pullover
A pullover is a type of sweater that you, well, pull over your body as opposed to buttoning or zipping it closed. Pullover sweaters don't have an opening in the front and are one of the best options for very cold weather.
Cardigan
Cardigans are open in the front and close with either buttons or even a zipper. Compared to different sweaters, these are usually tightly fitted. Cardigans are the perfect option if you enjoy layering since you'll usually wear a camisole or undershirt with your cardigan.
Distressed
Distressed sweaters have either intentionally or unintentionally been altered to show signs of wear and tear. Some common examples of distressing in a sweater include rips, cuts, and fraying. The sweater can be distressed throughout, including at the hem and cuffs.
Our Favorite Red Sweater Looks
Now that you know all about red sweaters, it's time to style them. Here are our favorite looks for inspiration.
Fun Pattern
https://www.instagram.com/p/CMC_ljgpR5i/
I absolutely love this fun and colorful sweater from @paradiseknits! The sweater is red but features multi-colored stripes in green, pink, orange, and yellow.
The knitwear is also lovely and shows subtle distressing, giving this sweater a bit more edge. This is the perfect sweater to wear during a family holiday event or when you want to cuddle up in your favorite sweater when it's cold outside.
Boho Chic
https://www.instagram.com/p/CLhghD_HF8Q/
I love this boho style that @acjarrett is rocking. Her long cranberry cardigan is especially lovely. She styles it well with a beige turtleneck, cuffed jeans, and black boots. Her outfit is totally chic but also looks warm and comfortable. Plus, from reading her caption, all of the clothes she's wearing are ethical, organic, and sustainable.
The outfit that @emma.marchal is wearing is simple but still looks stylish! I absolutely love her red Ralph Polo sweater — and red is a great color on her. She matches them with light blue ripped jeans and white sneakers. This simple outfit is very fashionable but also sporty and casual.
If you want to turn up the fun with your red sweater, use an outfit like this one by @thewhimsysoul as inspiration. She wears her red sweater with a long purple dress, beige heels, and a leopard print clutch. You can also take this same approach with a skirt instead of a dress.
Okay, I thought I saw everything in fashion, but I guess not. @dukyana is wearing super chic red sweater thigh-high boots! They match perfectly with her red sweater tunic. She wears the boots over jeans, looking warm yet fashionable. Reading the description on the post, it looks like she knits this herself!
I'm absolutely in love with this crop top trend, and this is a great way to wear a red cropped sweater. The model pairs it with baggy gray pants for a casual look that's perfect to wear when spending the day with friends to lounging around with your partner. Image credit: @neidesboutique.
I absolutely hate those tacky Christmas sweaters, but I can see myself wearing this one. Instead of cheesy Christmas designs, this one features a unique white and black pattern on a warm red sweater. The model matches the sweater with blue jeans, a black purse, and a black beret (which I absolutely love). Credit: @suzannebetro_style.
Are you looking for a way to wear a red sweater to the office? I love this look by @annascapsule. She wears her red sweater with a slick black trenchcoat, jeans, and black boots. The bit of red from the sweater makes this outfit look that much more festive and exciting. If your office doesn't allow jeans, I suggest wearing slacks instead.
Here's another office look idea! @musicteacherootd wears a long maroon cardigan with a white-and-black striped blouse, black pants, and knee-high black boots. I absolutely love the way that red looks with neutral-colored patterns. It adds a bit of color but still doesn't take away from the pattern.
I love this school girl-esque outfit that @cze_cze_czekoladowa_wa is wearing. She wears her red sweater with a black plaid skirt, black tights, and knee-high boots. Even if you're not trying to find a new school uniform, this is the perfect outfit for the fall. It's also appropriate for most offices, as long as the skirt is long enough.
FAQs
Question: Where Are the Best Places to Find a Red Sweater?
Answer: The best places to buy sweaters include:

Urban Outfitters
Abercrombie & Fitch
Lulus
Missguided
H&M
Free People
Amazon
Uniqlo
Aritzia
Zara

I also suggest looking into handmade sweaters if you truly want great quality. You can find a lot of great hand-knitted sweaters on Etsy.
Question: What Colors Match With Red?
Answer: I suggest matching your red sweater with these colors:

White
Blue
Black

I honestly think red matches with practically every color. I personally don't like red and beige together, but that's just me.
Question: How Should My Sweater Fit?
Answer: The average sweater should go down to your hips, ideally below the beltline. The exception is for tunics and sweater dresses, which are significantly longer.

Most people go up a size in a sweater. I do the same thing. But while you'll want some wiggle room in your sweater, you don't want the sweater to be too big. You'll end up looking dumpy, especially if you wear it with baggy pants.
Keep in mind, cardigans are typically more fitted than other types of sweaters. So don't be alarmed if your cardigan is tighter than another sweater. Some even people go down a size when buying a cardigan because they like the tighter look.
Question: Why Are Sweaters So Warm?
Answer: Sweaters are mainly warm because of the material. Most sweaters are knitted fabric. Knitting fabric is more comfortable and even warmer than woven fabric. Many sweaters are made of wool which stays warmer than most fabrics. However, those who live a vegan lifestyle can opt for a sweater in a different yet equally warm fabric, such as cotton. There are also faux wool and faux cashmere options.
Question: How Can I Retain the Red Color in My Sweater?
Answer: First and foremost, always follow the manufacturer's guidelines when caring for your red sweater. Otherwise, there's more you can do to ensure your red sweater never fades.

It's actually best to handwash your sweaters, but I understand that not everyone will do that (I do but that's just me). First, wash reds with reds, only wash your clothes on a normal cycle, and turn your sweater inside out when washing. Avoid putting the sweater in the dryer if you can. You can also wash your sweater with salt or baking soda to ensure your red sweater stays vivid.
Question: Are Red Sweaters Expensive?
Answer: It depends. Handmade sweaters are expensive because of the labor that goes into making the sweater. Certain brands are also more expensive, such as Ralph Lauren, or if you buy your sweater from a prestigious store such as Saks Fifth Avenue.

But overall, you can get a high-quality red sweater for under $100. Look for specific stores such as Banana Republic, Urban Outfitters, American Eagle Outfitters, and Kohl's for the best clothes at low prices. You can also find red sweaters for extremely low prices at Walmart. If you prefer shopping online, shop at stores such as Zara and Fashion Nova.
Bottomline
With fall here, it's time to take out your favorite sweaters. This is also a good excuse to go shopping for a new sweater, and we recommend you look for a red sweater. And the best part? They're easier to style than you think! We hope our guide helped you pick the best red sweater for you and inspired you to style a red sweater.
Recommended Reads: