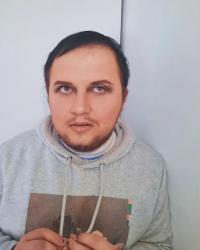 Latest posts by Jamie Tugayeva
(see all)
Sweater weather comes every year, always on time for us to need a cozy warm orange sweater. Neon colors are all the rage these days as the bright statements you need to have in your wardrobe. That said, even if you shy away from the bright orange shades and prefer a more toned-down variation, an orange sweater will bring you into a perfect autumn-winter fantasy. Remember: knitwear is always both trendy and timeless! As far as sweaters go, many find patterns interesting, others like the same color all over, while some go for something unique altogether. Below we have listed the best orange sweaters for you to choose from or get inspired.
Whether to pair it up with your favorite jeans, pants, or skirt, an orange sweater is always good to have in your wardrobe. Orange doesn't really fall out of style regardless of the season and can be versatile between casual and strict, depending on what you want it to be.
Orange is surely a color closely associated with the fall season, and it has inspired many designers from both high street and high fashion schools around the world. It could be a bit of a cliché take, but that doesn't stop anyone from choosing orange all over again to match the gorgeous trees outside!
Orange sweaters, just like the color orange as a whole, can be paired up with other elements of an outfit in many ways. Valentino's controversial pairing with lilac in recent shows is a great example, together with Raf Simons during his Jil Sander tenure, who used orange as a touch of color in his usual gray-black-white world of fashion.
Why buy an orange sweater?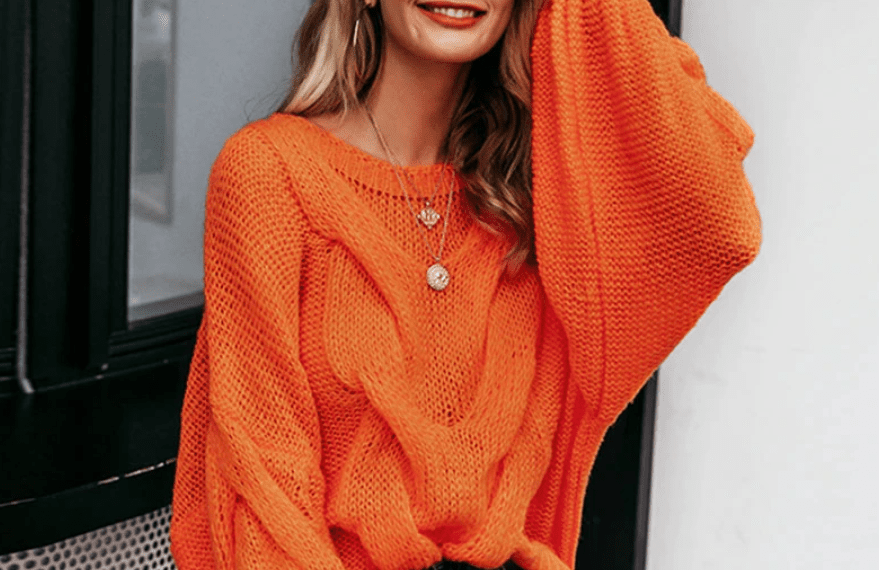 If you are a trend follower, you know that orange is in style and will be for many fall seasons, so the right orange sweater is a keeper for many years. Whether you come from the school of sustainability or fast fashion, you still have to think ahead to figure out what will be useful and can be used in the future rather than just as a cheap seasonal gimmick. We're striving for things we can still use later. A sweater is a very versatile companion needed in every wardrobe regardless of the style. Sure, some people can get through life without essentials like jeans, but it's pretty hard to get things going without a sweater. If the cold weather requires a solution, why not match with what's outside your window?
Orange gives us a warm fuzzy feeling, from different psychological connotations and movie references such as Wes Anderson's palettes in his symmetrical frames to nostalgic sepia-tinted photos as time goes by. It is a soft nostalgic color that relaxes us.
How to style an orange sweater?
Despite not seeming like it at first glance, an orange sweater is a very easy thing to combine on a daily. The fall/winter season is rather long, so you will get enough mileage from your orange sweater, combine it with all different shades of your wardrobe and decide which mixes you love the most! It can be worn for the office, school, college, university, and other official settings. The right orange sweater can be a statement piece or a casual look confirmation, able to stand out or make sure to keep it look classy.
Wearing an orange sweater with jeans seems like a very straightforward and solid choice, with any cut from baggy to spray skinny. Think ahead if you want a baggy look you feel confident in and that works for you. Many prefer tight fit to highlight their figure. There is no right or specific way to wear a sweater, but there are surely enough of them to shake it up and never get bored.
Your orange sweater can also be worn through other seasons like spring or a cold summer's night, so it might not be the first thing to go when the weather gets warmer either. A skirt of different warmth will also be a good idea to pair up with, if the sweater is a heavier material, then the skirt can go for lighter just to simply balance the temperature out and make sure you don't feel too warm, sweaty, or cold.
A broch is a classic solution to make sure your orange sweater becomes the center of attention yet stays very chic. Different brochures can be found at many stores or even taking a family heirloom broch pairing up with an orange sweater could liven up your daily look and elevate it for a cozier occasion rather than the strict office lights.
When it comes to shoes, boots come into mind with sweaters, and the orange sweaters are no exception to this straightforward thinking. Black or brown boots seem like a very quick solution, so you don't have to shop for new shoes to match your sweater, as you probably already have that in your wardrobe. But if you are moving to a colder place, then opt to stick to the fall palette.
There has been a recent interest in either smaller purses or huge bags as worn by many of the latest fashion models and influencers, which means that it's the way street fashion is going. Bags aren't just a one-trick pony, as we wear them every day, and they come in handy to bring an outfit together.
Who can wear an orange sweater?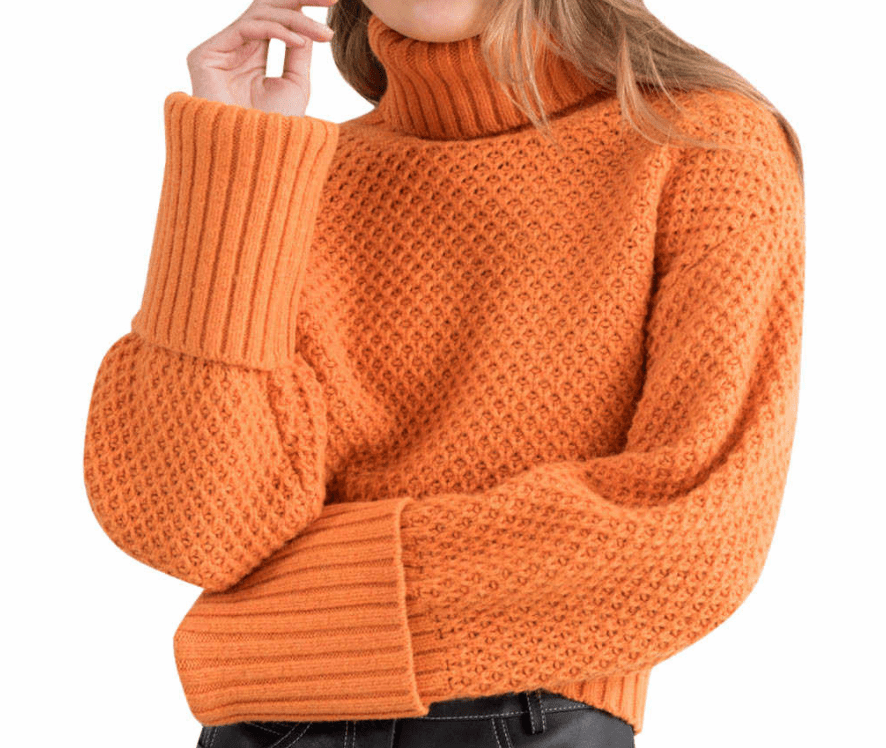 Anyone can! If you enjoy the color orange if you enjoy the hue of your sweater, what's stopping you? Right now, when we are all about body positivity and embracing ourselves, the rules aren't as strict, but we should still be mindful of what we certainly feel comfortable in and what will make us glow with confidence. An orange sweater isn't very flashy either, so that it can be worn for many different occasions, so there isn't such an intense worry about what occasion it calls for and how to mix and match, as it is very versatile.
Where to buy an orange sweater?
ASOS

Farfetch

H&M

Zara

Dollskill
The best orange sweaters on the market right now:
Here are our picks for the best sweaters on the market. They were chosen with current fashion trends, style, and comfort in mind. We also kept an eye open for timeless designs so they can be a wardrobe favorite for many years to come and to fit in different budget ranges because fashion is all about being both trendy and accessible for all.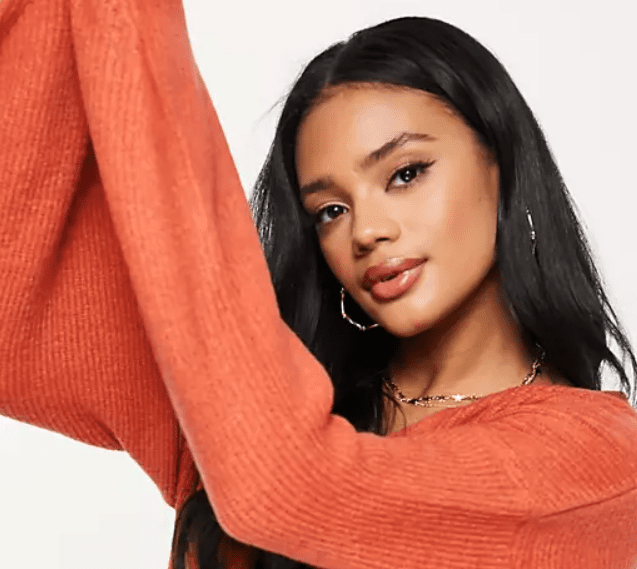 Give your wardrobe a soft change for the autumn season with this orange pumpkin spice-colored sweater. The fact that it's oversize will make it trendy and comfortable to wear as the colder days come strolling along. ASOS always delivers quality, is rarely hard on the wallet, and will stay for many seasons to come. Pair up with your favorite wardrobe pieces and flaunt it!
Pros
Comfortable design

Stretchy and soft material

Easy to machine wash
Cons
V-neck doesn't suit everyone

Baggy might not be the most office-oriented decision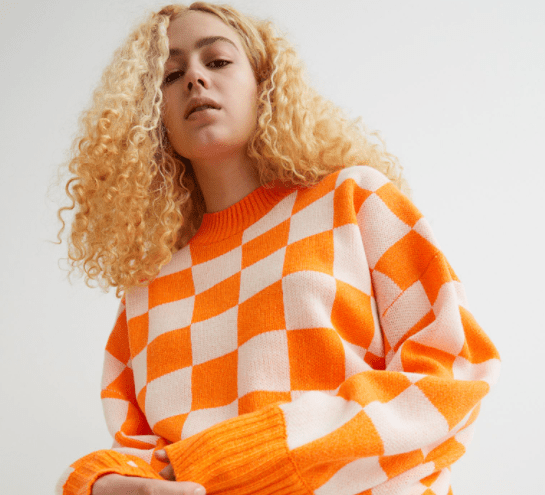 If you're looking for a statement, a more outgoing piece, this is your match. A bit of Y2K nostalgia makes this sweater pop! The checkered pattern may not be for the faint of heart, but it can capture yours. It is made for a more outgoing, friendly occasion like a brunch date rather than going to the office, but we all need some attire for leisure.
Pros
S

tatement piece

On-trend

Warm
Cons
Could get hard on the eyes for everyday wear

Expensive for H&M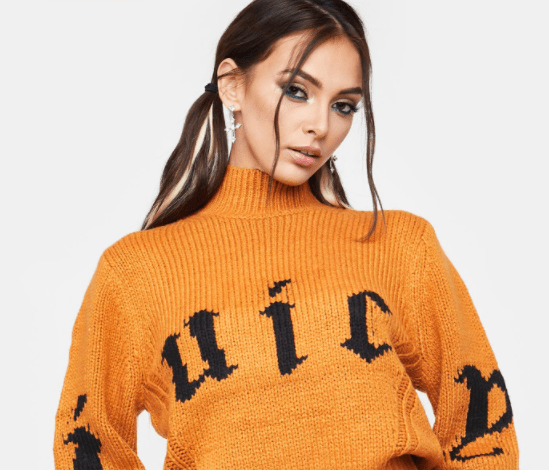 Juicy was a token brand of the Y2K fashion movement, and in these days of the trend's revival, what could be more fitting? If you don't mind labels on your chest, this is quite a statement and commitment to the aesthetic while making your choice of an orange sweater trendy. It also has a high neck, so will keep you warmer for the winter.
Pros
Warm

Machine washable

In fashion
Cons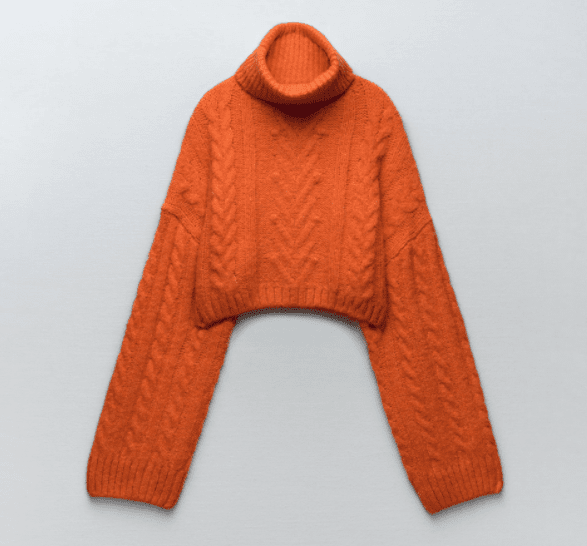 Crop sweaters have come here to stay, so why not go down that road when looking for an orange sweater? Zara is a very popular choice as the high street fashion by this Spanish brand is to die for! It may be a bit cold around the waist area, but sometimes fashion requires some mild sacrifices. On the plus side, you don't have to just wear the sweater outside, and it can be worn in warmer weather too.
Pros
Good on the wallet

Soft, classic knit design mixed with current trends

Made of 25% recycled materials
Cons
Not everyone likes crop sweaters

Not good for daily wear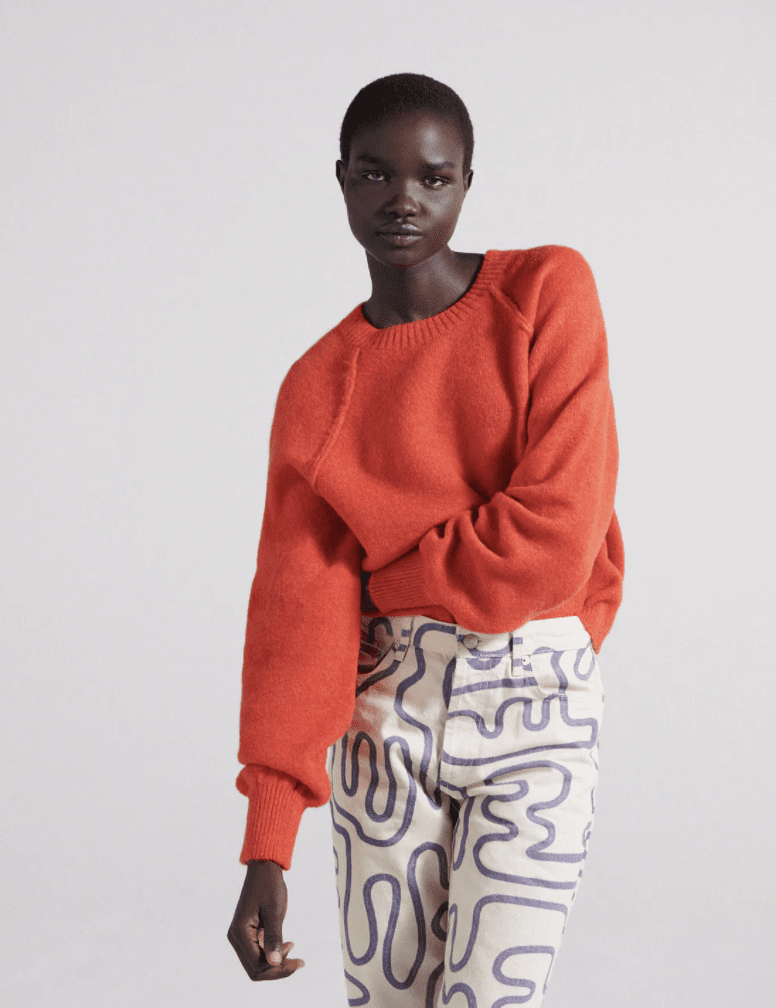 A classic yet laid-back choice for more formal settings that can still warm up your daily life. Because it is simpler, it is easier to wear it daily, as well as pair it up with different items and body shapes.
Pros
Safe choice

Good price

Easy to match with
Cons
Could be a bit plain for rule-breakers

Is not fully made from recycled materials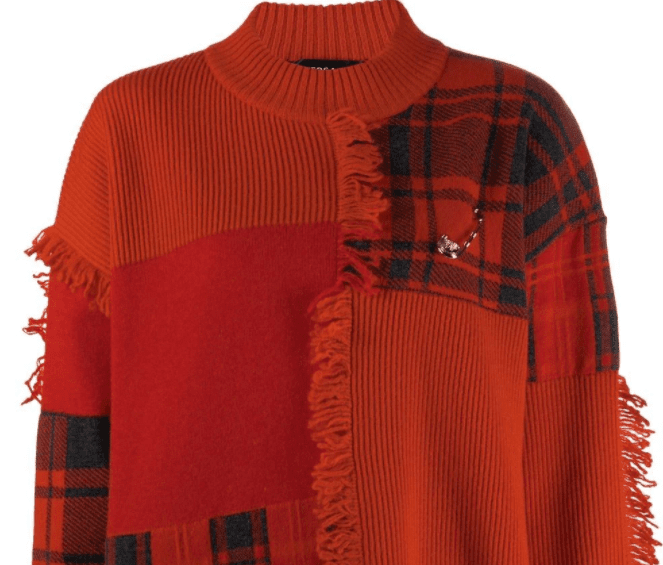 This punk-looking sweater might remind you of Vivienne Westwood, but it's actually Versace! When spending more money, why not dish it out to a classic brand and make a statement? Versace, which has been led by Donatella Versace for long enough to make her a trailblazer in the fashion community, makes no mistake in taking risks with this sweater.
Pros
Statement piece

A good take on an orange sweater

Outgoing and daring
Cons
Not for the faint of heart

Costly
Logo mania might not be everyone's cup of tea, but there are different takes on it which are tasteful like this choice of an orange sweater by Kenzo. It comes with a matching the lettering black hem, which ties the sweater all together. Comes with a matching skirt, if you dare!
Pros
High quality brand

Cute take on logo mania

Trendy
Cons
Costly

Not the best office, daily choice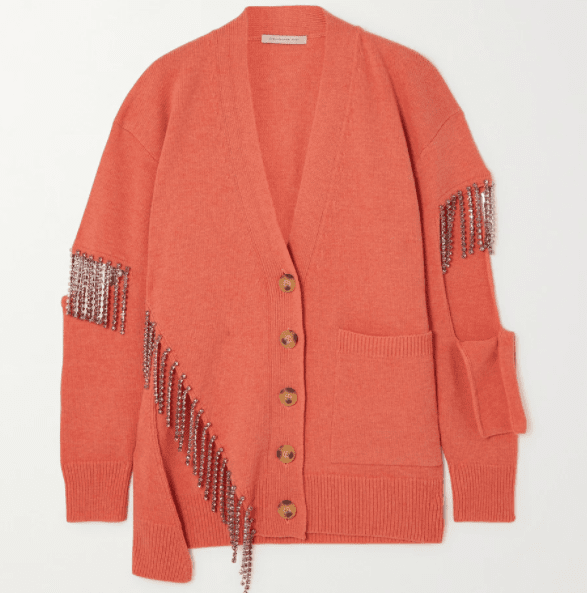 When you want to spend money on an expensive sweater, it's better to think ahead and budget. This sweater is no exception, but it will be a great piece in your wardrobe and turn heads wherever you go. Christopher Kane's take on the orange sweater is bold, but it can still be worn and look classy and if paired with the right things for more strict occasions. What more could you want?
Pros
Made in Italy

Soft material

Statement piece
Cons
Costly

Fringe crystals may not be as trendy forever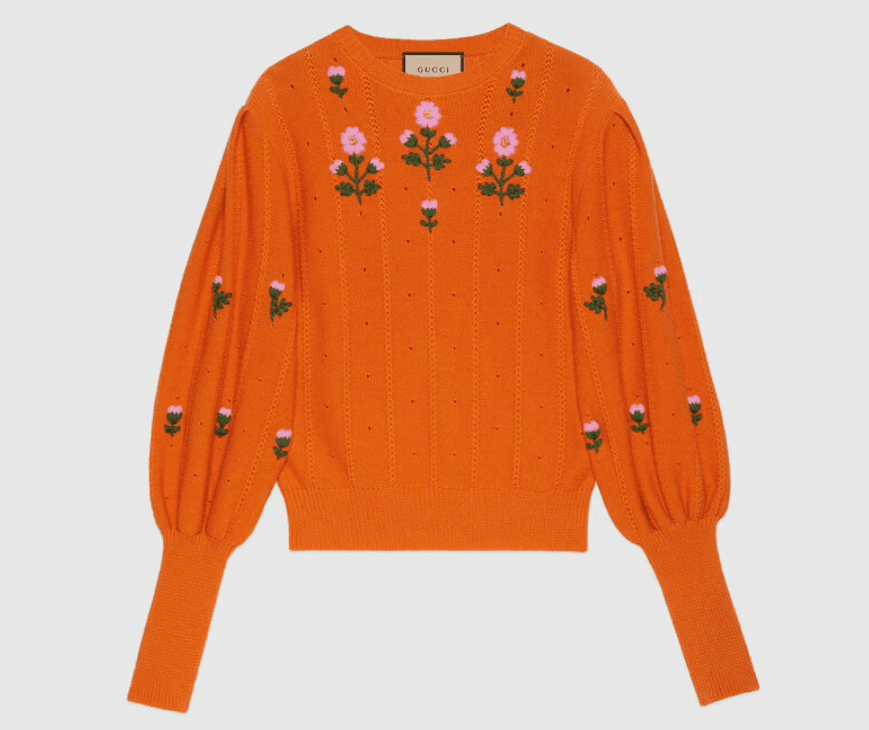 Florals may be for spring, but why not warm up a fall day? Gucci is something that doesn't easily fall out of fashion, and it is guaranteed to seize the heart, the wallet, and the catwalk. A fine mix of quality cotton and wool, this orange sweater will be the right piece to walk in and make people take notice of you. It's quite a classic yet chic take on a sweater that won't fall out of trends that easily. And if it does, so what? It's Gucci after all.
Pros
Classic

Chic

Statement piece
Cons
Costly

Might be easier to find warmer sweaters for colder weathers
Sweater Oversize in Velour Adicolors Classic by Adidas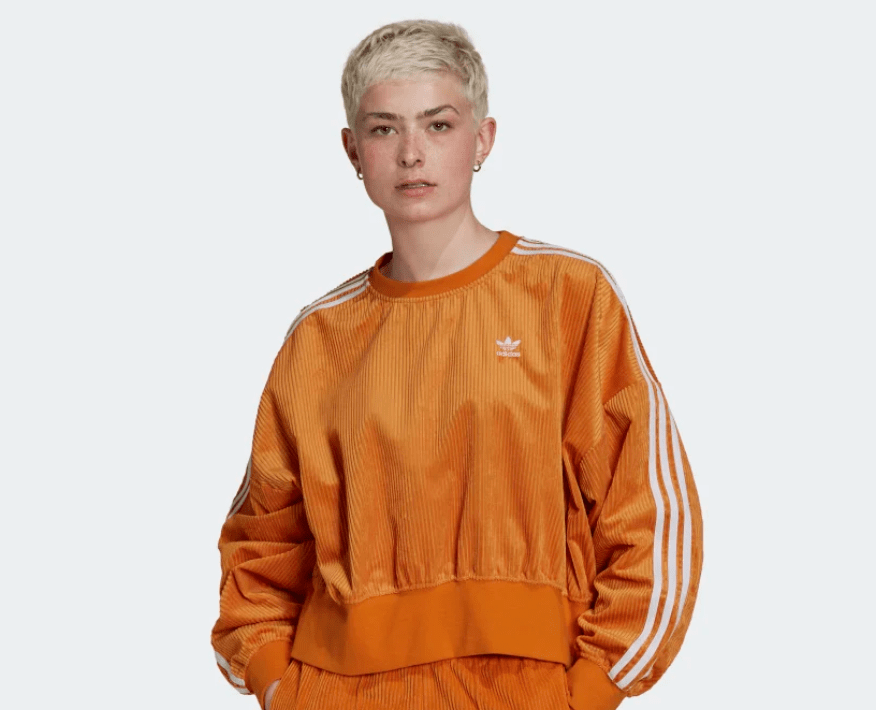 Adidas goes in and out of fashion, but this sportswear brand always delivers, regardless of if sports are involved. This orange sweater takes away on the classic three striped brand and delivers for this season. It's a bit oversize for your comfort as well as fashion.
Pros
Affordable fashion

Classic yet chic take

Comfortable
Cons
Sportswear brand

Logo mania
FAQ
Question: Do orange sweaters go with pink?
Answer: Why not? Of course, it depends on the shade of pink and the shade of orange you're looking at. We suggest you try it, but think about what makes you comfortable rather than what's in fashion. Mix and match, but stay comfy!
Question: Are striped orange sweaters in fashion?
Answer: Breton is more in fashion today, so it is better to go for a stripy navy blue sweater. Don't forget that stripes are a very classic choice: if you want a striped orange sweater, it will either come back to the hottest trends or remain a tasteful choice.
Question: Do orange oversize sweaters work?
Answer: Of course, they do! There are indeed cases where a person won't just match with orange, but orange and different shades of it, are still a very classic, universal choice that will suit nearly everyone. Due to the bright tone of orange, maybe not all oversize orange sweaters will work for the workplace, but for other occasions which are less formal, you can surely rock it.
Conclusion: An Orange Sweater
Sometimes it takes a while for more mainstream and high fashion brands to catch up, so right now, there are more spendy options when it comes to the orange sweater. That said, there are plenty of good options mixed between classic, trendy, and both. There will surely be an orange sweater for you to find and enjoy this season. 
Recommended reads: