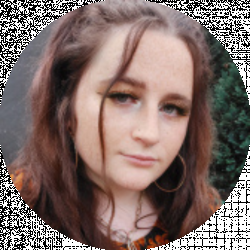 Latest posts by Lou Siday
(see all)
Patchwork jeans are pretty in right now. Every time I walk down the high street, I see at least one person rocking this trend, and you know what? I think they are pretty cute! This retro look is cool, stylish, and flattering.
When it comes to patchwork jeans, there are so many different cuts and styles available. This means that there is a perfect pair for everyone, and I want you to discover yours! Let's look at how to style patchwork jeans and the best pairs out there to buy today!
Why are Patchwork Jeans in Fashion?
Before we look at the options for patchwork jeans right now, let's rewind a little. This fashion style has recently been making waves in both high street and high-end stores, but why?
One of the main reasons you are seeing so much patchwork right now is the recent Y2K trend; this is the re-emergence of early nineties style and fashion, and it is pretty popular amongst the younger generations. Being in my late twenties, I find it strange to finally witness a trend circle back around. But to be honest, I love it!
Patchwork was kind of big in the early noughties. Does anyone else remember that classic 2001 Christina Aguilera VMAs look? A pair of patchwork jeans and a matching hat? Wild times for sure, but this is now back in style!
So, we've got the wonderful Y2K movement pushing the patchwork jean trend-forward, but we also have the sustainability movement. Existing in 2022 means that we are all pretty aware of the need to reuse, recycle, and treat the planet with kindness. This means that DIY fashion is a pretty big trend, and patchwork jeans give us this vibe.
How To Choose Patchwork Jeans
There are a few things to consider when it comes to picking which patchwork jeans are right for you. But don't worry, we have a handy guide to help you out!
Style
There are loads of different styles of patchwork jeans out there and which you go for depends on your aesthetic. A lot of patchwork jeans are wide-legged because this is the style that is in fashion right now. But, you can also get patchwork jeans in a skinny cut, a boyfriend cut, or a straight cut.
Whichever style you go for depends on what you feel good in.
I am a big fan of these patchwork flares. They look super comfortable and super cool!
Fabric Type
It is good to know what fabric your jeans are made out of; many patchwork jeans out there will be made out of cotton denim or a cotton blend.
Some might be made out of synthetic materials, but they might not last as long as the denim patchwork jeans.
Rise
It is also useful to consider the rise of the jeans you want to buy; this is important when you are ordering online, as you don't want to get any surprises! The Y2K movement does love a bit of low rise, but this might not be for you (it isn't for me!).
A mid-rise pair of jeans that sit comfortably on your waist is a safe bet, and a high waist pair will enhance your figure and make your legs look longer.
You probably know what kind of rise suits you, but if not, don't worry! Try out different styles and figure out what you feel good about.
How To Style Patchwork Jeans
Because patchwork jeans are a bit of a statement piece, you may feel a bit confused about how to style them. We can't all pull off the pink crop top- matching hat combo that Christina had on at the VMAs, right?
So, what are the best ways of styling a pair of patchwork jeans?
Shoes
When it comes to shoes, patchwork jeans are pretty versatile! Keeping it simple with a pair of trainers makes your fit look effortlessly cool, but you could also put on a cute pair of heels to mix things up.
What shoes you pair with your patchwork jeans depends on the occasion and your look. Try out your patchwork jeans with different shoes and see what looks right for you!
Tops
The beauty of jeans, patchwork or not, is that they can be dressed up or dressed down. They are perfect for so many occasions and you can match them with so many different tops.
When it comes to patchwork jeans, I would advise keeping the top simple; this is because a patterned top might not go with patchworked jeans as the look might be a bit much.
To dress patchwork jeans up, match them with a simple black or white top and maybe a blazer. This fit looks fashionable and smart, perfect for cocktails nights and dinner dates!
Our Favorite Patchwork Jean in Store Right Now
Now, let's look at our top picks of patchwork jeans! When picking these jeans, I tried to pick ones that are in fashion and fairly affordable. I spent time looking at customer reviews, considering what people might want from patchwork jeans, and thinking about how to style the jeans I picked.
I am absolutely in love with this pair of patchwork jeans by Boohoo. They are a pretty out-there pair that echos early noughties fashion but in a modern and chic way. They are a nice fit, with a high waist and a straight leg. I think that this cut is pretty flattering for most body shapes, so if you are feeling daring right now, grab a pair of these patchwork jeans!
They are on sale, so they will probably go soon. But this means that you can snap them up for a shockingly low price. Oh, and they are made out of 100% denim which means they are built to last. Sadly, their matching jacket appears to be out of stock.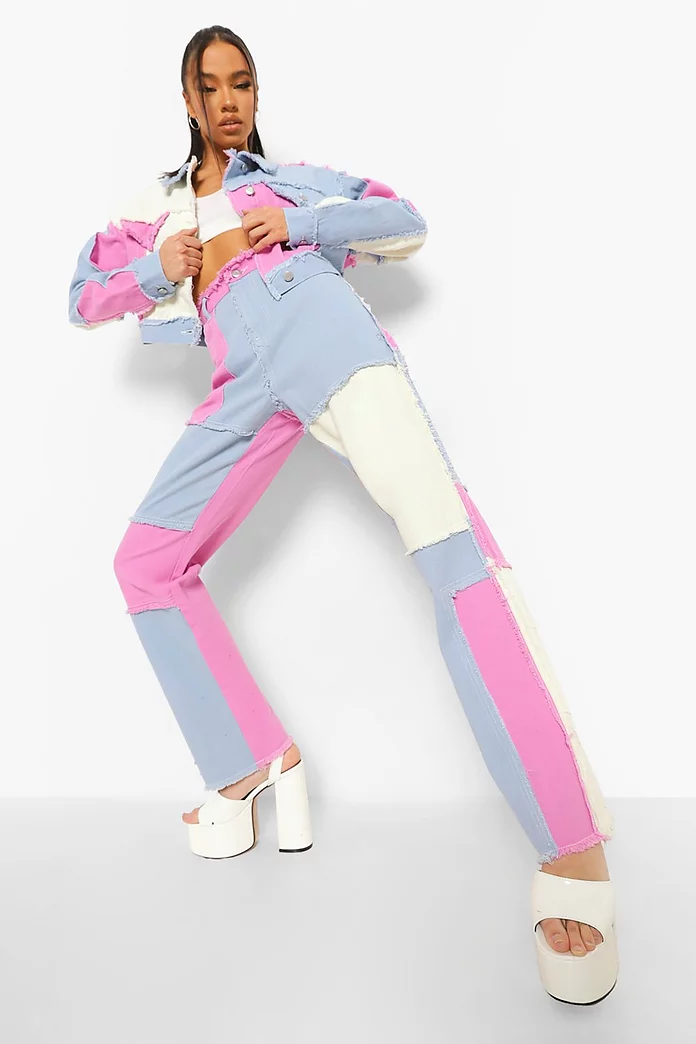 Pros:
On sale
Bright and colorful
Flattering cut
100% denim
Cons:
Only available in a few sizes
These skinny, medium-rise patchwork jeans are a versatile pair. They are soft and comfortable, with a flattering fit that enhances your curves. The distressed look is always in style, and this pair would be great for a 'nice pair of jeans and a top kind of night out. Simply match them with a cute pair of heels and a plain top and you are good to go!
They are made out of a cotton blend which gives them a lightweight and stretchy feel. They are also available in plus sizes, which means patchwork jeans for everyone!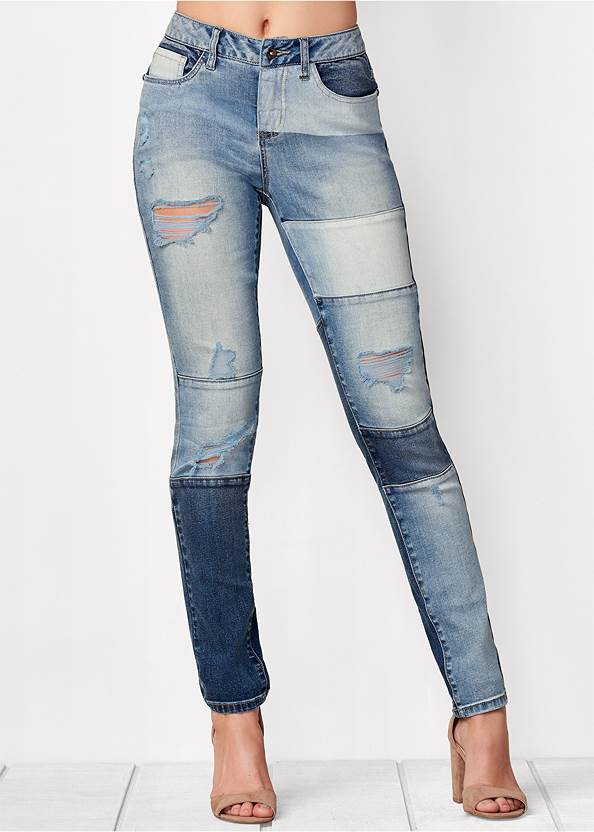 Pros:
Comfortable
Flattering
Available in a range of sizes
Cons:
More expensive than other jeans on the list
These jeans by Fashion nova are fabulously retro and I love the vibes they give off! The bell bottoms are pretty over the top, but they work so well with the patchwork look. The frayed hem is super cute and I love how the patchwork detail on each leg is different.
They are high-rise, which enhances the waist. However, some reviews say that they are pretty long, so if you are petite, these might not be the right patchwork jeans for you!
They look really cute with a pair of chunky heels and a crop top.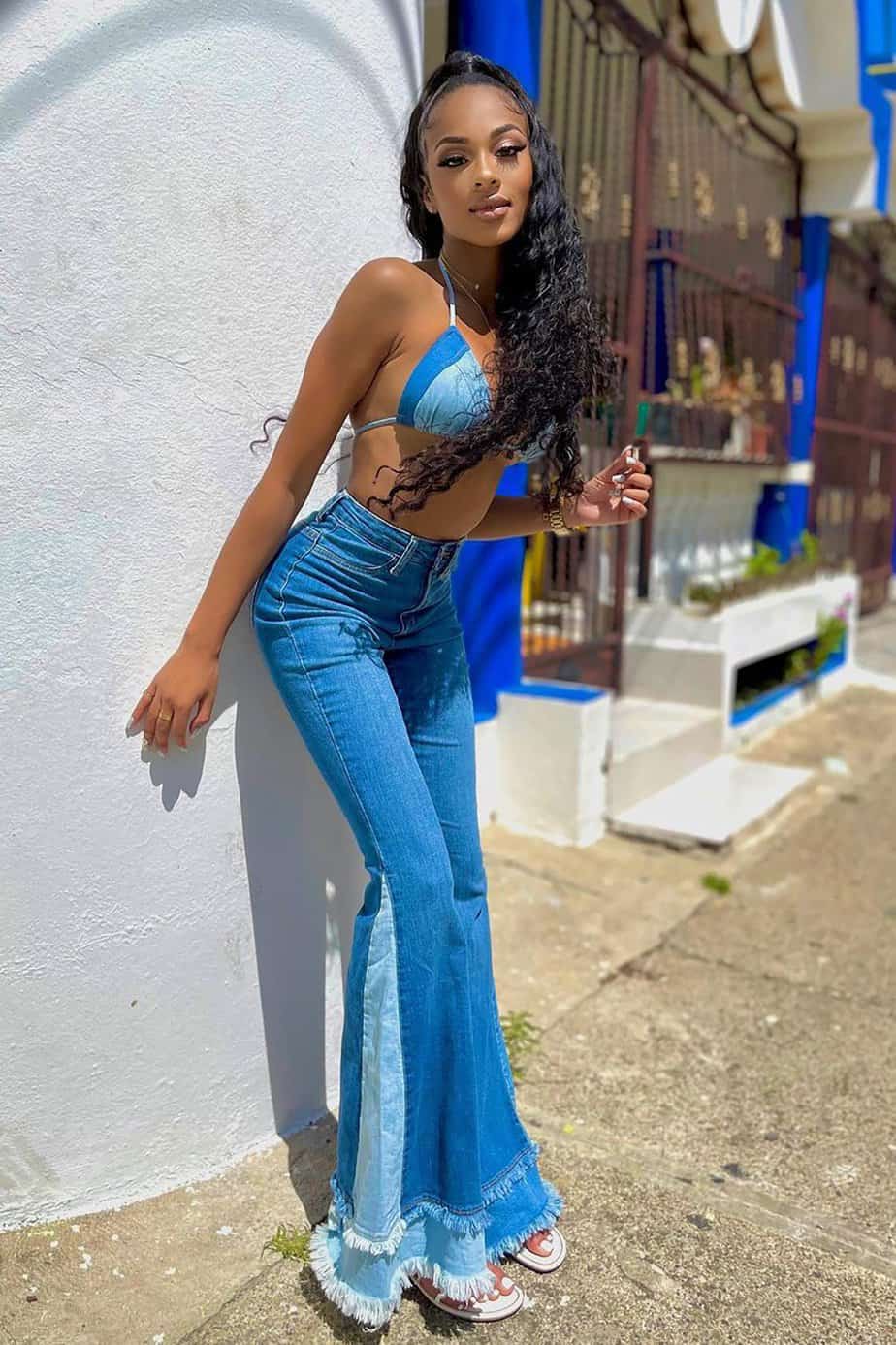 Pros:
Affordable
Stylish
In a range of sizes
Comfortable
Cons:
This straight-leg, high-rise patchwork jeans by Nastygal incorporate bandana print into the classic patchwork look and pull it off perfectly.
They are made out of 100% cotton, which means they are comfortable and soft. I really like how they are a bit different but still pretty understated. They are perfect for a more relaxed type of event, such as a party or drinks with friends.
Because of their fit, they will be flattering on a whole range of body types! You can match them easily with a simple top and trainers, giving you a chilled but stylish look.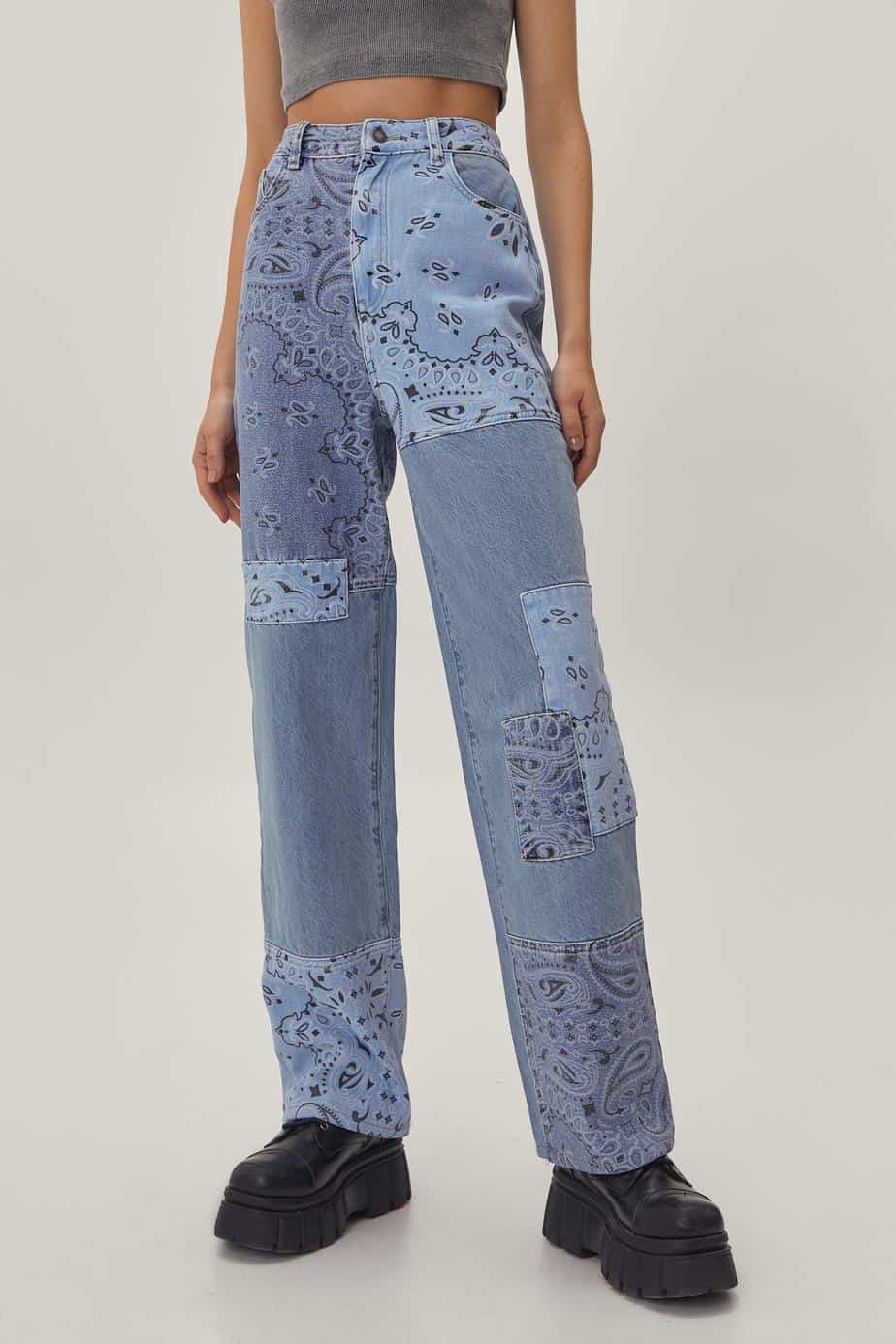 Pros:
On sale
100% Cotton
Relaxed style
Straight legged
Cons:
Only available in limited sizes
This pair of patchwork jeans are super cute and on sale right now! I like the way the patchwork is two-toned and the vertical lines will really elongate your legs. Again, this pair is high-waisted, which I think is pretty flattering. However, the wide legs won't be for everyone. For me, I do love a skinny or straight fit and feel a bit drowned in wide-leg jeans. But, this is all down to what you prefer!
I think these jeans are really fashionable and would be perfect for nights out or casual day dates. You can pair them with trainers and a nice top or match them with some chunky heels for a more dressed-up vibe.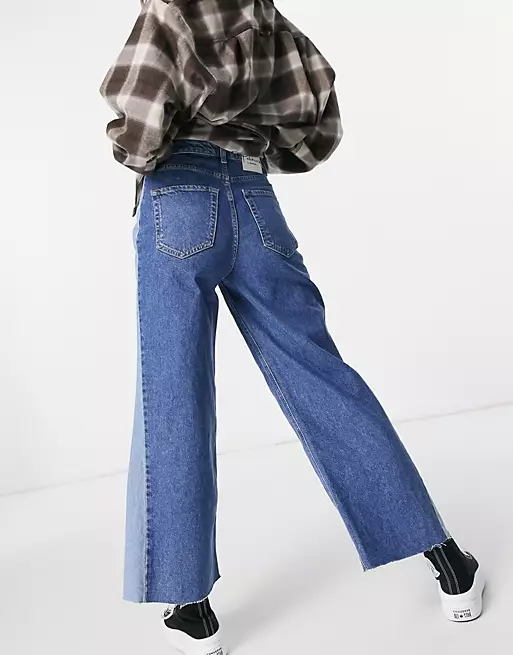 Pros:
Flattering
Elongates the legs
Two-toned
On sale
Cons:
Might drown slim legs
Only a few sizes in stock
I am so in love with these patchwork jeans from Free People! These jeans are made from salvaged and unwanted pieces of corduroy from jeans and jackets. This is really what patchwork is all about: creating and giving new life to old clothes. Because of how these patchwork jeans are made, they are all individual and unique!
I don't just love them because of how they are made and how they use recycled material, I also think they look incredible! I am all about a whacky, out-there statement piece, and these patchwork jeans are just that. I love the colors and I think that there are so many opportunities with these jeans. They are versatile and can be worn for so many different events and occasions.
They are also straight-legged and high-waisted, which is a flattering cut for a lot of people! Plus, corduroy is a long-lasting and strong material.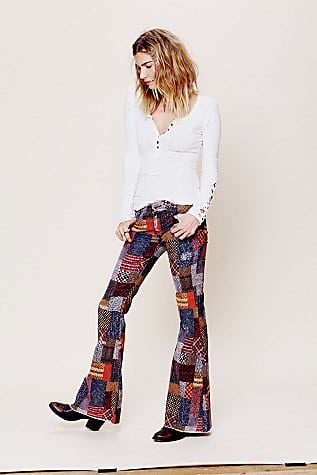 Pros:
Vintage
Upcycled
100% corduroy
Unique
Stylish
Flattering
Cons:
This pair of patchwork jeans can be picked up from Walmart or ordered online. They are a simple and inexpensive pair that looks pretty cute and can be put on and worn without much thought. Easy to accessorize and easy to wear, this pair of patchwork jeans are great if you are a bit reserved about the patchwork look but still want to give it a go!
According to reviews, there may be an issue with sizing. But, they have free returns, so you can always send them back if they don't fit right.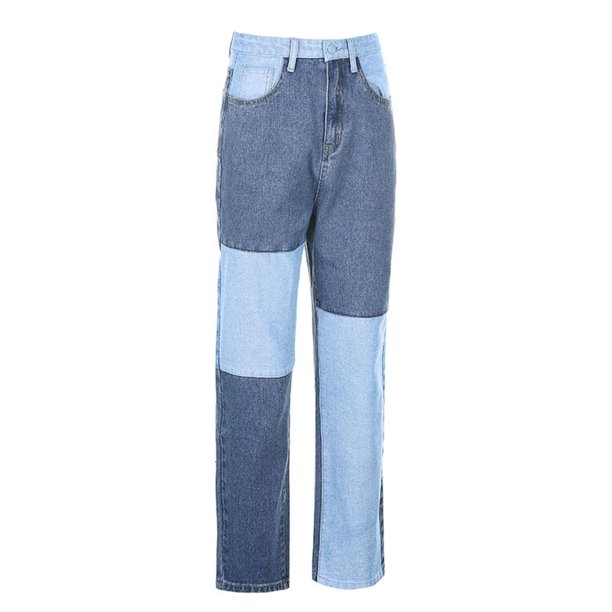 Pros:
Affordable
Simple design
Straight-legged
Cons:
There may be sizing issues
This is definitely a unique pair of patchwork jeans and I do love the mix of fabrics and colors used. The frayed edges are super cute and really give them a DIY kind of feel. The Ragged Priest actually has a whole load of patchwork jeans available right now, but this is definitely my favorite.
They are a high-quality pair of jeans and you know that they will last. However, they are on the more expensive side!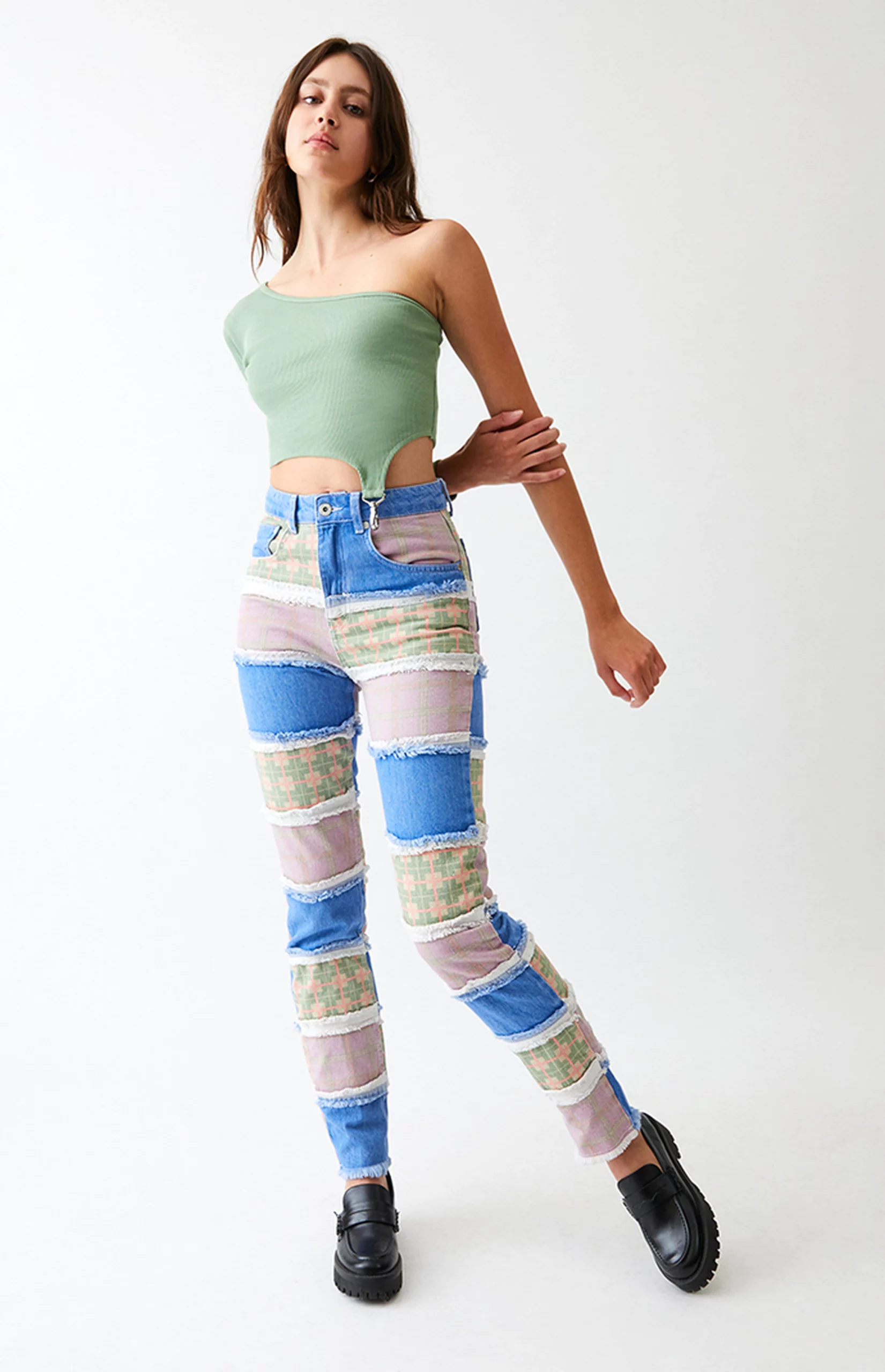 Pros:
Unique
High-quality
Fashionable
Straight-legged
Pastel colors and patterns
Cons:
FAQs
I hope this article has helped you find the best patchwork jeans for you! But, what are some FAQs you might have about patchwork jeans?
Question: Are patchwork jeans in style?
Answer: Patchwork jeans are definitely in style right now! Because of the Y2K trend and our wish for sustainable fashion, patchwork jeans are very popular.
Question: How do you style patchwork jeans?
Answer: There are so many different ways you can style patchwork jeans and it all depends on where you want to wear your jeans. They can be easily dressed up with chunky heels and a nice top or dressed down with trainers and a T-shirt.
Question: What is patchwork fashion?
Answer: Patchwork is the craft of sewing different styles and types of fabric together to create a unique and fashionable look.
Question: Do they make patchwork jeans for men?
Answer: There is a huge range of patchwork jeans for men out there right now.
Be Unique With a Perfect Pair of Patchwork Jeans
I love these different patchwork jeans that are in stores and online right now. There are just so many different options out there, and there really is something for everyone! Whatever your style and desired cut and shape of jeans, there will be the perfect pair of patchwork jeans for you.
Personally, my favorite pair is the corduroy upcycled pair by Free People. This pair is just so cool and I love the different colors! I also really value recycled and sustainable clothing. What do you think? What is your favorite pair of patchwork jeans?
Recommended Reads: