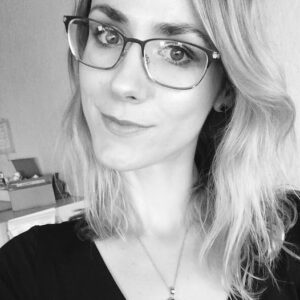 Latest posts by Karyl Trejo
(see all)
Jumpsuits are a one-piece type of garment that covers the legs and arms while leaving the head, hands, and feet exposed. You can recognize a jumpsuit because they represent a connected piece, instead of two separate ones for the upper and lower part of the body. Some people also define the jumpsuit as a shirt attached to some pants.
The original jumpsuit originated as a type of clothing that parachuters wore to jump out of planes. Part of it was to protect the parachuters from high temperatures associated with the altitude. A garment that covers most of the body also minimizes the possibility of damage when falling. 
Over time, parachuters recognized that jumpsuits were actually very comfortable to wear as one-piece clothing. As a result, jumpsuits appeared in the clothing world in the least fashionable way possible. Even then, they became widely known later on, not only for parachuters, but for all kinds of activities that require being practical. 
In the last few years, there has been a boom of people wearing jumpsuits as part of their everyday fashion. Nowadays, you can find them in all kinds of colors, designs, and fabrics. It's common for people to make jumpsuits of fabrics like rayon, denim, or linen, that are light to medium weight. If we consider the original use for the jumpsuits, though, it really starts to make sense.
Talking about all the types of jumpsuits would take me an eternity, so today, I will focus on a specific fabric: linen. I'm sure you have heard about linen, but what is it exactly? Linen is a natural fiber that people make from the flax plant, making it an eco-friendly option. It is also a lightweight fabric, meaning it is very breathable, soft, and durable. So it's a no-brainer why jumpsuits made of this can be so popular.
Jumpsuits can be a pretty interesting clothing item to spice up your outfits. However, before I show you some of the jumpsuit ideas I've prepared, why not dig a little into the history behind the one-piece garment? 
A Brief History of Jumpsuits
People created jumpsuits as a necessity. In the 1900s, parachuters needed an aerodynamic garment that they could wear while jumping out of planes. By 1919, the jumpsuit was a reality, and for some time, people only associated jumpsuits with parachuters and extreme sports.
In the late 30s, a fashion designer named Elsa Schiaparelli made a collection inspired by the war, where she incorporated a green jumpsuit for women. It was one of the earliest records of jumpsuits in a fashion light. Still, they were far from being the type of clothing that everyone wears today.
As the war came closer and closer, women had the need to wear a more dynamic type of clothing besides dresses. This was because men went to fight, and job vacancies were left empty, leaving women to fill in for them. Rosie the Riveter is an iconic example of a woman wearing a jumpsuit. The jumpsuit still had the connotation that it was "only for work," but that all started to change in just a few years' time.
By the 60s, jumpsuits were becoming more popular, and by the 1970s, that popularity was achieved already. In the music industry, jumpsuits were the clothing that every rockstar — man or woman — wore. You can even say the jumpsuit was a smart piece, as it allowed women to still look feminine while wearing pants. In turn, it was a great transition between traditional feminine and more conventional masculine clothing.
They kept being popular in the following decades, primarily because anyone could use them for a chic and effortless look while still being on-trend. It was amazing! Even if the design prevailed, the colors and styles of the jumpsuit changed. In the 60s, it was all about those sequined jumpsuits. By the 80s, sequins were left aside and made some room for colorful patterns and vibrant colors.
As of now, jumpsuits are more modern and elegant than ever before, but that doesn't make them any less fashionable. They're still a good option if you're aiming for a classy and sophisticated look!
My Favorite Linen Jumpsuit Ideas
Finally, the moment you were waiting for. What are the best linen jumpsuits out there? I compiled these linen jumpsuits just for you. Now, you can look at which one is best according to your fashion sense. However, before I show you my picks, I'd like to tell you about the criteria I used for choosing them.
My Selection Criteria
To choose the best linen jumpsuit ideas, I picked specific items that the jumpsuits had to meet to be added to the list. Some of those were fabric, versatility, and affordability. If the jumpsuit fulfilled them all, it had a better chance to be added here.
Fabric.

As I said before, some of the best jumpsuits (especially in the hotter months!) are made of

linen

. Some of the jumpsuits on the list are 100% linen, but others are 50% linen and blended with another fabric if a particular style required it. For example, a jumpsuit meant to be frequently used in summer could be blended with another fabric if the brand wanted to make it more breathable or flexible.

Versatility.

I wanted a jumpsuit that could be worn as casual wear and in an elegant setting. This wasn't easy to achieve, but I believe I made it work. Some jumpsuits have a more sophisticated cut, while others are more simple. Still, most of the jumpsuits on this list are versatile, and

how you can wear them

will depend on the shoes, accessories, or hairstyle you pair them with.

Affordability.

I know that quality and price don't always go hand in hand, so that's a fact I took into account. All of the jumpsuits on the list are under the $500 mark, while also having good quality. Since the contrary can also happen, I considered the different items in our selection criteria to assure the jumpsuit was of good quality.

Sizes.

Most jumpsuits on this list are of different sizes. I agree that if there is a specific jumpsuit model, it should be available in most sizes. Don't even think that I'm going to have one-size-fits-all pieces of clothing here! The more available sizes, the better. I love diversity, and it was necessary for me that every jumpsuit in this list could be for everyone independently of their size.

User reviews.

This was a factor I paid attention to, as well. I firmly believe that if a significant number of users have a positive or negative opinion about a garment, it's best to listen to it carefully. I checked user reviews about all of the items that I mention on this list.

Design. The classic jumpsuit design is two pieces of clothing attached to each other, and maybe a waistband separating them. However, I paid particular attention to any original

jumpsuit design

, either in terms of colors or details. If a jumpsuit successfully deviated from the original designs, it had a better chance of appearing on the list.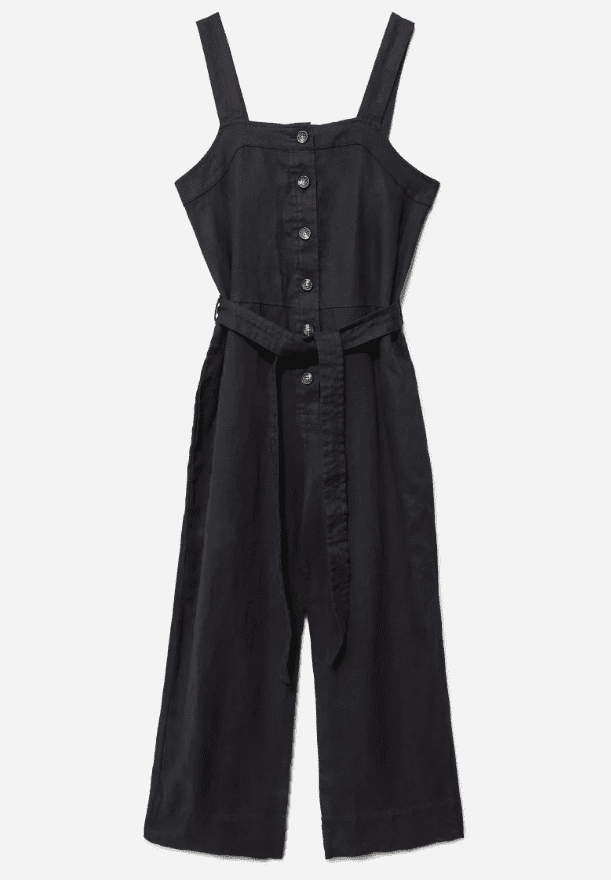 I had to start this list with something classic that could still be casual at the same time. The Everlane linen picnic jumpsuit has the standard cut of a jumpsuit while still having several modern touches here and there. For example, the cropped inseam is very fashionable and adds a chic touch to the garment. Its flattering design also goes well with different body types, too.
Pros:
Fabric is 100% linen

Comes in sizes from 00 to 14

Has adjustable straps, a movable belt, and two pockets at the sides

User reviews love it

Fabric is breathable and very comfortable

Can wash it in the machine
Cons:
Comes in only one color: black

Doesn't have any sleeves

Some user reviews say it runs big
This jumpsuit's a little looser than its counterparts, but don't let that distract you. The H&M linen-blend jumpsuit has a V cut, buttons at the front, and a removable tie belt. It also has side pockets that make it look more dynamic. 
Wear it with sandals or closed-toed shoes, and it'll look good. Another good point is that H&M wants its materials to be sustainable and recycled, so you don't have to worry about damaging the environment when getting this amazing jumpsuit.
Pros:
Fabric is breathable rayon (80%) and linen (20%)

Most user reviews agree it fits true to size

Can machine wash it

Comes in a light beige color that looks beautiful in the linen fabric

Can cuff the sleeves for a more casual look

Comes in XS, S, M, L, and XL

A very affordable option
Cons:
Comes in only one color: light beige

Oversized fit not for everyone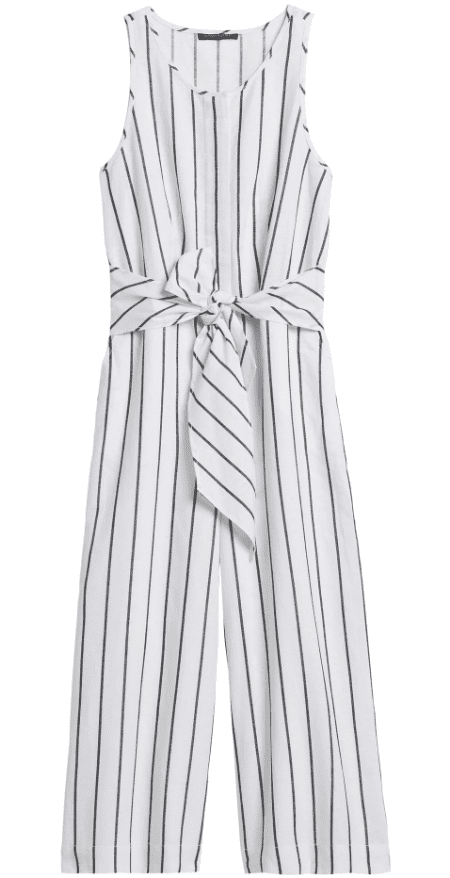 Monochromatic pieces can get old quickly, so one of the things I loved the most about this jumpsuit was its white with black stripes design. Since it fits right at the waist, it's looser on the hips and thighs. One last thing? The blend between cotton and linen was a great choice, as the result was a very breathable fabric that will keep your body at a comfortable temperature.
Pros:
Comes in sizes 0 to 20

Doesn't stop at having only front pockets (also has back pockets!)

Has a crew neck

Shell fabric is 55% linen and 45% cotton, and lining is 100% cotton

Can machine wash it

User reviews liked it

A beautiful and comfortable jumpsuit
Cons:
Some user reviews say it runs small

Only comes in one color: black stripe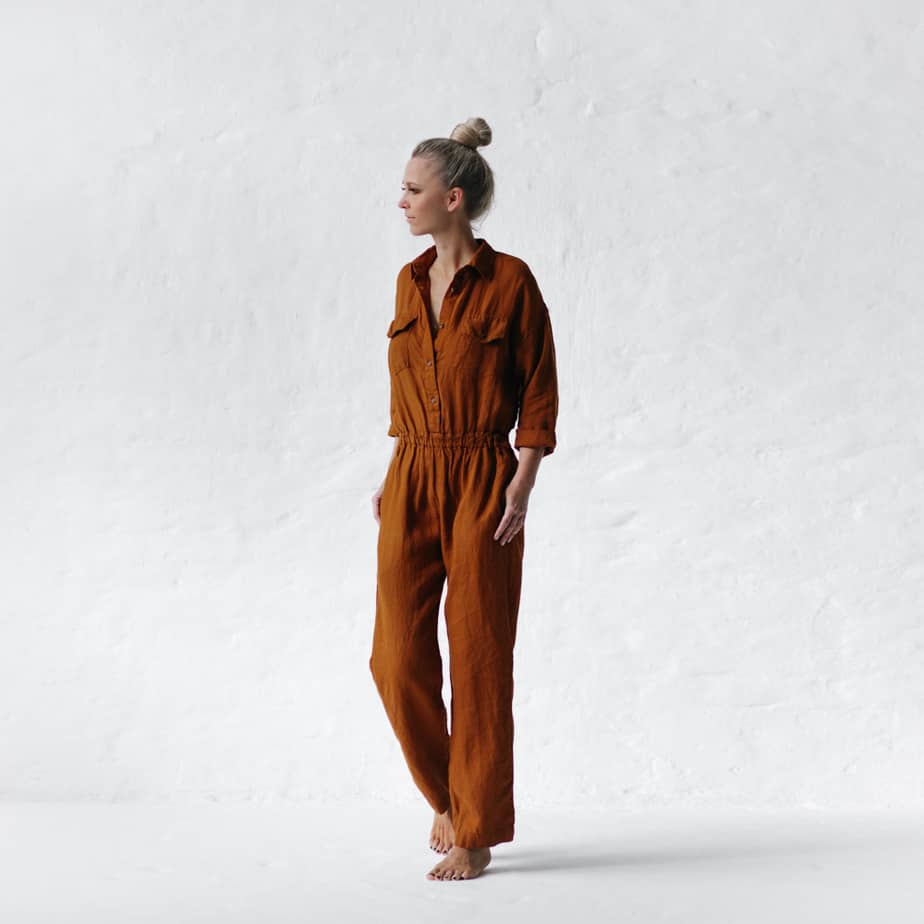 Thanks to its classic design, this is one of the first pieces that come to mind when thinking about jumpsuits. It has long sleeves, front pockets, and buttons — and that's just talking about the top. It also has an elastic waistband that you can adjust however you like, and for the bottom, you have the timeless front pockets we all fancy.
Pros:
Fabric is 100% soft Baltic linen

Comes in an original mustard color

Has a classic jumpsuit design

Includes front pockets on the top and on the pants

Has long sleeves with buttons at the front

Comes with an elastic waistband that adjusts to your body
Cons:
Available in only two sizes: S and M

Comes in only one color: mustard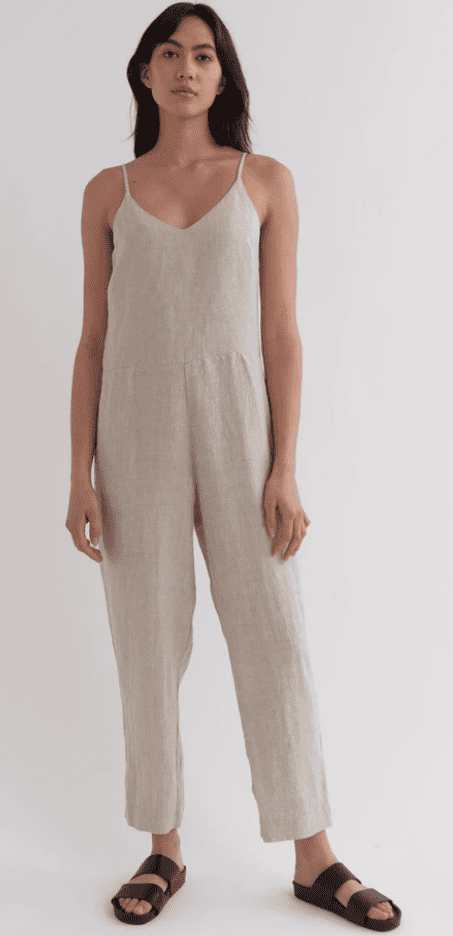 The phrase "less is more" is the best way to describe the Assembly label linen slip jumpsuit. It comes in neutral colors, allowing for creative combinations that let other pieces stand out. It's a very classic and timeless design that I just had to include in this list.
Pros:
Comes in two colors: black and oat

Offers sizes between 4 to 16

Has a relaxed fit that can be casual or elegant, depending on the shoes or accessories you combine it with

Fabric is 100% Linen

Has a nice V-neckline and straps at the top

User reviews love it!

Jumpsuit is comfortable, and relaxed fit is a pleasant touch
Cons:
Design might be too simple for some women

Some user reviews say it is a little large

Waistline is almost unnoticeable

If you want to highlight your figure, this might not be the jumpsuit for you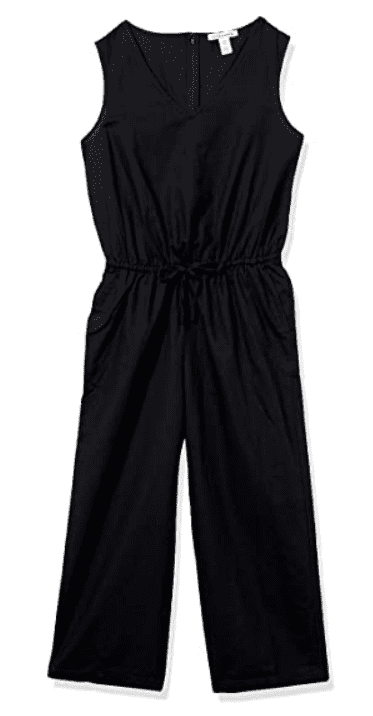 Most of the jumpsuits we have seen until now only came in one or two colors. This jumpsuit, on the other hand, delights us with a grand total of ten available patterns to choose from. That, in addition to its design (sleeveless and with a V-neck), were enough reasons to have this sleeveless linen jumpsuit on my list. 
Pros:
Fabric is 55% linen and 45% cotton

Has a drawstring on the waist, where you can adjust it however you prefer

Comes in sizes 0 to 20

Website says it fits true to size (but they also have a size chart you can cross reference)

Comes in colors like navy large floral, washed black, bright pink, rainbow check, among others

Features a zipper at the back and side pockets at the front

Can machine wash it
Cons:
Back zipper makes it hard to take it off without help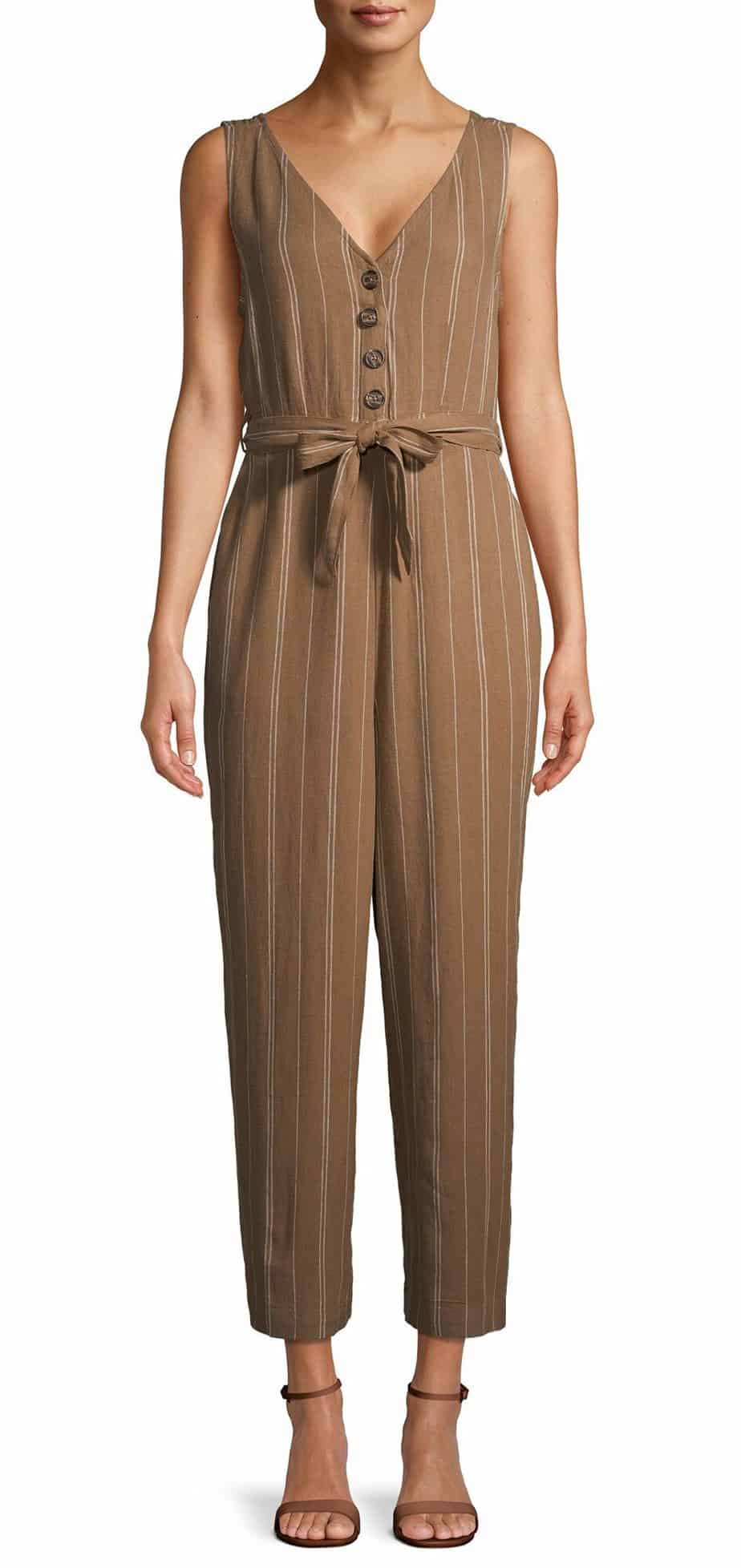 I seriously fell in love with this jumpsuit's print the moment I saw it. It comes in four colors, and in each one of them, it just looks super chic and charming. It's a jumpsuit that has nice buttons and a waistband with a tie. The V-neck also gives it a nice feminine touch. You can pair this jumpsuit with sneakers or high heels, and it'll look striking with both of them.
Pros:
Comes in four colors: black stripe, blue cove, Terrance green, and toasted brown

Includes sizes ranging S, M, L, XL, and XXL

Fabric is 53% linen and 47% rayon

Has a V neckline, two front pockets, and an elastic waistband

Can wash it in the machine
Cons:
Some women prefer solid colors (instead of a specific print)

Because of the colors and design, it's more of a day jumpsuit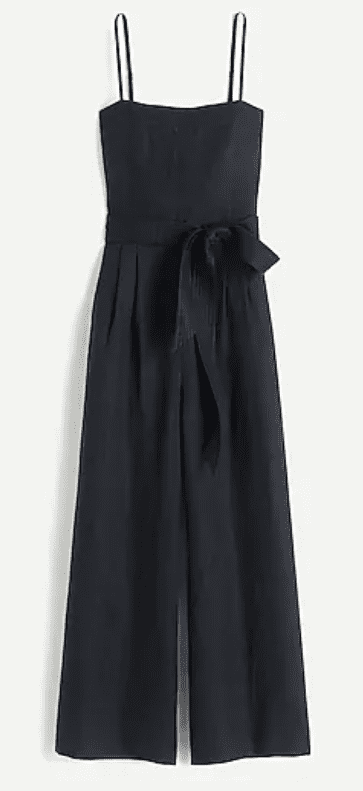 J.Crew describes this tie-waist linen jumpsuit as the most effortless outfit on Earth. However, even if it's easy to make an outfit out of this piece, it doesn't mean it's simple. On the contrary, I think this garment is the perfect mix between chic and stylish.
This jumpsuit has straps and a tie waistband that you can style by tying it sideways. Furthermore, the linen makes it a breathable piece that you'll reach for again and again when browsing through your wardrobe. Even though it comes only in black, it's a good option, since the color is neutral and matches its design.
Pros:
Fabric is 100% linen

Comes with back zip and front pockets

Also comes in a variety of sizes

Has a handy size chart that you can check out

User reviews love and recommend it

Has a flattering adjustable tie at the waist

Can machine wash it

According to the website, the jumpsuit fits true to size
Cons:
Comes in only one color: black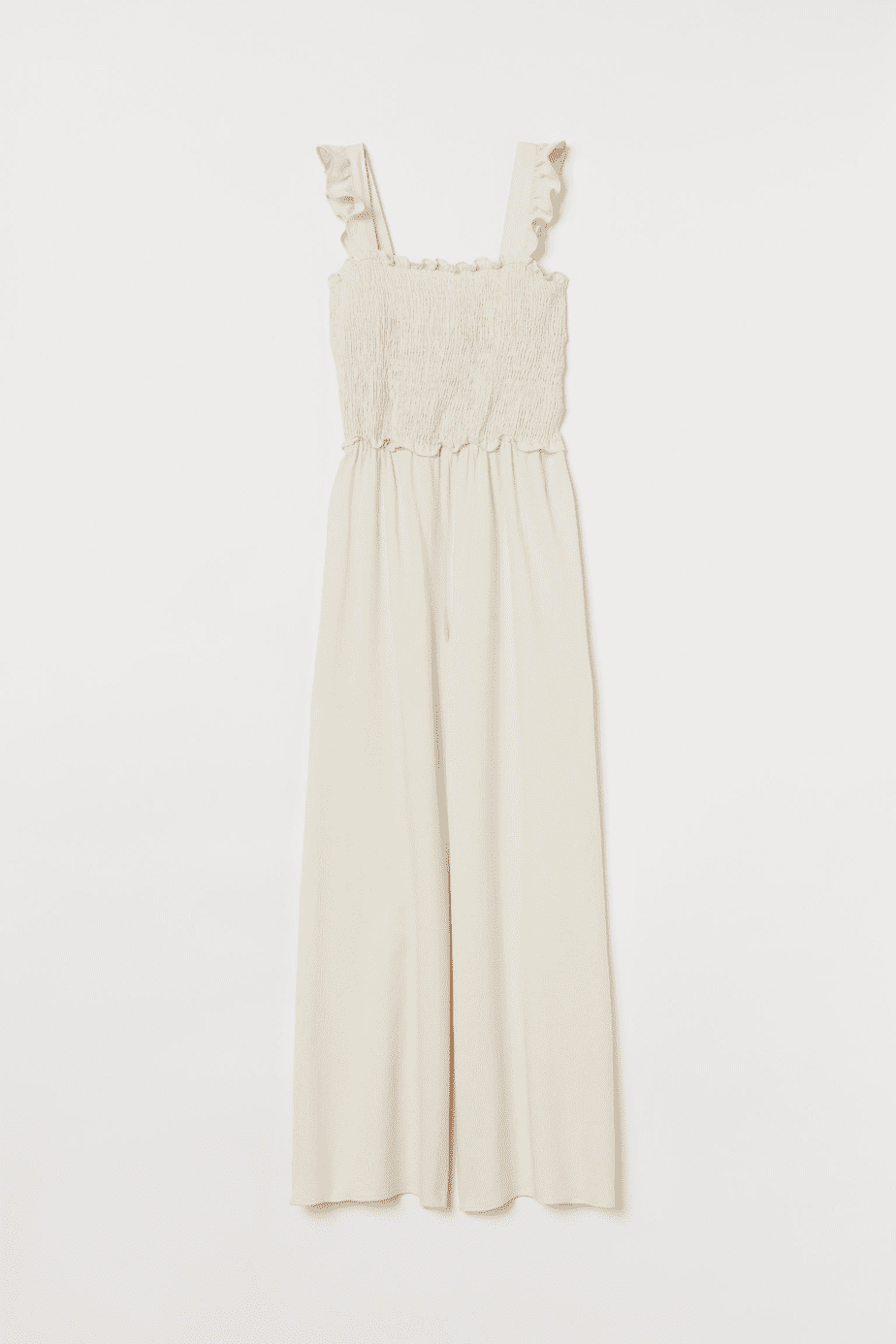 If I had to be entirely honest, the design of this particular jumpsuit was kind of a surprise for me. It stays away from any conventional jumpsuit design and showcases plenty of details that make it original. It has ruffle straps and a ruffle-trimmed seam at the waist. To make things better, the same design works perfectly with wide legs. Its beautiful cream color is both feminine and classy. 
Pros:
Fabric is rayon and linen (55% and 45%, respectively)

Comes in a lovely cream color

Includes sizes XS, S, M, L, and XL

Can wash it in the machine

User reviews love it!
Cons:
User reviews say the jumpsuit fits a little big and large

Comes in only one color: cream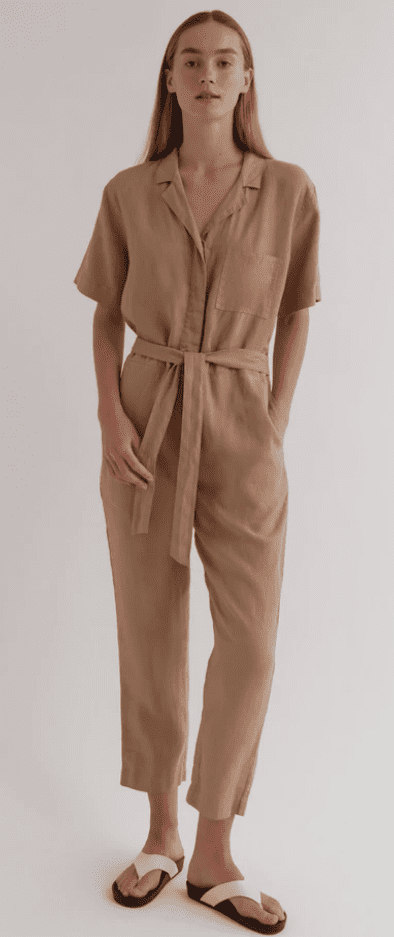 One of the most impressive things about this jumpsuit is its stunning color. It's an outstanding soft camel shade that I can't get over. In addition to its gorgeous color, the jumpsuit delights with its relaxed fit. Add in the lightweight linen, and you have yourself a versatile and eye-catching piece. It's also a subtle wink to the utilitarian jumpsuits that made the piece so famous decades ago (super fun!).
Pros:
Fabric is 100% linen

Comes in sizes 6 to 14

Includes a detachable waist belt that you can adjust to your liking

Comes with two pockets at the front

User reviews love it 

Fits true to size
Cons:
Comes in only one color: camel
My Top Style Recommendations
You chose the one you liked best, but now you might be wondering how to wear it. Well, don't worry about it, I have you covered! Next, I'll show you how to wear different styles of jumpsuits.
Navy Blue with Orange Tones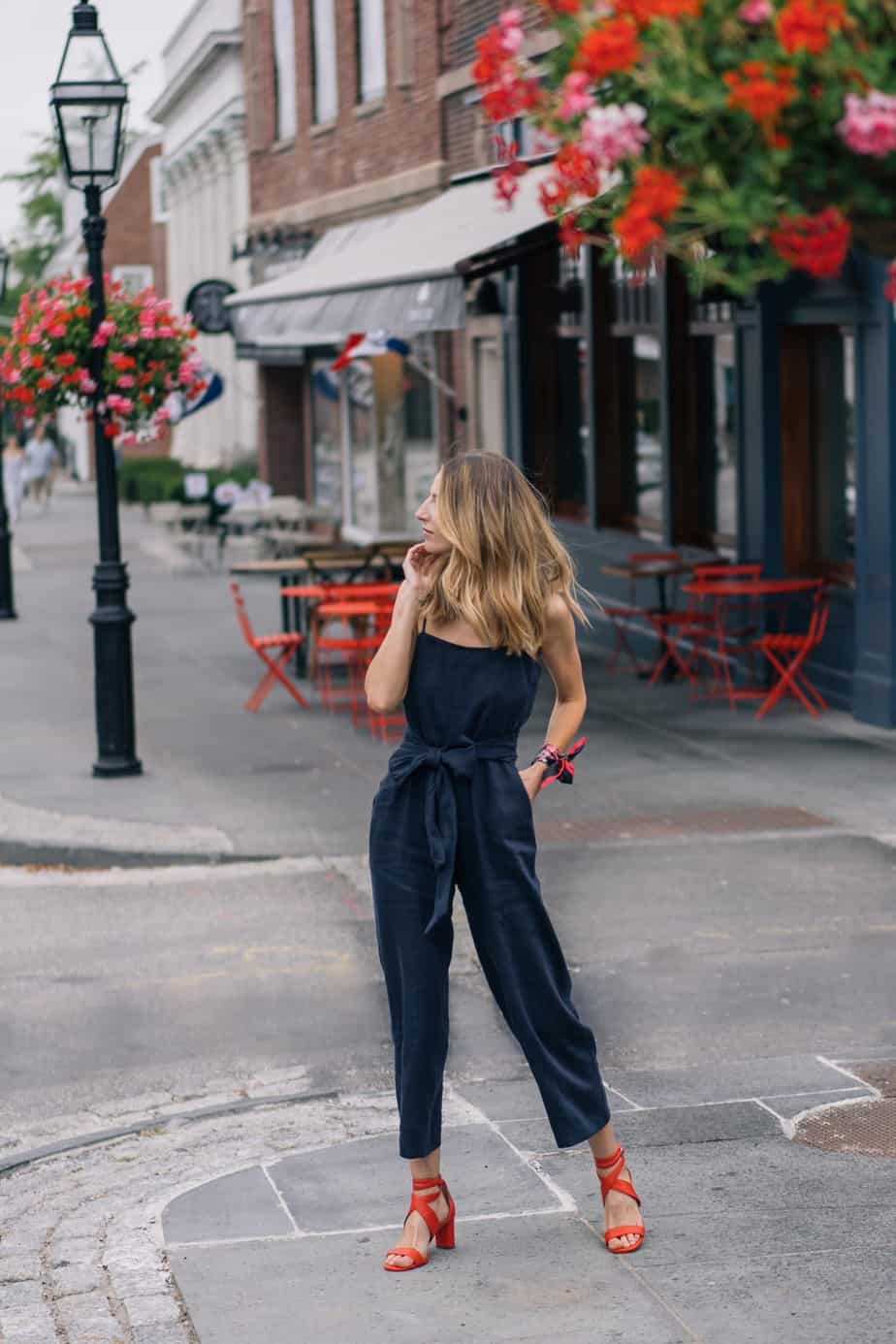 This particular jumpsuit has a navy blue color, and since that is a dark and neutral color, you'd think it would be obvious to pair it with black or white shoes. However, that will considerably overshadow the outfit in general. 
What can we do, then? Well, you might have heard about the color wheel. Without going into much detail, colors like blue go very well with oranges and red tones (complementary colors), and you can take advantage of that to make your clothes stand out. In this case, both the red shoes and the bandana around the wrist worked perfectly.
Classic White and Beige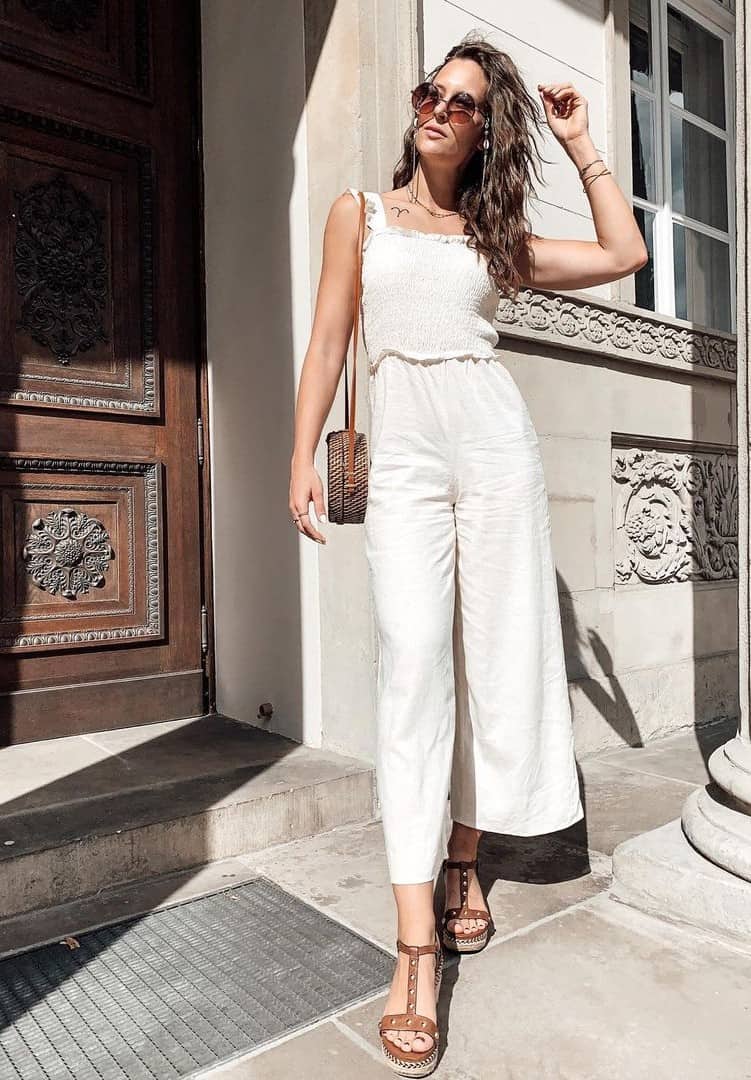 You don't have to use the color wheel every time you want your clothes to match. Sometimes, classic colors work just fine, especially if you want to look more neutral. Still, don't confuse colorful clothes with being formal or not.
For example, this outfit looks rather informal, but its color combo is way more toned down than the color of the last outfit. In this case, it'll be chic to pair it with shoes, a bag, and sunglasses of the same beige color. Since beige is a calm color, I'd say this outfit works perfectly.
Accessories Can Make the Difference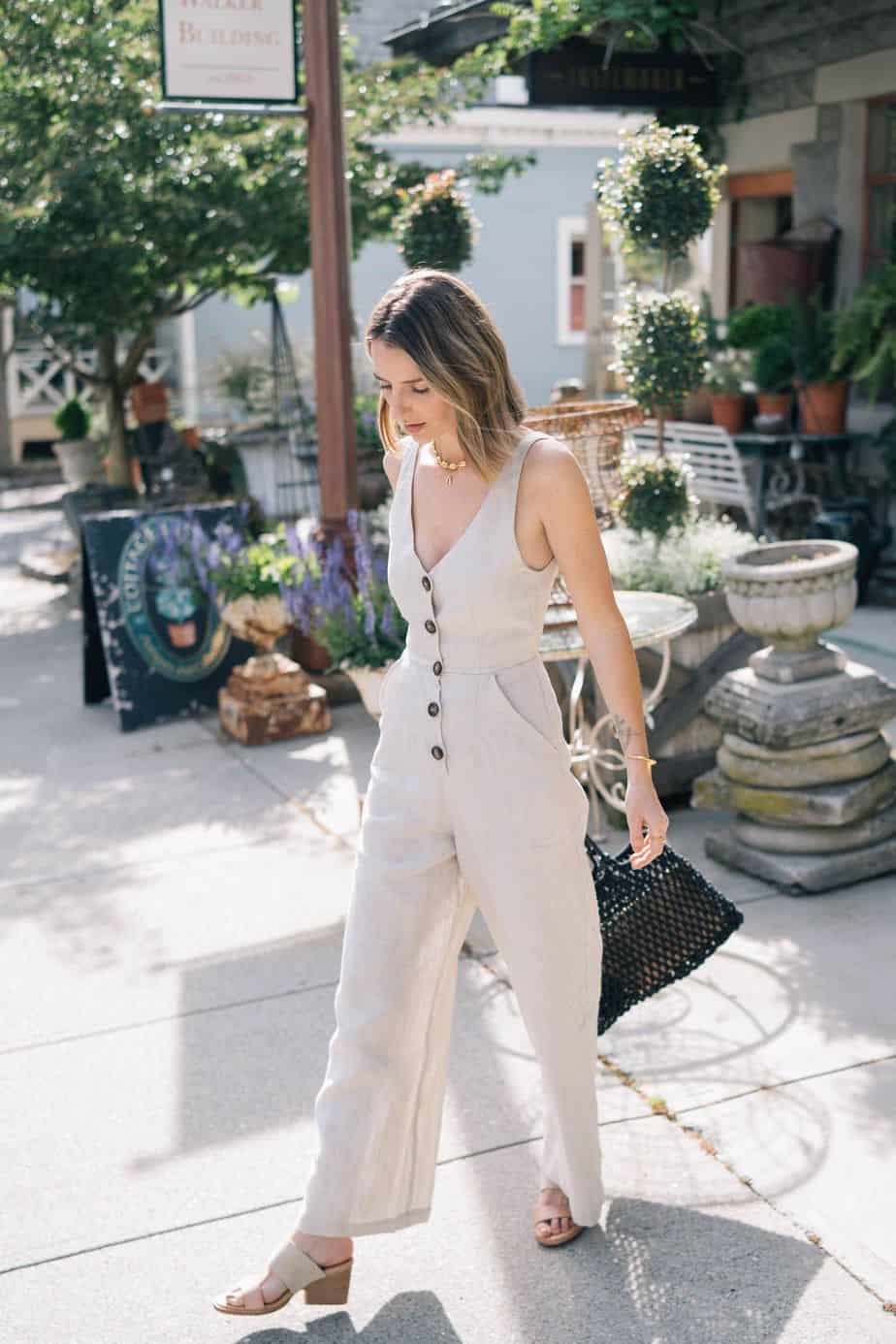 Sometimes, the design of a jumpsuit will put more importance on the accessories, and this outfit is an example of that. Try matching the color of your shoes with the color of the jumpsuit, and get creative with your accessories and hairstyle for a unique look.
Make sure to add chains, bracelets, and rings to it to make your outfit more classy. If you have short hair, you may leave it loose. If it's longer, you can pull it back to make the jumpsuit and chain stand out. The bag was also a good choice here, as it matches the black buttons on the jumpsuit.
The Makeup Is Also Important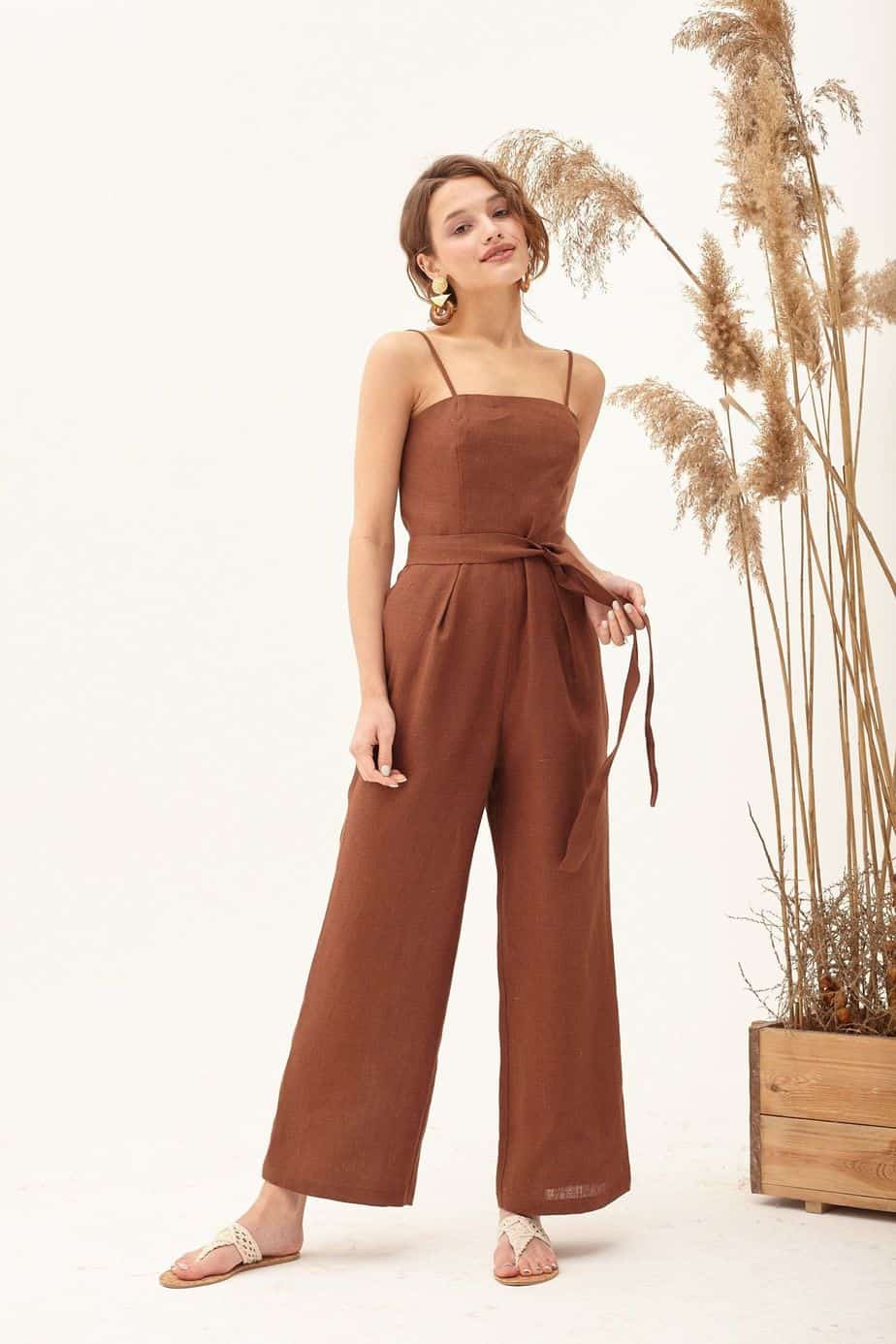 Makeup is a crucial part of outfits, and at times, it will have the starring role. In this case, the makeup was in brown tones that match perfectly with the jumpsuit. For the hair, the model seems to have long hair, so the stylists tied it so you could see the details at the front.
This is a lovely example of wearing a jumpsuit without being too much. As a way to complete the look, sandals work just fine.
Casual But Trendy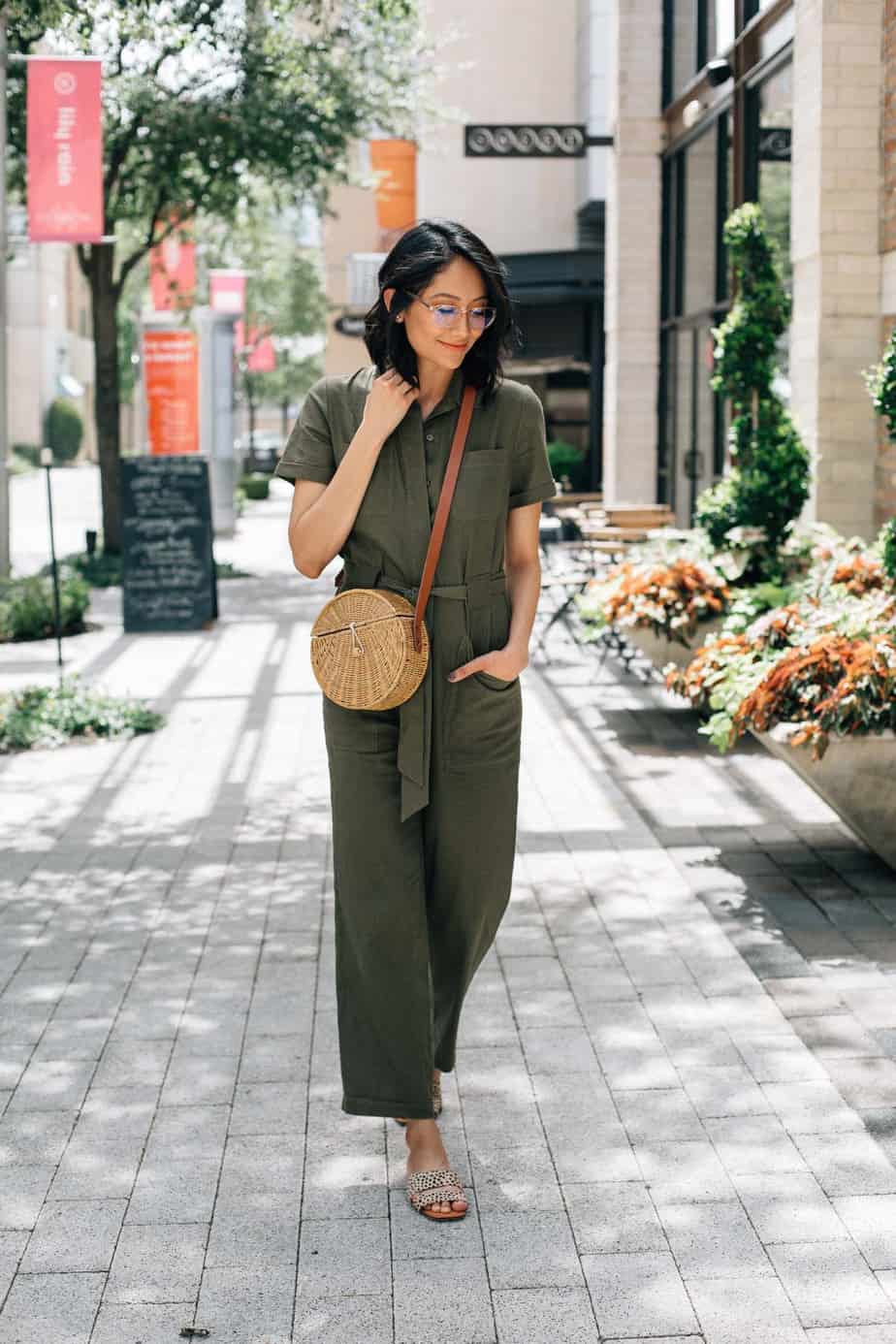 Usually, if you're wearing a sleeveless jumpsuit, it's easy to throw some chains or long earrings to attract attention to the front. But what if your jumpsuit has long sleeves? 
Long sleeves will keep the attention on the jumpsuit per se, so you'll have to take care of your bag or shoes for the extra punch. In this case, I think it was a good idea to wear the purse on the side. It's subtle, but it gives dimension to the outfit that couldn't be achieved any other way.
White Sneakers Are Always a Good Choice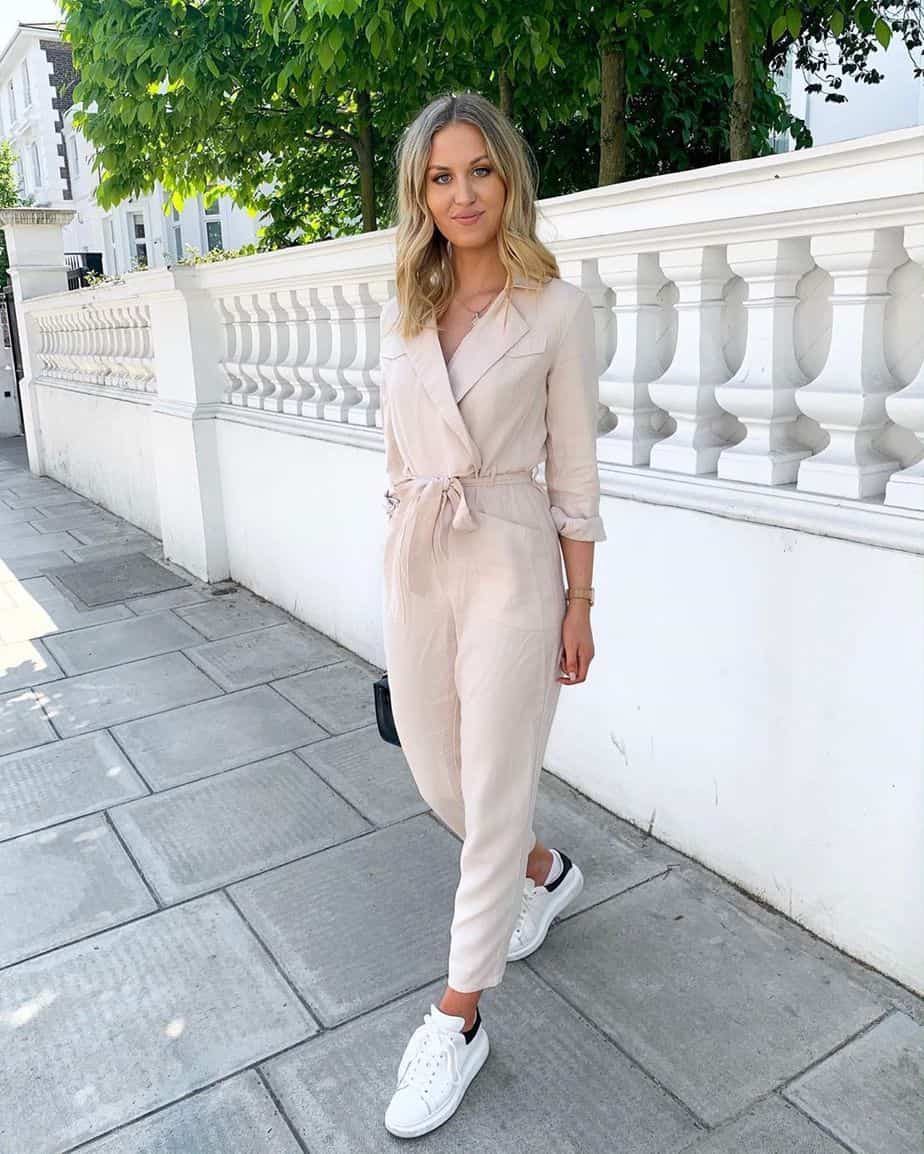 Last but not least, what happens with long-sleeved jumpsuits? The same rules apply here. The different thing about this outfit is the sneakers, but I think she made it work perfectly. 
We're used to seeing jumpsuits with sandals and heels, but if you want a sporty look, sneakers are just ideal. White and chunky sneakers are trending, so if you don't know what color to choose, this may be the right choice for you.
Frequently Asked Questions
Question: Why do they call it a jumpsuit?
Answer: The name of this garment is actually kind of literal. People used the term to describe the garment worn by skydivers and parachuters when they jumped out of planes, hence the meaning "suit that is worn to jump." 

It was later when people started to wear it like pilots or professional drivers. This was because they were comfortable and practical. From there, it would be a long way to go before it became fashionable.
Question: What is the difference between a romper and a jumpsuit?
Answer: These two terms are used interchangeably, even if they don't mean the same thing. When people talk about a romper, they mean a one-piece garment, with the upper and lower part attached. "Isn't that the same as a jumpsuit?" You might ask. Well, yes, but not quite.

The romper is shorter in the length of the pants, and that is the main difference. When the jumpsuit has long sleeves and pants, a romper is usually short on both of those.

In the fashion world, it's common to get them confused. Still, rompers and jumpsuits are trending, and besides the length of the bottoms, I can't deny they're a bit similar. Sometimes the term "romper" is used more to refer to children's clothing. 
Question: Why are jumpsuits so popular?
Answer: That's a good question! Jumpsuits are popular because of different reasons, so I'll try to summarize them for you. First, they are very comfortable, and this is always a good thing. This comfortability is both because of their design and their fabric.

Another reason is that they are fashionable, and have been for the last few decades. You can fit them in different styles, and they have no problem combining the classic with the modern.

They're also perfect to look elegant while not worrying about the different parts of your outfit. If you wear a jumpsuit, you will only have to worry about the accessories or the shoes, and how to mix them together.
Question: When can I wear a jumpsuit?
Answer: Anytime you want! You will see people advocating there are times where you shouldn't wear a jumpsuit, but I believe there is no wrong time to wear them. Fortunately, there are specific styles and ways to wear it depending on the occasion. 
For example, you can't wear the same type of jumpsuit for a wedding and for work. There are casual jumpsuits and formal ones. It all depends on the look you're trying to achieve.
Question: Can you wear jumpsuits in summer?
Answer: Of course! Jumpsuits are not a seasonal piece, and you can wear them every time you want to. Still, to match with the vibes of the season, you'll have to wear them a little bit differently. For example, the fabric will have to be more lightweight (like silk, for instance) to avoid heat.
For shoes, it's best to wear sandals, slides, or wedges. For your hair and accessories, you can be more flexible. Since you don't have the pressure to look elegant, you can take some liberties for that.
Question: Are jumpsuits hard to wear?
Answer: They are not necessarily hard to wear since they are very comfortable. However, it can get complicated when you want to go to the bathroom. There is no particular trick, though. You're just going to have to wing it.

If you need to go to the bathroom while wearing a romper or a jumpsuit, though, you kind of have to prepare yourself mentally. (In other words, you might have to strip down your jumpsuit to go comfortably.) Or grab a girlfriend and ask her nicely to help you out!

Still, if that becomes a problem for you, I'd recommend jumpsuits with low zippers, as they are easier to take off. This also means avoiding ones with a full zipper at the back. Another piece of advice is not to wear belts if you'll be wearing a jumpsuit for long periods of time.

Last but not least, make sure the jumpsuit doesn't touch the ground or the toilet while you're doing your deeds. Public bathrooms have lots of bacteria, and you definitely don't want your jumpsuit touching them.
My Final Thoughts
That was everything for today! I reviewed the history of the jumpsuit, some options and styles, and how to wear them, and I hope you can find the next jumpsuit of your fashion dreams in this list. No matter how you style it (whether you dress it up with sparkly heels and accessories or make it more casual with sneakers), every closet has room for a jumpsuit or two.
If I were to choose my favorite, I would pick the H&M Linen-Blend Jumpsuit. It has a beautiful color, attractive design, and I liked that H&M is committed to caring for the environment. It is a modern choice no matter how you style it and wherever you wear it — and I hope if you choose it, you get lots of awesome mileage out of it!
Recommended reads: