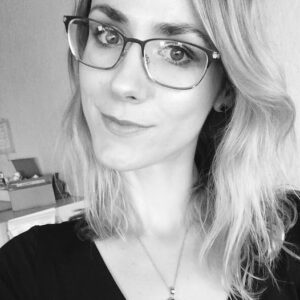 Latest posts by Karyl Trejo
(see all)
Are you getting tired of the same old same old in your closet? Have you been feeling like adding a stylish and versatile piece to your wardrobe? Do you suspect that it's missing a key element, but you're not quite sure what it is? 
Spoiler alert: the missing piece is none other than a denim jumpsuit. Youthful, flirty, playful, but chic as heck, adding a denim jumpsuit to your fashion rotation is a fantastic way to spice up your style! 
However, if you are worried that it might not go well with the rest of your clothing, remember that denim jumpsuits now come in different sizes and styles. And yes, they've come a long way from their 1970s predecessors. 
You simply need to find one that fits your unique preferences and body type. After all, denim jumpsuits exude an aura of glam and elegance, and even better? They're not hard to style at all! With just a few accessories, you can look great in one – but without looking like you've put in a ton of effort. 
Today we're going to take a look back on the history of the jumpsuit, what you should be looking for when getting one, and how it can greatly benefit your wardrobe. Excited? Let's dive in!
What Exactly Is a Jumpsuit, Anyway?
Vogue defines a jumpsuit as "a slim-fitting, one-piece garment covering the arms and legs." They differ from overalls in that they have no sleeves. Pilots and parachute jumpers were the first to wear jumpsuits, hence their name.
Nowadays, though, jumpsuits come in many variations. They can feature either long and short sleeves or somewhere in-between, as well as different necklines that can range from modest to more risque. The pant length can also vary, as well as the pant leg width. 
Today, jumpsuits not only exude effortless style – but they're also super comfortable to wear, too. With so many benefits of having one in your closet, why wouldn't you reach for it every day?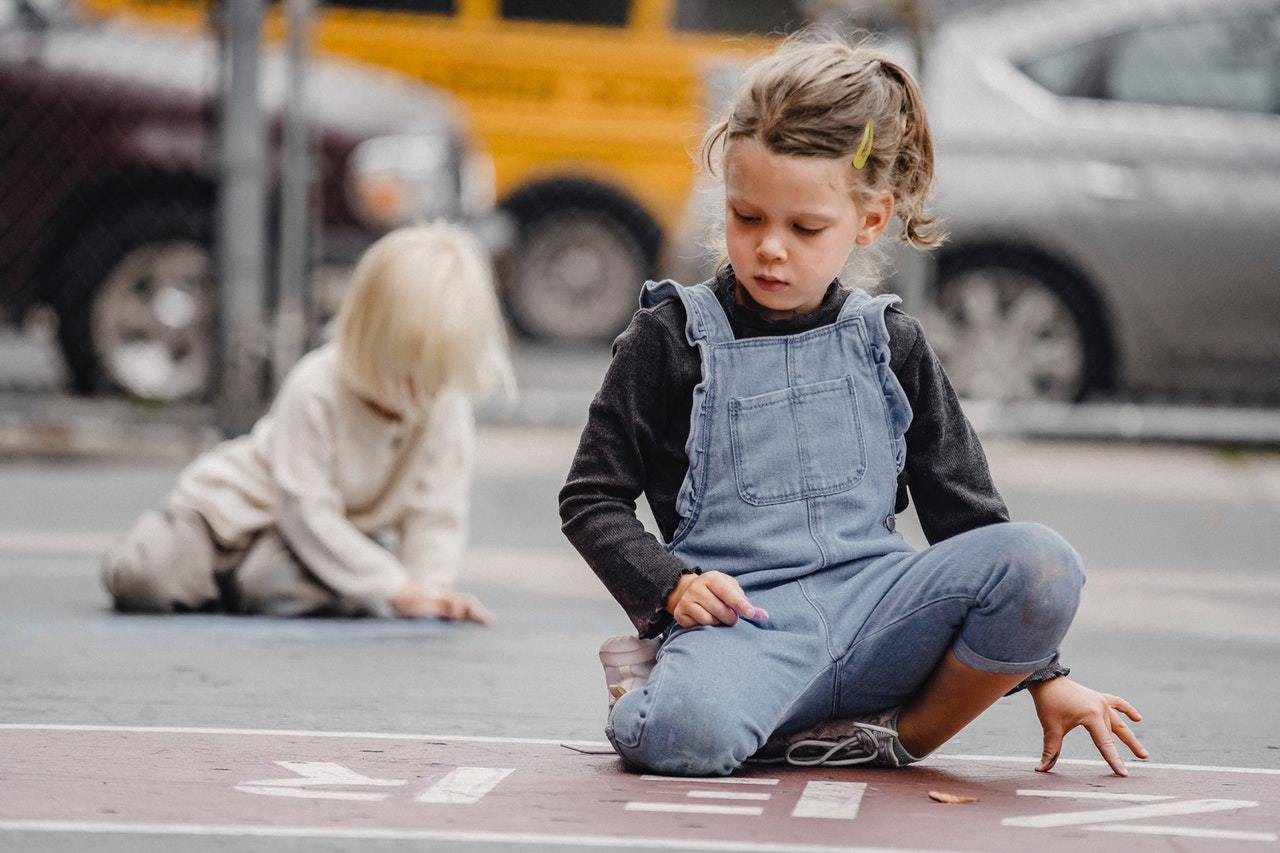 Jumpsuit History 101
So, when did the jumpsuit come into existence, and how did it evolve as a fashion staple? Well, pilots and parachute jumpers were the people first to wear jumpsuits. But as more men left to serve in the war, women soon started working in factories to take over roles previously held by them. 
And they did it wearing none other than the iconic jumpsuit. Championed by Rosie the Riveter, the U.S. propaganda figure turned empowerment icon. This paved the way for women wearing both pants and jumpsuits.
Later on, the jumpsuit's silhouette was adapted to fit a woman's body, with a tight upper part and roomy, bloomer-like legs. Then, in the 1930s, designer Elsa Schiaparelli saw the jumpsuit's potential as elegant wear. However, despite her best efforts, the trend didn't quite catch on. 
Before long, jumpsuits (such as those designed by Vera Maxwell in the 1940s) entered women's fashion as a sportier clothing choice. Yet, even at that point, they still weren't particularly popular. 
As it turned out, though, the mid-1970s turned out to be the jumpsuit's heyday as a part of disco culture. Men and women alike wore it, with men's styles often having low-cut necklines and big collars to show off their hairy chests. 
Most of these jumpsuits were zipped closed, and they featured the iconic bell bottoms for the pants. From there, women's jumpsuits then alternated from loose-fit to body-hugging, adapting to the ever-changing trends of each passing decade. 
These days, however, you can easily get one jumpsuit to match your laid-back beachy vibe and yet a totally different one that's suitably elegant for a dinner party. A jumpsuit can also tide you over a busy workday at the office, letting you have both comfort and fashion all rolled into one.
The Anatomy of a Denim Jumpsuit
We've looked back at the jumpsuit's history. Now, it's time to analyze what makes a specific piece of clothes an actual denim jumpsuit and not something else altogether. To help you get an idea, I'll examine this clothing item by its various parts, which include:
The Top

The Belt and Waist

The Pants
Let's go ahead and break it down!
The Top
The top portion of a denim jumpsuit can vary dramatically from brand to brand. As designers get more creative, quite a few more options can crop up that you can choose from. The most common is the button-down or zipped top, ending a little below the hips to allow the wearer to wiggle into the suit.
We've seen a wide variety of creative variations out there, too, like a wrap-around neckline or a sexy plunging one. Halter denim jumpsuits are also pretty common, as are ones with boat-neck or square necklines. Tube and off-shoulder denim jumpsuits also stylishly toe the line between sexy and cute.
Furthermore, a denim jumpsuit can have all styles of sleeves, or they can have no sleeves at all. There are so many to choose from, which is why there will always be a jumpsuit (or two or three!) that would suit your style and needs.
The Belt and Waist
This part is an essential one, as it can either flatter your overall look… or make you appear like a shapeless style failure. Therefore, it's a must to choose how well the waist part of your jumpsuit fits you. Three questions you need to ask yourself before you whip out your wallet should be:
Is this jumpsuit supposed to be loose and shapeless, or does it come with a belt of the same material? 

Are there built-in belt loops, just like jeans? 

And where do those belt loops sit? (I.e., Are they higher up on the waist or lower on the hips?)
Other styles can come with drawstrings, elastic waists, or even both, allowing for a blouson effect. However, more common types hug and emphasize the waist. All of them have their set of pros and cons, but the bottom line here? It all comes down to your personal preference.
The Pants
Just like regular pants, the pants part of a denim jumpsuit also comes in many styles. These items will compliment your silhouette from high-waisted with palazzo pant bottoms to fitted and belted ones with a narrow, tapered leg.
Some can have a fit similar to hipster jeans, while others sit comfortably around the waist instead of hugging the hips. They can be just like capri pants that end a little below the knee or drag along the floor for the length. Or they can have cuffed hems or no hems at all.
The Advantages and Disadvantages of Denim Jumpsuits
This wardrobe mainstay comes with its own set of pros and cons, just like other types of jumpsuits. Nothing is set in stone, though, because it all boils down to the wearer's preference. With that in mind, here are a few things I love about denim jumpsuits, as well as a shortlist of what I don't like about them.
What I Like:
It's a whole outfit in itself. No more stressing about what top goes with what bottoms! Denim jumpsuits save you time in planning your outfits and dressing up.
It's super versatile.

One can switch up looks easily by changing footwear, adding some bling, or just throwing on a hat, scarf, or bag. 
What I Don't Like:
They can be a pain to take off when going to the restroom!

There's no shortcut in taking these off-you have to wiggle down to your hips. They are not recommended for long-distance travel!

Jumpsuits are statement pieces in themselves.

And this is even more so when they are made with denim. They're easy to recognize, especially if you're one to take photos and post them on social media. 

That means you have to get creative when you wear it, too.

While it's no longer

a crime

to be an outfit repeater, wearing them with the same kind of accessories each time makes them dull. Don't be afraid to mix and match them with

shoes

, bags, and other stuff! Experimenting is the key when wearing denim jumpsuits.

They're not really made for warmer weather.

For those hot summer days, wearing a jumpsuit can be pretty hot! Stick to soft, loose denim pieces in cases like this so that the fabric won't get stuck to your skin.

Classic styles can look more like a uniform.

In other words, you may show up looking like you're ready to work a day in the shop. This isn't bad for some people, but it isn't everyone's cup of tea.
The Best Denim Fabric for Jumpsuits
Raw denim is uncommon for ladies' jumpsuits, as the unwashed and untreated fabric can make the wearer uncomfortable. That's not too big of a deal, though, as there are other denim fabric variations that are more suitable for this clothing. These are:
Sanforized denim.

A jumpsuit made from

sanforized denim

is much softer than raw denim, allowing for a more comfortable fit. They can still be heavy, so jumpsuits made from this specific kind of denim fabric are best worn during cooler months.

Poly denim.

Denim woven together with

polyester

and other synthetic fibers makes poly denim a lightweight version of denim. This fabric is best for wide-legged or ruffled jumpsuits, as they allow the material more movement.

Stretch denim.

Want a body-hugging denim jumpsuit? One in

stretch denim

will allow you to embrace your curves with no additional bulk. Denim like this is usually woven with Lycra to give the signature flexibility.
What Are the More Common Denim Jumpsuit Styles?
Let's look at the common denim jumpsuit styles – and snag a few style tips to wear them, while we're at it!
Long-Sleeved, Belted Denim Jumpsuit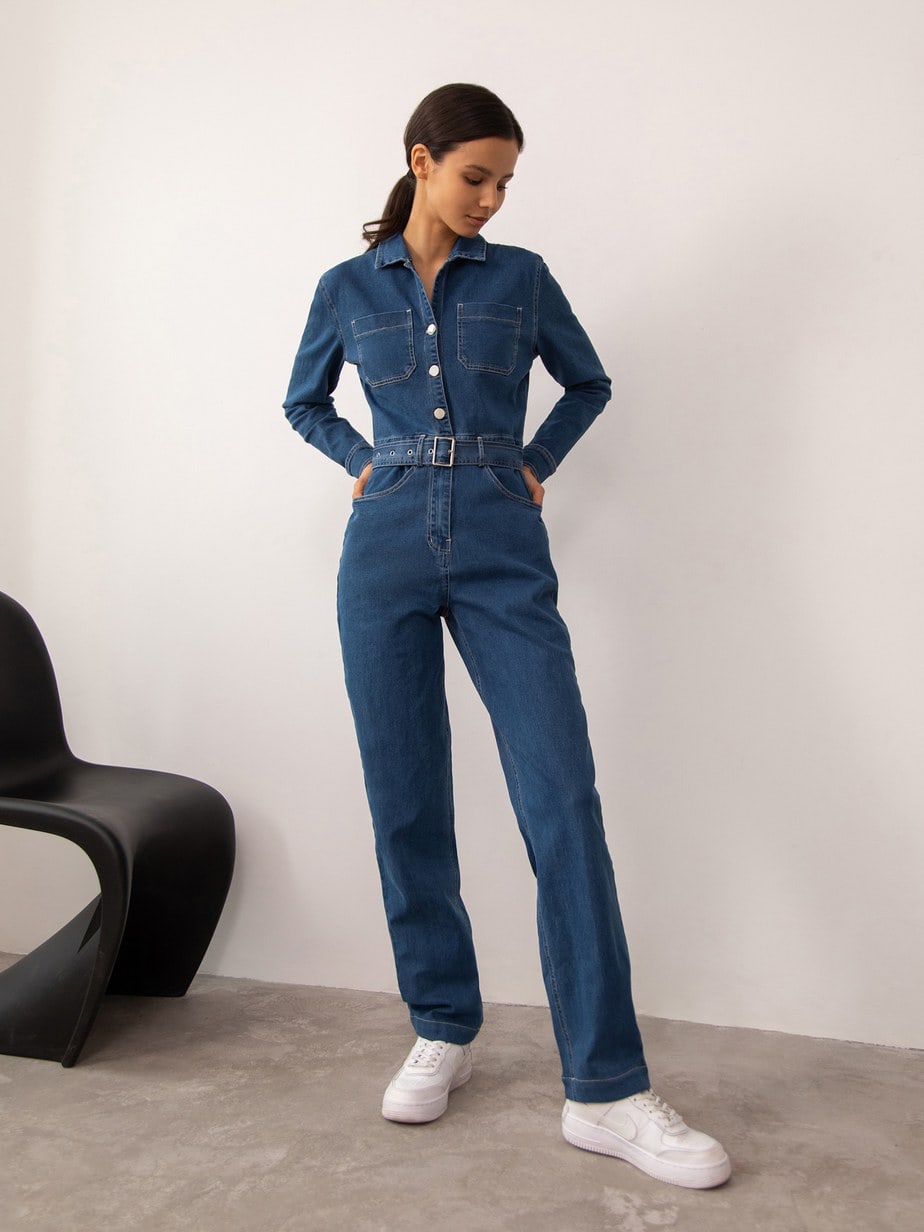 This one's a classic version of the denim jumpsuit. However, its basic look doesn't mean it's a bland choice of clothing. It just means that it's one of the easiest to style. This jumpsuit commonly comes with a belt, and a relaxed leg fit. 
It's suitable for working, doing errands, and even partying. Wear this style with platform sandals to elevate the look, and reach for earth-toned accessories for contrast.
Wide-Legged Denim Jumpsuit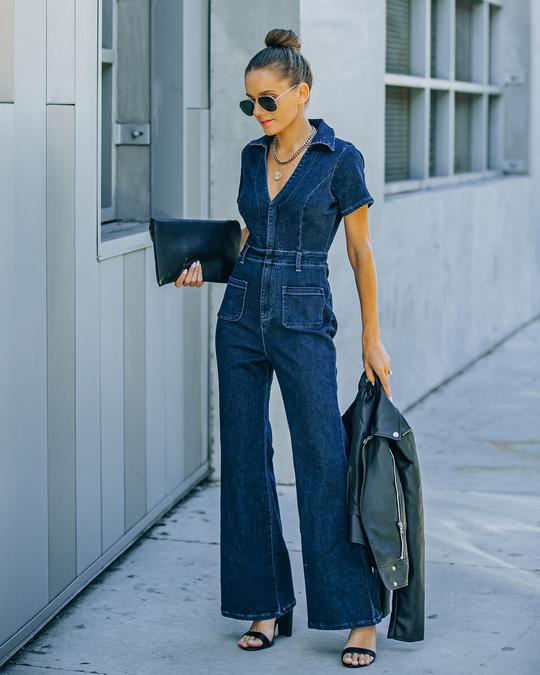 Who says denim can't be chic? A wide-legged denim jumpsuit is guaranteed to turn heads. This fashion-forward piece is comfortable, too, thanks to its roomy fit. White sneakers make the denim pop out even more, but sexy heels and a clutch bag worn with this style scream stylish and sexy.
Sleeveless Denim Jumpsuit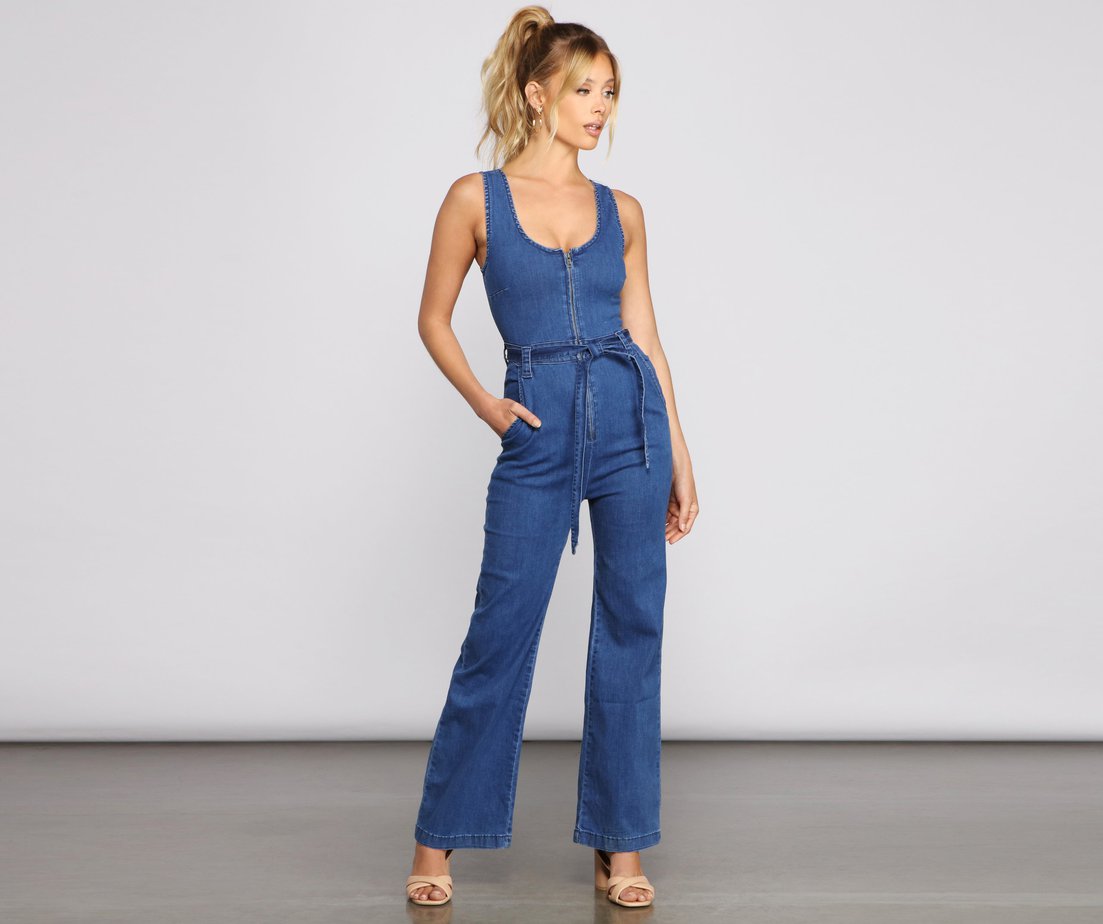 This item comes close to overalls, minus the metal bib clasps or buckles. It can have a plain round neck or mimic overalls with a square neck and thick straps. This style is best to wear during summer and spring and looks dainty with flats. Go for a sporty style by pairing it with sneakers and a sweater or a cardigan casually tied around the waist. 
Denim Culottes Jumpsuit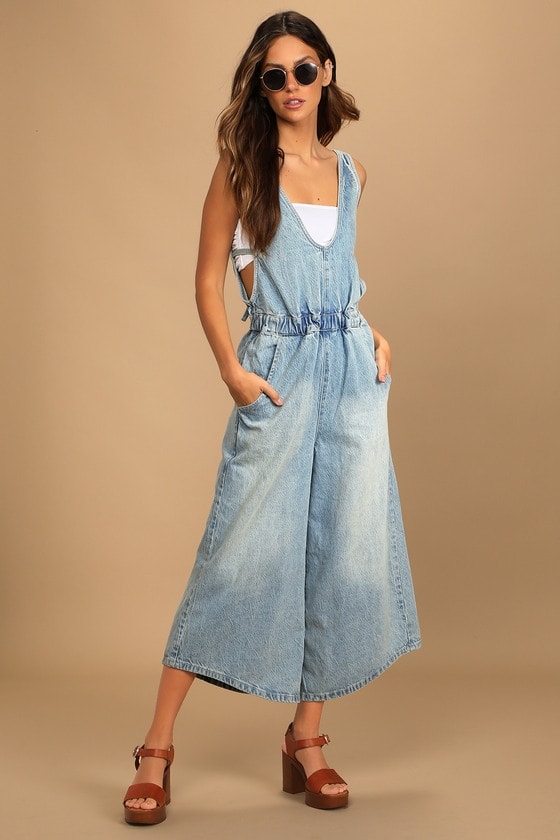 If you're a fan of culottes, then this style is for you! There's plenty of room for your legs to breathe with a denim culotte jumpsuit. Cute strappy sandals upgrade this outfit to help you look casual yet put together.
Off-shoulder Denim Jumpsuit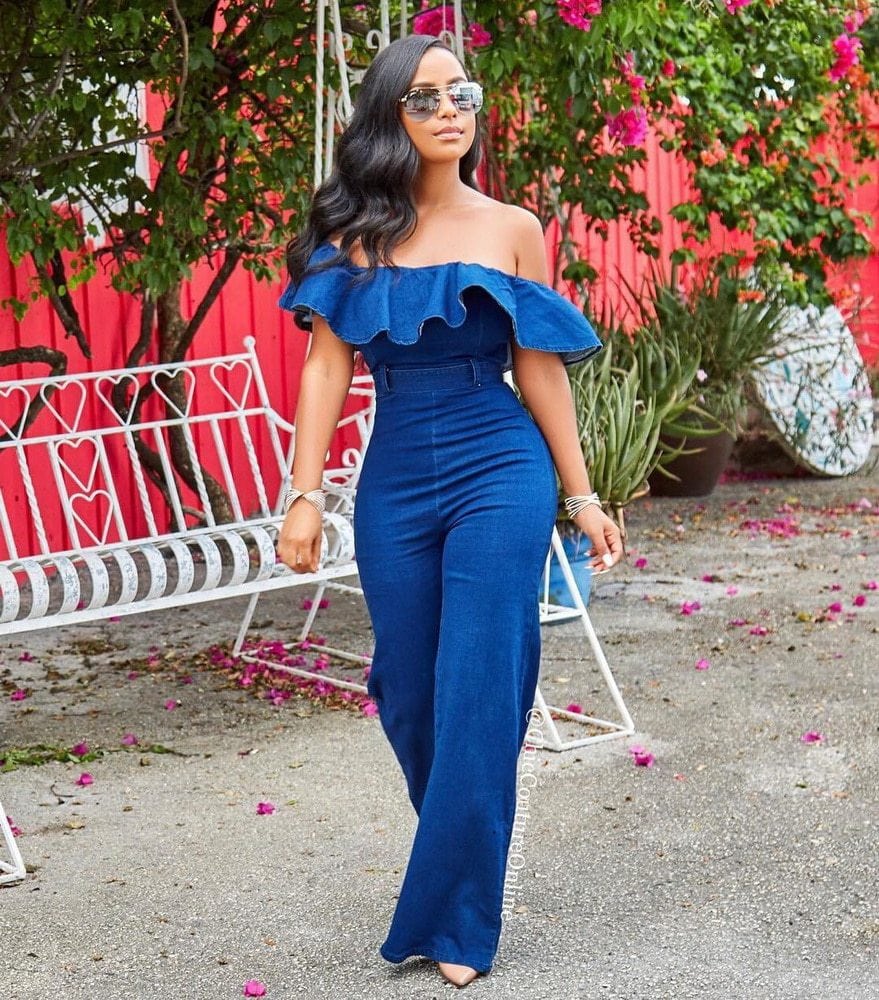 Give off tropical vibes with a sleek, off-shoulder number. This style flaunts your shoulders and collarbones delectably while keeping the rest covered (or not, if you prefer a neckline that skims your cleavage!). 
To emphasize the neckline, wear appropriate jewelry like an understated choker or layered necklaces for semi-formal events. Or, if you prefer, feel free to go bold with flashy costume jewelry.
Zip-Up Denim Jumpsuits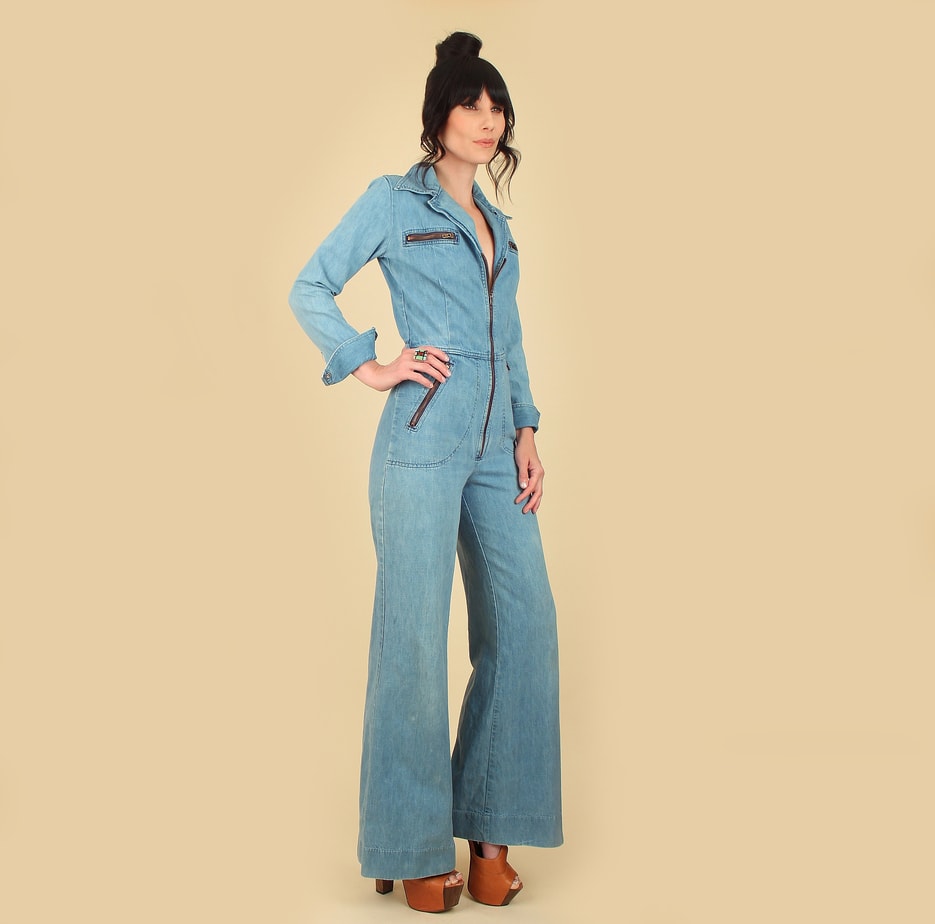 The easiest to wear, zip-up jumpsuits let you control the amount of cleavage you want to show. Plus, it's a breeze to put on and take off, compared to ones with no zips. Pair it with dainty jewelry and pastel accessories to avoid looking too utilitarian.
What to Look for in a Denim Jumpsuit
Ready to shop for denim jumpsuits? Before you start filling your shopping cart with all of those cute denim jumpsuits on your wishlist, hold off until you've read my tips below. That way, you can make sure you'll be wearing your jumpsuit in as many ways as you can!
Your Body Type and Characteristics
As with other clothing items, carefully considering which denim jumpsuit style looks great with your body type is a must. Read on which jumpsuit type flatters you the best.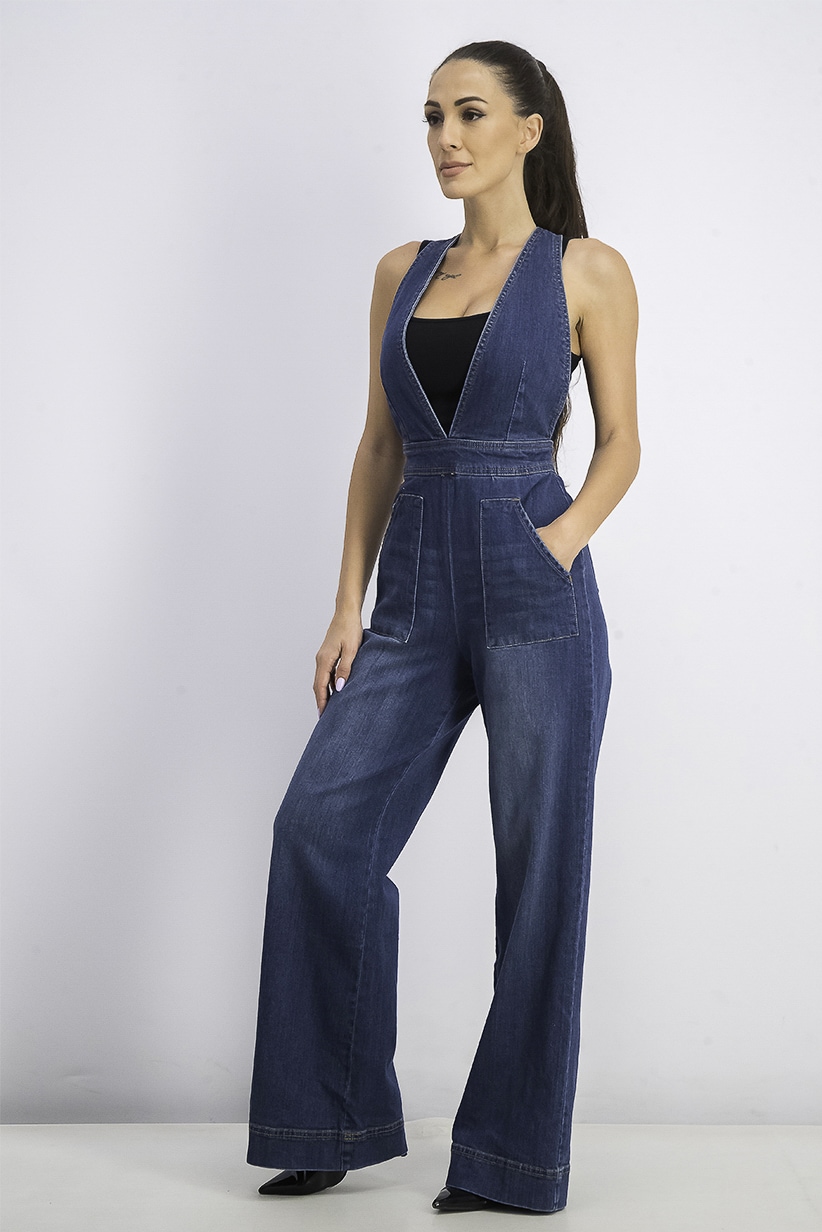 Feel like showing off your assets?

If you're voluptuous, a not-too-plunging v-neck denim jumpsuit will do wonders for you. Pick one with a defined waist and broader leg to balance out your proportions and take the attention away from your bust. Stay away from pieces with different fabric on the top like ruffles, though, they can make you look bulkier. 

Want to add some curves?

A denim jumpsuit with ruffles on the bust area will effortlessly create the shape you want, even if you're on the straight side. It helps if the ruffled jumpsuit has a defined waistline, too!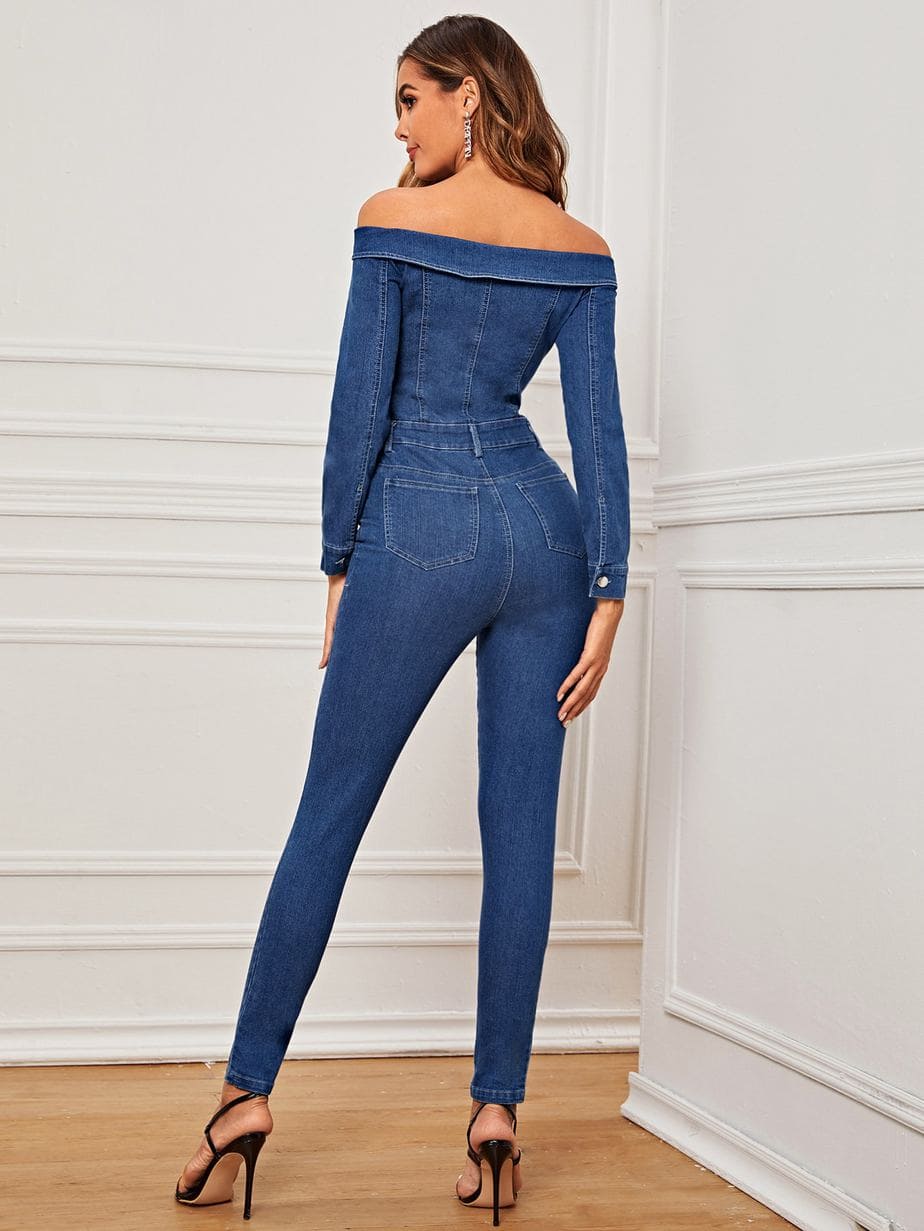 Is balancing your derrière a priority?

If you have a triangle/pear body type, an off-shoulder denim jumpsuit will highlight your shoulders and help balance your silhouette. As for the leg fit, wide-leg or straight ones add oomph to your shoulder, baring ensemble. 

Have broad shoulders and killer collarbones?

Deep v-necks and wrap-around jumpsuits can take the focus to your waist and soften your shoulders. Stay away from anything that draws attention to your shoulders, like a jumpsuit with a padded top or exaggerated sleeves.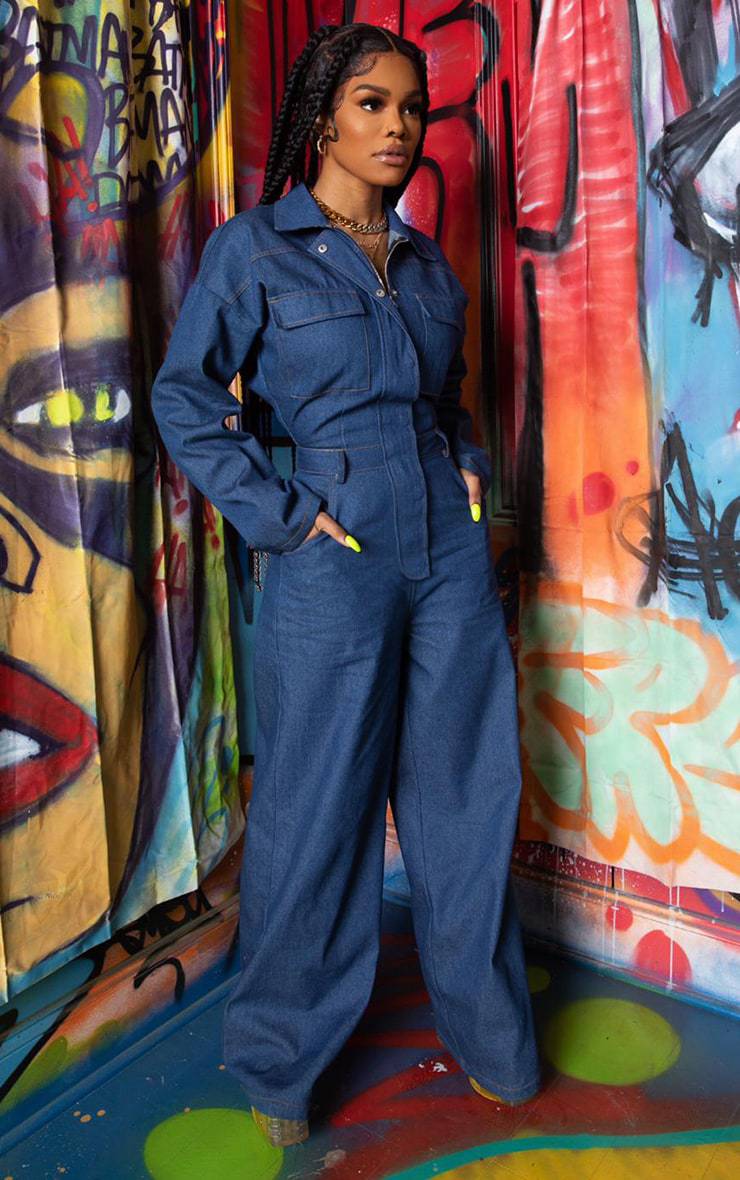 Blessed in the height department?

Try on a wide-legged denim jumpsuit with some lovely high heels. Your extra height means the fabric won't overwhelm you. You can also go with a cropped denim culotte that tapers just right on your ankles.

Want to look a little bit taller?

Petite ladies can opt for fitted, cropped denim jumpsuits. No to sweeping, long ones though, as they tend to overwhelm your small frame and make you look shapeless.
My Favorite Denim Jumpsuit Pieces
You could say you're a denim jumpsuit expert by this point. You learned about its history, its many types, and what makes it so special. However, with many options available, it's natural that you still feel confused about which particular denim jumpsuits are the best. 
Well, to that I say: worry not! Below, I'll list some of my favorite denim jumpsuits so you can get started with the one that best suits your style. As for my selection criteria, I chose my picks with variety, quality, and originality in mind, so there's hopefully something for everyone!

Let's get comfortable and chic. V.I.P JEANS is king in denim clothing, and I believe that this piece is a fantastic starting point for those who want to get into jumpsuit fashion. This sleeveless jumpsuit is perfect for summer and casual outings, as it's neither hot nor bulky, and is just tight enough to show off your figure while still being easy to wear.
A thing I loved about this one is the wide variety of colors it comes in. You can go monochromatic if you select the dark blue, medium, or white model, or even spice things up with a camouflage pattern if you're feeling risky. I bet you'll look amazing either way, so don't waste any time and start rockin' that sleeveless jumpsuit!
Pros:
Easy to wear and combine

Available in a variety of sizes and colors

Fabric is comfortable and soft

Cute, but will not drive all the attention away from the rest of your outfit
Cons:
Some reviews claim it fits a little tight on the chest area

Requires great care and gentleness to zip to avoid damaging the zipper

Some people believe that denim jumpsuits can look a bit dull by themselves, and for that, I'm really glad to show you a model that can truly stand on its own. This v-neck jumpsuit will prove comfortable at home or during casual outings. And with a bit of creativity, it will also work fantastic on a date.
You may button up this piece as much as you please for more or less cleavage, or even pair it with a top of your liking underneath. The belt is a cute detail that will surely catch people's attention, and the fabric is breathable without being especially thin. 
PerZeal offers this piece in many colors, too. That means that there's plenty of room for experimentation if you want to pair it with other accessories!
Pros:
Available in a wide variety of sizes and colors

Reviews say it fits true to size

Fabric is soft, stretchy, and breathable

V-neck makes it pretty flattering
Cons:
Reviews claim the belt can slip out of the loop a little

Can only hand-wash it

This vintage denim jumpsuit separates itself from the other jumpsuits we've seen so far. It goes for a classic approach in that it is a little bulky and baggy, which makes it an ideal piece for loungewear. It's meant to be practical and comfortable to wear. And honestly, at that, I truly believe it excels.
Now, this doesn't mean you can't go out with it, though. This jumpsuit is actually really cute, especially when combined with the right accessories! The vintage vibe just cannot be matched, and Lee definitely didn't let down with the quality of this piece. Without a doubt, it's one of my favorites.
Pros:
Practical, comfortable, and fun to wear

100% cotton fabric is sturdy and durable

Just baggy enough to not hide your curves entirely

Reviews say it fits true to size
Cons:
Only comes in one color: Pacific Blue

Can only cold-wash it

As we know, jumpsuits have evolved over the years and can now be found in many styles. However, when something works, it just plain works, which is the reason why we keep seeing beautiful aviator jumpsuits like this one around. 
With its characteristic bagginess, collared neckline, and 3/4 sleeves, Celebrity Pink brings back the best of classic aviator jumpsuits with this high-quality piece. These are perfect for daytime outings and casual outfits. Although aviator jumpsuits tend to look a little bit masculine, you can add a feminine touch with heels, a purse, and good ol' makeup. 
Pros:
High-quality fabric

Can be machine-washed

Elasticized waist and loose pants make it comfortable

Offers an unmatched vintage look that's fun to combine
Cons:
May be too baggy for short women

Only comes in a standard denim color

To close off this list, why not go for something a little edgier? This biker denim jumpsuit caught my attention the moment I saw it. It's very form-fitting and will highlight your curves, but it is also stretchy at the same time. I've heard many times that jumpsuits don't go well with tall women, but this one fits longer torsos just perfectly!
When I see this jumpsuit, I can't help but think about a fun night outing with my friends. The dark colors sure catch people's attention, and the full zipper will come in handy if you want to pair it up with a t-shirt underneath or get a bit more cleavage. It's tight but comfy to wear, and it is a nice way to look chic and flattering without worrying too much about the details.
Pros:
Comfortable and hugging fabric

Just tight enough to enhance your figure

Comes in a variety of dark colors to showcase your bold attitude

Reviews claim it fits true to size

Can be machine-washed
Cons:
Some reviews say that zipper feels a bit cheap
My Favorite Denim Jumpsuit Ideas and Inspiration
Now to the fun part! I handpicked these outfit inspirations based on how good it would look with anyone, regardless of the body type. I also considered the availability of the accessories, as you'd like to style the item as effortlessly as possible. Read on and pick up tips for your next OOTD!
Tone Down a Plunging Neckline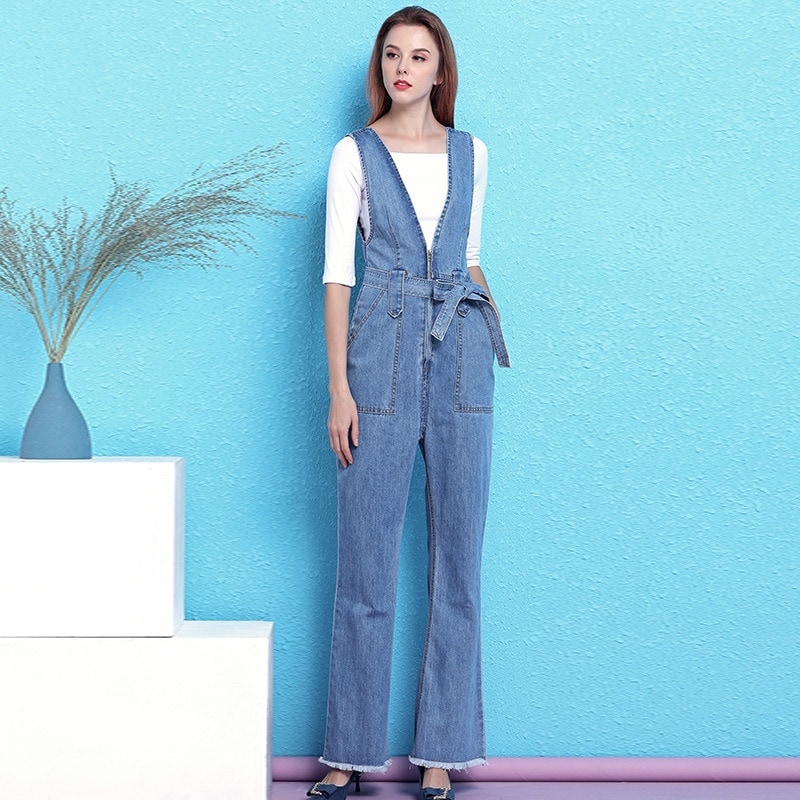 Got a denim jumpsuit with a plunging neckline? Make it more office-appropriate by wearing a lightweight knit sweater underneath. Choose one with a bright color that pops against the blue denim. For warmer weather, feel free to wear alone and ooze confidence!
Pros:
You can easily dress up and down a piece with a neckline like this. Varying your inner shirt, from tube tops to

sweaters

, makes for versatility!
Cons:
Plunging necklines can be pretty tricky to wear alone, especially for women with ample bosoms. Be sure to wear a proper bra or other alternatives to support and cover the girls well. Double-sided tape also helps prevent wardrobe malfunctions, so keep a small roll handy in your bag.
Nobody Puts Baby (Tee) in a Corner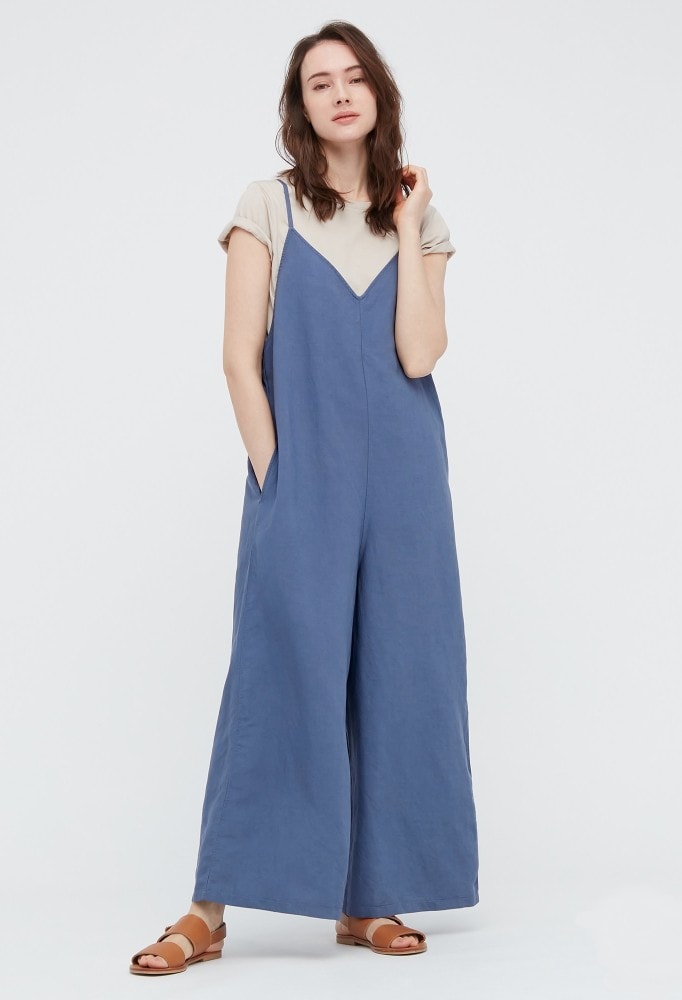 A denim camisole jumpsuit looks casual and cute with a plain baby tee worn underneath. Flat brown sandals complete the laidback look but could also be swapped for white sneakers for a sporty, youthful look.
Pros:
Looks cute and unusual. As a cross between a dress and pants, a camisole jumpsuit sets you apart!

Easy to dress up or down
Cons:
Long, wide-legged cami jumpsuits tend to make petite women smaller

It can look plain if not styled well with accessories
Show Off Bare Shoulders With Statement Jewelry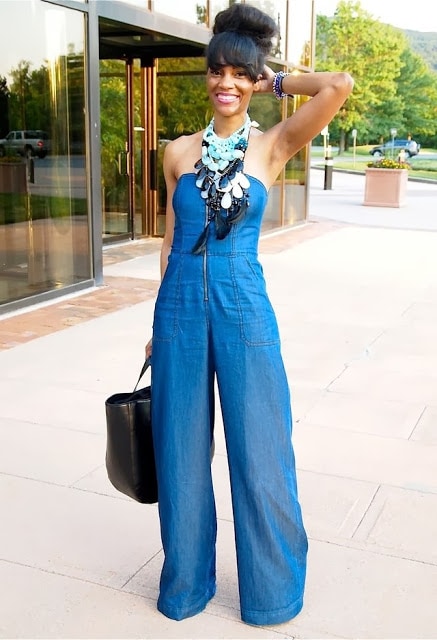 Accessorize a tube-top denim jumpsuit with several chunky necklaces. The accessories create a flattering line from your neck to your chest and look put together. Pair the outfit with an oversized, minimalist black tote, and keep your hair up for a classy yet fresh take on the outfit.
Pros:
Tube jumpsuits look good with both minimal or many accessories
Cons:
Can look plain with no accessories or tacky with the wrong ones 
Style Tip: Keep the color palette simple when layering fancy necklaces with this outfit. Choosing plenty of colors can make you look too festive-and inelegant.
Dress Up the Basics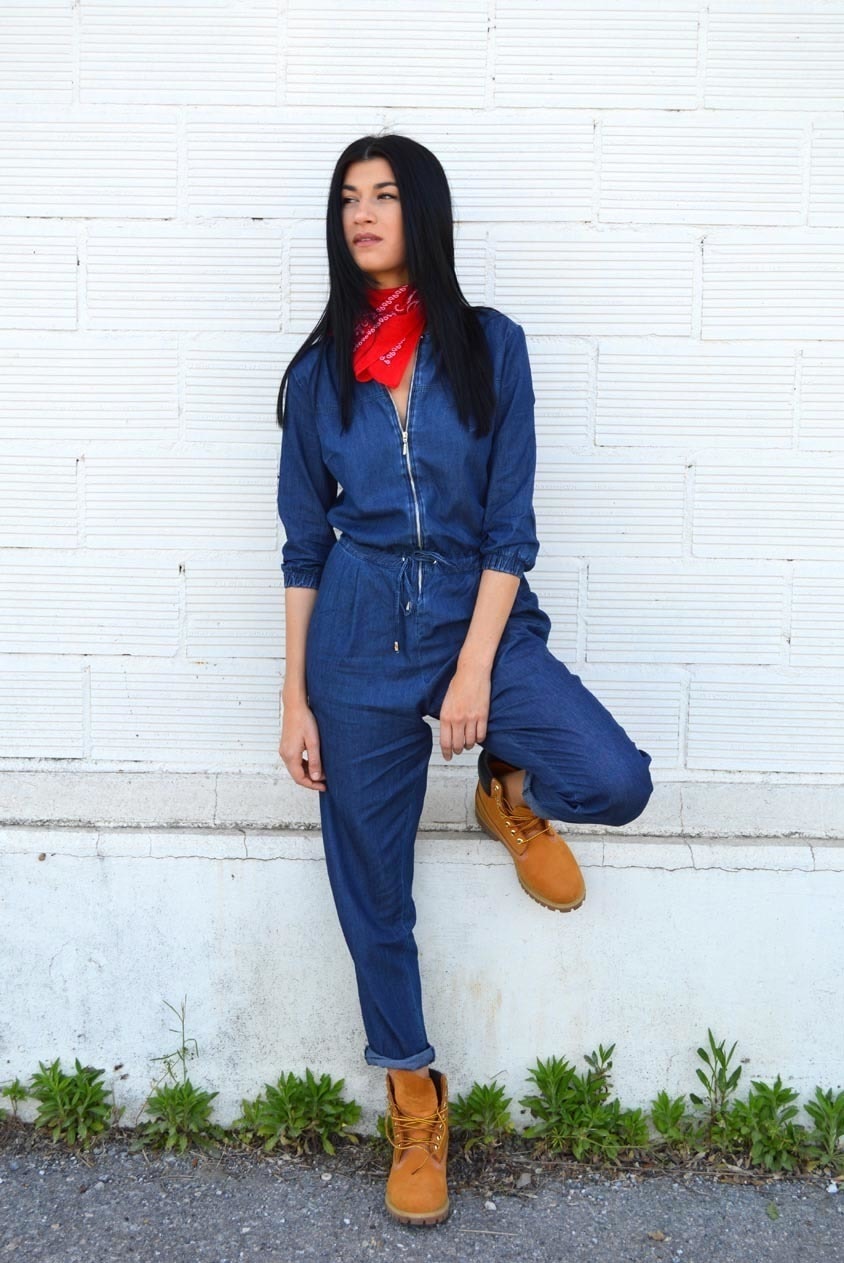 Sometimes, all that a zip-up denim jumpsuit outfit needs to stand out is a few pops of color, just like this red bandanna and flat suede boots bring to the ensemble. The look is easy to put together and exudes a chill vibe. Silk scarves in loud prints and colors also add interest to this outfit. 
Pros:
Easy to find accessories elevate the zipped denim jumpsuit instantly

It offers a different amount of coverage-may be zipped down to reveal a cute inner top, halfway to let a little cleavage peek through, or completely zipped up for a more basic look
Cons:
It may look dated and frumpy, especially if not accessorized well
Stay Toasty All Year' Round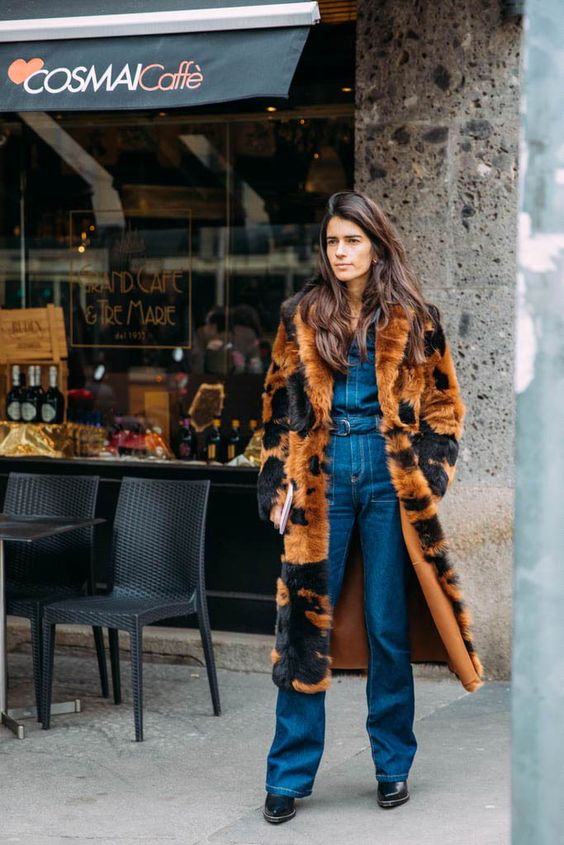 Is the weather starting to get a little bit colder? Layer in style with this classic blue denim jumpsuit underneath a bold brown and black teddy bear fur coat. It's simple but oozes confidence and keeps you warm. Simple black boots complete the look.
Pros:
It's a breeze to put together fancy accessories not needed!

It's a great way to wear layers during the autumn and winter months
Cons:
The jumpsuit's extensive coverage, together with the coat, may look bulky for specific body frames. Not recommended for petite women as the volume of the outfit will swallow them whole
Edge It Up With a Moto Jacket
A simple blue denim jumpsuit gets an edgy upgrade with a black leather motorcycle jacket. Chunky white dad sneakers, however, mellow it down to keep the outfit from looking overly bold.
Pros:
Denim and leather is a classic combo. You can never go wrong with pairing these two together

It's an excellent way to keep warm without the extra bulk

Dad sneakers are still trendy even if 2022 is just around the corner
Cons:
Not a combo for summer, as leather and denim can get hot quickly
More Tips for Wearing Your Denim Jumpsuit
Switch up your looks easily just by changing shoes.

Sneakers are a great way to tap into the athleisure trend. For an instant upgrade, chunky heels are an excellent way to look dressier. Flat

sandals

are lovely for a weekend vibe, and ankle booties are a surefire way to look warm and trendy for cooler months.

Cooler months mean more options for accessorizing your denim jumpsuit.

Go for scarves of different fabrics and

blazers

that are a tried-and-tested way to make a denim jumpsuit look more elegant. Layering a sleeveless vest or a

cardigan

will also give off

preppy vibes

.

Inner tops allow you to play with your jumpsuit.

You can opt for an inner top that matches your bag or shoe color.

You don't want your jumpsuit to bunch around your ankles.

Cuff your denim jumpsuit as you would do jeans. I recommend a few ways to cuff your jumpsuit

here

.

Heels can help the shorter ones.

Petite women can still rock the jumpsuit by pairing it with nude or neutral

heels

that help make them look taller. 

Don't limit yourself to blue denim jumpsuits!

White and black are good choices to look stylishly chic, along with a few neutral and earth tones like gray and camel.

It's wise to choose a piece that comes with a separate belt.

That way, you can switch up your belt styles and colors anytime you like.

Remember the fit!

Don't wear a jumpsuit that is too tight or too loose for your frame.
Frequently Asked Questions
Question: How can I turn my fitted denim jumpsuit into a business casual outfit?
Answer: A nice tailored blazer will give you boss vibes and are good enough for business casual or semi-formal events. Pair with medium or high-heeled pumps to put it all together.
Question: What shoes do I need to pair with my jumpsuit if I want to look long and lean?
Answer: Slim heels will do the trick. Aside from giving you the extra height, it also helps you look more streamlined. Be sure to steer away from chunky heels if you are on the shorter side, though!
Question: I'm a bit on the plus side. What kind of denim jumpsuit do you recommend?
Answer: Go for a denim jumpsuit with a relaxed leg fit, ending just above the ankle. Too long, and you'll look bigger. Also, consider your body type (apple, pear, straight) when choosing your jumpsuit.
Question: What cute inner top options can I wear with my sleeveless denim jumpsuit?
Answer: I recommend sheer tops (black is a timeless choice, and pastel-colored ones). Puff-sleeved ones are perfect if you're going for a sweet look. Another trendy option is the super crop top. It's great to wear a drawstring jumpsuit with elastic cuffs!
Question: How do I accessorize my denim jumpsuit without looking tacky?
Answer: First, determine where you will wear your jumpsuit before choosing your accessories. Try on accessories one at a time. Start small, like jewelry or a belt. Make sure your accessories add value to your outfit rather than overpowering it. Your aim is to break the monotony of your jumpsuit without going overboard.
Question: I'm tired of wearing blue denim jumpsuits. What are the other colors that I can try?
Answer: Neutral ones, like this beige denim jumpsuit, are your best bet. Go for cream or khakis and add earth-toned accessories like a bag or a hat. 
My Final Thoughts
Denim jumpsuits elevate casual dressing up a few notches when paired with the right accessories. It's also a good choice for laid-back days when comfort is a priority. For that reason, if I had to pick a favorite myself, I'd definitely go with Lee's Vintage Unionall jumpsuit! It's practical and fun to wear, plus it's super comfy for a day at home.
Though it might seem a simple clothing choice, denim jumpsuits can easily make a fashion statement when worn creatively. Ready to shop for your next denim jumpsuit? I hope my style tips and suggestions help you take your denim jumpsuit styling to the next level!
Recommended reads: