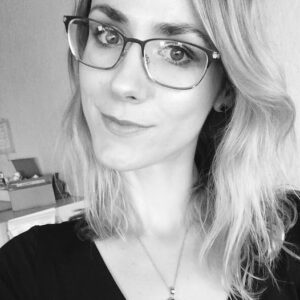 Latest posts by Karyl Trejo
(see all)
Jumpsuits are a type of one-piece garment that consists of a top and bottom, all rolled into one single, highly versatile ensemble. While this garment came to be from more of a necessity than anything else, these days, they serve as a pretty convenient outfit option. 
Women and men alike tend to reach for them in their closets, for both work and leisure, thanks to the practicality and ease of simply slipping into a one-piece garment. As a complete outfit on their own, you'll be hard-pressed to find a more hardworking article of clothing.
Now, you may have heard of the terms romper and jumpsuit before – and you might even believe they can be used interchangeably, too. However, they are not the same. While they do share similarities, they also have their own unique characteristics that set them apart.
One of the things that distinguish jumpsuits from rompers, though, is the length of the trousers. Jumpsuits generally have pants (though they can be cropped to fall below the knees or hit mid-calf), while rompers have shorts.
Women and men can wear jumpsuits in a hundred different ways, but today, I'll talk about the ways you can wear them as a fashion item. As the years passed, more and more designers have had their interpretation of the jumpsuit. 
Common materials that may be used in jumpsuits are:
However, they're not limited to just these three types of materials, and designers like to mix things up for the different seasons. There is also a wide spectrum of colors they can come in, too, such as red, white, orange, or even metallic or rainbow-colored. You can even find sequin jumpsuits, too.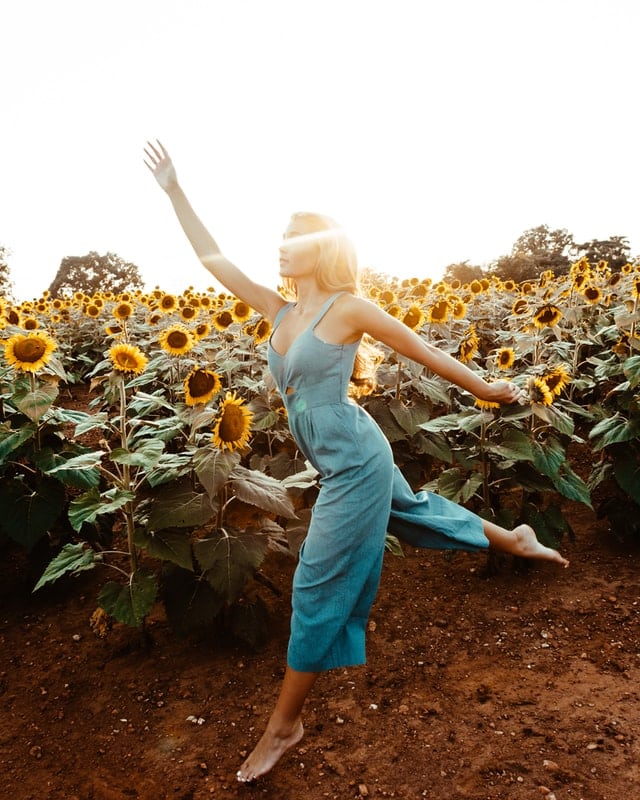 Believe it or not, though, blue is one of the most classic colors to wear any clothing, right after white, black, or gray. It's calm and peaceful, making it no surprise that it's one of the most popular colors in fashion. 
There are hundreds of shades of blue to choose from (such as navy, periwinkle, and cerulean), meaning that there's a blue jumpsuit for any skin tone. So really, there's no way you can go wrong with adding one of these pieces to your wardrobe. 
Below, I'm going to dive in-depth into blue jumpsuits, sharing with you things like:
The history of the jumpsuit itself.

A grand total of – drumroll please! –

ten

incredible blue jumpsuits you can choose from.

Fun, fresh, and chic styling tips so you can start wearing yours today.

And even answer all of your pressing questions about these cute articles of clothing!
If you've been wondering about blue jumpsuits and what makes them special, then you'll definitely want to keep reading. With these styling tips and amazing blue jumpsuits hand-selected by myself, you can start updating your wardrobe with one (or more!) of them today.
A Brief History of the Jumpsuit
First things first, you're probably wondering, where did jumpsuits originate from? Well, it all started in 1919, when someone decided to make a dedicated garment for parachuters. It had to be easy to wear and practical, plus also allow them to literally jump out of planes.
The first time a designer made a jumpsuit for women was in 1930, back when Elsa Schiaparelli made a collection that included a green jumpsuit with big pockets. Of course, this collection was inspired by the upcoming war, so maybe the connotation wasn't the most uplifting one, but it was a big step for the jumpsuit as a type of clothing. 
Of course, fashion and industry were struggling to thrive during the war, so Rosie the Riveter soon made her appearance. She was an icon (and honestly, still is!) not only because of her ideology and her famous "We can do it!" catchphrase, but also because she wore a utilitarian jumpsuit.
From the 1960s to the 1980s, jumpsuits only became more famous, as music stars of the time like Elvis and Cher made it a trend. Such growing fame resulted in more extravagant and colorful jumpsuits that are still seen today. However, by the 2000s, formal and sophisticated jumpsuits started to gain some attention.
Neutral colors like white, black, or navy blue dominated the fashion scene for a hot moment. Still, jumpsuits proved to be so versatile that nowadays, there's a place in fashion for casual and formal jumpsuits of both neutral or bright colors. 
Jumpsuits work because they're so easy to adapt to one's personal style. And with many unique pieces to find, there's bound to be one that goes perfect with your look.
My Top Blue Jumpsuit Ideas and Inspiration
Now you know what a jumpsuit is and how they were created, your next step is to determine what kind of jumpsuits you should be looking for. What shades of blue are the best for your skin's undertones? And what fabric is preferred to showcase the blue warmth? 
To answer your questions, I'll show you a couple of cute and fun options to keep in mind. But first, before we start exploring my top choices, I'd like to tell you a bit about the criteria I used to pick them out.
What Was My Selection Criteria?
Hey, I totally get it. You want to see the jumpsuits already. That said, it wouldn't be any fun if I just showed you some random jumpsuits and left you just hanging there, right? That's the exact opposite of what I want to do here. 
You deserve to know the reason behind my picks and what motivated me to include them on my list. So with that in mind, I'll briefly go through the factors I took into account when selecting the blue jumpsuits you'll see below:
Their Color.

Blue

is the color of confidence, loyalty, and tranquility. Of course, you'll be seeing blue jumpsuits on this list, but that doesn't mean there can't be a variety of blues added. I decided to include jumpsuits in shades from light blue to royal blue. Some jumpsuits were even available in multiple shades.

The Fabric.

Jumpsuits come in lots of different materials, including cotton,

denim

, and polyester. For a jumpsuit, a fabric has to be comfortable and soft, as it's a fabric that will cover your entire body. That was a fact I took into consideration.

User Reviews.

I love user reviews because they give us an idea of how customers are reacting to a specific article. Is it too big? Is the material of questionable quality? I'm interested in these answers, and they helped me complete the pros and cons section so you could dive further into each piece.

The Variety.

When a particular style is trending, chances are you'll see it everywhere. For example, if you search for blue jumpsuits, you're most likely to find all kinds of

denim

jumpsuits. I picked some of those, sure, but I also looked for different types of jumpsuits so you can select the one that suits you best. 

Their Originality.

The thing about making an enormous list of blue jumpsuits is how hard it is to see something that's original. Still, you won't have to worry about that. I included jumpsuits with an extra spark, such as a

gingham pattern

or chains on the top to diversify this list and make things fun.
I know not everyone has the same style or same preferences, so I hope you find one piece of your liking or one that fits your fashion needs. Now that you know what went behind the scenes to make this list, I believe we're finally ready to jump right into it!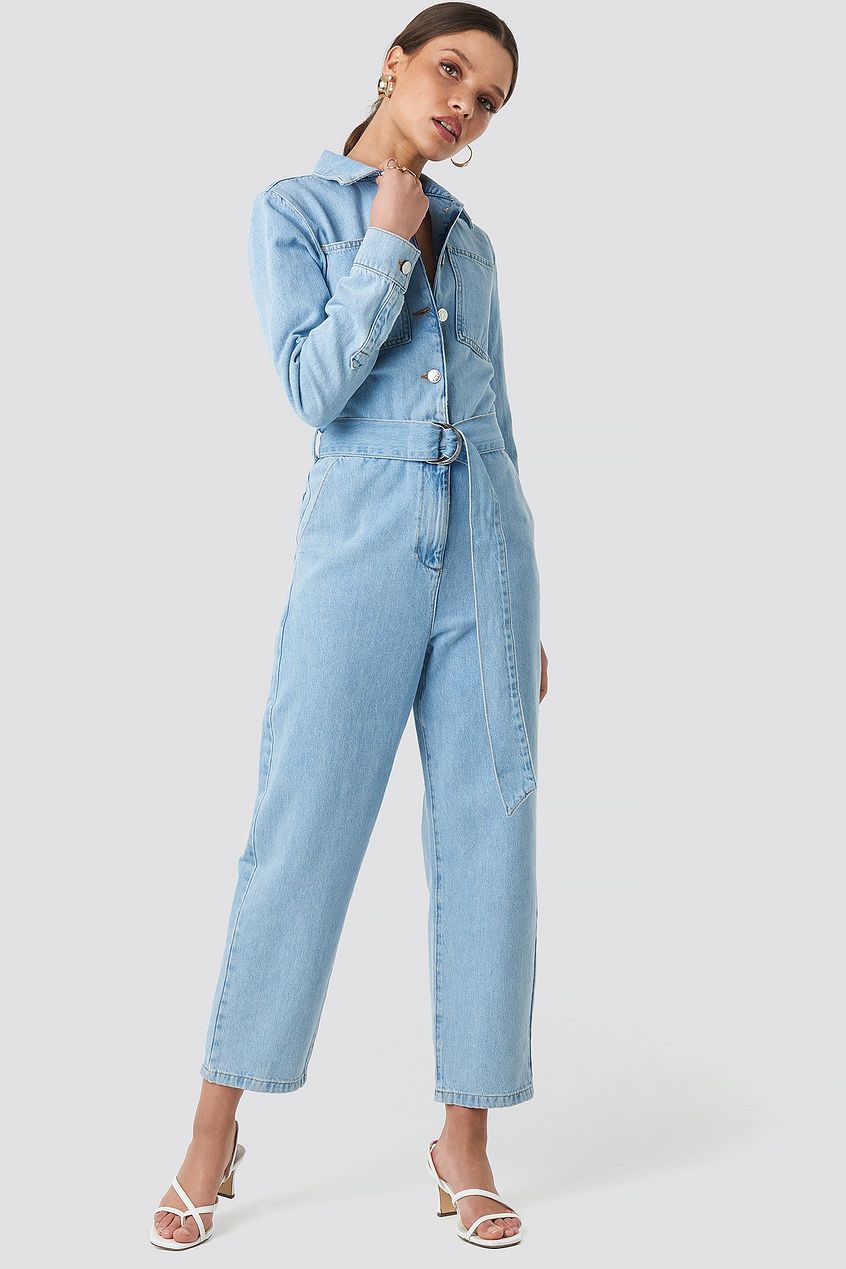 As we're talking about the best blue jumpsuits here, I wanted to start the list with a denim jumpsuit. A durable and neutral fabric, classic denim is blue and will go with anything in your closet. In this case, we have one with a beautiful light blue color that emphasizes the details of the jumpsuit. 
It comes with a grand total of six pockets: two side pockets, two back pockets, and two more on the top. Since a lack of pockets tends to be the bane of women's fashion, that little addition helped win my heart. I loved its cut, too, as it reminded me of the functional look that made jumpsuits so famous in the first place.
Pros:
It's available in a variety of sizes.

It's available in two shades of blue.

The fabric is 100% cotton.

It comes with an adjustable belt.

It has pockets!
Cons:
The all-denim jumpsuit look might be too much for some people.

This sleeveless jumpsuit caught my attention for different reasons. First, its light blue color is absolutely beautiful. I get why they called it "Spring Blue," as it truly reminds me of a clear sky on a nice day. Some other touches I loved were its sash belt and fly-away pants.
The lightweight crepe fabric of this jumpsuit makes it the perfect summer piece, and its design elements mean you don't have to add much to it to have a complete outfit. A simple pair of sunglasses and some pearl or stud earrings completely round it out.
Pros:
The fabric is 96% polyester and 4% elastane.

It comes in three shades of blue: Spring, Navy, and Royal.

It's available in many different sizes, from a 2 to an 18.

It usually fits true to size.

Most user reviews liked it.
Cons:
Some user reviews say it's hard to unzip it by yourself.

Some user reviews think the pants are too long.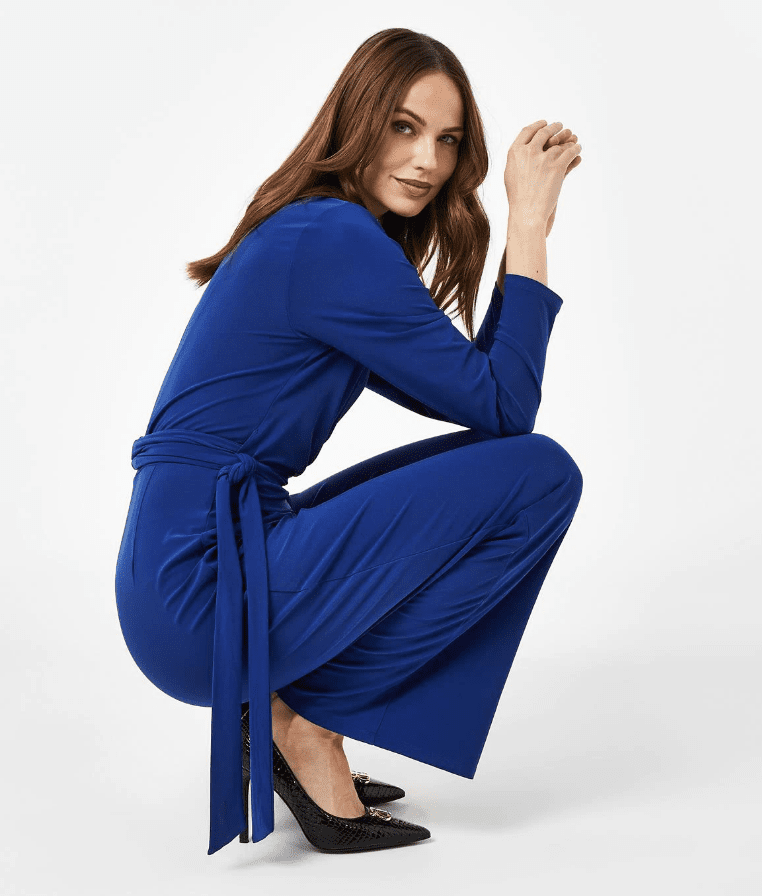 It's common to find jumpsuits for spring or summer, but what about fall or winter? This jumpsuit is part of an autumn-winter collection that also focuses on retro patterns. Following the inspiration of the 80s, it has a V neck and wide legged pants. 
It's a delicate fit that you won't want to miss. Its stretchy jersey fabric means that it can flatter all body types, and the bold blue goes just as well with nude pumps or black stilettos. You can wear it to the boardroom or on dates, as well. 
Pros:
It's available in sizes from XS to XL. (They also have a size guide you can check if you're unsure of your size!)

It's made of jersey

The long sleeves make it look classy and favor the autumn themes
Cons:
The zip at the back can make it hard to zip and unzip the jumpsuit without help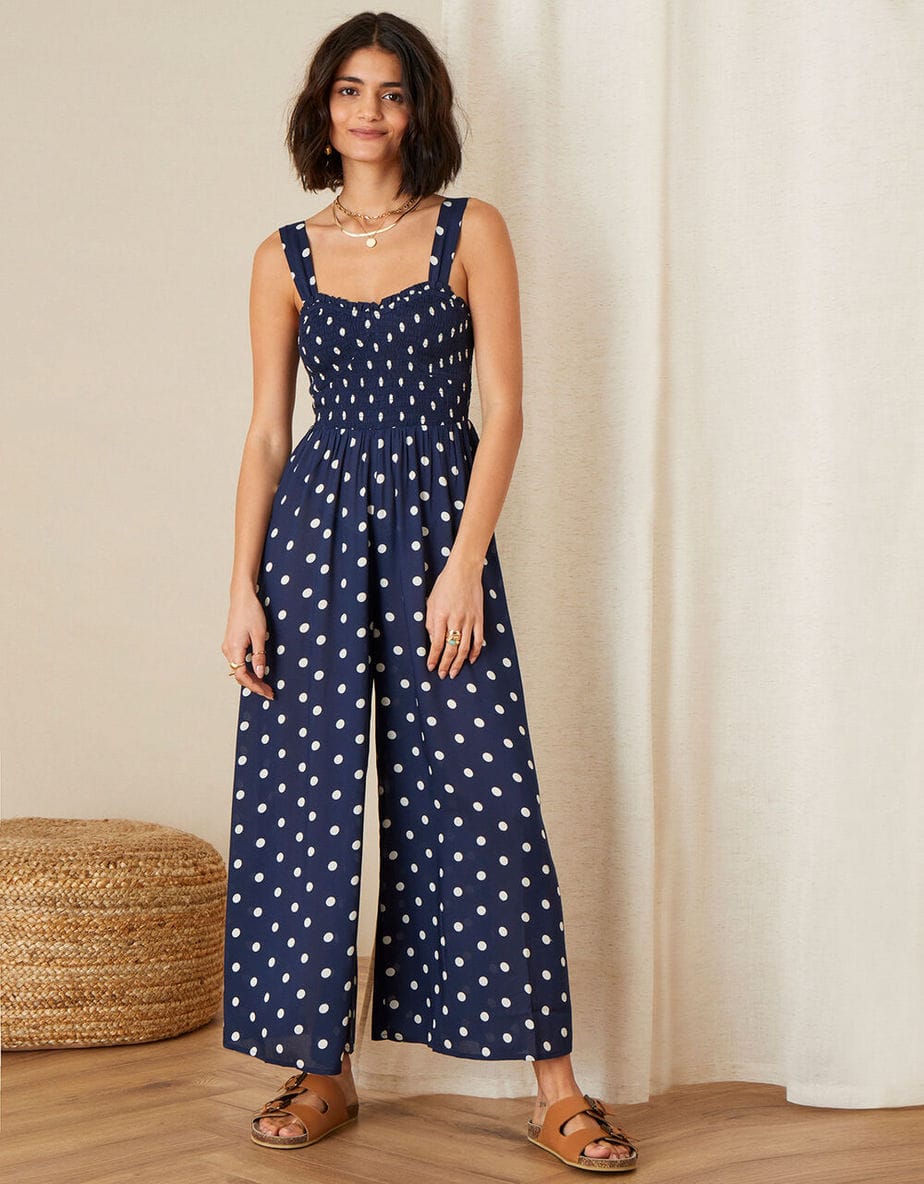 Going back to the summer themes, this jumpsuit is reminiscent of a picnic in the park and sunny days. Part of the greatness of this jumpsuit is found in its fabric, though. If you look up the brand, they use sustainable viscose fibers that help to reduce CO2 emissions.
In addition, this navy jumpsuit has a detailed pattern with white polka dots that add to the sunshine feeling when you look at it. It's also sleeveless and with a square neck, allowing you to show off those shoulders.
Pros:
It's available in sizes from S to XL

You can wash it in the machine

The fabric is an eco-friendly alternative to viscose called LENZING™ ECOVERO™

The polka dots are a subtle touch that makes the jumpsuit look lovely
Cons:
User reviews say the pants are too long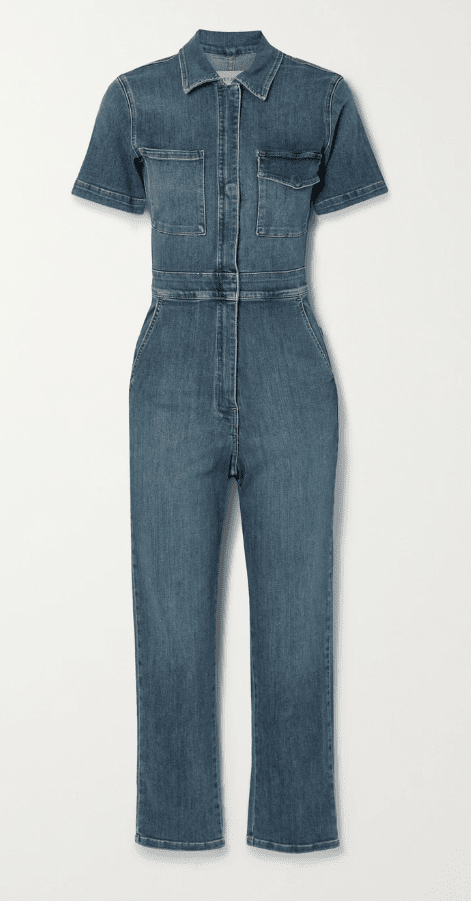 As I mentioned before, one of the earliest examples of women wearing jumpsuits was Rosie the Riveter. This jumpsuit here seems to be inspired by the rivet utility jumpsuit made popular by this empowerment icon, as it's made of a classic denim material. 
It's easy to look fashionable with this jumpsuit, as its simple design is just begging for your personal touch to style it. For instance, you can wear it with a belt and sneakers and make an effortless look that still looks completely chic.
Pros:
It's available in sizes from XS to XL. (You can also check their size guide, though!)

The fabric is 93% cotton, 5% polyester, and 2% elastane.

You can wash it in the machine.

The fastening zip is at the front, so you won't have to worry about it being hard to zip.
Cons:
It fits a little bit small, so the brand recommends choosing one size larger.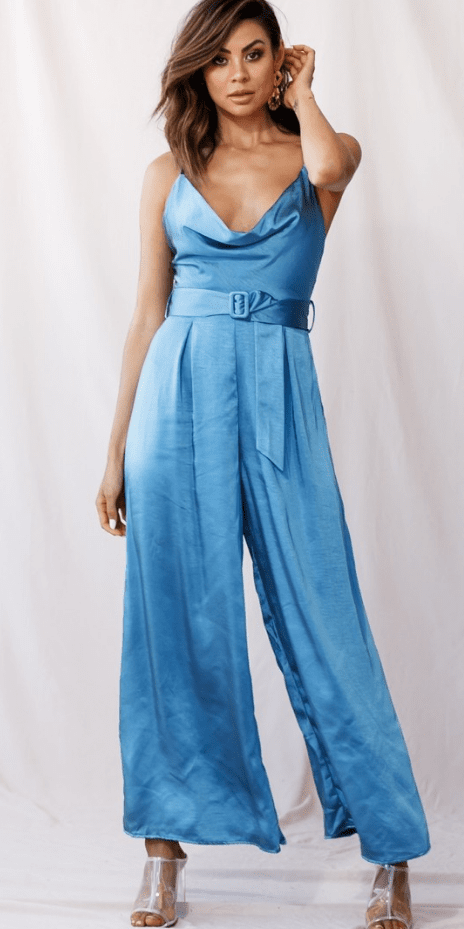 This wouldn't be a top blue jumpsuits list if I didn't include this one. I mean, just look at it! The satin appearance of the fabric is one of the best things about this jumpsuit, making this a classy go-to for cocktail parties and first dates. 
In addition, the midnight blue color really highlights all of its details, allowing it to look elegant without being too showy. Some of those features include its removable belt and its cami straps, and I love the flirtiness of the cowl neckline.
Pros:
It's available in sizes from XS to L. (You can also cross reference their size guide.)

User reviews absolutely love it!

The fabric makes it a perfect choice for going out.
Cons:
You can't wash it in the machine.

You can't iron it, so the fabric can look wrinkled because of it.

The sizes are UK/Australian, so it does run small compared to American brands.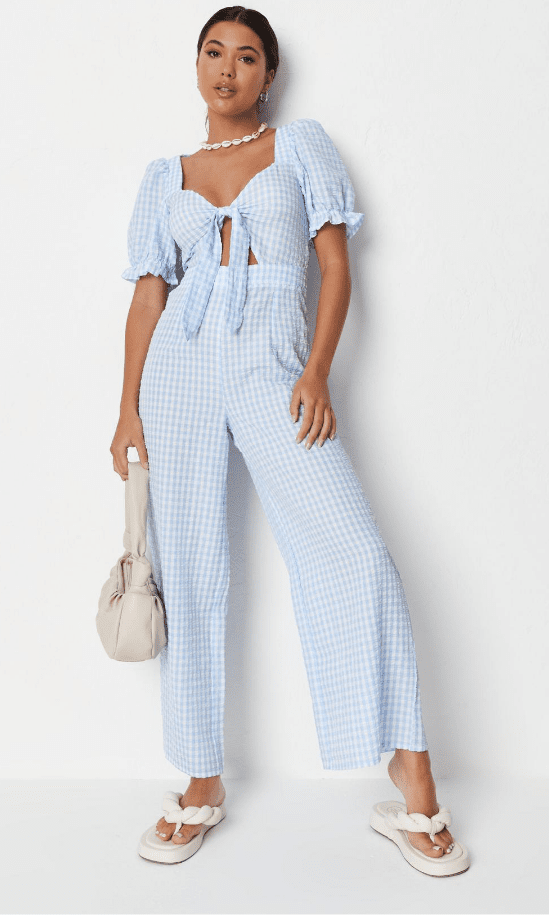 Everything about this jumpsuit gives me a warm and happy feeling. The puff sleeves and the wide leg are all part of the jumpsuit, lending to its cottagecore appeal. This pattern is called gingham, and pairing it with a blue color was an excellent choice.
Another great thing about this jumpsuit is that it comes in two options: regular and tall. Taller gals can rejoice! No matter your height, there'll be an option for you where the pants will be best for your measurements. I personally think it's seriously amazing, and I can see myself wearing it all summer long. 
Pros:
It's available in sizes from 2 to 10. (But you can also check their size guide!)

The fabric is 100% machine-washable polyester.

The cut-out tie front was a fashionable choice.
Cons:
Not everyone likes the gingham pattern.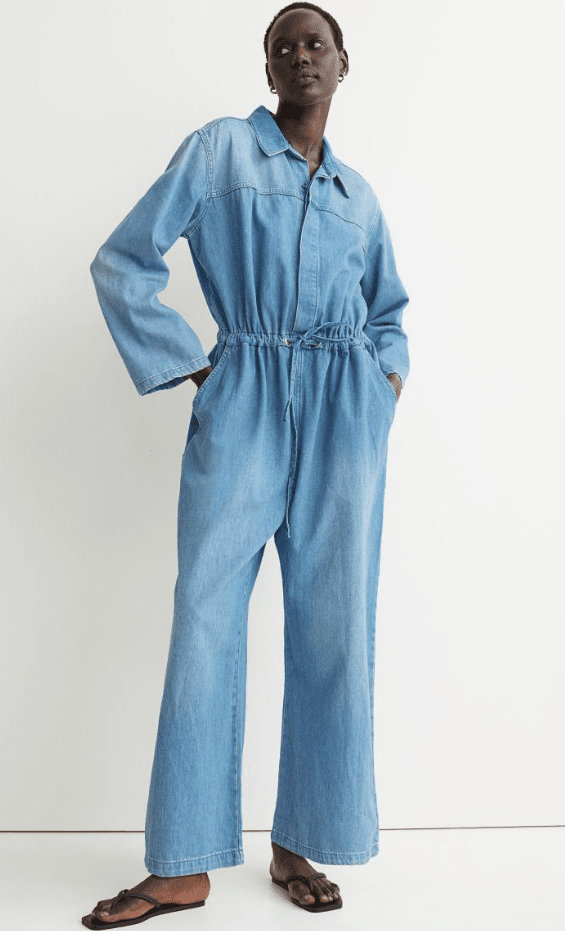 Even if this jumpsuit is made of denim, it has some distinct features that make it stand apart from the standard. Unlike heavier types of denim, though, this cotton jumpsuit is light and drapey, allowing you to easily transition it from spring to summer to fall.
Some of the other details that jumped out at me included the long sleeves and the oversized fit. This one has a straight leg and a wide cut, but the cinched waist allows it to avoid looking too shapeless. I also liked the washed details that made the fabric lighter and not too bulky.
Pros:
It's available in sizes from XS to XL. (And they also have a size guide you can check if you're not sure about your measurements.)

The fabric is 100% cotton. 

Some parts of the fabric are made of sustainable materials, for example. The shell is 20% recycled cotton.

User reviews love it!

You can easily wash it in the machine.
Cons:
Most users agree the jumpsuit fits a little bit large.

It can be a little bit slouchy.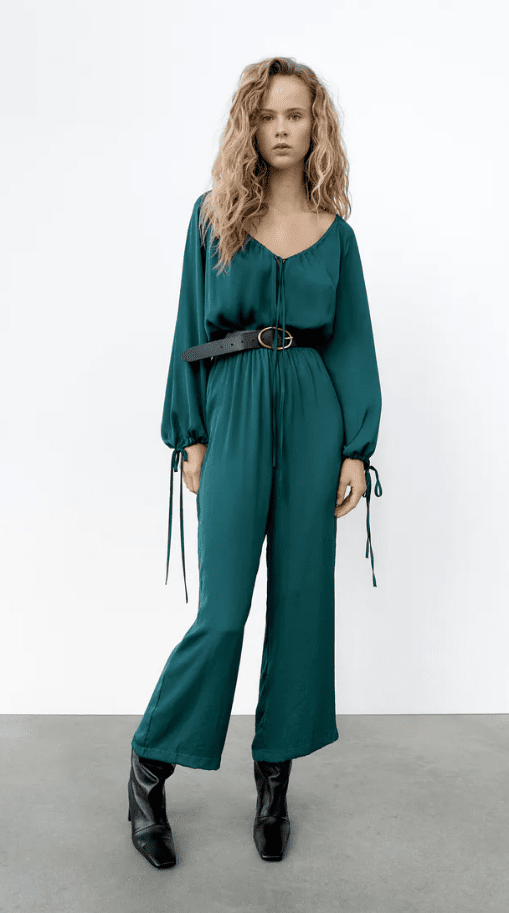 Maybe the denim style it's not for you, or you prefer a looser fit. Whatever the reason, this jumpsuit with wide legs and long sleeves will help you out with that. It's elastic at the waist, and you can pair it with a belt if you want. Both the straps at the wrist and the neck are adjustable.
I loved the kind of boho style of this jumpsuit. You can wear it with boots or strappy silver high heels, and mix and match different necklaces to add to the look. This style begs for beachy waves, but a loose updo would also look amazing. I'm sure you'll look fantastic in it!
Pros:
It is made of polyester, making it easy to care for, and 30% of it it's recycled.

It's available in sizes from XS to XL. (They also have a size guide you can check, too.)

You can wash it in the machine.
Cons: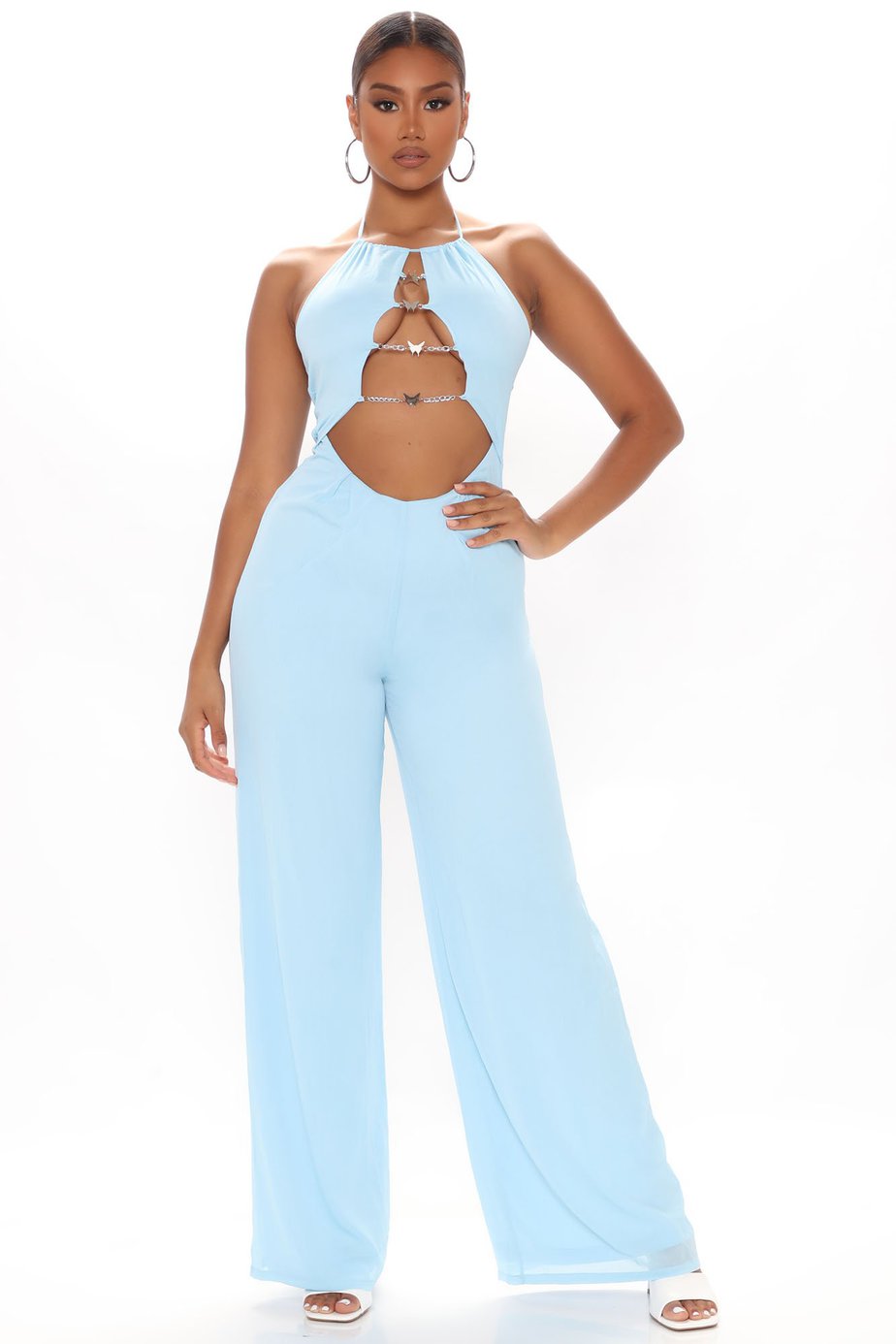 Remember when I told you there would be all kinds of jumpsuits on the list? Here is one choice for you – if you're feeling bold and daring and want to branch out from your usual style, of course. 
This jumpsuit has a halter top with butterfly chains that decorate it, and it ties to secure the top by the neck. The light blue makes the jumpsuit stand on its own, but the fun little details are so delightful to see, as well.
Pros:
The fabric is 100% polyester.

It's available in sizes from XS to XL. (They also have a size guide chart for you to check if you're not sure.)

It has a non-noticeable back zipper.
Cons:
The style can be too risqué for some women.
Style Recommendations
Choosing a jumpsuit is one thing, but actually styling it is another story. With that in mind, I'll go through some of the ways in which you can combine your jumpsuit in an outfit while maintaining harmony within each piece. You'll find many different styles here, so be sure to keep up with me!
A Tropical Vacation with Flowers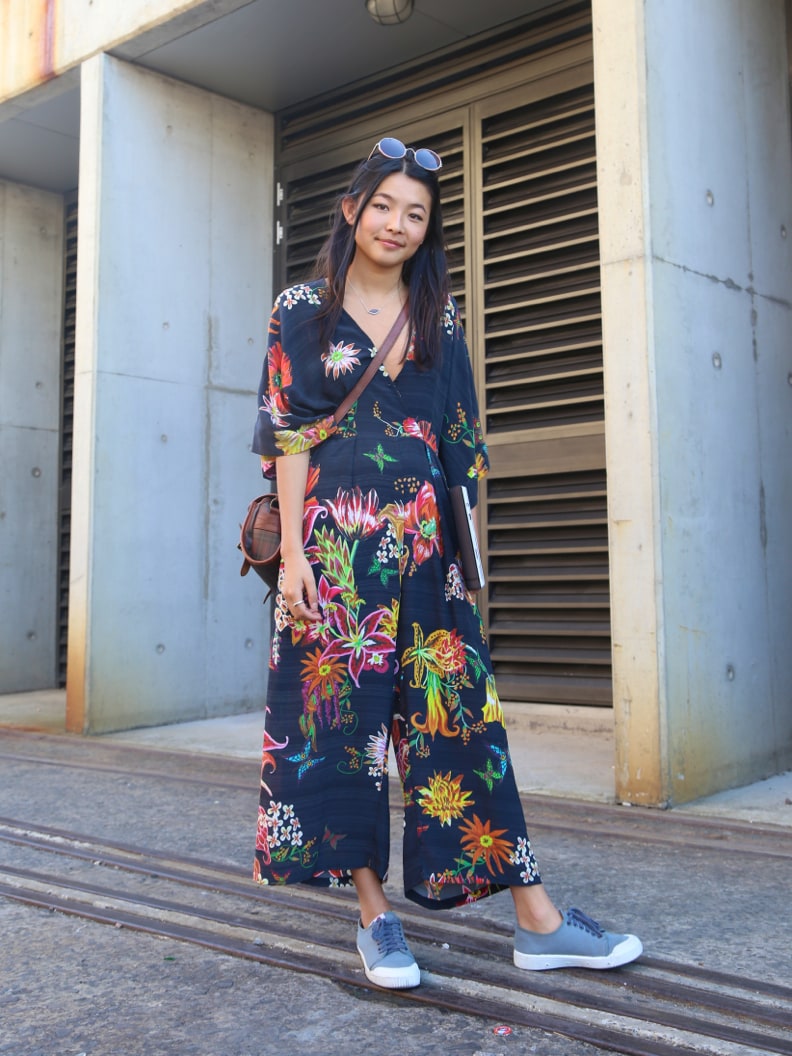 Some clothes just have an unbeatable summer feeling, and I think this is one of those cases. Besides the oversized fit, the flowers of this beautiful jumpsuit truly bring life to it. This one looks especially good for casual wear or at the beach, and I loved it because of those reasons.
If you wear a jumpsuit like this, you have to keep it casual and fun. To keep up with the beach theme, you can pair it with sunglasses and accessories like necklaces and bracelets. For the shoes, just wear your favorite sneakers.
Blue Heels and Blue Purses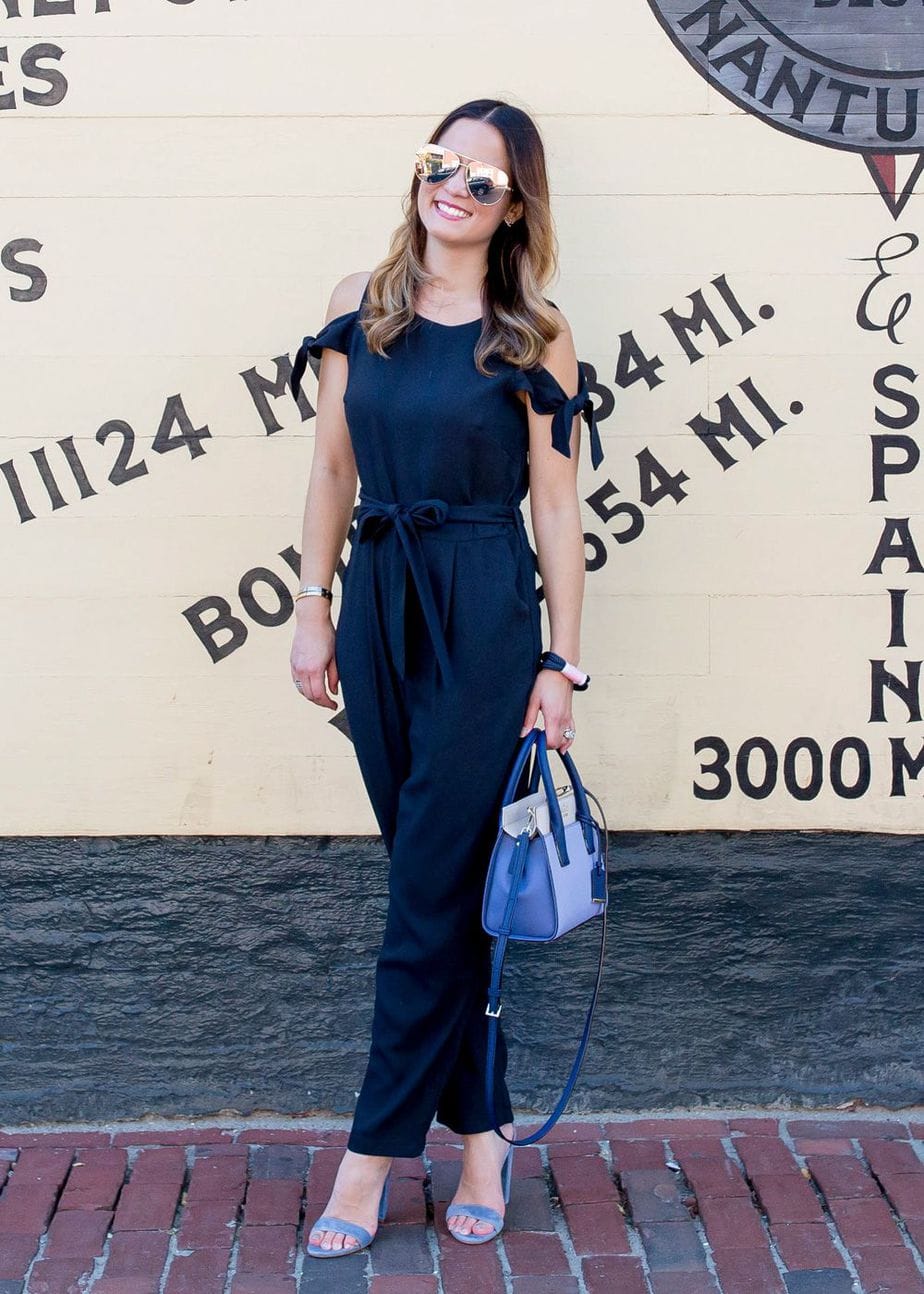 A common problem that can arise when it's time to pair any piece of clothing for an outfit is how you're going to match it with other pieces in your closet. The rule of thumb, though, is that wearing pieces of the same color – but in different shades – will always work. 
This combination proves just that. This jumpsuit is of a bold and neutral navy color, so a purse and heels of a lighter blue will give harmony to the outfit and drive all the attention to the one-piece garment.
An Edgy Leather Moto Jacket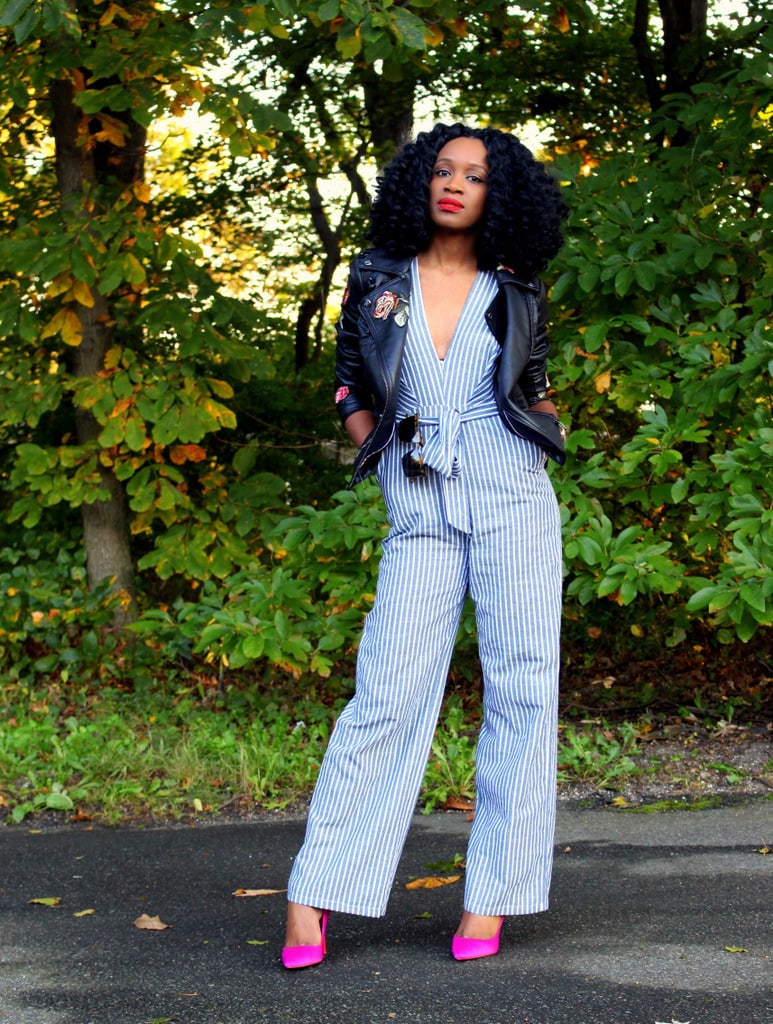 Okay, but what if you're going for a fancy look, or if you want to highlight other pieces of your outfit? Well, as we know, jumpsuits are known for being simplistic in their design, especially when the fabric is of a solid color.
In this case, the vertical lines elongate the figure, so if you're short, a similar jumpsuit can be perfect for you. Now, the complement is the leather moto jacket. Both the color and the material are good options. It might look simple, but it adds a new whole dimension to the outfit.
Last but not least, the bold red lip and the option of sunglasses give the outfit a rockstar look that is accentuated by the jacket. Don't be afraid to play with color with the shoes, as a pair of hot pink stilettos will look just cute as some basic black pumps.
An All-Denim Utilitarian Outfit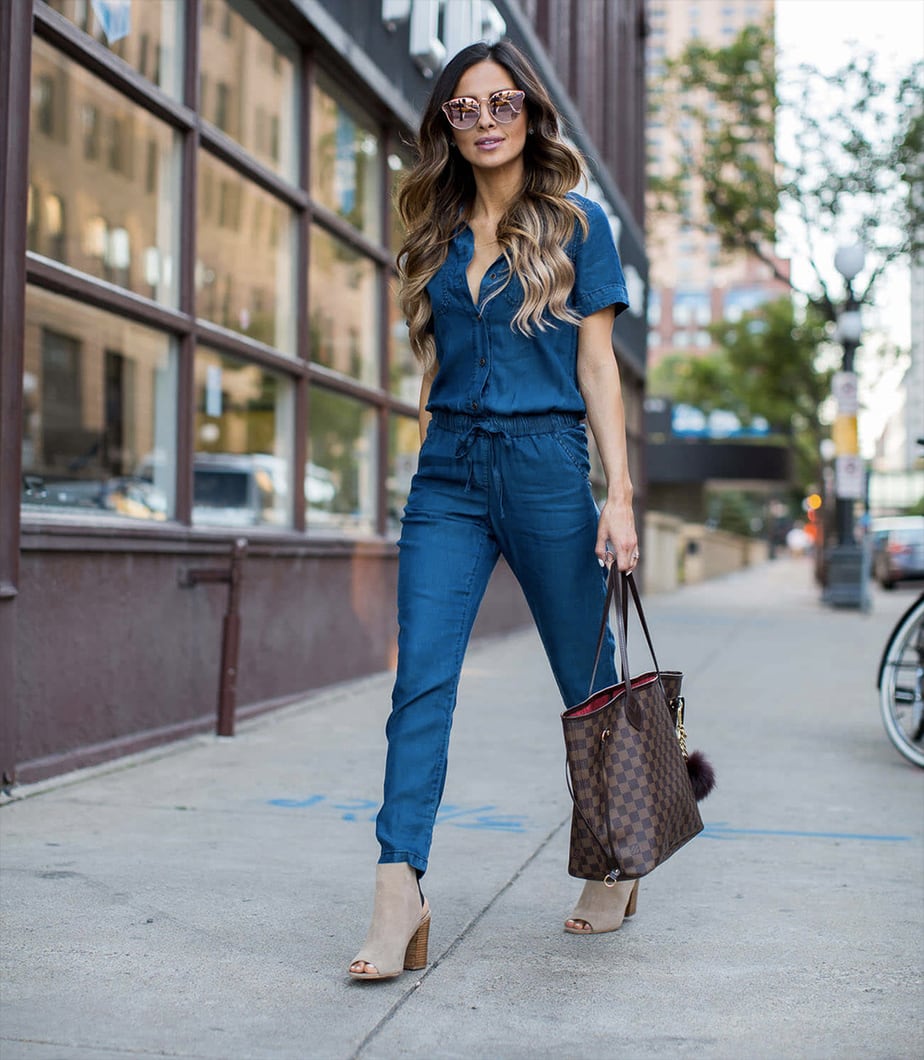 This is an item that lacks a bit of femininity, and it's way more associated with work uniforms. Still, I loved this way of styling it since it enhances the feminine touch of the rest of the pieces of your outfit.
The nude peep-toe booties make it look more formal, while the iconic Neverfull bag also adds to that feeling. Confidence also plays an essential role in making this combination work, don't get mistaken!
White and Blue Stripes Jumpsuit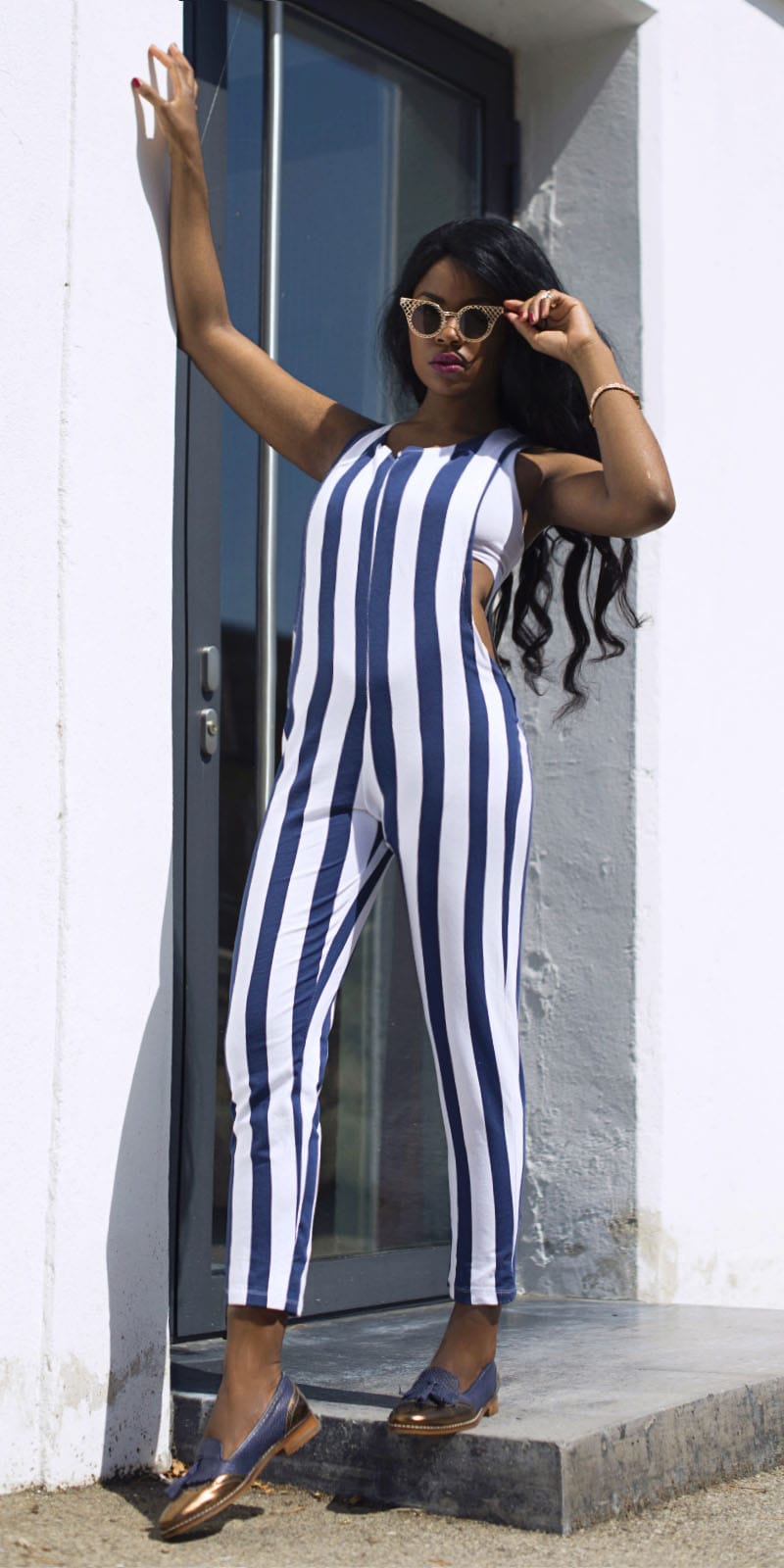 There are jumpsuits of all styles, and some of them don't need too much to look amazing. This one is a perfect example of this. Contrary to the jumpsuits of solid colors, this jumpsuit has thick stripes that demand most of the attention.
In every case where the fabric is too eye-catching, the best option is to tone it down with the rest of the outfit to create a more harmonious balance. Remember, if you think it's too much, it probably is.
Nude Heels and a Colorful Purse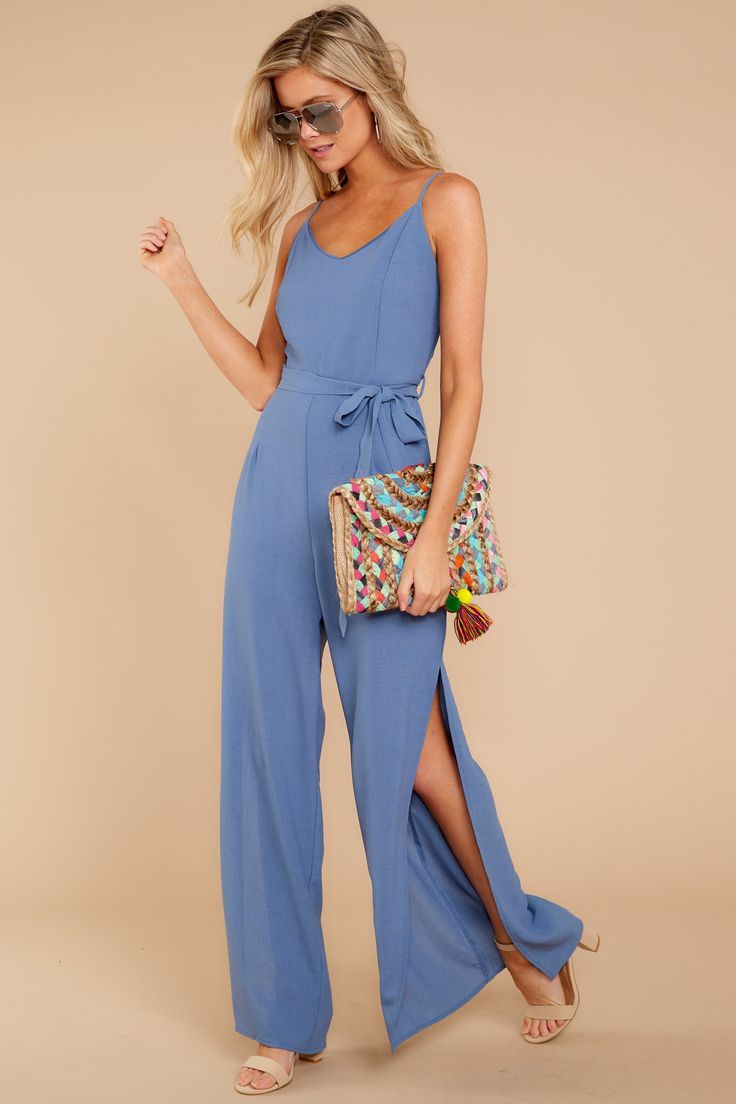 Fashion is all about balance. Sometimes, you just have to decide the style you're going for and start from there. If your shoes aren't going to be blue, the most logical option would be to use neutral colors like white or black, but in this case, even that would've been too much.
It's probably because of that reason that nude heels were the preferred option. The look would be stylish but kind of sober like that, though, so that's when the purse comes to action. It's colorful and brings much-needed dynamism to the outfit.
A Jacket Thrown Over the Shoulders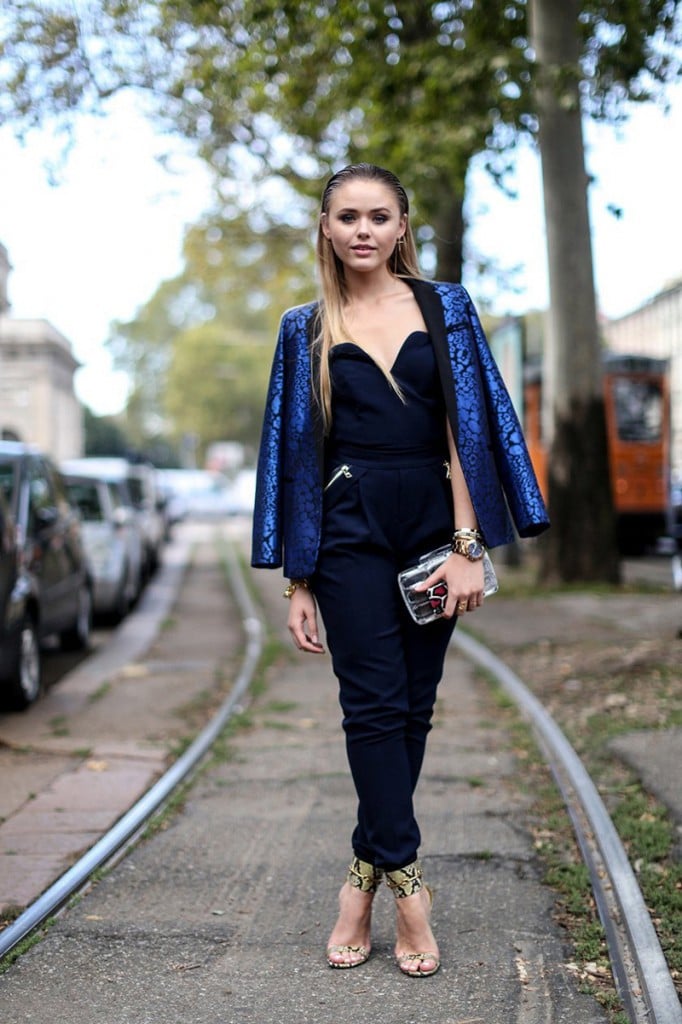 Until now, we've mostly seen jumpsuits combined with casual wear, so for my final pick, I bring you an elegant option. For this outfit, you'll want to go for a jumpsuit that fits a bit tight to your body, though it'll all depend on your preferences.
Heels and a clutch purse are indispensable for going out at night, but the jacket or blazer is optional. Even so, it worked with this jumpsuit, since it was sleeveless and it was also colored blue. If anything, it accentuated its color.
Frequently Asked Questions:
My Final Thoughts
It's no secret that jumpsuits have a reputation for being an easy-to-wear and effortless type of clothing, and today I showed you the best of the blue ones. As you can see, there's really no single article of clothing that really compares to the jumpsuit, and blue just takes it to the next level of versatility and style.
Was there any jumpsuit that you liked the best? If I had to pick one myself, I would choose the MISSGUIDED Tall Blue Gingham Tie Front Jumpsuit. The pattern is incredible and it reminds me of sunny days and fun. Plus, the design was original and very trendy. The cut-out tie at the front was definitely one of my favorites.
No matter which one you choose, though, I hope you enjoyed going on this little fashion adventure with me. And whatever one you do decide to add to your wardrobe rotation, you can be confident that you'll also look amazing in it!
Recommended reads: