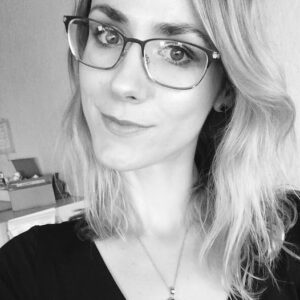 Latest posts by Karyl Trejo
(see all)
Jumpsuits are a comfortable, cool, and surprisingly versatile garment that covers nearly the entire body. Originally intended for paratroopers only, they quickly developed into one of the most beloved clothing pieces nowadays. 
One of the many reasons why these garments are chosen by women around the world is thanks to their ease of use and mixing, making lots of outfits look fashionable with them. Furthermore, these pieces blend perfectly with the vintage style that is currently in fashion. 
While it may seem like jumpsuits are all the rage right now, the fact is, they never fully went out of style. Even though they had their big heyday back in the '60s and '70s, they've made a huge comeback in the last few years — and their recently updated and refreshed look is nothing short of amazing.
Today, we can find these pieces in a variety of materials, colors, and patterns. And if you're wondering which one is the best fit for your body shape (hint: everybody is a jumpsuit body!), you've come to the right place. 
Here, I'm going to answer the ever-pressing questions you might be having, such as:
What are the best materials for a jumpsuit?

How can I pick out the right one for my body?

What's the best way to style my jumpsuit?

How do I correctly style a dressy versus a casual jumpsuit?

Are a jumpsuit and a romper the same thing?
And even give you fashion tips so you can mix and match it with everything already in your closet. Excited? Me, too! Let's go ahead and dive in, shall we?
Jumpsuit Materials: Advantages and Disadvantages
In the world of fashion, there are a wide variety of materials that are used to make these garments that we know and love. Each material is unique, so it makes sense that they'd have their own sets of advantages and disadvantages when it comes to working with it.
Common options for jumpsuit materials include:
Cotton

Polyester

Nylon

Silk
There's no right or wrong answer when it comes to choosing the best jumpsuit material for your needs. For instance, you may be an easy-breezy girl who prefers more comfortable and fresh fabrics.
Or perhaps you're a more budget-conscious woman who reaches for materials that's more affordable and easier to maintain. Whatever the case may be, here's a breakdown of some of the most used materials for jumpsuits, as well as what makes them stand apart.
Cotton
Cotton is a soft and comfortable fiber of natural origin. Considered a hypoallergenic material, this fabric boasts many advantages. For instance:
It's a very cool and breathable material.

Cotton doesn't

trap heat

, making it totally perfect for those hot summer climates!

It's incredibly soft to the touch.

This makes it great for two things. One, it makes it very comfortable and light to wear. Two, because it's so soft and loose, this material adapts easily to your body.

It's highly durable and built to last.

Cotton can be kept in like-new condition if it's cared for properly.
However, not everything is peachy keen with cotton. In fact, one of its advantages can also be considered a disadvantage. Its lack of heat retention means this material isn't the best material for colder climates or during the wintertime. 
This also results in the material taking longer to dry than average, as it's not considered sweat-wicking. That means that when you sweat or get caught in a sudden summer shower, you'll remain soaked for much longer than compared to other materials.
Polyester
Polyester is a material of synthetic origin, which means that some people may be wary of it, especially since allergies to this material are surprisingly common. This doesn't mean that it doesn't have its fair share of advantages, though. For instance:
It's an extremely durable and fade-resistant material.

Garments made from polyester will last you for years.

It's very easy to maintain.

Polyester is both machine washable and it also dries easily. And once it dries, it doesn't require ironing.

It's a great material for sweat-wicking.

It's a material that, despite not being breathable, always keeps you dry and is ideal for cold climates.

It's also a relatively cheaper material to manufacture.

This means that any clothes made of it will also be more affordable.
While polyester is a fantastic fabric for cold climates, it may not be the most comfortable option for hotter climates. Also, this is totally conditional on personal taste, but polyester isn't as soft as cotton, either. This can be a problem for some people, especially those with sensitive skin.
Nylon
This polymer is an ideal option in many different types of fashion, thanks to its incredible characteristics. Benefits of nylon include:
It's a very inexpensive material.

Thanks to this, it's a fantastic choice for a large number of people who don't want to put out a second mortgage to buy quality clothes.

It's quite easy to maintain.

Like polyester, it's easy to wash and dry and isn't affected by moisture. Even better, nylon has a higher resistance to mold and funky odors.

It's a very light and soft fiber.

However, despite how slinky it is, it's also sturdy and holds its shape exceptionally well.
The many advantages of nylon don't mean that it's perfect, though. This material has some drawbacks that may make it less than ideal for some people. Its color, for instance, can fade and leave a yellowish cast if it's exposed to sunlight for a long time. 
It can also melt or become warped if it's not washed properly. Nylon is sensitive to high temperatures, which means that a poorly-done ironing session or a scorching round in the dryer can easily damage it.
Silk
Silk is a luxurious material of natural origin, and it can often be found in high-quality articles of clothing. It's also quite versatile, and offers some remarkable advantages over other materials:
It's an extremely light and soft material.

It's no secret that silk is one of the most comfortable materials out there. Without a doubt, it's a good option to make any fashion piece a joy to wear.

Its composition makes colors more vivid.

The colors in silk stay bold over time, not fading or losing their brightness. Not only that, but the patterns and prints keep looking brand-new even over the long term, too.

It's hypoallergenic and sweat-wicking.

Its resistance to moisture and mold make it ideal for hot climates.
The best-known disadvantage of silk is its high cost. Acquiring a silk garment isn't even the expensive part, either. Maintaining it is where you'll face challenges. Silk should be cleaned and cared for only by your local dry cleaner or, if you're in a pinch, hand-washed only. 
That said, it's not advisable to wash it at home, as it can be far too easy to ruin. As a result, despite its exceptional characteristics, this is not a material that's seen being used very often in more casual wear.
The Main Differences Between Jumpsuits and Rompers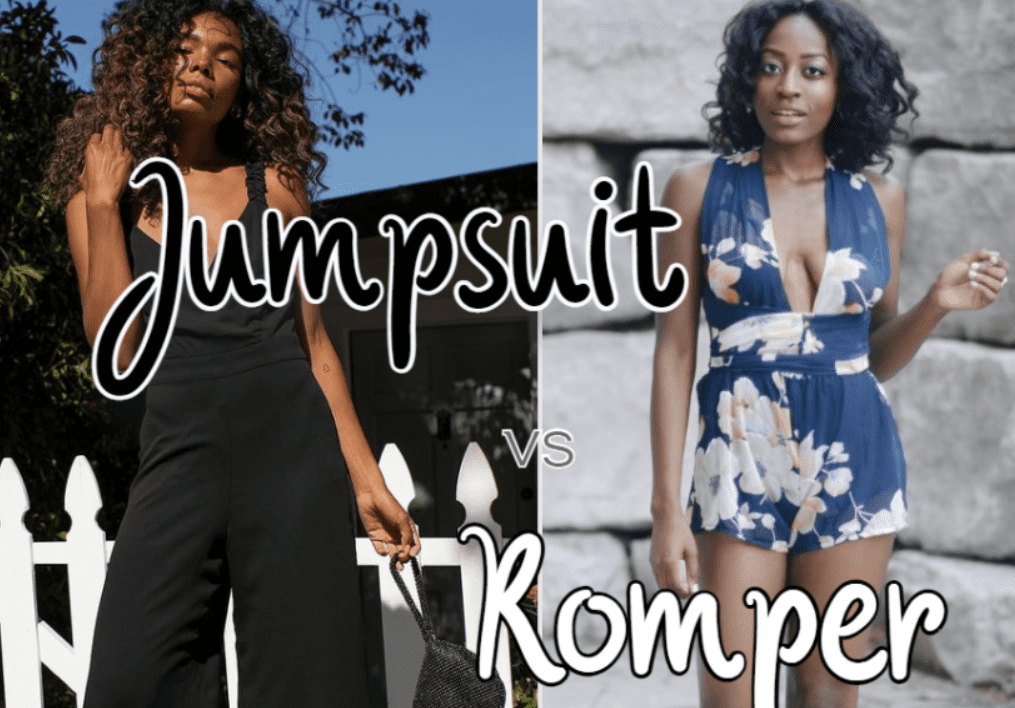 What exactly sets a jumpsuit and a romper apart? As they're both pieces that are made up of a connected upper and lower part, it's pretty normal to confuse these two pieces of clothing. 
However, the differences between jumpsuits and rompers, although specific, are also fairly significant. Below, I'll show you a list of the small details that separate these two garments:
The Length of Their Bottom Half.

Jumpsuits tend to be longer in length (though cropped jumpsuits definitely are an option!), and you can even find some with long sleeves as well. Whereas for rompers, they're made up of a cooler

t-shirt

style on its upper half and a pair of shorts on the bottom.

Their Overall Functionality.

Jumpsuits are usually ideal for cooler climates (though, of course, the material they're made of does influence this), and they are considered more formal outfits. Whereas on the other hand, rompers are much cooler thanks to their design. They're much more casual and better suited for summer.

The Silhouettes Used In Their Construction.

The silhouette of a jumpsuit can vary from body-skimming for dressier occasions to more billowy for more casual ones. Whereas rompers, on the other hand, generally tend to be a little looser and more casual.
Keys to Choosing the Jumpsuit That Best Suits You
Jumpsuits are a gorgeous outfit choice that can give you a sophisticated look and accentuate your body… just as long as you know how to choose them, however. In order to know which jumpsuit style is best for you, it's useful to remember your body shape and stature.
Some of the more common body types include the:
Hourglass

Triangle

Inverted Triangle

Column

Oval
No matter what shape you are, though, there's a perfect wide-leg jumpsuit out there just waiting for you to find it!
The Hourglass Silhouette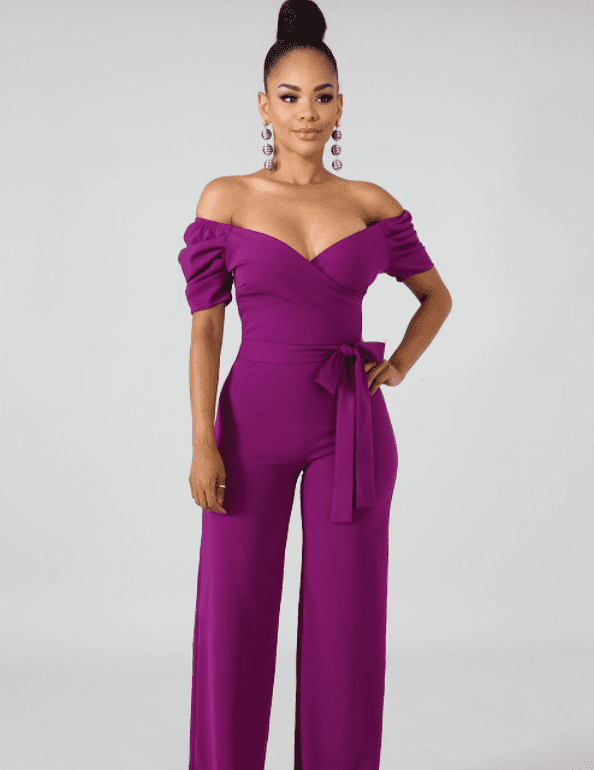 It's very easy to find women with a great hourglass shape hiding underneath the wrong clothes. If this is your silhouette, your lower and upper body is naturally balanced and you have a more narrow, tapered waist.
You'll want to avoid an overly clingy or tight neckline, though, as they tend to be less flattering. An overly revealing or loose neckline isn't necessary, either, especially if you don't want to accentuate your bust. Conversely, you can look amazing in more plunging or even a halter neckline, if you feel like it.
The Triangle Silhouette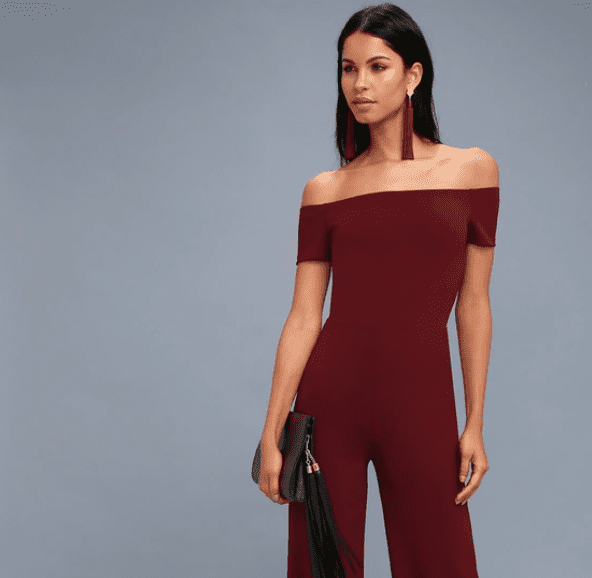 Also known as the "pear shape," this is a very feminine silhouette that's somewhat bottom-heavy. If you don't want to draw attention to your lower half, you can reach for certain articles of clothing to minimize it. (However, if you want to rock that curvy booty, you do you!)
A strapless neckline at the right height draws attention to this area and makes it appear fuller. A two-tone jumpsuit can be great for achieving greater harmony between the top and bottom of your body. 
This isn't just because of the color, either, but also because of what you can do with it. The change in color at the waist will enhance its slimness, which is a fairly useful trick to learn, considering that it is normally narrow in this type of silhouette. 
Loose pants, but not excessively, in a lighter fabric with less weight and more drape can be a nice choice, too. Combine it with a dark tone so that your hips, buttocks, and legs attract less attention and your figure looks more stylized.
The Inverted Triangle Silhouette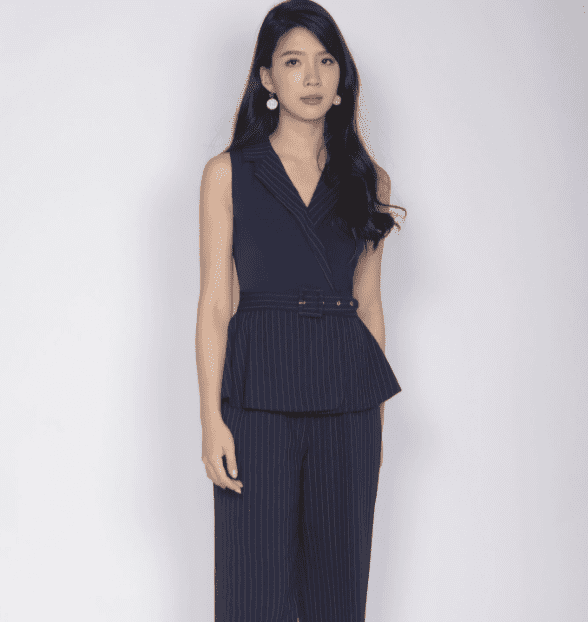 The inverted triangle is a very athletic silhouette with fewer curves than the hourglass or the traditional triangle. As such, it's important to soften the shoulder area and enhance the hips to help make you look more feminine. To achieve this, you can use a jumpsuit that's covered in the shoulder area with a v-neck to stylize the trunk area. 
Pair it with a narrow belt or a ruched, elastic waistband, and you'll get a more accentuated waistline. Be careful and don't go too tight or too fancy with the belt, though, as the only thing you'll achieve is showing that your waistline isn't naturally accentuated. 
Loose pants with volume and large pockets can also add volume where you want it and make your silhouette look more balanced. If you're not afraid of a little embellishment, a bow or a peplum ruffle that falls on your hips and legs can add a little flare to your hips.
The Column Silhouette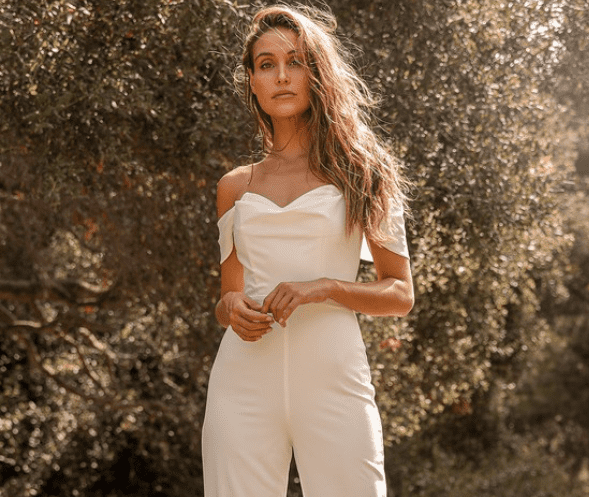 Straightness is the defining feature of the column or rectangle silhouette, but you can easily add the illusion of curves by using printed factors and experimenting with cuts of the garment. For people with the column shape, your shoulders more likely than not look stunning, so you'll want to show them off as much as possible.
You can do this with a neckline with thin straps, strapless, halter, or deep U. Avoid using V necklines or boat necklines here, as these will introduce another straight line on your body that may not be flattering. 
The upper part of your jumpsuit can be up higher on the waist, marking the area just enough without giving clues about what is, or isn't, underneath. The slightly buttoned part of the trousers also provides curves without adding volume.
The Oval Silhouette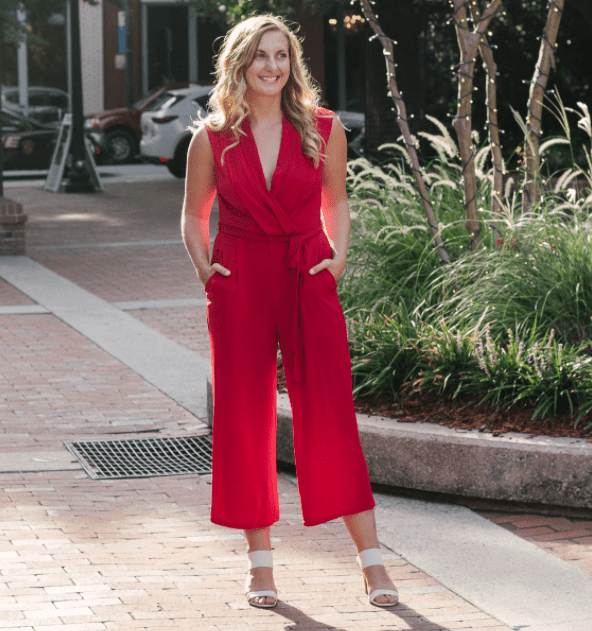 Also known as the apple shape, if this is your silhouette, then your whole body tends to be rounder in general. Therefore, your goal will be to lengthen and stylize it with your clothes. The obvious and simpler way to do this would be to use a vertically-striped printed jumpsuit. 
A V-neckline can also be beneficial, as its vertical line also helps to break down the roundness. Another thing you can look for is to add diagonal lines that hug and gently mark your waist and that provide dynamism and verticality to your image. 
With this type of silhouette, lines and right angles are your best friends. This is because they can help you to counteract the roundness of some areas of your body while still allowing you to maintain your feminine softness.
An Important Note About Body Types
After identifying your body type and silhouette and knowing what to look for in a garment, do keep in mind that there's no such thing as a "defective" or "wrong" body. What does exist, though, is a wrong garment choice. 
So, if something doesn't fit the way you would like it, please remember that it's not your fault. You just have to look for other styles that better favor your figure, and your body confidence should never suffer just because you don't like how a certain garment looks on you.
The 4 Best Jumpsuits of 2022
Here's the moment you've all been waiting for: the cutest, flirtiest, and hands-down most chic and gorgeous jumpsuits available. After you see my picks, you'll seriously want to rush out to snatch up your faves (or heck, maybe even all of them!) today to include in your wardrobe. 
Whether you want to go out with your friends at night or have a work meeting to attend, there's seriously a jumpsuit for every occasion. And with the wide-legged jumpsuits on this list in your rotation, you'll be more than prepared for all of them! 
But First, My Evaluation Criteria
Before I begin, I'd like to point out some of the things I took into consideration when putting together this list: 
Price.

 The price of some of these garments varies considerably, but everything remains within an affordable range.

Quality.

 The materials used to make these pieces should be of high quality to be featured on my list.

Style.

 I have selected a little for everyone, so no matter what your style is, you'll surely find something you like.

Comfort.

 Thanks to their materials, styles, and finishes, these jumpsuits are really comfortable. You can be in them all day, from the office to a party without any problem.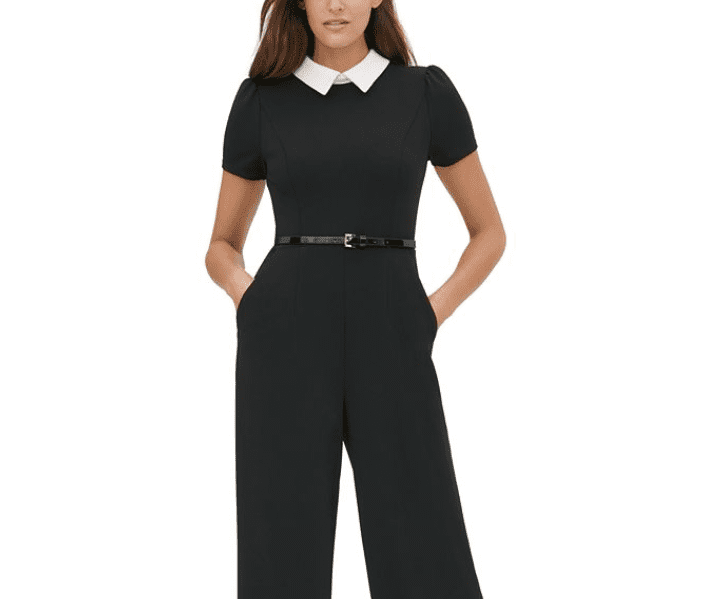 Let's start with this beautiful formal jumpsuit. It has a versatile yet timeless design that gives it a classic style, but without coming across as outdated. The details included are really something else, too, taking it to the next level. (Seriously, just peep that Peter Pan collar!) 
The glossy patent-leather belt makes the waist stand out and helps define the silhouette. Its mid-sleeved design makes it comfortable without being hot, too, while still remaining professional. It's a beautiful piece that you can easily take to a meeting at the office.
Pros:
Classic and formal design

Materials skim the body in a sleek and flattering way

Comfortable and breathable
Cons:
Must be kept dry-cleaned

Slightly high price

Maybe a little too understated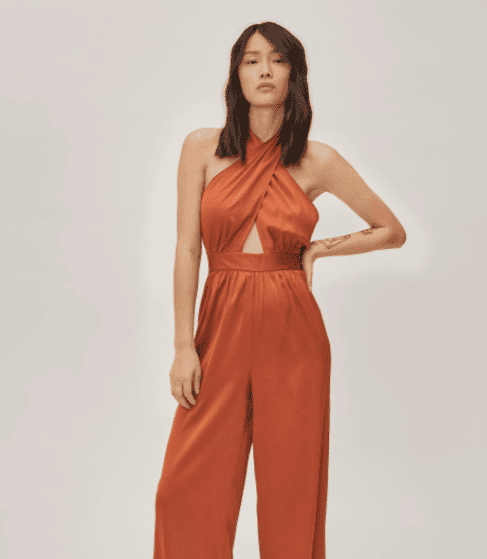 Now, let's go for a more laid-back approach with the next wide-legged jumpsuit on our list. This beautiful jumpsuit is perfect for first dates or a night out with your gal pals. Its style screams "city life," too, and you'll feel right at home either in the heart of L.A. or in New York City. 
With its beautiful palazzo design and flirty criss-cross halter top, it's incredibly cool and breathable while still remaining figure-flattering for whoever wears it. If after your day exploring the boutiques on Main Street, you feel like you want to go and enjoy an area with nightlife, then you'll be able to do it without looking out of place.
Pros:
Very affordable price

Fresh and summery design

Lightweight and easy-to-wash material 
Cons:
It's not the best for work or professional events

Cut may not be the most flattering for all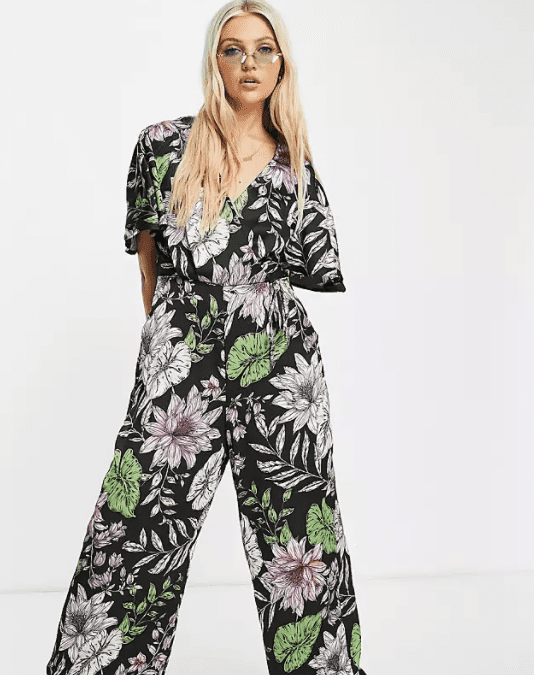 Now, this is a fun and beautiful design! This jumpsuit is ideal for going shopping in the city, going out to a cafe, and having a good time with friends. It has a floral design that makes it stand out from a sea of plain-Jane jumpsuits. 
Between the dolman sleeves and the palazzo pants, its design is quite wide, but its plunging neckline and tapered waist help it stay figure-flattering to the figure. It just feels really fresh, and it's perfect for those girls with a tropical urban style. Without a doubt, you'll wear this one again and again.
Pros:
Cool design and relaxed fit

Fun and colorful print

Easy to maintain fabric
Cons:
Not the best model for formal occasions

Isn't flattering in all body silhouettes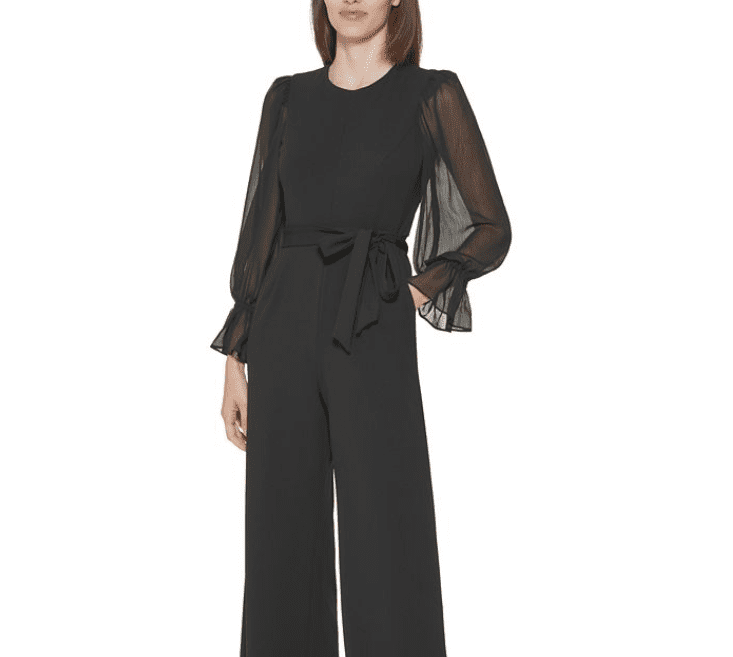 Last but not least, this wide-legged jumpsuit is both striking and understated. This is a very beautiful formal-style jumpsuit, and its simple design is highlighted by the long chiffon sleeves. It can be taken from a black-tie event to a date at an upscale venue with ease. 
The ribbon belt also highlights the waist in a subtle but noticeable way, adding a little embellishment to the style. Its material is quite breathable too, and despite being long-sleeved, you won't overheat when you wear it.
Pros:
Formal, flattering, and elegant design

Beautiful quality details

Comfortable and resistant material
Cons:
Slightly higher price

Requires dry cleaning
The Dos and Don'ts: How to Wear a Jumpsuit Correctly on Different Occasions
There are jumpsuits of all shapes, colors, and patterns out there, so all you need to do is look for the one that suits you best! If you're feeling stumped about how to choose the right one from your collection of wide-legged jumpsuits, though, here are some ideas to help you pick it.
For More Casual Occasions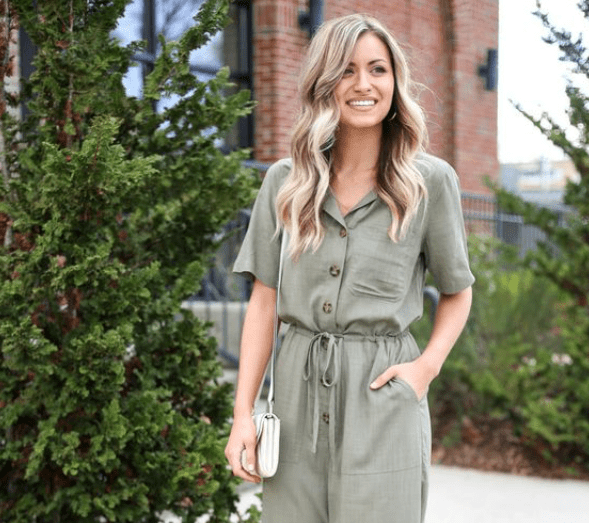 If you're aiming for a relaxed and comfy style, cotton or

linen jumpsuits

can be a very good option to wear. 

When it comes to casual jumpsuits, light fabrics like cotton and a shape that fits your silhouette are key factors to keep in mind. 

You can look for jumpsuits with a loose cut or short sleeves to give a more relaxed style.

 Wide-leg pants can also be a good choice if the setting is more chill and relaxed. 

For your waist, you can look for a light and slender belt, just to accentuate it a little.
For More Formal Occasions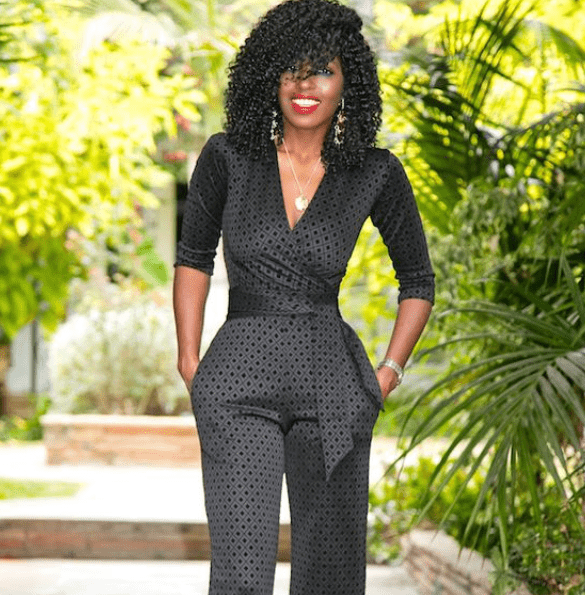 A jumpsuit is an unusual but stylish alternative for any

formal event

, as it can provide you with a balanced mix of style and comfort. 

You can easily dress up a jumpsuit with the right accessories to make it seem formal and elegant. 

While figure-flattering classic all-black will always be a reliable choice, don't be afraid to go out with bright tones and neutrals alike. 

A jumpsuit can also give that little extra glam with a sensual plunging neckline and long sleeves, or with studs,

sequins

, embroidery, or beads woven into the pattern.
My Favorite Style Tips for Combining Your Jumpsuit with Accessories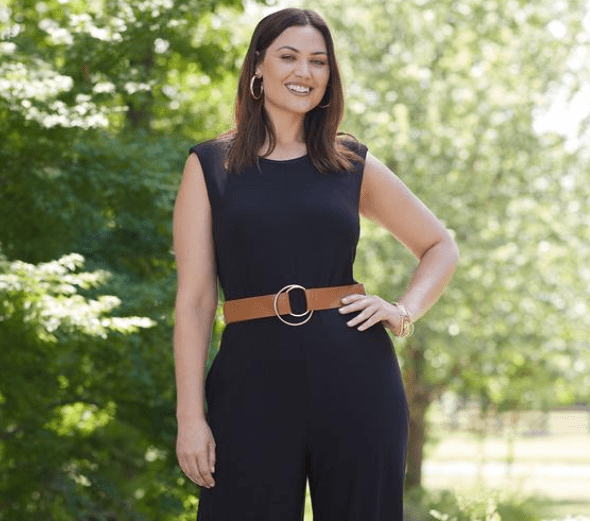 You can combine your jumpsuit with a contrasting belt.

It can be gold, with sequins, or in another tone. This way, you'll define the waist and make it look more unique. If you're going out at night, an accessory with glitter will be ideal to give it a more glam look.

If you combine your jumpsuit with a jacket, nobody will know that it's the same jumpsuit!

Take advantage of it with

different combinations

. Try a neutral or white jacket for a work date, or a colored or patterned jacket for brunch or a social event. 

Prints tend to give the impression of volume, so choose yours wisely.

Feel free to reach for a jumpsuit with a more subtle print if you want to appear slimmer. If you love prints and want to wear a jumpsuit with this style, though, that's also awesome! You can also rock a v-neck and combine it with a belt in a darker tone that highlights your waist. 
Things to Avoid When Wearing Your Jumpsuit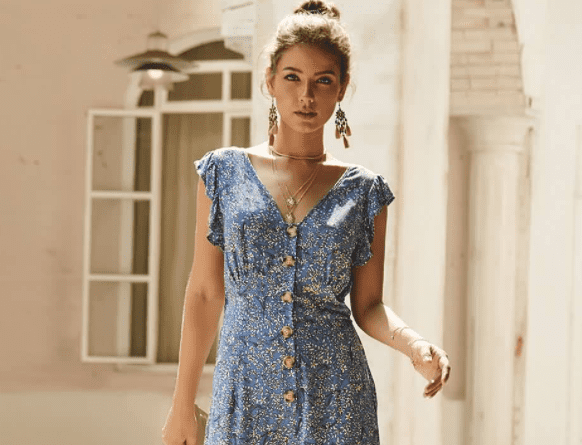 Not feeling comfortable.

The most important thing is to always feel comfortable with the clothes you wear, especially if you're planning on wearing them for a long time.

Choosing your jumpsuits without considering the weather.

Many factors can affect the performance of a jumpsuit in different climates, so you must be careful not to freeze (pro tip: always bring a

cardigan

!) or broil alive in your jumpsuit.

Being afraid to experiment with your jumpsuits.

While sticking with basic colors is a totally fine option, it's always good to take some risks. Come on — try that bright

red color

that caught your eye or that beautiful print. I bet you'll look

fabulous

.

Not knowing your body or your preferred style.

The problem is never your body, period. It's that you may not know what clothes fit you well. Therefore, you must learn and know your body (as well as your style) so you don't look incohesive and all over the place.
Frequently Asked Questions
Question: What shoes should I wear with my jumpsuit?
Answer: If there's something that will make a difference when combining a long jumpsuit, it is — without a doubt — the shoes you choose to wear with them. Depending on the style, impression, and vibe you want to give to your jumpsuit, you should bet on one type of shoe over another.

With a high-heeled shoe, you'll look and feel more polished overall. And with the right one on your foot, you'll turn this garment into an ideal outfit for any party, appointment, or event.

Not sure what are the best shoe options to pair with your jumpsuit? Don't worry. I've got you covered! For instance, if you feel yourself wanting to enhance elegance, sophistication, and glamour, your best bet will be high heels (especially in fun colors like gold or silver).

Within the high-heeled shoes, you can choose different styles depending on the occasion for which you're going to wear the jumpsuit. Go for wedge sandals for a summer night, stilettos for an evening event, or smart flats to wear the jumpsuit to a business meeting.
Question: What colors are the most suitable for a jumpsuit?
Answer: This is a question that can be more misleading than it sounds. Many people tend to be guided by colors and tones so much that they tend to reach for the ones that aren't the most flattering for their skin tone. I'm not saying this is wrong per se, but technically, it's not necessarily the best way to pick one out. 

For this reason, I'll break down the different palettes so that you can identify your skin tone type by your features. With this, you can choose the color that best suits you according to your appearance.

Winter Palette. All those people with dark hair (black-brown), dark brown, dark green, or blue eyes and dark or pink and pale skin belong to the winter group.
Summer Palette. The summer group corresponds to people with blond hair, and like the winter group, they have brown, dark green, or blue eyes and a dark or pink skin tone.
Autumn Palette. People in the autumn group usually have mahogany or brown hair, beige, golden, and even freckled skin tone, as well as brown, honey, or green eyes.
Spring Palette. Like the fall group, if you're in the spring group, then your skin tone is golden and beige and your eye color is brown, honey, or green. The difference is that your hair color is copper or dark blonde.
Question: How can I build a stylish and cohesive outfit around my jumpsuit?
Answer: Whenever I want to make myself a beautiful and elegant outfit, I usually tend to start with the accessories and build my outfit around them. However, although it can work with other garments, that isn't recommended when going with jumpsuits. 

Before choosing the accessories that will give life to your outfit, it's important that you first select the jumpsuit that you're going to wear. To do this, you must take into account your own figure, so you can find a style that favors you. For example, solid and dark jumpsuits will serve to style, and prints will add curves for a more shapely effect. 

After choosing the style, you can experiment a little with the accessories and the hairstyle you want to use. Always look to highlight your best attributes (such as a graceful neck or legs for days) to help make the whole ensemble slay in both style and color.
Question: What accessories should I wear with my jumpsuit?
Answer: As with any other garment, accessories are essential to complement a long jumpsuit outfit and create that perfect look that you're going for. These are some of the accessory ideas you can choose to combine with a jumpsuit:

Belts. Use belts and sashes to focus attention on the waist. If you want to add an elegant touch to the jumpsuit, feel free to wear a chain or sparkly belts for added embellishment.
Necklaces. If the jumpsuit has a neckline, try adding a thin necklace that focuses the attention on the neck. On the other hand, if the jumpsuit has its back exposed, remember to be more sparse with the accessories and instead bet on a good updo. That way, you'll give the back the prominence it deserves.
Earrings. Earrings are a crucial part of any outfit. Go for long earrings if you have your hair up, or for smaller earrings (like diamond studs) if you decide to wear your hair down.

Other possible accessories to wear with a long jumpsuit are:
Bracelets
Hats
Sunglasses
Rings
Bracelets

Just keep in mind the type of the outfit, though, if you're torn between wearing a short-sleeved versus a long-sleeved jumpsuit. Bracelets go better with short-sleeved jumpsuits, but a pair of chandelier earrings would look amazing with a long-sleeved jumpsuit and a sleek updo.
Question: Is it better to wear a jumpsuit during the day or at nighttime?
Answer: Both! The main differences between daytime looks and nighttime looks are in the fabric of the garments, as well as the type of accessories that accompany them. For the day, I'd recommend a more informal design and with a simpler fabric. Denim jumpsuits and knitwear are very good options for daytime use, in addition to floral prints.

For the evening, a jumpsuit can be worn for either a casual or formal activity. For this reason, you can choose a more sophisticated asymmetric design and combine it with earrings, shoes, and a clutch bag that's suitable for the occasion.

Whether it's an activity in the day or at night, if you feel that your jumpsuit is feeling somewhat informal for a certain occasion, you can always add a belt. This will give your outfit definition and will make it look more sophisticated.
My Final Thoughts 
After looking at all these fun tips and gorgeous styles, it's safe to say that jumpsuits are an amazing fashion choice for all fashionistas out there. No matter what kind of event you have to attend, there'll always be a perfect jumpsuit that compliments your silhouette and is still comfortable to wear. 
The jumpsuit design that stands out the most for me thanks to its style and versatility, as well as its comfort, is definitely the Tommy Hilfiger Collared Belted Jumpsuit. I see myself at an office meeting, shopping, or even at dinner with this beautiful jumpsuit. It can certainly be a great addition to your closet!
No matter which one (or ones!) you choose, though, I hope you were able to find inspiration here today with these picks and fashion hints. And the next time you wear a wide-legged jumpsuit, I promise you — you're going to be the very embodiment of style, elegance, and beauty!
Recommended reads: