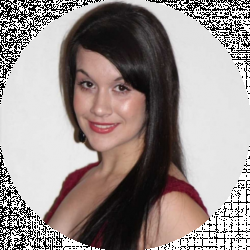 Latest posts by Christine Kent
(see all)
Does the idea of ​​wearing your knitted sweater for an upcoming event make you cringe?
If you're a fashion lover, the chances are high that you know how much knit sweaters, age people, making them look older than they actually are, so instead of a sweater, you need to consider getting an alternative-The kimono cardigan- a stylish, fascinating, and trendy cardigan. So read on for the best kimono cardigan ideas.
Not only are kimono cardigans a convenient way to change your outfit from formal to casual, especially if you are planning to go out with your friends after work.
Kimono cardigans are also fascinating because, after all, they can be worn by anyone since they're loosely fitted, and also, their lightness makes them an ideal choice for summer and spring.   
Kimonos range from very formal to very casual. The formality is mainly determined by the print placement, decoration style, the fabric's choice and color, and the accessories worn with the kimono cardigan.
Kimonos History
A kimono is traditional Japanese clothing set apart by its "T" shape, straight seams, and beautifully decorated patterns. It first appeared during the Japanese Heian era from 794 to 1192, but the clothes began to resemble the long hanging sets we know today towards the end of the 16th century.    
Although kimonos have been linked to Japanese tradition over the years, more recently, they have become highly trendy around the world. This coincided with a reawakening of interest in Japanese culture worldwide in the late 1990s. 
The kimono's conspicuous silhouette, exquisite patterns, and elegant colors suddenly wowed a fashion-conscious generation that wanted to be distinct in the crowd, specifically on social media.   
The Best Eight Types of Kimono Cardigans
Belted Kimono Cardigans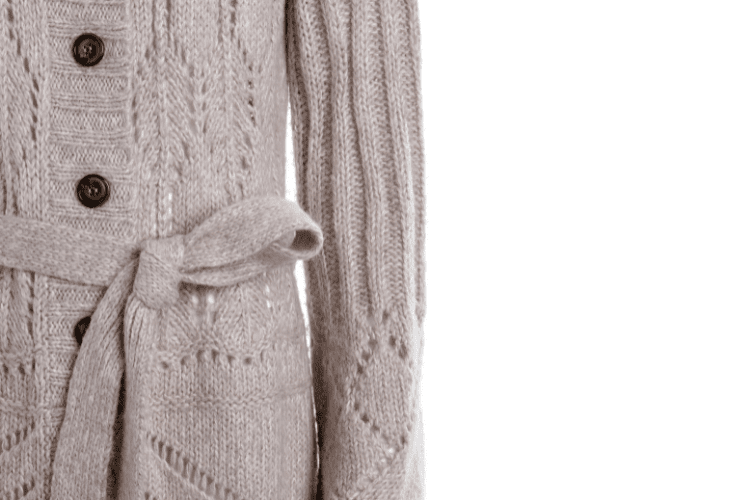 These are very stylish and tend to be quite long. These kimono cardigans are made from cashmere, knit wool, linen, or linen cotton. 
Pros
They are very stylish and elegant.

They are long enough to wear with tights and elegant dresses.
Cons
They are not flattering for all body shapes.
How to Style
Wear it to relax in style around the house, or wear it with jeans, leggings, dress pants, socks, and high boots for an effortless adorable look for just about any occasion. These cardigans go well with casual and elegant dresses, depending on their length and composition.
Cardigan Vests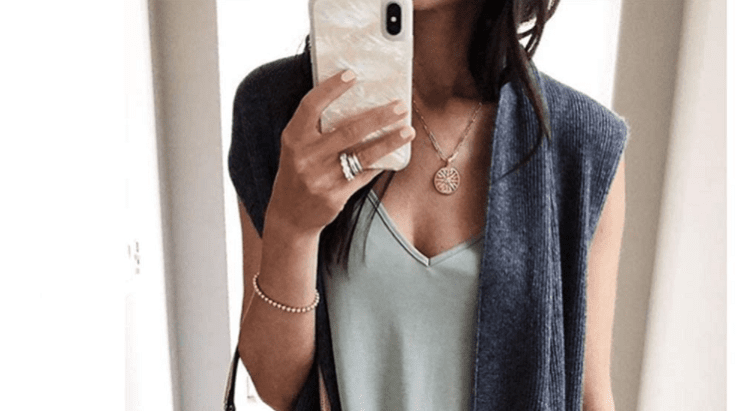 These sleeveless kimono cardigans are an ideal choice when the weather is chilly, but you don't fancy long sleeves or a thick sweater. Knitted vests are trendy and even showcase an elegant style. 
They're typically made from cotton wool, cashmere, or linen and generally reach the waist, hip line, or knee. You can find knitted kimono vests in various colors and patterns; hence perfectly go with and complement whatever else you're wearing that day.
Pros
They can be worn as an alternative to a bulky sweater or long-sleeved top.

They look good when worn with the proper clothing. 
Cons
Not suitable for chilly weather
How to Style
Stay casual with a comfy tee and your fabulous pair of jeans with a sleeveless open cardigan of similar length. A night out calls for a sleeveless patterned blouse, ankle-length stretch pants, and a matching long cardigan.
Open Cardigans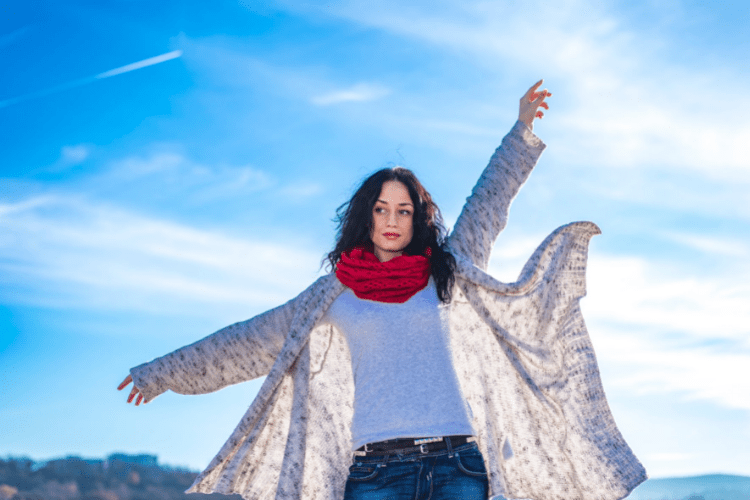 They come in many different styles, and their front area does not have buttons or zippers.
Open cardigans come in various styles and colors, from very simple solid color cardigans to sleek geometric designs, but snaps, buttons, or zippers remain open. They are made from knit wool, polyester wool, or linen cotton.
Pros
They are usually done at a length that goes to the knees so that you can wear them either casually or formally.

They are available in different styles and colors.
Cons
To close the opening, you have to use your hands.
How to Style
These fashionable cardigans look perfect when put on with a pair of skinny jeans or leggings and paired with boots. Plus, these cardigans are handy if you don't want to display your curves.
Tunic Kimono Cardigans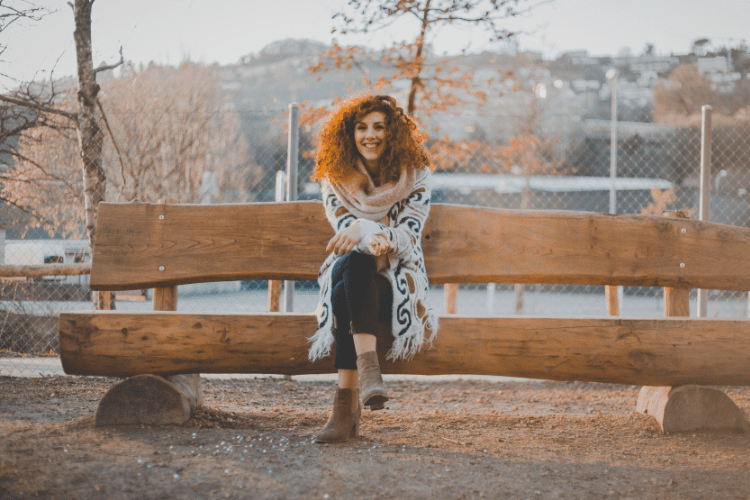 These are long and are available either with or without buttons. They look like the regular cardigan but reach above the knee and are usually linen cotton, knitted wool, or polyester wool.
Tunic cardigans are lengthier, giving them an advantage over regular cardigans since they can cover more of the body than a traditional cardigan, and they're available in a variety of designs, styles, and colors.
Pros
They come in distinctive styles, colors, and designs.

They are very long, so they can cover more of your body if you prefer this.

Looks great with jeans or tights, especially if worn with long boots. When it's not cold outside, tunic cardigans can cater to your fall or winter needs.
Cons
Not a perfect choice for freezing weather
How to Style
They look excellent with a pair of your favorite jeans or stockings, especially when paired with long boots.
Cropped 
These Kimono cardigans typically reach just below the chest and are usually made of lace or very fine materials. Most of the time, cropped cardigans come with hooks or buttons on the front, but most stay open.
Pros
You can find it in various designs and colors.

They are trendy and elegant.
Cons
They are made of very thin material hence not suitable for cold seasons.

They are only intended to be worn with dresses.
How to Style
They are often meant to match long dresses with patterned fabrics, where their colors emphasize the dress and nightgowns.
Long Kimono Cardigan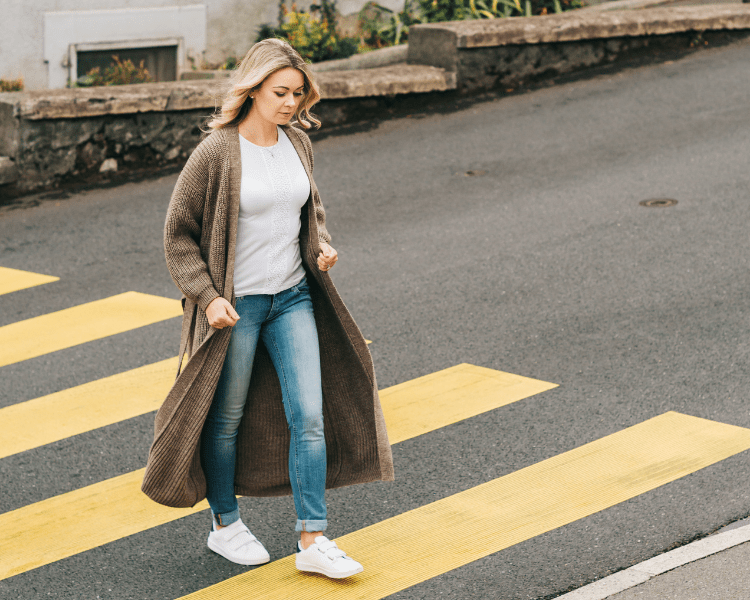 They are much longer, usually reaching the ankle or below the knee, and are perfect for replacing long coats. Instead of wearing a bulky or oversized jacket, a long cardigan likely offers the same benefits, and they're much easier to wear too. They usually have a large zipper or buttons on the front of the cardigan. 
Pros
They are an excellent alternative for oversize and heavy jackets.

They are much longer; hence they cover most parts of your body if you prefer this.
Cons
To close the front, you have to use your hands.
How to Style
They are made from knitting wool, polyester wool, or even cashmere and will go with almost anything, including regular pants, jeans, and even tights.
A Hooded Kimono Cardigan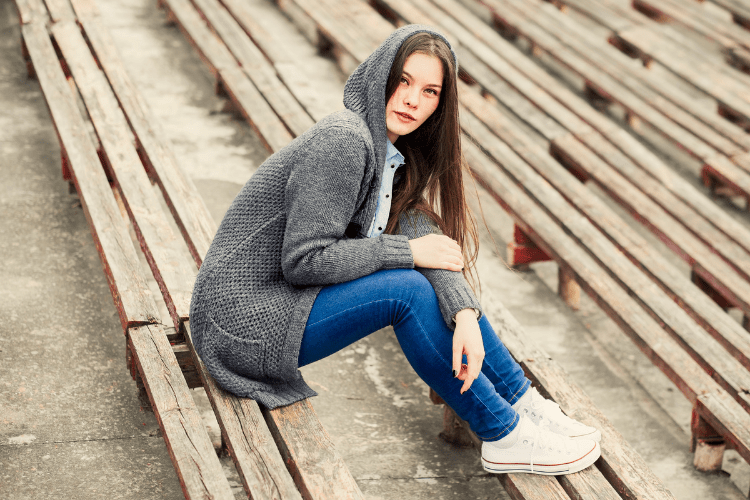 These cardigans go up to your waist, knee, or hip and are made from lace, cotton, linen, knitting wool, and even cashmere. They resemble a jacket and are generally open at the front. They can also have a zip-up.
Pros
Perfect for any casual event

They are elegant and stylish.
Cons
They are not ideal for formal events.
How to Style
If you're looking for a casual look, wear one of these cardigans with your favorite jeans, giving you a sporty look.
Summer Kimonos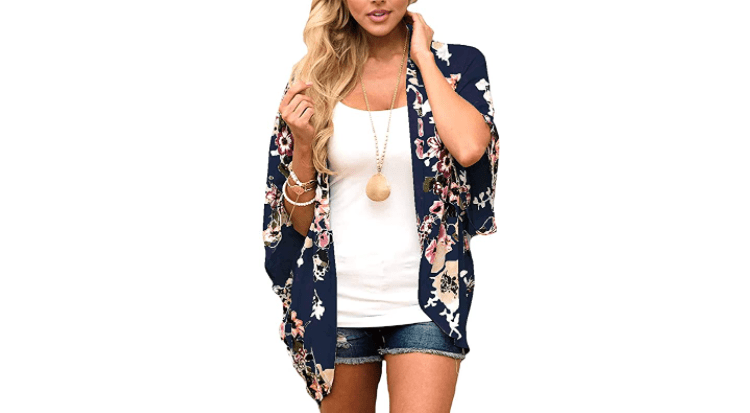 Summer kimono cardigans, also known as yukata, are casual unlined cotton kimonos, primarily worn in summer festivals.    
Pros
They are light and breathable.

They are trendy
Cons
Not ideal for the winter season
How to Style
Worn initially as bathrobes, they are trendy and widely used today. They can be worn with a pair of skinny jeans, shorts, crop tops, one-piece, vintage t-shirt for a dress-up look. Additionally, they are mainly used worldwide for going to the beach, parties, and out during the fall, summer, and spring.
The Best Five Shades of Kimono Cardigans
Kimono-style cardigans are either formal or informal. Most casual cardigans are worn casually and have floral prints or stripes on them. 
Black and White Striped Three-Quarter Sleeve Long Cardigan 
This kimono cardigan can change any medium outfit and enhance it into a lavish and attractive outfit. 
White and Green Tribal Printed Kimono Cardigan
You can opt for a more ladylike and distinctive look for a white and green tribal printed kimono long cardigan.
Plain Kimono-Style Cardigans
People wear plain kimono-style cardigans for formal occasions and business events.
Floral Printed Kimono
No one ever goes wrong with flower prints. It is an ideal choice for spring or summer. If you want to dress up your simple or basic outfit, put on a floral-patterned kimono cardigan. It will add color to your outfit, giving you a youthful vibe.
A Tribal Heart-Shaped Print
This is perfect for a casual day to cover your back in air-conditioned rooms.
The Five Best Kimono Cardigan Ideas to Try
Long Navy Kimono Cardigan With a White Round Neck Tank Top 
To create that adorable and alluring outfit:
Put on a fitted white tank top with a scoop neck and layer a long navy chiffon kimono cardigan.

Compliment this look by adding a pair of blue cuffed slim jeans.

Complete the outfit with a couple of strappy heeled sandals.
Kimono Cardigan Vest with Skinny Jeans 
This outstanding business outfit idea will bring out the feminine side of you. Wear a tank top with slim black jeans for a perfect outfit. Layer on top by throwing on a pale pink kimono print chiffon cardigan with no sleeves. For shoes, choose open heels to complete the look.
Green Long kimono Cardigan with a Striped T-Shirt 
To look casual and carefree, here is a perfect outfit to wear. For the top, put on a black and white striped tee with a relaxed fit green print kimono cardigan, paired with skinny navy jeans and black ballerina shoes to complete the attire cleanly.        
Navy Flowered Kimono Chiffon Cardigan and Black Round Neck Dress 
For an effortless and elegant outfit to a cocktail party, this is the complete attire to go for and an alternative for a fancy cocktail dress. Wear a gray scoop neck bodycon mini dress and a navy floral print chiffon kimono cardigan to complete this outfit. Pair them with pale pink heels for a complete feminine look.
Black Kimono Cardigan With A-Line Mini Dress 
To create this cheeky and refreshing look, let's first forget about your favorite skinny jeans for a moment. Instead, wear a black A-line mini dress and layer a black floral-print kimono cardigan. Add a suede sling bag and a pair of flip-flops for that chic look.
So after you have gone through these ideas I'm sure you are looking for some product recommendations so that you can shop away and give your wardrobe an update.
Imily Bela Women's Kimono Batwing Cable Knitted Slouchy Oversized Wrap Cardigan Sweater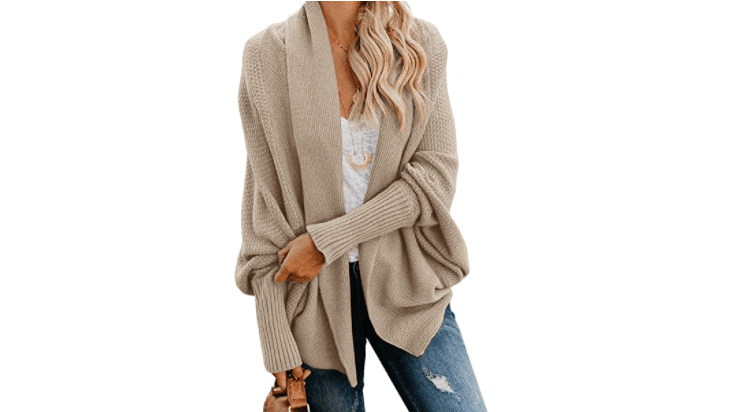 This Kimono is a great option to wear for work or going shopping. You can even wear it on a night out, just add some gold jewelry and some heels and you are good to go. It is also available in 14 different colors, so you will never run out of cute outfits.
Dokotoo Womens Fashion Floral Print Swimsuit Kimono Tassel Casual Cardigan Loose Beach Cover ups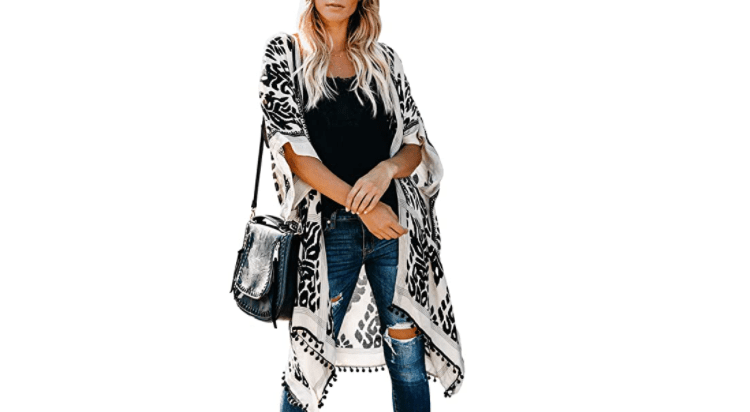 This stylish kimono is perfect for a beach day. You can also style it with some blue jeans, a black T-shirt, and some cute open toe heels.
Women's Floral Print Puff Sleeve Kimono Cardigan Loose Cover Up Casual Blouse Tops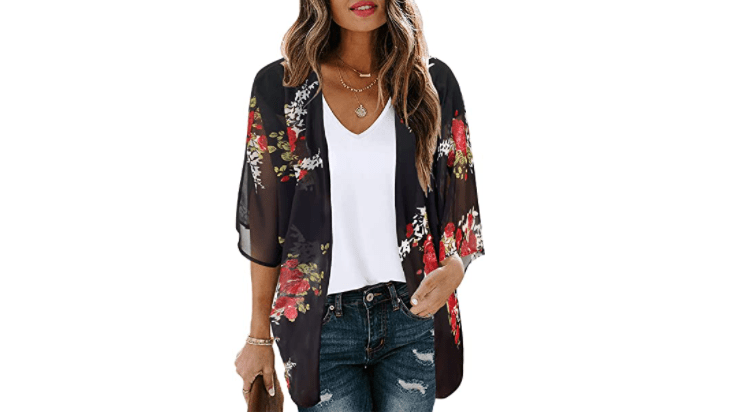 Want to add a pop of color to your everyday look? Well, this floral print puff sleeve Kimono cardigan is a great choice! Pair it with a white T-shirt and some blue jeans, and you have a stylish outfit you can wear anywhere.
Women's Kimono Long Batwing Sleeve Open Front Chunky Cable Knit Loose Cardigan Sweater with Pockets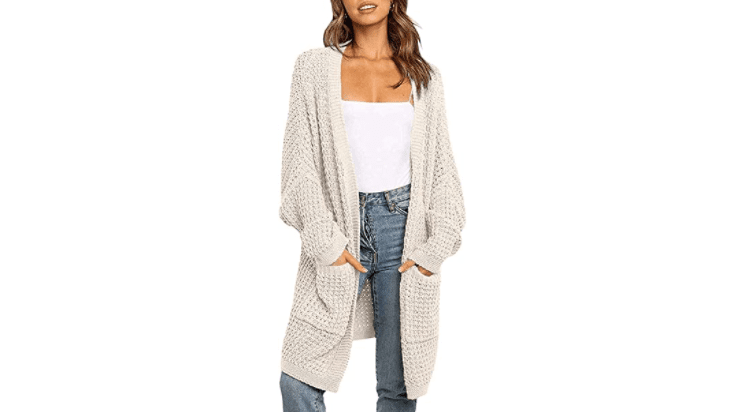 This Kimono long batwing sleeve is perfect for those winter and fall days. It is super comfy but still stylish and classy.
My Opinion
Reasons Why I Like to Wear the Kimono Cardigans
It Fits all: The kimono hangs freely and camouflages the figure below. It is suitable for practically everyone. 
Light and pretty easy to wear: Most kimono cardigans are made of lightweight fabric. This is why you feel like you are wearing nothing and therefore it is the best option for hot summer days. Just throw it on with whatever you wear. 
Enhance my look: No matter what you wear underneath, a kimono will instantly add a touch of style to your look. Whether with jeans, a skirt, or leggings, every outfit is now fabulous when paired with a kimono! You can wear it at home, on the beach or when you go out for a party.
FAQs
Question: What's the Difference Between Bohemian and Traditional Kimonos?
Answer: Traditional Asian kimonos are worn at official events, while people wear Bohemian kimonos casually. Asian kimonos cardigans resemble wrap dresses, while people wear Bohemian kimono cardigans open like jackets over light clothing.

These Asian-inspired pieces are an essential part of the Bohemian movement; they are still often worn by women worldwide. 
Question: What is the Best Way to Wear a Kimono Cardigan When Indoors?
Answer: It is primarily a beautiful piece to wear in summer when you want to put on some cover, but the weather is too hot to put on a kimono cardigan or a denim jacket.

Since most materials used to make kimono cardigans are light and breathable, most kimonos' styles are open and flowing, wearing them over a shirt and shorts or with a pair of pants and a linen top.
Question: How do Men Dress in Kimono Cardigans?
Answer: Many designers and stylists have brought back the kimonos' fashion, perfect for all kinds of men. Elegant and classy, ​​the kimono cardigans bring perfect style and great originality to the men who wear these clothes.
Conclusion
Now that we have taken you through the best kimono ideas, you now know that it gives you an unbeatable mix of style, versatility, and comfort.   
These Western kimonos are in bold patterns and are made from breathable silk or artificial fibers to add extra sophistication to a casual outfit or provide the finishing touch to a more elegant approach.
They are also the perfect choice on a warm summer evening when a thick cardigan or jacket is just too hot. Do you wear kimono cardigans? Let us know in the comments below.
Recommended reads: